Vanja's Reboot Breakfast: Perfect for those on Evolv Total Reboot (or Keto) Programs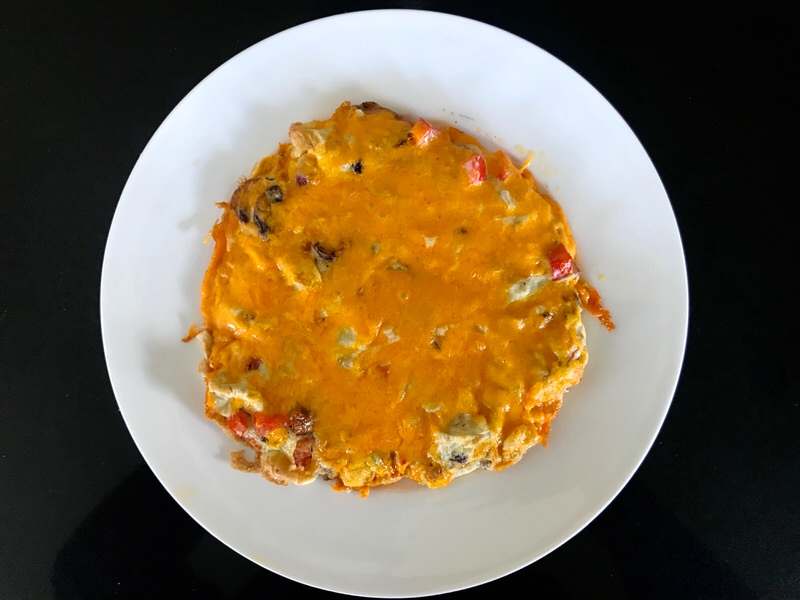 A picture does not even begin to do Vanja's Reboot Breakfast justice. It is a puffy pillow of luxurious eggy wonder smothered in cheesy goodness and confettied with aromatic bits of flavour.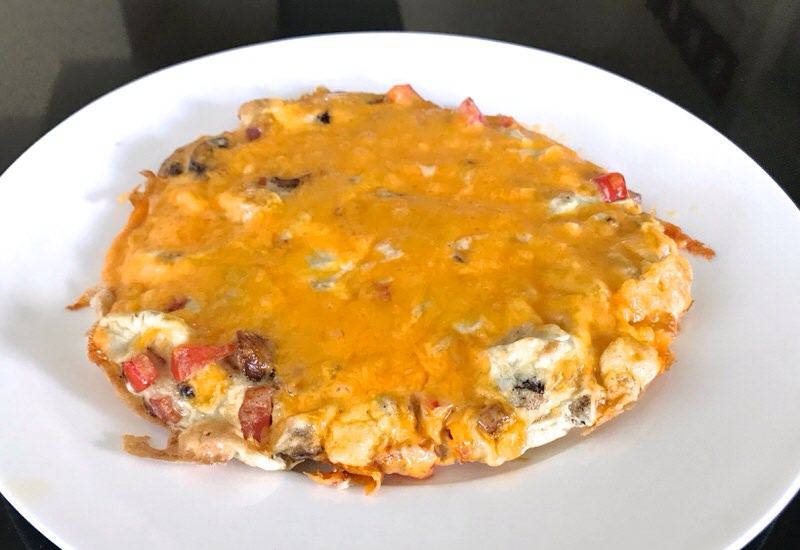 And the aroma? Don't even make it if you aren't going to sink your teeth into it. Intoxicating! This is a stick-to-your-ribs Evolv Total Reboot big eater's breakfast and this post is dedicated to you, Miss Janet W. (Why? Because she is participating with us in the program and doesn't like cooking but she loves eggs and cheese!)
Vanja's Reboot Breakfast: Mis en Place

Before anything, start your broiler in the oven. That is key. Got it? Oven rack near the top of the oven, too.
Sometimes, Vanja does this part, above, himself. That's when he's really hungry and I'm really busy. It's nice, but I prefer to do it myself. I do a finer dice. Grin. Usually, I just add onion and peppers. They provide the base for his Reboot Breakfast Omelette. However, other aromatics are delicious. Add what you like. This day, we had mushrooms. Yum. A good homemade salsa with cilantro is delicious and creates a Mexican vibe. Tomatoes with green onions or chives sing spring. Sometimes, we'll add only one ounce of cheese and dice in an ounce of leftover meat.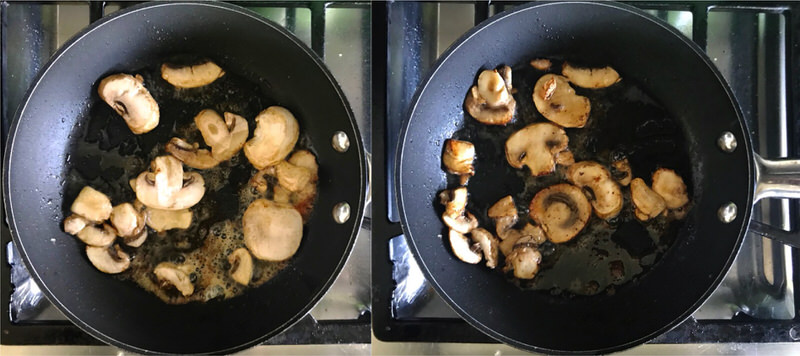 The key is this size of non-stick skillet. It is perfect. Ragan bought it for us. A teaspoon of butter, olive oil, coconut oil, avocado oil: you name the fat. Fry the aromatics until translucent, or mushrooms until browned.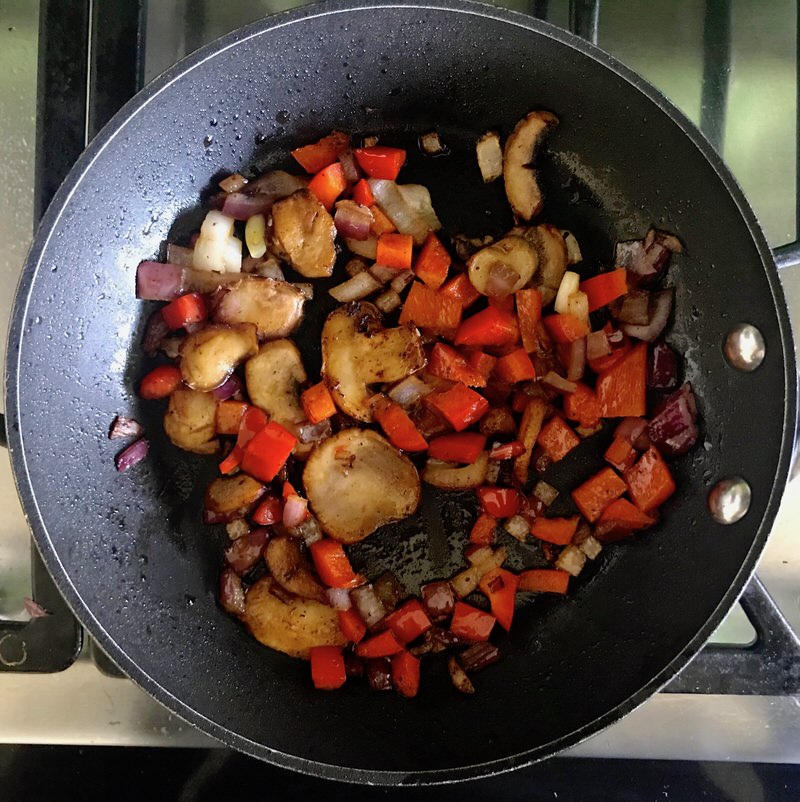 What is this? Onion: 30 grams or 2 tablespoons; Red Pepper: 30 grams or 2 tablespoons; Mushrooms: 30 grams or 2 tablespoons and the oil.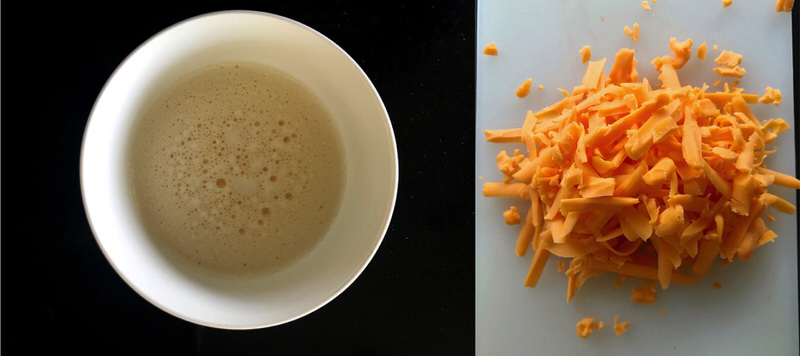 Four large know-your-farmer eggs blitzed with a hand-blender, if possible, are the "ladies in waiting". Whisking with a fork works, but the loft of the omelette is increased tremendously with the air beaten into the eggs via that hand blender. We are Canadian! We love our aged cheddar. Two ounces or 30 grams, shredded also ready to go.
Vanja's Reboot Breakfast: Making the Omelette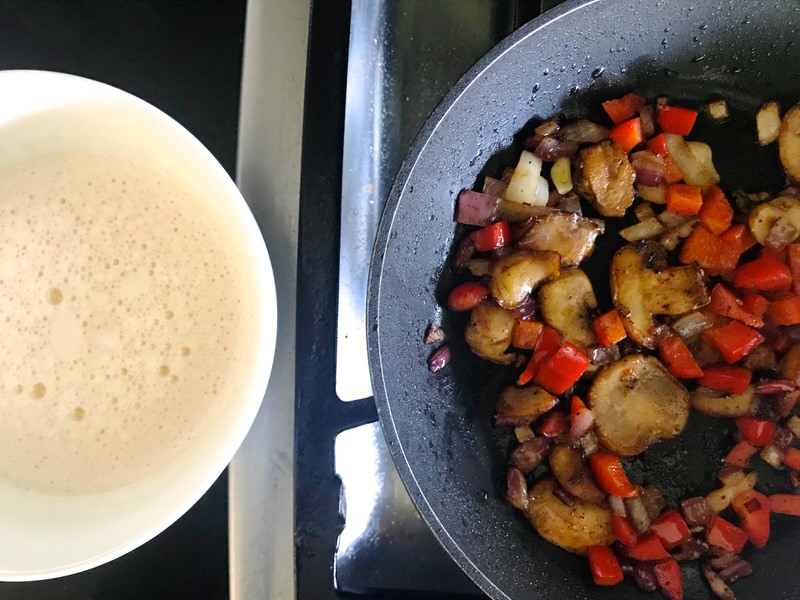 I have my heat on high when the eggs go in and turn it down to medium-high immediately after that. Watch the video below to see how grace-lessly I "soft-scramble" the eggs to get them ready for the bake. I can do better, but this works.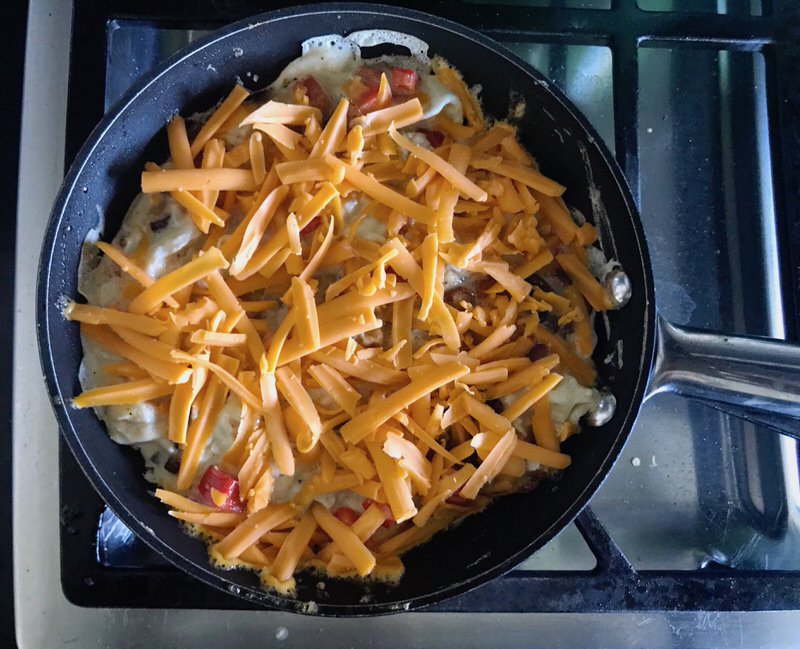 Once that's done, the cheese is sprinkled over all and the pan goes under the broiler for 2 minutes. That is my oven. Start with one minute, pull it out, tap the middle with your finger, if it's damp and wobbely, you need another minute. It will be firmer to the touch, when done. Not firm. It is an omelette. There will be give with a bit of a bounce. The cheese will be moist, but nothing should be watery. It will puff up all proud and perky.
Vanja's Reboot Breakfast: Baking the Omelette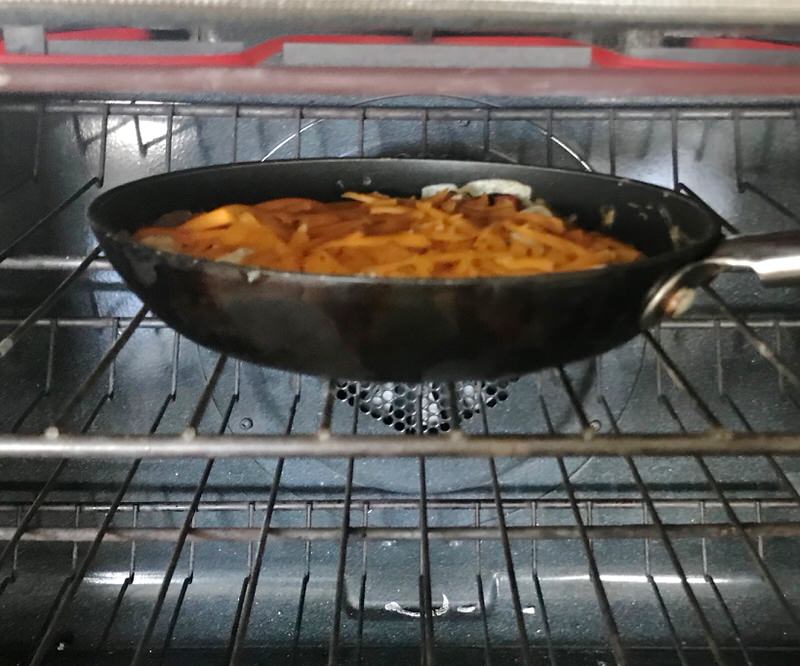 Don't get busy with another task. The minute that beeper beeps, remove your pan from the oven and turn it off.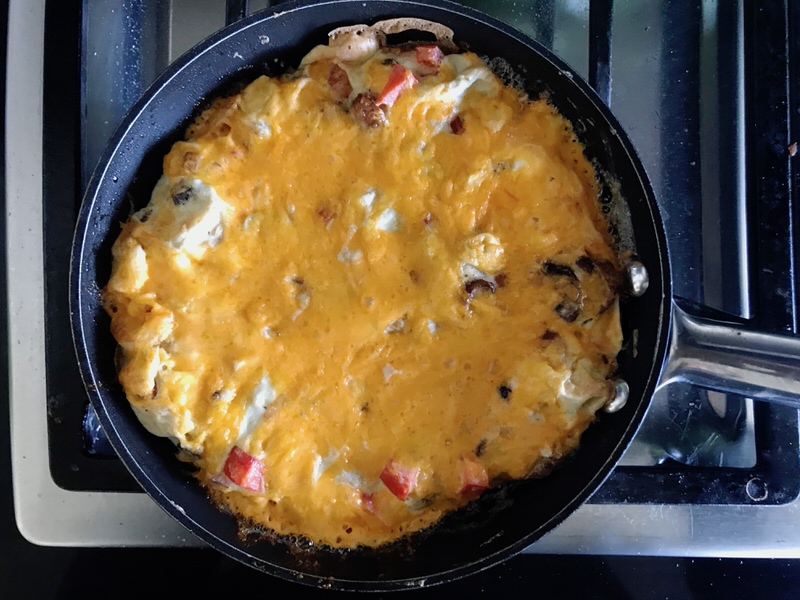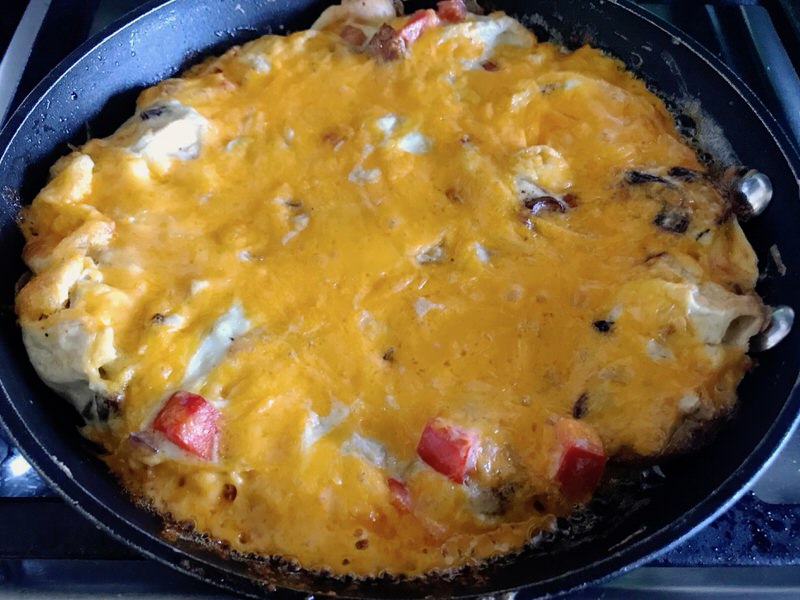 Admire the fruits of your labour, slide it onto a plate and serve it with some freshly sliced and well-seasoned tomatoes. Now, that's a celebration – every single day!
Vanja's Reboot Breakfast: Serving the Omelette
So, Miss Janet, can you make this? Will you try? Hugs to you, your success and your stick-to-it attitude!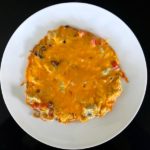 Vanja's Reboot Breakfast
Vanja's Reboot Breakfast is a variation of the well known Cheese-Eggs recipe. Delicious, nutritious, economical and very satisfying! Split it in two if it's too big for you!
Ingredients
Ingredients
4

large know-your-farmer eggs

Salt and freshly ground pepper

to taste

1

teaspoon

butter or olive oil

2

tablespoons

red bell pepper

minced

2

tablespoons

onion

minced

30

grams

or 2 ounces of cheddar cheese

shredded
Instructions
Instructions
Pre-heat oven to Grill or Broil (500˚F) with the rack near the top element

Whisk eggs with hand blender until fully incorporated; season with salt and pepper and set aside

Heat small luncheon-sized skillet to high; add in fat and sauté aromatics (onions and peppers) for 2 minutes (between high and medium-high)

Quickly pour egg mixture over onions and peppers, getting every drop out of the bowl with a spatula; reduce heat to medium or medium-high

Methodically turn the eggs as they cook on the bottom and side of the pan inward, to the middle of the pan for 30 to 45 seconds, going round in a circle, until eggs are somewhat scrambled but still wet (not fully cooked)

Remove from heat or turn heat off; sprinkle cheese carefully and evenly over top of eggs

Place skillet in the oven rack under the broil element; close door and set timer for 2 minutes (depending upon oven)

Once eggs and cheese are puffy and the omelette is completely cooked in the centre, remove from oven

Plate in centre of dinner plate and serve with small, well-seasoned sliced cocktail tomatoe
Recipe Notes
At step 3 in Instructions, you can add any old thing your heart desires and your body can tolerate! Sliced Mushrooms, any kind of tasty vegetable, bits of tasty leftover taco meat... whatever you like, but remember to add whatever you add to the recipe to My Fitness App if you are on the Evolv Health Total Reboot Program charting your macros.

PROJECT 2019: JOIN US! EVOLV HEALTH TOTAL REBOOT PROGRAM SHARING AND RECIPES
This recipe is part of Project 2019 as this is "the" year! I am refocusing my eating to reboot my gut health and promote an active, healthy lifestyle leading Saturday Morning Evolv Total Reboot Support Sessions for anyone who wants to join us.
So far,
my husband,
my daughter, Ragan,
Janet, her best friend, and
Diana, a long time ACF reader and social media friend, attend
Let's add YOU to our list!
We have met every Saturday in 2019! The feedback has been very positive. It is not easy. It is not hard. I have found that anything I undertake in life that really makes a difference takes determination, perseverance, consistency and a truckload of passion. But, this undertaking has blown me away. I have my life back.
Project 2019 Total Reboot Recipes
I found myself on this path through sheer desperation, but it is the passion of feeling new and alive again that is driving me forward every day, one day at a time.
If you are interested in joining us, leave a comment in the section below, and I'll be in touch.
The Total Reboot your Gut Health 28 Day Plan Kit
DISCLAIMER: This is my personal story. I have not been hired by Evolv Health to write these posts, nor am I getting any in-kind gifts for sharing this information.
REQUIREMENTS FOR PHASE 1 OF EVOLV REBOOT YOUR GUT HEALTH 28-DAY PLAN
Vanja's Reboot Breakfast recipe definitely sets a big eater up for the day while on the first 28 days or Phase 1 Evolv Health Total Reboot. (scroll down). You saw the video, start to finish is 6 minutes. Easy-peasy!
As weight is lost during this program most refer to this program as a diet and according to the actual definition of the word, it is. Though I do restrict myself from eating many things on this program, I am never deprived. That is a primary difference to this program and what we usually think of like a diet. Vanja was most shocked at that. He had prepared for some serious suffering but has lost 22 pounds in 8 weeks without being hungry at all. He is very proud of how he's been ablve to stick to the program.
This is not a recipe for someone with a small appetite. Two eggs with cheese are too much for dainty me. Sharing this recipe with someone is a great option. Each recipe is 466 calories, 33 grams of fat, 33 grams of protein and 7 grams of carbohydrates. That is one hefty meal. It has kept Vanja on track. He has always eaten 4 eggs for breakfast. My eyes bulged out of my head the first time I saw this. My entire life I have heard, "Eggs are high i cholesterol. Eat no more than 4 per week." ….let alone 4 in one meal! But, we have both had our blood work taken each month. My cholesterol is lower than it's ever been and I am on a high-fat diet. His is also within a good range and tended to be high.
This recipe absolutely aligns with a way of eating that promotes optimal health for your body and the opportunity for it to return to its original fat burning state. Let's review those requirements again?
Simple, Delicious, Nutritious and Economical Food: This means easy to find ingredients, "easy-to-make", tasty, nutritious foods from the Total Reboot Phase 1 List and economical (cost effective). Can't be more real that a couple of eggs with cheese!
High in Fat and Low in Carbohydrate Foods: This can be determined by using My Fitness Pal and inputting a 25% Carbohydrate, 25% Protein and 50% Fat daily intake ratio coupled with a basic daily calorie intake that addresses your metabolic needs. Certainly, this is a low carbohydrate recipe.
Whole Foods that are Healthy and Good for you: This means know-your-farmer, non-GMO and organic whole foods that are homemade unless you can be sure of the ingredients contained in what you purchase and only foods on the Total Reboot Phase 1 List allowed. Vanja's Reboot Breakfast meets all of the requirements.
The Total Reboot your Gut Health 28 Day Plan Kit from Evolv Integrated Health is the program that I have been on since June of 2018. My 67.5-pound weight loss as of today is completely secondary, though exciting and exhilarating.
The "big deal" is I am me again! I feel rested when I wake in the mornings, energetic, no more brain fog, no more pain, off all my medications and am once again enjoying my life. That's the greatest benefit from this program to me.
PLEASE SHARE YOUR EXPERIENCE IF YOU MAKE THIS RECIPE
If you make this recipe, please share your experience in the comments section below. Or, if you have other favourite similar recipes that you believe would meet the requirements of the Total Reboot 28-day Health Plan(password: Evolv) do tell! Obviously, compiling recipes for this program and working to change the way I think and eat is a process and I know there are many out there further along this journey than me! Chime in!.