The Thermomix TM5 has arrived in Canada!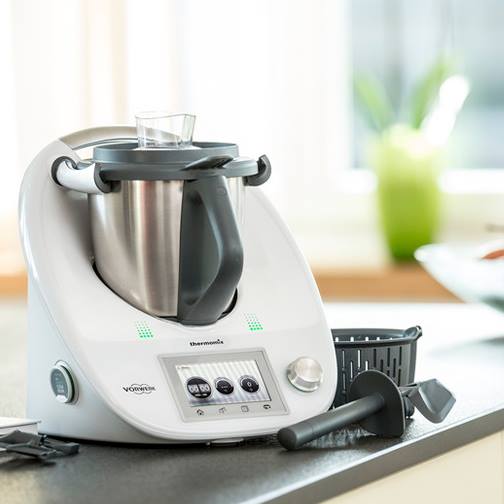 They had not arrived yet, but were in the manufacturing plant; our eager customers had been lining up since September 5, 2014, when the machine was launched in several countries throughout the world. Not here. We were sad, but really, we were very fortunate to have had this lead time. We have now completely sold out of our TM31 machines. Our customers had a choice.
Now is the time. I sent out emails to my TM5 waiting list May 6, 2015 and everyone who wanted a Thermomix TM5 in Canada before this announcement, has already purchased their machine. It will be arriving at their door any day now. If you have been waiting to purchase this machine and have not contacted me: Now is the time!
We have completed our Consultant Training and are ready to serve each of you. We are so eager to demonstrate this new, state of the art, one of a kind, ground breaking kitchen machine.
The TM31 is a classic. I still love mine. It is like driving a BMW: solid, classic, state of the art luxury, dependable and exceptionally fast and well made. The TM5? A Porsche Carrera: sexy, technology second to none, precision second to none, sensitive, so much fun to drive! Both get you to the same place at about the same time, but the TM5 offers a guided or automatic cooking experience, and is so much more fun enroute.
Why? With the TM31 all of the cooking is manual. Now, that is fine with me. I love a manual transmission. I like being involved in the driving process.The TM5 has three options: manual, guided, and automatic. Manual? Guided? Automatic? Three options in one machine? I am all over that! The guided cooking experience is programed into the machine with a recipe chip cookbook and this "state of the art technology" is an understatement. This little ditty has traveled through time and back. It is far more futuristic in nature than most of us had ever imagined and than I can wrap their head around, even with this machine in my own kitchen. It can't talk, but I was surprised it couldn't. It can certainly do everything else.
You may be interested in previewing information about the TM5 machine.
Please send the following information to me here if you are interested in seeing a demonstration or in buying a machine:
full name
where you live and time zone
phone number
email
2-3 good times to reach you; I will confirm one
Note: I am in Edmonton, Alberta, Mountain Standard Time
Our sales teams can sell anywhere in Canada, with the exception of Ontario and Quebec.
We look forward to working with you at Thermomix TM5 Canada, sharing our passion and getting this machine out into the world! The times, they are a changin'! Don't miss out. It's never any fun to be the only kid on the block with a pair of skates, is it? We want everyone to own one!
Those of you who already own your TM5, please chime in! Please tell the world about your personal experience in the comments section below.