Chewy and Gooey Goodness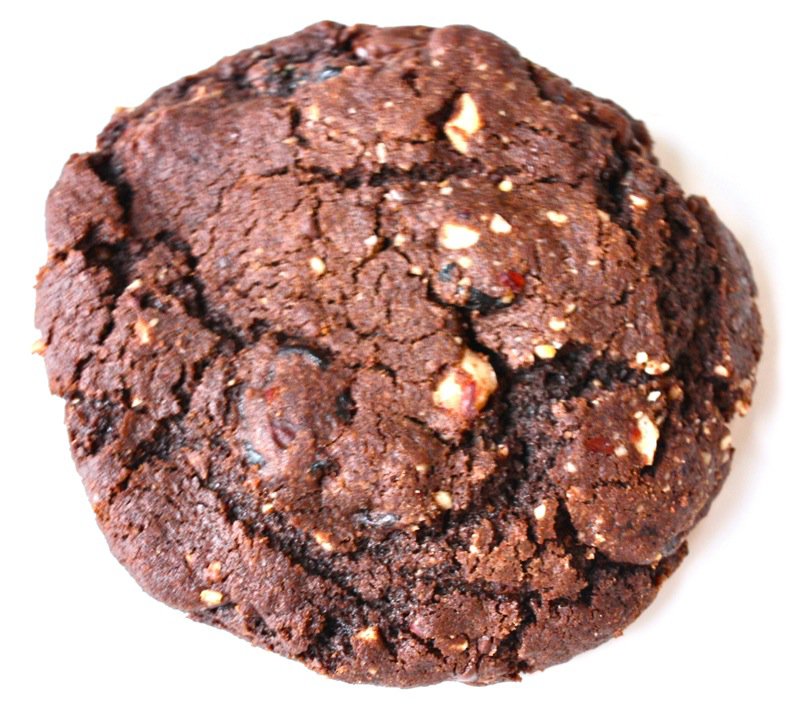 Now this might look like a pose, but it is just an appreciative young man enjoying a cookie! Looks like someone likes these!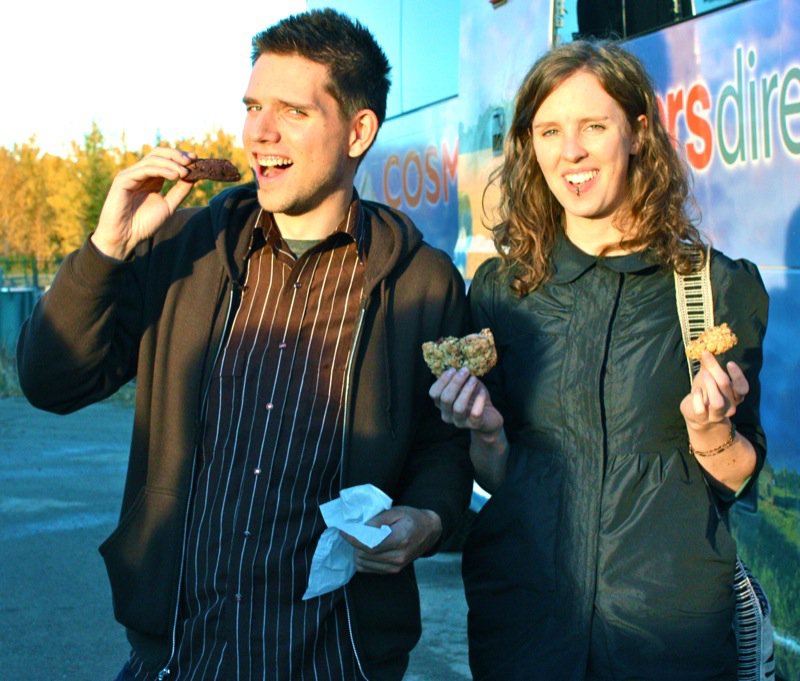 I had my mis en place and completely forgot to take a shot of it: pictures do speak volumes! Just so you know, I had everything ready to go before I started. I was excited. It was Saturday morning and I was baking up a little love for the participants of the Slow Food Dairy Farm Fieldtrip the following day (Sunday). I wanted to add a personal touch. This is Alberta. We are visiting two dairy farms and our farming history is one of sharing and giving. Thus, the cookies.
Like the Breakfast Cookies, I developed this recipe over time. I have it just the way I love it, now. Folding the dry ingredients into the wet is a bit of a trial. Use a very big bowl! Then add all the other bits: the cherries, nuts,and chocolate chunks.
The batter is very thick and fudge-like. Don't worry. That is how it is supposed to be.
Oh, my! Look at that! Do not even try to move these off of the try for 3-4 minutes. The chunks of chocolate will be too molten to move the cookie to the rack immediately.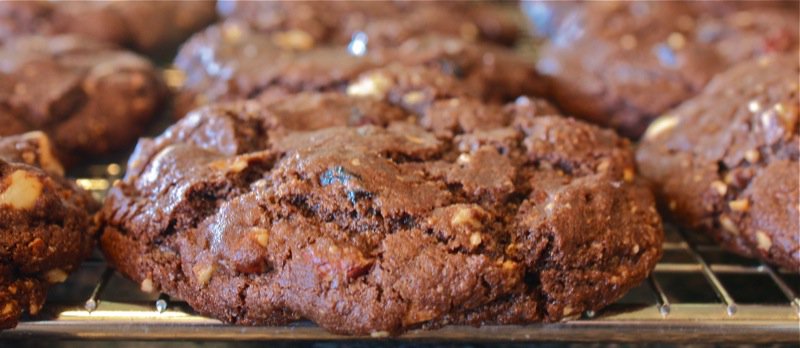 These are my very favourite cookie. Vanja prefers the Breakfast Cookie. Not me. It's chocolate all the way, and with the dried sour cherries, there is a bit of chewy heaven thrown in. I finally got it right with the filberts. I had been using pecans… started with walnuts…. but there is a little Nutella dance going on in the background of the palate with this cookie.
And they are big. One is enough. Chant it, like a mantra, if you need to. "One is enough."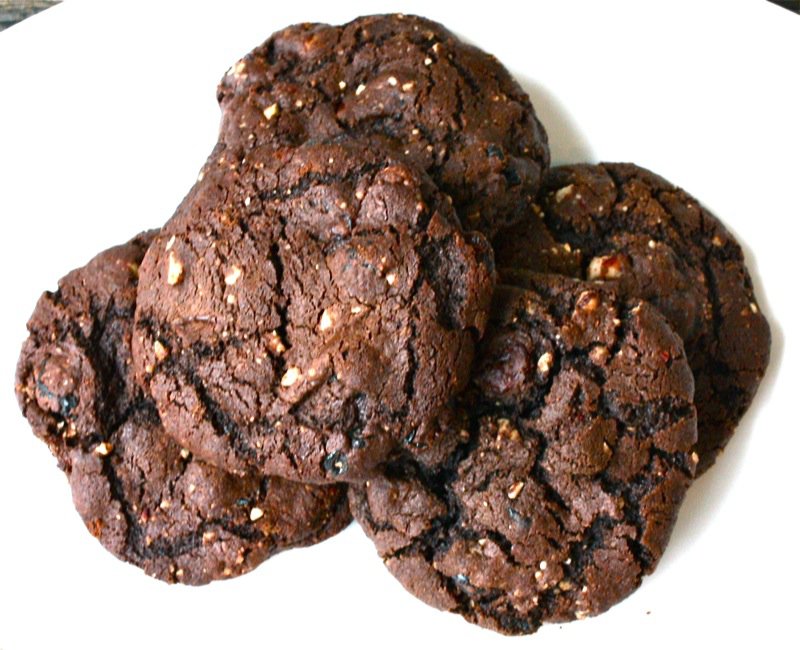 Katharine was a super sport Sunday when she let me take her photo with the cookie. I think I was supposed to reward her with another for this. Woops! ("One is enough!"…"One is enough!")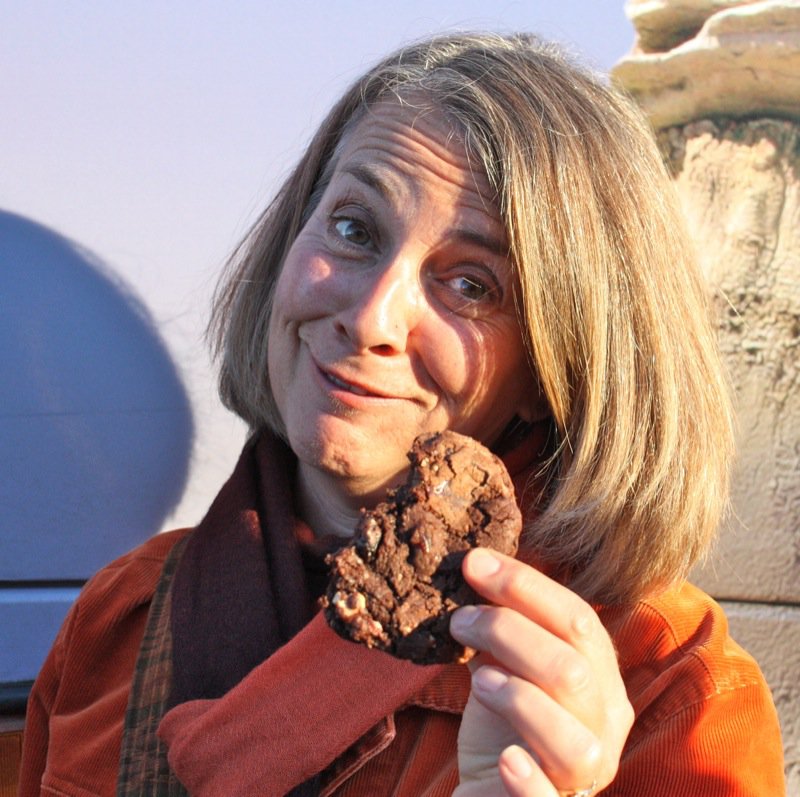 Dark Chocolate Sour Cherry Hazelnut Cookie Recipe (Makes 50 cookies)

Ingredients
3 1/2c All-purpose flour
2 1/2c best quality cocoa powder
4 tsp baking soda
1/2 tsp kosher salt
2 1/2c unsalted butter, room temperature
2 1/2c granulated sugar
1 1/2c brown sugar
4 large eggs
1/2tsp vanilla extract
24 oz bittersweet chocolate; coarsely chopped
2 c filberts, toasted (skin removed as much as possible) and coarsely ground
4 cups dried sour cherries (I got mine at Costco)
Instructions:
Heat oven to 350° F
Line baking sheets with parchment paper
In a medium bowl, combine the flour, cocoa, baking soda, and salt with a whisk; set aside
With an electric mixer, cream the butter and sugars until fluffy
Add the eggs and vanilla extract; mix until well combined
Fold the dry ingredients into the wet ingredients; do not over mix
Fold in the chopped chocolate, cherries and nuts with a wooden spoon; you will eventually have to use your hands, as this is a dense batter
With a 1/4c measuring cup, place portions of dough on baking sheet lined baking sheets
Arrange dough in rows of two lightly pressed balls to allow for spreading (6 to 8 a sheet)
At this point, you can freeze the balls in the freezer, on the cookie sheets, and then package well in freezer bags once quick frozen for baking at a later date
Or, bake 6 minutes, and turn the cookie sheet around in the oven and bake 6-7 minutes more, until puffed and cracked
Allow to cool on a baking sheet for 5 minutes before transferring to a wire cooling rack as the chocolate chunks will be too molten to enable a clean transfer