Celebrate Helen and George McKinney: November 6, 1950 to November 6, 2010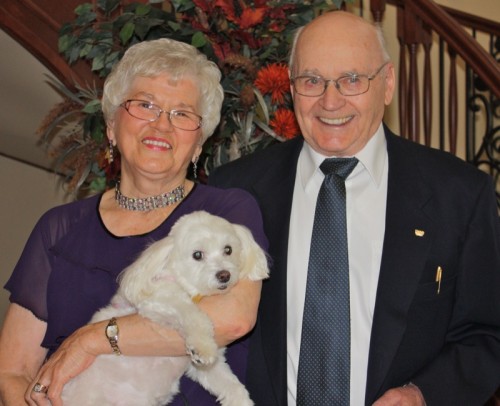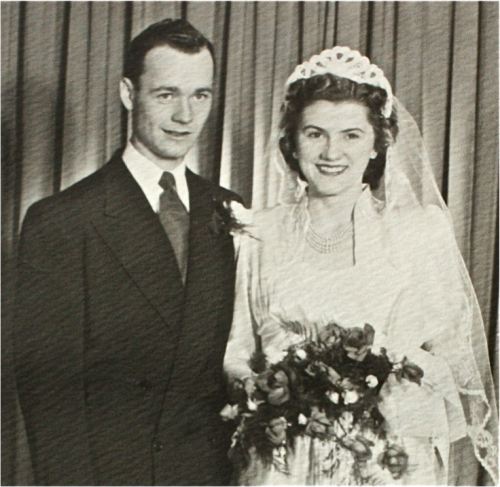 Helen, George, and my baby sister, Penny pose for the traditional family photographs the day of the event.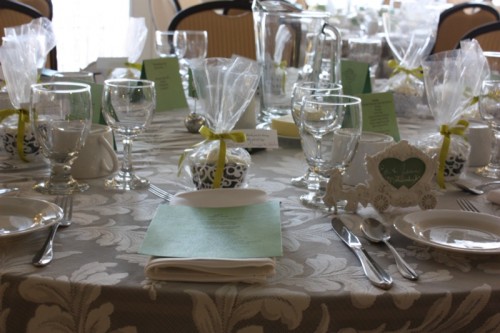 Professionals? No… Caterers? No… Crazy people? Yes!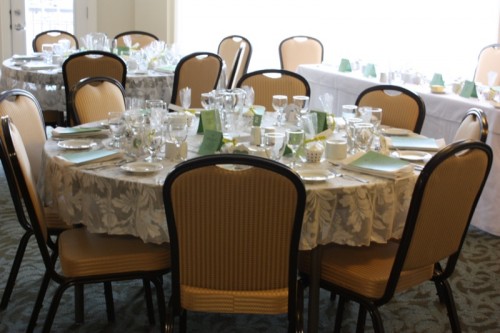 I have loved parties all of my life. Mom and dad taught me that. Ever since I was very young, our home was a home of celebrations and parties. Anticipation in the air. House gleaming spotlessly (and I do mean spotlessly!), drinks set on the kitchen counter and trays of food on cookie sheets and on the dining room table covered with reams and reams and reams of plastic wrap. Mom is the plastic wrap queen. We have been known to eat a perfectly delicious very well wrapped apricot pie made in 1973 (she dated everything) in 2006! (She told us afterward… and don't ask me why she dates things when she serves it anyway!)
This has been a year of celebrations in our family: mom and dad each turned 80, my daughter Ragan got engaged, and now this momentous rite of passage that few ever reach: sixty years of marriage! I was absolutely going to do this party for them. We have been having such fun planning it and putting it together for several months now. Mainly planning it. In the end, we had sixty confirmed guests which was rather serendipitous for a 60th Anniversary party.
My sister and I split the responsibilities. I did the food and the slide show. She did the entertainment and the flowers. I am going to try to get the slide show uploaded to this post eventually. It is not that easy right now for me. Suggestions are welcome!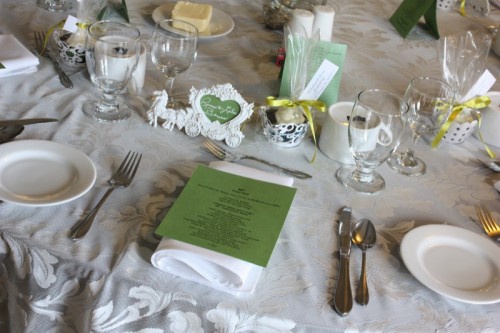 Isn't this a pretty table? The party room in mom and dad's new condo was the perfect venue for our event. I have been doing wedding shopping, too, so found these sweet little Cinderella horse and buggy picture frames that we used as name cards and hid a picture of mom and dad behind for a take home gift. The "Thank you" cupcakes also served as a little extra table dressing as did the colourful menus.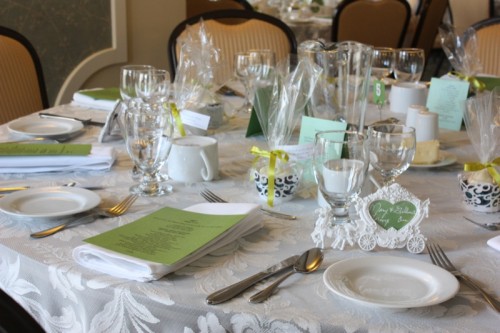 The ribbon and cardstock matched the original invitations, and though the flowers haven't arrived yet, I was very pleased with the clean and sparkly look of the tables. If there was a couple, the nametag was placed inbetween them on the table (as above). The singles had their own placed above their place setting (as below).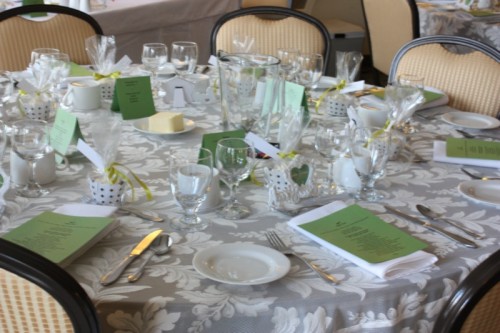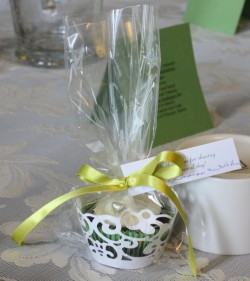 The cupcakes were fun to make. Mom and I packaged them together (recipe post to come soon) and it was during these times that we had such lovely reflective conversations. The little folded cards on the table included the program and the dessert menu which was too long to include on the meal menu card!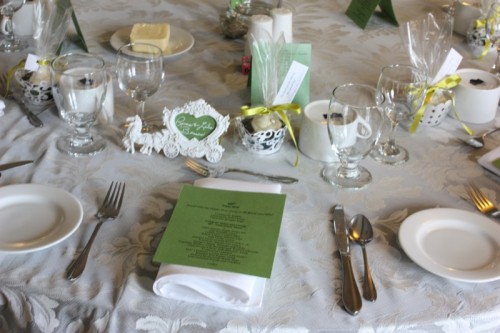 I cannot even put into words how tired Vanja and I were before the party began. I used to throw parties for 100 without blinking an eye, cook all of the food (much, much more that this) and have it fairly clean by the end of the evening, enjoying myself, too! What has changed? (Don't answer that!)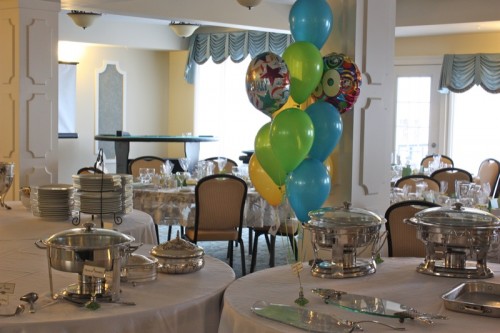 The girls had some gorgeous balloons delivered that set the festive tone. Balloons always do that. When I saw how pretty and perfect they were, I wished I had ordered more… but, the flowers had yet to come. This was the quiet before the storm. All dressed, waiting for Denver and Sarah to arrive so that we could take the family photos before we greeted the guests. I always love this time before entertaining. Everything is quiet and perfect and I usually plan well enough to leave a moment or two to savour it, too.
The flowers arrived. The decorating scheme was not lost on Lauren (my daughter). She had flown in from Palo Alto and was to have been married in March 2009 with this exact colour and flower idea. I told her she could still use it. It was beautiful. She just grinned…
I was very pleased with the lovely simple work that Callingwood Florists did for us. I used them for mom's 80th when we had all of the headvases filled with gorgeous bouquets. I think they do a tremendous job for a very fair price.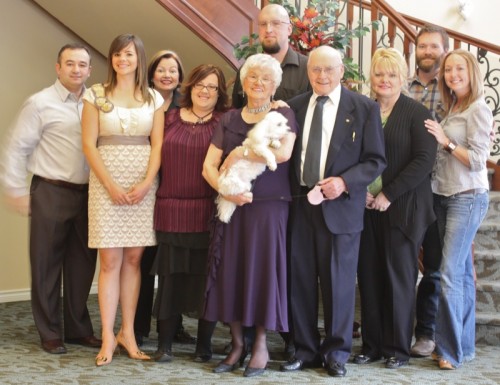 Here we all are! Unfortunately, when one is tired, sleep deprived, overworked, exhausted, and OLD, one cannot think to take good photos, too. (Note to self: next time, get a photographer!) Mom and dad, on your 75th, I will hire a photographer! Indubitably.
With and without the dog.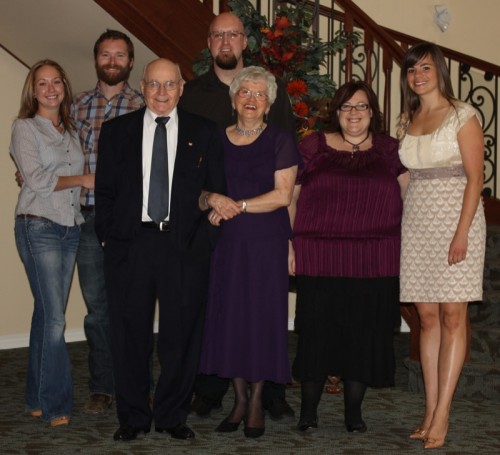 And, I am not sure what happened after the last photo and before the next. It is a gorgeous water colour blur. Guests arrived. Hugs. Kisses. Perfume and cologne. Flowers. Cards. Food farmed out to four ovens in the building. Daughters and son-in-law and nephew coming to me at once (exactly at 5:30) : "Nothing is hot. Nothing is heating. What should I do?" Dinner was to be at 6. "Turn the heat up to 400 or 500… use the microwave… set it on fire… do something!" Vanja and I and Ragan and Lauren and Jason and Sarah and Denver and Judy were doing the dinner dance.
I had actually held a meeting after family photos and gave each person their "list". However, things did not go as planned. No matter. Through some miracle, dinner was served at six. No photos. Lauren said the blessing on the food. Maybe that was the magic.
Most of it was hot when the guests served themselves. Much was exchanged less than halfway in with piping hot replacements. We ran out of prime rib. How did that happen? The last ten people got a taste of what they missed. That is how much each had on their plate of the prime rib. I was flushed and embarrassed.
The line went slow, though well planned and well spaced out. People were hungry. I had a mike. Don't ever give me a mike. Not even on a bus. I cannot resist.
However (again), once all had food in their tummies we relaxed. Then noticed the coffee hadn't been turned on. No one had time to read their lists. Not even me. So, desserts offered the perk that caffienne usually does, and it followed shortly thereafter. OK, maybe not so shortly. But, the bar was open. All night. Anything you like. Wine, beer, booze.
Bubbly was placed in each hand as they entered. Maybe it was all OK.
So, that is kind of what happened between the last photo and this one. Oh. And the slide show. The one I laughed and cried and cried and laughed making. Just the little things shared with mom and dad along the way were unexpected jewels that accompanied the coming together of this celebration.
And now, Denver sings. He writes music. He has a band,"The Frank", that is well known in central Alberta. He is a very gifted, self taught musician and artist. He is also a Master Electrician in the midst of taking over his father's business, slowly.
The granddaughters presented, then the crowd started chiming in with the colourful stories of the past. Some of these people (more than a few) have known mom and dad for more than 60 years. The stories were heartfelt…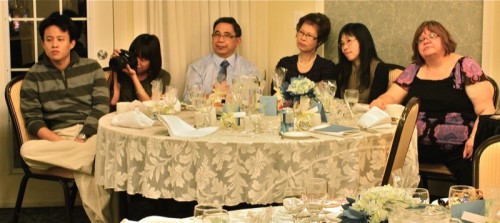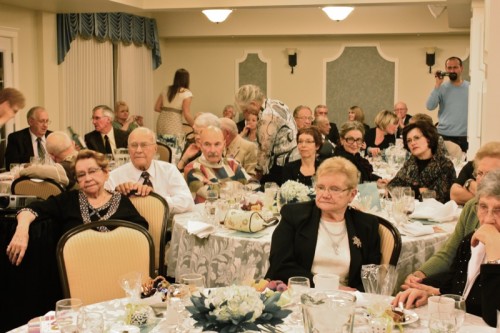 thoughtful and loving and very funny…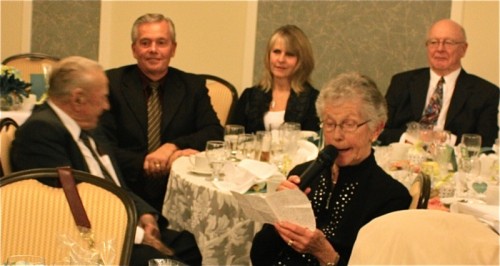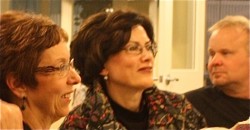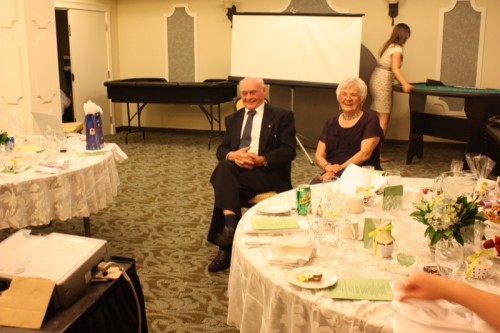 …to utterly hilarious.
Mom and dad lived in their home in Red Deer for twenty seven years. We had incredible neighbours. It was the best place in the world to be brought up. And our neighbours were our friends.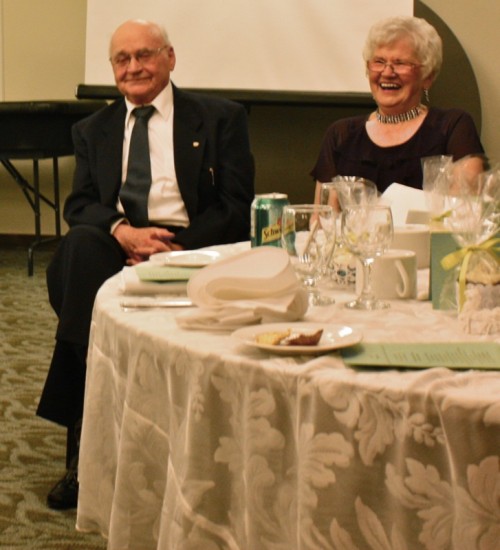 Then Dad transferred to Edmonton and lived in the next home for thirty two years before moving to this condo last year. The stories and memories are rich and varied and wonderful
Don got up to apologize for bringing Russ (whom had us all rolling on the floor laughing). These are the friendships that are forever. And, where has the time gone?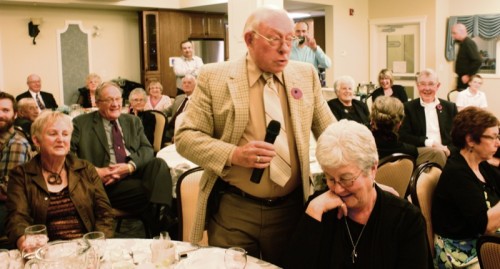 Morris and Hazel had to leave before the entertainment. I didn't even get to speak to them at all. Ruth was able to come and we were so thankful for that.
Louise was also able to come. She had missed mom's 80th in April, and she and Alf had stood up with mom and dad when they married. Talk about stories…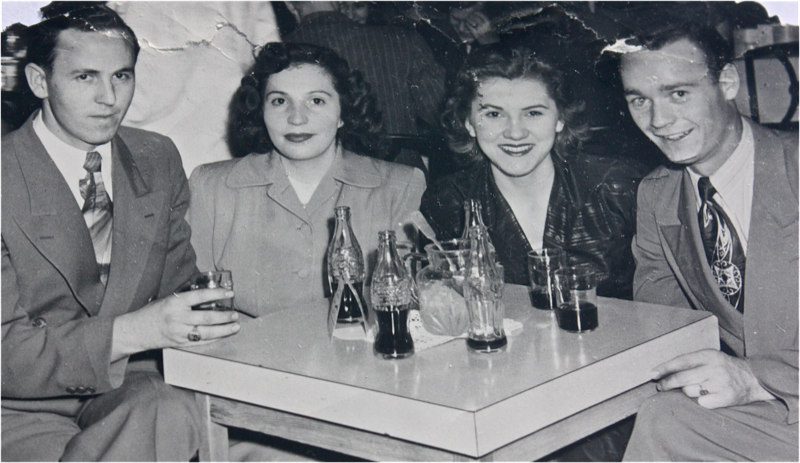 (The coke bottles, above, are now collectors items!)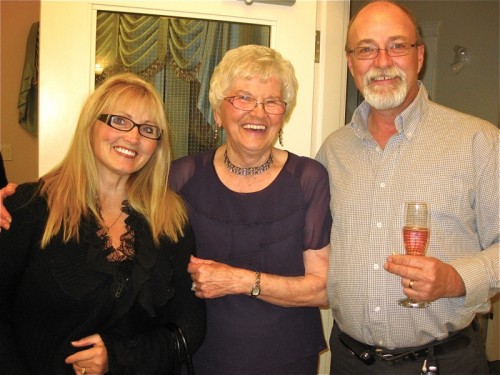 Denise and Larry came and we are still grieving over the loss of Denise's mom, Louise, whom we all loved dearly. Does this couple look like they have several grandchildren? The do!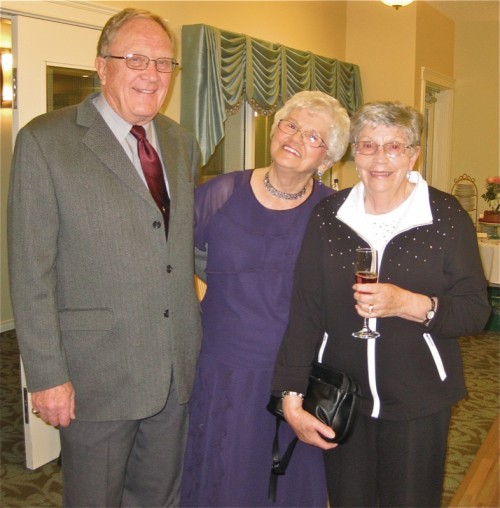 Mom's high school friends…the keepers of her memories.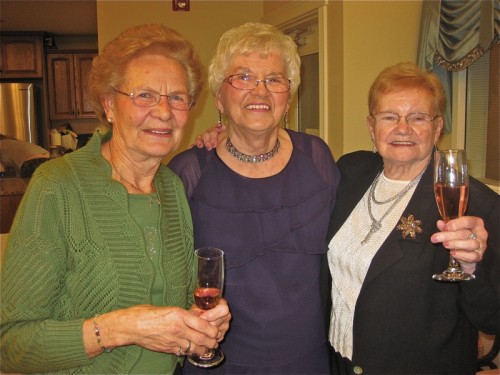 Here is Helen just twenty years old.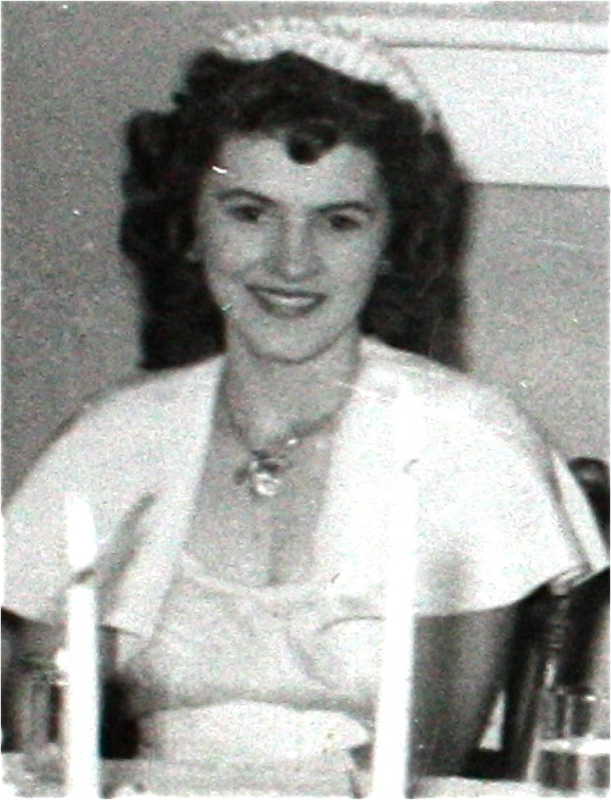 Kaye is 92 here (below). Incredible. Ken is 89. Unbelievable.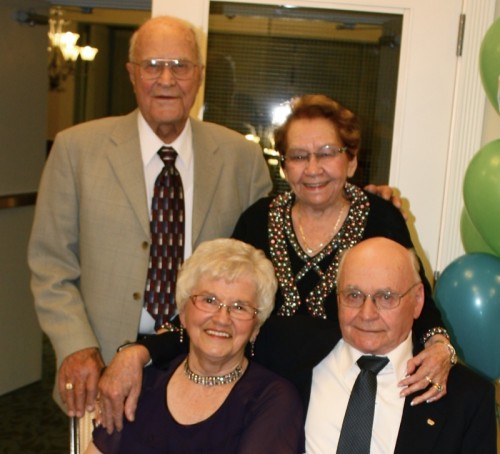 The boys from the 'hood! Oh, my gosh, they would have such laughs and fun! And still did!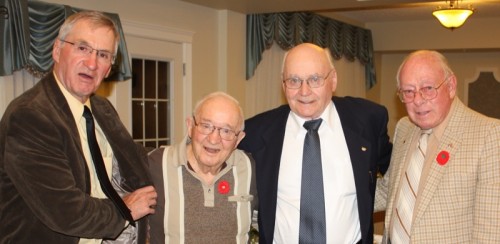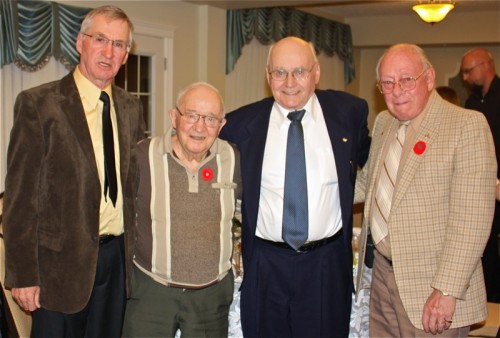 The casino was open. Judy rented a blackjack table, a roulette table, some slots and a craps table with attendants from Diamond Sound for the evening. They were absolutely excellent and it looked like fun, too. I had been to a party that had hired them in the fall prior and they are an excellent company with reasonable prices for this kind of event, me thinks.
As mom said, later, "I wasn't doing anything but visiting, and I never even had a sip of one drink!" She nor dad ever got to the tables….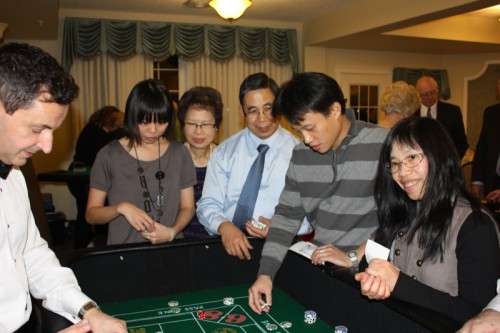 …but mom eventually hit the slots as you will see later….
Mary and Gloria with mom.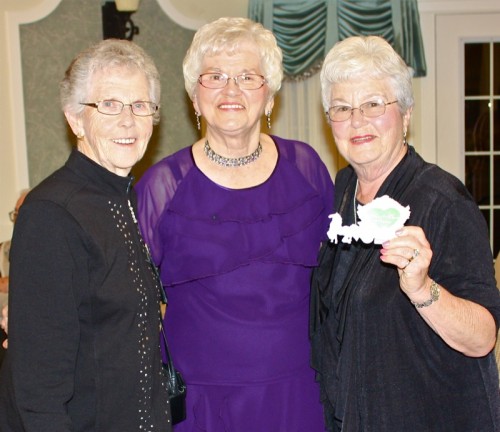 These two hot beefcakes in their youth are still as funny and as perky as they ever were. I loved watching them have this visit in the middle of the dance floor.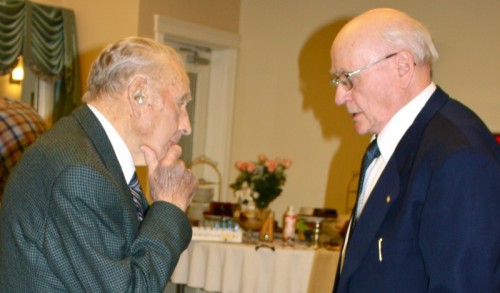 There they are below in their teens… dad, on the left, below (right, above) and Don on the right, below (left, above).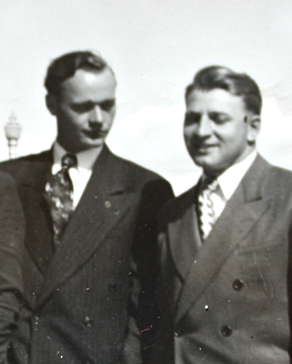 Georgie is below: alias "Jimmy Dean!"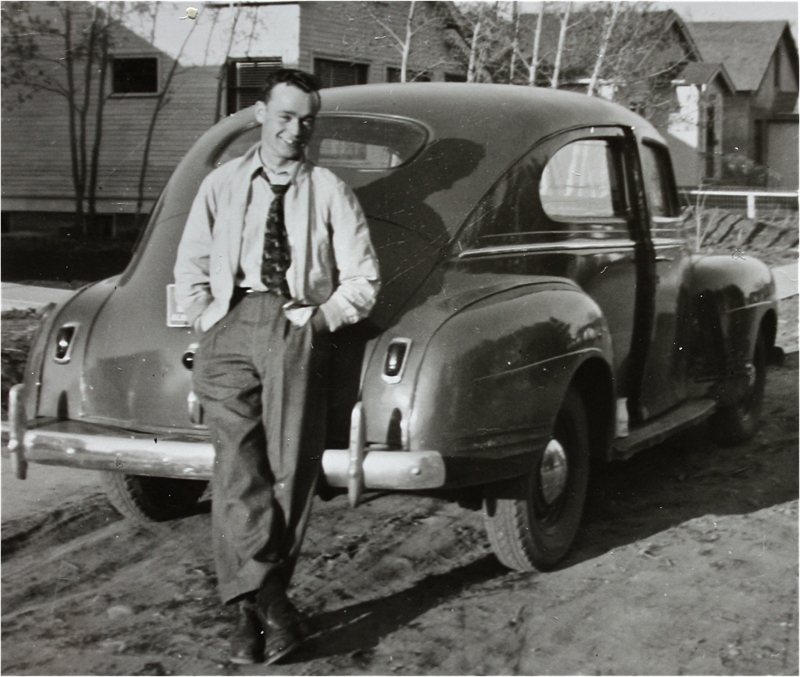 As people chatted and gambled, we cleaned up… I was amazed by the little family army of workers we had. No, I will never do it again. And. yes, it was worth it.
Helen and Louise going down!
Bill is probably not even playing. If I know him, he is sweet talking the ladies! He is hilarious.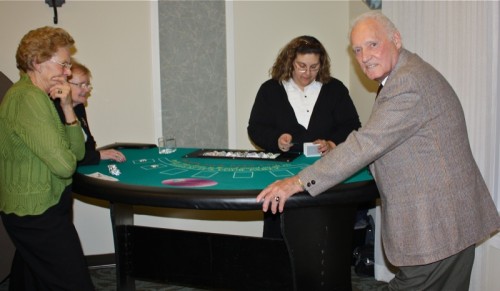 Dad had goofy prizes for everyone, so it was getting pretty competitive. We had to shut the evening down at ten because we were in a seniors condo with seniors and had to keep the noise down. It worked well. Some would have stayed many more hours chatting away, but even mom and dad were beat.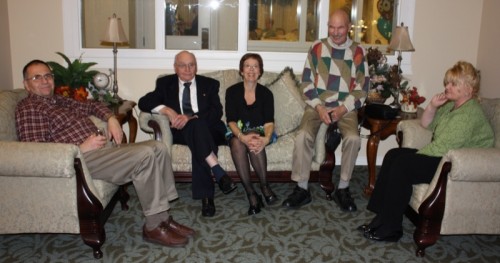 We cleaned up the bulk of everything by 10:30 and stayed with mom and dad visiting and reading the cards they received until midnight. That is the other fun part of every event: talking about it afterward!
And the next day? Well, perky Miss Helen and Ever-Ready George had the out-of-towners over for brunch. It was quite a spread. Mom did this entirely by herself. Unbelievable.


What a lovely closure for the celebration of this union. It is the family and friendships throughout life that bring meaning to one's raison d'être. Mom and dad's life has been so enriched through these relationships as they have also brought so much joy to us, and others.
Here's until your 75th! XO
Happy Hour
Bored? Play the Happy Hour Game in the box at your table!
»
Celebratory Bubbly
Charcuterie with Cheese
Open Bar all night long!
Celebrate Helen and George
60th Anniversary Menu
»
Aged Alberta Angus Prime Rib
with Bernaise Sauce
Traditional Cordon Bleu
Baked Atlantic Salmon Filet
with Garlic Cream
Mashed Potatoes with Roast Gravy, or
Portobello Mushroom Gravy
Hunter's Mash: Parsnips and Leeks
Vegetable Medley with Bernaise and Toasted Almonds
Oven Roasted Beets with Balsamic Syrup
Traditional Coleslaw
Judy's Famous Caesar Salad with Fixin's
Helen's Homemade White Buns
with Assorted Breads and Crackers
»
Coffee
Desserts
Layered Chocolate Cake with Ganache Frosting
Tiramisu
Turtle Cake
Lemon Strawberry Pavlova
Caramel Cream Pavlova
»
Mini Ice Cream Cones:
» salted caramel
» mincemeat
» hazelnut nougat
» pumpkin
» chocolate
I do plan on posting many of these recipes, and as I do, I will link them from here.
Did I mention how impossible it was to take decent photos while working the party? I guess that is obvious!