"Health & Wellness" is the focus
Walking back over to the main lodge, momentarily alone, breathing in the fresh cleansing mountain air hearing "O Little Town of Bethlehem" softly, somewhere in the distance was picture perfect. I stood still, hoping time would.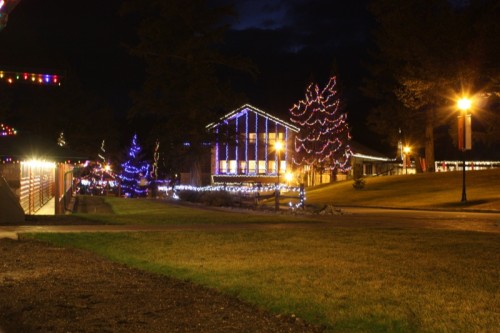 Entering, one foot in the door, "May I take your coat, madam?" "Absolutely, and thank you!"
The room was no longer empty. It was not full… but, there was a gentle murmur of pampered luxury in the air… as my eyes adjusted to the low light; I could see tall black clothed cocktail tables to perch against while enjoying a bite here, and then a bite there. Let's talk about those bites!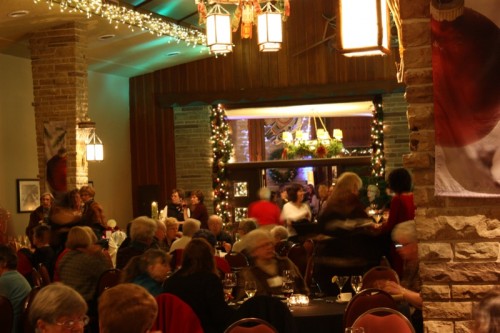 As the World Class Fairmont Jasper Park Lodge Spa just opened at the end of October with their Grand Opening scheduled for the 15 of November, the theme of the festivities for Christmas in November this year is Refresh! Derek Ingraham, Fairmont JPL Executive Chef, and his team, created the "casual menu" for our Welcoming Reception around this theme by developing 5 different menus: one for each of the 5 relaxation and revitalizing teas specially developed for this spa.
I had the good fortune of meeting Chef Ingraham and his executive Sous Chef, Cory Ledrew, during my quiet investigation earlier in the evening. They were just finishing the final touches an hour before the reception was to begin and were open, welcoming and so warm. Kitchen Tours are offered at two times every morning, or I could ask for one from them at my convenience. Later in the evening, I asked Chef Ledrew for a copy of the evening's menu and it was waiting in my in-box before I even arrived back to my room!
The setting was the main room of the lodge and into the formal dining room area. Dress was casual. Lighting was dim and romantic. Festive lights twinkled while carols rose from the piano in the back of the hall. Joy was in the air. Everywhere!
Three martinis were offered: the Candy Cane, the Eggnog, and the Energizer. Ceder Creek's lovely red and white wines were available at all dinners and receptions, varying kinds at each.
Sometimes, or if you asked, your martini was poured into the top of this lit display and came out the top of the little finger. Look closely. Such fun! The atmosphere was teaming with festivity!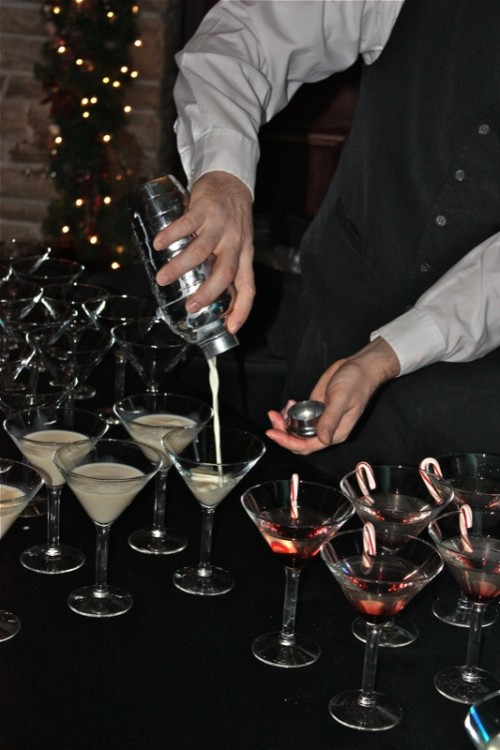 Each Martini was also accompanied with a business card that held its recipe, too!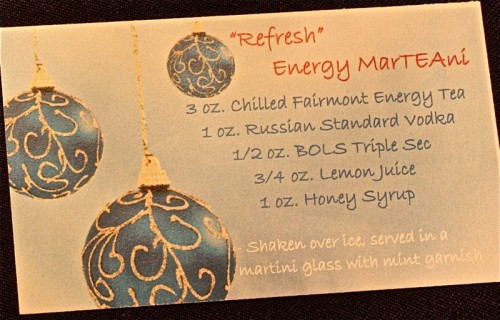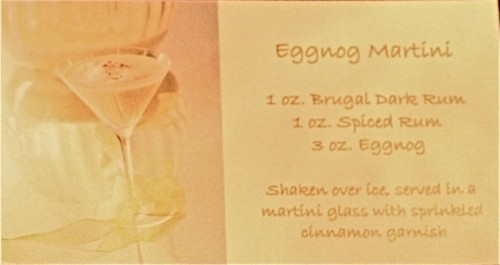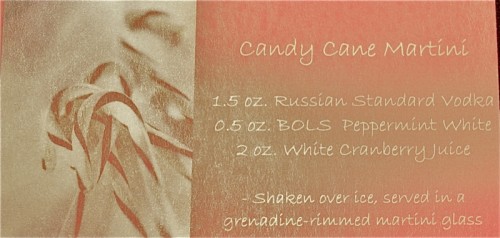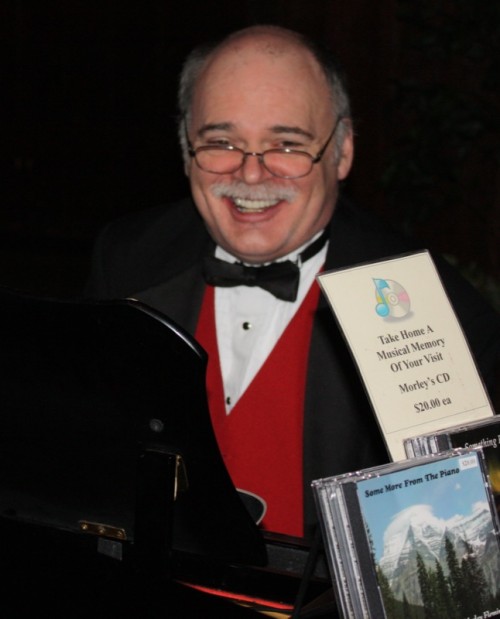 Morley Fleming played throughout each event. This set the tone and was a touch of class that I appreciated.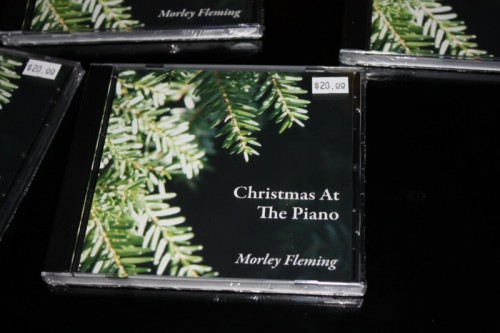 If you know me, you know I suppressed a squeal of delight when I saw the cheese plates. I adore cheese. Though I was thrilled to see they were all Canadian cheeses, I was disappointed to see that none were from Alberta. However, that changed during the Wine and Cheese Tasting Session I attended (to be posted, soon). Each taste was very special.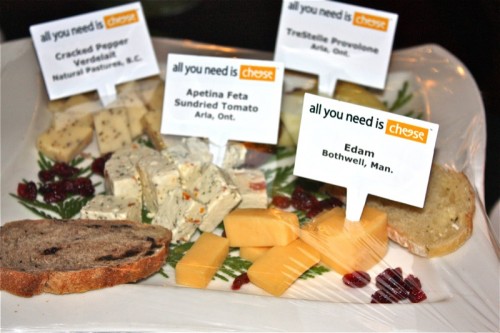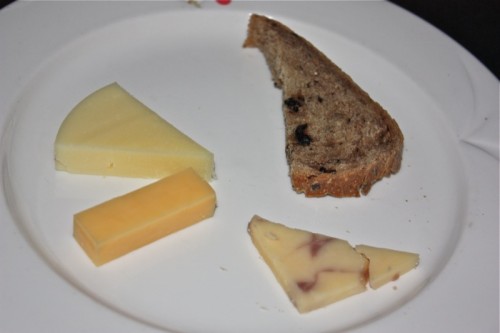 Now, I will take you through the tour the way the menu was organized that I received from Chef Cory Ledrew. I explored all first, then formulated my plan of action for what I would taste from each venue.
Please note: The room was extremely dim. It was very difficult for me, as an amateur photographer, to take acceptable photos. I did my best, but did not do justice to the culinary excellence that was presented to us this evening.
First up: Fairmont High Antioxidants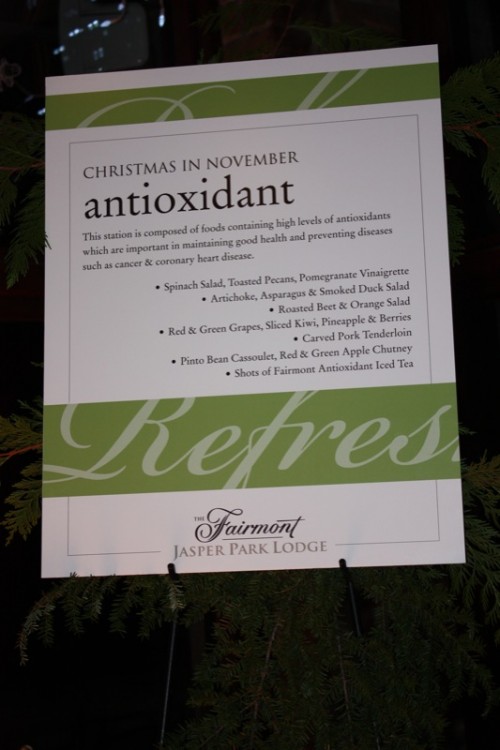 This station is composed of foods containing high levels of antioxidants which are important in maintaining good health and preventing diseases such as cancer and coronary heart disease. I am glowing! Here I am in the Rocky Mountains which is revitalizing on its own, but to then have this exceptional resort focus on my health and well being through the food presented almost found me giddy.
Spinach Salad with Toasted Pecans in a Pomegranate Vinaigrette
Artichoke, Asparagus and Smoked Duck Salad
Roasted Beet and Orange Salad
Display of fresh fruits containing high levels including:

Red and Green Grapes, Sliced Kiwi, Pineapple and Berries

Carved Pork Tenderloin with a Pinto Bean Cassoulet and a Red and a Green Apple Chutney
Shots of Fairmont Antioxidant Iced Tea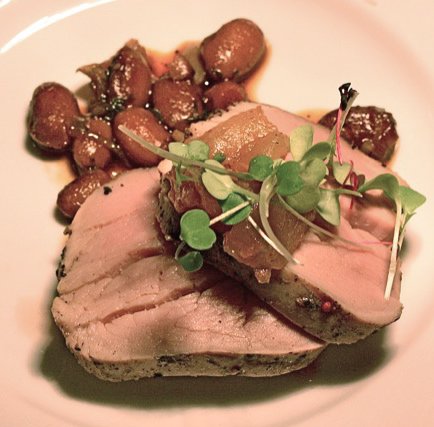 The pork tenderloin with the cassoulet and apple chutney appeared perfectly succulent, and I didn't even taste it. I wanted to. But, I didn't taste anything from this menu. I had my fill, but heard that this pork was butter-knife tender and the combination of flavours perfect. I am a lover of duck confit, and anything "ducky"! The smoked duck salad had a very special appeal to me with asparagus and artichoke, but there is only so much one can eat. I still regret not being able to taste this. The gal across from me was moaning with pleasure after each bite she took!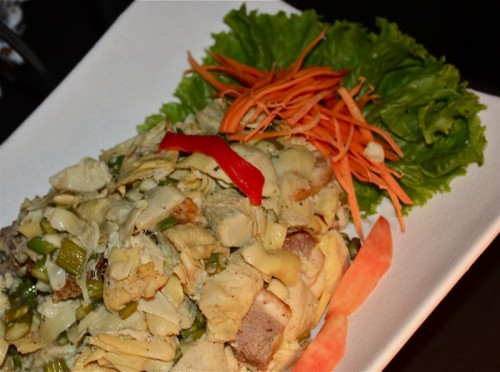 Roasted beets are perfect this time of year and make a vibrant and deeply delicious contrast to other vegetable dishes.

Fairmont Tranquility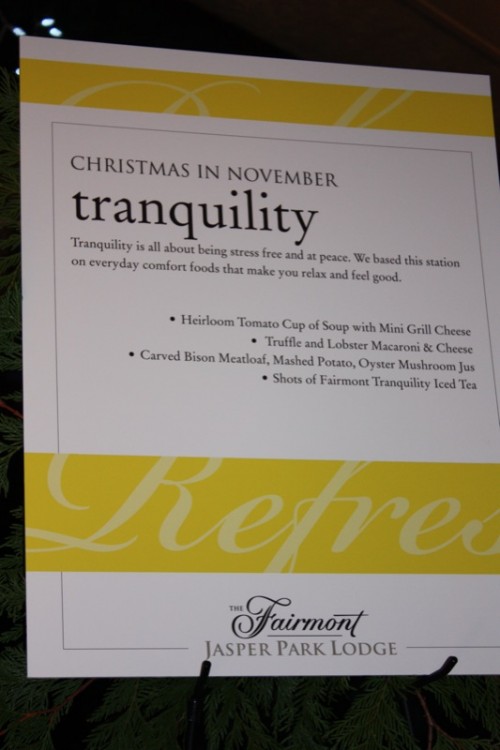 Tranquility is all about being at peace, and stress free; this station is based on everyday comfort foods that people like to sit back and relax at home with: no worries!
Heirloom Tomato Cup of Soup with Mini Grill Cheese for dipping
Truffle and Lobster Macaroni and Cheese
Carved Bison Meatloaf on Mashed Potato with Oyster Mushroom Jus
Shots of Fairmont Tranquility Iced Tea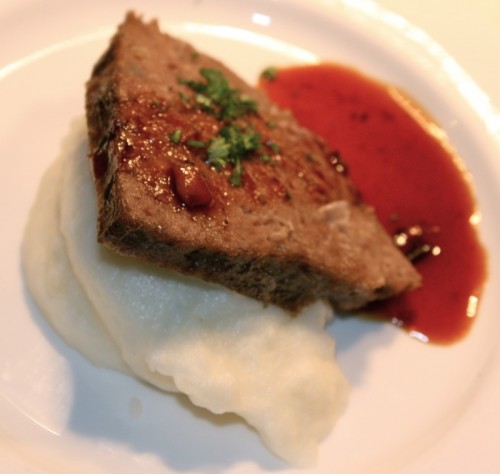 "Hello! Will you please hold my spot while I get that?" Yum. Don't even ask how I teetered all three "bites" back to the elegant cocktail table to taste. The mac and cheese was fab! A huge bite of lobster in the center of each of them had us all rolling our eyeballs and speaking in tongues. I didn't taste any truffle oil, but it didn't matter. That dish was a home run.
I sampled everything from this menu. Tranquility means home to me and that is exactly what each of the dishes on this menu spelled. The pièce de résistance was this bison meatloaf. Of all of my tastes, it stood out as a little corner of heaven, to me. My mom's meatloaf is my favourite dish at home, but this was nothing like hers. The depth of complex warm subtle flavours within the meat highlighted by the bright and earthy mushroom jus resting on the pillowy soft warm luscious mashed potatoes did it for me. I ate every bite of this "bite" and didn't want to part with the plate as the holder of the memory.
The heirloom soup was too sweet for my palate, but I was obviously alone on that one. It was a hit with everyone I talked to. It was still delicious. I just prefer more savoury soups. The classic comfort of the paring with the grilled cheese was just what I wanted to start my meal with. Throughout my stay, my wishes were met before I wished them. That was the magic of this Christmas in November.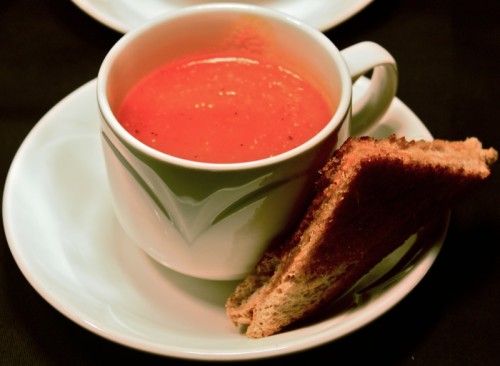 The Tranquility Menu was my favourite. No airs. No pretence. Really good comfort food: perfect for my first night in the autumn mountains. Lip smacking goodness with every bite!
Fairmont Energy
These are foods that are high in vitamins and minerals that are needed to help convert the food you eat into energy keeping you awake and focused.
Alberta Field and Forest Mushroom Salad
Egg and Potato Salad with an Herb Vinaigrette
Tuna Poke with Crème Fraiche, and Sevruga caviar
Toasted Sunflower Seed Crusted Salmon with Yogurt Drizzle
Pistachio Crusted Free Range Chicken in a Natural Pan Reduction
Shots of Fairmont Energy Iced Tea
I had spotted these delicate morsels earlier. Recipes were provided in business card format under the presentation and I later learned that the recipe was developed by Chef Brett Yasukawa, one of the Chef presenters. The bite was luscious. It was actually my first bite of the evening as I had seen the spoons lined up earlier. I had more than one "bite" of this subtle spoonful of the sea.
The salmon and chicken were particularly appealing to me as one had the seed crust, and one the nut crust: YUM! I learned that the mushrooms served from this kitchen are intensely delicious in every dish they rear their head in.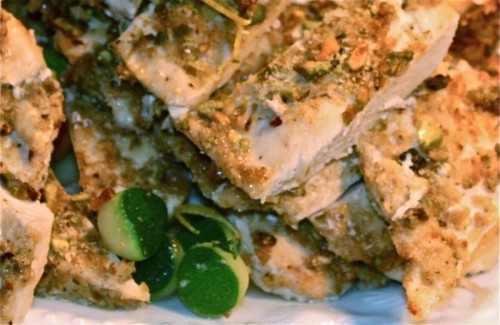 Fairmont Digestif
Digestif are foods that not only digest easy, but release enzymes that help with the digestion of other foods that you have eaten, all the foods on this station will help digest the rest of you meal so you can relax afterwards!
Selection of Sliced Whole Wheat Breads
Assorted Field Greens, Papaya and Avocado
Peppermint Flax Seed Oil Vinaigrette
Assorted Fresh Vegetables with "œActivia" Cilantro Dip
Warm Low Fat Goat Cheese and Fig Croute
"œMoroccan style" Tagine of Lamb and Prunes
Shots of Fairmont Digestif Iced Tea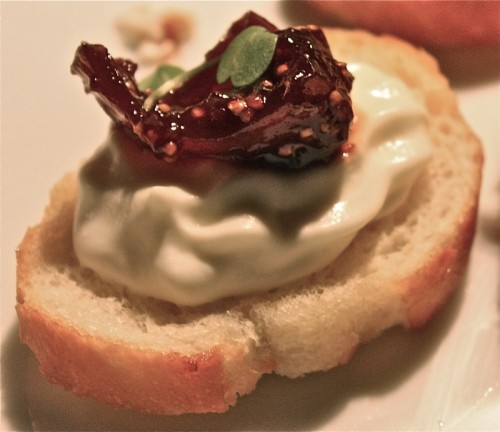 I tasted the lamb chop and the croutes from this menu. OK. I confess. I "tried" the croutes a few times. They were spectacular! The combination of flavours is a classic and was perfect. Yummy! (And one more.) It was my second bite of the evening and I soon craved more. They were addictive. The cream and the crunch with the tang and the sweet was unforgettable. And it was such a simple creation!
I rarely eat lamb as Vanja doesn't care for it at all. (At all!) I have had some deadly delicious lamb, but find there is a lack of consistency and that really deters me from trying it, anyway. However, this lamb was so beautifully presented and the aromatic balm beckoned. Everyone was raving about this dish. It was subtly sweet unlike other tagines I have had. A hint of sweetness, and richly flavoured right to the bone. And even the bone was tasty!
Each tea was served with its complementary fare, iced, in a shooter glass. I truly appreciated the thought that had gone into each menu to compliment the theme of each tea.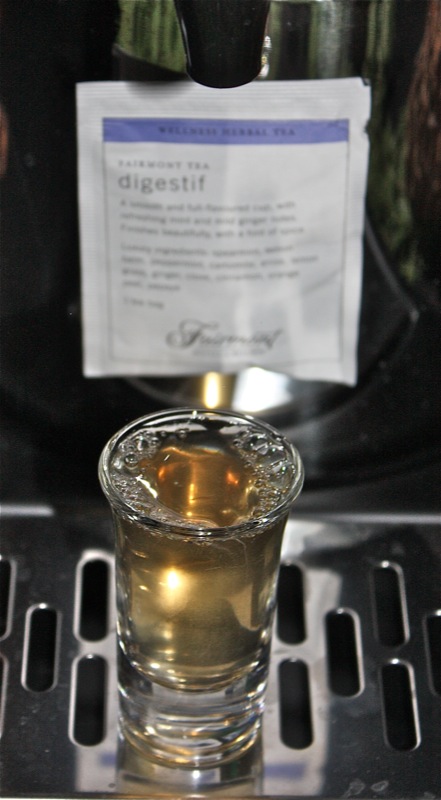 Fairmont Equilibrium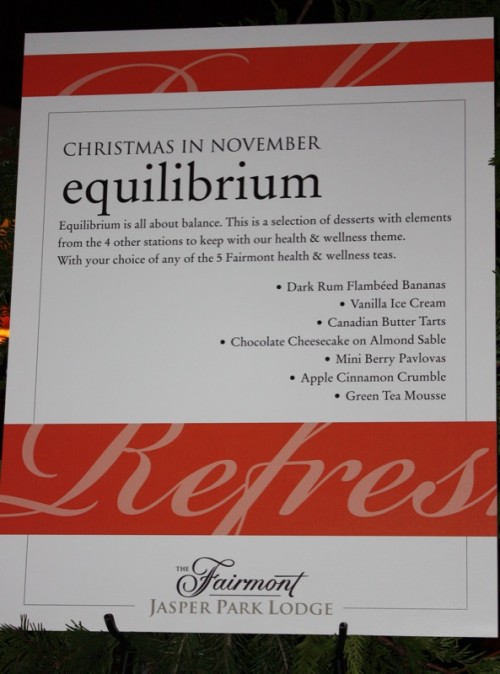 Equilibrium is all about balance; here is a selection of desserts with elements from the 4 other stations, keeping within the health and wellness theme with a choice of any of the 5 Fairmont health and wellness teas.
Dark Rum Flambéed Bananas with Vanilla Ice Cream
Canadian Butter Tarts
Chocolate Cheese Cake on Almond Sable
Mini-berry Pavlovas
Apple-cinnamon Crumble
Green Tea Mousse
Why is it that desserts are always easier to sample more of? Is it just me, or do they just settle so nicely between all of the savoury bites? I did not have one of each, but I did try all except the apple-cinnamon crumble.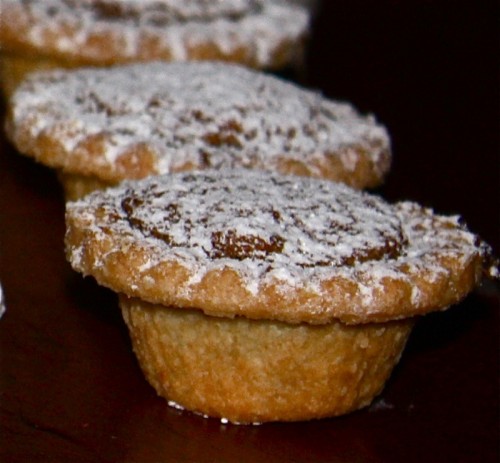 The butter tarts did not look appealing as they had a thick pastry and were in that boughten pastry shell looking shape, but I thought, "Hey! This is the Fairmont JPL. Let's see what they did with our famous Canadian Butter Tart." They did do the tart justice. I was really surprised. The pastry was light and flaky and the filling was ooey and gooey and caramely and buttery just as it is supposed to be. YUM.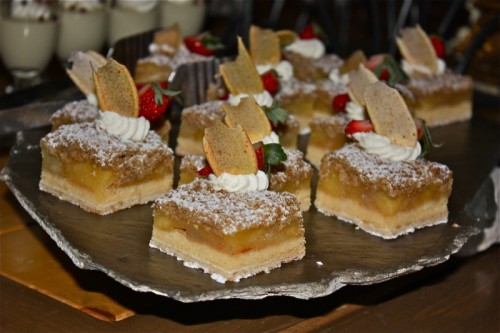 Above is the one item I did not try on this menu. However, after eating a great number of the desserts from the JPL Kitchen, I have to say I know it would be surprisingly yummy. Everything was. This is so unusual for banquet fare even at Fairmont Hotels. Everything is good; somethings are better than others. In this case, everything was delicious. Eyes widened each time as every single dessert was even more delicious than I expected it to be. The Pastry Chef isDimuth Sepalaand I had the good fortune to meet him on my Tour of the Kitchen (to be posted soon) on my last day there. Thanking him personally felt really good.
The Green Tea Mousse? What was it? Could not taste green tea or a moose. ( 🙂 )
The flambéed bananas were richly caramelized and perfect on top of the ice cream (my favourite all time food). I am mesmerized by flambéing, but it did not photograph well.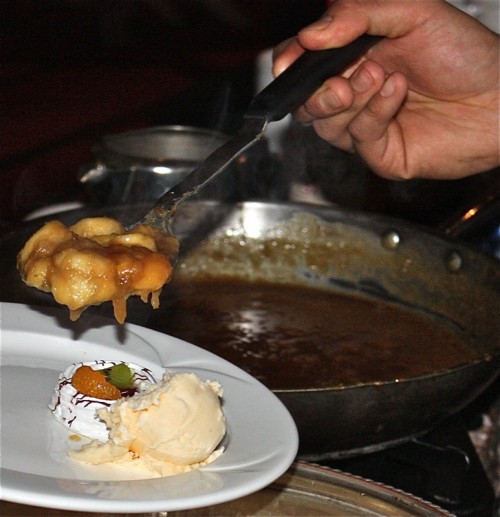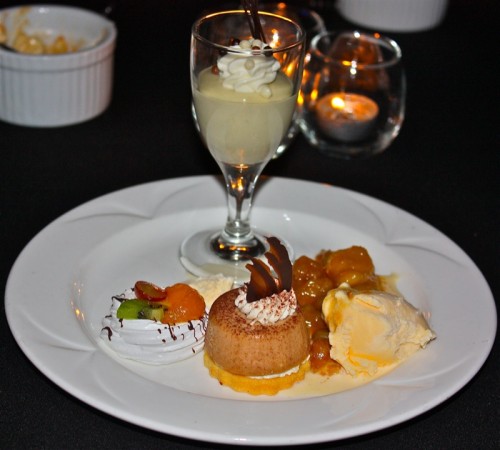 Here's my "plate".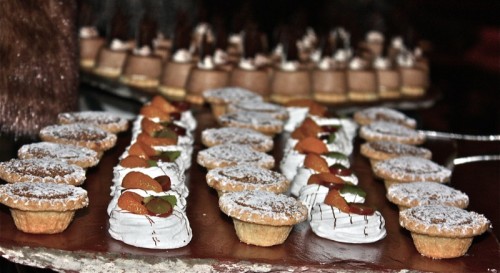 Loved the miniature pavlovas.
Tummy full. Body aching with sleep as the day was packed with visiting and warmth and energy and fun, and I was still hung over from my work on mom and dad's 60th wedding anniversary (post to come). I need to get to bed. The fire pit was just getting starting. I could hear the corks popping and the chairs being pulled closer to it… but, tonight, I turned in early. Bed time for me.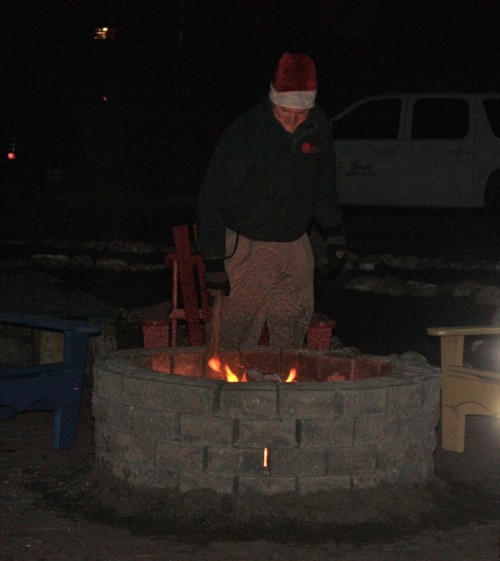 Kitchen tour at 8 am!
(Beavie didn't even make it out of the suitcase, tonight, either. I am such a negligent pet owner!) Nighty-night!
The Sessions I attended at Christmas in November 2010 that you can read about here, are:
As well, I have made some of the food from this conference that you can read about here: