Looks deceive: these cupcakes are the ULTIMATE rich and ooey-gooey irresistible concoction!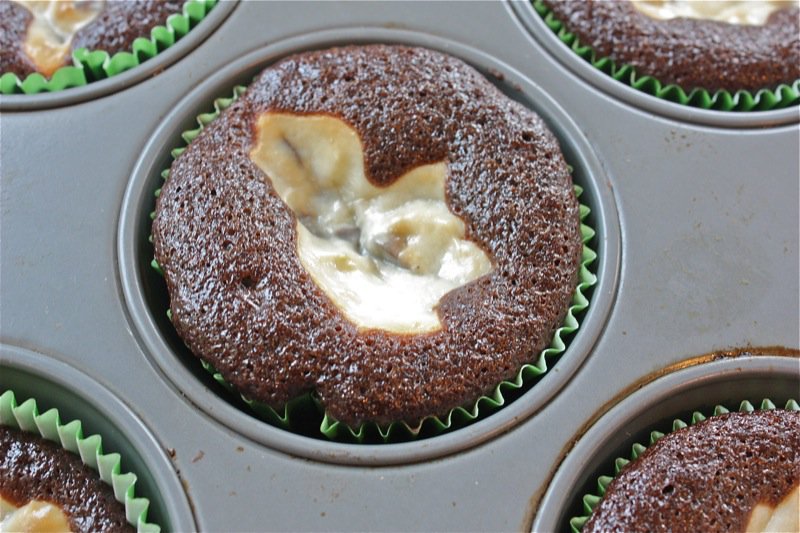 Black Bottom Cupcake Recipe
Ingredients:
1 1/2 cups all-purpose flour
1 teaspoon baking soda
1/4 cup unsweetened cocoa powder
1/2 teaspoon salt
1 cup white sugar
1/3 cup vegetable oil
1 cup water
1 tablespoon vinegar
1 teaspoon vanilla extract
1 (8 ounce) package cream cheese, softened
1 egg
1/3 cup white sugar
1/8 teaspoon salt
1 cup miniature semisweet chocolate callets
Instructions:
Preheat oven to 350 degrees F (175 degrees C). Line two 12 cup muffin pans with paper liners. Sift together the flour, baking soda, cocoa powder and salt. Set aside.
In a large bowl, whisk together 1 cup sugar, oil and water until blended. Stir in the vinegar and vanilla. Beat in the flour mixture until incorporated. Set aside.
In a medium bowl, beat together the cream cheese, egg, 1/3 cup sugar and salt. Stir in the chocolate chips.
Fill muffin cups 1/3 full with chocolate batter, then top with a heaping tablespoon of the cream cheese mixture. Bake in the preheated oven until the tops spring back when lightly pressed, 20 to 25 minutes.