Homage to Michael Smith and CIN 2010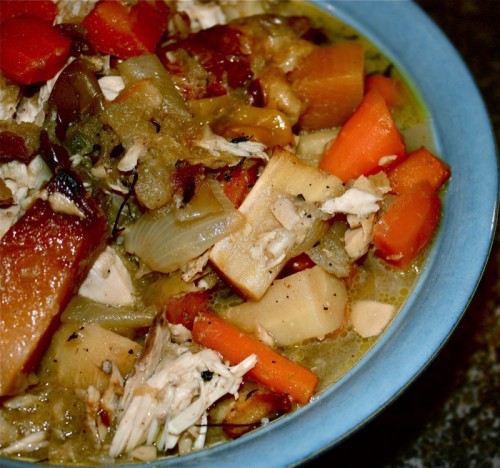 After attending Christmas in November, I had to come home and cook! That is what I do. First up: Michael Smith's Roasted Chicken. I could not resist. It looked that simple and was that scrumptious.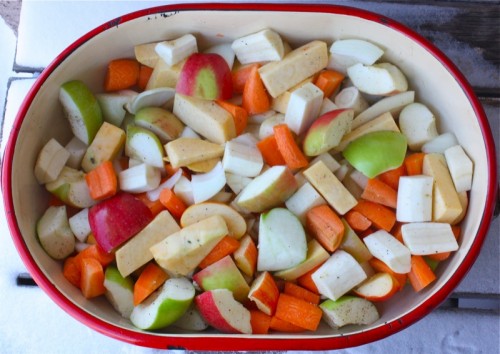 It is definitely root vegetable season, so after a trip to Old Strathcona Farmer's Market, I had some beauties. His recipe is quite simple; his mantra is "switch it up: use what you have". So, that is what I did.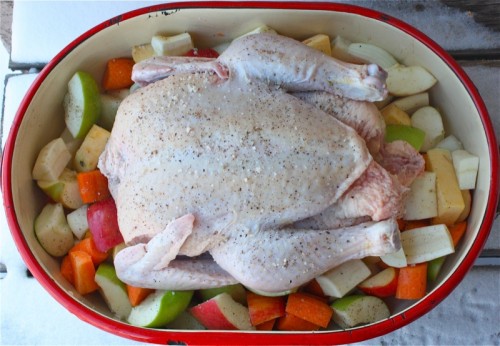 I had parsnips and rutabaga. They are both strong roots, but I love them. In they went. Everything else was per the recipe: the onion, garlic, carrots (thank you, Wendy!) and the apples.
But, the chicken is key. Without a good chicken – and I mean, a really good farm raised chicken bought directly from your farmer – don't bother. Really. The chicken makes all the difference. See this fat, happy, well loved organic chicken from Sunworks Farm? I rarely roast chickens and have never roasted one without stuffing. This is a first. I was eager.
Don't forget the cider. And I am not taking any cider. Remember that we pressed our own apple juice in the fall? That cider. It is still hard for me to believe there is nothing in it but apples and I made it!
In the preheated oven as per the recipe and voilà , a beautiful brown birdie! The vegetables caramelized more than I expected. I had taken the lid off of the roaster the last 15 minutes as it wasn't browning as much as I thought it should. It really doesn't matter for this recipe, but it is roast chicken! Let's get some colour on it! I was happy with the look of those lovely caramelized veggies.
I ripped and tore. Not recklessly, but with zeal! The flesh was so moist and lush. The juices were succulent.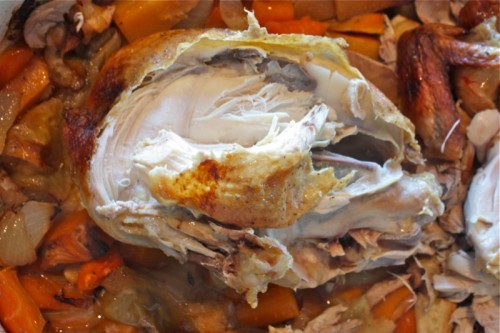 Not a really pretty dish at this point.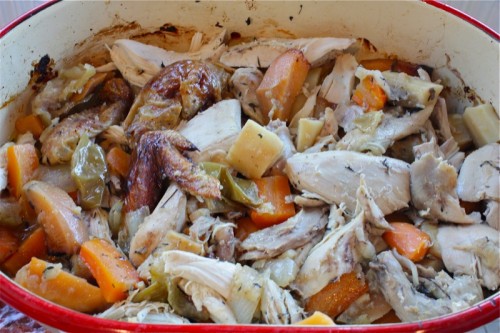 Woops! I didn't have the shaved green onions to toss on top which would have really been nice. I almost always have them on hand. I think it looks really lovely plated.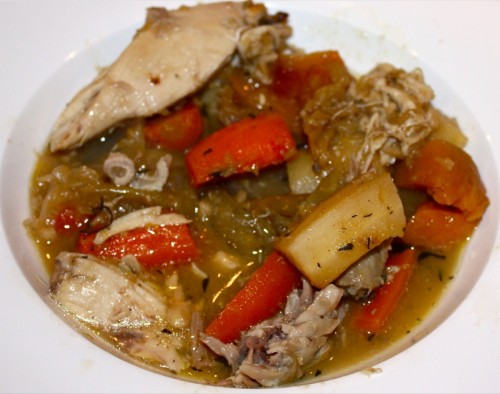 I made homemade baking powder biscuits and had mom and dad over: stew and a biscuit on a blustery -35°C day… now, that was comfort food!
Next up: the brisket from JPL's Executive Chef Derrik Ingraham. In the mean time, I still have three more sessions from the even to post. (No, no one is making me… but, I love to do it!)