Day Three: Presenting SAIT's Wolfegang Stampe and Cedar Creek's Gordon Fitzpatrick at CIN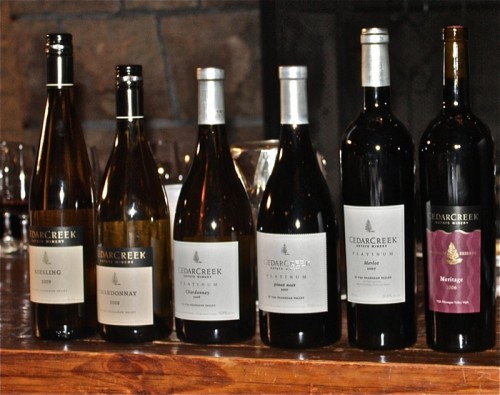 After the Sushi Making Class with Chef Brett Yasukawa, I was not hungry. I didn't have much, but I usually don't have much in the morning. However, who wouldn't love to go into the beautiful dining room at the Fairmont Jasper Park Lodge and be treated like a Queen? This luxury was ultimate and I was walking on air for days after. I was the first at our table, as usual. I like to be first.
The settings were so lovely and the menu is always a touch different than the one in the program. Soup bowls were set with a curious and delectable looking mushroom mix in the bottom of them. (Recipe will follow at the end of this post)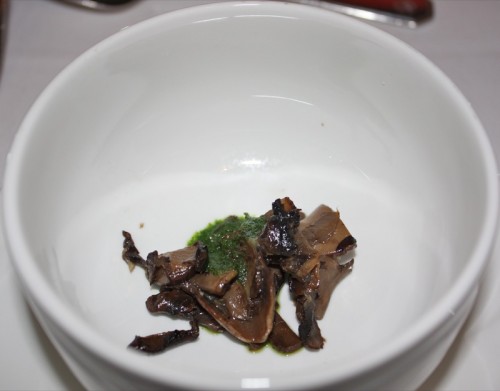 It is apparent that this soup is not done exactly as per the provided recipe; however this soup was extraordinary. It was spectacular. I cannot rave about it enough. And, the recipe looks very similar except for the green garnish in the bowl. I will be making this soup in the very near future. Maybe for Christmas dinner! This is a show stopper and a full on sensory explosion on all fronts: taste, feel, aroma, appearance. The entire table was silent except for slurping, purring and cooing noises.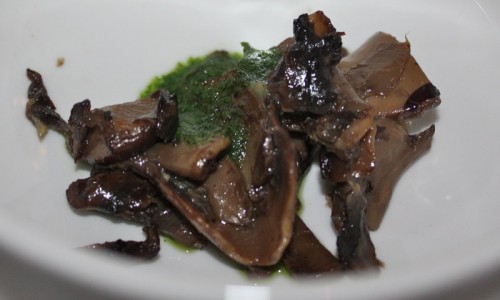 My tablemate's cheery faces! What a lovely group of gals. I certainly hope I run into them again!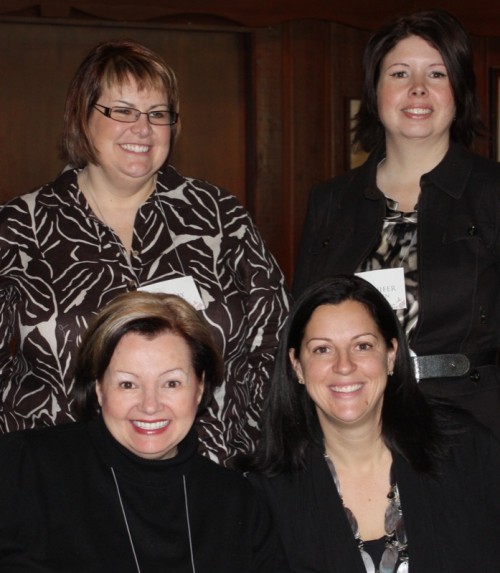 This was lunch! Herb crusted Mahi Mahi with coconut couscous and a pineapple and mango salsa: cha-cha-cha! What a gorgeous flavourful plate! (I have the recipe for this if you are interested, I will mail it to you.)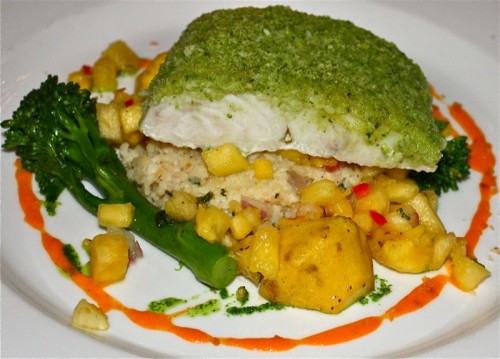 More prizes and give-a-ways and screams of pleasure and delight from the happy winners. So many prizes! Then, the pièce de résistance: Fresh Berries Three Ways. Oh, my goodness gracious me oh my oh me! (This recipe is also below.) This was a spectacular layered sensation. Am I over using those words? Probably. The intensity of the fresh berry flavour was so incredibly unexpected. The mouth feel of the varied textures through each layer and the overall lightness of this dish was addicting. I will be making this in my little French verrines very soon (and going through three or four of them at a time!!). I am excited to make this as the recipes for each portion are very straightforward and the result is unexpectedly outstanding.
Ducking down to my next session, very early, as usual, I met Mr. Buffalo hanging over the fireplace. Now this is my kind of lodge! Rustic, warm, and definitely Canadian.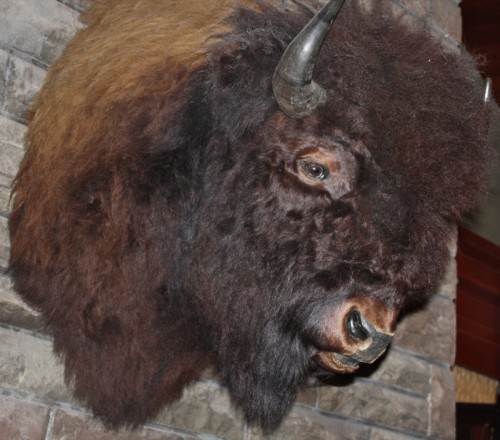 All of the cheeses are Canadian and if you start at the red dot on the plate below and go clock wise, you can find each one on the list above. The red dot marks the Double Crème Brie. The Clothbound Cheddar is in the centre of the plate.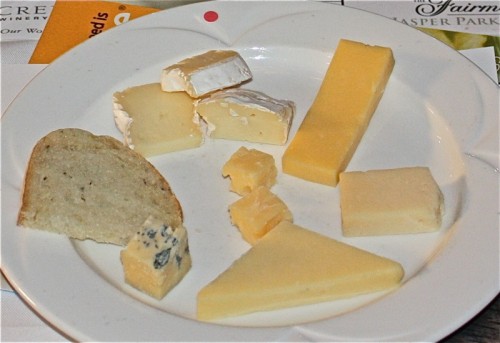 I am not a wine drinker but I love tasting wines and pairing them with food. They really compliment foods and create incredible taste experiences found nowhere else. Somehow, I just cannot drink wine. I get headaches. When Vanja and I were in Napa Valley last summer we spent a couple of days touring and tasting our way through many wineries there and really cherished the experience though neither one of us will just sit and enjoy a glass of wine. That is very difficult for all of my friends to understand. The set up is sparkling and well thought out as every venue here has been. Even a pen and paper for note taking has been provided!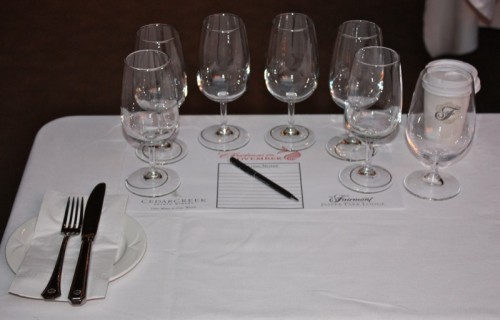 The room is massive and I am aware that a couple of the sessions were too full to accommodate all who tried to get in. It wasn't like that today, and I was happy about that. I like more intimate learning experiences.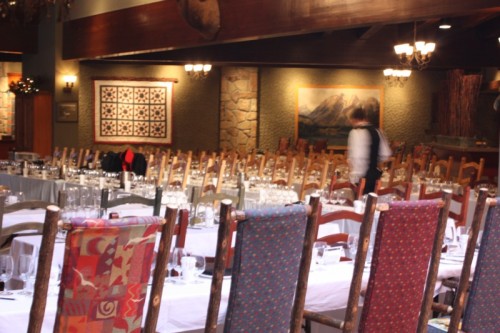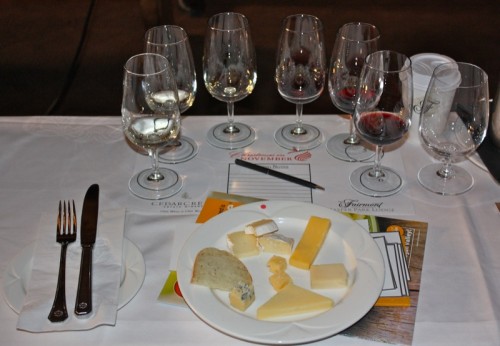 The wines are poured and the cheeses presented. It is time.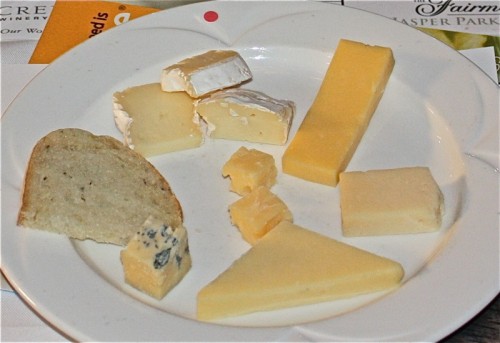 Under our plate are several information booklets and brochures.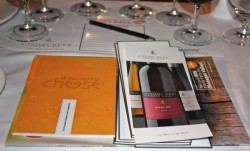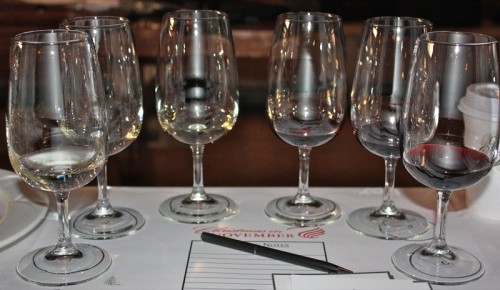 I am happy to see that each glass is poured for a tasting, not a drinking!
Wolfegang Stampe is a retired SAIT Polytechnic Culinary Instructor who was born, raised and trained in Germany. He has lived and worked in Ireland and the Bahamas before immigrating to Canada in 1971. Wolfegang and his wife, Susan, owned a Bakery, Restaurant and Catering Company for several years in Edmonton. In 1985, he joined SAIT Polytechnic in Calgary, as a Culinary Instructor, retiring in 2006. Currently, he is enjoying doing contract work for SAIT Polytechnic, the Dairy Farmers of Canada, and some other Food-related businesses. He has served overseas for CESO (Canadian Executive Services Organization) as a volunteer advisor to the hotel and restaurant industry.
He was so passionate and informative. I would travel to listen to this man share his expertise anytime!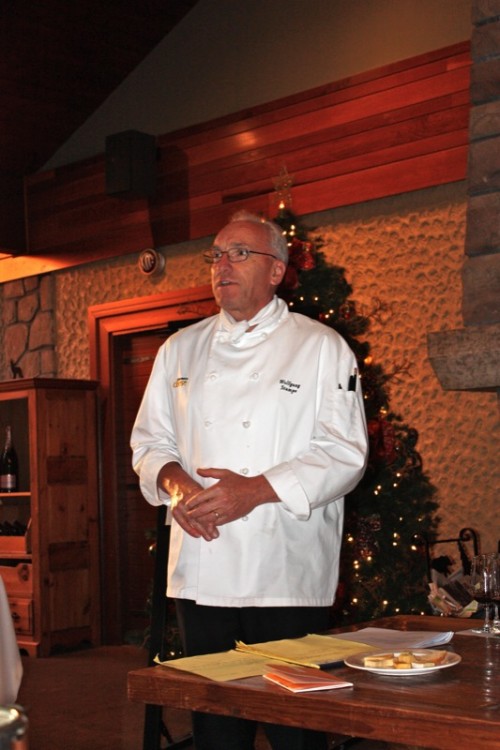 Cheese in the words of Wolfegang Stampe:

All cheeses today are made from 100 percent Canadian milk; no substitutes and no fillers
There are over 400 different types of Cheeses in Canada and its cheese makers
This kind of pairing is about enjoyment and enriching our lives
Refer to the cheese booklet on page 24
Pair lighter cheeses with lighter wines and more pungent cheeses with chewier wines
Wines in the introductory picture are lined up to pair with the cheeses on the white board in that same order
Before the second world war in a hotel we would eat for 4 hours and 11 courses (before TV); things have changed but we need to get back to really tasting and enjoying our food
Origin of Today's Cheeses:
Wolfegang highly recommends having your cheeses shipped to you and buying them over the internet for special tasting occasions. He does this every holiday season (and for this event) and is never disappointed. On that note, Sylvan Star Cheese did not have enough product to contribute to the tastings this year, but Wolfegang sings their praises. He did not know about Smoky Valley Goat Cheese, or the young Pecorino made nearby at The Cheesiry, but he does now.
Gordon Fitzpatrick is the President of CedarCreek Estate Winery located in the heart of the Okanagan Valley which grows, produces and sells 100% premium B.C. wine. Twice named Canada's Winery of the Year at the 2002 and 2005 Canadian Wine Awards; CedarCreek is dedicated to producing world class, highly acclaimed wines and providing the most intimate of onsite winery experiences. "œSmall But Mighty" is his mantra and what is it that makes wines from the Okanagan Valley so precious. His father started this company and he is carrying on the family business with great pride and tradition.
What is special about the wines of BC, particularly the Okanagan in the words of Gordon Fitzpatrick:
There is a story behind each bottle and the people that make it
Bigger is not better
Terrior: wine should be all about the place that it is from
Small is a good thing
There are five areas and 200 wineries in British Columbia

Vancouver Island
Gulf Islands (33 wineries on the islands, altogether)
Frazer Valley 10 wineries on 70 acres
Similkameen, and the
Okanagan

How are we different than the Canadian Niagara Wine region?

It is bigger than the Okanagan
They are excellent ice wine producers due to their climate; we are not
They are three times the size regarding the grapes planted, but a lot of the grapes do not go into wine
The Mexico Sanoran (desert) runs all they way North and the Okanagan is the only desert climate in Canada
Grapes need Heat and the Okanagan is:

Hot and dry
Degree growing days:Â 1492 in Osoyoos compared to 1326 in Bordeaux and 1622 in Napa
Precipitation mm 290 in Osoyoos compared to 900 in Bordeaux and 599 in Napa (or in inches: 11/35/24)
Latitude 49-50 degrees Latitude, so we get 2 hours more sun than Napa or any other region in the world (Richard Smart: Let Sunlight into Wine)

What we do is called "Extreme Viticulture" (hot summers, cool falls cold winters)

Pristine Environment: few insects or sprays
Click beetle and cutworm have to be looked out for very early on in the season: we let unsightly grass grow between vineyards and it keeps the bugs out of the canopy
Harvest Hang Time: Natural Cold Soak (shorter and cooler days and we let the grapes hang)
TA's sugar acidity weren't all there: we let the grapes hang until mid October (3 weeks later than normal this year) but it was the right decision for the grapes because the acidity dropped the ph was better, the sugars developed and the flavour developed character

Wine maker must be out tasting the grapes and that can happen at a small winery

Analysis in the lab is not enough: the flavour profile cannot be added in; it must come from the grape (it can't be added in the lab or the winery like many other aspects of the wine can)
Our wine making team is out tasting each block as opposed to major vineyards like Yellow Tail that use a formula and never get out to taste

Various micro-climates affect our products

Growing grapes in Oosoyus is very different than growing in Kelowna: we have 37 different soil types in a very small area
Our Place: Our Diversity: Our Style

See Diversity Chart in pic on camera, above left

Erhinphelser (sp?) planted in 1977 is an incredible wine we call "Fruit Salad in a Glass"
There is a direct correlation between quantity and quality
Record 22 tons on the golden mile
Rule now is we crop at about 4 tons per acre
Dramatic Transformation after free trade to pull out the hardies and put in the noble varietals: the veriferal vines
In 1986 my dad found a struggling farm and changed the name to CedarCreek as the creek running across the property was lined with cedar trees; the name is critical and needs to have purpose
Our initial hobby winery grew after Free Trade
Wine improved and the pioneering was tempered by patience and perseverance
We own 150 acres up and down the valley
We have been rafting wine for 24 years
We won Canada's Winery of the Year twice
We are really all about: Truth in Wine
Our wine is our word: we back it up in our bottle
Respecting the Land is critical to our success

check out the slides for the four main sites and what they plant in them, below

Honouring Tradition is important to our business

My dad started out at McLean and Fitzpatrick Ltd. (Zenith Canadian Products) and we honour that and recognize what it took us to get this far

Pursue Perfection:

Darrell is our new wine maker and isoriginally from and trained in Australia; he was hired this Spring (our wine maker can't quite walk on water but is walking on barrels)

It is very impt for wine maker to be in the right place at the right time as your wine is your resume
We provide housing at all four sites
We have a very dedicated team
Fitzpatrick's passion, sensibilities, responsibility and respect for the land, his business and his product was very apparent. I will be seeking out CedarCreek wines. Even before I tasted them, and after the tasting, definitely.
Tasting by Wolfegane Stampe:

1.    2009 Reisling and Brie
Look at the wine
Aerate it
Nose in it and enhale
Sip and Slurp (move it around the inside of your mouth and add air to receive the full character of the wine)
Volatile oils are trapped in the cheese paste when it is cold and you don't get any taste, so take it out of the fridge 30 minutes before eating
Again, to engage all senses:
What do I see?

A bloomy rind cheese: gasses create esters which create flavour
Double Brie: creamy colour, some glistening, and beginning to ooze (this indicates they are ripe and at the top of their flavour)

Squeeze: it there still a hard centre, it is too early to eat (your job is not to age it, it is to buy it, so it should be soft in the centre)
What do I smell?

mushroom
must
soil
wet cement

What do I taste?

place it on the tongue and rest it: your taste buds will receive it; your mouth will warm it
Inhale through the mouth and exhale through the nose
do you smell ammonia? If so, eat it right now "" if you get a sense of ammonia in the flavour, the cheese is too ripe and the esthers are on the way down
Comments about the Reisling by Gordon Fitzpatrick
it is all about the aromatics paired with Brie (Okanagan Aromatics) and all in the details (this is a young Skrew Top wine)
stainless steel fermented
hands off wine-making
Darrell extended the press cycle to about 3 1/2hours
also doing a longer ferment from 20 days to 40-50 days
he does a cold soak first and keeps the tanks cool
2. 2008 Estate Chardonnay and Gouda (young)
this is a WONDERFUL pairing (Wolfegang would have liked a stronger gouda)
Gouda is matured at warmer temp and has toffee and caramel notes when aged
Gouda is firmer than Brie and the paste is a little tighter
Dairyish cream butter: sweet and salty
Made with two cultures (one added to milk and one added to the curd)
Comments about the Chardonnay by Gordon Fitzpatrick:
there is not a lot of oak influence in this wine, but the oak gives us a middle (also screw top)
we don't do the easy thing, we do the right thing
usually you plant east to west, but we had to plant north to south
south will ripen 12-14 days earlier than north facing so we do 2 passes; one for each ripening (more expensive, but it is the right thing to do)
this Chardonnay lingers"¦.
3. 2008 Platinum Chardonnay and Boerenkaas THIS CHEESE and pairing blew me away: it was sensational. I could not get enough. I will be ordering this cheese and buying this wine.

Boerenkaas is an artisan handmade cheese made with summer milk and only morning milk; it is not pressed (made similar to cheddar, but not pressed)
it is a Dutch cheese and can be crumbly
Only made from pasture fed cow's milk from the Eyreshire cow
I cut all of my cheeses with a wire, never with a knife
the white with little white dots you may see on the cheese happen when the cheese ages (this one is 9 months) and it looses moisture and the white dots are flavour bombs as the sugar and culture and bacteria ages
I served you another cheese from this maker at the opening dinner called: Cracked Pepper Verdelit (it is also wonderful)
Comments about the Chardonnay by Gordon Fitzpatrick:
not an inexpensive thing, but the right thing (best of what we do is Platinum) corked
100% oak aged (American Oak has dill character)
1500 barrels at 1000 a pop is a significant ingredient (what spice is to a chef the barrel is to the wine makers)
5-7 uses per barrel
we control 85% of our fruit itself (was once harder for us to differentiate between three different tiers, so now we just do two)
I keep all wine at 12 degrees C
Chardonnays go in fridge an hour before service
Reds come out 2 hours before, decant and let it breather
4. 2007 Platinum Pinot Noir and aged Cheddar An INCREDIBLE CHEDDAR!
this is a classic match: and was absolutely a lovely pairing
Comments about the Pinot Noir by Gordon Fitzpatrick:
this is what we started our winery for (we call it heartbreak wine)
our wine must be perfect: heart break wine means that sometimes there re more grapes on the ground than in the barrels
Kathunk-ing (stainless steel plunges took 1 and a half hours by hand and now takes 10 minutes by using the Kathuker)
5. Platinum Merlot 2007 and Artisan Blue Benedictin Cheese Another EXCELLENT cheese and outstanding pairing
at this point, we were running out of time, and as Wolfegang Stampe didn't own the Dairy Companies and was just guiding us through the tastings, Gordon Fitzpatrick, sadly took over. He and his product was excellent, but many of us had an equal (or in my case, a stronger) desire to learn about the cheeses.
Comments about the Platinum Merlot by Gordon Fitzpatrick:
small scale production, cellared
special place in our hearts
first one to bring in French Oak barrels (international judges gave it a platinum)- – more red grapes now than white (we were the first red)
6. 2006 Platinum Meritage and Unpasteurized Clothbound Cheddar This was a very special cheese made in an ancient tradition.
cheese is made from the milk of Holstein's only: morning summer milk and it is raw (unpasteurized) and organic
it is formed into a cylindar that is 10 kilos
made in the old style that it was made in over 200 years ago
the cheese is wrapped in cheesecloth and cellared for 2 years
What does it smell like?

potato on outside and mashed potatoes on inside
huge difference in terrior between this cheddar and Ontario cheddar
Comments about the Platinum Meritage by Gordon Fitzpatrick:
look up the percentages of kinds of grapes in the blend
this wine will get better with age and can be kept in your cellars for 10 plus years
we don't have the pedigree that they do in France with aged wines
Jasper Park Lodge's Butternut Squash Soup with Mushroom VeloutéRecipe
Ingredients:
15g butter
1/2 small onion, chopped
2 cloves of garlic, minced
3 small apples, peeled and chopped
15g of ginger, minced
2 cups butternut squash (about one small squash)
3 cups chicken stock
salt and pepper
15g tumeric, cinnamon, allspice
5g cloves
Ingredients for Wild Mushroom Timbale:
1/2 cup lobster mushrooms, chopped
1/2 cup hedgehog mushrooms, chopped
1/2 cup golden chanterelles, chopped
1 cup matsutaki, chopped
2 cloves of garlic, chopped
1 shallot, minced
1/2 cup Armagnac
1 tablespoon unsalted butter
pinch of fresh thyme or chervil, chopped
Instructions for Soup:
Preheat oven to 400°F
Cut squash in half and remove the seeds; place face down on baking sheet and bake uncovered until easily pierced with a fork
Cool and scoop out the flesh
Heat the butter in a pot over medium heat; add onion, garlic, apple, ginger and sauté
Add spices and sautéto combine
Add squash, stock, and season with salt and pepper
Bring all ingredients to a boil; reduce heat and simmer for 20 minutes
Blend until smooth and strain through a fine sieve
Instructions for Wild Mushroom Timbale:
In a

rondeau (a wide, round usually two handled pot that is fairly shallow)

add the butter and sautéthe shallot and garlic
Add the mushrooms and cook until golden brown; deglaze the pan with the Armagnac and reduce au sec
Season with salt and pepper; remove from heat and place in fridge to cool
Form into cylinders one inch high; heat 225 mls of soup per person
Place mushroom timbale in the centre of the bowl and pour the soup gently around it
Garnish with fresh chervil or thyme
Fresh Berries Three Ways Recipe
Ingredients for the Gelée:
2 tablespoons lemon juice
zest from one lemon
3/4 cup white sugar
1 package frozen unsweetened raspberries (I have many of those from my garden!) about 500 grams
1 tablespoon plus 1 teaspoon powdered gelatin
4 tablespoons water
750 mls mixed fruit juice
1/4 cup plus 2 tablespoons Chambord (I adore this!)
6 ounces fresh raspberries
Ingredients for the Mousse:
5 ounces of raspberries
5 ounces of blackberries
5 ounces of blue berries
8 ounces of strawberries
1/4 cup sugar
1 tablespoon plus 1 3/4 teaspoons powdered gelatin
1/4 cup plus 2 tablespoons Chambord (I adore this!)
1 cup heavy cream
Ingredients for the Berry Compote:
2 teaspoons of cornstarch
1 tablespoon fruit brandy (Chambord) or water
2 10 ounce packages of frozen mixed berries (or 4 heaping cups) thawed with their juices
1 cup granulated sugar
finely grated zest from one lemon
1/4 teaspoon ground allspice
1/4 teaspoon cinnamon
Instructions for the Berry Gelée:
Put the mold(s) or glasses being used in the freezer to pre-chill
In a stainless steel saucepan combine the lemon zest and juice, sugar and frozen berries; bring to a boil over medium-high heat
Reduce heat and simmer for 10 minutes
In a small bowl sprinkle the gelatin over the water and let soften five minutes
Strain the simmered fruit through a strainer to remove all seeds
Stir in the softened gelatin and continue stirring until the gelatin is completely dissolved
Stir in the mixed fruit juice and the Chambord
Skim away any excess foam remaining on top
Pour half the gelatin mixture in the molds (or glasses) and refrigerate until just lightly set
Add the fresh raspberries to the mold and top with the remaining gelatin
Refrigerate for a minimum of four hours prior to serving
Instructions for the Mousse (two layer dessert, one layer of mousse:
Purée the berries in a processor using the finest disc or to the finest possible consistency
Strain through a fine mesh to remove any seeds
Divide evenly among two large bowls; stir 1/4 cup of the sugar into one bowl of the berry mixture
Sprinkle 2 1/2 teaspoons of the gelatin over 1/4 cup of the Chambord; place this over a small pan of simmering water until melted
Stir into the first bowl of berry mixture
Whip cream to still peaks and stir 1/3 of the cream into the second bowl of the berry mixture (the one with the gelatin); then fold in the remaining cream
Divide the second bowl with the cream mixture among the 6 dessert cups and refrigerate another hour until it has set
Then, divide the first bowl with the gelatin mixture among the 6 dessert cups and refrigerate one hour, until it has set
Instructions for the Berry Compote:
In a small bowl dissolve the cornstarch in the brandy or water; set aside
Combine all remaining ingredients in a saucepan and bring to a boil over medium-high heat; stirring often until sugar dissolves
When bubbles appear on the side of the pan just before the fruit reaches a full boil, quickly stir in the cornstarch mixture
Let the fruit boil for only one minute to cook the cornstarch; remove immediately from heat
The compote will thicken as it cools; may be served at room temperature, or warm
Putting it all Together to Make Fresh Berries Three Ways: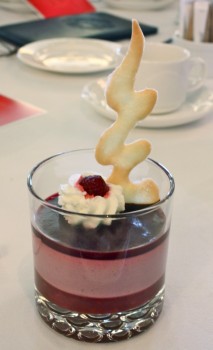 Looking at the photo and recalling the textures, all I can do it guess.
1. The Gelée went into the bottom as there were fresh raspberries there, and the mousse would not set so nicely on top of the compote
2. The moussed was next, but was not separated into two parts: the gelatin and the cream were all mixed together to make only one layer of the mousse for this dessert (I would make only half of the mousse recipe: the half with the cream, and add the gelatin to it.)
3. The compote would be added to the top layer
4. The tulle is a beautiful touch and adds so much drama to the presentation
5. This is garnished with whipped cream and a raspberry
Thank you, Fairmont Jasper Park Lodge for these mouthwatering recipes! It was such a decadent pleasure to eat at your beautiful restaurant and take home these lovely recipes to make at home.
Big hugs to all of you!