Single Gals! Vanja's Signature Sandwich may seal the deal for you, too!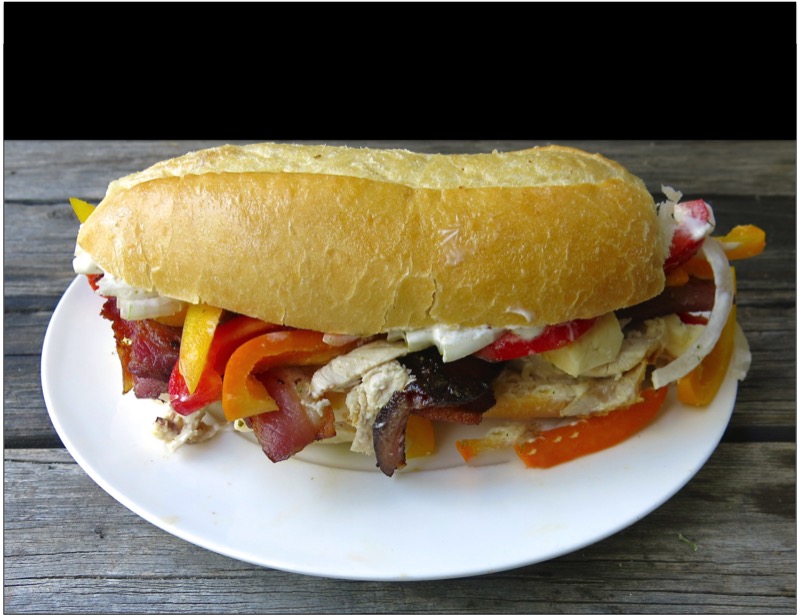 It's not a pretty site. Not one little bit. But this little mess of madness on a hearty crusty torpedo bun from the Italian Centre Shop may just seal the deal.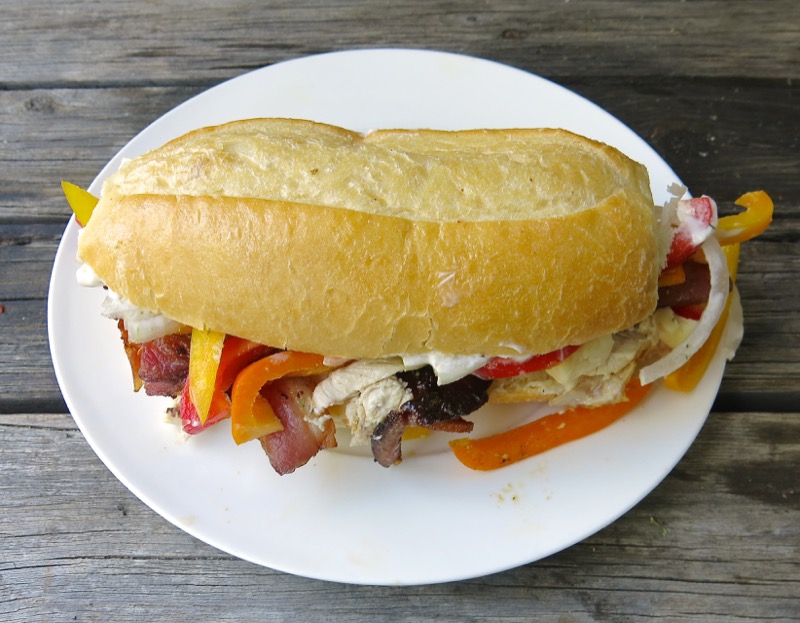 Way "back in the day", when I was young, slim, pretty, perky and perfect, (memory distortion is common as one ages) I found myself working up a storm in my little kitchen on a fairly regular basis trying to please the new man in my life. He was not so hard to please and would appreciate anything he didn't have to make himself, but every time I was preparing food for him, I was creating flavours that I hoped and believed he would really enjoy. I was working to satisfy my man, like every good woman did "back in the day".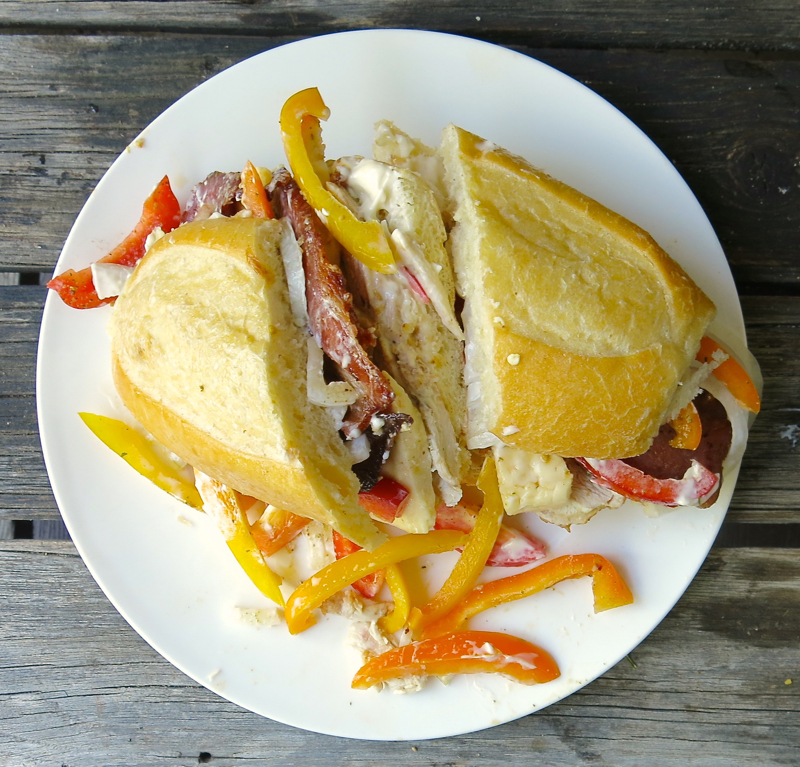 The relationship was thriving and one chilly Saturday evening, I decided to deviate from the norm, and make a casual sandwich. Nothing fancy schmancy. Just a hearty tasty casual hot sandwich. I was a bit tired, our plans didn't lend themselves to much muss and fuss, so this little ditty was created with a whole lotta love, but also, almost by accident.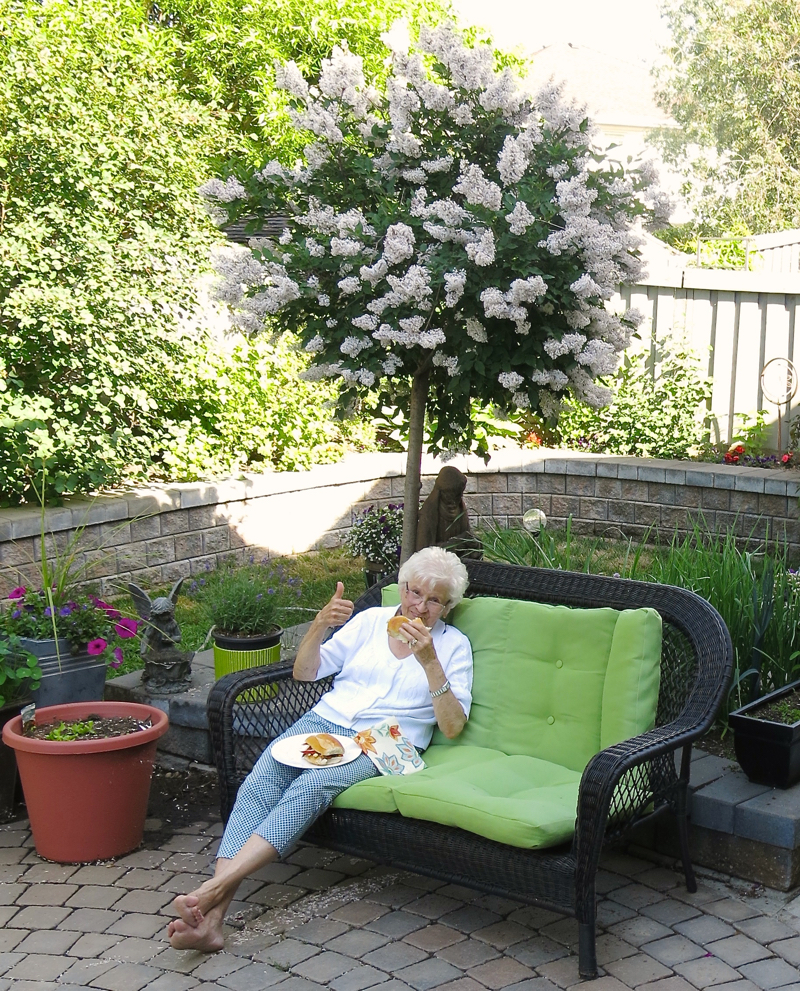 Vanja's Signature Sandwich is now famous at our house. A favourite Saturday night meal. Or Friday. Or Tuesday. Everyone likes to get in on the pleasure. I had a gorgeous breast of bacon that evening. It was too cold to grill it, so into the frying pan it went. Salt, pepper, vegeta, nothing more. Medium heat… then on to the garlic mayo. I knew this was a favourite condiment of Vanja's, so as the chicken was frying, I made this exact recipe that's a little cheat on an aioli, yet, simply delicious and fast when in a pinch.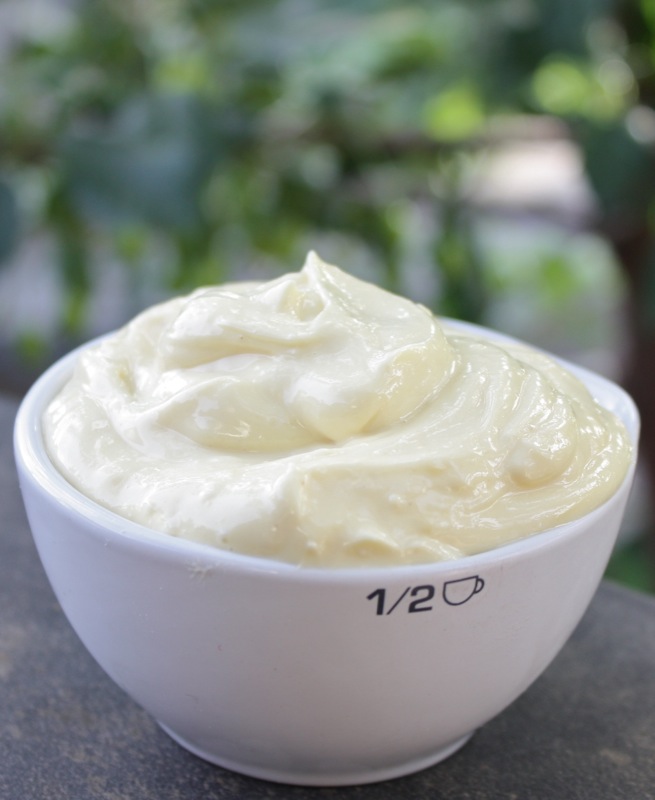 Also, delicious leftover.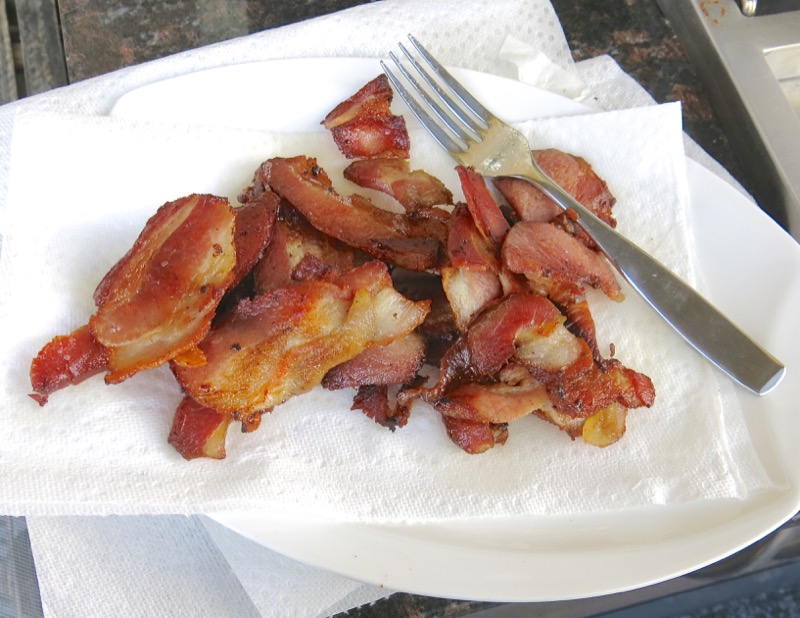 I had some fried bacon in the fridge and was actually frying the chicken breast in that bacon fat. I now fry bacon just for Vanja's Signature Sandwich, but I would likely have not fried a pound for a sandwich on that memorable day, oh, so long ago…. I did get out the leftover bacon knowing that this Balkan man would swoon with anything smoked in a hot sandwich. As the chicken fried, noted the depth of colour under on the skin; it had been a long while (a very long while) since I had fried a chicken breast with only salt and pepper. I always grilled them. I would fry a whole chicken, but not like this.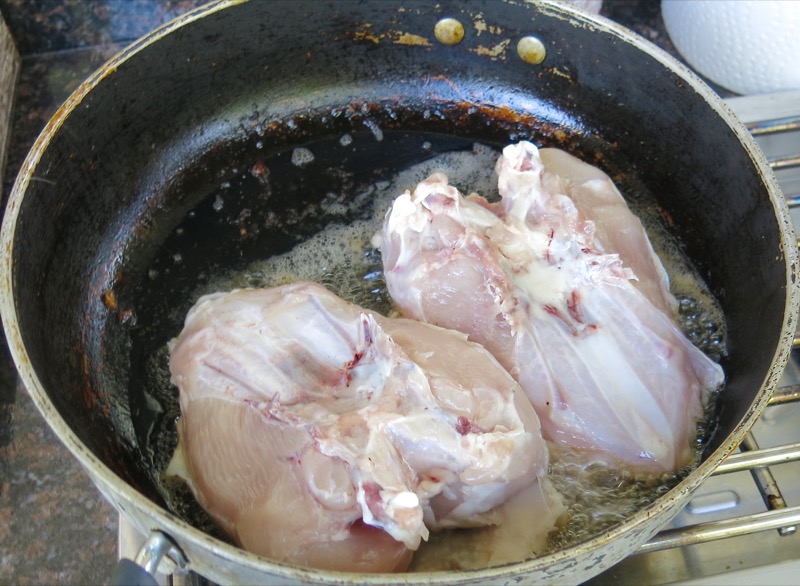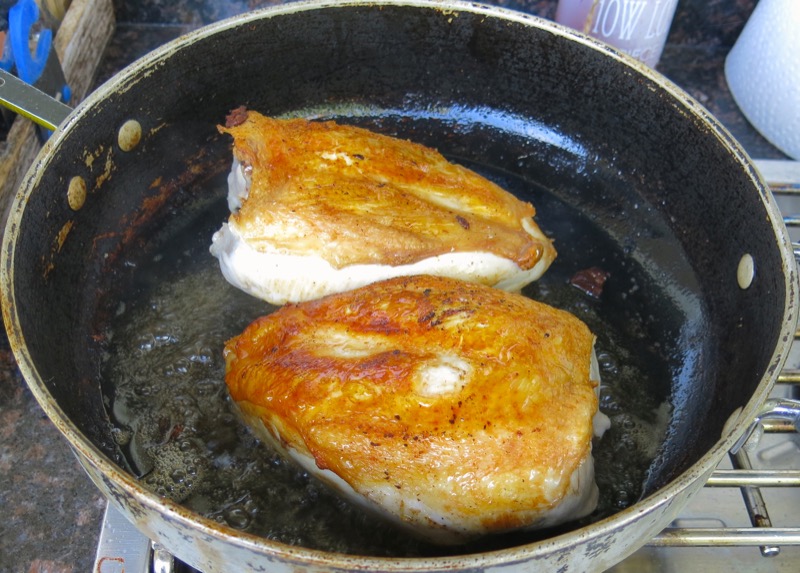 The colour and aroma were motivating and my '70's music head pulsed with the beat of Led Zepplin's "Whole Lotta Love…Wanna Whole Lotta Love .."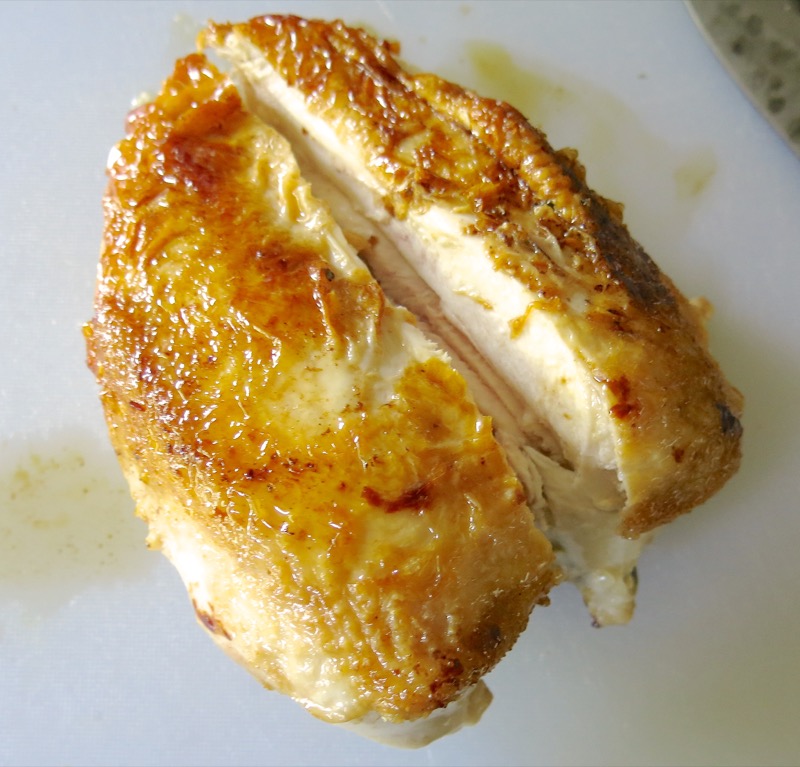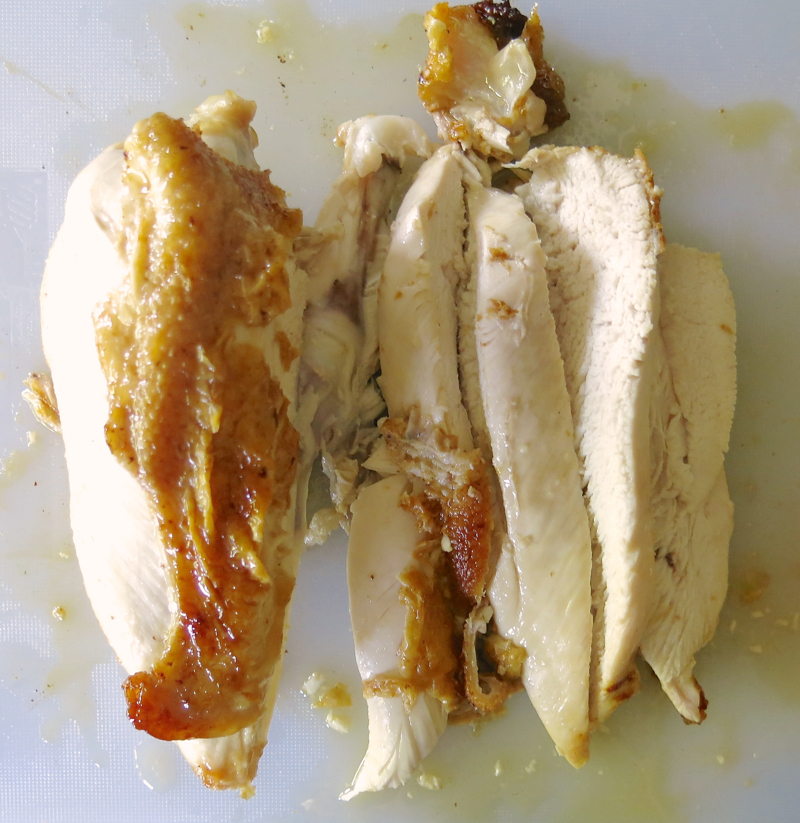 Quality is essential. I buy organic know-my-farmer chicken from the local market. Breasts must be huge, succulent and irresistible.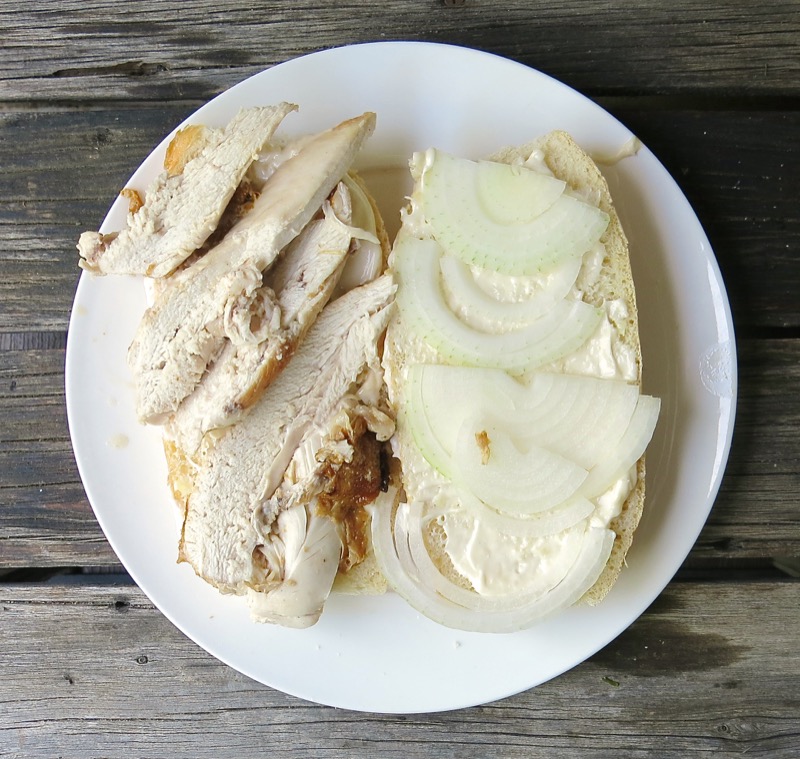 Eash breast has enough meat for two mammoth manwiches. Most would eat 1/2 for a meal; however, my man goes for the whole meal deal with the whole lotta lovin' squeezed between the knees of this crusty torpedo. So, above: bun, garlic mayo, onion and chicken. The foundation is laid. Purple onion is pretty, and my preference, but today, I had a large lovely Spanish white onion.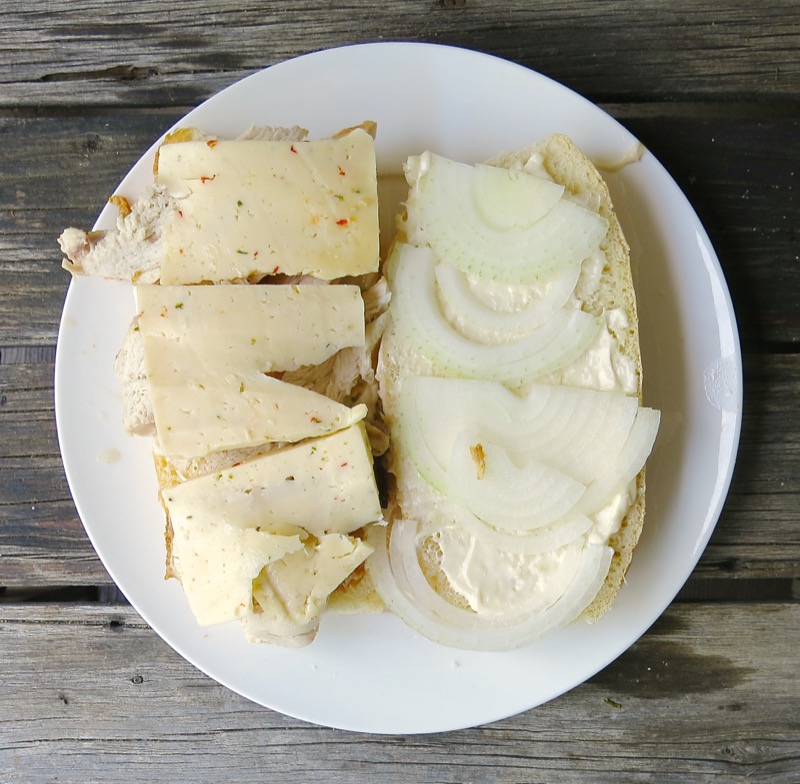 The only element of Vanja's Signature Sandwich that is easily interchangeable is the cheese: Fontina, Mozzarella, Monterey Jack, Havarti with jalapeno… whatever you choose will vary the flavour a bit, but not the over all taste experience. Everything else is essential to the sandwich – and the cheese is also essential, but the flexibility on the kind of cheese works.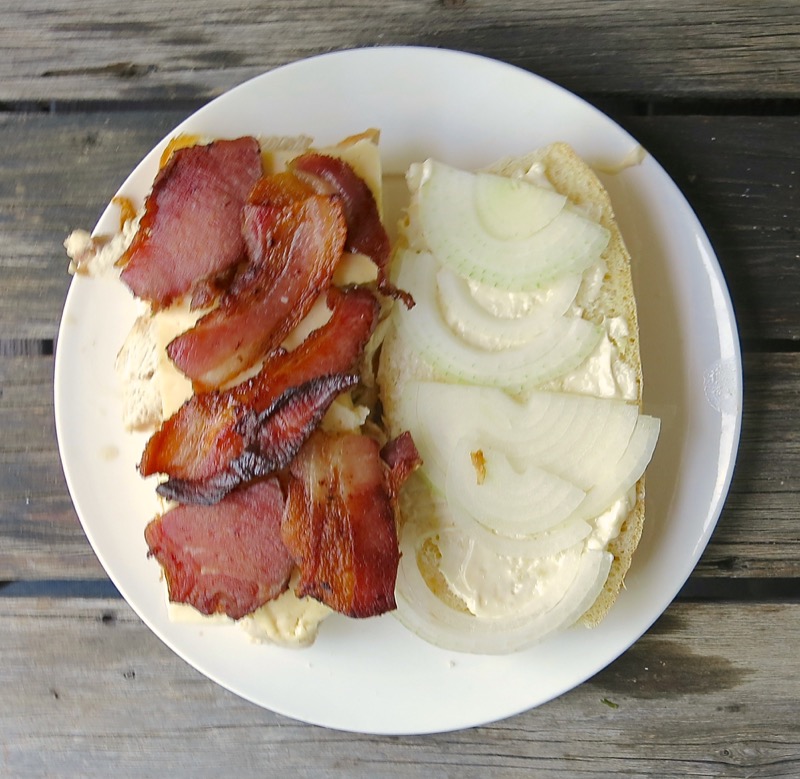 Bacon. Ah, not just any bacon. This is also important. The bacon must come from a farmer you know. You don't want to buy bacon that dissolves in its own fat needing a magnifying glass to find and tweezers to pull it out with. You need bacon. (Could you hear my "man voice"?)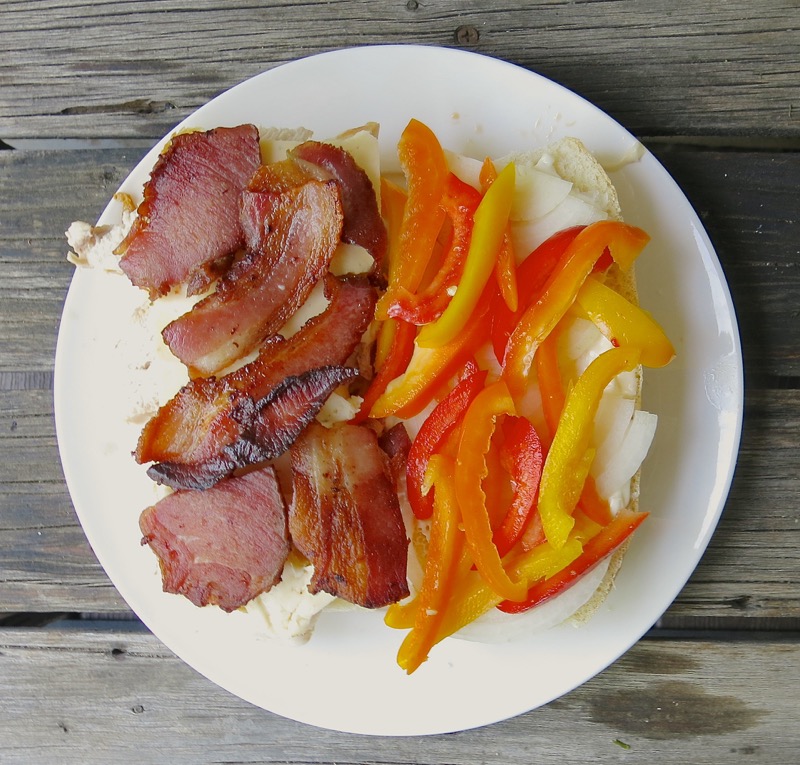 And not just a strip of bacon. You need a substantial portion of bacon. And sweet bell peppers. From the former Yugoslavia, I knew this Balkan guy was crazy about peppers. I always had them on hand and knew this was one vegetable he would actually eat (besides onion and garlic). The more colourful – well – the more colourful. Red peppers have the brightest flavour, so most (or all) of the peppers are red.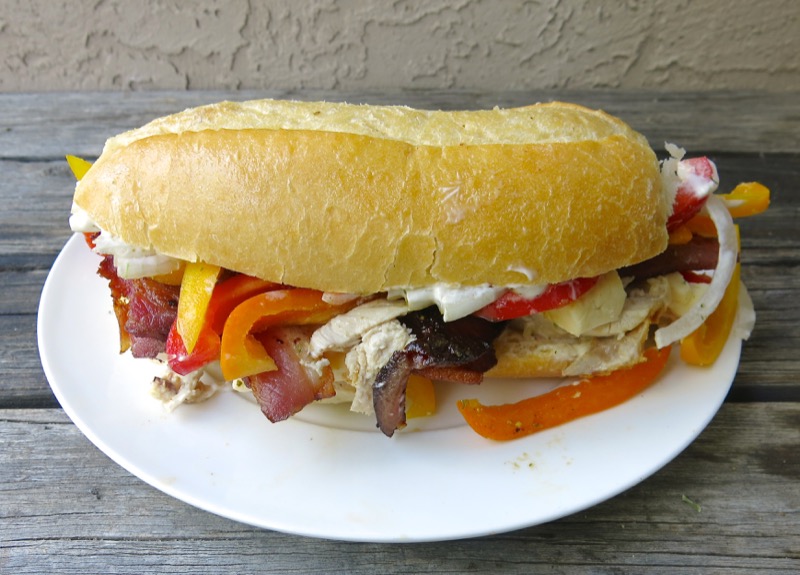 How to close it? Fast. Really fast.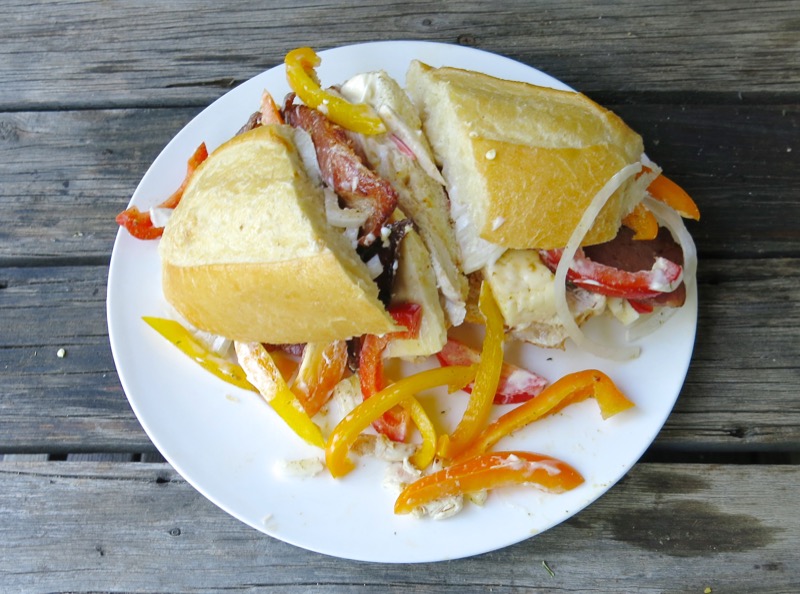 Or, you make a big mess, like I did when I cut it. That is to be expected. Whatever falls out is finger food and the perfect accompaniment to the sandwich. Think of it as a side salad. Or, try to stuff it back in every time you take a bite. Whatever suits your fancy pants.
But, it is essential to open wide, be brave and take a great big giant bite into the heart of the sandwich getting everything in that one bite, all at once. Don't think about conversation. Don't think about anything. You won't be able to. You will be transported to another reality – maybe for a moment, maybe longer. It will depend upon the size of your bite.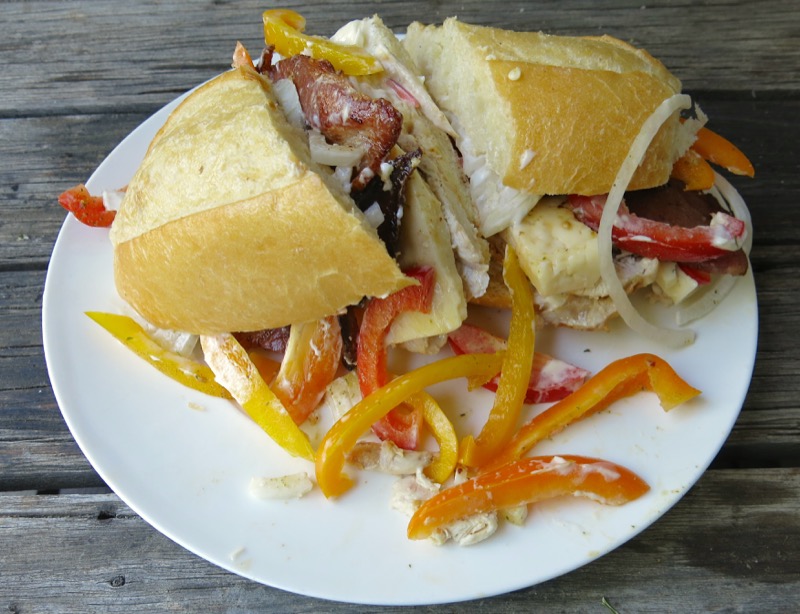 As you chew and chew and chew and chew, you will wonder through a landscape of textures and flavours that are intriguing, compelling, unexpected, so essentially pleasing and finally, completely irresistible. Vanja's Signature Sandwich is irresistible. Anyone and everyone I have ever served it to has asked for the recipe. Recipe? Recipe? For a sandwich? Really? But then I think for a moment, and I get it. When Vanja bit into what has become this signature sandwich on that day, so very long ago, something changed. Yes, it did. I think that was the moment he made a very big decision. I could see it in his eyes. He decided he could not live without this sandwich. (…and, he was absolutely right!)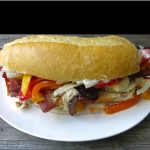 Vanja's Signature Sandwich: Chicken, Bacon and Garlic Mayo


This is a seal the deal kind of sandwich. Very hearty. Unforgettable. Unexpectedly delicious. Yet, made with basic found at home ingredients.
Ingredients
1

large know-your-farmer chicken breast

, bone in

1

tablespoon

bacon fat

salt and freshly ground black pepper

1/2

teaspoon

Vegata

, divided

6

strips of bacon; fried

2

fresh crusty torpedo buns

garlic mayonnaise

1/2

purple onion

, thinly sliced, divided

1

sweet red bell pepper

, thinly sliced, divided (or equal amount multi-coloured peppers)

85

g

or 3 ounces thinly sliced Monterey Jack cheese

(or cheese of choice); divided

Spike to taste

salt and freshly ground black pepper
Instructions
Wash chicken breast; pat dry

Heat frying pan with bacon fat; season breast with salt and pepper

Place bone side up into hot fat; season bone side with half Vegeta; fry on medium high 5-6 minutes, depending upon size of breast

Turn over; season with Vegeta

Maintaining heat, fry for 5-6 more minutes, or until done (not pink inside, do not over cook)

Remove breast from pan; drain on paper towel; prepare bun while it cools enough to slice

Carefully remove bone; divide breast into two portions

Slice to fit breadth of torpedo bun (not thinly)
Putting it all together:
Slater both sides of sliced torpedo bun with Garlic Mayo

Place half thinly sliced onion slices on bottom side; lay half cheese slices on top side

Place half breast on bottom side; cover with 3 strips of warm bacon

Place 1/2 pepper strips over cheese; season entire sandwich (both halves) with salt, freshly ground black pepper, and Spike

Close sandwich (really fast) to avoid spillage; plate and serve immediately

Best eaten warm with lots of napkins!
Recipe Notes
Bacon Fat is definitely not essential for frying the chicken breast in; bone it breast tastes better, but also not essential for the end product
What is essential:
Garlic Mayo
Fried Breast
Thinly sliced onion
Thinly sliced peppers
Bacon
Cheese slices
A fresh crusty bun
Vegeta and Spike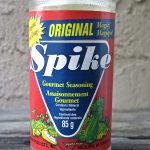 Think about it, gals. This might work for you, too.