Philly Cheese Steak Hamburger Casserole: Total Reboot Recipe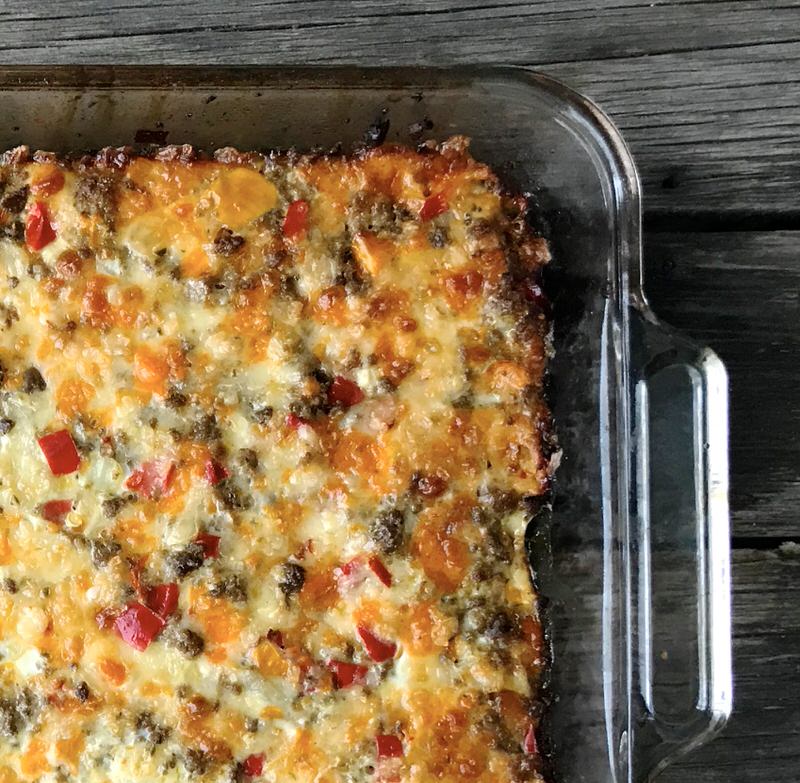 There it is, in all its glory. Right out of the oven. A delicious, nutritious and economical protein and fat laden dinner casserole, low in carbohydrates, and very satisfying. This is Vanja's favourite new recipe so far.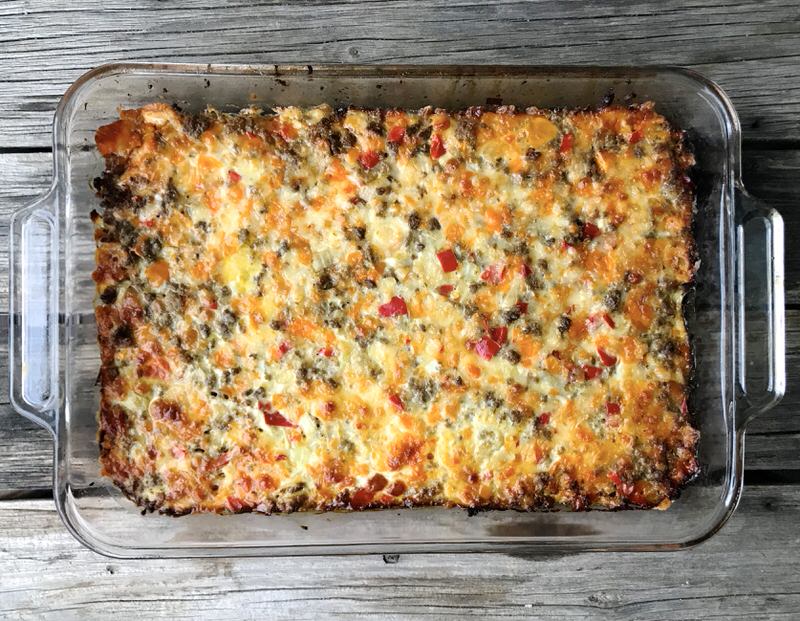 I find it is so easy to make, that I make 2 -4 recipe batches at once, and freeze them. The above is actually 2 batches in one larger casserole dish.
Philly Cheese Steak Hamburger Casserole: Mis en Place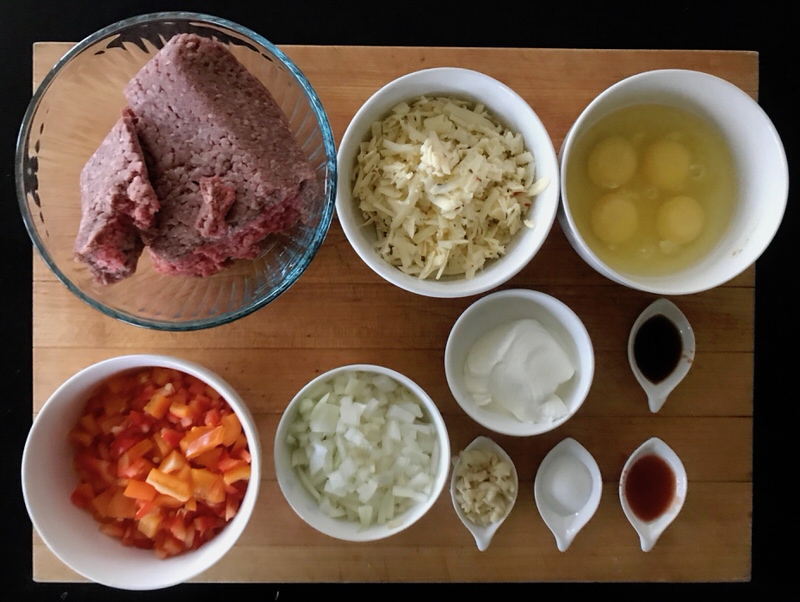 Simple ingredients usually on hand in a cooking kitchen: know-your-farmer grass fed ground beef, sweet bell peppers, onion, garlic, salt hot sauce, shredded mozzarella, sour cream and eggs.
Philly Cheese Steak Hamburger Casserole: Making the Custard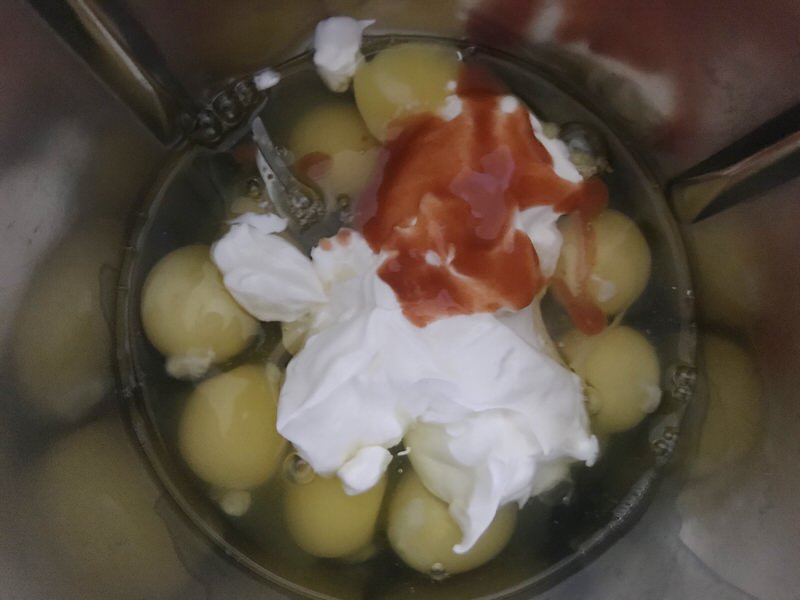 To hold the ground beef together in sliceable portions and to add healthy protein and a good amount of fat and flavour to the main, egg custard is prepared with sour cream and seasonings.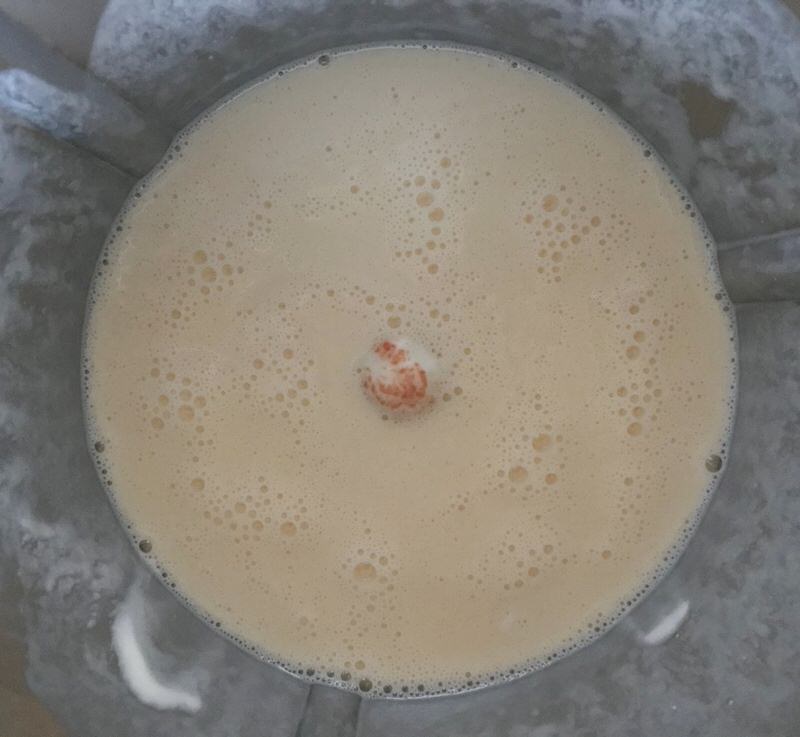 A simple blending of ingredients is all that is required, then set it aside.
Philly Cheese Steak Hamburger Casserole: Preparing the Filling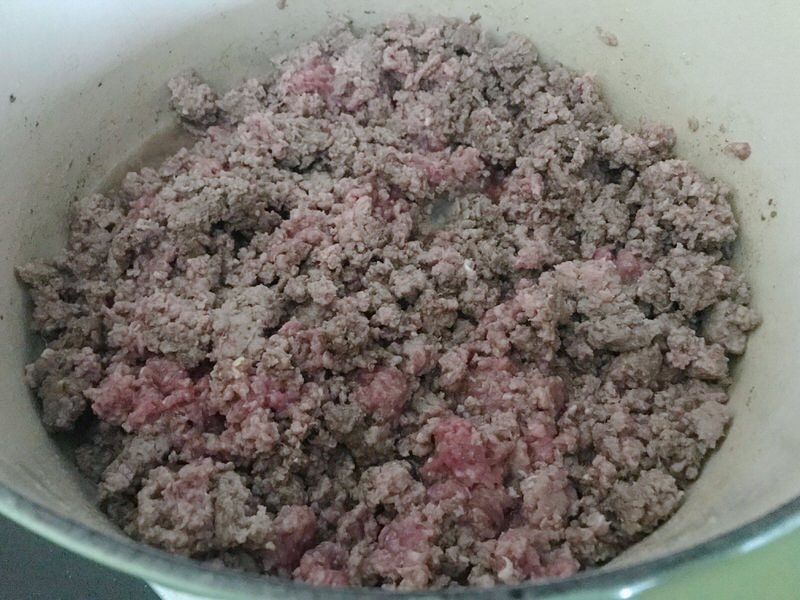 Not browning the beef completely is key. Adding the aromatics and peppers to cook with the beef while it continues to brown enables the filling to be moist and flavourful.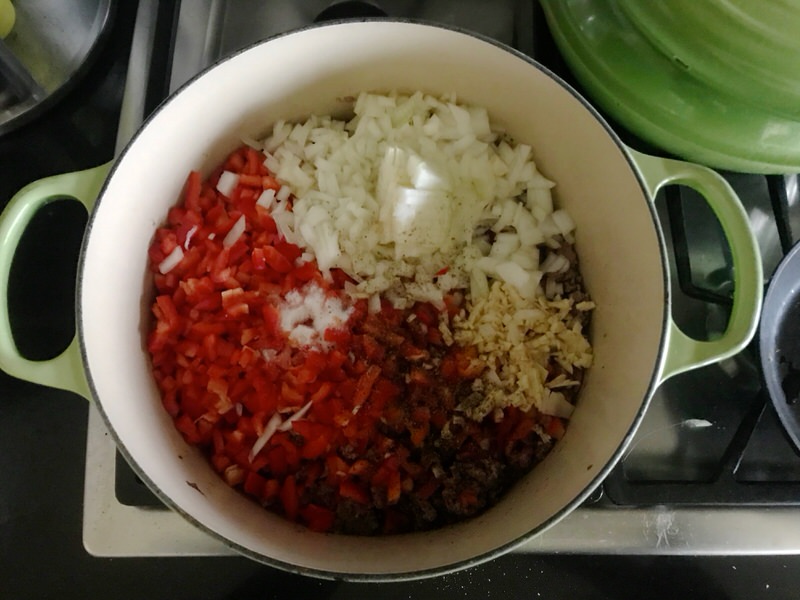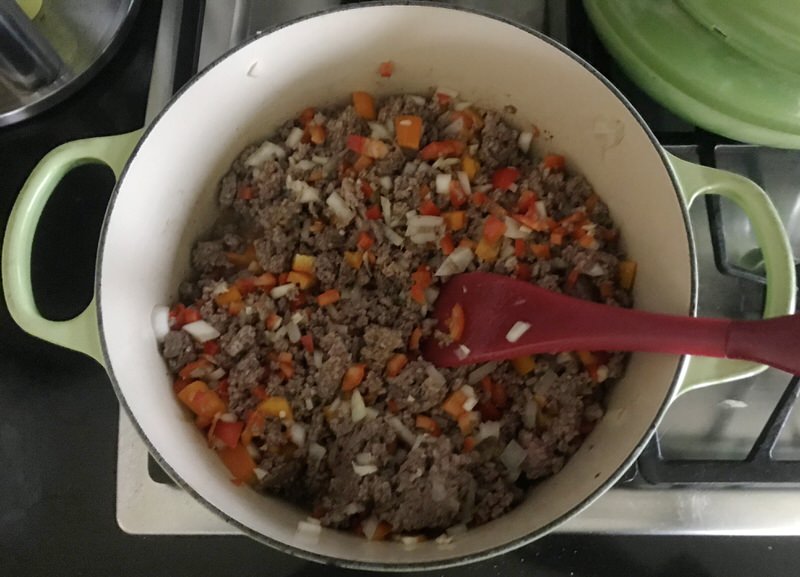 Ingredients all in, combined well and stirred often as the ingredients cook together. Above, you will notice that this batch has a variety of sweet bell peppers use in it which I like for the appearance.
Once cooked, the meat mixture needs to be strained. I remove it to a tami and strain all the extra fat out.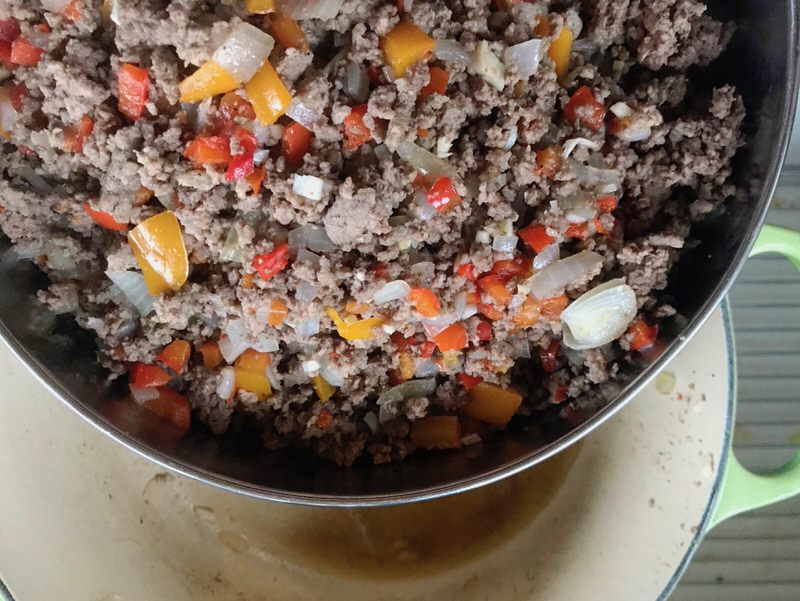 At this point, the filling is very tasty on its own. I have come to make a double batch as a rule in a larger pyrex casserole dish. When I started working with the recipe, however, Ragan and I purchased 9×9 aluminum pans to portion out the batches to freeze and share.
Philly Cheese Steak Hamburger Casserole: Putting it all Together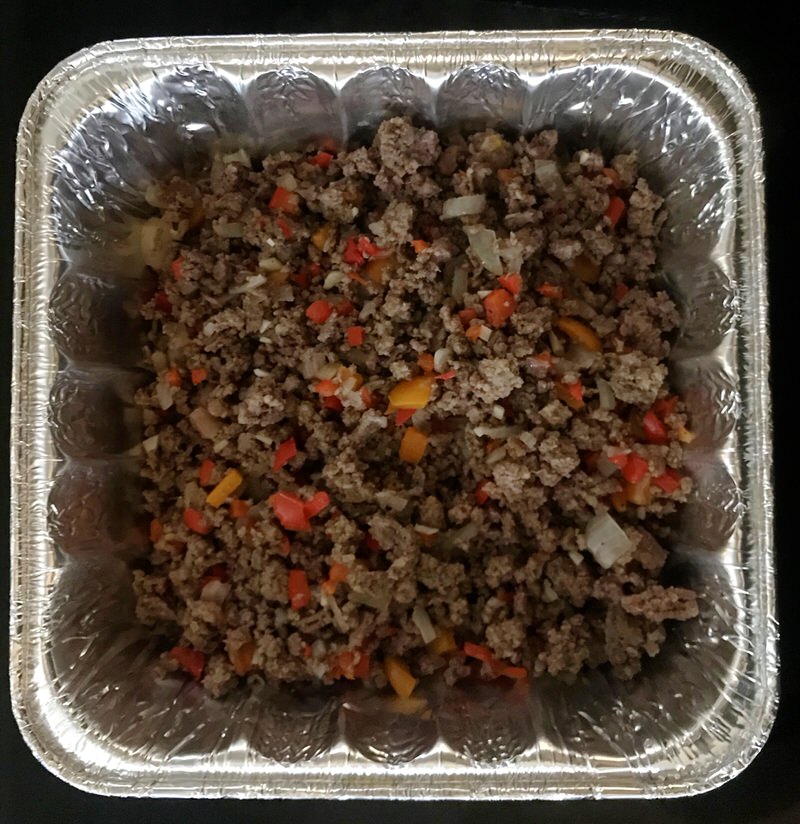 The filling goes into a well-oiled pan, then topped with the shredded cheese.
Any cheese you like will do, but the Monterey Jack Jalapeno is our personal favourite. It is important to equally distribute the cheese over the meat filling.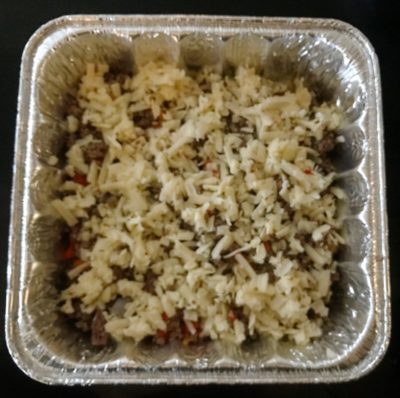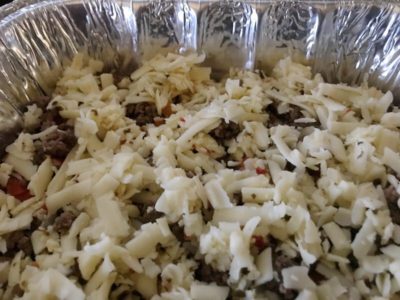 The egg custard mixture that was set aside is now poured over the cheese-crowned meat filling. Pour over slowly and carefully to cover the entire casserole.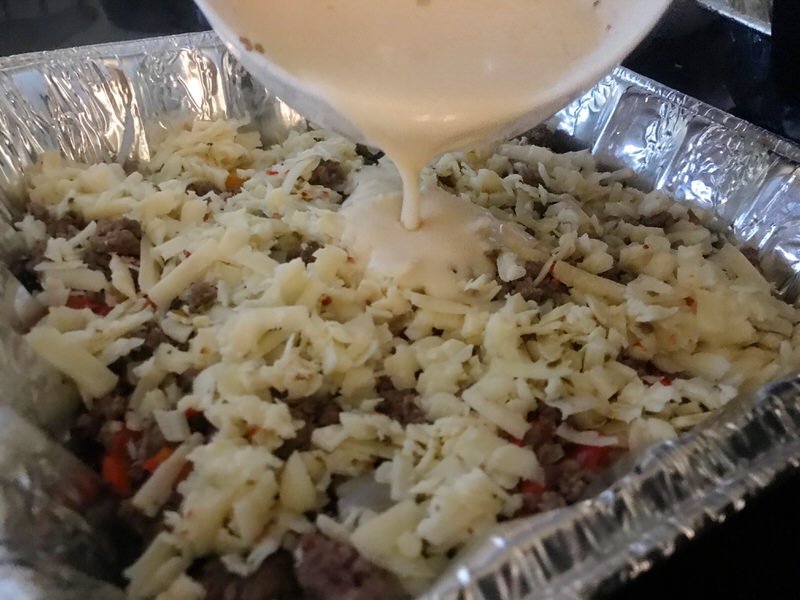 Ready for the freezer or the oven at this point.
Philly Cheese Steak Hamburger Casserole: Baking and Serving the Casserole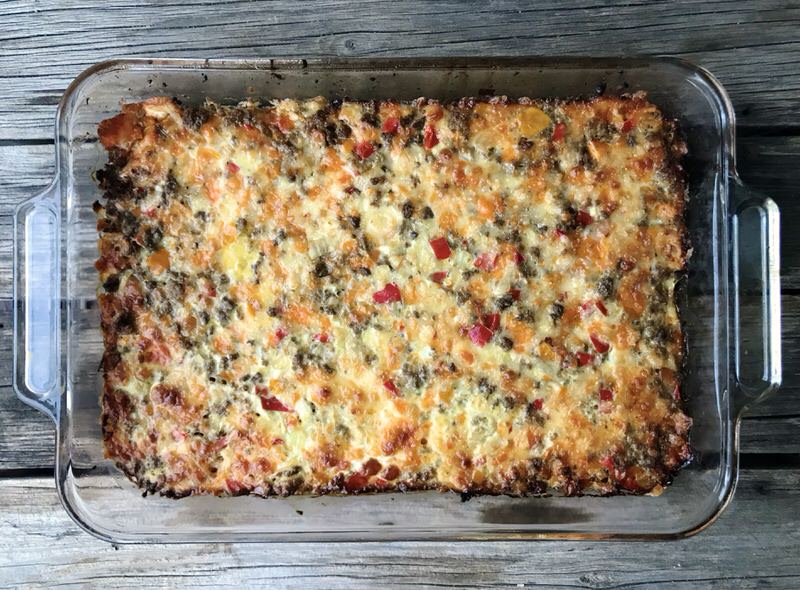 If baking, into the oven for 30-35 minutes, rest for 10-15 minutes until warm and sliceable. Serve with a crispy tossed green salad and enjoy! Depending upon your metabolism and your calorie intake for the day, we sometimes divide the recipe into 4 portions instead of 6. My husband tends to need the larger portion to feel satisfied, and 1/2 of a quarter of the recipe is perfect for me.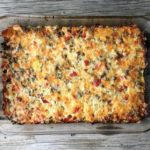 ACF Keto Reboot Philly Cheese Steak Casserole
Reboot Keto Philly Cheese Steak Casserole is delicious, nutritious, economical and perfect for those on Evolv Reboot program or on a Keto diet.
Ingredients
Ingredients for the Custard
4

large organic eggs

1/4

cup

or 60 grams sour cream

1

teaspoon

or 5 grams hot sauce
Ingredients for the Filling
1 1/2

pounds

or 700 grams know-your-farmer ground beef

2

red bell peppers

diced

150

grams

yellow onion

diced

15

grams

garlic

minced

1

teaspoon

salt

150

gram

shredded Jalapeno Havarti cheese
Instructions
Instructions for Making the Custard
Place eggs, cream, hot sauce, and Worcestershire sauce to medium bowl, whisk to combine and set aside
Instructions for Making the Casserole
Preheat oven to 350 degrees F, if baking; oil a 9x9 casserole dish with olive oil

Sauté beef in heavy pan over medium heat, crumbling as it cooks

When beef is crumbled but still pink add peppers, onion, garlic, salt and pepper

Stir constantly until beef is cooked through and vegetables have softened (15-20 minutes); drain grease from pan and pour mixture into prepared casserole dish

Sprinkle cheese over beef mixture

Pour set aside egg mixture over beef and bake or freeze
Instructions for Baking the Casserole
Place casserole in oven and bake for 35 minutes or until the eggs are set; rest 15 minutes before slicing and serving
Instructions for Freezing the Casserole
Wrap tightly with plastic wrap; place casserole in freezer bag or wrap with aluminium foil

Label and date; freeze for 3-4 months

Thaw in fridge overnight and bake as above or remove from freezer and place in preheated oven; bake for an hour to an hour and 15 minutes covered in foil after 40 minutes to not overbrown cheese
Recipe Notes
Multi-coloured bell peppers are nice to use for appearance
PROJECT 2019: JOIN US! EVOLV HEALTH TOTAL REBOOT PROGRAM SHARING AND RECIPES
This recipe is part of Project 2019 as this is "the" year! I am refocusing my eating to reboot my gut health and promote an active, healthy lifestyle leading Saturday Morning Evolv Total Reboot Support Sessions for anyone who wants to join me.
So far,
my husband,
my daughter, Ragan,
Janet, her best friend, and
Diana, a long time ACF reader and social media friend, attend
We have met every Saturday in 2019! The feedback has been very positive. It is not easy. It is not hard. I have found that anything I undertake in life that really makes a difference takes determination, perseverance, consistency and a truckload of passion. But, this undertaking has blown me away. I have my life back.
Introducing Project 2019
Project 2019 Total Reboot Recipes
I found myself on this path through sheer desperation, but it is the passion of feeling new and alive again that is driving me forward every day, one day at a time.
If you are interested in joining us, leave a comment in the section below, and I'll be in touch.
The Total Reboot your Gut Health 28 Day Plan Kit
DISCLAIMER: This is my personal story. I have not been hired by Evolv Health to write these posts, nor am I getting any in-kind gifts for sharing this information.
REQUIREMENTS FOR PHASE 1 OF EVOLV REBOOT YOUR GUT HEALTH 28-DAY PLAN
This Reboot Philly Cheese Steak Hamburger Casserole recipe definitely satisfies one's desire for flavourful savoury nourishment while on the first 28 days, or Phase 1 of Evolv Health Total Reboot. (scroll down). It is surprisingly easy to make and such a tasty and satisfying recipe.
We have made this recipe 3 times in these past 2 months already as it is Vanja's favourite and the entire family enjoys it a great deal.
As weight is lost during this program most refer to this program as a diet and according to the actual definition of the word, it is. Though I do restrict myself from eating many things on this program, I am never deprived. That is a primary difference to this program and what we usually think of like a diet.
When deciding whether to have one or two portions of this recipe for a meal or to divide it into 4 portions instead of 6, one's metabolism and activity level must be considered. If you don't have a large appetite, one-sixth or one-eighth of this recipe is plenty.
If you do have a sizeable appetite, you will definitely need to have two portions or 1 quarter of the recipe to feel nourished. When divided into six servings, each portion contains 33 grams of protein, 23 grams of fat and 5 grams of carbohydrates and comes in at 366 calories.
This recipe absolutely aligns with a way of eating that promotes optimal health for your body and the opportunity for it to return to its original fat burning state. What are the requirements again?
Simple, Delicious, Nutritious and Economical Food: This means easy to find ingredients, "easy-to-make", tasty, nutritious foods from the Total Reboot Phase 1 List and economical (cost effective)
High in Fat and Low in Carbohydrate Foods: This can be determined by using My Fitness Pal and inputting a 25% Carbohydrate, 25% Protein and 50% Fat daily intake ratio coupled with a basic daily calorie intake that addresses your metabolic needs. Certainly, this is a low carbohydrate recipe.
Whole Foods that are Healthy and Good for you: This means know-your-farmer, non-GMO and organic whole foods that are homemade unless you can be sure of the ingredients contained in what you purchase and only foods on the Total Reboot Phase 1 List allowed. Reboot Philly Cheese Steak Hamburger Casserole meets all of the requirements.
The Total Reboot your Gut Health 28 Day Plan Kit from Evolv Integrated Health is the program that I have been on since June of 2018. My 62.5-pound weight loss as of today is completely secondary, though exciting and exhilarating.
The "big deal" is I am me again! I feel rested when I wake in the mornings, energetic, no more brain fog, no more pain, off all my medications and am once again enjoying my life. That's the greatest benefit from this program to me.
PLEASE SHARE YOUR EXPERIENCE IF YOU MAKE THIS RECIPE
If you make this recipe, please share your experience in the comments section below. Or, if you have other favourite similar recipes that you believe would meet the requirements of the Total Reboot 28-day Health Plan(password: Evolv) do tell! Obviously, compiling recipes for this program and working to change the way I think and eat is a process and I know there are many out there further along this journey than me! Chime in!