A Testament that the True Spirit of Christmas breathes magic and life into attendees

Please let me introduce Louella Rayner. Take a close and deep look into those welcoming warm eyes. There is much to learn, here.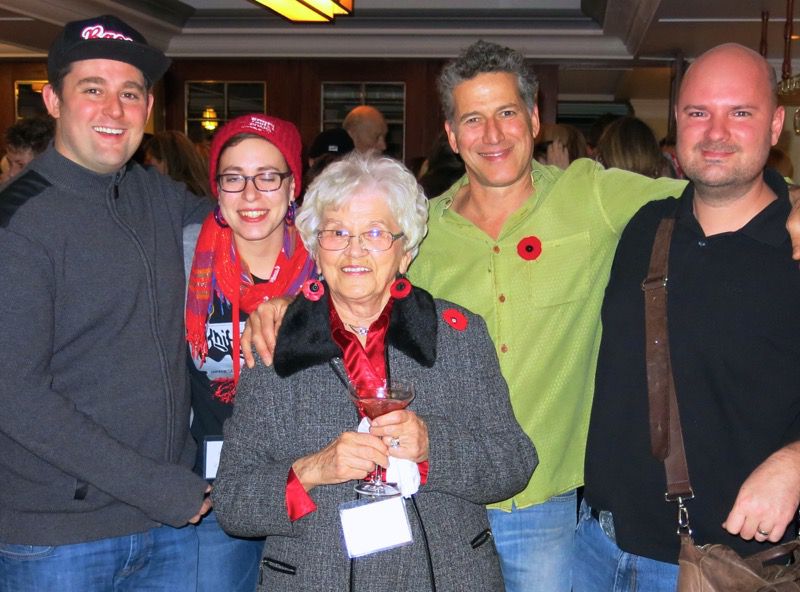 Mom was acquainting and reacquainting herself with Christmas in November 2014 Presenters.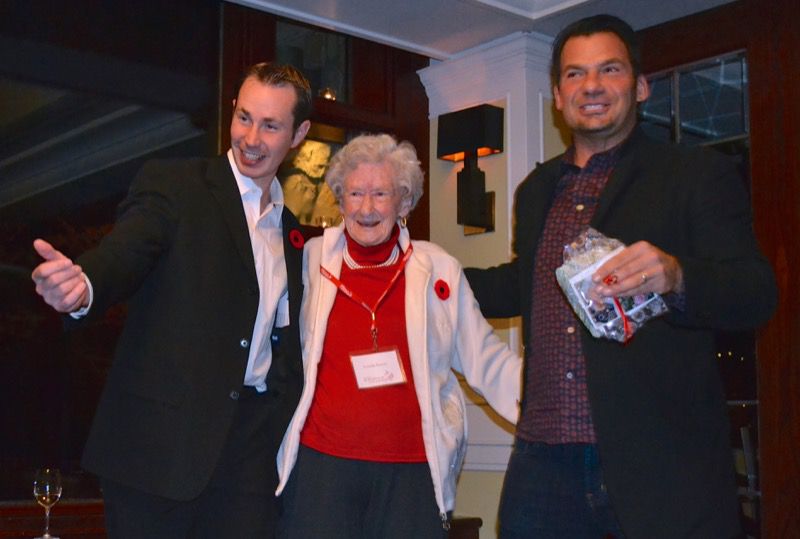 The VIP reception for Christmas in November is a very special intimate gathering of presenters and folk who pay that little bit extra for this little bit extra. Gathered together in the warm glow of a beautiful winter evening in the Canadian Rocky Mountains at the Fairmont Jasper Park Lodge, visiting with friends old and new, sipping and nibbling the tastiest of treats, Nik Manojlovich introduced Louella Rayner with her daughter, Elizabeth Murray. That is the moment everything changed.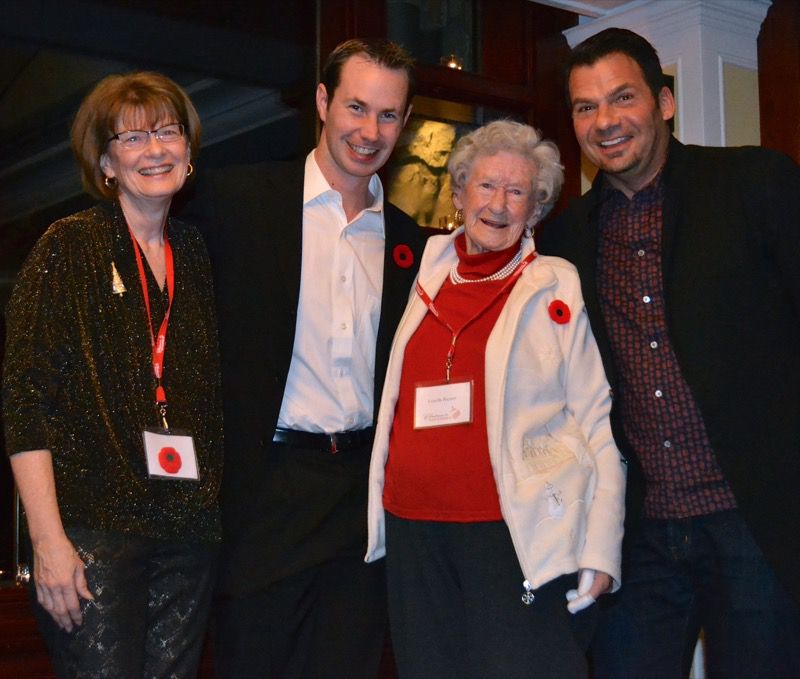 The room was silent and lost clarity with the exception of the aura radiating from Louella: a golden glow emanated as she grinned from ear to hear and humbly hung her head leaning on Nik as he told her story.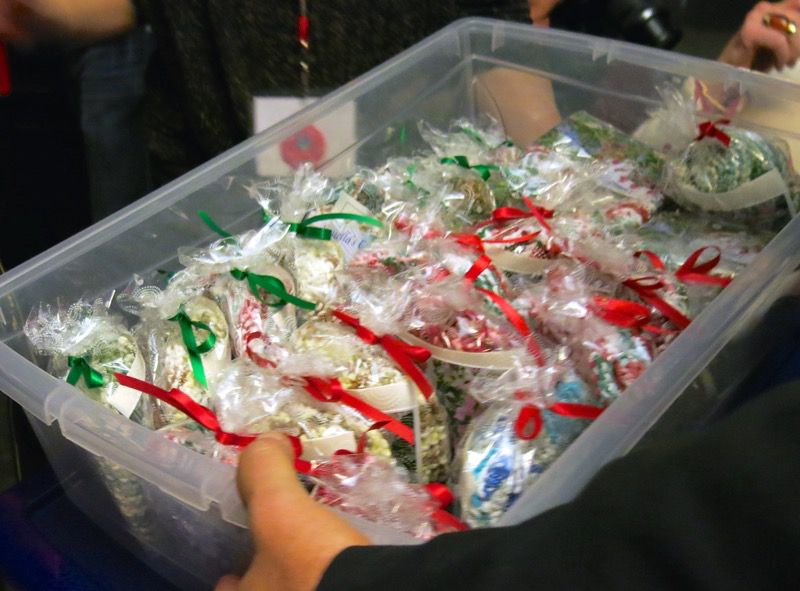 That ethereal shiver of love and understanding reached deep into each heart in that room at that moment. There were tears and there were silent reflections as each of us made sense of Louella's story and gift based upon our own life experience. In essence, she came face to face with her own mortality, and her desire to get to Christmas in November one more time motivated her to survive. In turn, that Christmas in November experience motivated her to give back… and that is exactly what she did.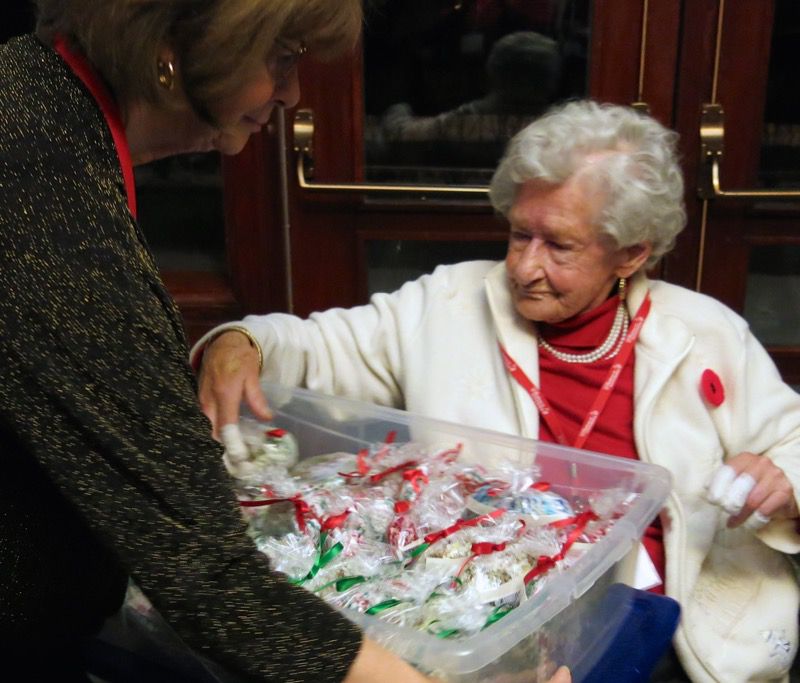 Louella Rayner, nee Caine, is 91 years old and as lucid, coherent and perky as any of my contemporaries. When she was turning 85, her daughter Liz gave her a list of places to go to celebrate this landmark birthday. Louella picked Christmas in November because it was close. Neither of them had any expectations of the event, and as it was in the mountains, packed their casual farm clothing and had the time of their life. "We didn't feel out of place at all" Louella chirped, commenting on their dowdy attire. "People were so warm and friendly. We met two gals from California with those necklaces that flashed and have remained close friends with her ever since!"
Louella was so touched that she announced, "Liz, this is so wonderful, it will not be your treat. It is mine and you'd better book next year's tickets before we leave." And thus it was.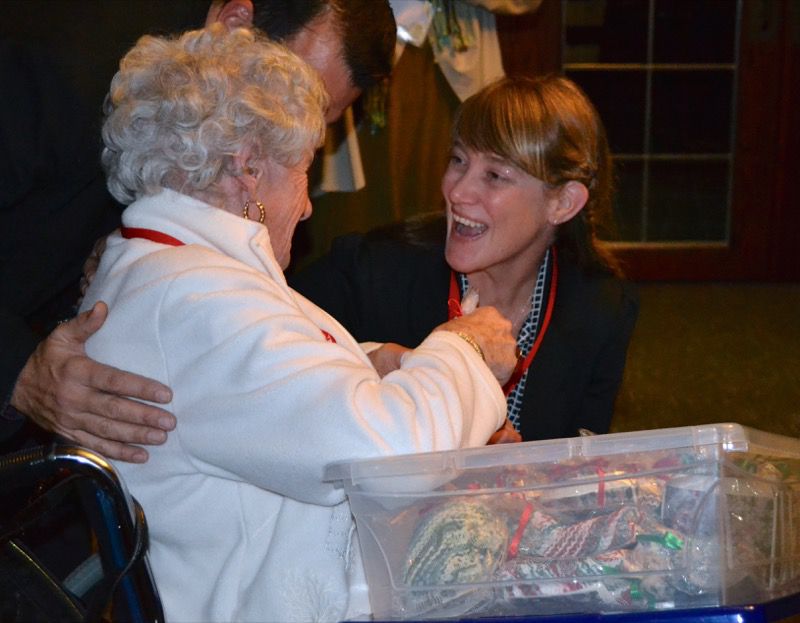 Louella, blue eyes sparkling, oozed, "The people, the staff, the atmosphere, the surroundings, the country side…. you cannot beat it. It just makes you proud to be a Canadian! The whole world here is a winter wonderland."
They now stay in the main lodge, transitioning to the closer space after finding that a few glasses of wine and down hill dark night treks with Liz pushing mom back to their cabin in her wheelchair made mom feel a bit vulnerable. Oh, how they giggled as they reminisced. More like two best friends, than mother and daughter.
Curious about The Louella Rayner Story, I dove directly into it. "Tell me, Louella, how you came to be so ill that you almost didn't make it to Christmas in November last year?"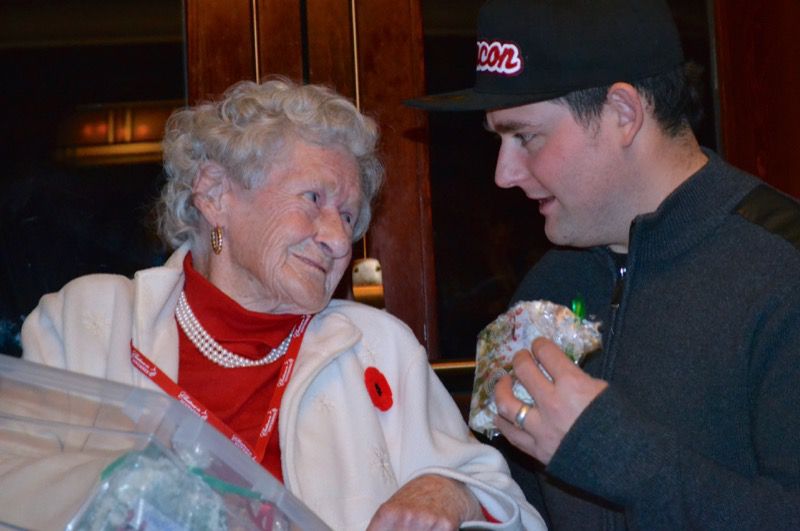 Louella is a slight woman, now. Tall enough, but clearly frail, though mighty in mind and spirit. She exudes warmth and love. Her humble smile draws you to her and sitting beside her, I sensed a still, quiet joy resting within that appeared to edify those in her path. At least 5 different people came over to hug and kiss her while we were visiting. Each time there was an exchange of this love, the glow and warmth increased. I felt it. I still feel it, now, as I write.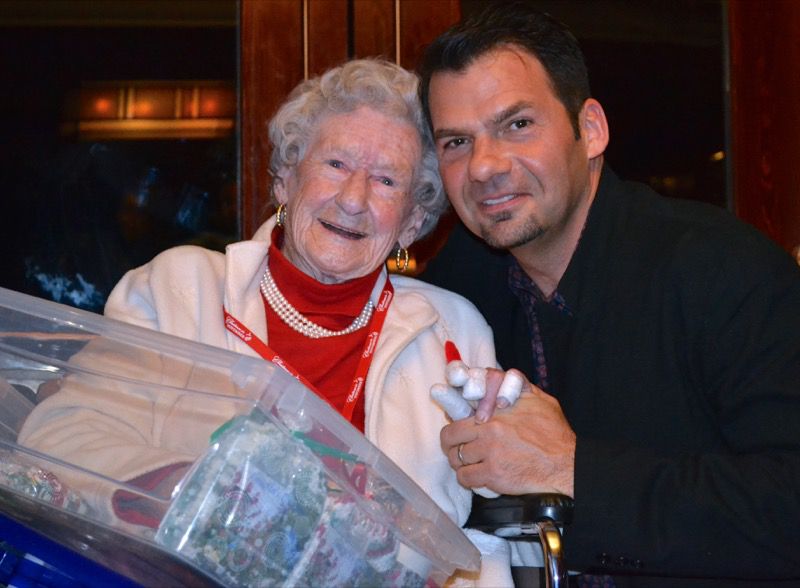 "Well, I have a nice rhubarb patch in my garden and a man I know, a neighbour of mine, wanted some rhubarb. The weather was going to be miserable so I went out and started pulling the rhubarb for him right away and somehow I twisted my back. That was on June 6th 2013. I thought it was just a pulled back, but I became a couch potato. " Liz interrupts, "Actually, she was in agony. It was unbelievable. We both thought it would pass, but it didn't. We found she had a compression fracture at her lower spine and she had to stay in the Glenrose for over a month after the doctor got the primary care workers involved."
This is where I connected so closely with Louella and Liz as I just lost my own father last January. So many medical practitioners dismiss the elderly, yet it is those rare few that make such a remarkable difference in the longevity and quality of life of a healthy, resilient elderly person.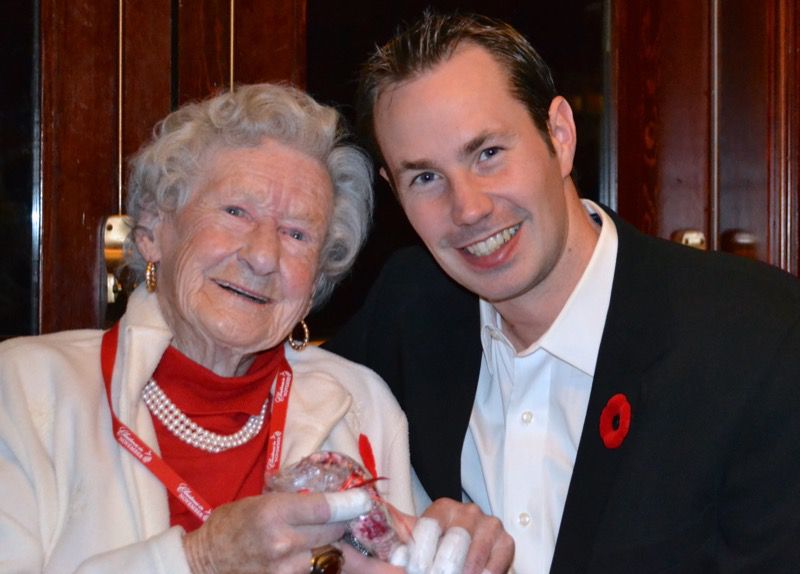 "I was there for the month of August and the treatment team was just fantastic. They didn't give me a moments peace! It was always: Come on let's go! And that was what I needed!" She worried that she wouldn't be well enough for Christmas in November and from August to November, it became her goal and motivated her toward her treatment and activity. Once Louella was discharged at the end of August, they had her come back for six weeks of out patient therapy and felt there was so much potential for her to be rehabilitated that they connected her with the William Lutsky YMCA Bridge to Fitness program on the south side of Edmonton. It is a gradual general exercise program for people who have been to hospital and aides in recuperation. Attending Christmas in November provided her with such intense inspiration, she credits it for her return to wellness.
By the time Christmas in November 2013 came round, the Silver Anniversary Year, she was thrilled to be completely back to her old self. She came and had the best time, yet! She met Nik for the first time last year, and meeting him motivated her to continue her treatment and be well enough to make it to Christmas in November 2014.
But that wasn't all.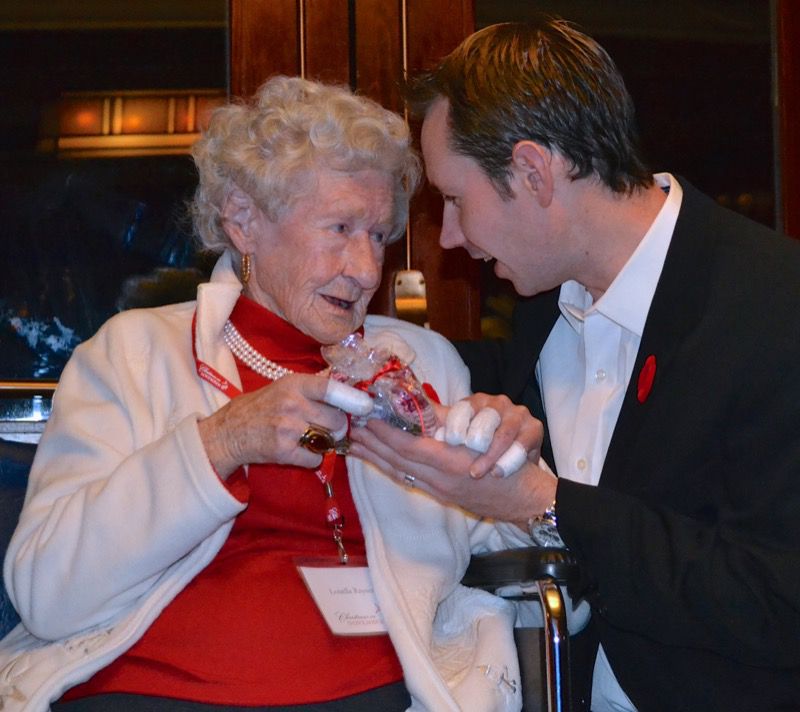 "I had such a fabulous time last year and am so totally at home in this environment! I still live by myself in my own house, you know, and went into quite a slump when I returned home. Liz her husband were in the states for February and March, and though Liz called me every day, it wasn't the same as being with her 5 hours a day, like I usually am. Most of my friends are gone or have moved away. Many of them are like me and no longer drive. We had a lot of ice and snow last year." It sounded like Louella needed some kind of motivation to get her out of the dumps.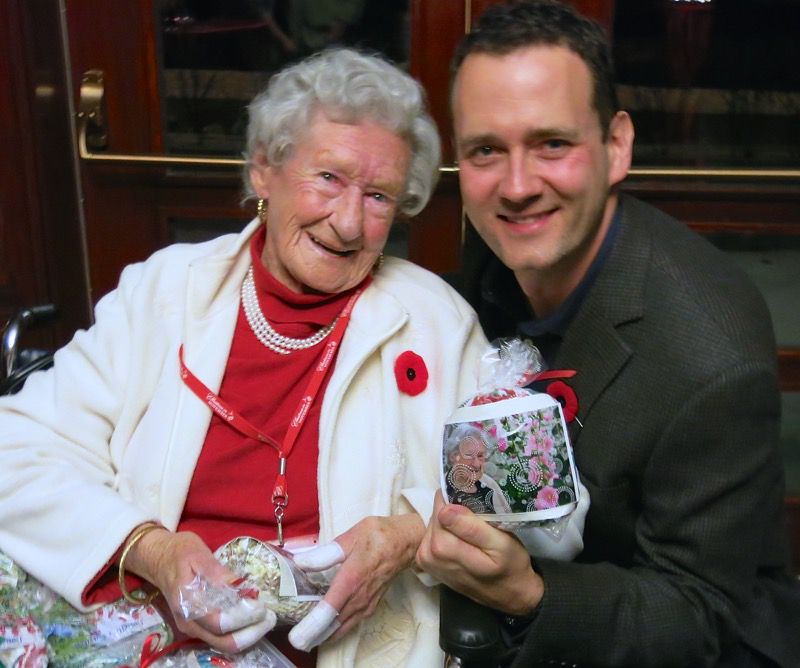 Liz claims that, "Mom had decided before I left that she was going to be working on a big project because being at the hospital and going to Christmas in November had energized her." Louella claims that the details of the project came together when Liz was away. "So when I was home alone last winter, that was when the idea of making the dish cloth gifts came to me." Liz and Louella had already purchased a lot of colorful cotton yarn, so something was in the works, but somehow, the clarity of the project revealed itself to Louella one February morning, alone in her home, thinking about what she could do to give back to the wonderful people in Jasper that put on Christmas in November this year.
That is when this project was born. Louella and Liz formulated the plan to give back what she had received and it had to be something so personal that would emulate the warmth and love Louella feels is lavished upon her at Christmas in November each year. She needed something that would embody that same warmth and love to give back.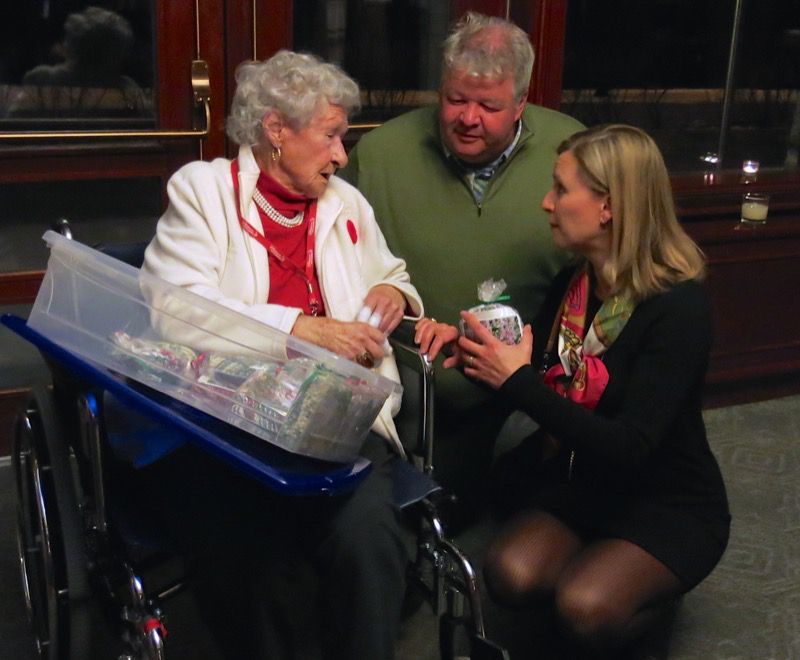 "When I heard the extent of what she had planned, I was apprehensive," Liz confessed. "Christmas in November is such a glamorous event and mom's gift is so humble. How will this be received? Will the event organizers allow mom to do something this extraordinary?" Louella urged Liz to call and make arrangements for the distribution of the gifts, but Liz was very concerned that the request would be denied.
No need to worry, Liz. Louella's story is fundamental to what Christmas in November is. It is about family, and friendships and the humble traditional aspects of Christmas that breath life into that magical Spirit of Christmas year after year after year.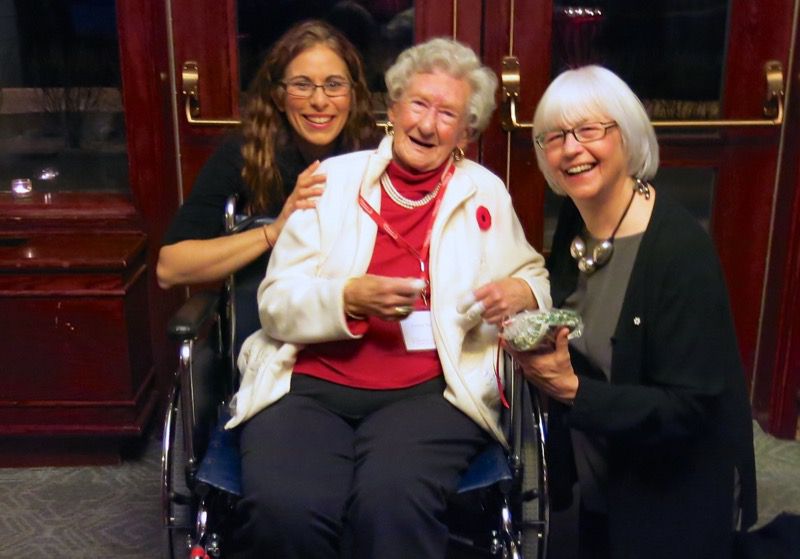 "Everyone's been so nice," Louella cooed. "So many hugs, and kisses and warm wishes. It is just wonderful. It was worth every minute."
Louella knit 100 cotton dish cloths by hand. The fingers on both of her hands are degenerating and bandaged for protection, but she managed to endure this project. "I am a slow knitter and it took 4 hours to do each one. Everyone has been so happy to get one of those silly things!"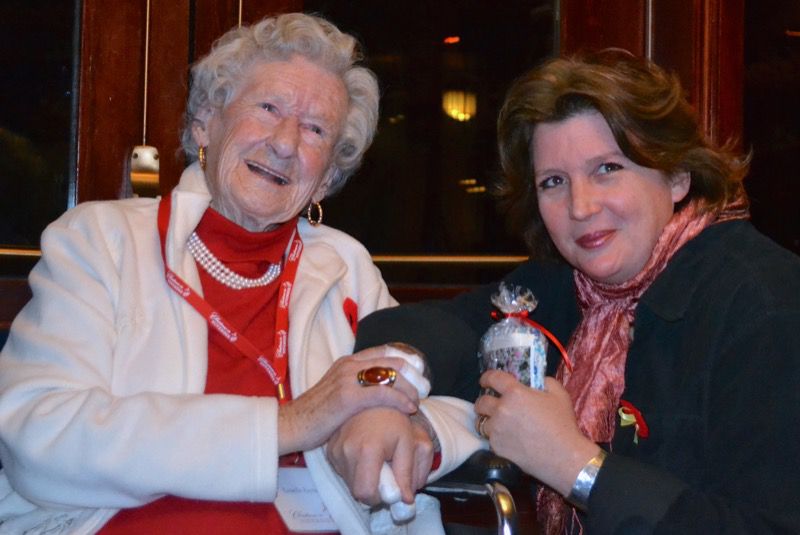 "Oh, I love to garden and my garden brings me so much joy. I gathered seeds from my own garden… delphinium, and so many more. Some of the original seeds had come from my cousin in Wakefield, England. There is such a variety of colours. I hope each person enjoys growing these seeds as much as I have."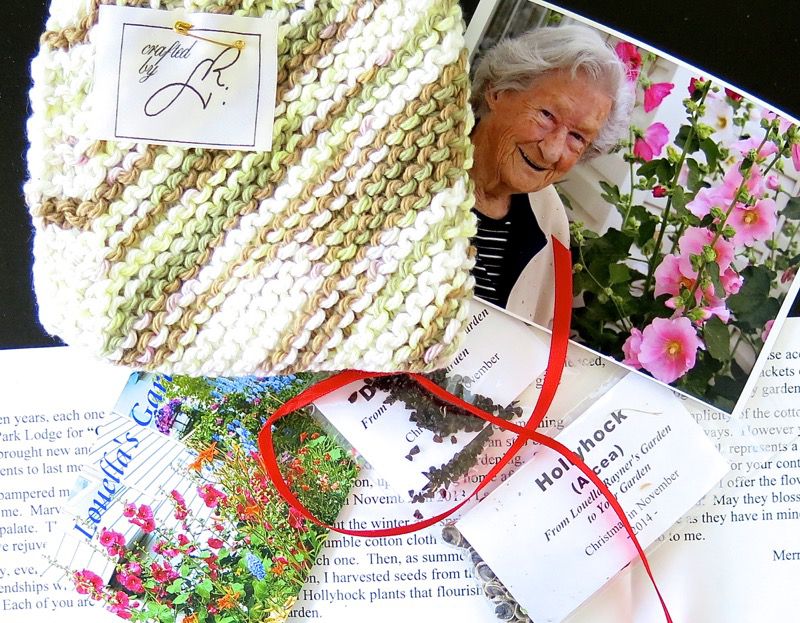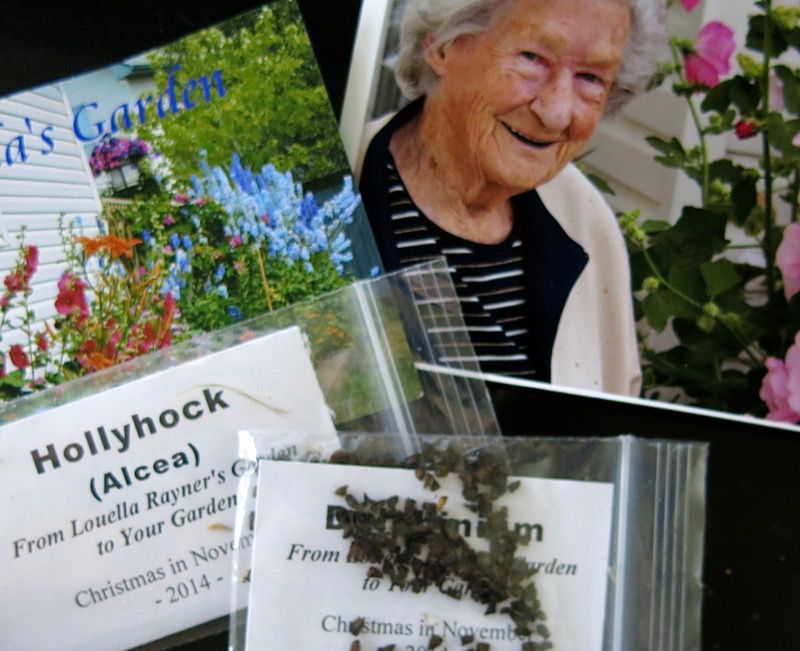 Yes, Louella. We will each plant, treasure and enjoy your seeds. We will clean our kitchens spotless with your hand knitted wash cloth. We will think of you and how much you have given back. We will remember that the Spirit of Christmas is in the giving. And that the love you found at Christmas in November filled you up so much, you had to give some back.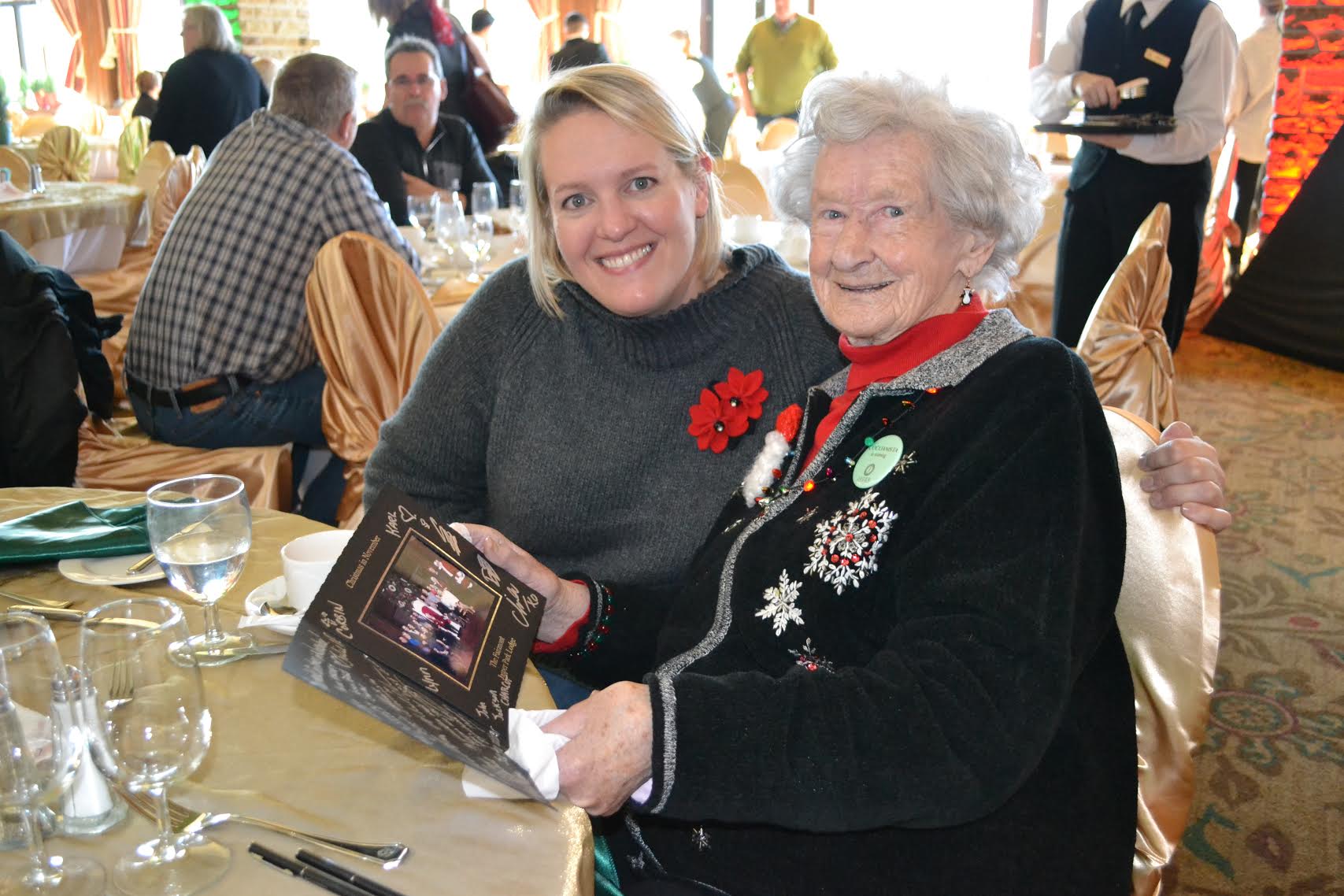 When The Spirit of Christmas weaves her magic through one's heart, it creates more magic. Julie Van Rosendaal was so touched by Louella that she undertook a thank you back to Louella from all of The Christmas in November 2014 Presenters. A lovely card signed by all with a photo of Louella in Santa's chair with all presenters the night of the Gala. See what Louella did? She wound that eternal pendulum. The one that will keep the giving and the loving and the friendship moving throughout the season, year after year after year.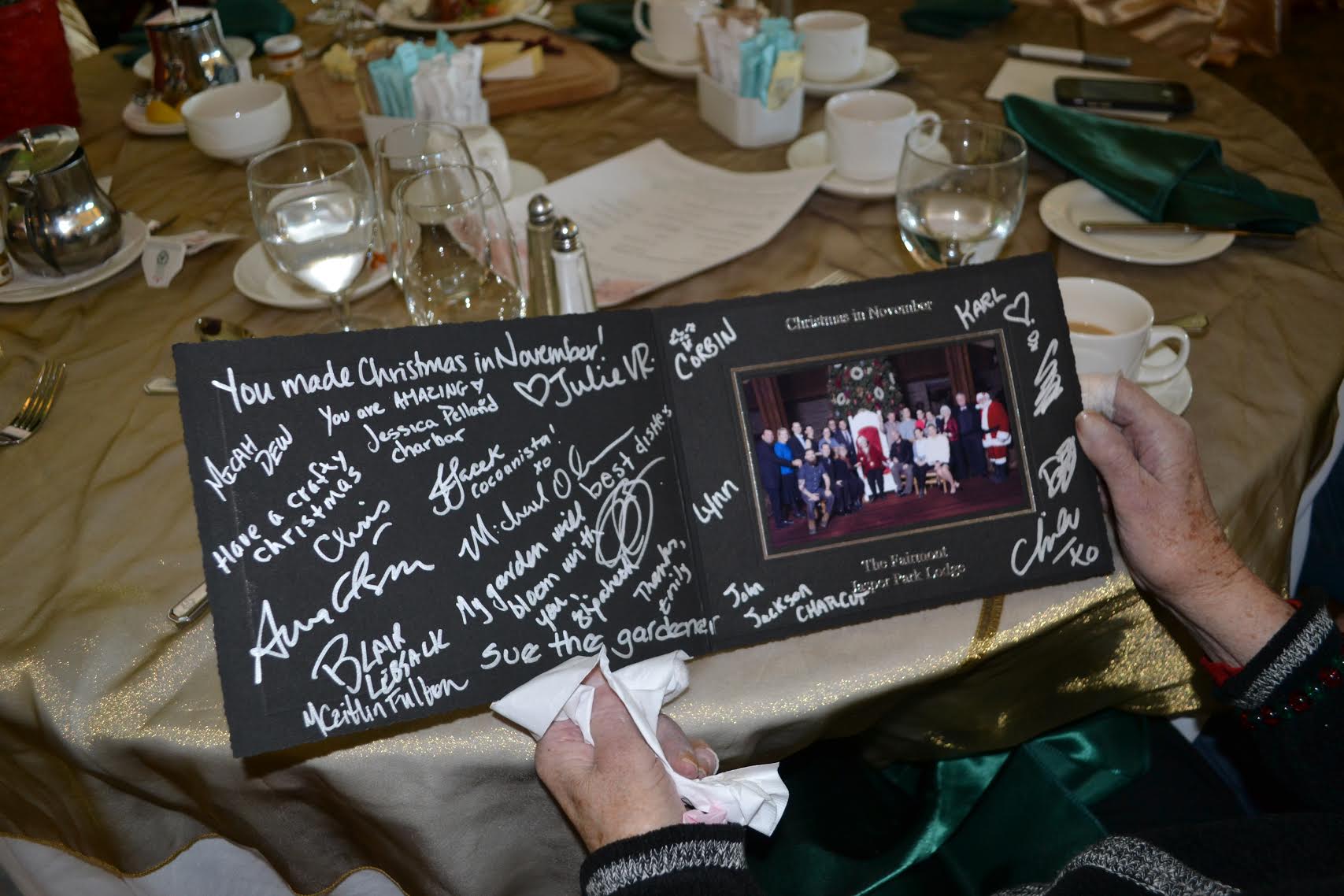 Yes, Louella. The True Spirit of Christmas does attend Christmas in November. He breathes his magic and life into those who come and valiant spirits like you give back so much more. Meeting you was the treasure of Christmas in November 2014 for me.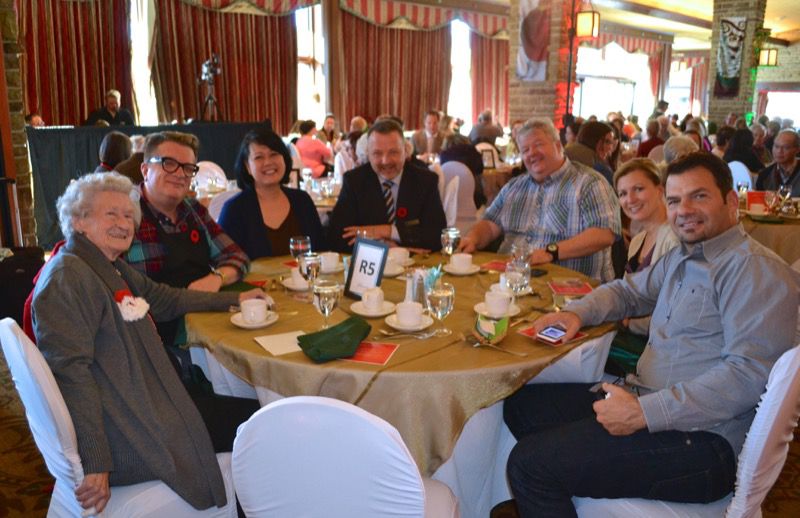 … Yes, Louella. The True Spirit of Christmas does attend Christmas in November and this year, it was through you….

The Letter Louella wrote to each person and included with each gift: