Having the gals for Coffee and Christmas Cheer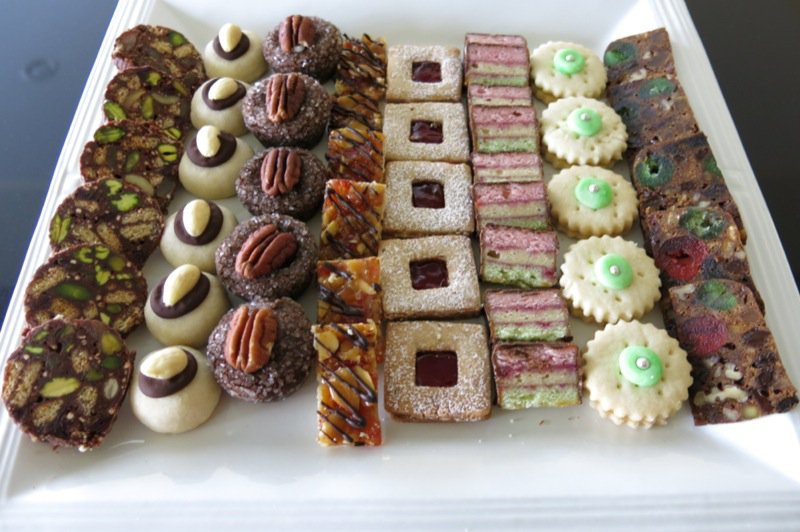 When I was a child, every mother worth her salt made homemade traditional Christmas Cookies and Sweets. Today, two of my friends make a couple of cookies, but most make nothing at all. The once so familiar tradition of making and baking homemade Christmas sweets has diminished so dramatically that I am compelled to proselyte: Put on your aprons, get out your recipes, call your friends, and have some good old fashioned fun in your kitchen! The joy you will find sharing the stories about your cookies as you munch on them together gathered around your tree will edify you and enrich your family.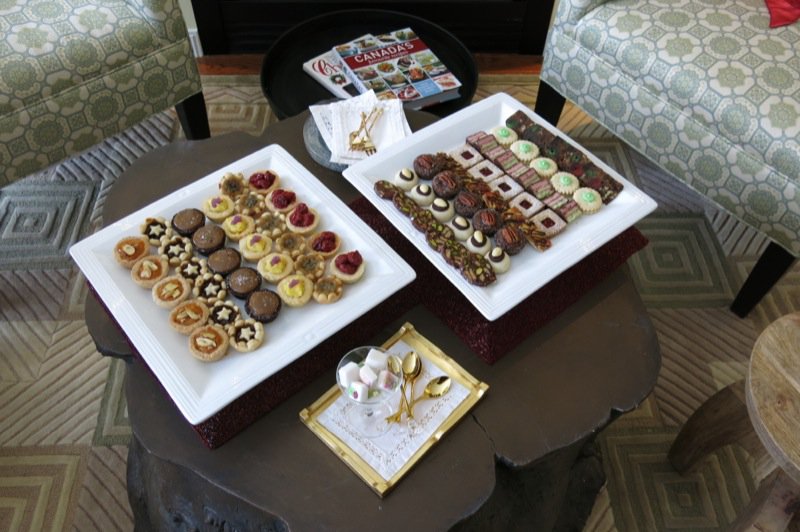 How I cherished the season when our mothers would travel up and down the neighbourhood, children in tow, for morning coffee during the baking season. The Traditional Canadian Christmas Cookie platter would be in the middle of the kitchen table, steaming cups of hot coffee surrounding it – almost impossible to get to. But, there would be a "child's plate" at most homes. (The "not so pretty" cookies, but they tasted just as good.)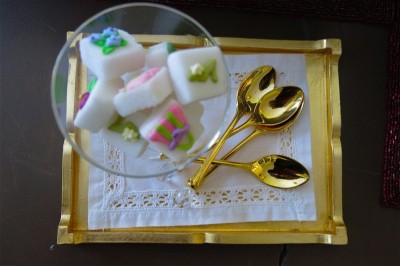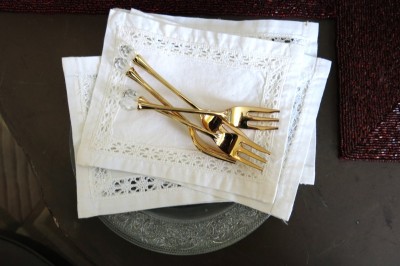 Mother's would laugh and chat and taste each morsel, oooing and ahhhhing appropriately. Sometimes, the truly odd neighbour would take the forbidden risk and critique a cookie. Even as a child in the next room, I would hold my breath when that happened. Usually, that was the last time that neighbour was on the coffee klatch invitation list.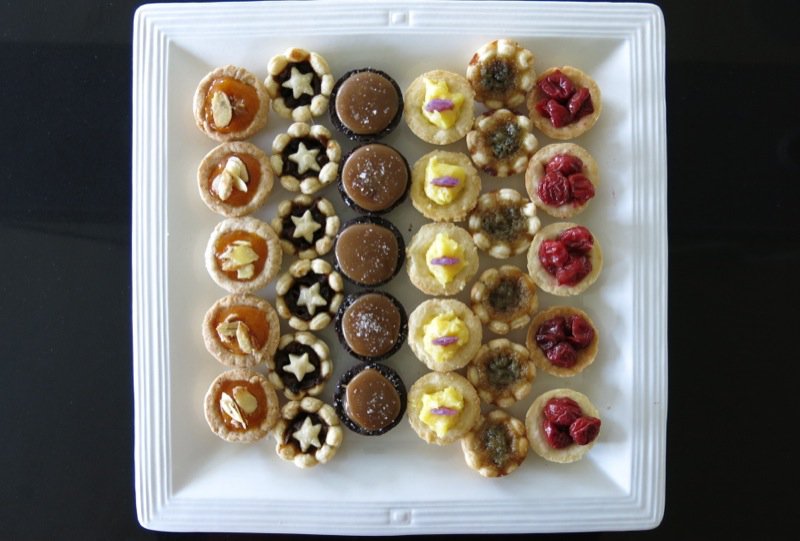 Above, from left to right: Apricot Almond Tarts, Green Tomato Mincemeat Tarts, Salted Caramel Chocolate Tarts, Lemon Shortbread Tarts, Butter Tarts, Cherry Shortbread Tarts made with the shortbread tart shells and three plump preserved sour cherries plopped in each one.
This year I wanted to make a tart platter. Every year I expand my repertoire and do something different. This year, it was the tarts. Let's start with the Butter Tart. This is a traditional Canadian tart and my particular recipe comes from my great grandmother: Maude's mother. It has only currants in it and she changed it to add golden syrup when that came out sometime in the 1800's. I have never tasted a butter tart recipe as good as this one. The tart shell shape evolved about twenty five years ago when one of my students brought butter tarts to school that her grandmother had made looking very similar to these. I found the cookie cutter in an antique store. I remember Grandma Maude, and her mother, and my little student, Jenny, every time I make these tarts. Grandma loved walnuts nuts in hers, but as my sister has allergies to nuts, there are no nuts in mine and I actually prefer them this way.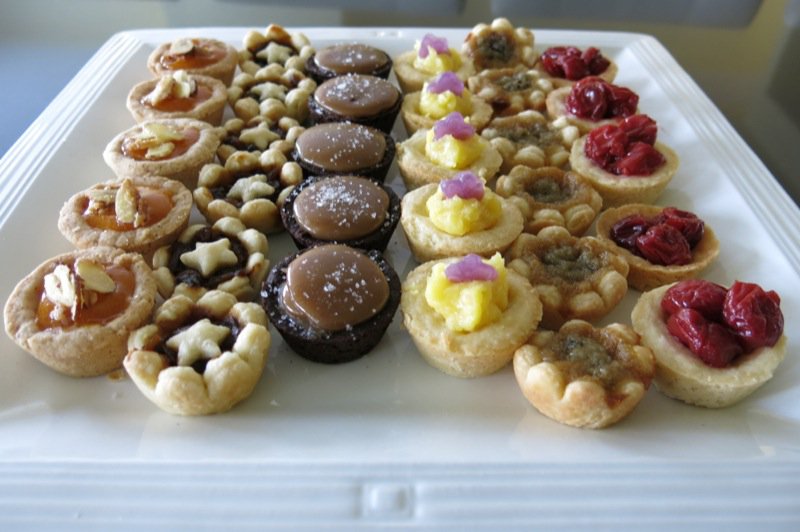 Everyone, and I do mean everyone, made butter tarts. Even those that didn't bake much. It would simply amaze me how one little tart could be made so many different ways. None were as good as mom's. Some were just terrible. Everyone also made mincemeat tarts, and most made their own mince meat. Only the semi-shunned gals would buy theirs in a jar. Never as good and "what a shame". That was it. Two tarts added to the cookie platter, always. And those two. Almost always, there would be a round cover on the mincemeat tarts, or a complete pastry cover.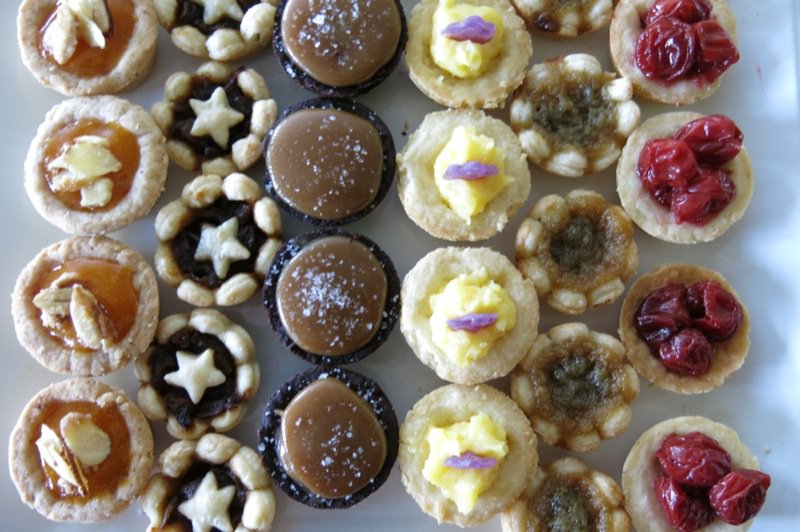 Tarts and cookies were not miniature. Nor were they giant. The tarts were regular muffin cup size. That is a huge tart to me, these days. I like to sample, so make everything small. Butter Tarts are now found in bakeries and stores. Few people make their own. Mincemeat tarts are on the endangered list. They can rarely be found anywhere anymore. Neither can suet, one of the staple ingredients. The lemon tarts have been a family favourite and on our Christmas tray for over 30 years. The others are new this year. Salted caramel? Trending and delicious. Apricot Almond, a personal flavour favourite. Sour Cherry Shortbread? Preserved cherries from my Evans Cherry tree and a welcome tart reprieve from the sweetness.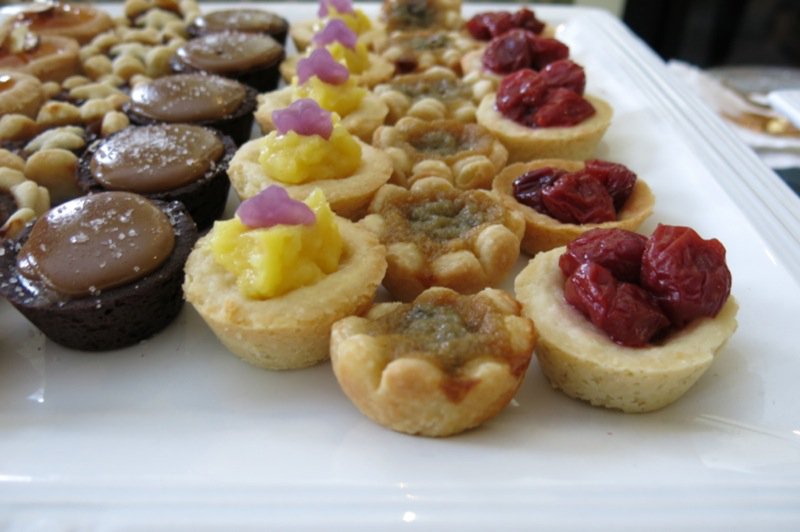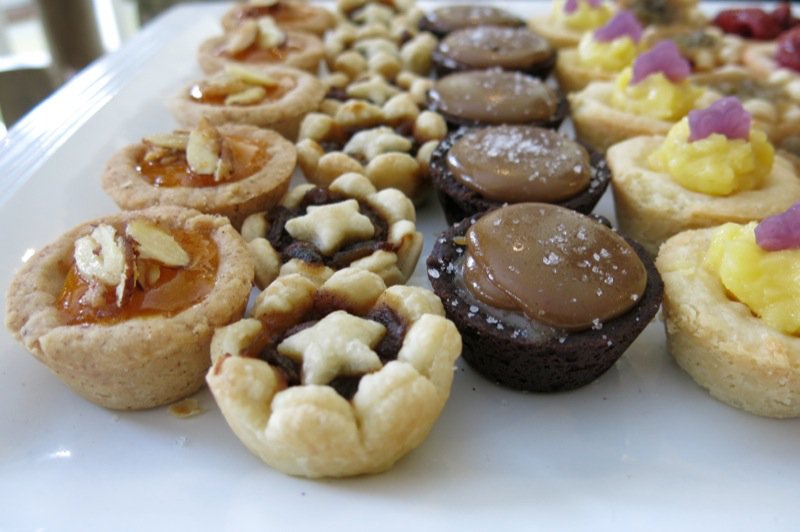 There is one cookie that I did make this year, missing from the platter below. That is the Snowflake Sugar Cookie. It didn't fit on the platter, and I wasn't finished decorating them all. This year, I made them like this: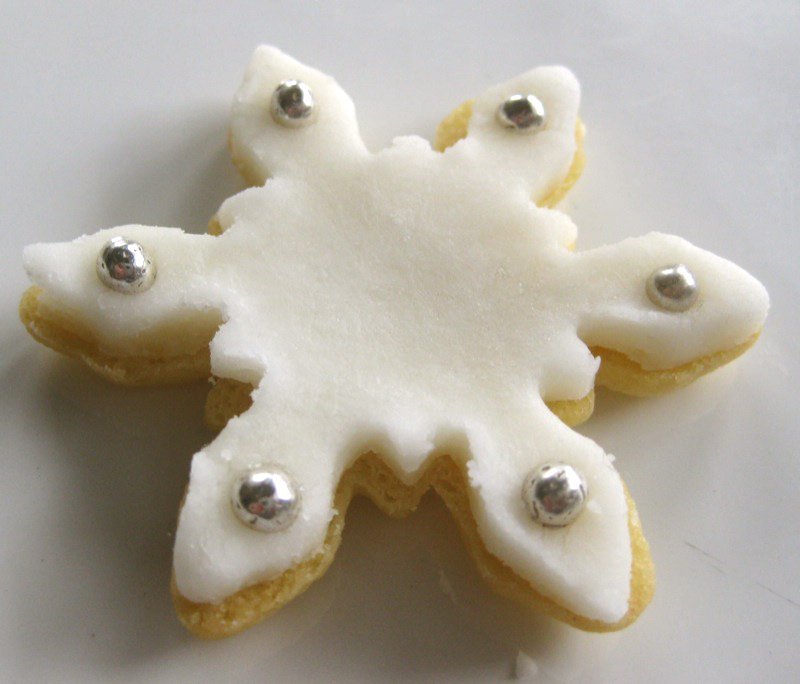 These evolved from my grandmother Maude's sugar cookie recipe. Hers were thick and gigantic and the best in the world. I decided I needed a counterpart for the shortbread sandwiches and a cookie that had a winter theme and was not so specific to just Christmas.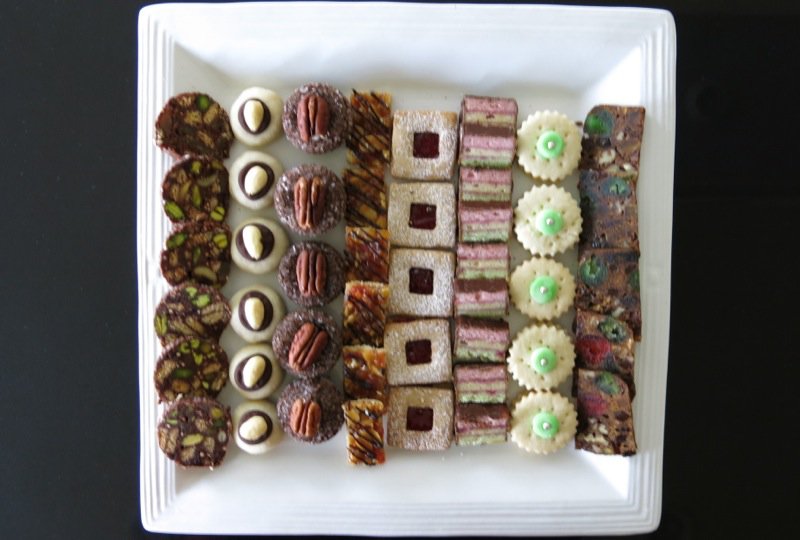 Above, from left to right: Chocolate Salami, Brown-Eyed Susan Cookies, Turtle Cookies, Florentines, Hazelnut Linzer Cookies, Venetian Rainbow Cookie Bars, Shortbread Sandwiches, Traditional Canadian Christmas Fruitcake.
Let's start with the Traditional Canadian Shortbread Cookie. My shortbread cookie sandwiches are inspired by my mom who made shortbread every Christmas cut into more traditional rectangles. Buttery shortbread baking in the oven signaled the onset of Christmas. However, one Spring, I recall the most beautiful pink and green shortbread sandwiches on a tiered tray in the dining room. I had not seen anything so delicate and ethereal. I didn't think of them again until years later as a young mother going through mom's cupboard to borrow her rectangular shortbread cookie cutter when I came upon a round cutter and the memories of those precious dainties flooded back. She gave me the cutter which I have in my cookie cutter vault and our favourite of all Christmas cookie family traditions was born.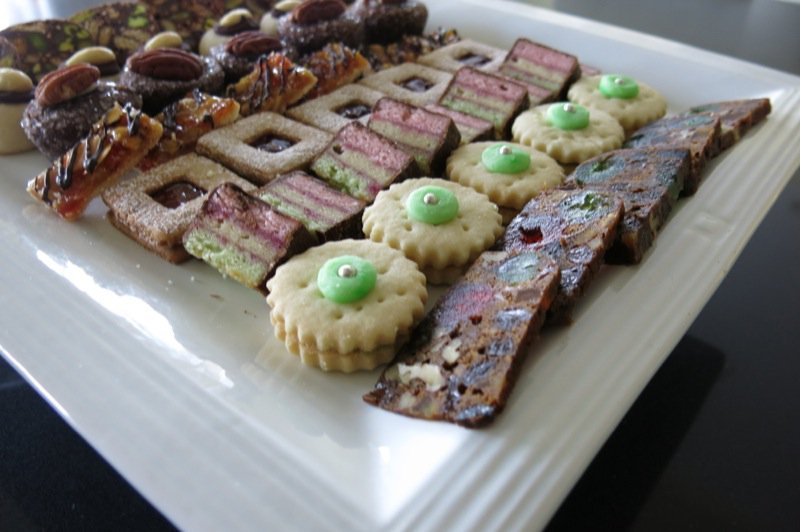 Traditional Canadian Christmas Fruitcake is a whole other story. Everyone made the dark fruit cake. Now, people throw them off buildings in annual fruitcake hating competitions. Blasphemy! You will have to visit my fruitcake post to read my family story.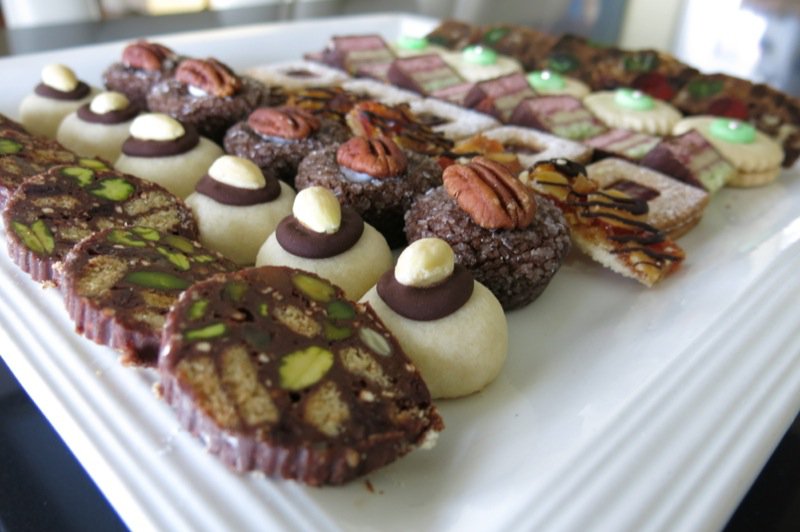 My grandmother, Maude had Brown-eyed Susan flowers growing wild on her property when I was a child and when I first saw her make these cookies, I was in awe. They were much bigger and flatter and so delicious. Everything grandma made was delicious – and big! I was captured by these because they looked nothing like the flower but always reminded me of it, just the same. They were particularly special to me because she told me they should have been called "Brown-eyed Valerie's" after my own "beautiful brown eyes". It wasn't until my first year of teaching school, thirty years ago, when a mom brought these cookies to a party that I remembered grandma's. They used to be a familiar Canadian prairie cookie, and then they just disappeared. I got the recipe from Brenna's mom, changed the shape and size to match all I make, and have made them every year since.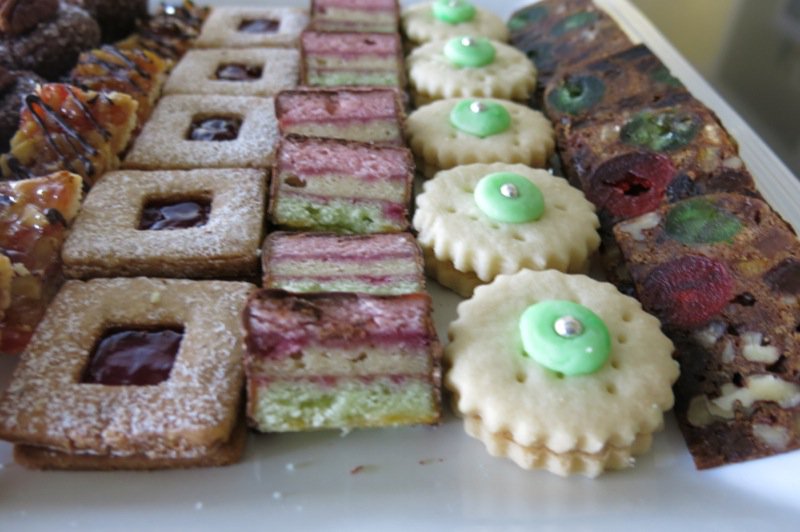 An homage to one of my favourite cities in the world: Venice, the Venetian Rainbow Cookie Bar has found their permanent position on our family Christmas platter. I have visited Venice three times (so far), and still long to go back. I love marzipan and recalling the gorgeous sweets as I pressed my nose against the glass windows in all of the narrow winding streets there, I did a little research to find one I could make. This was it. It was not easy at first, but it is now as I have completely revamped the recipe to make the marzipan from scratch in my Thermomix and I use my homemade raspberry and apricot jams. One batch is enough for the season and for gift giving. Everyone loves them!
The hazelnut Linzer Cookie has appeared on our family platter in the past, but is not a traditional staple, yet. Maybe it will become one. That is usually determined by the asks the following year. I am the one who keeps this cookie revisiting our family platter every few years as I adore the flavour of the toasted nuts in these cookies, and they are not so sweet. This is a traditional cookie from Germany inspired by the Linzer Torte from Linz, Austria. The cookie sized version of the Linzer Augen, or "Linzer eyes" has become a sign of the holidays around the world. I used my homemade red currant jelly in the centre of these this year.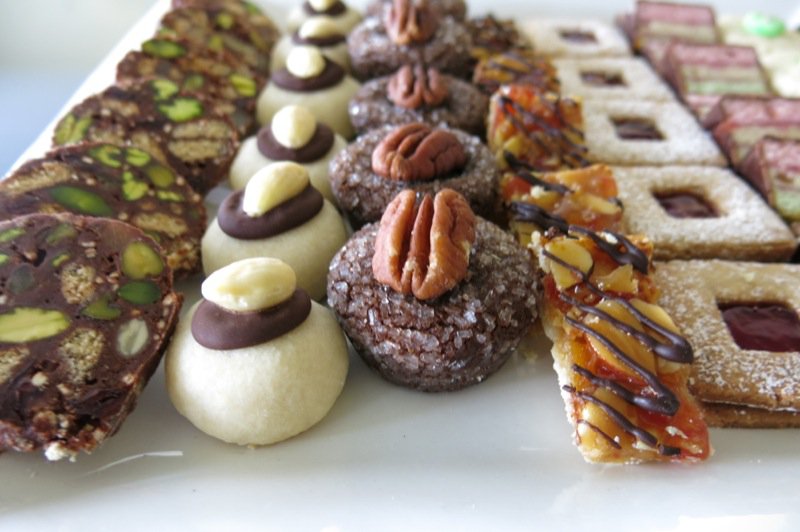 I like having a "positive" and a "negative" plated alongside each other: a dark cookie beside a white one. The Turtle Cookie is the perfect counterpart to the Brown Eyed Susan and is my heritage cookie. I was born and raised n Red Deer, Alberta, just 100 miles South of Edmonton where I live now, and returned for a retirement party of a neighbour about twenty years ago and discovered this cookie on the treat table. It looked nothing like this as it was large and flat and round with ground pecans on top, but it was chewy and delicious. I learned that Red Deer had held an official cookie contest and this cookie was announced the winner. It has a surprise caramel centre which makes it extra delicious. Again, I changed the size and manner of shaping and garnishing the cookie and had to add my heritage cookie to our Christmas plate! This year, I made my own surprise for the centre (yet to be posted).
Firenze used to be my favourite city. I was always going to live there until our most recent trip the fall of 2011. Apparently, these cookies do not hail from that region, but they do in my mind. They remind me of the ones I found in the small crowded shops; they were also an homage to my future retirement home, but now more of a representation of a love for the entire country of Italy. My dear friend, Rae, found this recipe. We did cookie baking together a few Christmases and it is difficult to find a Florentine that is not so labour intensive. This one is not so easy to make, but so worth it, and so much easier than many we read about. I now make these every year as they are sensational and one of dad's favourites.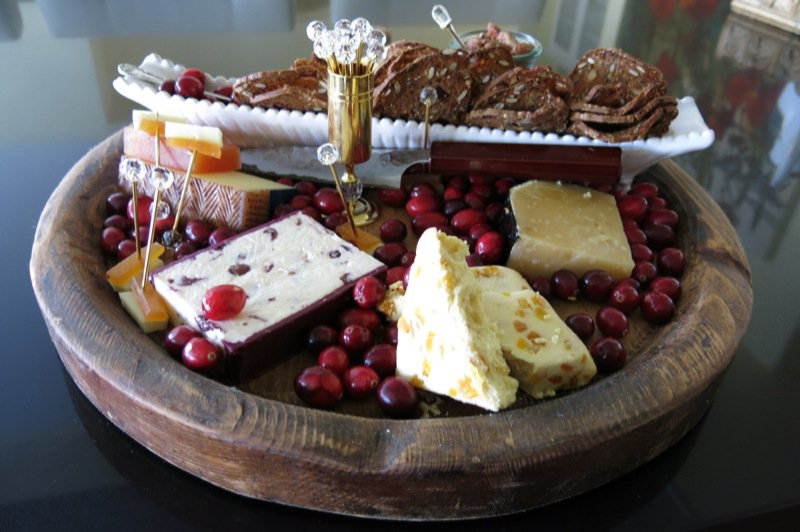 There was a little savory cheese platter to "cleanse the palate" in between the sweets. Homemade Quince Paste with Manchego Cheese, Wesley Cranberry Cheddar, Wesley Apricot Stilton, Sylvan Star Grizzly, Spiced Nuts.
The criteria for our Traditional Family Favourites is simple: each has to be spectacular in its own right to make it to the plate. In my circle of family and friends, each of these meets that criteria.
Each comes from a special place in my heart and as I wish each of you a very Merry Christmas this season, I would love to hear about your family cookie traditions! It makes me so sad that fewer and fewer of my friends carry this tradition on at all. I so miss the pride on the face of the hostess as she beamed offering her wares wrapped in love during the season. Now, almost everything is purchased. It is too easy. Dalene is the only friend I have that still makes her own! Well, I "hear" Cathy does, too, but have not yet been over for a Christmas tea! (wicked grin)
Is there a story to tell? Is there a connection to the past on that plate?
Please share your Traditional Christmas favourites! There is still so much to learn and explore… and more traditions to build.
Merry Christmas, everyone. Let the fun begin!