Easy Peasy Solution to "Holding it Together" made over two days!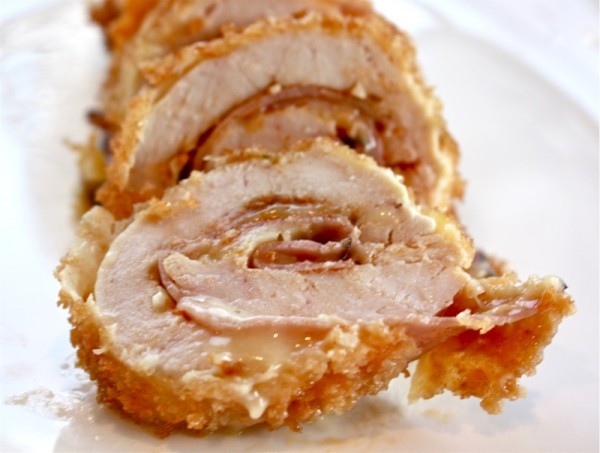 When I first made this classic, it was at the top of its game, but I wasn't. I fought the breast: used toothpicks, string, and skewers. Nothing worked.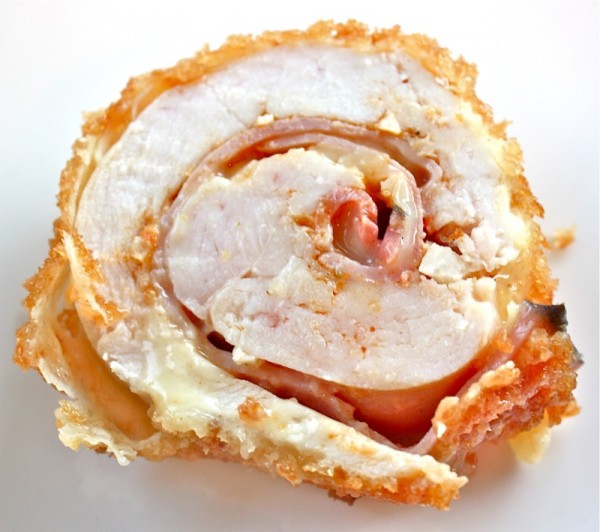 When mom and dad told me they wanted Cordon Blue as one of the main dishes for their 60th Wedding Anniversary, I hid my angst. "Sure, I can do it. Not a problem." I was determined.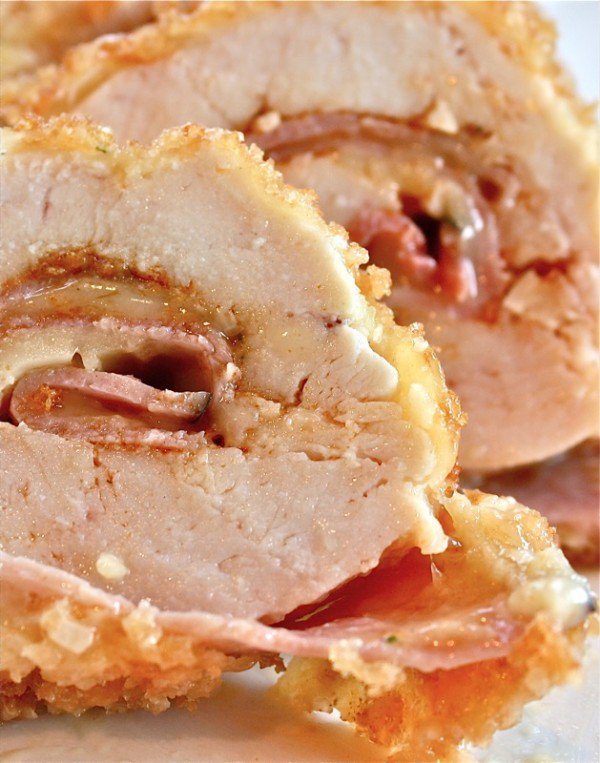 I read. I researched. I thought. Then I started. Good chicken is key. I bought the breasts with bone in and skin on. And I cleaned the breasts.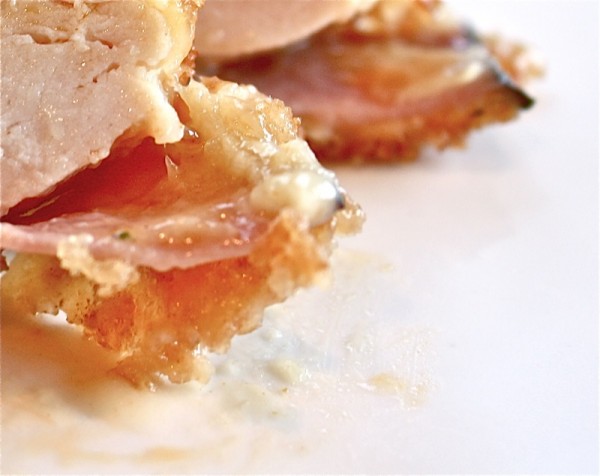 I laid out the beautiful Black Forest ham and Jarlsberg cheese. I prepared the garlic by slicing it into really small slivers. I got out the sweet, earthy paprika that I brought back with me from Belgrade last summer.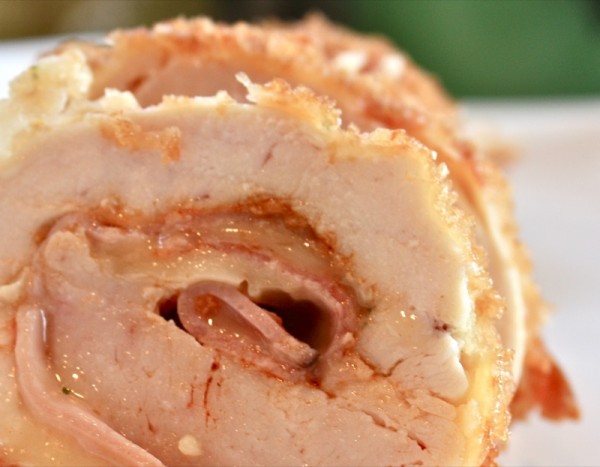 I got out the meat tenderizer and I called my Chef Sous! I don't like to cook alone when I am nervous. Vanja is a very good sport. We make a very good team.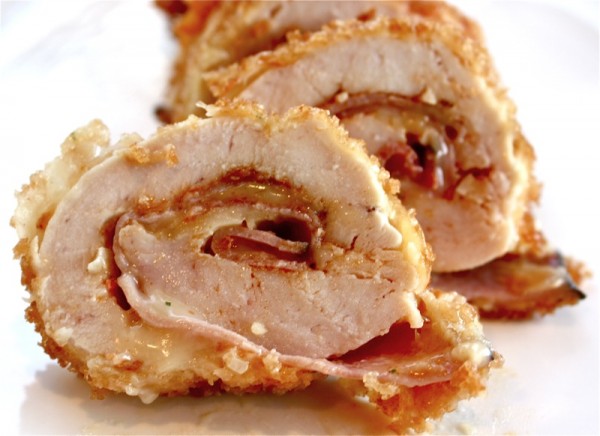 Part One: Preparing the Cordon Bleu
He tenderized each breast, tender removed (and bagged for future dishes). He started gently pounding in the middle of the breast with the flat side of the tenderizer and worked to push the fibres of the meat outward. This flattened and enlarged the breast without ripping it.
I brushed each liberally with garlic and melted butter.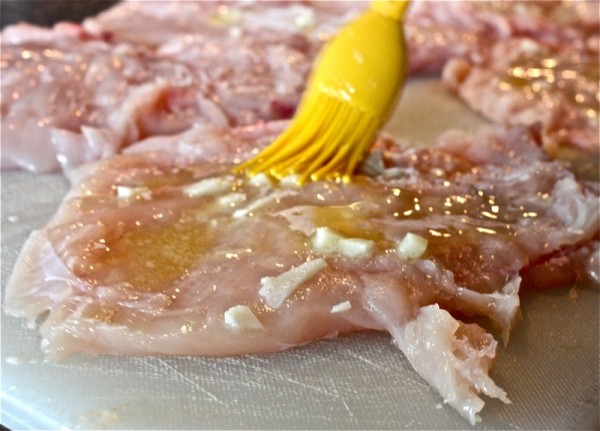 Sprinkled each generously with paprika, then salt and pepper.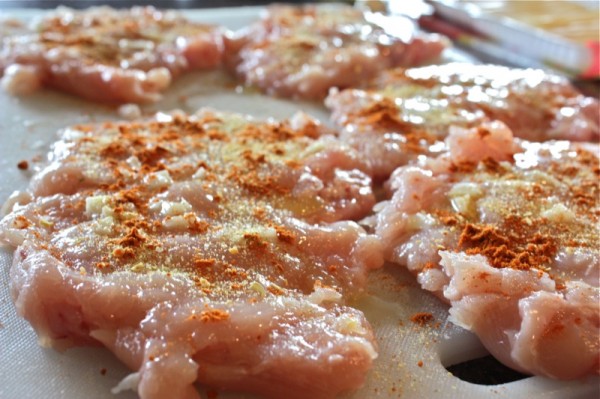 Topped each lengthwise with one piece of ham and one and a half pieces of cheese.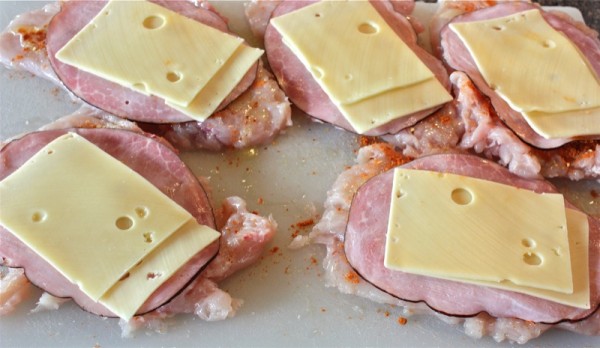 Then rolled it up, pointed end in first. Now, comes the magic. This is the critical point of making Cordon Blue. This is when the swearing and sweating usually starts. But, not today.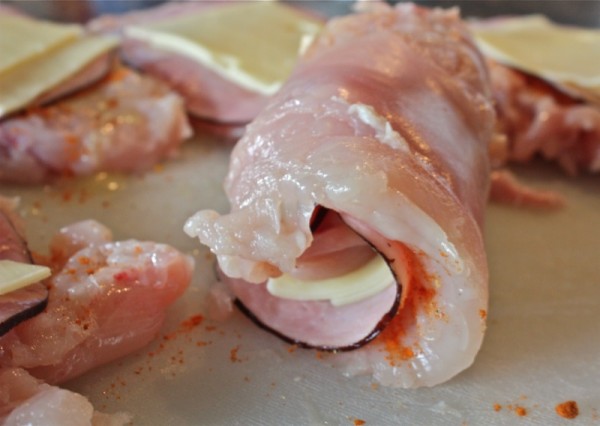 I rolled each piece, one at a time, tightly. I lay each piece, one at a time on plastic wrap and rolled the wrap over each piece, folding the sides of the wrap up over the sides of each rolled piece, pulling tightly inward, then rolled it up completely ensuring both ends were folded tightly unto itself with the plastic wrap.
I did this with all forty of the breasts. Then, I tucked them into the fridge and cleaned up my mess. I was sure my idea was going to work some magic.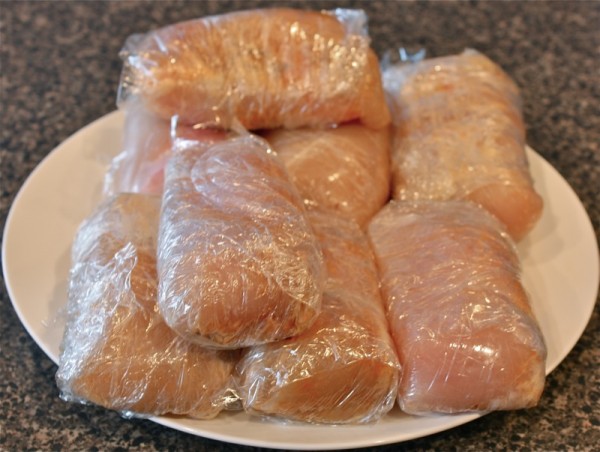 Part Two:Â Â  Cooking the Cordon Bleu!
And, I was right!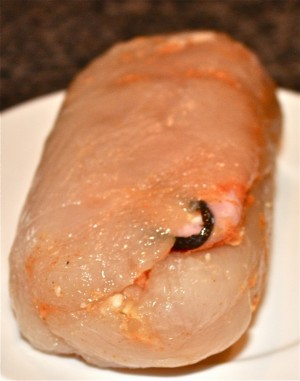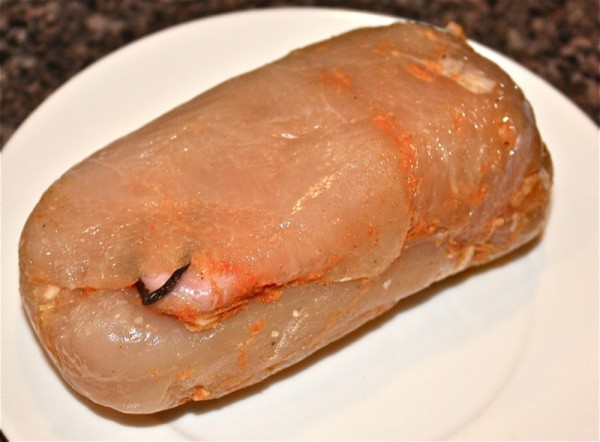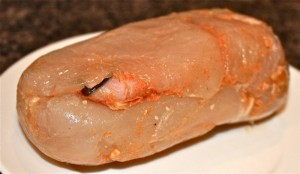 You can see that each roll held its shape and the ends "stick firmly together" so that the roll is now very easy to coat with flour, eggs, and panko! What a difference wrapping tightly and resting each role overnight makes. I was dancing in the kitchen!

I seasoned the flour. I beat the free range organic eggs. I poured out the Panko bread crumbs. I poured the oil into a frying pan at medium high heat and I got rockin' and rollin' this cordon bleu!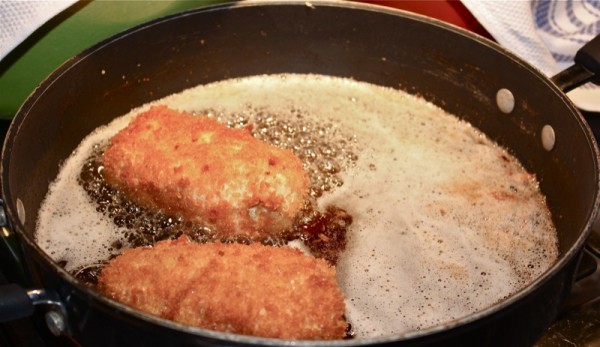 I was not worried about cooking each one. I was worried about getting each sealed and golden.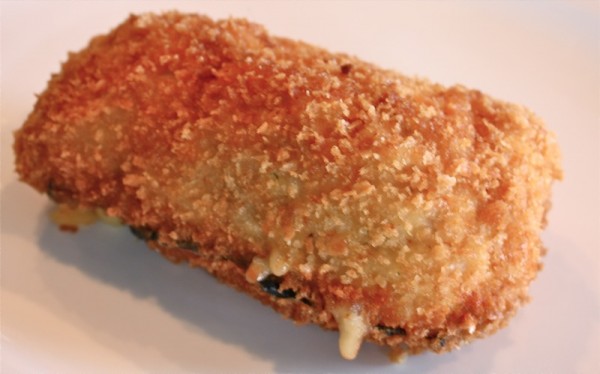 Only the tiniest drop of cheese found its way out of one or two. Each was past perfect!
Once at room temperature, I wrapped them up and froze them. They re-heated and finished cooking on a cookie sheet prior to the big event! The butter, garlic, paprika, ham, cheese, and panko each elevated this beautiful Sunworks Farm chicken breast to a completely new level.
So, what was old is now new again in our household. No wonder this dish went viral in the 70's. It is scrumptious! Time for it to rear its head again in this new era. I challenge you to try it! I guarantee you that you will love it!