Turkey, Garlic and Sundried Tomato Pesto: A Canadian Foodie Original Recipe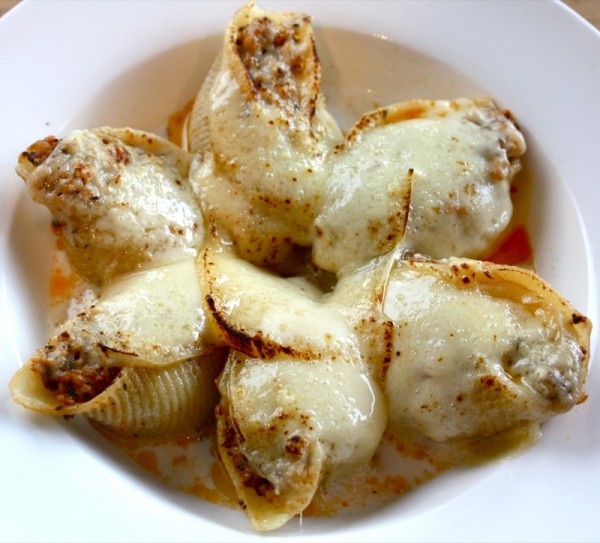 My mom was into cannelloni this particular year. I think it was about 1998. Not so long ago, but long enough. I loved her veal cannelloni. I loved her creamy shiitake mushroom sauce. And, I got into stuffing pastas that year. Turkey was big. Still is. Leaner. Healthier. I tried a lot of substituting old favourites with ground turkey. It worked well. On this particular day, and I still remember it well, I was expecting Vanja for dinner. We were just dating. I loved cooking for him and he appreciated it so much. I decided to do some stuffed pasta shells this night.
I boiled the pasta shells until pliable, but definitely al dente. I then started to put together a flavourful stuffing with what I had on hand. I sliced and diced a medium onion and sautéed it. I did the same with a few cloves of minced garlic, then added the turkey to brown, melted in a block of cream cheese and threw in some homemade sun-dried tomato pesto. YUMMERS. I knew I had a winning dish! Yes, it was rich. But, so full of flavour!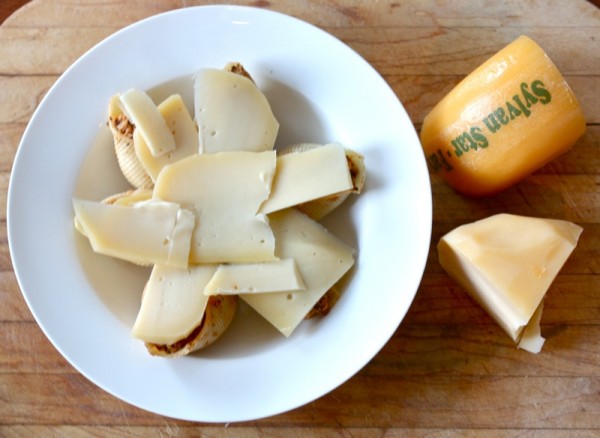 After I stuffed each shell, I peeled a head of garlic, slivering the cloves, and inserted a sliver or two into each shell. In the baking dish they went, topped with generous slices of cheese, poured in a generous bottom covering of heavy cream, and baked it until the cheese on the top bubbled. I think this dish marked a change in our relationship. Yup. It was the giant pasta shells that won over my man.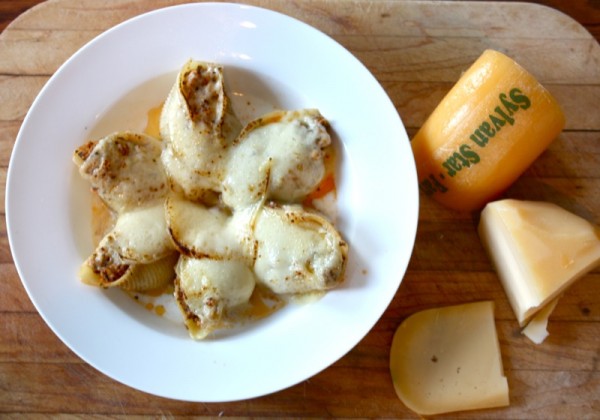 When I make it now, I stuff and freeze the shells in small freezer bags so I can make a large casserole, or an individual portion. I make a box (or usually two) of the giant pasta shells at once. I love making this dish as I have never met anyone who didn't enjoy it. I love serving just one, plated, as an appetizer. One can dispell a substantial edge off of hunger before a meal. And one definitely leaves you longing for more.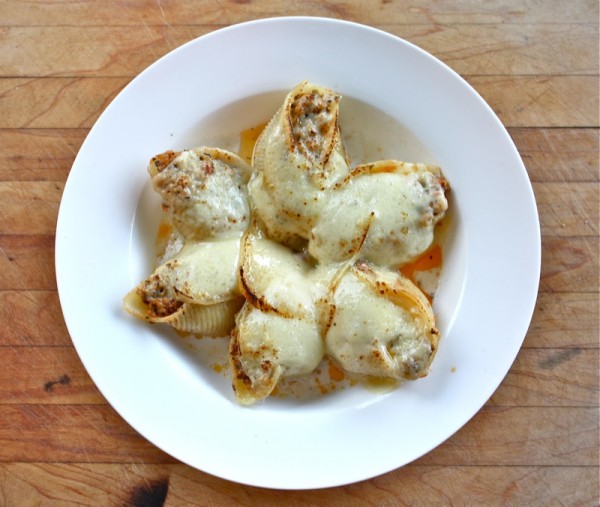 And every single time I make it, I remember the first time. It was Valley Tower downtown where we lived at the time, overlooking the river valley. The city lights were gorgeous mirrored in the river at night. The autumn air was cool and crisp outside on the balcony, but everything was right with the world. Everything was perfect. The sky was clear. The stars were out. And the meal. Unforgettable.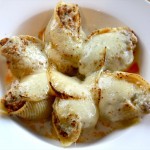 Giant Pasta Shells: Turkey, Garlic and Sundried Tomato Pesto


This is A Canadian Food Original Recipe that is excellent as a main or as a one bite wonder.
Total Time
1
hour
15
minutes
Ingredients
1

large onion

, minced

2-3

tablespoons

of olive oil

6

large cloves of garlic

, peeled and minced (or one large bulb)

one kilo ground turkey

2

tablespoons

of dried basil

8

ounces

of cream cheese

8

ounces

of sun-dried tomato pesto

(homemade recipe follows)

salt and freshly ground pepper

, to taste

heavy cream

mozzarella

, Gouda, or gruyere cheese

1

and a half boxes of giant pasta shells

(made with durum wheat)
Instructions
Sauté onion over medium heat until translucent (about 3-5 minutes)

Add garlic; sauté for 30 seconds

Add meat to brown (5-8 minutes), stirring often to break down

Add basil and pesto, stir to combine

Add cheese, stir to melt into mixture; season with salt and freshly ground pepper

While mixture cools, boil shells until al dente

Drain and drizzle with olive oil to keep separate; set aside

Let mixture cool until manageable; stuff pasta shells generously

Freeze individually on cookie sheets; wrap well, label with date and freeze until needed
OR
Preheat oven to 350ºF

Place stuffed shells in baking dish; cover bottom with heavy cream (just a skim to cover bottom of casserole dish)

Slice cheese of choice and cover shells; tent foil over dish and bake 20-30 minutes until hot and bubbly

Serve with a tossed green salad
Amount:
Each box of shells has about 30 good shells in it once they are cooked and it takes about 20 minutes to cook them; discard the broken bits

Each recipe will make about 45 shells, so I usually double the recipe and use 3 boxes of shells
Recipe Notes
Six shells is ample for an individual serving. If making in a large casserole, count 5 per person. When serving as a "one bite wonder" at a huge potluck party, or as an appetizer at the beginning of a meal, I add thin slivers of fresh garlic into the center of the meat stuffed into each large shell to increase the garlic pucker power punch; it is extraordinary for a small portion.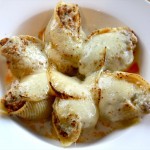 Sundried Tomato Pesto


Yeild: 9 Cups
Ingredients
600

g

Parmesan cheese

100

g

fresh basil

360

g

sun-dried tomatoes

300

g

of pine nuts

, toasted

18

cloves

of garlic

, cleaned

600

ml

extra virgin olive oil

freshly grated pepper and salt

, to taste
Instructions
Place all ingredients in a food processor and mill until desired consistency; season to taste