These area a winter staple at our house, so which is best?

Look. Smell. Taste. Hmmm? Acidic? Sweet? Too Salty?
I love tastings. I try to have a tasting of some sort whenever there is a gathering. It started years ago when there were so many fresh fillets of salmon at the market I didn't know which to buy, so I bought them all. I can home, cooked each exactly the same way (poached) and then tasted each one, with guests at dinner: Atlantic, Spring, Cohoe, Pacific, Chinook, Sockeye, Arctic Char (I know it's not a salmon, but so similar I bought it, too). I had seven. Do you believe there were seven that day at the market? That was such a fantastic learning experience. Atlantic is my favourite. It is not the boldest. It is actually the most subtle flavoured of all the salmons I recall, but the subtlety was still full bodied and alive. The mouth feel was so soft and ethereal.
Since then, I have done many, many, many tastings. I have recorded my findings of the following tastings:
So, when I was having guest that are keenly interested in really good food, great tastes and flavours over for the Slow Food Edmonton Winter Solstice 2011, I decided to do a Canned Tomato Tasting.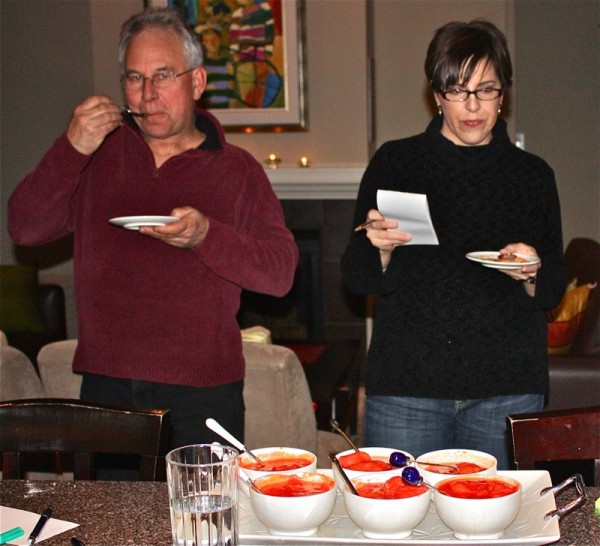 Hey, it's way easier that an appetizer, and a heck of a lot more fun!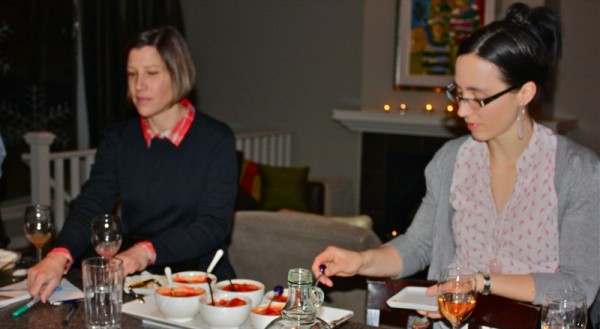 So, almost everyone participated in one way, or another. I didn't until the following day when a friend dropped by for coffee. We did it together and it was so much fun taking time and going back and forth and really tasting these samples. Sadly, there were only a few charts completed in the "pile" for me to compile when I cleaned up after the event: still, we have feedback from seven of us. This I have done in the chart below.
What can we conclude from this tasting?
#2 had the

most appealing overall smell

with #1 and #5 close behind
#3 did not smell good, or had very little smell at all
#2 had the

best overall flavour

#5 did not taste very good at all
#1 had the

greatest visual appeal

#3 was off-putting visually
#1 was the best over all sample with #2 very close behind
#3 scored lowest in this tasting
#4 was determined to be the

most acidic

and was not high or low anywhere else on the chart
#1 was the

least acidic

and was determined to be the best overall product
#1 was the

sweetest

and was determined to be the best over all product
#5 was the

least sweet

and was not high or low anywhere else on this chart
NOTE: # 1 and #2 were both kinds of San Marzano Tomatoes. The San Marzano DOP was not available this week! (always buy the DOP) I chose to buy the canned tomatoes from the Italian Centre Shops as "everyone knows" the Italians would have the best canned tomatoes!
Canned Tomato Tasting January 8 2011
1 SanMARZANO

2 GI GI

3Â UNICO

4Â DIVELLA

5Â AURORA

6Â NO NAME

NOSE
C3 G2 K2 L5 M4 V2.5 W0 T18.5
C2 G4.5 K4 L4 M4 V4.5 W0

T19

C0 G1 K1 L3 M2 V1 W0 T8
C1 G3 K2 L1 M4 V3 W0 T14
C2 G5 K3 L1 M2 V5 W0 T18
C2 G2.5 K4 L3 M2 V2 W0 T15.5
OVERALL TASTE
C4 G4 K2 L5 M0 V5 W2 T22
C 3.5 G4.5 K4 L4 M0 V4.5 W3 T24
C2 G4 K2 L3 M0 V2 W1 T14
C3.5 G3.5 K1 L1 M0 V3.5 W2 T13.5
C4 G1 K3 L1 M0 V1 W1.5 T11.5
C2 G4 K4 L3 M0 V4 W2 T19
ACID
C2.5 G4 K2 L1 M1 V3.5 W2Â T16
C 3 G4 K2 L2 M1 V4 W3 T19
C3 G3 K4 L3 M1 V2 W2 T18
C2.5 G3 K2 L4 M5 V3 W3 T22.5
C3 G4 K2 L4 M1 V4 W2 T20
C2 G3 K3 L3 M1 V3 W3

T18

SWEET
C3 G2 K2 L4 M5 V5 W2

T23

C2.5 G3.5 K3 L4 M1 V4 W2 T20
C2 G4 K2 L3 M1 V3 W1 T16
C4 G3 K2 L1 M5 V3 W2 T20
C3 G2 K2 L1 M1 V2 W2 T13
C2 G4 K3 L3 M1 V4 W2 T19
APPEARANCE
C4 G5 K5 L4 M5 V5 W3 T31
C3 G4 K5 L4 M5 V4 W3 T28
C2 G1 K5 L1 M4 V1 W2 T15
C3.5 G3.5 K5 L5 M4 V3.5 W3.5 T24
C3.5 G3 K5 L3 M5 V3 W2 T24.5
C3 G2 K5 L4 M4 V2 W1 T21
TOTAL
C13.5 G17 K13 L19 M15 V21 W9
C14 G20.5 K18 L18 M11 V21 W11
C9 G13 K14 L13 M8 V9 W6
C14.5 G16 K12 L12 M18 V15.5 W10.5
C15.5 G15 K15 L10 M9 V15
C11 G15.5 K19 L16 M8 V15
GRAND
107.5

T71.5



113.5

T71



72

T37



80.5Â

T51.5



79.5

T53.5



84.5Â

T55.5



Corey = C
Ginny = G
Kevin = K
Lisa = L
Maria = M
Valerie = V
William = W

Total = T

Total = T (acidic and sweetness)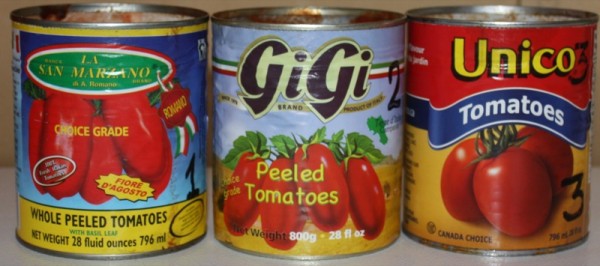 The first two were the highest scores all round and that supports what we hear about the famous San Marzano Tomatoes, but both of these were $2.25 or under. I have bought the Gi Gi DOP for $4.79 before, and swooned at it's flavour, but there was no Gi Gi DOP San Marzano this day available. Unico was the lowest, by far, in this tasting and gets a lot of hype in the major supermarkets about being a really good canned tomato. Not beside these brands.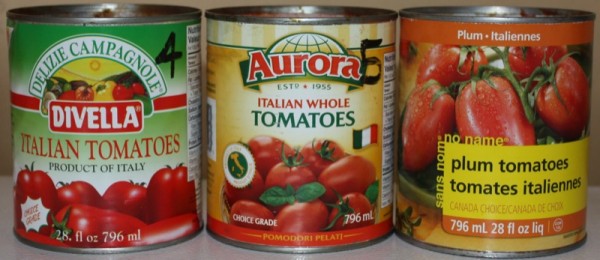 The first two above you may not have heard of. The Italian Centre Shop always does the best it can by bringing in various varieties of really good food. However, they didn't do so well. The no-name brand scored higher than both in the over all tasting total. So, there you have it! Fun! Fun! Fun!
Today they just happened to have both brands of DOP tomatoes and I have done a personal taste test on these before (that is why I did this and was definitely hoping to get the GiGi for our tasting! But, oh well.) ALWAYS buy the DOP Tomatoes, if possible. There is absolutely NO comparison between the GiGi DOP and any of these in this tasting. Truly. This is the one David Adjey told us about when asked. He went on about the importance of this choice as being so superior. (That is why I did my own personal initial tasting.)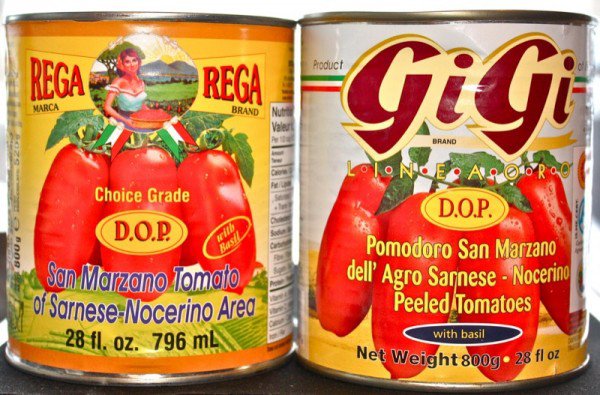 A little sautéed onion and garlic, and one can of the GiGi DOP tomatoes heated, then puréed is a bowl of tomato soup heaven.
Now, get out and create tastings for yourself and your friends. Have you ever done any before? Which ones? Include the links in your comments below!