I need your suggestions to design this French Cake in honour of Béné and her sister!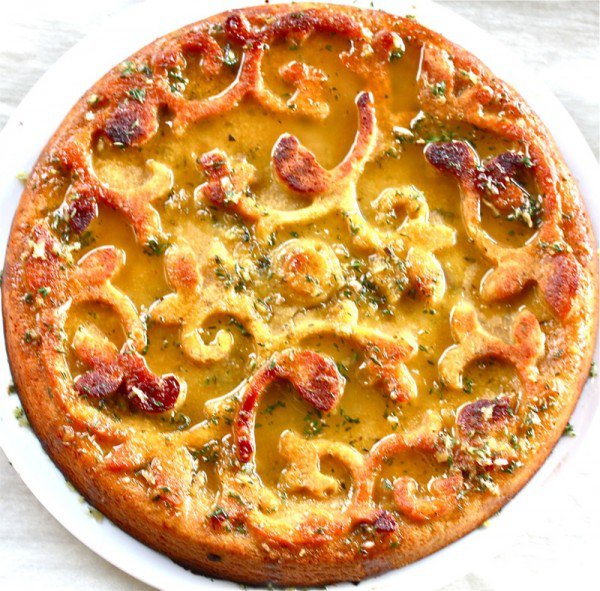 One website I love to read and find so spiritually edifying is Bea's La Tartine Gourmande. I have been reading her site for years and years, off and on. More on than off. She is a very poetic, quiet, understated aesthetic writer with bold ideas and a very strong design sense. We have read her through the birth of her first child and watched her grow through toddlerhood. Many times Bea's images take my breath away. Not just her ability to take a great photograph, but her ability to make the photograph work in a strong design sense, and then her ability to layout her page so artistically that I truly feel deeply gratified after stopping by.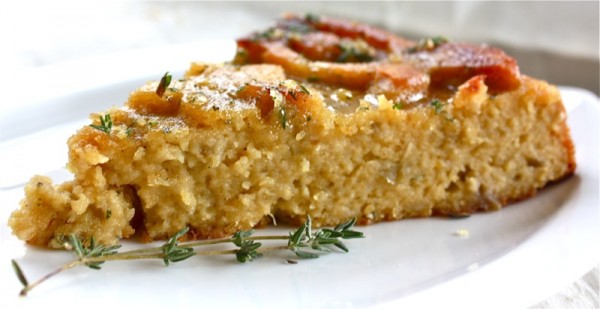 Last August, I cam home from my trip to Europe with Vanja and was catching up on my readings when I came across this post by Bea. It was apple season here, too, and I was going to make that cake. But where ever did she get that stunning whimsical French scrolled cake pan? I asked her. In Paris at 13 Ã Table. I had just returned from Paris! (and with a very full bag of my own goodies, I might add!!). Oh, how could I get this cake pan?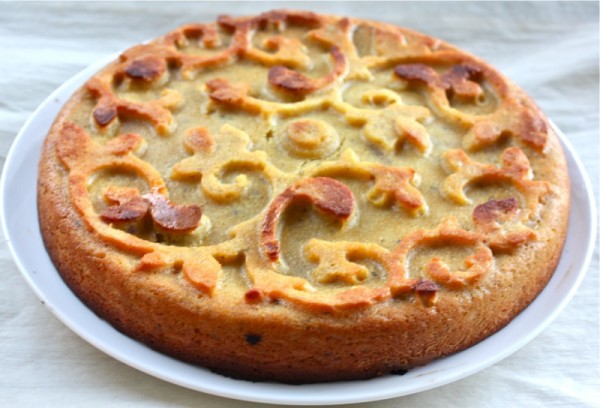 There was no website. There was a telephone number and an e-mail address. I e-mailed them with the photo of Bea's cake. No response. I e-mailed again. No response. Hmmm. It just so happened I was meeting with Bénéto discuss the possibility of her teaching a French Macaron making class at the end of August. I shared my angst with her and asked her if she could e-mail them in French. She offered to call them on my behalf, instead! (I was getting that tingly "something-exciting-is-going-to-happen" feeling!)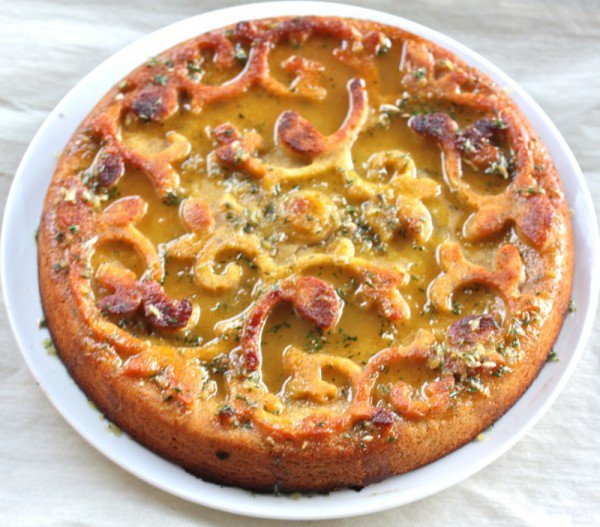 They were not very nice. "We do not ship. We are not interested in shipping. We will not make any exceptions. Thank you. Good-bye."
And, bless Béné's kind and tender heart (which you have probably heard me celebrating often on my site (most recently through her French Tart pastry) as she is "the same Béné" who held my hand through my initial macaron making with her kind tutelage) as she talked to her sister about this dire need of mine, sent her the photograph, and her sister traipsed across Paris to get me this pan.
LOOK at it! Oh, how I do so much appreciate it. I cannot say that it was worth the inconvenience, but I can say that I so dearly and deeply appreciate it and never expected such kindness and such an effort on my behalf.
So, I have decided to create a cake in honour of Béné and her sister. This is only the beginning. Only the beginning because I am really happy with how it looks and how nutritious it is. The mouth feel and the moisture is perfect. But, it is just not tasty enough. It is not the unique celebratory cake with the perfect combination of sweet and savoury that I was working toward. It is good. But, definitely, not good enough. So, you will be hearing a lot more about the French Cake in honour of Béné and her sister – over time. Yes, time.
For today, I am really happy with my beginning. I got the idea of apples and thyme from Bea. And decided instead of lemon thyme, to use ginger and plain thyme: lots of thyme with a whisper of ginger. Just enough. And butternut squash with apple. Not just any apple: MacIntosh Apples. They are very tasty and cook into mush. I wanted moist applesauce. With butternut squash and thyme and ginger. Just smelling the scent of the thyme with the ginger let me know I was really on the right track. At least, for a vegetable mash! Honey and apples would add the sweetness. And almond powder would be the flour. Almond powder is what brought Bénéand I together. It has to be almond powder.
It looked really lovely and scented the air with an exotic mix of sweet and savoury just as I had hoped. The eggs beat beautifully with the gently warmed honey and the olive oil increased the volume ever so slightly.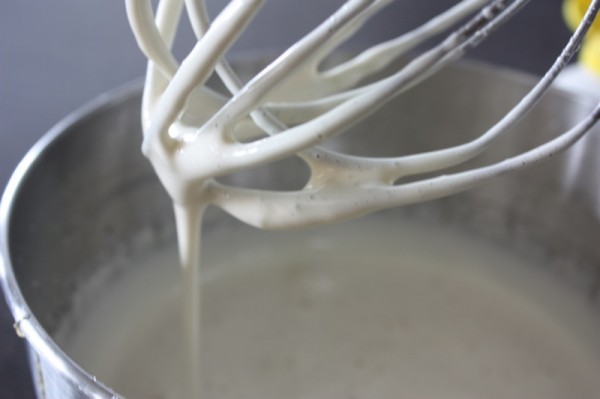 Then, in went the apple ginger and squash mixture with the almond powder and thyme mixture. The batter was lovely. Perfect thickness. Not too sweet. Loose. Not thick. Not thin. Four eggs would really help with the structure of this cake. I loved the colour. Don't you love the colour? But, it did not taste of the characteristic carrot or zucchini cakes. Not at all. Nor was the texture similar. It was so moist. Not light. Not heavy. Moist. Filling. Subtly sweet. I could no longer taste any apple or butternut. I could not even taste the thyme. Maybe a whisper of it. And, there was the scent of ginger from the juice in the glaze. Just a whisper. This is a lovely very quiet cake.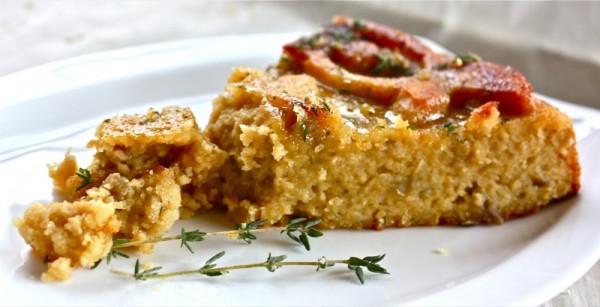 Quiet is fine. Quiet is good. Sometimes, quiet is exactly perfect. But, not this time! This cake needs to be a celebration. Not a big party. Not a huge Ka-pow! But, a brave and bold burst of flavour to express my thanks and to honour this effort and demonstrate my sincere appreciation.
So, I need help. Yes, your help.
Please take a look at the recipe. I thought about increasing the thyme by – oh- a cup. That will not work. I could and will definitely try to steep some and condense it into thyme syrup for the glaze. I may use dried thyme inside of the cake instead of fresh.
Tell me more. Spill out your ideas. Help me. I need suggestions! I promised to consistently work on this cake until I have one that really says what I want it to say. So, there will be one a week… if you will help me with ideas, until I get it right. And then, that one will go to Béné!
Isn't this just the most beautiful pan you ever did see? I LOVE it!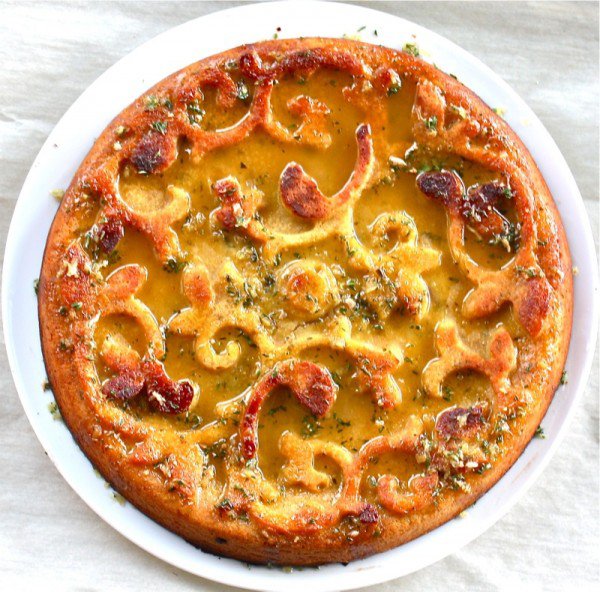 Gluten Free Butternut Apple Thyme Custard Cake Recipe (aka French Honour Cake)
Ingredients:
1 heaping cup roasted butternut squash purée (instructions below)
I tablespoon fresh ginger, grated (divided into 3 portions)
1 tablespoon unsalted butter
2 apples, peeled, cored and grated (or a heaping cup)
1 vanilla bean, split open and seeds scraped out
4 large eggs, free range or organic
1/2 cup honey (heated a little for easier pouring)
Pinch of sea salt
1/2 cup olive oil
200g almond meal
1 tablespoon thyme, finely chopped
1 scant tablespoon baking powder
Instructions:
Preheat oven to 400° F
Cut a butternut squash in half, remove seeds, and roast, face down in oven, on parchment covered cookie sheet for one hour; cool and scoop out flesh measuring one cup for this recipe and puree; reserve the remainder for other use
Grate 1 tablespoon of fresh ginger squeezing out juice to reserve; set aside
In a frying pan, heat 1 tablespoon butter over medium heat; when warm, add the grated apples and the vanilla bean and seeds and cook for 5 minutes, or until the apples are softened
Discard the vanilla bean; add the squash and the ginger to the apple mixture, fry a little longer until mixture is drier and well blended (about 1-2 minutes); set aside
Preheat the oven to 350° F; butter a 10-inch mold and set aside
In a medium bowl, combine the flour, baking powder and thyme
In a large bowl, beat the eggs, then add the honey and a pinch of salt; continue beating
Add the olive oil, beat to combine
Add the apple squash mixture with the second teaspoon of freshly grated ginger; beat until well blended
Add the flour into the egg mixture; mix to incorporate
Transfer the batter to the mold and bake the cake for 35 to 40 minutes, or until a sharp knife inserted in the middle comes out dry
Let the cake cool for 5 minutes before unmolding
Glaze the cake while still warm
Glaze Ingredients:
2 tablespoons fresh ginger juice (measure the juice acquired in the above recipe and grate and squeeze more ginger, as necessary, to get 2 tablespoons of ginger juice)
1 teaspoon fresh ginger (the last one from the cake recipe) added to the juice
1 teaspoon fresh thyme, finely chopped; added to the ginger juice to infuse
1 tablespoon boiling water
2 tablespoons  icing sugar
Glaze Instructions:
Add the thyme and the ginger to the ginger juice; add the sugar and mix into a paste
Add boiling water; mix well to combine into a glaze
Drizzle over cake while the glaze and the cake are still warm for best effect