Lemon Brined Turkey Breasts: Festive Holiday Meal Main

Lemon Brined Turkey Breasts and Turkey Leg Roulade are prepared for every holiday meal in the Prouse household these days, along with all above accompaniments, sans the arugula salad.

Who is at that table? Larissa, her husband Tish, their young son Hugh, Tish's parents and usually a couple of very fortunate good friends.
Lemon Brined Turkey Breasts: Introducing Larissa Trifonova Prouse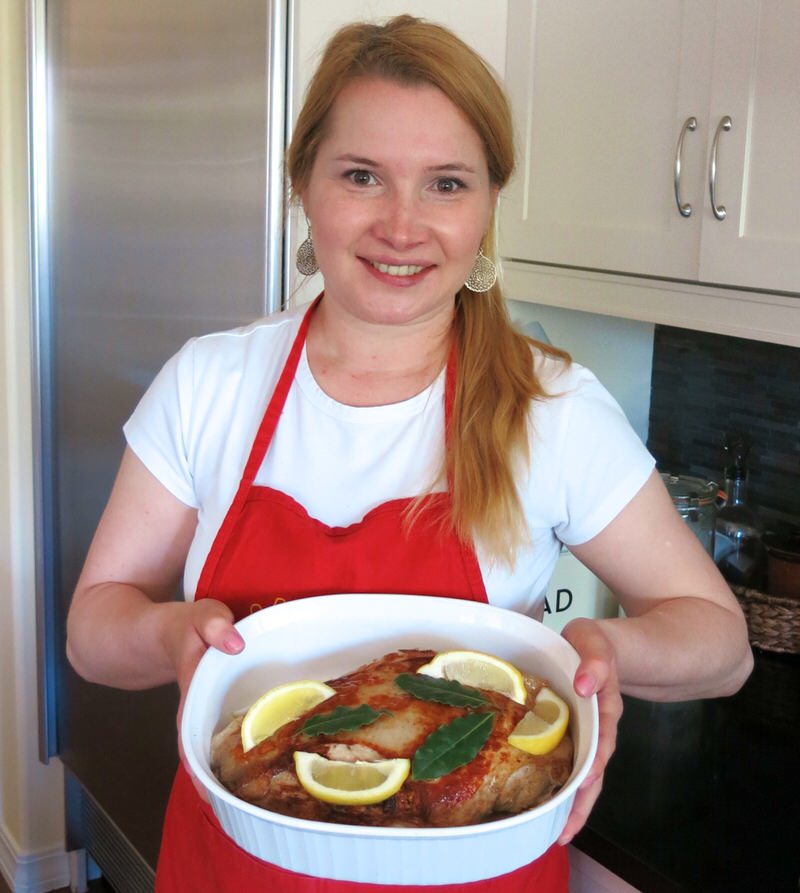 The introduction of Larissa can be found here, in the first of this 5 post Festive Holiday Meal Series. Her husband, Tish was the catalyst for our meeting, and is currently an Edmonton City Council Candidate for Ward 6 Alderman. Check out his platform and site, here.

Recipes for Larissa's Festive Holiday Meal that are posted as part of this series:
Seasonal Green Vegetable is added (asparagus for Easter, zucchini or broccoli at Thanksgiving, brussels sprouts at Christmas)
Lemon Brined Turkey Breasts: Cooking in the Kitchen with… YOU!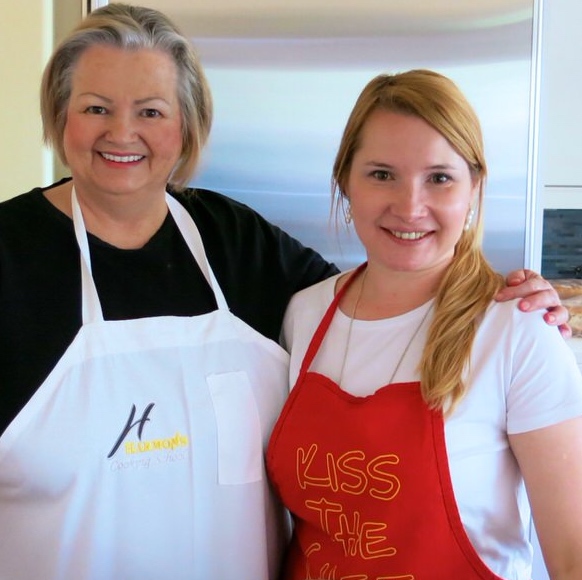 Some women like to shop or go to the spa. I love to cook in my kitchen with a friend – or someone learned who has a recipe to share, and a story to tell. Essentially, I want to glean heritage and traditional recipes – the best of the best – from our oldies and goldies that have so much experience in their heads. I want to cook with our babas and nonnas and grandmas and grandpas and learn to make what they are known for, or famous for, and share it with my readers. This is not exclusive to our elders, but definitely with them in mind. Of course, many, many younger folk, like me, for example, have much to share, as well.
#ACFValerieCookingwithYOU!
Larissa participating in this project. Her vast holiday meal is an incredible homage to her love of her new country, Canada. Make her recipes. You will love each one.
If you would like to, please let me know!
Lemon Brined Turkey Breasts: Breaking Down the Turkey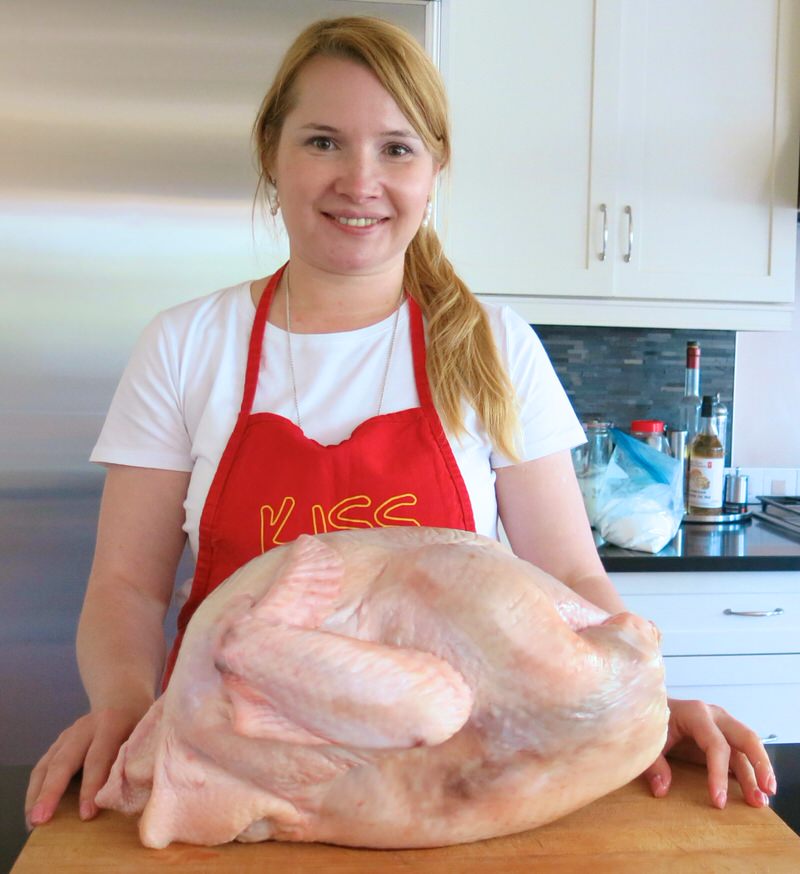 Larissa and I cooked together this past June and I have written about the first portion of this recipe: The Turkey Leg Roulade as well as her Apple Beet Soup with Feta that she serves first. You can see the video for breaking down the first part of the turkey in The Turkey Leg Roulade article. Removing the breast from the bird, Part 2 of her video, follows, where she removes the breast for this recipe.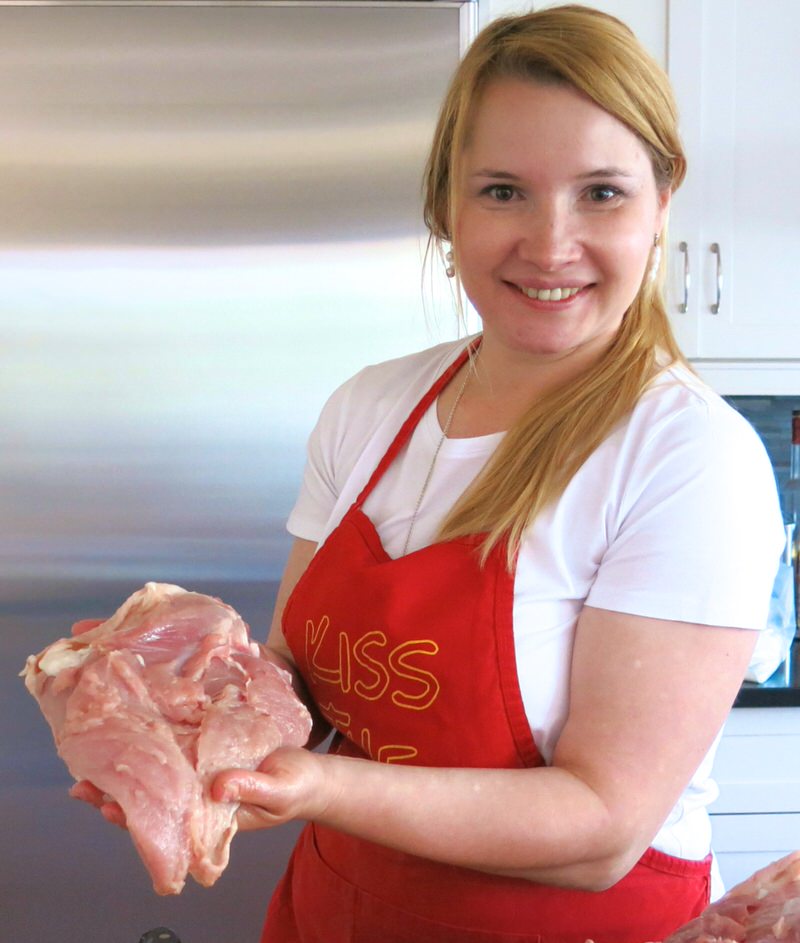 Lemon Brined Turkey Breasts: Removing the Breast from the Turkey

Did you ever see such massive breasts? I likely have, but they were removed after roasting the bird in the oven. To remove the breasts first drove home how much meat is in one of these holiday turkeys and how fortunate we are in Canada to have access to such incredible quality of food.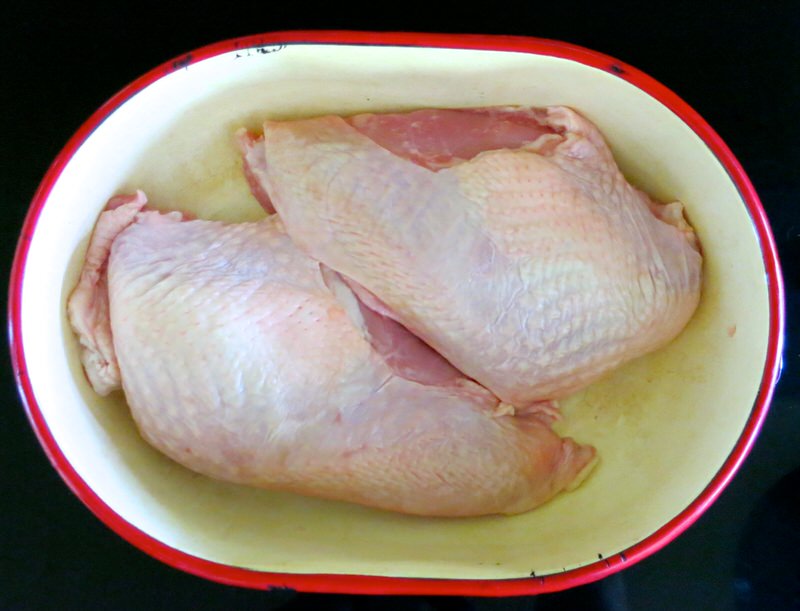 Nestled in my Grandmother's roaster: my dad's mom who passed when I was an infant. I cherish it as it is my only tie to her, and it is the best roaster.
Lemon Brined Turkey Breasts: Making the Brine


Both Larissa and I were celebrating these aromas! Each of us found we have so much in common in the kitchen. Such lovely ingredients. The fragrant combination of the thyme with the garlic and the lemon was addictive, festive, a celebration of good health and of the harvest.

Combining all ingredients, bringing to a boil for one minute, then cooling is all that is required.

Lemon Brined Turkey Breasts: Making the Brine: Brining the Breast

Missed capturing the first image of the turkey in the brine, but after 6 hours, they definitely need a turn.

The breasts are brined for 12 to 16 hours, turned a couple of times, and kept well covered in the fridge.

Out of the brine they come, rinse really, really well. Pat dry and on with the browning.
Lemon Brined Turkey Breasts: Browning the Breast


Skin side down into a medium hot heavy skillet with oil and brown until golden.

Turn it over and repeat.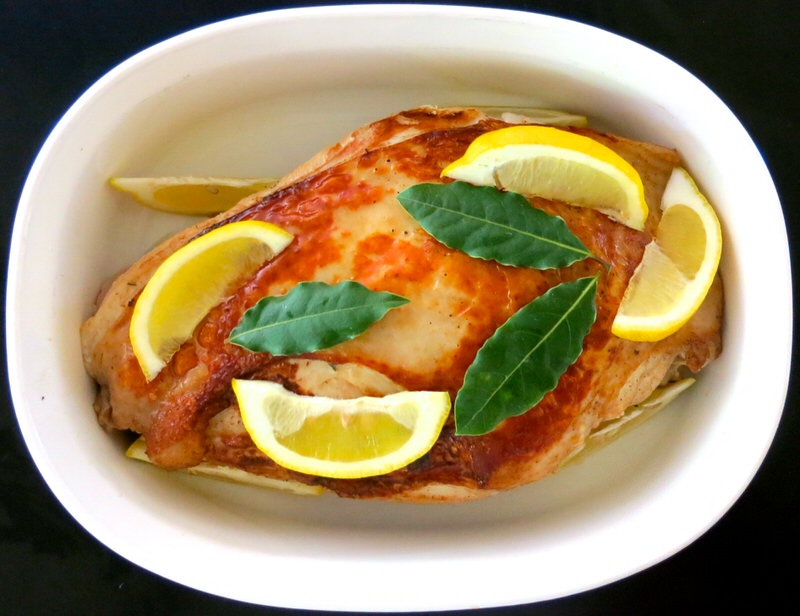 Come on! You know it looks gorgeous! It does! I was very impressed. This is very healthy, lean, white turkey meat, brined to retain moisture, brushed with butter and flavoured with lovely aromatics and an infusion of the festive season.
Lemon Brined Turkey Breasts: Baking the Breast


Basted with more butter during the baking process, the skin of the breast is coveted. Such flavour!

Above, the Turkey Leg Roulade and the Lemon Brined Breast rest after coming out of the oven while I plate the Arugula Salad, the Saffron Glazed Carrots with Pistachios and Mints and the Horseradish Mashed Potatoes. Oh, what a feast it was, it really was!
Lemon Brined Turkey Breasts: Serving the Breast


Rest. Untent.

Slice and serve… next time, I would do paper thin slices. This thickness was lovely, but the texture and flavour lends itself to paper thin slicing.

I should have pushed on the breast so you could see how moist it was. I believe you can see how luscious and tender it is, above.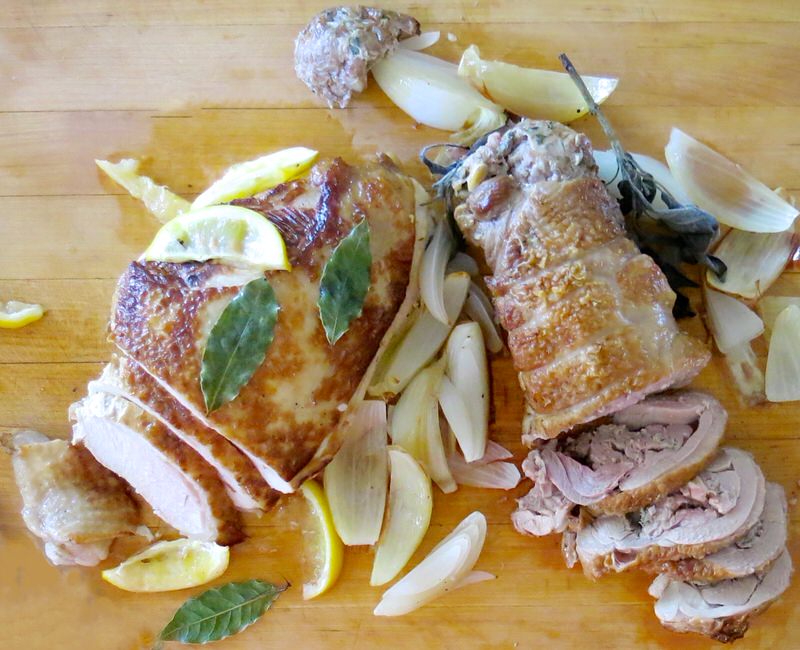 Served beside the Turkey Leg Rouladen on a board…. mmmm…. mmmm….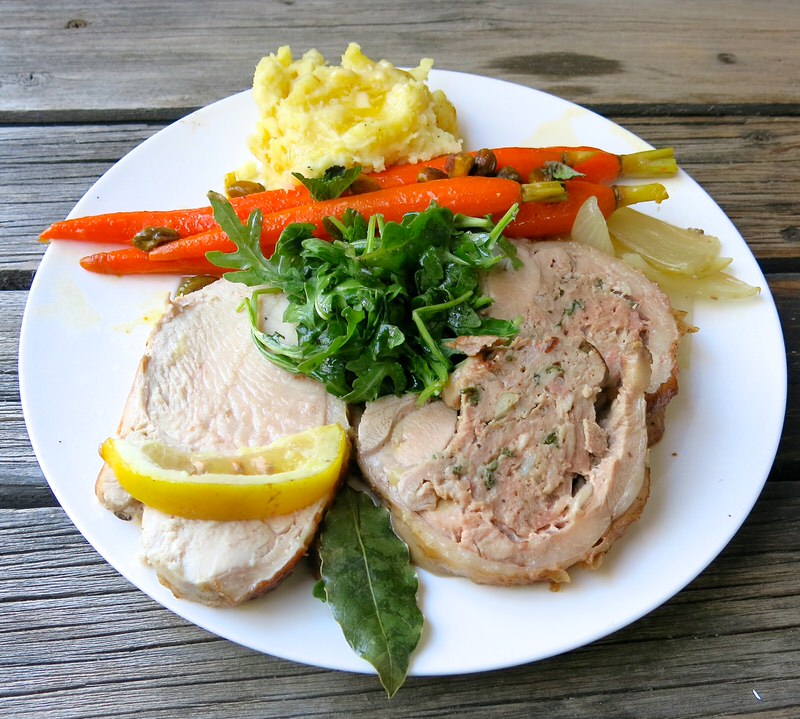 Plated with each of Larissa's 4 main recipes (the fifth for her Holiday Meal is the soup) is a lovely sight to behold. Margaret has shared her Traditional German Canadian Christmas Dinner with us, below, and Larissa her Festive Holiday Meal, above.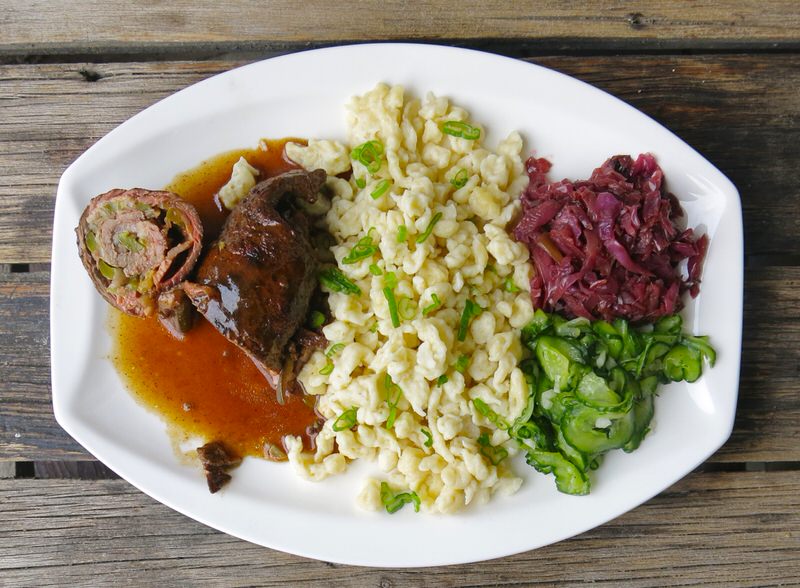 Only in Canada, I say. And, what a gift multiculturalism brings to our Canadian Table. Larissa, a Russian from Kazakhstan, celebrates her new homeland by preparing a festive North American haute cuisine feast for her family holiday meal. And, Margaret, born and raised in Canada, prepares the same meal that her parents have, and theirs before them, for generations of family holiday meals as she weaves the fabric of her German identity into her Canadian cultural food experience for her family. How blessed we are.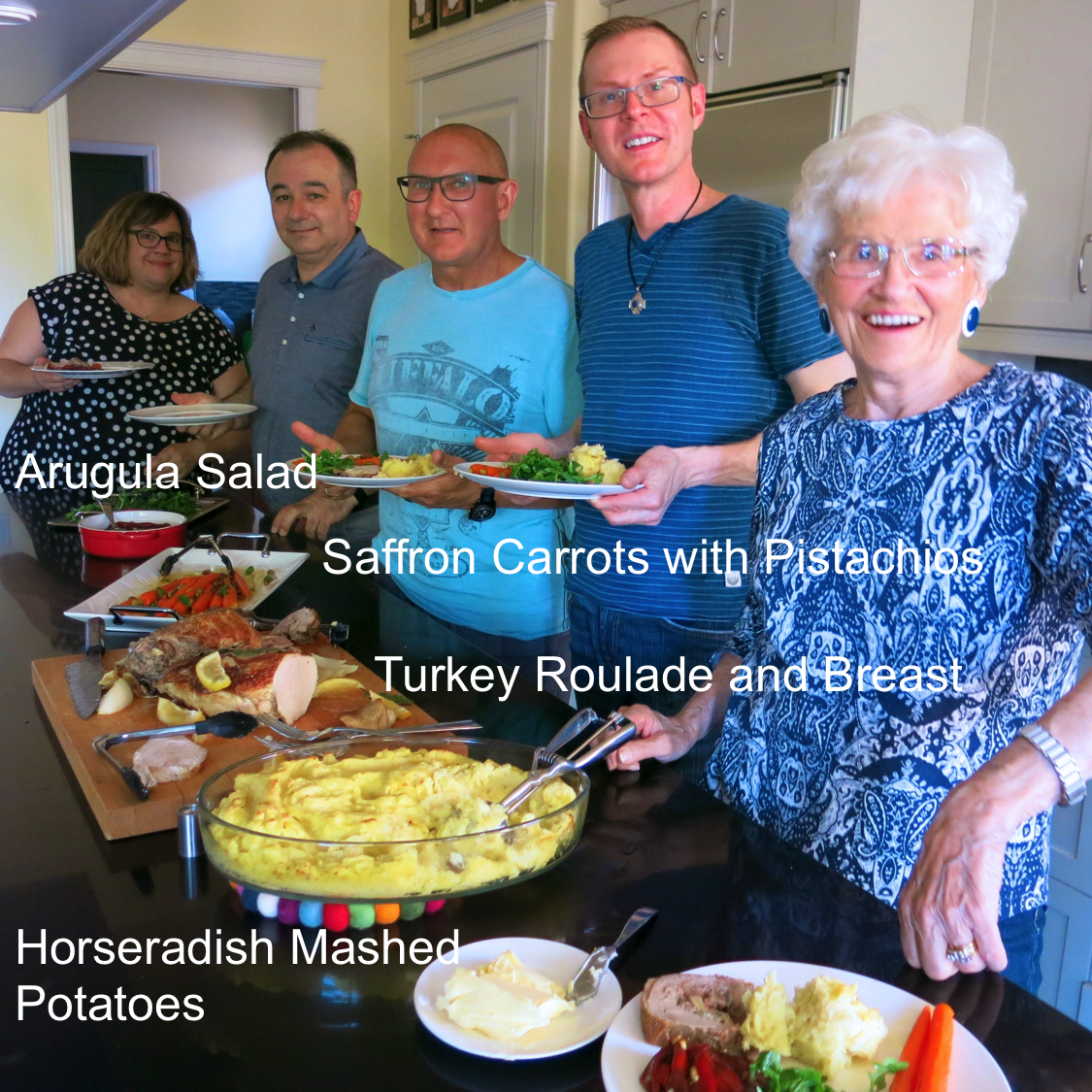 Though a meal this special deserves to be plated and served in the formal dining room, after preparing everything with Larissa on a hot summer Saturday morning, it was most fitting to celebrate my learning, this experience, meeting her and this fabulous food in a very casual manner with my family and a couple of very good friends, as well.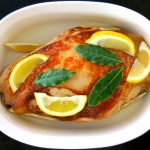 Lemon Brined Turkey Breasts
Larissa Trifonova Prouse shares her Festive Holiday Meal and Lemon Brined Turkey Breasts are one of five recipes in this series: moist, delicious, and a novel flavour profile for turkey breast.

Prep Time
1
hour
30
minutes
Total Time
2
hours
15
minutes
Ingredients
Ingredients for Brine:
12

cups

water

½

cup

Diamond Crystal Kosher Salt

brand is important

3

tablespoons

honey

3

bay leaves

1 ½

lemons cut into wedges

6

garlic cloves unpeeled

slightly crushed

6

sprigs thyme

1

tablespoon

black peppercorns
Ingredients for Turkey
2

boneless turkey breast halves with skin

2

tablespoons

vegetable oil

1

lemon

cut into wedges

5

bay leaves

¼

cup

unsalted butter

melted
Instructions
Instructions for Brine:
Place all ingredients together in large pot; boil one minute over high heat

Remove from heat; cool

Pour into 6 litre container; refrigerate
Instructions for Turkey Breasts:
Place turkey in cold brine; refrigerate 12-16 hours turning and moving ingredients around once or twice

Remove from brine; rinse well with cold running water, pat dry with paper towel

Place in airtight container; refrigerate for up to 2 days before using
Instructions for Cooking:
Let turkey sit at room temperature for an hour

Preheat oven to 400F; heat oil in large non-stick frying pan over medium heat

Cook turkey, breast side down, 5 minutes (mine took 2.5 minutes); reduce heat to medium, cook until golden brown

Flip, cook one minute; place in roasting pan, skin side up

Add lemon wedges and bay leaves; brush turkey with butter

Roast, basting with butter, until thermometer inserted into thickest part reads155F, or 40-45 minutes

Rest, covered with foil, 20 minutes before slicing
Recipe Notes
One breast and one roulade is enough for 8 people if the turkey is a fair size. Freeze the other 2 portions for another meal.