Thermomix Pastry Cream or Thermomix Crème Pâtissière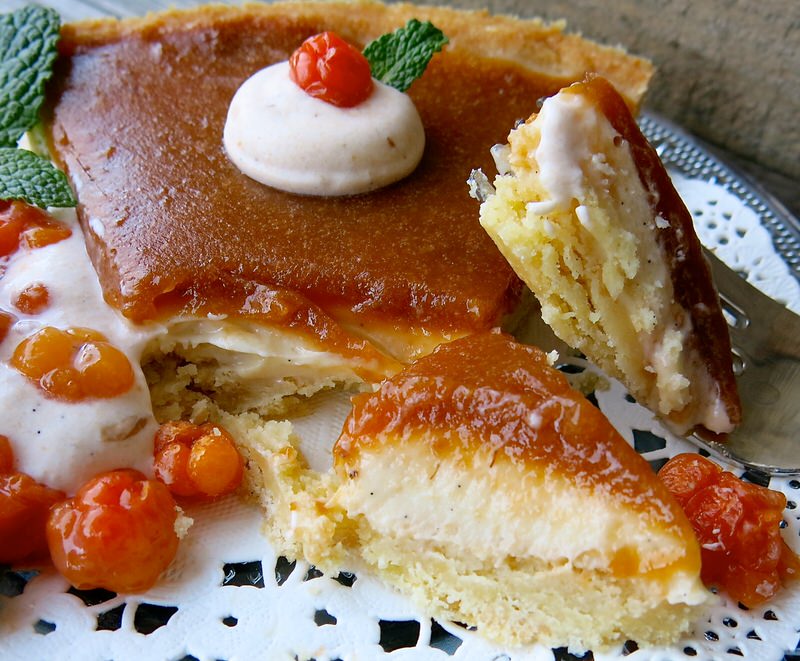 Thermomix Pastry Cream was not easy to perfect, and again, my new friend Chef Don Pattie assisted to make it happen. You will see the notes in the recipe. My Cooking Class at Duchess Atelier has had me on the quest for making a really delicious pastry cream in my Thermomix machine and this is a triumph. I did end up adding the butter for the rich and velvety Creme Mousseline which is actually what I made. Cloudberries. Yes! Cloudberries are a rare Canadian berry as their growing season is so short, they are a wild berry harvested by hand and grow only in Newfoundland/Labrador. I first experienced them during our trip in 2014 to the Atlantic provinces, but was left wanting. And, I do mean, left wanting. I am not sure one can ever get enough of something so elusive, but certainly, I yearned to know this Canadian berry better. So, thank you Emily Mardell! My heart almost lept out of my chest when she texted me one day and asked if I'd like to make something with some frozen cloudberries she brought back from her last trip home. Would I? She had promised her gal pal, Jessica, a baking day with Cloudberries and would I like to join?
I ate three pieces. Every single bite is etched in my memory as I will likely never have this experience again. But, I am now intimately acquainted with the flavour of the elusive cloudberry. Last part of the bucket list? To pick a ripe one, one day.
Thermomix Pastry Cream: Mis en Place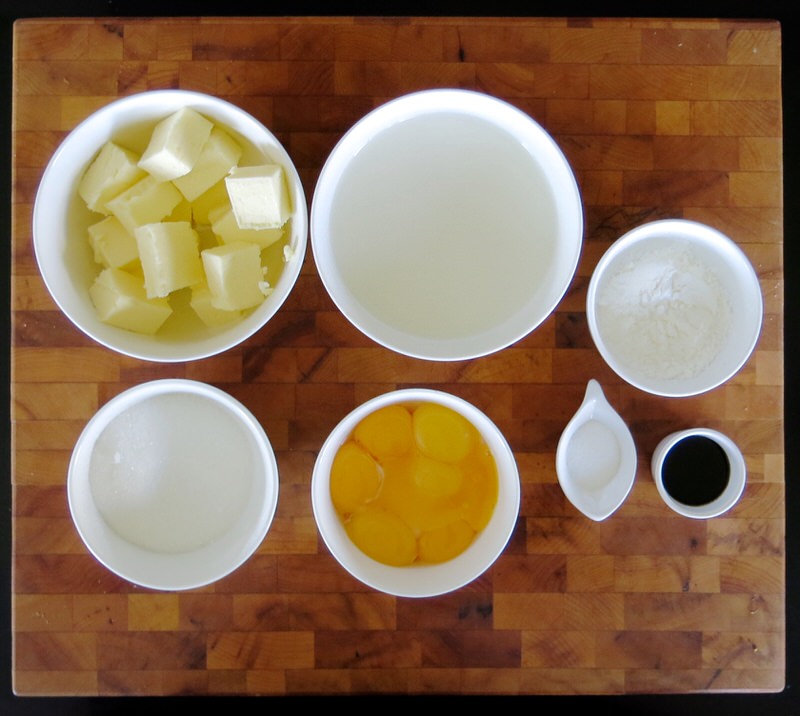 Mis en place. Missing the flour, but all else is there. Butter is used only if you want to enrich the pastry cream with it, and transform it into a more unctuous concoction called crème mousseline.
Thermomix Pastry Cream: Creaming Eggs and Sugar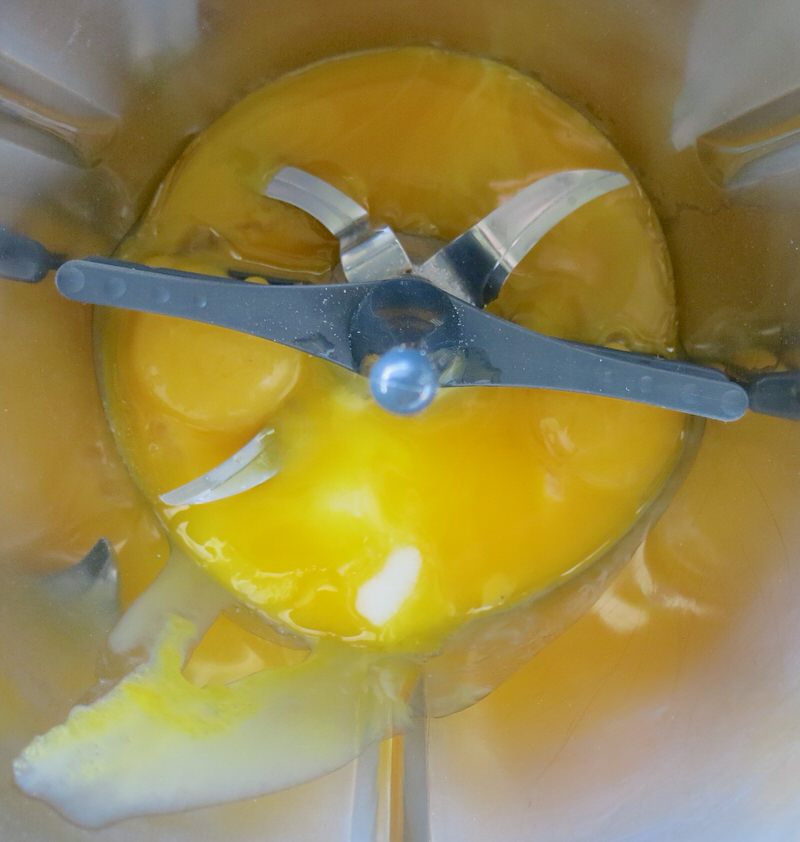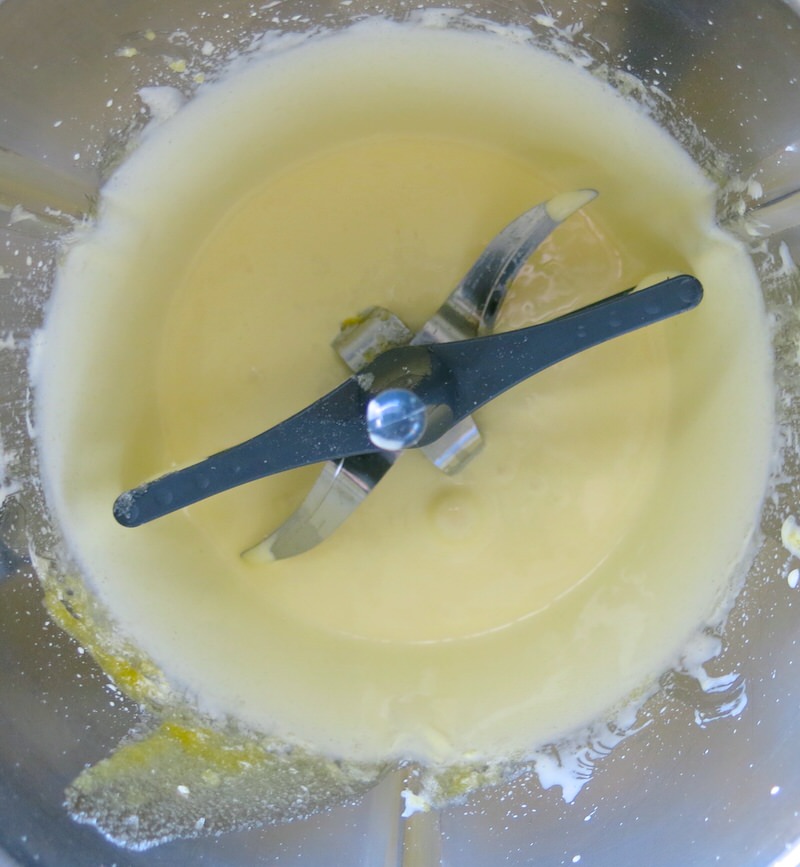 A simple process honouring the traditional method, yet likely all ingredients can be placed in the bowl at once and cooked together to make the Pastry Cream.
Thermomix Pastry Cream: Adding Remaining Ingredients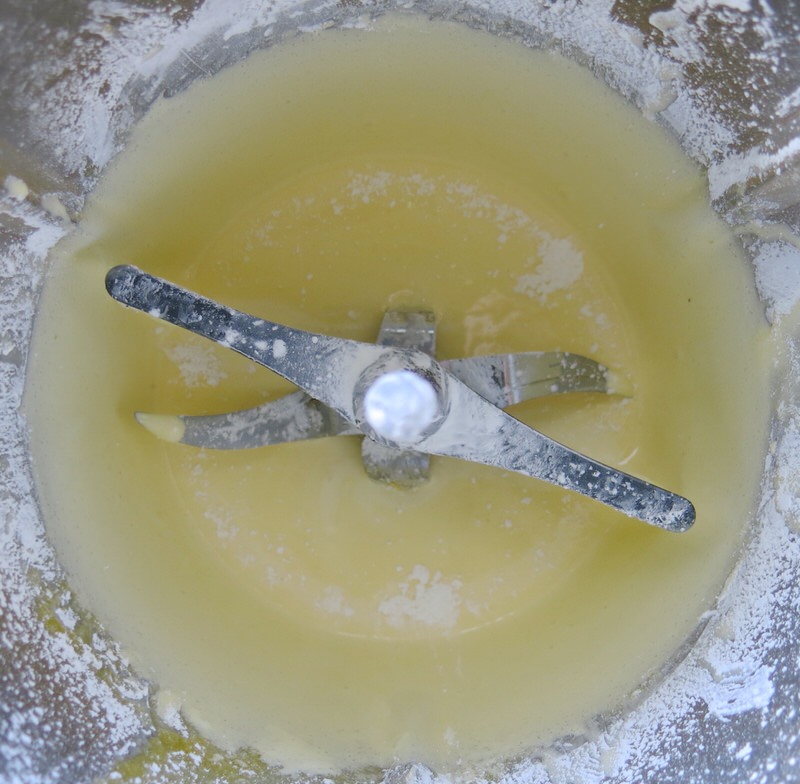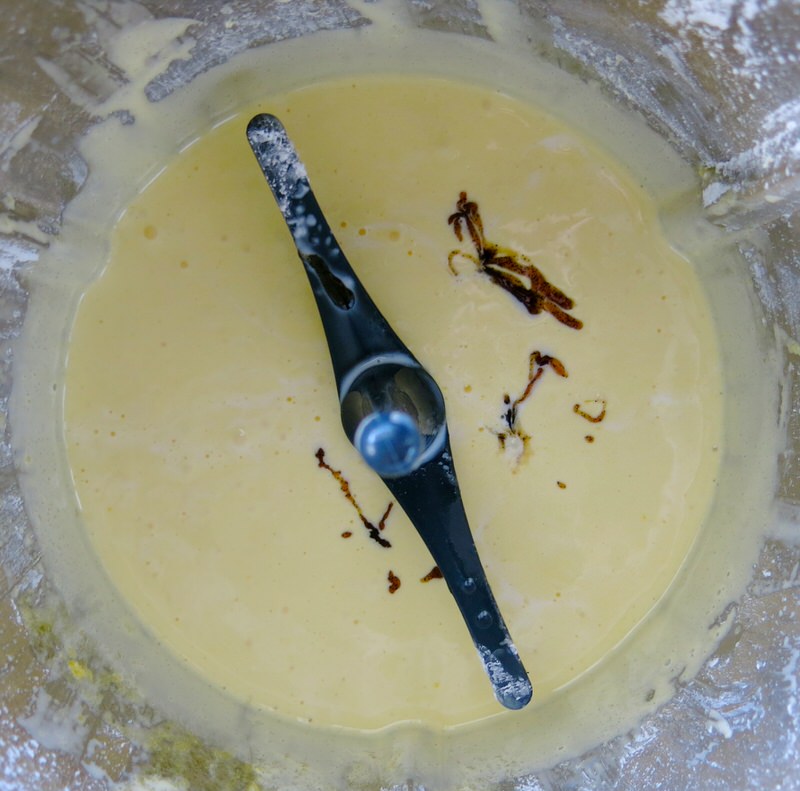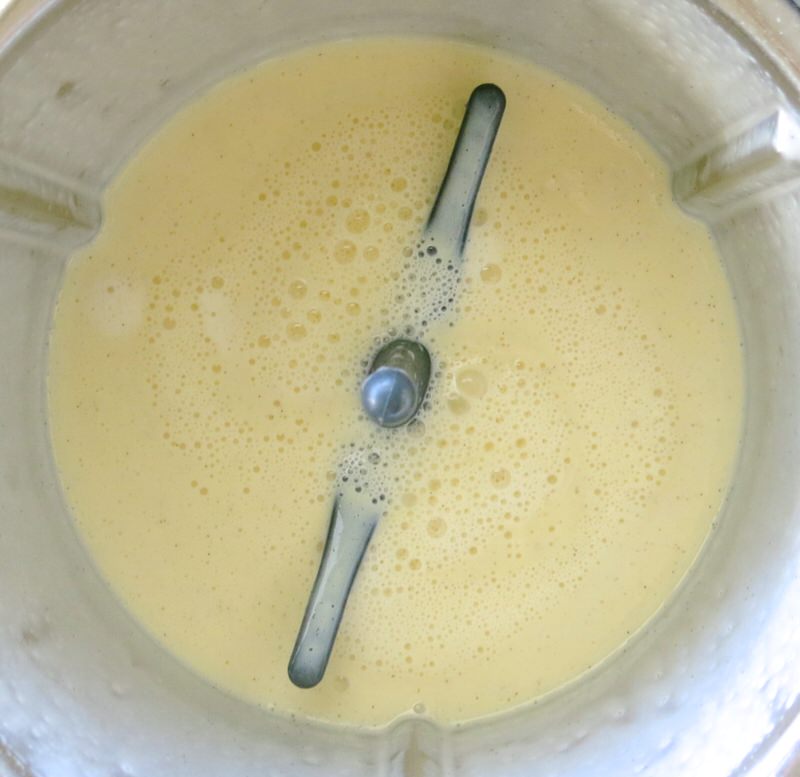 Far right has the milk added and is the photo prior to cooking; whereas the photo below is the photo after the cooking. Now, I will say, this is where my initial process fell apart. Six tries, two recipes and two machines with consistently thin pastry cream at the end of the universally recommended 7 minutes at 90C found me without a clue of what to do. Whatever was I doing wrong? A quick email to Don on a Sunday early afternoon hoping for an answer the following week, when a couple of hours later, not only did he respond, but with photos and really valuable information. He had also made this recipe I sent to him within those two hours and offered advice that made it work. I am ever so fortunate to have such a learned partner in my curious quest to make every sweet thing in my Thermomix machine.
Thermomix Pastry Cream: Cook and Strain Pastry Cream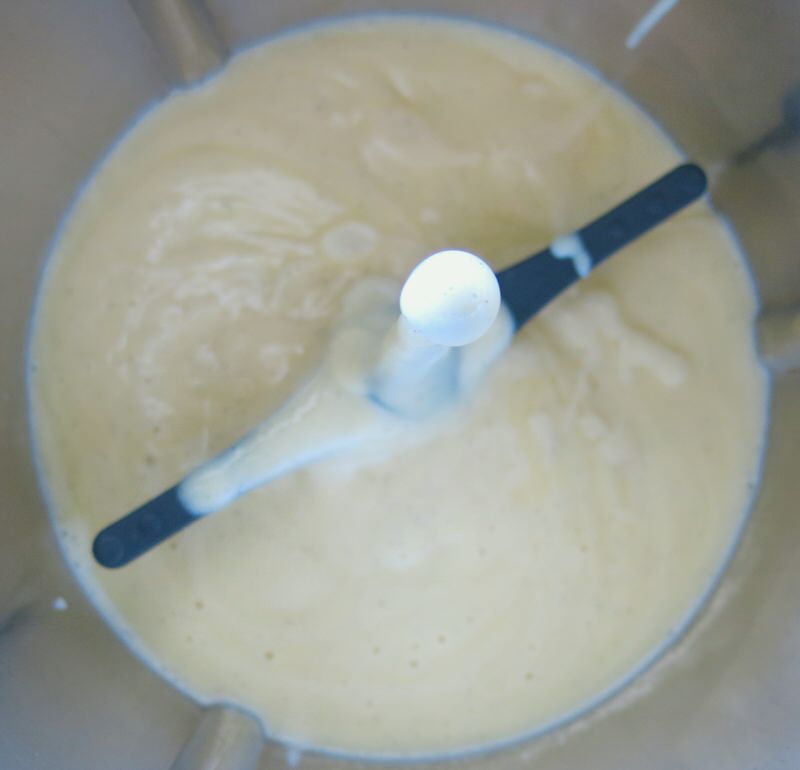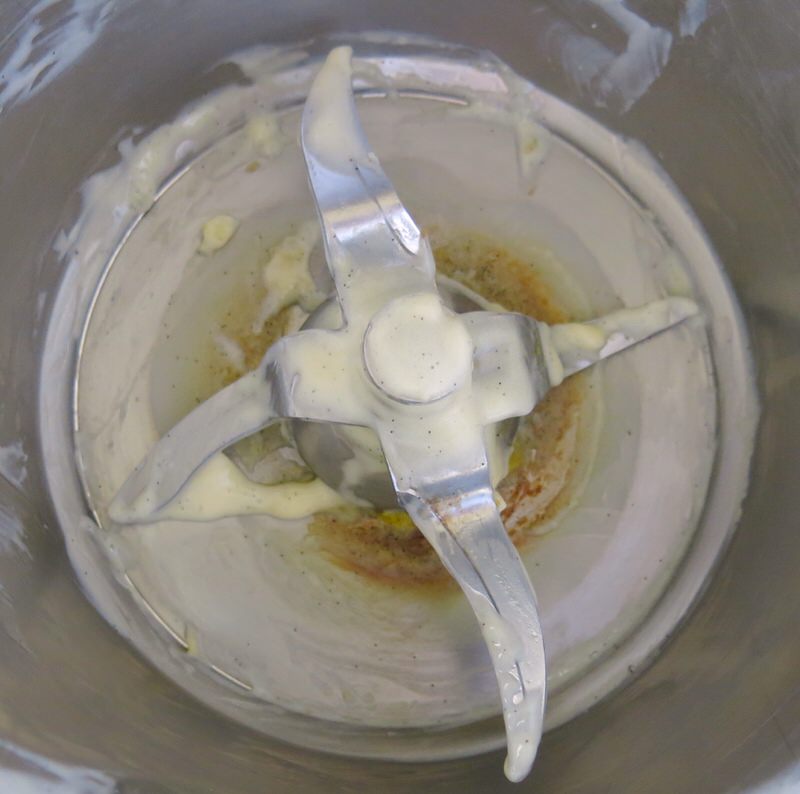 Lovely thick cream. I did photograph the bowl as this does happen when making custards or creams. Simply remove the blade and clean with a plastic scrubbie.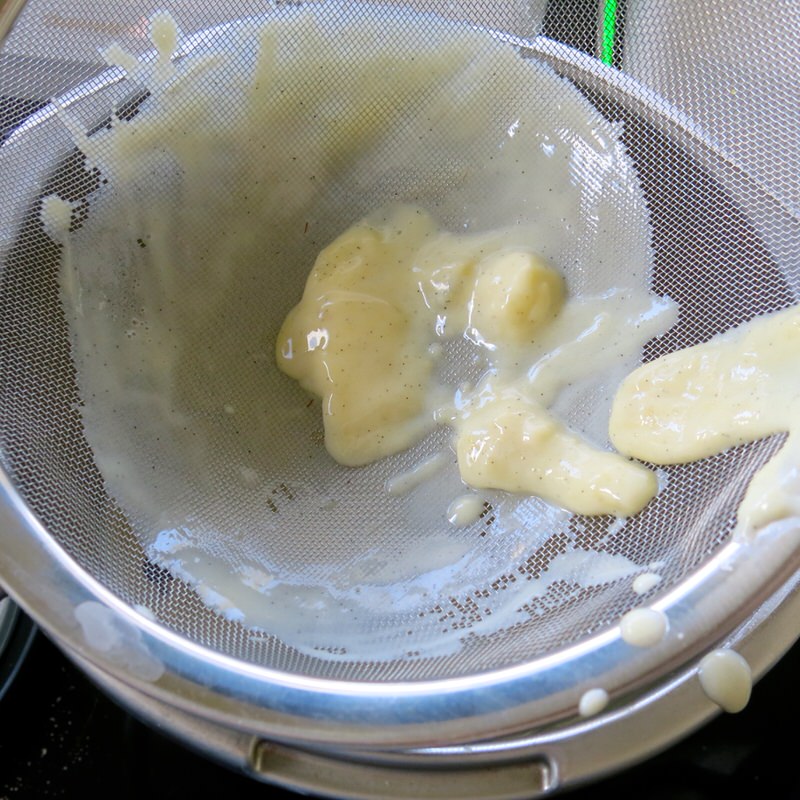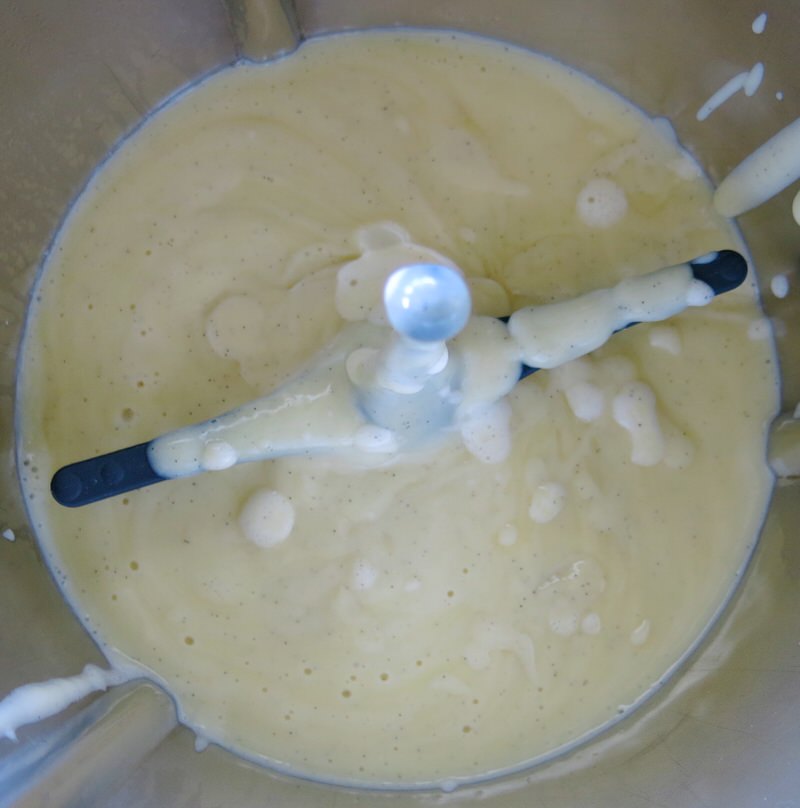 Again, a step not truly necessary, but to ensure the lumps are out, I did strain it into another clean TM bowl and set to cool to room temperature, or close to it, before adding the butter.
Thermomix Pastry Cream: Add Butter or Cream for Mousseline Cream(or not)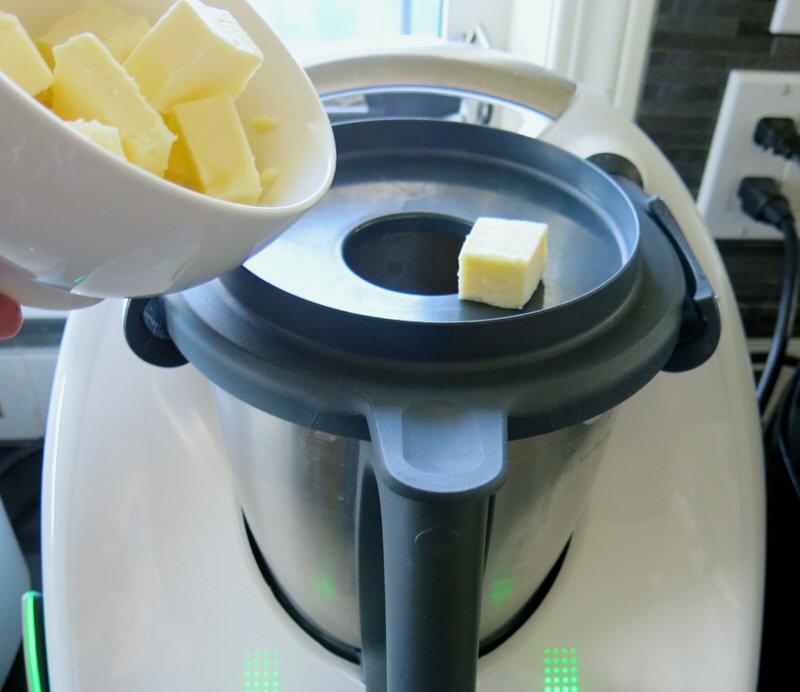 The first batch of butter can be added when the cream is still a little warm. The second batch must be thoroughly creamed and wait until the pastry cream is at room temperature.
Thermomix Pastry Cream: Chill Pastry Cream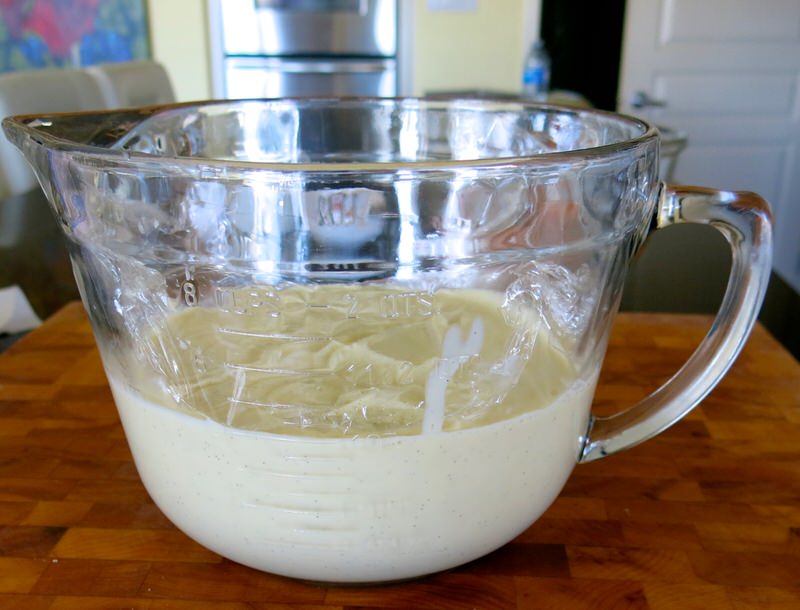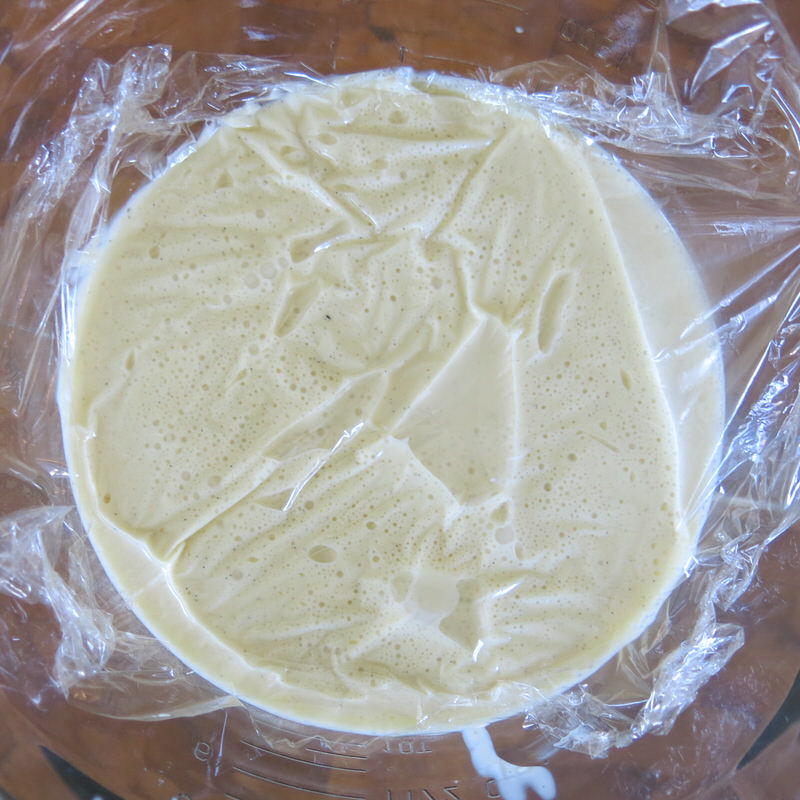 And thought it seems easy, it really was not. Read the notes in the recipe. Cover with plastic wrap and chill until needed.
Thermomix Pastry Cream: Ready to Fill Pastries!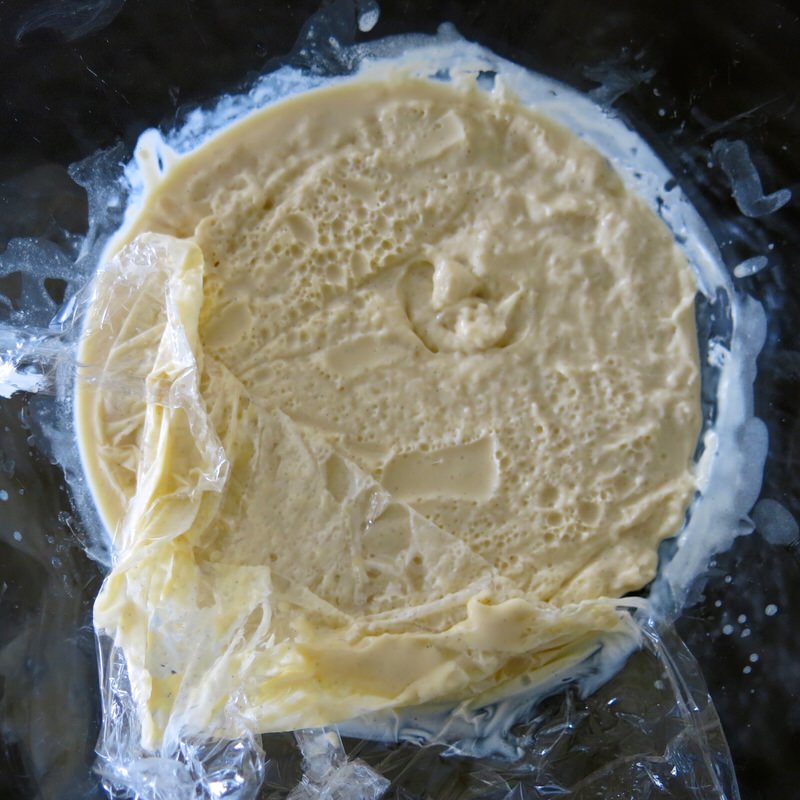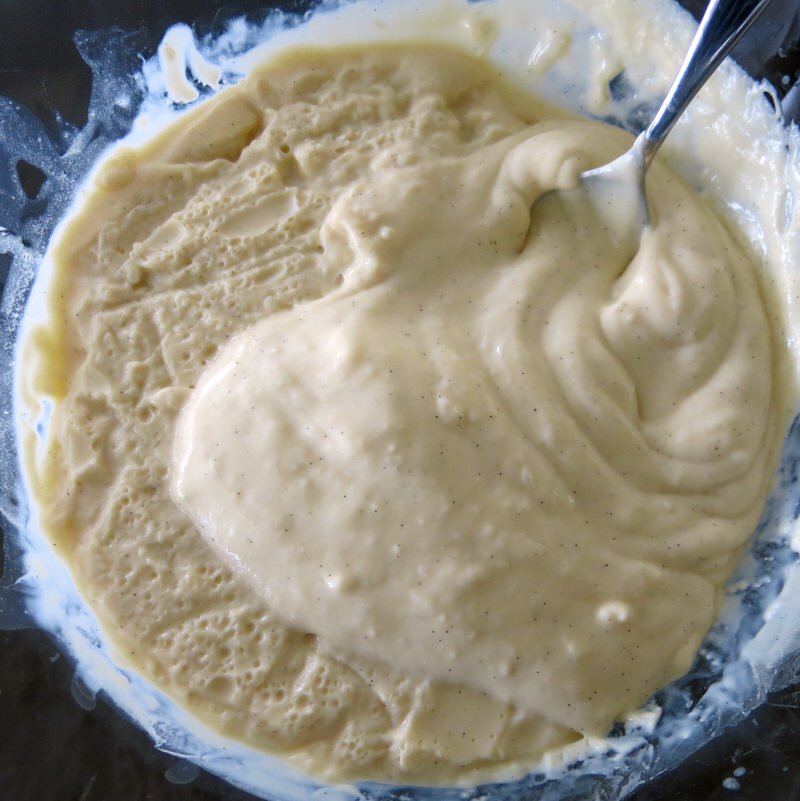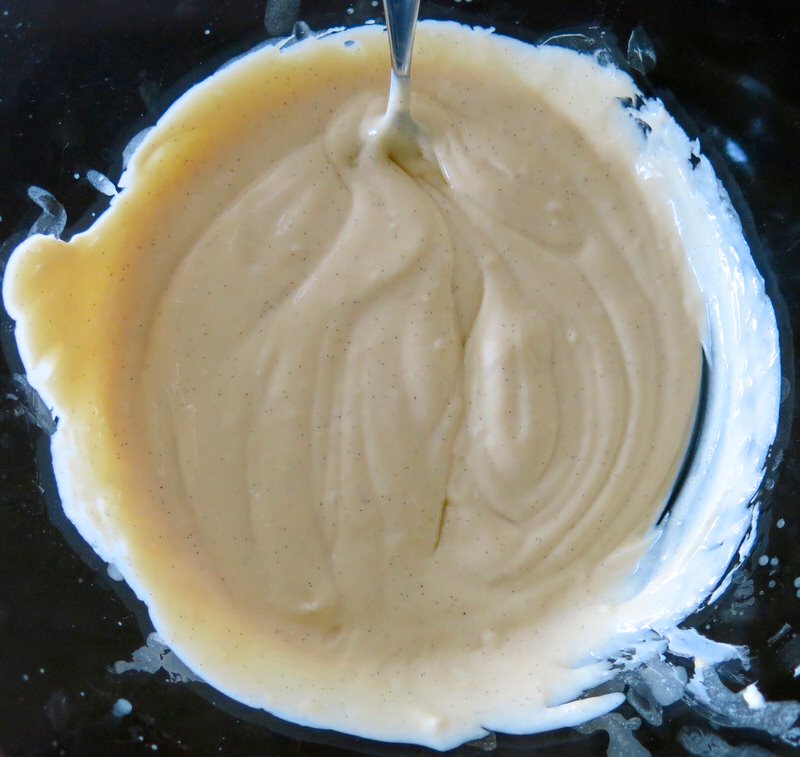 Stir when removing from the fridge.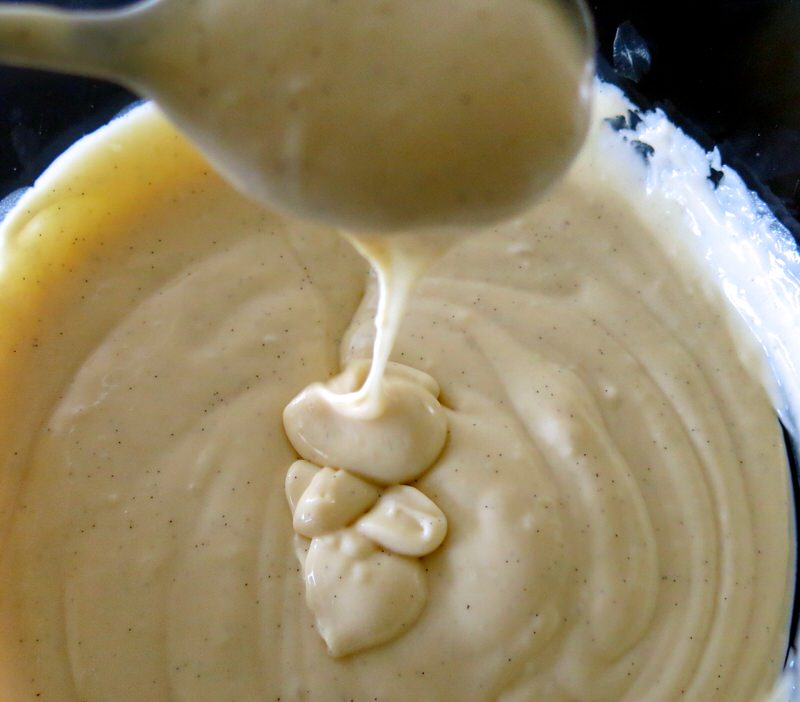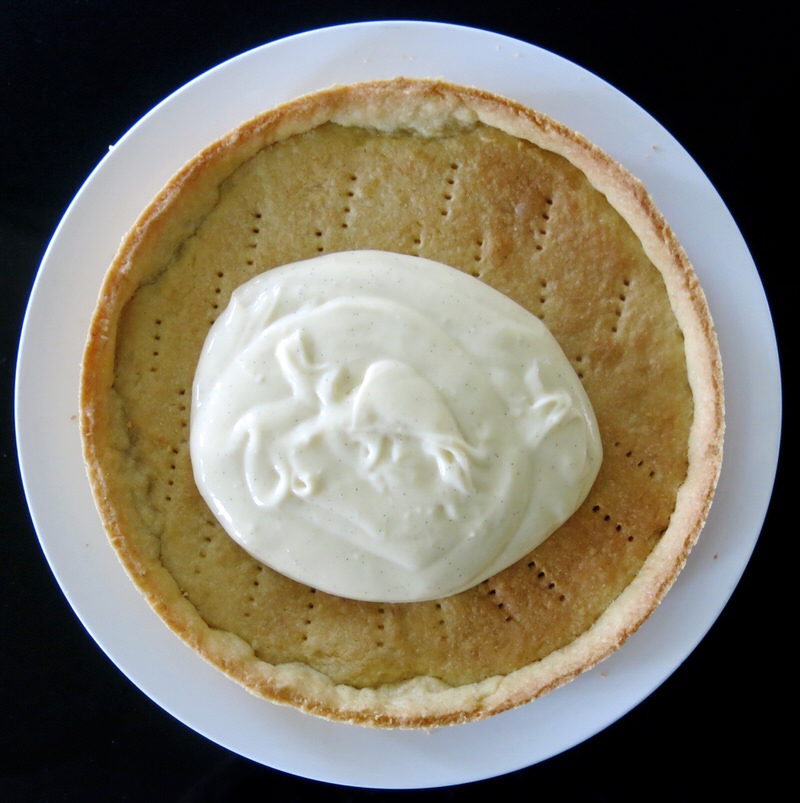 And it is ready for any recipe your heart desires!
Cloudberry Tart Recipes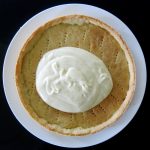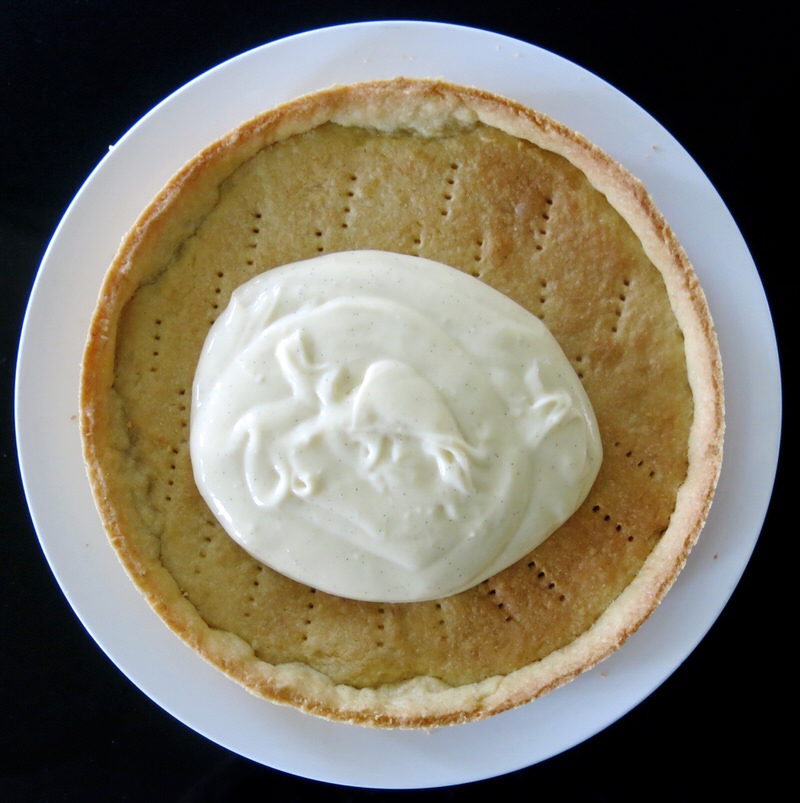 Thermomix Pastry Cream
Most Thermomix Pastry Cream recipes did not thicken for me, so Chef Don Pattie collaborated with me on this recipe to create consistent and excellent results every time.

Servings
2
9 inch tart fillings and more
Ingredients
Ingredients for Pastry Cream for two 8 inch tarts:
80

grams

sugar

110

grams

yolks

about 6 large yolks

35

grams

cornstarch

35

grams

flour

½

teaspoon

salt

485

grams

whole milk

room temperature

20

grams

vanilla paste
Ingredients for Cream Mousseline
75

grams

unsalted butter, cubed, room temperature

75

grams

unsalted butter, creamed well together
Instructions
Instructions for Pastry Cream for two 8 inch tarts:
Weigh sugar and yolks into TM bowl; insert butterfly and whisk until voluminous and light in colour for 1 minute at speed 4, scraping down sides of bowl with butterfly and repeat once (maybe twice)

Pre-weigh in cornstarch, flour and salt; set time to 10 seconds at speed 4 and pour ingredients through howl in lid

Scrape down sides with spatula; mix to combine for 5 seconds at speed 3

Weigh milk and vanilla paste into TM bowl; cook and whisk for 6-7 minutes at 90C on speed 4 (depending upon temp of milk; if room temp, 5.5 minutes) AS SOON AS TEMP reaches 90C, increase temp to 110 and time to 5.5 minutes to ensure mixture boils for 2 minutes

Remove from heat and immediately strain through fine mesh to remove lumps into a second TM bowl, whisk attached, if you have one, or into a separate bowl; clean TM bowl and return ingredients back into the bowl

Cook to room temperature
Instructions for Cream Mousseline
Weigh 75 grams room temperature cubed butter into TM bowl with room temperature pastry cream; set time for 1 minute at speed 2 to combine


Weigh 75 grams room temperature creamed into TM bowl; set time for 30 seconds at speed 4 and whisk to combine

Cover surface with plastic wrap and chill 3-4 hours before use

Cream will be very thick and set when removed from refrigerator; stir to silken or desired consistency before using

Recipe Notes
Chef Pattie explained that as egg proteins coagulate at 85 C, the starch granules don't reach their full thickening potential until they come to the boil, therfore the temperature must be increased to 110C for 2 minutes of boiling time for best results. The time is dependent upon ingredients going into the machine. Time varies considerably for room temperature ingredients going into the TM bowl vs fridge temperature ingredients.
Ingredients need to boil at least a minute, preferably 2 and not more.