For those who spend WAY too much money buying this nutritious, delicious dish….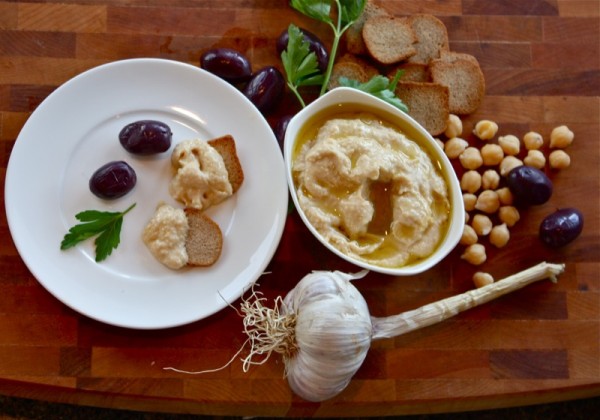 … that is so easy to make I just do not understand why people would buy it ready made with too much salt, possibly chemicals and usually preservatives in it.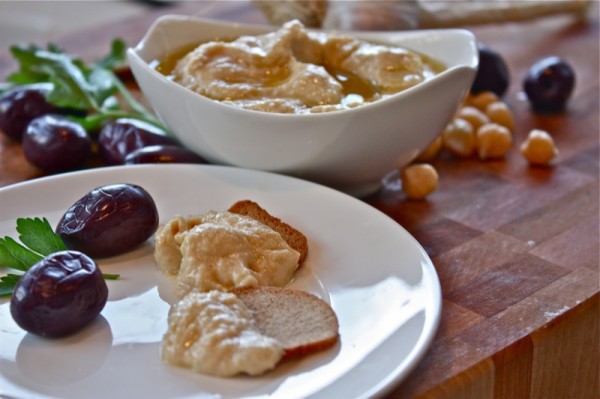 Not forgetting that it costs between five and eight times to buy what it costs to make.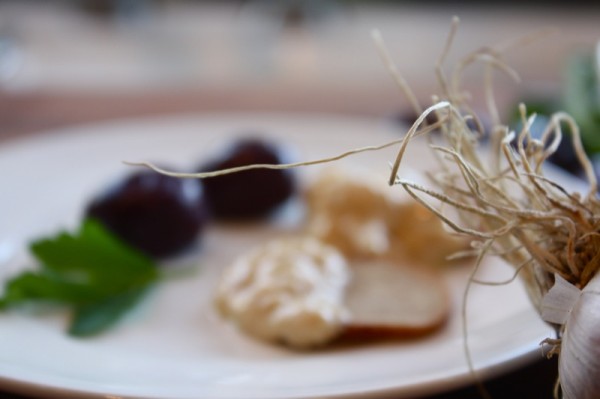 Not to mention the intrinsic satisfaction derived from making something this simple with fresh ingredients: there's nothing like it.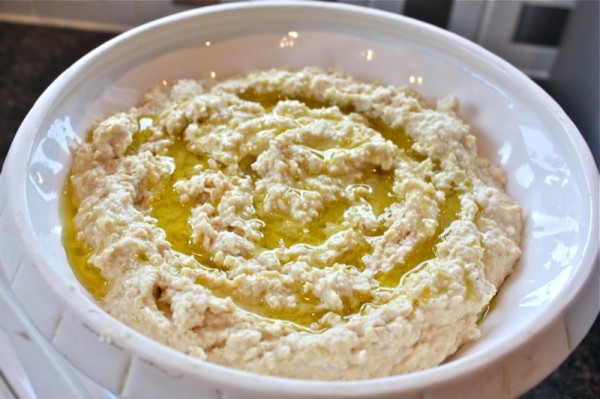 There was one thing new to me. This was the very first time I had ever reconstituted my own chickpeas. And, there is no comparison. Truly. I was quite honestly shocked at how nutty and gorgeous this humble little bean is when not from a can. Now, that's not to say I won't buy them canned. They actually make beautiful hummus from a can. I buy the organic ones from Superstore found in the organic section. Make no mistake: all canned chickpeas (or garbonzo beans) do not even come close to tasting alike.
The reconstituted bean, however, we so delicious that I have been eating them every day since in the simplest of salads: minced red pepper, fruity olive oil, black salt. Even that is enough. Add feta cheese and your eyeballs roll back in your head for a moment or two. At least mine did, but this is very new to me. I have been so turned off any "bean" salads as they do not taste good, yet everyone is eating them and making them and there is so much hype about how healthy they are that I had to give them a serious try. Worth it? Abso-positive-lutely!
It's quite a simple story: you soak the beans over night (ratio is 2:1 water to bean). See how much they grew (you'll have to look waaayyy up!) Then, rinse and simmer-boil: no salt. Salt makes them hard. Leave the seasoning until the very end of the cooking process. Skim, skim, skim. It took me over an hour to have them fork tender. I definitely did not want a mushy bean, but you are in control of that. Strain, cool, use or freeze. YUM!
I like mine with texture. Some like theirs runny and silky. Make it how you like it. Just make it, for goodness sake!
The first time I had hummus, one of my grade 8 students brought me a plate of it from her mom, garnished with olive oil and olives. It was 1988. She was bursting with excitement to have me taste a favourite ethnic dish of hers. I had never seen anything like it. We are talking 1988. There were no Greek or Mediterranean Restaurants selling hummus in the Alberta Prairies in those days. There were Greek restaurants, but hummus was not on the menu then. I remember.
"What is it?" "Hummus!" "It is so pretty! How do I eat it?" "With this bread; you dip it!" "Oooooo, it is soooo yummy!"
It wasn't. It was so strange and foreign and different and new to my sheltered little palate way back then. "What is in it?" She told me. Her mother came in explained the process of making it and what was in it and how good it was nutritionally. Somehow, the rest of the day, I found myself back at it. It was so… different… so tasty… so garlicky…. so… so… so… addictive! I certainly didn't force myself, but I fell in love with it through the process of the tasting and learning and savouring it that afternoon so long ago. I have made it ever since.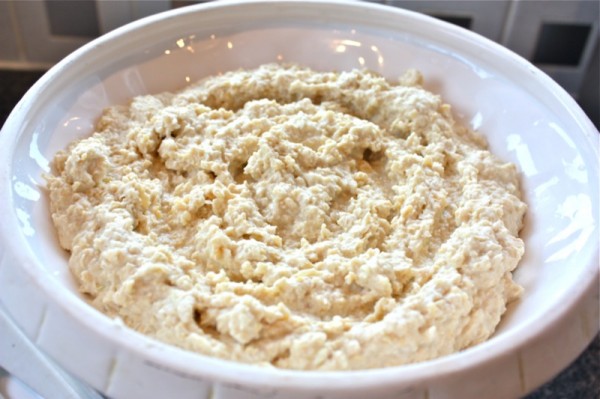 Basic Hummus Recipe
Ingredients (Thermomix measurements in grams:
one 14 ounce can of chickpeas, drained, liquid reserved or 250g drained chickpeas
2 to 4 cloves of garlic or 10-15g (depending upon your taste preference)
1/2 to 1 teaspoon salt or 5g (depending upon how salty your chickpeas are)
juice of one fresh lemon (about 4 tablespoons) or 60g
2 large tablespoons of Tahini (Sesame seed paste) or 50g
olive oil to garnish
Instructions:
Place all ingredients in blender and combine to desired consistency
Add liquid from beans, if too dry
Adjust salt, if necessary
Garnish with a fruity olive oil
Instructions for the Thermomix:
Scale ingredients into the TM bowl; use the speed dial from 0-4 for 5 seconds
Scrape down the ingredients in the bowl toward the blade; for a chunky consistency, you are almost there (2-3 more seconds)
If you prefer a smooth consistency, set the time to 30 seconds, and the speed to 4; if not smooth enough, increase the speed and work with it, until you get the consistency you desire
Add liquid from beans, if too dry
Adjust salt, if necessary
Garnish with a fruity olive oil
Note: As this has the perfect ration of legume to seed, the result is a whole protein, so this vegetarian dish is a very hardy and healthy protein replacement in your diet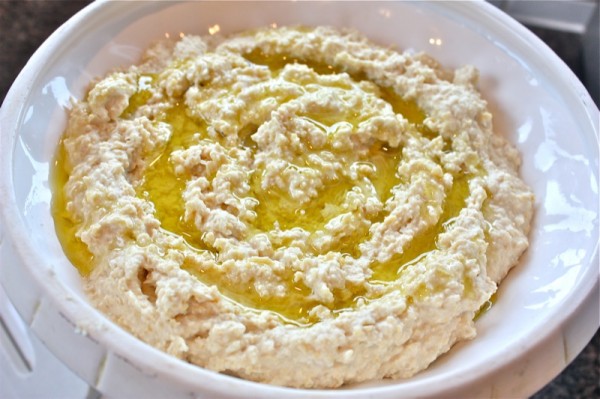 We made this recipe recently in my Greek Escapes Cooking Class (which I wasn't able to write about as I was too busy to take photos that weren't blurry) and the gals in the class really enjoyed making it to suit their personal palates! As we were also peeling red peppers we had roasted, Christan asked how many should go in this recipe to make Red Pepper Hummus. I cannot believe I have not done that. Start with one. Add more if you like more. Just make it yourself!
I really tried to get this into the round up due noon Monday here. for the Well Seasoned Cook's Three Year Long Monthly Round-up: The Legume Love Affair. I just never made the deadline, but head on over and take a look at the other wonderful legume recipes collected in that round up – though it looks as though they are not posted on the site they are to be??? (But read the updates under the bar, first!)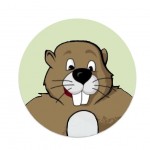 Subscribe to A Canadian Foodie so you don't miss a post! (top right)
Register for Christan Miller's Apple Pie Making 101 Class (only 2 spaces left!), THIS SATURDAY February 5th, 2011 at 8:30am
Register for Allan Suddaby's Sausage Making Class February 12th in the evening: a really fun friend or partner's night out! VALENTINE'S Saturday!

Register for: Kevin Kossowan's Big Game Tasting and Cooking Demonstration Lunch February 26, 2011 at 11am
Register for:BénéGamier's French Tart Class: Sweet and Savoury SUNDAY, March 6, 2011 at 8:30 am
NEW: The Niagara on the Lake Culinary Wine Tour and Cooking Class Itinerary is now up: BOOK YOUR SPOT!!!
Watch for Culinary Tour and Trips for September to Paris!