Hello, Summer: this is my kind of Summer YUM!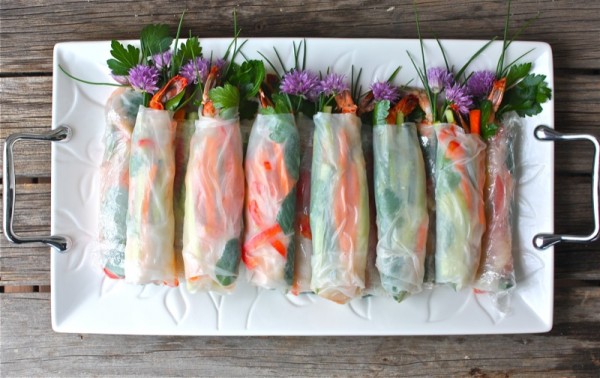 Fresh garden vegetables sliced similarly…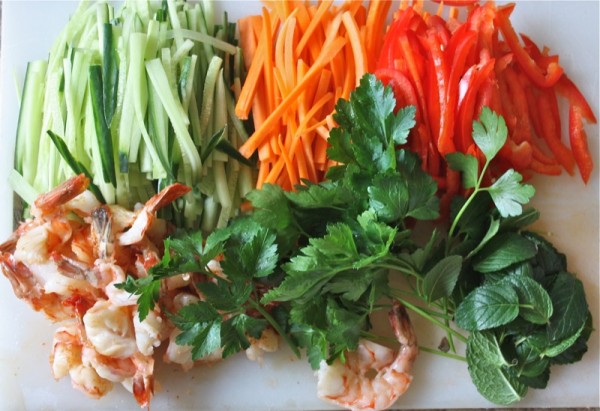 …placed on a prepared rice paper…
…and rolled into a snug burst of lush summer flavour!
Rice paper is a magical find. For $2.49 for a 400g package (about 36 papers) how can one go wrong. You have plenty to "play" with and try to work with and develop skill with. It will be the best fun money you ever spent! You will not get it right the first time, but you will get it right way before you are a quarter into that package!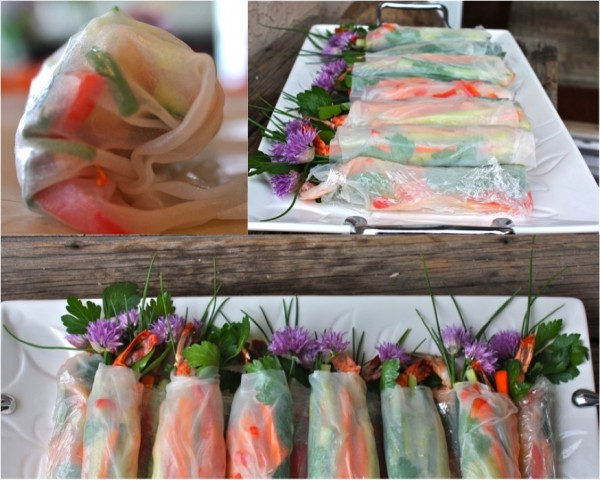 The first time I saw one of these I was in Vancouver in 1986. It was Expo and the Vietnamese Pavillion was serving them. I had no frame of reference for the texture and flavour of the wrap. It was translucent, transparent… sticky and fragile, yet strong. It was flavourless, but the texture was new and pleasing and the starch was definitely filling and satisfying. The dipping sauces were definitely half of the adventure. After that, they could be found in Vancouver restaurants all of the time, but not here. It took a very long time for these to hit the Edmonton restaurant scene. I think about 6 to 8 years later. But, correct me if you know better.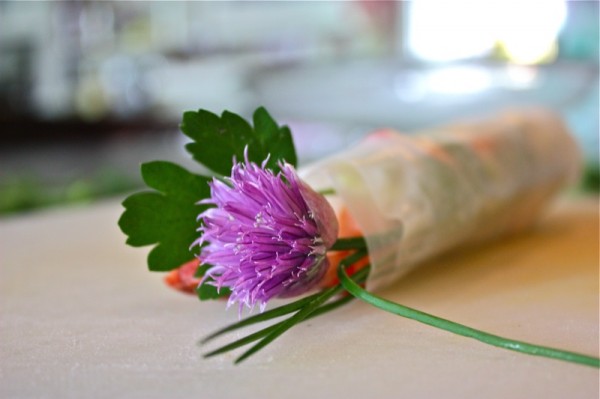 The first time I found them in the supermarket I went nuts. You bet I bought them. I had no idea how to use them. The internet in 1992 was nothing like the internet now. I couldn't go and watch a video on Youtube to learn how to prepare a rice paper roll. I just asked around and figured it out. I have been making them ever since. Never often enough. The more shrimp the better, and though I omitted the vermicelli noodles inside of this one to leave the extra calories out, I would never do that again. Less noodles is better than more, but they are a very necessary part of this roll. YUM!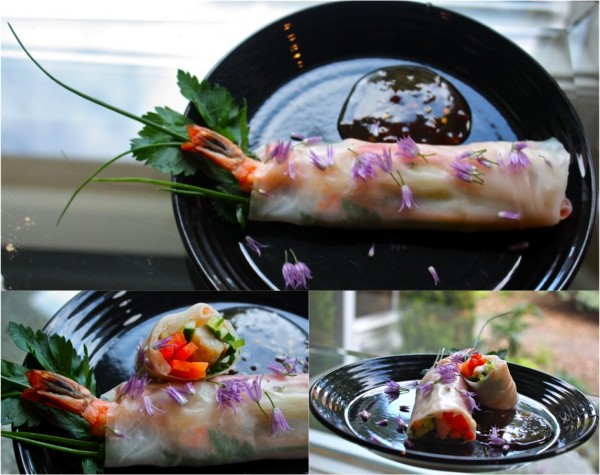 Vietnamese Salad Roll Recipe: makes 16 rolls

Ingredients:
one long English cucumber, julienne
2 big carrots, thin julienne
1 large red pepper, thin julienne
48 mint leaves (3 per roll)
16 sprigs flat leafed parsley or cilantro
bundle of(4-5 chives per roll)
16 chive flowers
16 jumbo shrimp, butterflied
butter for frying shrimp
2 to 4 clusters of vermicelli noodles
16 large rice paper rounds or squares
dipping sauce
Instructions:
prepare all vegetables; keep cool and set aside
fry the shrimp in a bit of butter carefully to keep as flat as possible; cool
prepare the vermicelli noodles by placing them in a bowl of hot water for 3 to 5 minutes until completely soft; strain
prepare the dipping sauce, or buy it
Place hot water in a shallow bowl that will accommodate each rice paper; pass one paper through the water quickly three to four times, and set on a parchment paper for filling
Lay out the filling as desired: usually the shrimp or mint leaves are placed at the back of the roll so they can be seen through the paper; I did this with the chives, flat leafed parsley and chive flower, as well
An amount of vermicelli noodles are then placed on top of the mint and shrimp (about the same amount of noodles as all vegetables to be placed in the roll: I did not do this)
Place an equal amount of vegetables on top of the noodles vertically; then wrap the rice paper tightly around the filling; set on serving platter, or in a container in the fridge ensuring that rolls do not touch one another (I used saran wrap)
Serve ice cold with dipping sauce
Note:
these are hard to roll tightly without the vermicelli noodles; they enable a tighter wrap as they serve as an additional adhesive
closing the rolls also make these easier to roll tightly and easier to eat
leaving the shrimp tail out of the roll involves cutting the shrimp to ensure that there is a good amount of shrimp vertically throughout the entire roll
if using a chive flower, the stem of the flower is tough and unpleasant; best to advise people to take the flower out of the roll as demonstrated above
anything can be used in these wraps; the key is for there to be crunch, freshness with a variety of textures and flavours that create a fresh flavour experience