Accompanied by further Sous Vide Tastings: Steak, Pork, Duck Confit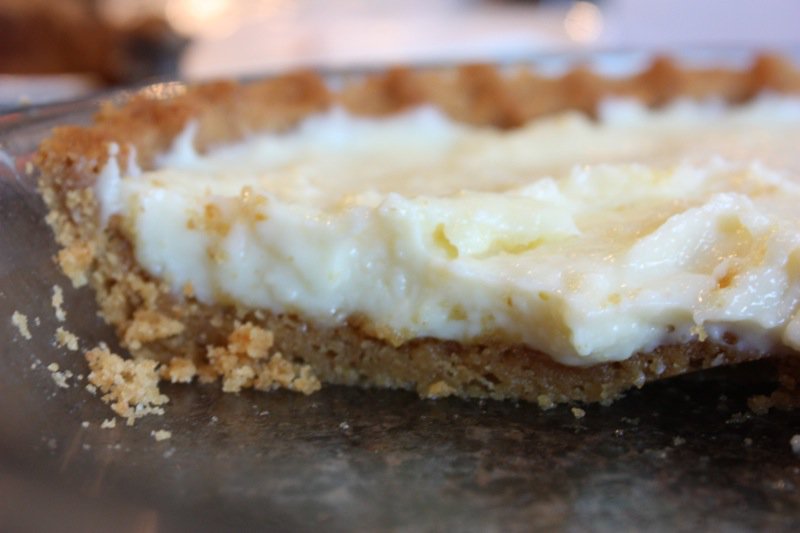 There is nothing more gratifying, to me, than cooking in the kitchen with friends. I had a wonderful, enlightening day on Saturday as Lillian, Dan, and I worked magic in the kitchen with the Sous Vide Supreme. I met Lillian (of Beyond Umami) and Dan (DanPrime), only briefly, at the last Edmonton Foodie Meet-up hosted by Sharon and Chris. When I knew I was getting this machine to work with and review, I tweeted into Twittersphere at #yegfood and asked if anyone wanted to come over and play. Lillian and Dan responded. (Others did, as well, but schedules just did not coincide.) I was so excited to have partners in this venture. I was in sore need of eager participants and refined palates.
We began our day shortly after noon with a coffee and a chat. Dan and Lillian are newly engaged (May 21) and have a very sweet engagement story to tell! Then we got right at it. It was their day to do what they wanted with the machine, so, I told them I was there to assist, and I would follow their lead. Before this, Dan had put Key Lime Pie and Scallops on the docket, so we knew the basic plan.
Lillian was squeezing limes, Dan investigating the best approach for the scallops, and I was making a graham crust for the pie. It was a glorious day outside, and a lot of activity in the kitchen!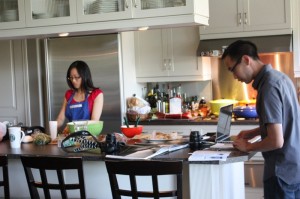 It didn't take long before it became apparent that Dan was a very precise kind of fellow. He was definitely a mathematician and an engineer. No doubt about it. We were trying to find a Thomas Keller recipe for scallops to compare to the one we had, but to no avail. So, Dan formulated his plan. I had three kinds of scallops: large wild (10-20 per pound from Ocean Odyssey purchased earlier in the morning at City Market), Nova Scotia (they were small, and from Superstore), and some large unidentifiable kind from Superstore labelled "previously frozen".
Dan decided to do one of each scallop with different salts. He used a small sprig of dill (frommy garden!!) and a small dollop of unsalted butter with every batch, then
regular salt shaker salt,
Hawaiian black lava,
Hawaiian orange salt, and
spicy smoked salt(bought at the Ferry Building Market last summer in San Francisco).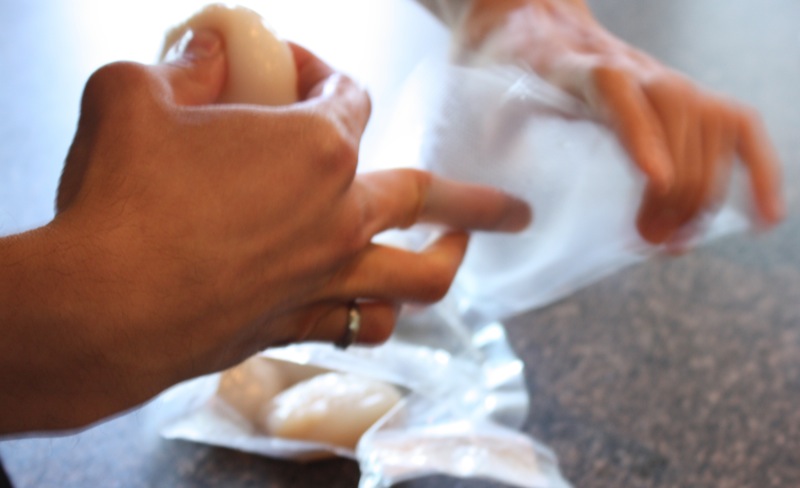 This is a scallop with the Hawaiian orange salt.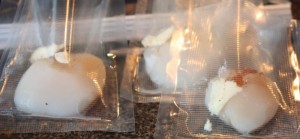 Dan is carefully labeling each vacuum bag with the kind of scallop and the kind of salt used. Lillian is squeezing limes for the Key Lime Pie.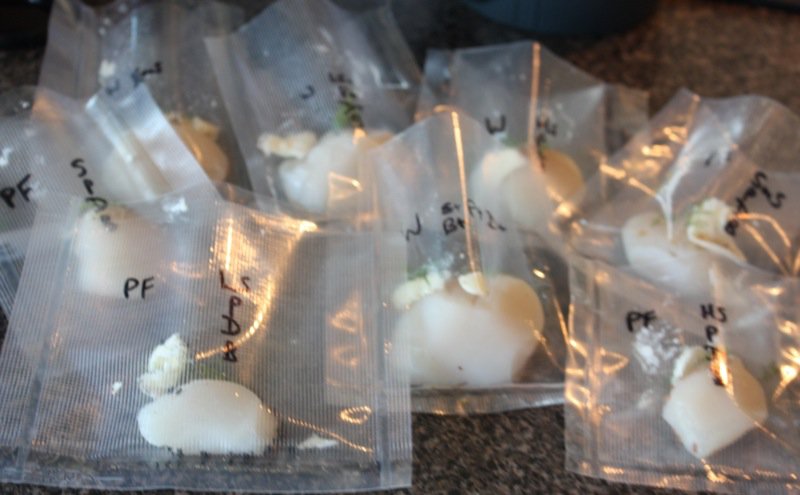 Dan has recorded his legend in case he needs to refer to it to understand his labels. This is getting scientific! Just how I like it!
When all scallops were bagged and seasoned, Dan vacuum bagged them. Lillian is now mixing the ingredients for the sous vide pie filling. It was a blast working with fellow food bloggers. I even got a couple of really practical camera lessons during the day (Thank you, Dan!). Scallops are ready for their water bath.
Pie crust is ready to be baked. Beavie is excited. He really likes Key Lime Pie!
Lillian is ready to vacuum pack her pie filling, but photographs and tweets about it first! Both were tweeting all day, and very subtly, too. I would notice a phone go down, or be picked up, and then realize that they were taking a tweet photo, or writing an update. They both did this as naturally as they breathed. I would have to sit and focus my thumbs, believe me!
It looks gorgeous!
Thank you Chef Tony Le for the the tip to pat the scallops dry before searing to get a good caramelized effect on each. I did pat the first few dry and then it was up to Dan to sear off the standard sample of scallops (the ones that were not sous vide) so that we had a comparison to hold the sous vide ones up to. Just as we started, the Sous Vide Supreme sang its little beep, and the sous vide scallops were also done! They did not need to be iced, as we were eating them right away, but we cooled them in a quick ice bath to stop the cooking and then Dan seared each batch separately.
The Standard Sample: below.
Nova Scotia, Large Wild, and Previously Frozen (above). Below, the first scallops out of the vacuum bag. You will see they have been flattened. We were aware that this was a problem, and tried to vacuum pack each scallop "lightly" to avoid undue pressure and it looked like we had done well when they were initially bagged. However, it is clear that they were under too much pressure. It would not be possible to do it any differently with my for-at-home use vacuum sealer.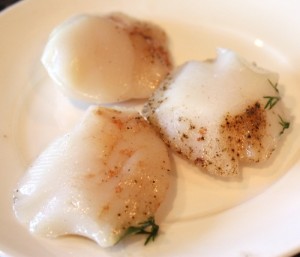 The larger scallops did bounce back when being seared and regained a good plump shape. That was nice to see. The Nova Scotia scallop was the smallest of them all and remained flat. They were seared about 15 seconds each side.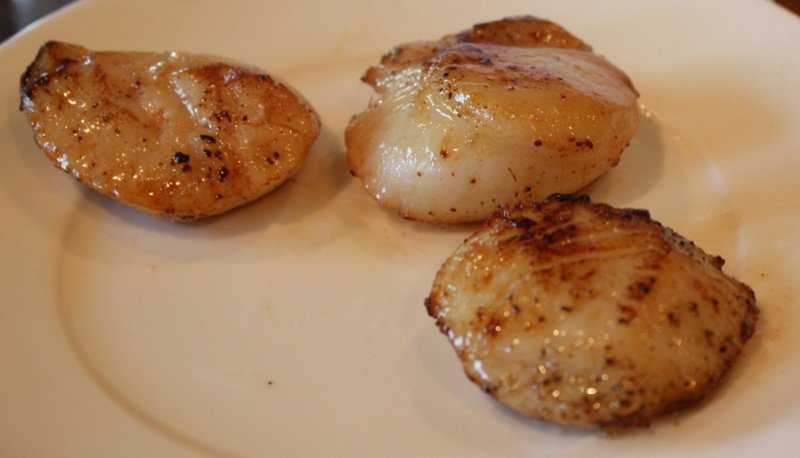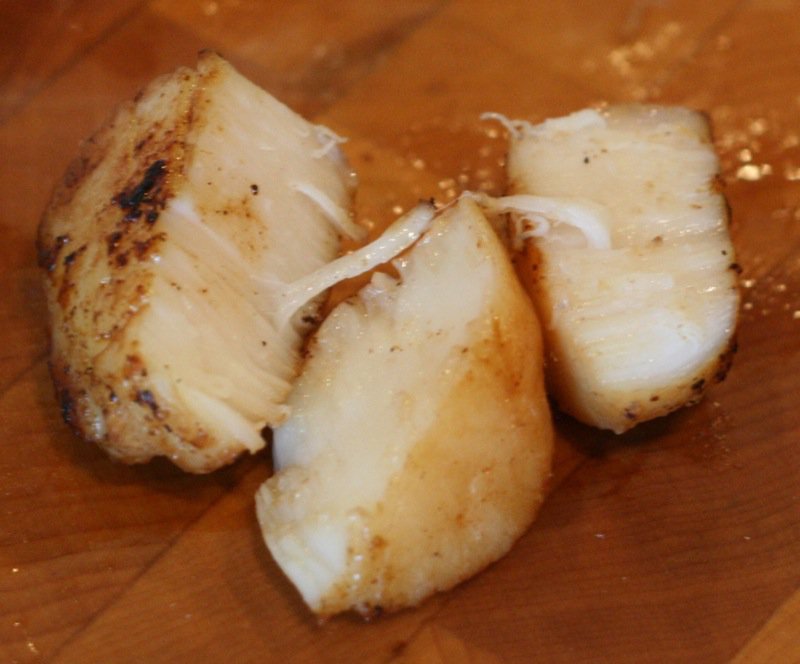 We were all on the same page when tasting most of these samples. It was shocking to see the textural difference int he sous vide scallop. The standard was stringy and the sous vide one was not. It was unified into a bite that is almost impossible to explain with out trying it. But, I will try as we go through each sample, as each was quite different. (Photo above and below taken by Daniel.)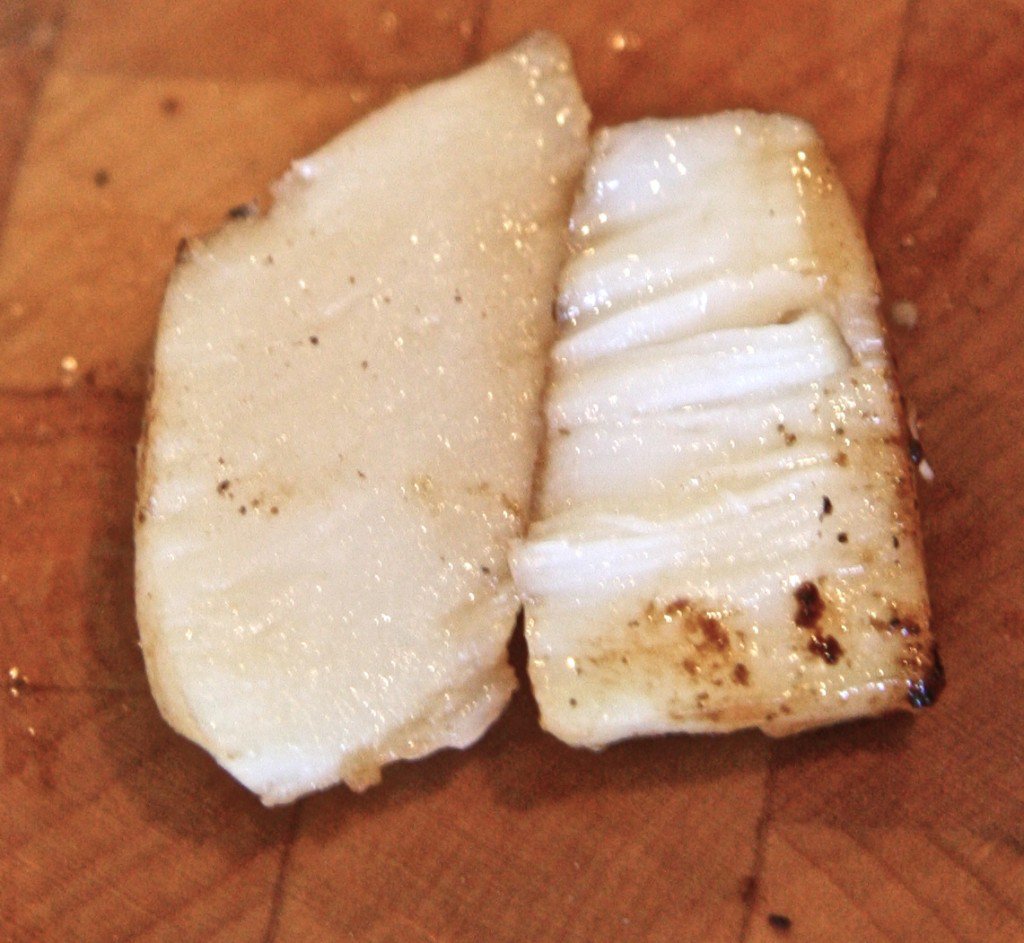 First of all, the Nova Scotia scallops were the most flavourful, by far. When each of us tasted them (and we all tasted them last), each looked up, brows raised, eyes full of surprise and pleasure. YUM! The other two were very similar in flavour. These were brightly flavourful, sweet succulent morsels.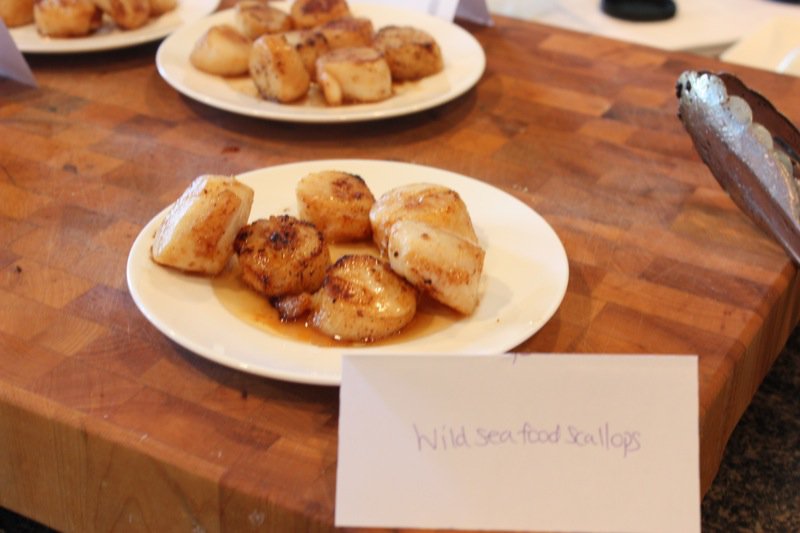 And size does matter.
The first sample we tried was the plain salted sample. Each time we started with the large wild scallop and ended with the Nova Scotia one. We sliced each into three so we could sample each. All agreed the sample has the perfect amount of salt and that the texture was remarkably different than the texture of the standard, though it was very difficult to put words to. We all agree the flavour or the sous vide compared with the standard was almost identical: it was the texture that enhanced the flavour and took the sous vide scallop to the next level. It was not "butter", as we had expected. It was not that tender. It was very tender, but with some tooth. You definitely had to chew it, and it had some give, but was a really different and very pleasurable mouthfeel. Each was similar. It was when we got to the small Nova Scotia scallop that we could actually say that the sous vide sample was a bit stringy on the edges. The scallops varied tremendously in size, and this was absolutely apparent in the final products.
The Hawaiian black lava salt was the most flavourful sample to all of us. The dill could not be detected in any sample. The distillation of the out come was this:
Nova Scotia was the most flavourful scallop from the ones tested
The large wild scallops did reach what we each called the "butter" texture (that elusive texture we were hoping to experience in a scallop with the sous vide cooking method): it did not melt in our mouth, but gave us that "WOW" sensation and a completely new textural experience we had not before had; it was a unified texture (not stringy), with juicy, almost fatty pockets in between the buttery meat that burst with flavour as we chewed
It was clear that all scallops needed to be of similar size – and very large, to be cooked for 40 minutes at 50ºC
The black lava salt was the most flavourful and worked very well with the scallops
Much more dill would be needed in each package
The standard sample would be seen as restaurant quality by most, and each was delicious, though stringy in texture when compared to the sous vide scallops
That was an incredible learning experience! It was also quite the bonding experience as each of us worked to listen and understand and put into words this completely new mouth feel. Now, back to the Key Lime Pie!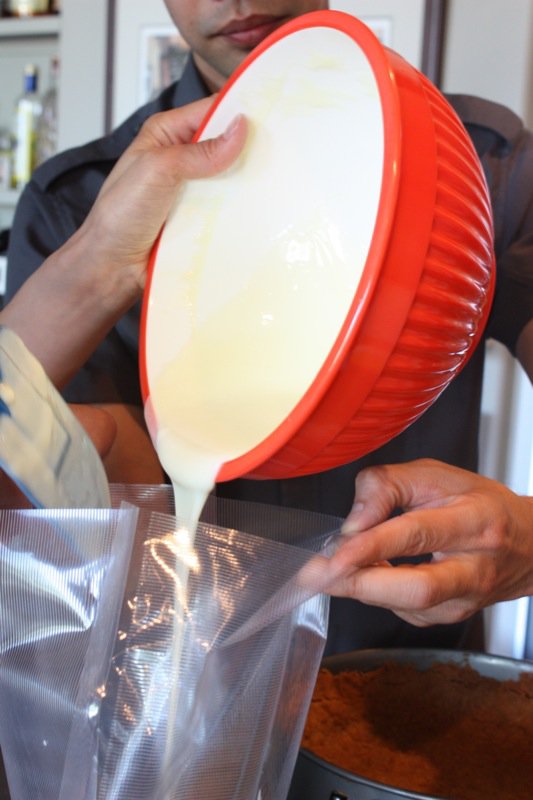 Into the bag to be vacuum packed and placed in the water bath for 20 minutes. It was ready to go before I even had the sous vide steaks and pork prepared for the sear on the grill.
I was
Here are three samples prepared for tasting today:
one strip loin steak
one rib eye steak
one pork chop
Each seared for about 30 seconds per side. I heated teh BBQ to about 700ºF and then plunked them on.
Beautiful!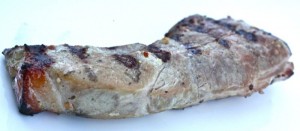 The Pork
Rib Eye Steak (left, above) and Striploin Steak (right, above)
A cross section of each (same order as above), respectively.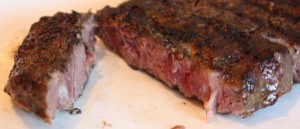 I was weak kneed. Truly. I had never had better pork in my life. I don't even like pork. If you are a regular reader, you know I don't even eat meat, but this pork was exceptional. It was butter tender and the flavour was divine. Now, I am not sure if it was the "usual" pork chop flavour, or not. I did not have a standard sample to compare it against. But somehow, the texture affected the taste experience and this was divine. Deadly delicious. I could digest it. I could tell. And, I cannot digest any meat.
But the steaks: OH MY! Here, the Sous Vide Supreme sang its victory song. I have never in my long and illustrious life had a steak as succulent and flavourful as the striploin steak. It was disconcertingly… shockingly…wildly delicious. It was butter tender and the seared fat and meat were reminiscent of savory candy.
Miss Lillian is tweeting her experience for other local foodies to enjoy. While they were enjoying the steak and pork, I was warming the duck and crisping the skin. I had tradtional confit to use as a comparison as a standard sample: boh at the top of the plate with the cleaned legs. Clockwise, and to the right of the traditional confit, is the fried duck leg: not confit, also to compare as a sample. The bottom left sample with the crisped skin that fell off the leg is the sous vide leg.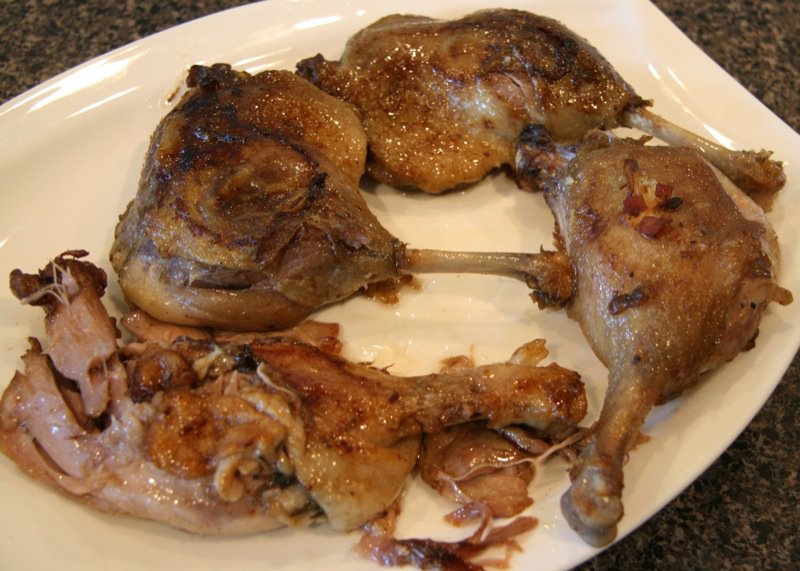 All of the duck legs came from Greens Eggs & Ham and were identical before cooked. Below, top (right) is the standard fried duck (not sous vide), clockwise, lower right, the sous vide duck, and the dark sample is the duck made using the tradtional confit method. I believe the difference in colour is from the difference in the curing process as well as the cooking processes. The sous vide confit was brined for three hours in a 5% salt solution. The traditional confit was cured for 48 hours in salt, herbs and garlic under a weight. The fried duck was not brined, or cured.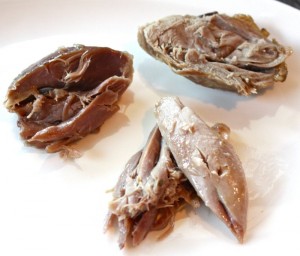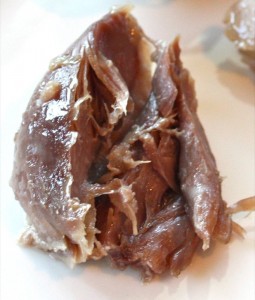 I tried to take the best photos possible amidst the chaos of the cooking. Daniel assisted. I have thanked him for his contributions (the cross section of the scallops, above). I was working to attempt to convey the succulence and depth of flavour in the samples. I think you can almost taste the traditional confit to the left (if you have ever tasted a great traditional confit). I laughed outloud when Daniel and Lillian tasted the fried sample of duck (not confit). Daniel then waited while Lillian chewed and tasted. When she was ready with her opinion, he exclaimed: "It tastes exactly like Chinese duck, to me!" We all laughed, as everyone agreed. It was exceedingly tough, but flavourful.
The sous vide confit was butter tender, succulent and absolutely delicious. However, it did not have the depth of flavour that the traditional confit had. We all agreed here. The traditional confit was also considerably more salty, but not TOO salty. Myself, Vanja (who was home for a moment) and Daniel preferred the traditional confit. Lillian preferred the sous vide version. She was really turned off by the salt and acknowledged having a sensitivity to salt. This opened a healthy discussion about when to sous vide and when not to sous vide.
Fried duck leg (left, above), sous vide confit (middle, above) and tradtional confit (right, above).
Traditional duck confit is made with the duck submerged in liquid duck fat and cooked at a very low and slow temperature. I believe I cooked this one at 180ºF in my oven. So, this is maybe the preferable method for duck confit. (I have not posted my traditional confit recipe yet, but will soon, and will link it here, when I do). In Thomas Keller's Under Pressure: Cooking Sous Vide, he discussed the importance of knowing when sous vide is the best method for cooking something. Certainly, it was the best method for the pork. Sous vide cooking enabled steaks to taste better than any steak I had ever eaten, and the sous vide method completely changed the texture of each scallop compared to the standard: there was no comparison when compared to the standard. Sous vide cooking is excellent for restaurants as it increases the shelf life of food and the preparation time decreases as the product is ready "mise en place" for about 5 days after the sous vide process if just kept in the fridge.
Look at that concentration!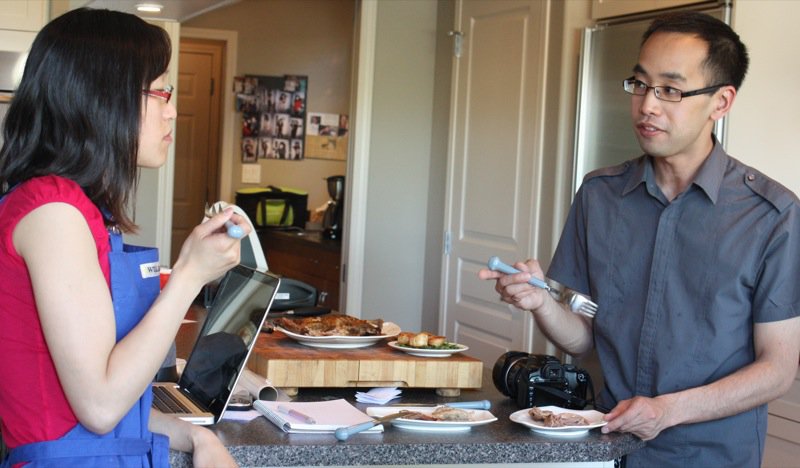 For the home cook, sous vide cooking enables a perfect product every time without actually "cooking" anything in the traditional guess-and-check and experience-makes-a- difference manner. it is certainly an advantage product-wise. It is a disadvantage culinary prowess-wise. But this is only at the most basic level. To be able to sous vide food with finesse, and to develop one's own recipes would take a great deal of culinary prowess. And, a great desire. I love doing it. It is phenomenal, to me, to play with my food and to learn new cooking techniques. I am completely enamoured.
Now, for the pie! Actually, I made some Thermomix Raspberry Ice Cream after the protein overdose. We enjoyed a lovely visit while the pie cooled.
I had attempted to make a standard Key Lime Pie with my Thermomix machine. But, it didn't work out because, I later discovered – the filling needs to set after the initial combining; it cannot be consistently stirred, as the Thermomix was doing. This pie was excellent. It did need to sit overnight as most recipes suggest to soften the crust and meld the flavours. Lime zest would have also enhanced the flavour and should be folded in after the filling comes out of the sous vide bath.
We sat and visited, eating pie. I got to hear another really touching story and the day then drew to a close. Lessons learned, food tested, tasted, and a new frame of reference for cooking food developed.
Sous Vide Scallops Recipe:
Ingredients:
scallops
butter
salt and seasonings (we used varied salts and dill)
Instructions:
one scallop per vacuum bag
add a small dollop of butter, a pinch of salt and seasonings desired
vacuum seal the bag
heat machine to 50ºC; place scallops into the water bath for 40 minutes
remove immediately when done; sear very briefly (3-5 seconds per side) and enjoy
Sous Vide Key Lime Pie Filling Recipe:
Ingredients:
1/2 cup freshly squeezed key lime (or regular lime) juice
1 can sweetened, condensed milk
4 large or extra large egg yolks
1 tbsp lime zest
graham wafer pie shell
Instructions:
combine all above ingredients
place in vacuum bag, and seal
heat machine to 50ºC; place filling into the water bath for 20 minutes
remove immediately when done and add zest to bag; mix into filling and pour filling into prepared graham wafer pie shell
refrigerate overnight
top with whipping cream and more lime zest for garnish