A fall family cake tradition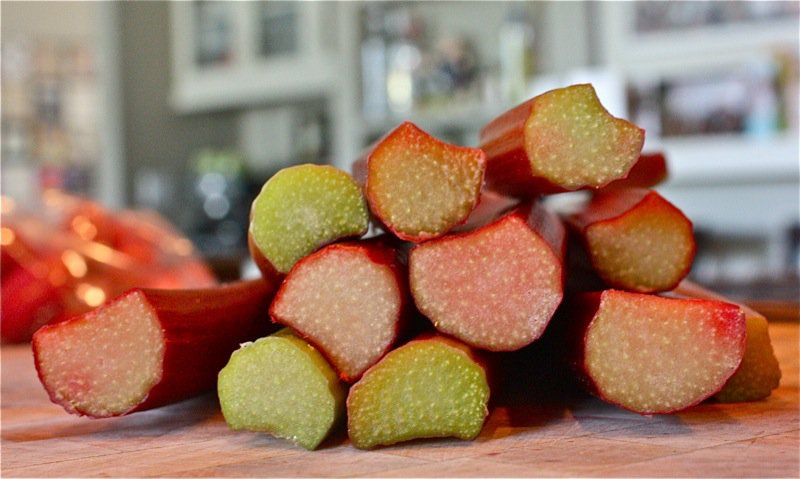 A gift from the garden is always a gift from the heart. Marie is a Kate Chegwin hero. She has just become a very proud grandmother for the first time. She is one of those people that truly is replaceable. Well, she could be replaced by about three others. She is a military woman and a military mother and a Superstar Aide at Kate Chegwin School. She works with the Science Department preparing all of their labs. She is in charge of the lunchroom ladies that assist the teachers with monitoring the microwaves and enabling our student lunch program. She does all of the purchasing and the selling at our School Store. She works with the Textiles and Fashions Teacher as she is an incredible seamstress and assists in all of those option classes. Now, she is the official grocery purchaser for all of my foods classes. And, last, but not least, she has volunteered out of the goodness of her heart to help me with my Nutritious Lunch Program. This is a woman with a skill set few can visualize let alone possess, and she is always so positive, patient, cheery and hardworking that I am consistently working to keep up to her.
Last week she walked in with a massive bouquet of rhubarb and plunked it on my desk. "There you go!" She announced. "I thought you might like this. It was growing in my garden 15 minutes ago." Now, isn't it just like Marie to give me a gift. I should be thinking of giving her one. She is running to the hospital daily to see her little grandbaby, thriving, but still needing special care, and brings me rhubarb.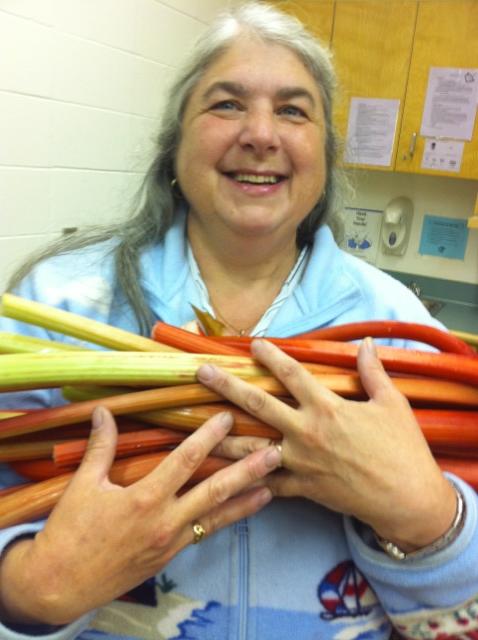 I was delighted. Mom used to grow it, but she and dad moved last December into a senior's apartment. I got a root from Wendy, but it will not be big enough to use until next year. We were all rhubarb cake deprived, and I had not said a thing to Marie. Clearly, she is also a mind reader. I took it home, and made two big rhubarb cakes. This is a family favourite recipe: nothing fancy. Just a moist, tasty, crunchy sweet and tangy snack. We all love it. You will, too!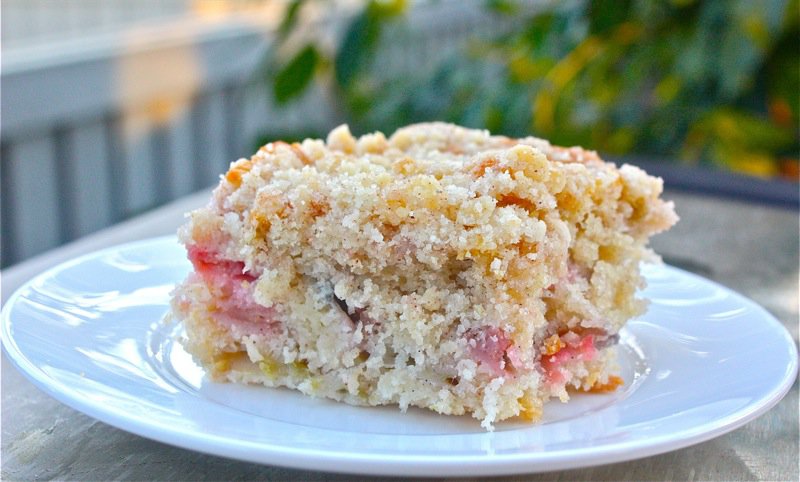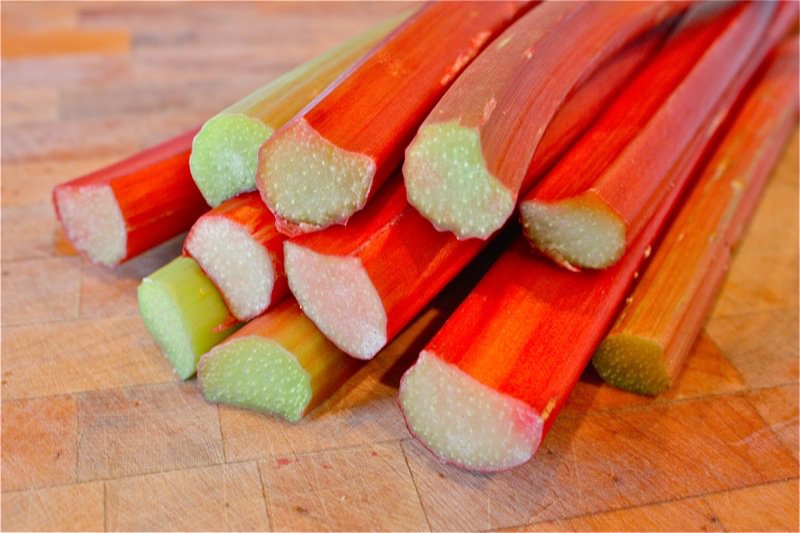 Marie told me the rhubarb was the ruby red variety, and it was definitely the longest and most gorgeous rhubarb I had seen in years! But, as I cleaned it and cut it up, it appeared there were two kinds. I did quite a bit of reading about kinds to try to identify the greenish one, but I couldn't really be sure. She thought she only had one kind. Can anyone offer ideas about this? Or, family favourite rhubarb recipes? I would love these to be shared here! One thing for sure, is that each kind she gave me tasted different. The pink red one was tart and crunchy and juicy and very tasty… until I tasted the greenish one. It was more tart, and just as crunchy and juicy, but more fibrous and had a more intense depth of flavour. I believe it would be the best in any kind of cooking. I used both, anyway.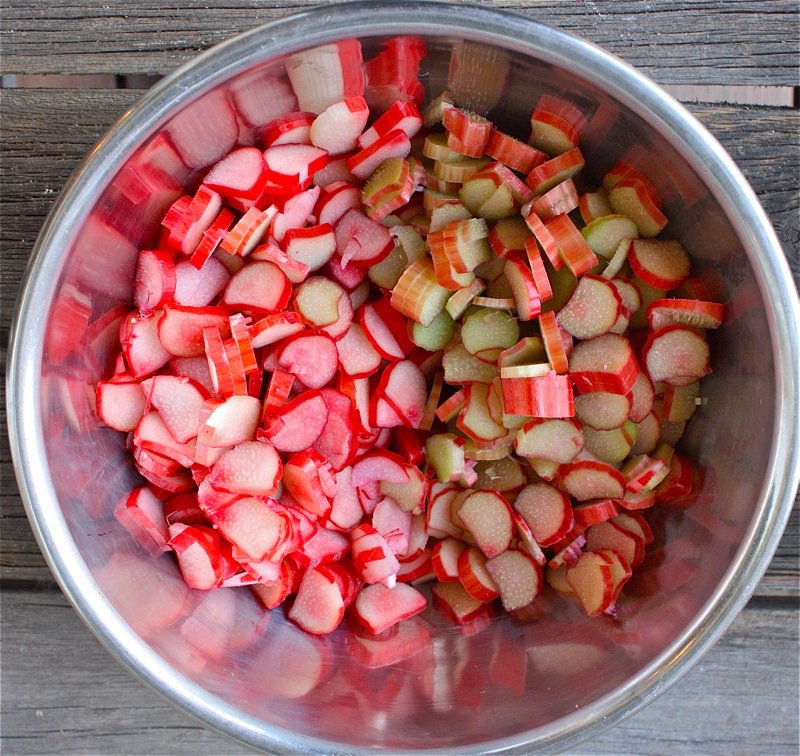 Where Vanja comes from, this is a weed and no one would think of eating it. However, I have seen and tasted the rhubarb they grow in the former Yugoslavia, and it doesn't taste very good. It is much more woody and dense.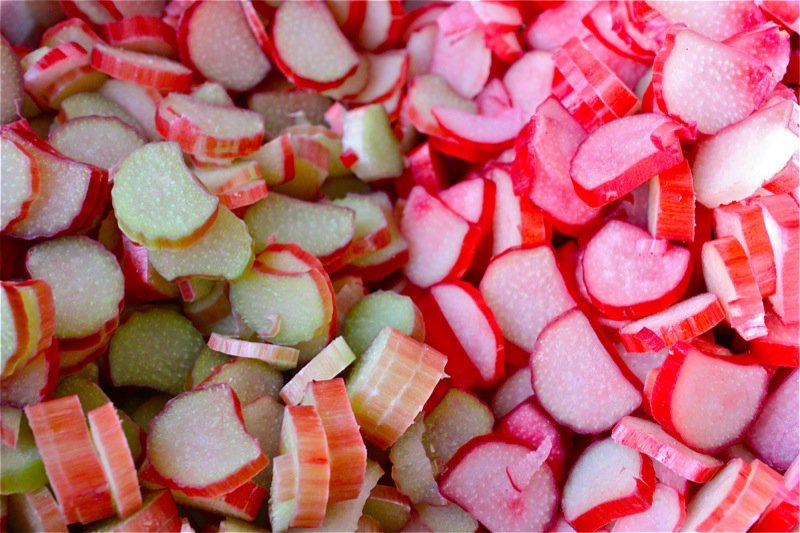 Whenever possible, I try to keep it simple. That is why I have the Thermomix: it is a green machine, it is simple to use, produces excellent results very fast with little clean up and effort, and when the heating elements are used, the food is even more nutritious cooked in the Thermomix. I have quite a bit of experience translating recipes to use in it, so I just dove in. Instructions for the traditional method as well as the Thermomix method follow.
I scaled the sugar, butter, and egg into the TM bowl (top, left) and whipped the ingredients together with the butterfly inserted for 1 minute at speed 3. I then scaled in all of the dry ingredients, but only added one of the cups of flour at this time into the TM bowl with the butterfly still inserted and combined for 20 seconds at speed 3 (above, left). The second cup of flour was added to the finely sliced rhubarb in a large bowl.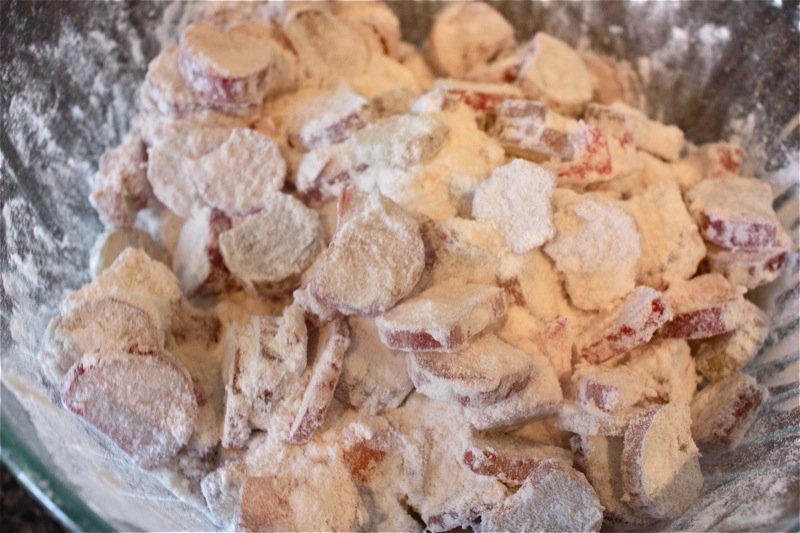 I scaled the milk and vanilla into the TM bowl and blended for 20 seconds with the butterfly still inserted at speed three. See the consistently in the last frame, below?
How easy was that? The batter was then combined with the rhubarb, and I folded the mixture together to combine it.
I made one flat cake because that is our traditional family way: plain. Though, this is a fantastic company cake in the morningm, or at noon (or before bed)!
I decided to experiment with the bundt cake pan to see what would happen. It turned out beautifully from the outside. I actually layered the topping, and then swirled it through the cake with a knife about four or five times, going around, as you would swirl in a layer of goodies in a coffee cake. I have no idea how that turned out because this was my gift back to Marie. She said it was good.
Vanja loved the one I kept at home. I get so excited when Vanja really likes something because he has quite a limited palate and, of course, I love to cook for him.
The topping adds the perfect crunch to this lovely moist and light cake.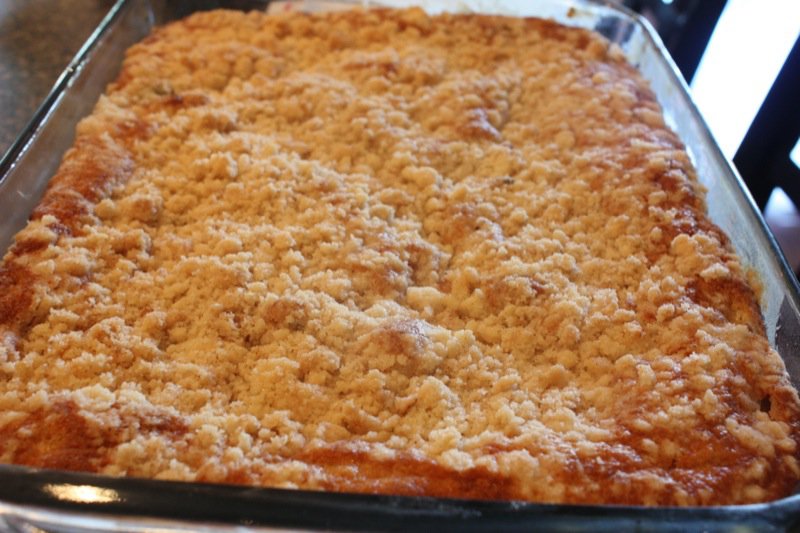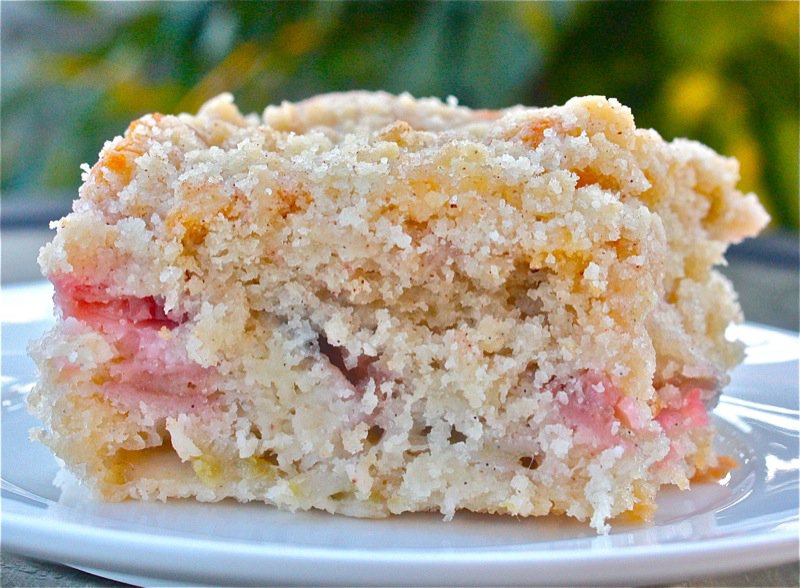 The one I gave Marie was so much prettier. I will have to try it myself sometime, as I am not sure it would taste as good without the crunch on the top. I do wonder what it looked like or how it tasted, or if she even noticed there was a ribbon of something swirled through it. There was a lot of love swirled through it. I know she knows that. Just like I know about the heart that was in her arms the morning she brought her first batch to me. Then she said the wrong thing when I gave her the cake, "Oh, would you like some more?"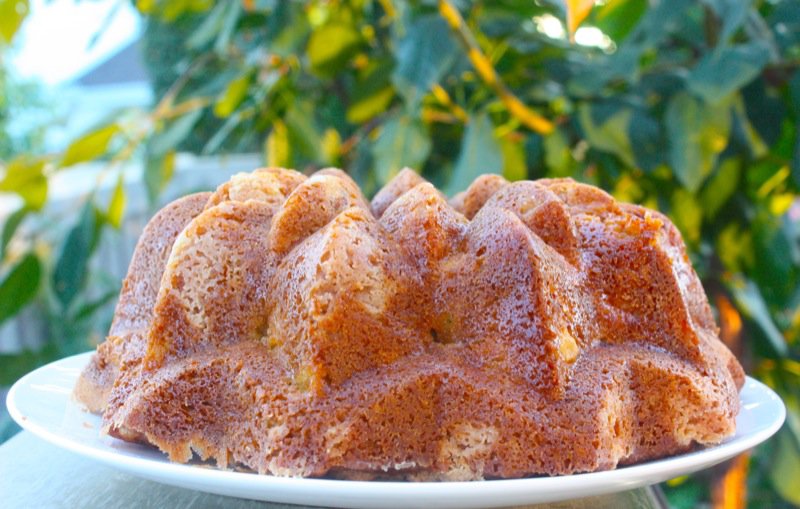 "More? You have more? I would LOVE some more. I can then make a cake for mom and dad, and more for Vanja and then a rhubarb pie!" Rhubarb pie is definitely a prairie pie. Oh, my! I hardly felt Canadian not having rhubarb in my kitchen in the fall. Thank you so much Marie. And, Wendy, thank you for the rhubarb that will be growing in my garden in the Spring.
Rhubarb Cake Recipe
Ingredients:
1 1/2 cups sugar (330g)

1/2 cup butter (110g)

1 egg beaten

1 tsp soda

2 cups flour

scant tsp salt

1 cup buttermilk

4 – 6 cups chopped rhubarb, floured

1 tsp vanilla
Instructions:
Combine all of the above ingredients and pour into a 9×13 pan, or a bundt pan (buttered and floured)

Combine topping ingredients; top with topping (if using a bundt pan, swirl topping into the cake, or place it on the bottom, and then pour in the batter)

Bake at 350°F for about 40 min; cool
Instructions for the Thermomix:

Scaled the sugar, butter, and egg into the TM bowl and whip with the butterfly inserted 1 minute at speed 3

Scaled remaining dry ingredients, but only one cup of flour into the TM bowl (butterfly still inserted); combine for 20 seconds at speed 3 adding the one cup of buttermilk through the hole in the lid

Add the second cup of flour to the finely sliced rhubarb in a large bowl; fold together


Pour into a 9×13 pan, or a Bundt pan (buttered and floured)

Combine topping ingredients (listed below); top with topping (if using a bundt pan, swirl topping into the cake, or place it on the bottom, and then pour in the batter)
Bake at 350°F for about 40 min; cool
Topping Ingredients:
1/2 cup sugar
1/2 cup flour
1/4 cup butter
1 tsp cinnamon