Round One the Sweet Sixteen: Holy Seared Scallops, Batman!!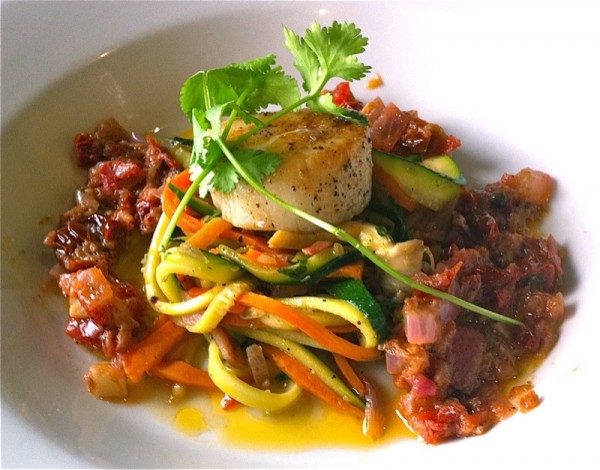 When I first got wind of Century Hospitality Group's CHG's Top Chef Challenge through Executive Chef Tony Le's tweets, I was vying for position. Who wouldn't want to be a judge of food prepared by the talented young chefs of this prominent city restaurant's group's popular restaurants: Century Grill, Delux, Hundred and Lux? After a bit of "tease tweeting", Tony sent me an e-mail and invited me to be a judge. I was tickled pink! Not only to have the opportunity to taste these varied dishes and champion these young chefs, but also because of the recent initiative by this group to include local produce in their menus. It is critical to our local food community that local restaurants buy local food, so standing ovation to Century Hospitality Group for this initiative! You can check out Tony's blog: Saturday Night Feasts to see what local fare he is serving up over at Lux. (but do forgive him for being a little behind there as he is the total tech team behind the CHG's Top Chef Challenge site.He also has his personal site at : http://iamtle.wordpress.com/)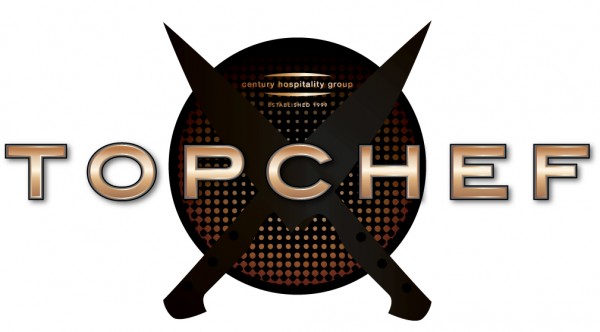 It was a gorgeous Spring morning as I arrived. All was set up to professional perfection. Might I add better than Top Chef Canada? (We each had our own plates to eat from right from the start!) Judges Table was up on the rise, curtains parted: the scene was set for a day of drama!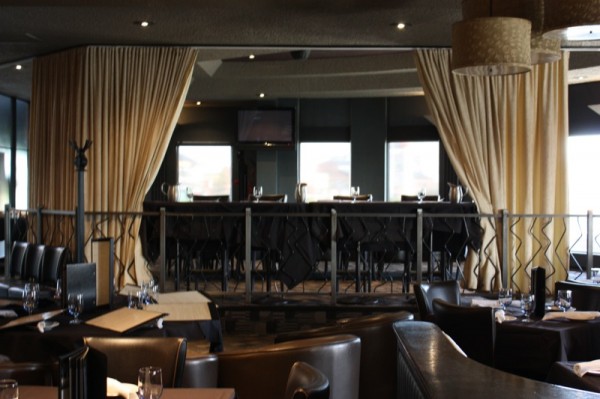 …and really great food! I was so grateful for the coffee, but there was an entire breakfast waiting! With sixteen plates to taste, I opted for coffee only. However, we were treated like royalty throughout the day by Chef Tony Le and CHG Corporate Chef Paul Shufelt. Espresso? No problem. Water? Anything else? Bubbly? Done. The day was a complete pleasure and I would do it again in a heartbeat. Not because of the pampering, but because of the opportunity to receive the plate from each young chef and try to offer back something from which they could either glow or grow.
Chef Tony was definitely the videographer. Chef Paul was our very own "Tom Colicchio" for the day. I adore Tom Colicchio and was completely captured by Chef Shufelt's approach to the day and his staff. What a positive concept: a serious competition coupled with a celebration of in-house talent. Liv Vors will be attending each round to write about it for the Vue. She also writes at Dine and Write and has captured this round there, as well.
Judges: Mary Bailey, Valerie Lugonja (moi) Shauna McKay McConechy, Chef Paul Shufelt

Secret Ingredient for the Day: U12 Scallops: the most gorgeous and delectable scallops. Why scallops? Chef Shufelt: within the time constraint of 30 minutes, they are easy to work with and present a wide range of possibilities preparation-wise
Other available ingredients: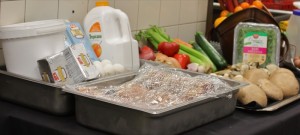 CHG TOP CHEF TOURNAMENT ROUND ONE instructions given to competitors upon arrival:
"Chef"testants will:
have 30 minutes from start to finish to complete dish; when timer rings, knives down.
plate each dish four times: one for each judge
present your dish to the judges: describe your dish sharing your inspiration for the dish
be able to use any or all ingredients found in common kitchen area
clean up the kitchen for the next competitors
hear the judges feedback and the decision regarding who will move forward
(not sabotage or tamper with competitor's ingredients; this will eliminate you from the competition)
Judging criteria:
Taste = 10
Presentation = 5
Creativity (use of secret ingredient) = 5
Secret Ingredient Note:
Remember: the judges are going to taste 16 different scallop dishes; what are you going to do to set yours apart?
Judge's Notes: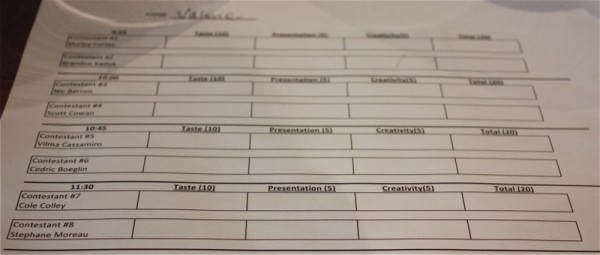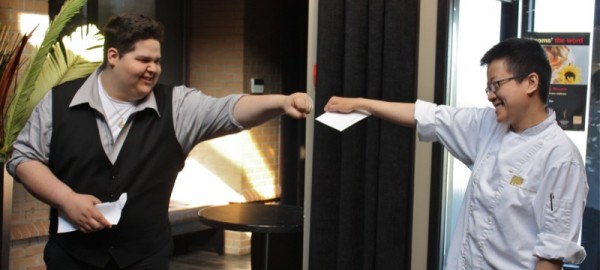 Contestants One and Two: Shirley Fortez vs BrandonKaduk with instructions in hand and they were off to the kitchen!
I appreciate Liv's two photos, below, as I was so focused on my judging that my photos and tweeting took a backseat first round so I do not have another photo of Shirley's dish.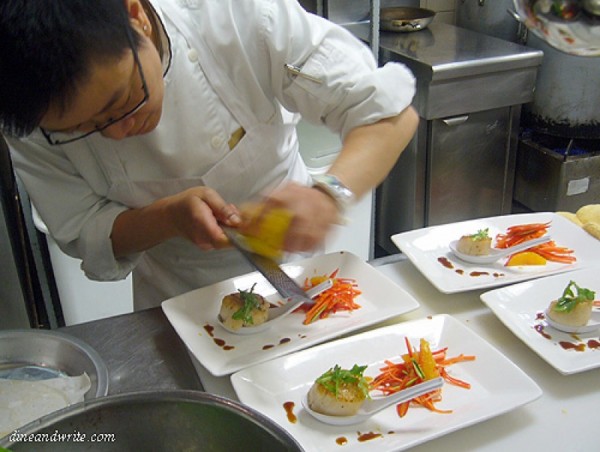 Brandon had arrived immediately after his grade 12 graduation party. No sleep. Great suit. What focus!
I am writing this detail for the contestants, as they deserve a little attention! I was impressed by the presentation of both dishes. It is true that neither took a risk or did anything "out of the box", so to speak, as you will see is a recurring theme of this day. Shirley's scallop was perfectly cooked. So was the one I got, from Brandon. I liked the colour on Shirley's plate: it was bright and fresh and the crispy texture complemented the luxuriousness of the scallop. There was a light sauce on her scallop that remained in the spoon and was almost missed! Brandon's sauce was just cream and citrus: good idea, but chalky texture. The flavour was good. The fried veggies under his scallop were very flavourful, too. Maybe a little lime wedge instead of the slice? Both dishes were tasty and well presented. Neither was memorable.
Contestants Three and Four: Nic Barron and Scott Cowan!
"The kitchen is hot, the tension palpable and the competitors go back-to-back on this one!" Shauna commentates.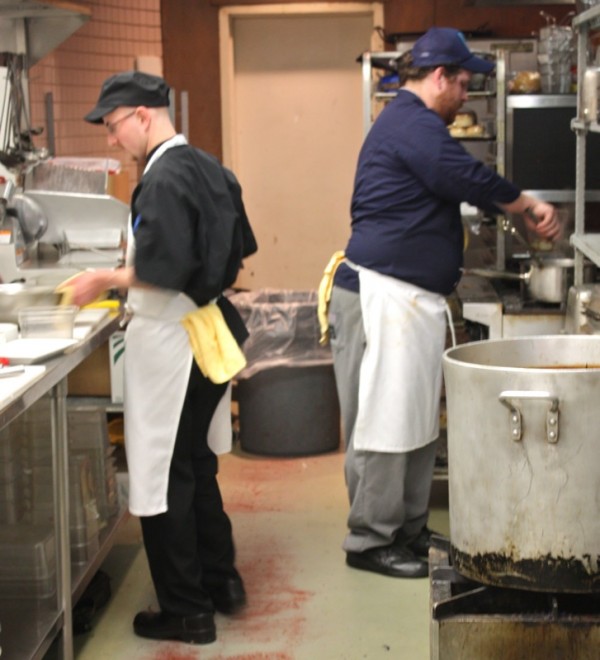 I had decided Nic was going to win this because his favourite kitchen tool was a Thermomix and everyone that knows me, knows it is definitely mine! He did not disappoint, as his dish strutted out like a proud male peacock: glorious fried pancetta fanning all its porky glory. That was some pancetta chip! Nic! You could sell these for big bucks! YUMMERS. It completely stole the show. Who cares about a scallop when you get a sudden rush of umami euphoria. I suddenly understood addiction. I could definitely do this chip daily without fear of an overdose for a very long time. The asparagus mash was tasty, too… but, it didn't matter. Nothing did. Only the pancetta.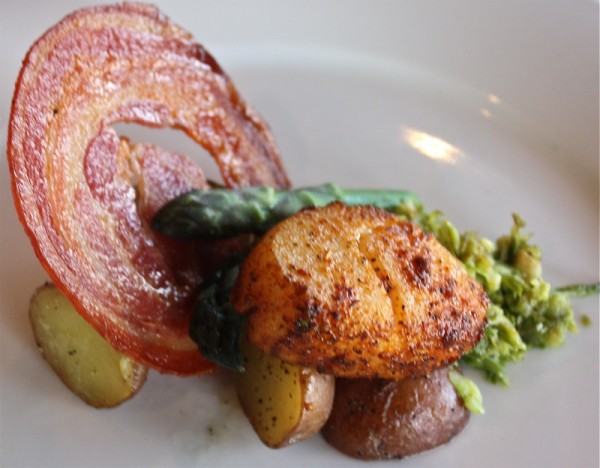 Scott's dish was memorable. That is an important tip for all future competitors. You want to make a dish that is memorable. Just writing about it now, I feel the saliva in my mouth rush with excitement. Tomatoes are my favourite ingredient to work with, to eat, to use, to smell, to look at, to grow. I adore them. I revere them. And, too often, I miss how they "used to" always taste. I don't know how Scott did it, but in 30 minutes, he created a tomato sauce with an unbelievable depth of flavour. I was licking my plate. The scallop was so colourful and seasoned with a cajun spice, so I was relieved with the control of the heat used. It was gentle and soothing. The honey bacon? Wowsers! Three separate elements within this dish, but all worked to compliment each other and it came together as a whole. It was really delicious and, as Mary said, "Restaurant ready." Even the arugula on the top added a fresh taste and texture dimension as well as the obvious visual appeal. YUMMY. Yum.
Contestants Five and Six: Vilma Cassamiro and Cedric Boeglin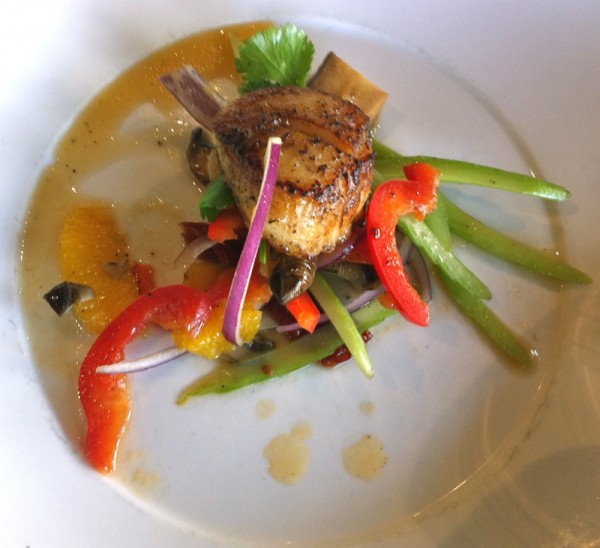 Vilma was who I selected to win the entire competition in the draft. Why? She belongs to the "V" club. The dish she presented to Mary was so beautiful. Look at the beans arranged on her plate! These two contestants were the first two where there was evidence of thought put into their verbal presentation of the dish. It connected me, as a judge, with a greater intimacy to their food. (Note to future contestants!) However, Vilma's personal take on this dish was ultimately confusing as she focused on the mushrooms and there were hardly any in my own dish. She included sun-dried tomatoes which compelled me to burst into song: "One of these things, aren't like the others; one of these things just doesn't belong". The scallop was perfectly cooked and the vegetables tasty, but there was really nothing memorable about Vilma's plate. Sadly.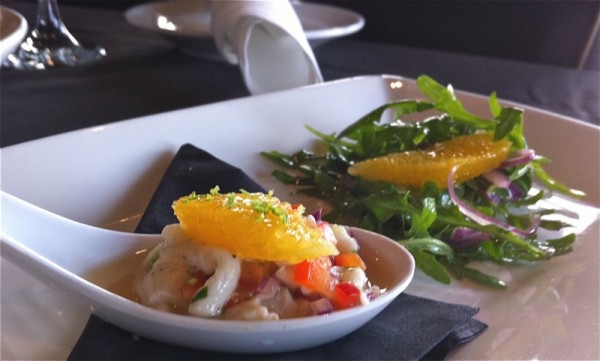 Now, Cedric's plate was a winner from the start simply because he did not prepare a pan seared scallop. Welcome to real life, contestants. Judging is subjective. Well, we try to be intellectual and brilliant, yet when you have had five pan seared scallop dishes and someone presents you with something different, you will want to stand and clap, too! That truly is how very important conceptualizing your food is. That is how important doing something different that no one else will do or think of is in a competition. Judging this actually reminded me of marking English 30-1 Diploma exams: it is so obvious when there is evidence of a depth of thought in any product. The "typical fare" or expected ideas are repeated over and over and then, there is a little magic on a page or on a plate. So, his idea was magic, and the flavour difference was so welcome. The aroma was powerful and enticing but the flavour was a let down in comparison and it lacked seasoning. However, when eaten with the side salad, the ceviche bite was well seasoned and tasty.
Contestants Seven and Eight: Cole Colley and Stephane Moreau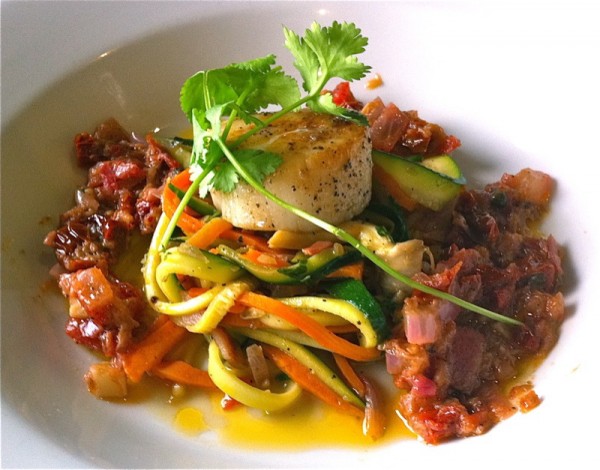 Holy Cole! This was a complete meal! I wasn't complaining. It was my favourite dish of the day. Prior to this, it was Scott's. Scott's is still a favourite. But this sauce: his Veracruz Sauce brilliantly adapted from the ingredients on hand (rhubarb and green peppercorns used to replace the traditional olives and capers) was outrageously delicious. I could not stop eating the sauce. The scallop was perfectly cooked and delicious with this sauce. The linguine? Not necessary. The vegetables? Not necessary. A little too much oil on the plate, but just this sauce, the scallop and the cilantro would be a home run. Edit your ideas. Less is more. Almost always, when you do it right. And, I have no idea how Cole created a sauce with this complexity of texture and flavour in thirty minutes, but he laughed when I asked to take the leftovers home, and I was not kidding. This was a memorable dish. So memorable that I will be researching Veracruz sauces and experimenting with my own. This is evidence that taste is important to the win as Cole's presentation was pretty, but not unexpected and his creative use of the surprise ingredient was pretty straightforward: a perfectly seared scallop with a sauce. His sauce was specific and unexpected, and the taste held the wow factor for all.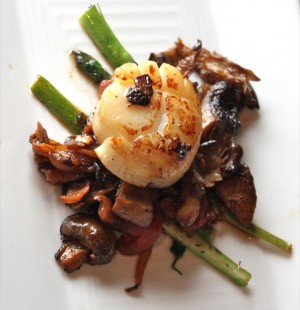 The mushrooms in the kitchen were just calling someone's name and Stephane was the Chef listening.They were absolutely gorgeous and his idea to present the scallop on a ragout of mushrooms was different and welcomed! The flavour of the ragout was deep and meaty and really delicious, but the texture of the mushrooms was off putting: they were chewy and rubbery.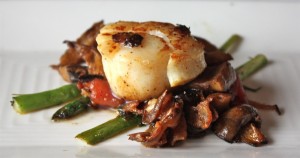 Contestants Nine and Ten: Erica Krumpitz and John Dykeman
Thank you, again, Liv, for the photo below. It is blurry, but not as blurry as mine! Look at how gorgeous Erica's dish is. The mandarin and chili oil combination was a good idea conceptually, but it did not play out well on her plate. However, everyone did not agree with this. Shauna was crazy over this dish. She loved it. The rest of us were fairly aligned with it being overwhelmed with the chili oil and fairly one dimensional in flavour. The deep fried butter potatoes smelled delectable, but I could only taste chili oil.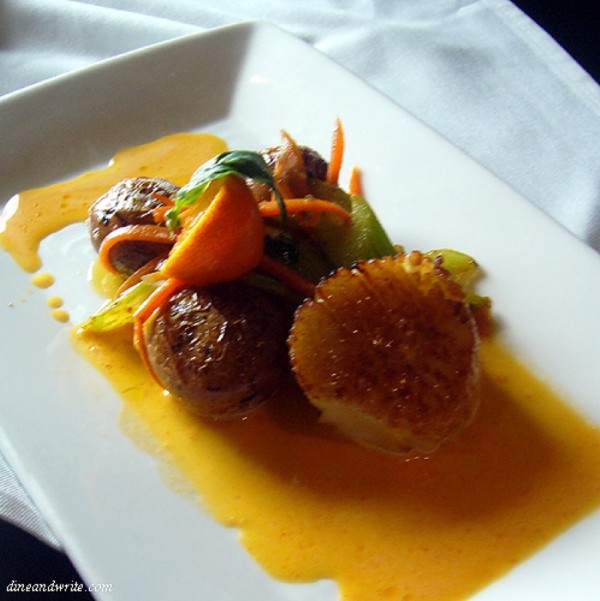 John's dish was a sparkle of fresh, simple and impeccably balanced flavours. The scallop was perfectly cooked and sat upon a slice of boar bacon. The fireworks of orange zest and arugula brought this baby home! My gosh, what a fresh, flavourful and powerful burst of happy! Shauna and I found the bacon too robust and chewy for this bite. A thinner piece for me, please? Yet, Chef Shufelt and Mary found it hardy and perfect. His beurre blanc split which was a shame.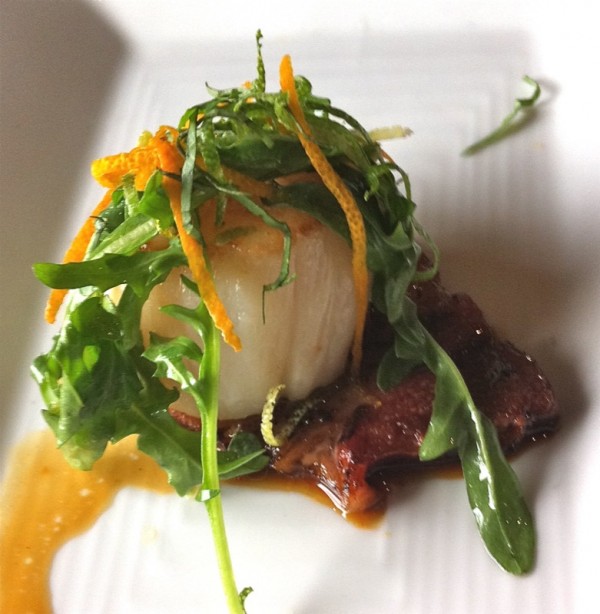 Contestants Eleven and Twelve: Corey Young vs Eric Amyotte
Corey was a "no show". Ouch. I sure hope he is OK, but it did not reflect well on him to simply not appear without a call the entire day. However, Chef Paul surprised us as he disappeared for a bit and I found him in the kitchen creating a dish to keep Eric company. I am sure Eric felt the pressure! He was a good sport, for sure! Look at the beautiful plate Paul prepared and were we ever ready for something like this. Somehow, he just knew! (;) ) The concept was brilliant. As Paul notes, the citrus supplied was not the nicest fruit, but the combination of grapefruit, lime, tangerine and lemon was so refreshing with the buttery delicacy of the raw scallop that I could not get enough. Isn't it a show stopper? Simple, too. (He completed his task in 20 minutes, and though we didn't "mark" his plate, we certainly enjoyed it!) For me, a little sprinkling of black Hawaiian salt (one of my personal favourties) would have added another dimension here.
The dish was a work of art. I find that when the teacher works alongside his students they learn so much more, even together. That has been the story of my life.
Look at Eric's sear! His was the best sear of the day and even with this gorgeous caramelization, the scallop was still perfectly cooked. He kept it simple and tasty and it was all about the scallop. Nothing too thoughtful demonstrated here. The sesame oil was a welcome change of flavour, but "very one note", as Chef Paul commented. Eric's dish was all about technique.
Contestants Thirteen and Fourteen: Ben Wier and Rob Frison
Scallops two ways: brilliant! Love that Ben thought to do this. Not easy to do both well within the time frame. Again, aligned with marking English 30-1 papers: choose one piece of literature and delve into it deeply instead of choosing two or more and skimming over the surface. I guess I am an eighties girl as I loved the presentation. Well, didn't love it, but welcomed it. It was different than all the others, but was placed back into the seat of my chair rather firmly with Chef Paul's comment that the presentation was a "bit too 80's". Oh, how time flies. He, again, was so right. This ceviche was better than the other as it was well seasoned, had maybe cured a little longer, and the hit of fresh red thai pepper warmed the palate and complemented the soothing coolness of the icy shellfish. Nothing more was necessary. But, there was more.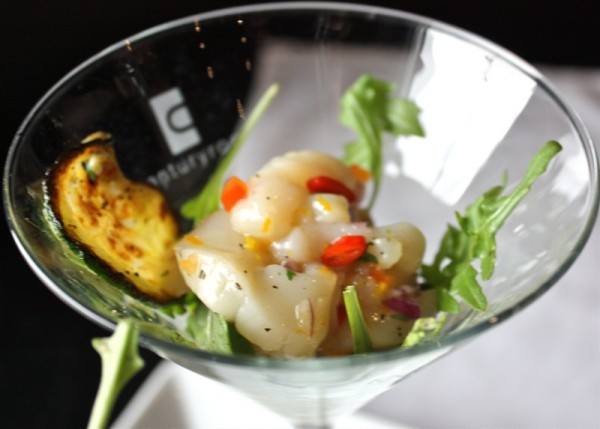 The other half of the scallop. This was smart. It appeared as if we had two each, as they were all so large. But, what was the second bite? Yes, another seared scallop. ZZZZZZ. I did like the painted sauce on the plate as I love tarragon and welcomed the lick of it I had. But, it was dull and so not necessary. I didn't know whether to use the lemon, or not. Taste it without first, or not. But, as it was there, I decided to squeeze it over my ceviche and was glad I did as the citrus really was bright added to the ceviche.
Rob did fool my eye. What are the little white bits? Potatoes? I will say that by this time, I was (unbelievably, I know) really tired or seared scallops. They were still tasty, but come on, people! Think out of the box! The chunk of raw mushroom didn't do it for me, but I was impressed by his use of anise and the sleeping cut used on the asparagus. Both brought his dish to life in a new way, the sleeping cut fooled they eye and confused the palate as did his little scallop bits. These, however, were a miss. They just didn't do anything for the dish. Interesting idea. I liked that it had not been done before and wondered if he had mounded the little bits in a pile and placed something on top of them how that would have worked. Maybe very well. He would have been using the scallop mash as the underpinning of another flavour: possibly as asparagus compote or who knows…? I am still thinking a rhubarb compote with grainy mustard would have made a great savoury sweet and bitter sauce for a scallop salad. Did you pucker up a bit uncomfortably, there?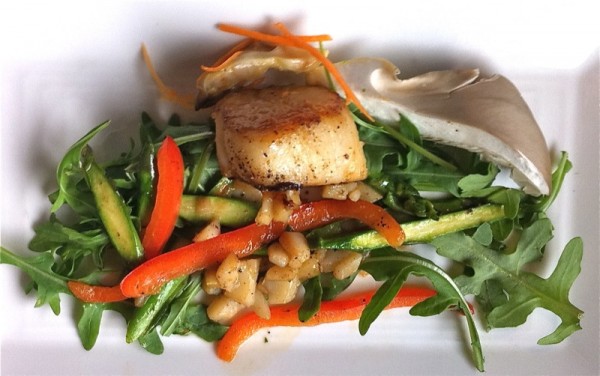 Contestants Fifteen and Sixteen: Andre Nedd and Lindsey Bell
Somehow, this was meant to be. These two were originally contestants thirteen and fourteen, but were switched at the last minute, as the best was saved for last. I was over the moon when I visited the kitchen and spied Andre preparing a soup. Praise the Lord! I am heading to church on Sunday! This was completely unexpected, yet so sensible. And his broth: Oh my! Tomato based with a very delicate curry held at attention by the lime citrus. Did I say YUM? YUM! It was a broth that was so complex, yet so simple at the same time. Simple in that it was refreshing; complex as the level of flavours ebbed through each taste: delicate earthy tomato, fragrant gentle breadth of curry, acidic hello with the end note of the lime swimming along the edge of the spoon. The potatoes were so not necessary. The mushrooms were not necessary. The shaved basil was lovely within. Maybe a shaved soft potato for some texture… and the scallops had been poached and I found the flavour biting into them a more pronounced curry. This was definitely a bowl full of love and was very much appreciated by each one of us.
Maybe I was ready for butter, I am not sure, but Lindsey's delicately cooked scallops (very rare) smothered in her beurre blanc were absolutely sublime. Heaven. This is dish sixteen and I am licking the plate. It was absolute luxury. Chef Paul did remind me that she had said this was a lime beurre blanc when I teased him for saying there was too much butter in her butter sauce! And, of course, he was absolutely right. I couldn't taste any lime at all. I didn't care, really. But, it was very heavy with butter. I was the only one in our group that placed her ahead of the soup, and the soup was also incredible. This was a tough pair to have to eliminate one person as both were among the four top of the day. You should still be competing, Lindsey. All of us know that and understood it, but it is the luck of the draw in these kinds of competitions that also influences one's path.
What a day! I feel I definitely got a window into the world of each of these young chef's lives and abilities and was really impressed with the quality of young chefs that CHG has working for them within their varied restaurants. I will be following the next two rounds closely, and returning for the finale which is open to the public. The seats may be sold out, but I would definitely be calling to put my name on the waiting list should someone offer up a ticket for resale if they are sold out. The finale will be an event. A stellar event.
Thank you to Chef Tony and Chef Paul for including me. Thank you to the first Sweet Sixteen for sharing your talents with me last Saturday. Can you see me clapping? Bravo!
httpv://www.youtube.com/watch?v=RCFyDnBzXR8&feature=player_embedded