This Apple Cook Off is sponsored by Sobey's BC Apple Fresh Campaign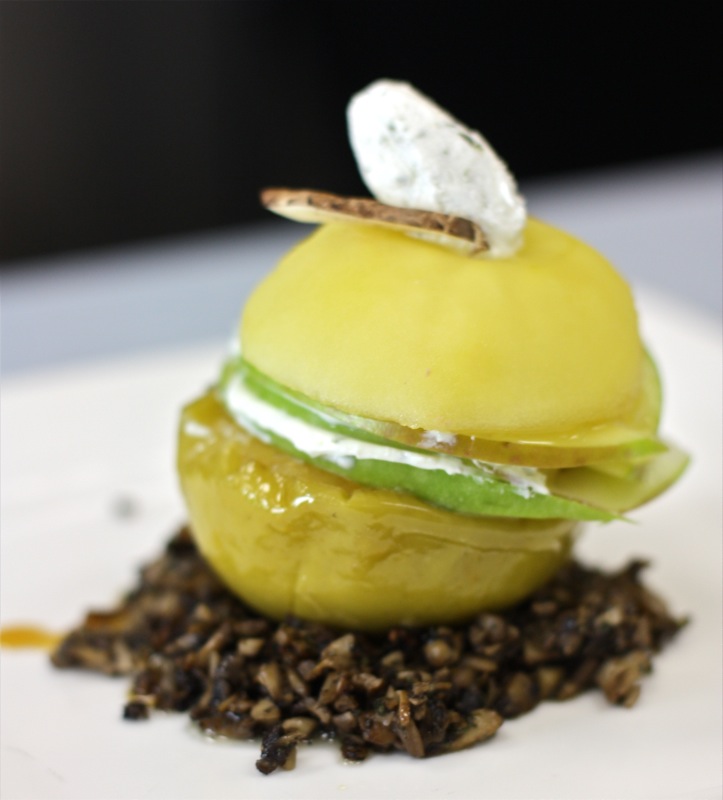 I truly enjoy the honor of judging food in these kinds of contests. I learn so much about the food and people's passions through these tastings.
NAIT is our revered culinary institute in Edmonton and the work being done here by the staff and students is truly second to none. On this very early Saturday morning in February of this year, seven young women and one man met to duke it out over the BC apple! BC Tree Fruits are celebrating 75 years since a group of BC fruit tree farmers came together in 1936 to provide the world's finest tree fruits. They are also working at drawing public attention to their fairly new technology, CA:Â long term controlled atmosphere storage where some kinds of apples are kept for up to eight months. This special type of storage regulates the oxygen content to extremely low levels in conjunction with temperatures just above freezing to prevent the fruit from ripening. That is why they declared February Apple Month. Sobey's donated all of the apples for this contest to celebrate this anniversary and focus on the development of this new technology.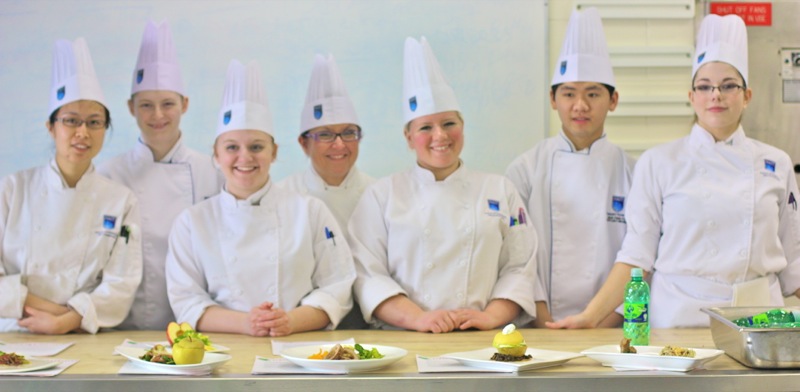 There is one face missing from these contestants, as she had to rush off to another duty immediately following the competition, but look at these upcoming chefs in their last year of NAIT Culinary School. One would think this photo was taken before the competition as each is so spotless and perky. But, you can see the beautiful apple plates lined in front of them. I was just sad that so few of us were there to celebrate these extraordinary talents and the ingenuity of what each did with the apple.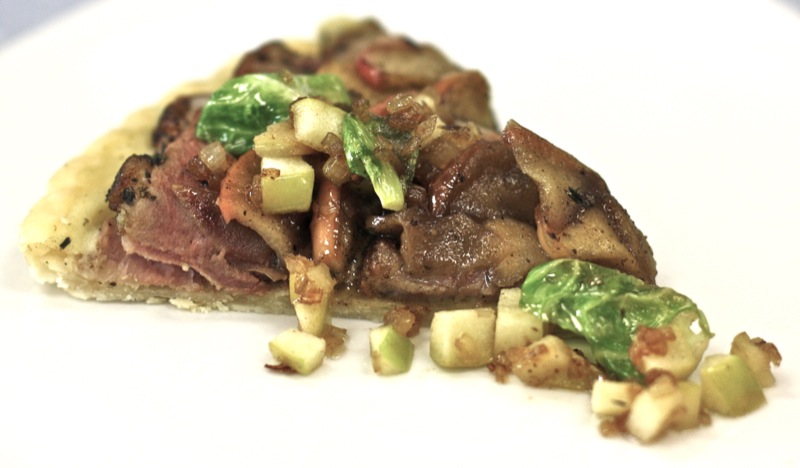 We were very surprised to find that most contestants did choose to develop a savory plate. Ashley Broad's duck breast and apple tart was spot on. The duck breast was cooked to perfection, the crust was flaky and tender and the combination of the cooked and raw apple provided both a sweet and tart note to this dish. The bitter leaves of the vivid brussel sprout was the perfect garnish. This was one dish that was most appealing when presented whole.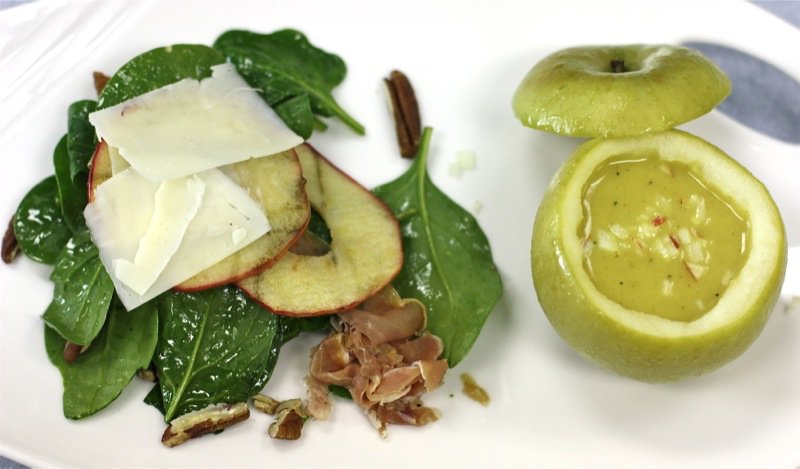 The apple curry soup in the apple vessel was an appreciated touch of whimsy! Curry can be overpowering, but this soup was seasoned and flavoured perfectly with a small carefully cubed set of crunchy appley bits added for an appealing mouth feel, a surprising crunch and a burst of tart pleasure. The salad was an equal partner to the strength of the soup on this plate. The dressing was sweet and tart. The leaves tender and fresh. The prosciutto added the salt and a crunch that coupled nicely with the nutty pecan. Cheese is a classic pairing with apple. This was no exception. This plate was singing some happy music to me as I lapped up the entire plate. Thank you, Pan Pan!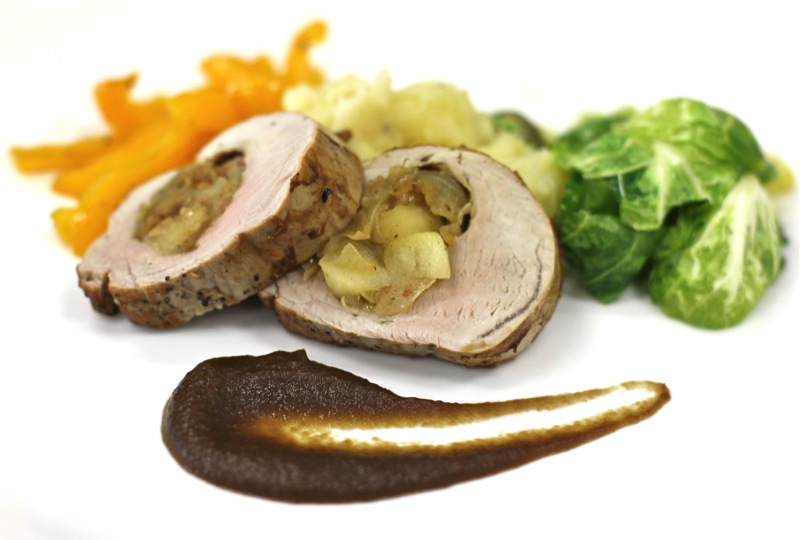 What a beautiful plate. I enjoy making stuffed meats as it is so much fun to dream up flavour combinations and surprise my guests with a plate like this. Christina Schell made us a meal! The meat was overcooked which was a shame as her concept was excellent: apple stuffed pork. The parsnip side was also infused with apples and the balsamic apple gastrique was a very tasty compliment to this plate and the only memorable taste on this plate.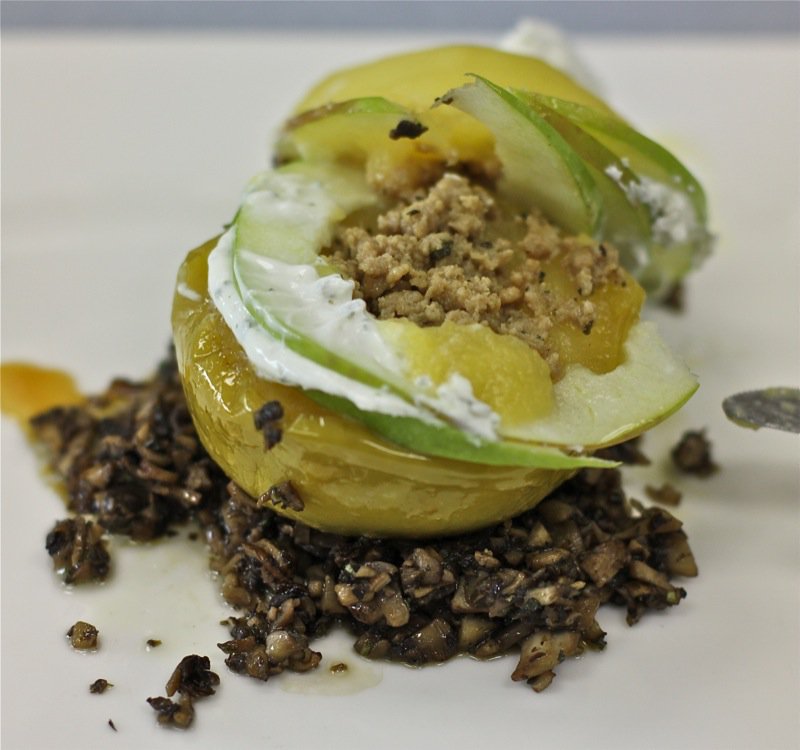 This was a novel concept. The base of earthy mushrooms represented the earth. The layers between the apple slices built a complexity of flavour within this dish that was exceptional. Without even getting to the stuffing, I was a fan. The chêvre, poached apple, earthy seasoned mushrooms, crispy sliced apple and then the pork stuffing created a crescendo of appeal that was addictive. Gorgeous to look at with a combination of unexpected flavours and textures that worked so well is what made this dish so successful. Kudos to Chloe Lomas!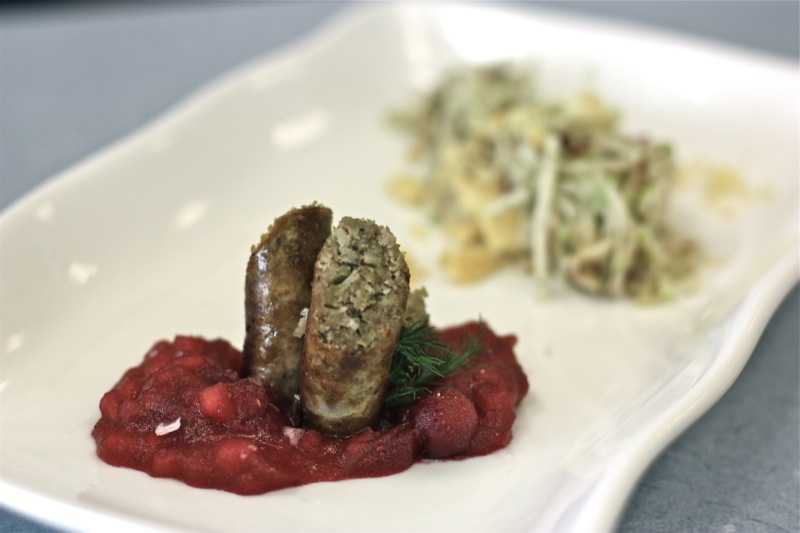 I was immediately taken by the idea of an apple sausage. When I saw Terry McNeil put this into the pan in the kitchen, I was very impressed. I love making sausage and the idea of adding apple to sausage for this competition was smart. However, there was so little fat added to this sausage, if any, that it was so dry and so overtaken by the sage that it was a complete disappointment. The apple cranberry compote under the sausage added a great colour contrast and was really delicious. Once the fat and flavours are balanced in this sausage, this would be a knock out! The apple slaw was stellar! We were all ooh-ing and ah-ing as we crunched in down. This is one of the best slaws I have ever eaten. It was absolutely unforgettable.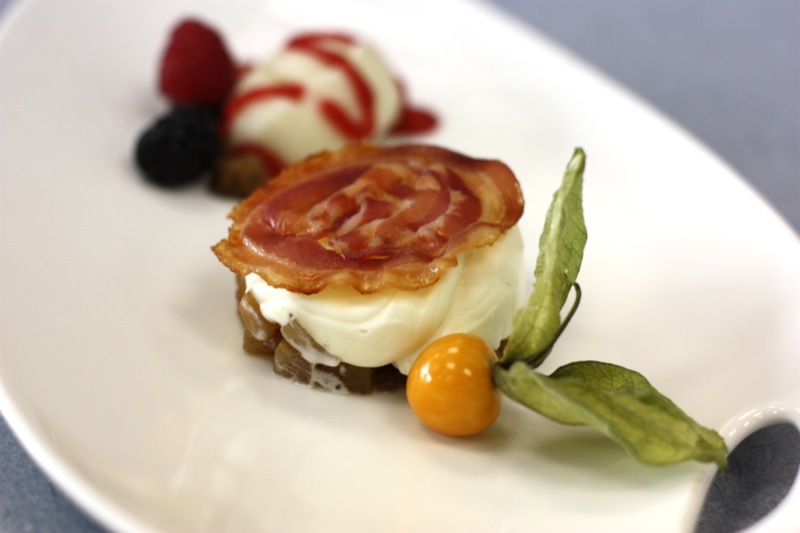 Art on a plate. Ren Ping Pui's dish does not remotely beckon one to memories of a home kitchen or the idea of comfort food at all. This was an exceptionally appealing plate that had adventure written all over it. I had no preconceived notion about what anything would taste like and dove into the creamy cheese under the pancetta crisp first. Velvet. Mascarpone was evident. Sitting on a bed of carefully diced apple compote, this creamy cheesecake was yummy. The compote was disappointing. I could not taste the Calvados that was to be prevalent in this dish as the cheese masked that note completely. The pancetta crisp had lost a bit of crunch, but was delicious. Just far too overpowering and salty for the delecate flavours in the cheese and the lost flavours within the compote. A light crumble may have been a better idea for the taste and texture of this plate, but I am not sure that would have worked as the velvet texture of the cheese did not need any interruption. I could tell how impressed the chefs were by the work of this student as they came in with his dish, but it didn't even make it to the top three. Gorgeous plate. Incredible texture. Very clean and tidy work station. Missed the flavour complexity and combinations completely.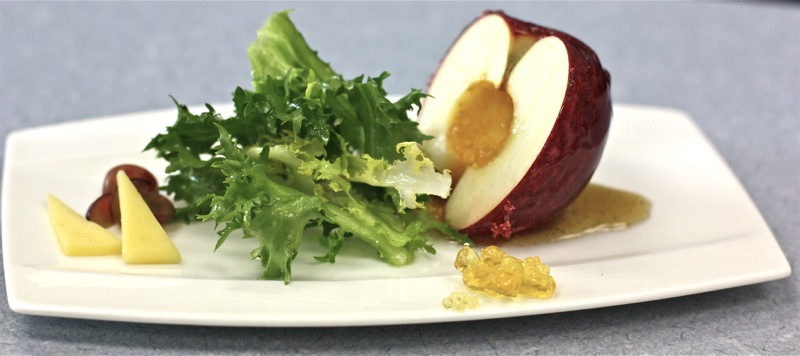 Talk about simplicity at its best. Krystle Duquette candied an apple, placed some well dressed bitter greens beside it with some amazing smoked apple cheddar cheese. And that was it. Woops. Not really. She also ventured into the realm of molecular gastronomy to create little bursts of apple in the glistening beads, or pearls, stuffing into the hollowed core of the fruit. Kudos to her for the attempt. The skin on them wasn't firm enough to provide that expected burst of flavour, but nonetheless, the dish was one of the top three. The combination of flavours and textures had each of us sit up straight and then start bouncing out of our chairs. YUM! Yum! Yummmy! I understand it is hard to imagine, but we have been tasting several plates up to now, and when there is a winning combination, you know.
Sadly, the apple rugelach photos I took do not do this plate justice. the pastry looks soggy, but was so buttery and flaky and crisp. Talk about flavour! This gal used bacon fat in her pastry dough and was very passionate about the process. I smiled and nodded thinking, "How good can it be?" Sadly, most of you will never know, but it was the best pastry dough I have ever tasted, and I have rendered my own lard and done pastry tastings, so I have considerable experience in this area! Granted, this is really a cookie dough and not a pastry dough, but this "cookie" had a very pastry-like pleasure in the mouth. The tart apple filling was balanced with the sweet glaze and the rich crust. This was a completely unexpected triumph. Who would have thought that the one sweet entry into this competition with a more traditional approach could present such an unexpected taste and texture experience? This was the winning dish: Paulina Klassen's rugelash!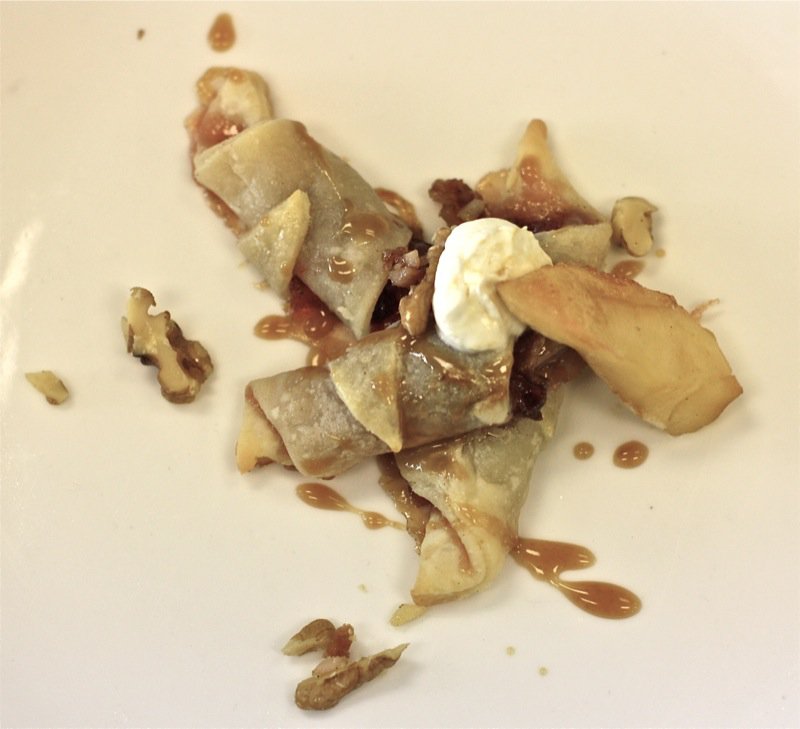 Sobey's awarded a $500.00 gift card to the winner which is a huge gift for anyone in a cooking contest, but for a student: gold.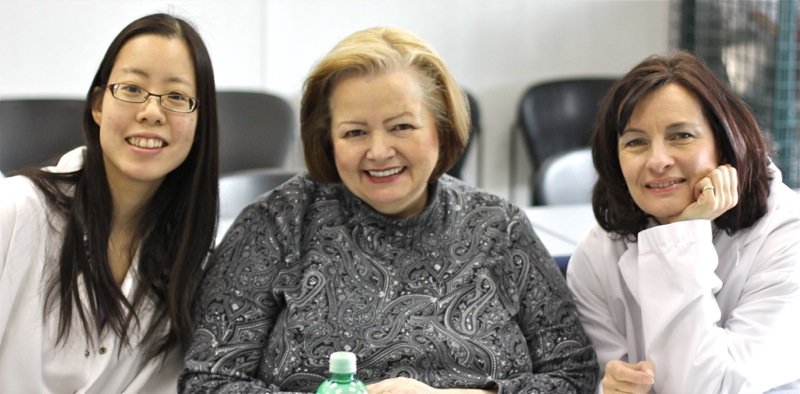 Sharon Yeo of Only Here for the Food, myself, and Liane Faulder from The Edmonton Journal with her own blog Eat My Words were the judges.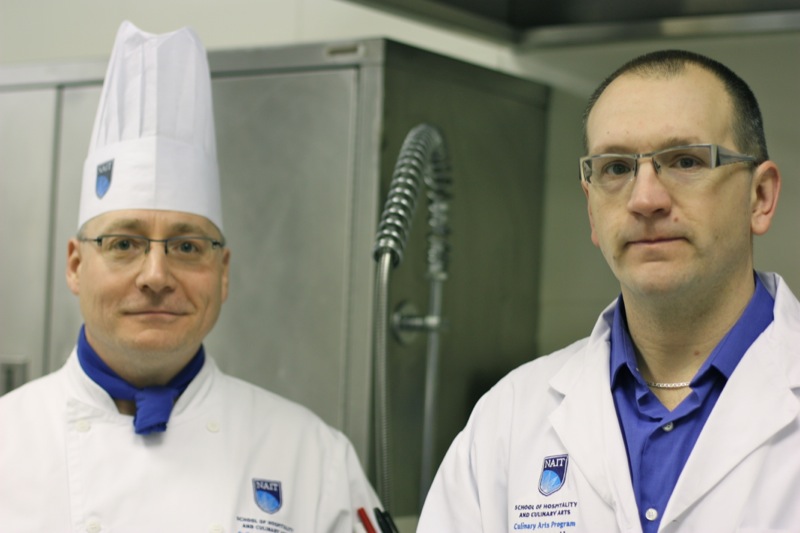 There were three instructors overseeing the works of their students and they were really surprised at the outcome of our judging. I do find that usually the panel is like minded, but not always. This time, though our marks varied, we all had the same winners in the first, second, and third places. We would taste and mark silently, then discuss and share marks. Inevitably, we agreed on almost all fronts. The chefs were really surprised by our picks, but they didn't taste the food, either.
Can you see that thoughtful expression after just tasting her food?
This was one of the platings where the presentation was more beautiful as a whole than as a slice. Isn't it gorgeous?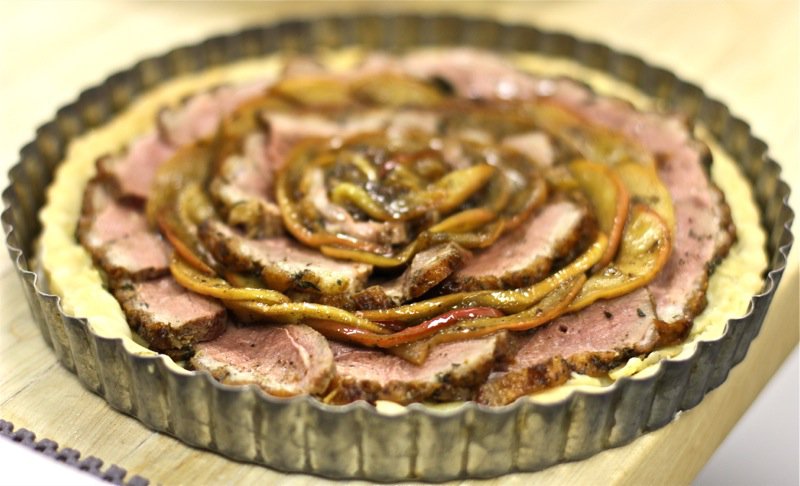 The unforgettable slaw.
Loved to see the notes and planning that went into the process! Check out Sharon's post about this event here.
What a lovely morning spent with some of Edmonton's future culinary stars! I will be watching their progress! This was one of those rare competitions where almost everyone offered an outstanding plate of food.