We deserve a reprieve!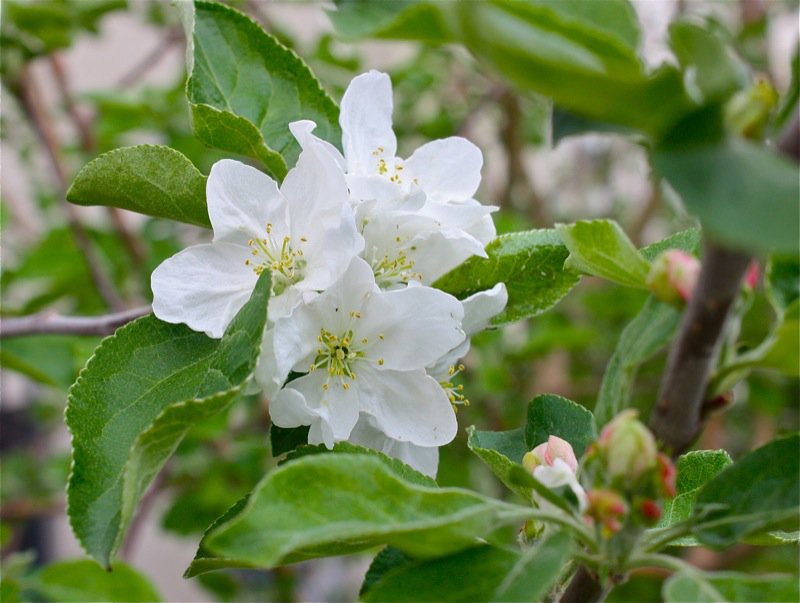 City Market is opening officially downtown on 104th Street tomorrow: It's Summer in the City!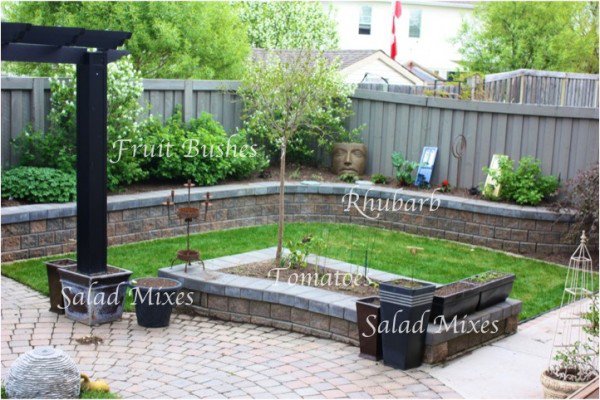 The garden was off to such a slow start due to the almost year long winter we all endured; however, I am stunned at how eager the my tenderlings are to burst into fullness! The minute the sun warms the Earth, little green bobbins are rearing their heads as if there was a game of underground Dominos taking place.
I have planted some tomatoes, but will be purchasing others from Inspired Market Gardens, tomorrow. My little seeded plants did not grow strong. Some didn't survive, but I did try. And I will again.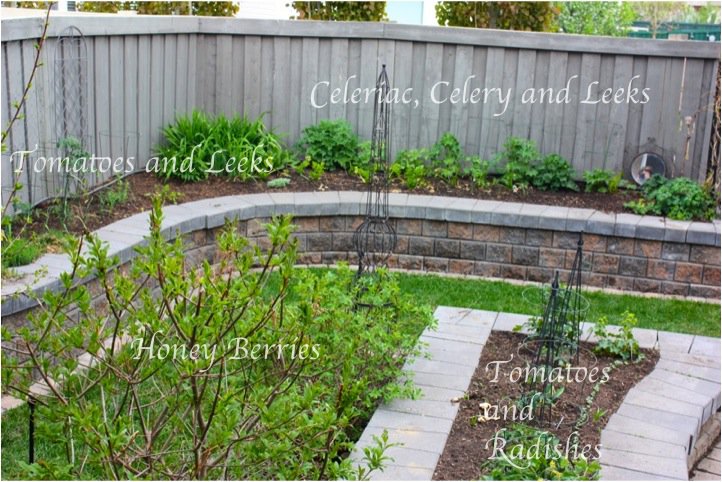 I can see how much water celery and celeriac need: daily watering. Wet, wet soil. Apparently, according to Kevin, they are actually marsh plants. Now, that makes sense. We transplanted the honey berries from the front to the back this year, and they are thriving. I am so happy about that. I haven't harvested them yet as they were too hard to get at before, so I am eager to see what I will do with them. They are not so flavourful, but I love the elongated oval shape and they are apparently very nutritious.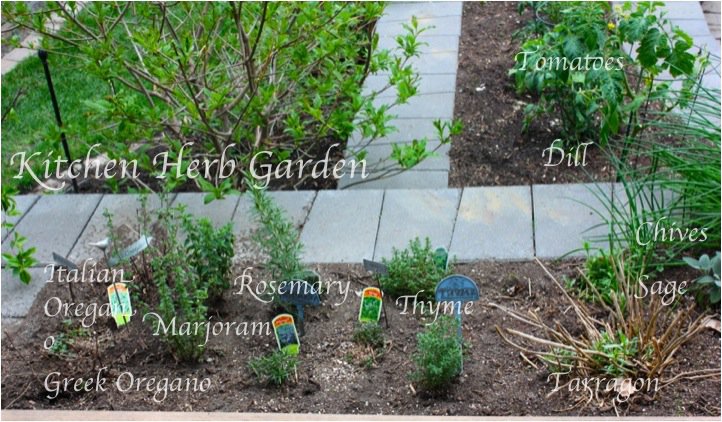 I love my kitchen garden. It is literally two steps out my back door. How I wish our summers were longer, but at least I thoroughly enjoy the time we have! Do you see what is hiding in the middle of my chives?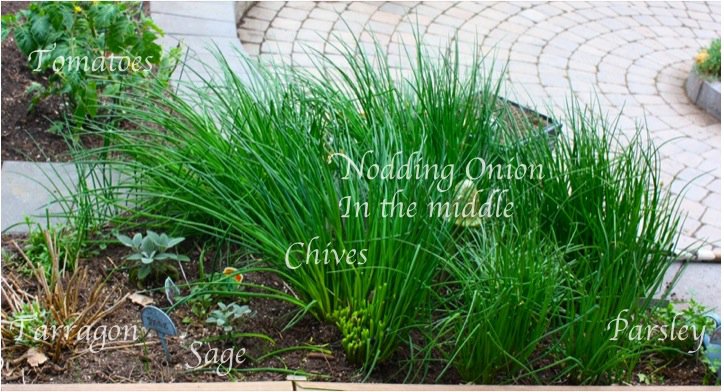 Nodding Onion! I am so thrilled! Thank you, Kevin! The first time I tasted it was at Kevin's house last year, and it is really delicious. Well, a different depth of flavour, or kind of allium flavour: can't have enough of those. I did plant seeds, too, but apparently they can take two to three years to germinate, so I am very thankful for my little protected clump!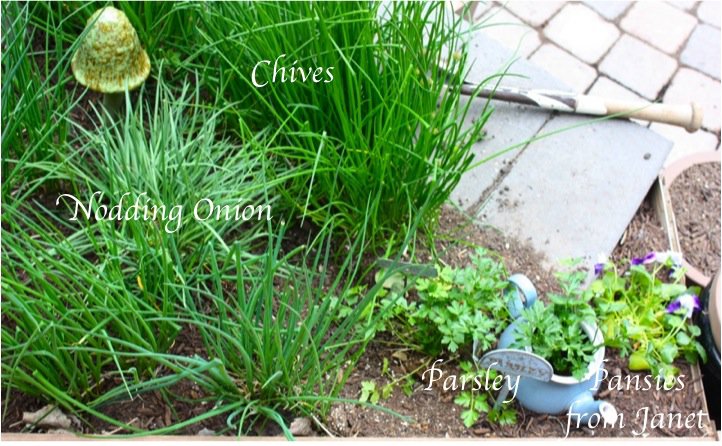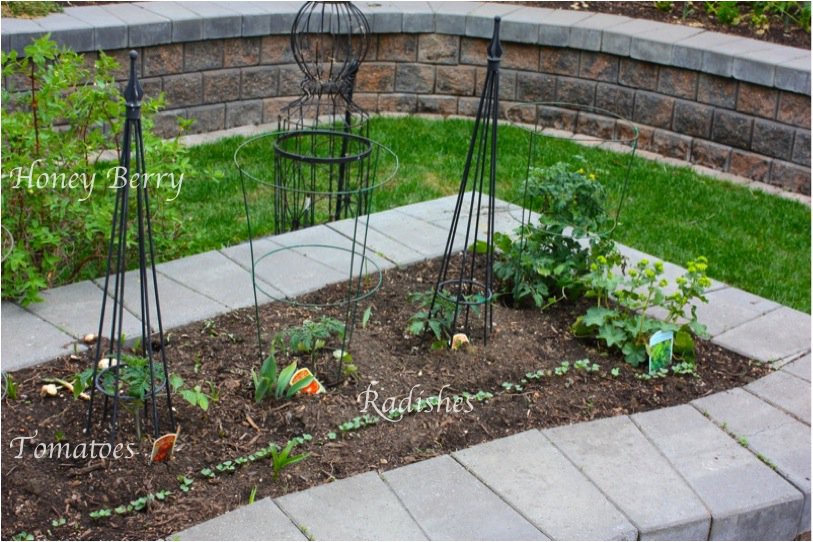 See the little row of French Breakfast Radishes standing at attention? Yum, yum, soon!
I am also crazy over tomatoes. I can never have enough or grow enough. When I get too many, I oven roast them with olive oil, garlic and maldon salt, then freeze them: double yum! I still have not enough experience growing the varieties I have to say which are my favourites, yet, but should be able to by the end of this summer.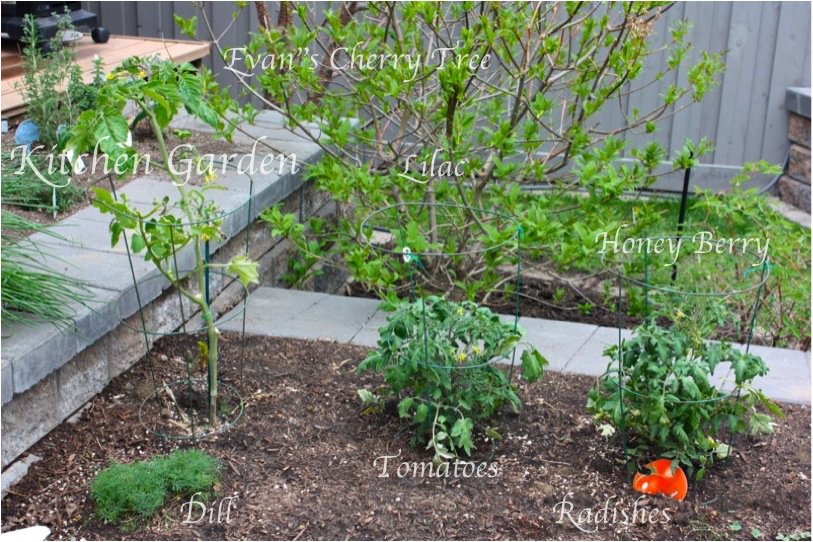 I love the fern leaf dill, above, and have planted the regular dill there, too. I still need to plant chervil and a couple of other herbs. If you look closely below, you will see the leeks (in between the bigger bedding leeks) that I seeded. I hope they thrive.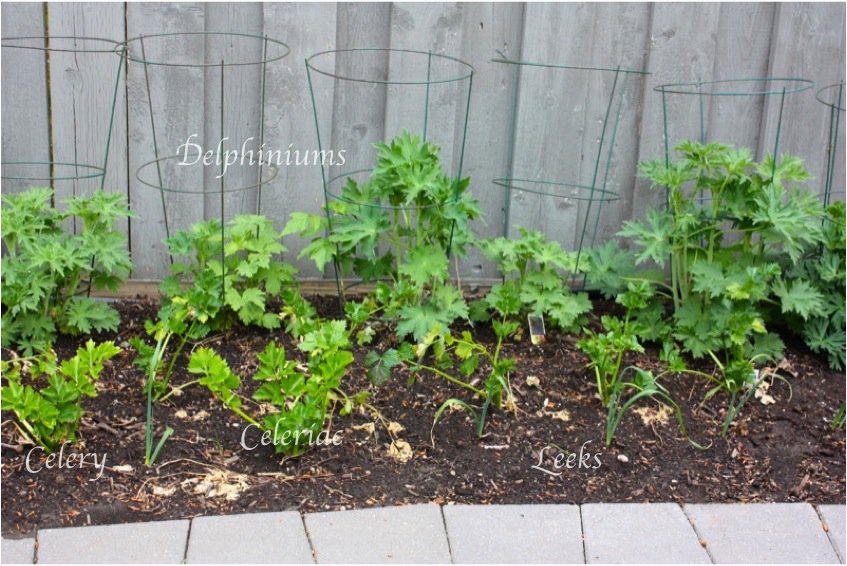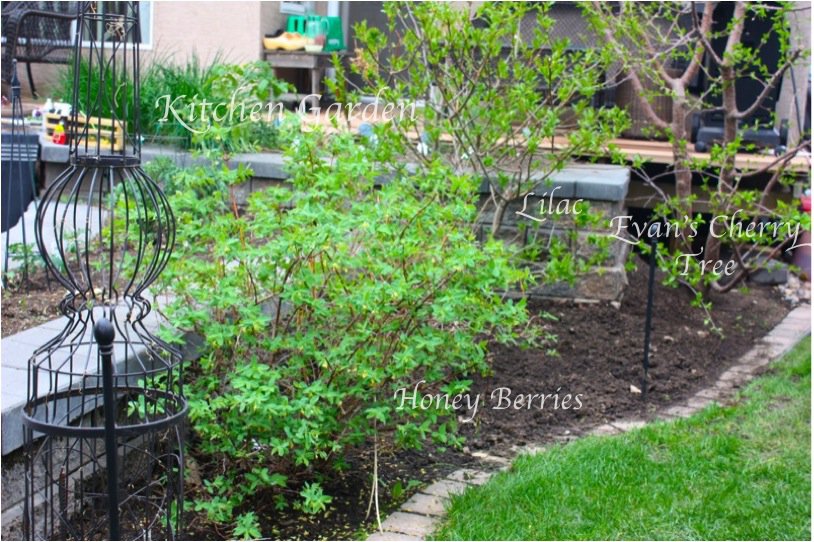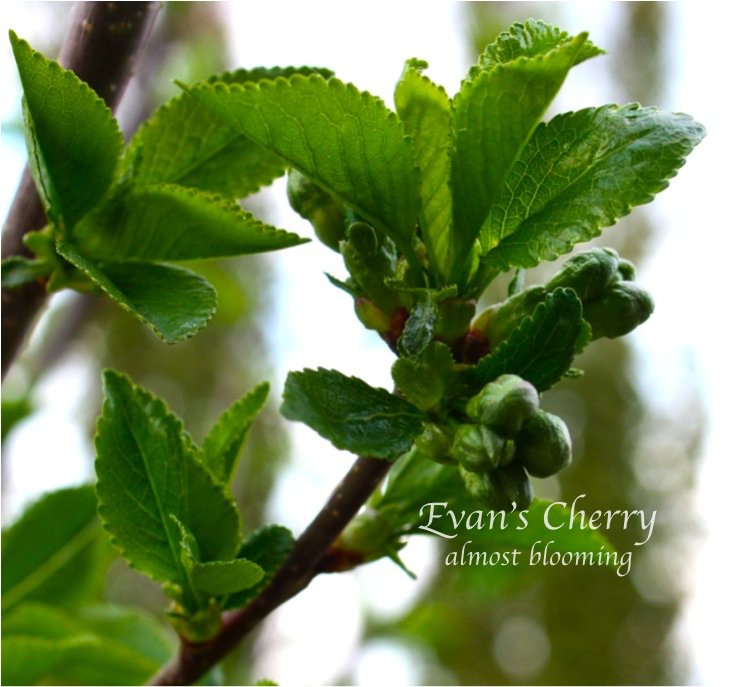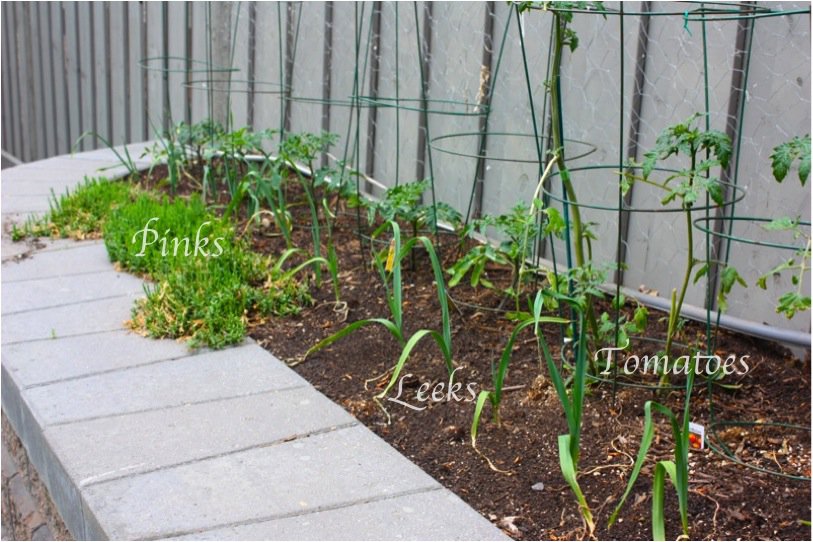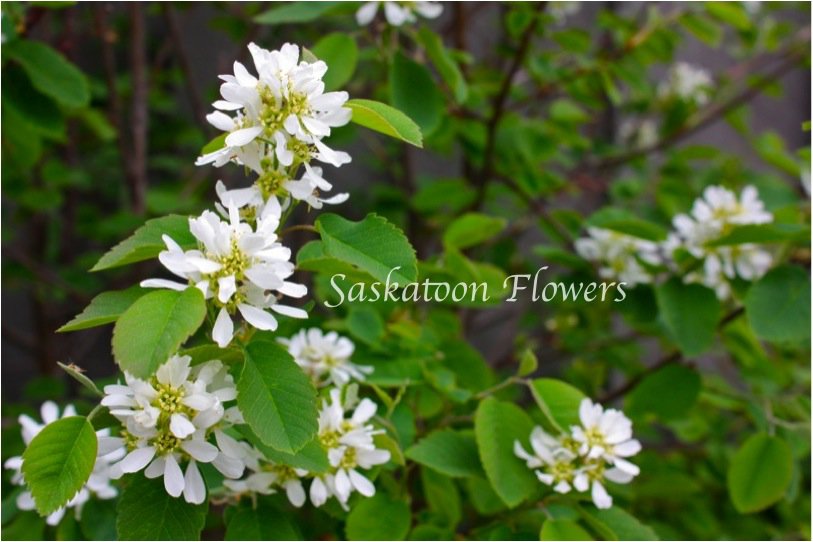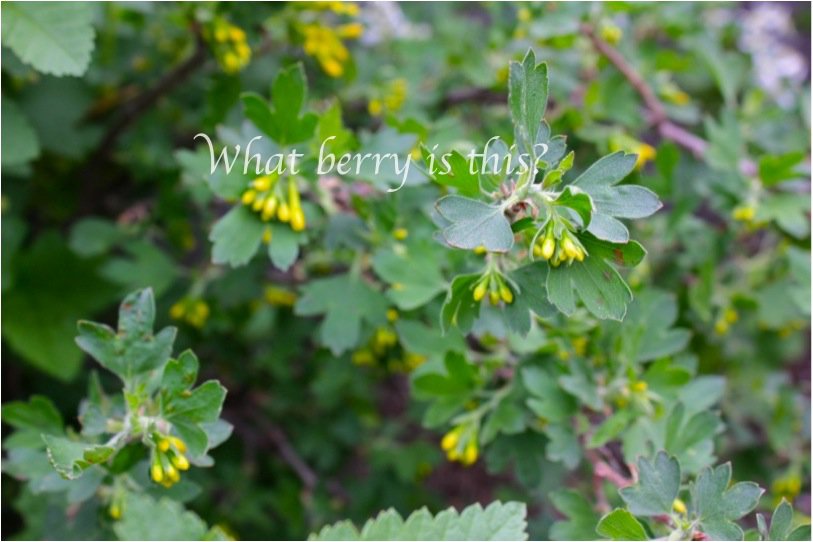 It was a currant bush when I bought it (supposedly) and has currant leaves, but this is the first year it has flowered and I haven't been home during the summer for years, so I am curious as it doesn't look like my currant bush flowers. Anyone know?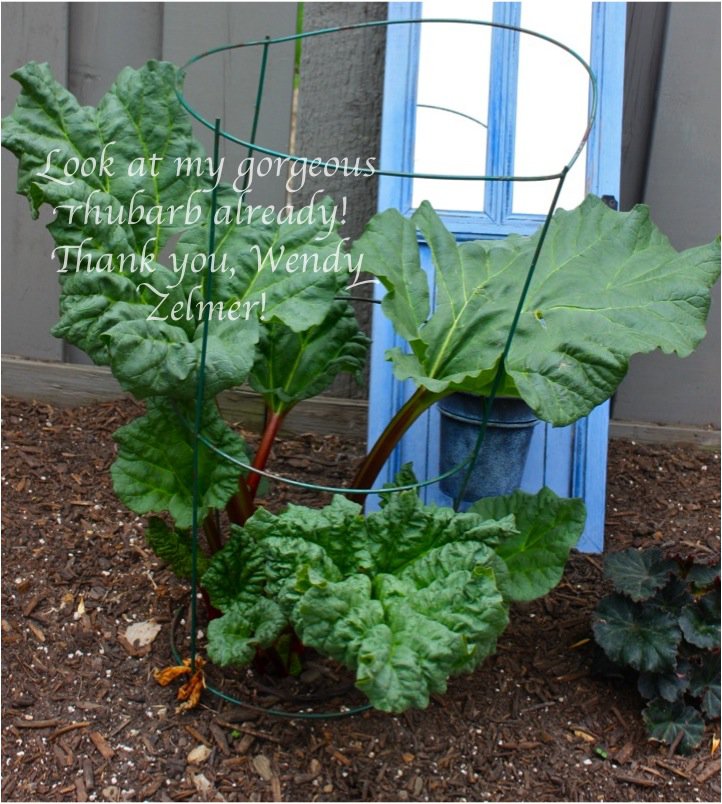 Last year Wendy gave me a little starter in the fall and I am thrilled to see the beautiful rhubarb I will have. It won't be enough, of course, but I am still thrilled. Thank you, Wendy.
I also love herbs and leaves in salads and cannot get enough variety. Usually I plant these two or three times throughout the summer (but that was so long ago, as this is my first summer home in years)! I am happy we are travelling in the fall this year so that I can really enjoy the garden. I should add my parents are also happy as they are very tired of watering it for us!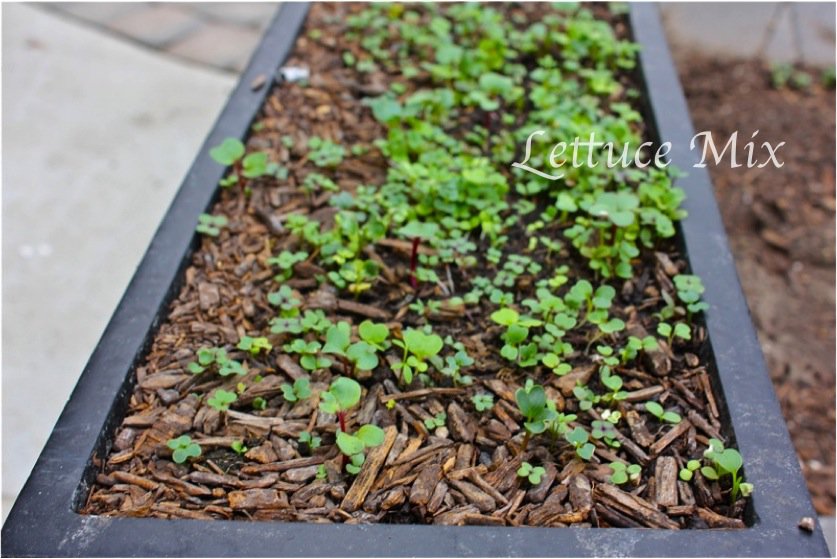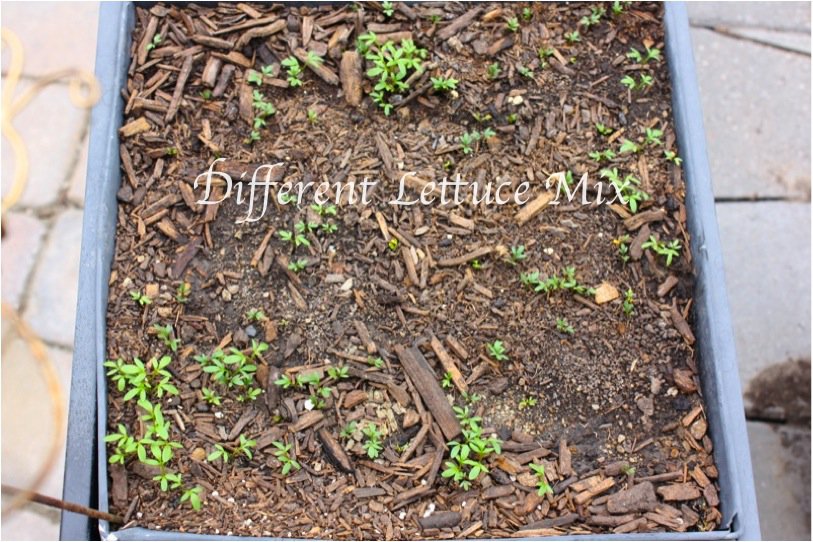 I planted Swiss Chard in clusters throughout the garden as my parents love it: the rainbow chard, so it will look pur-dy, too!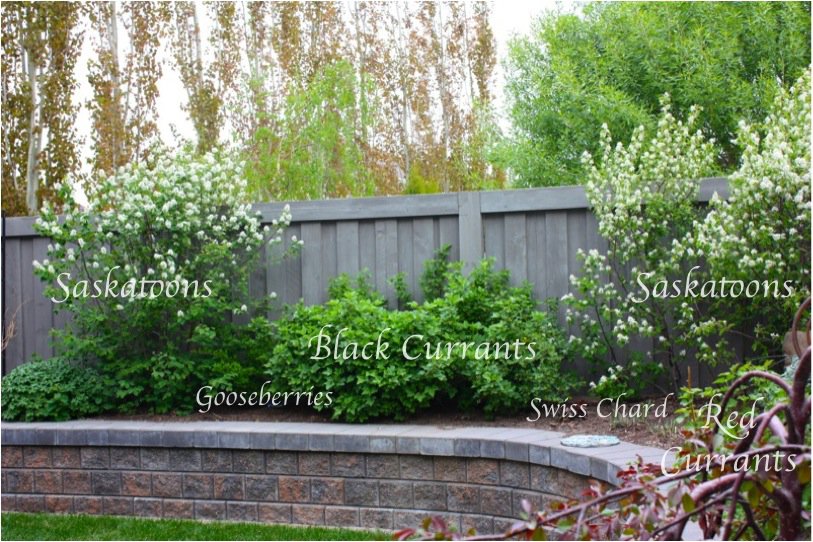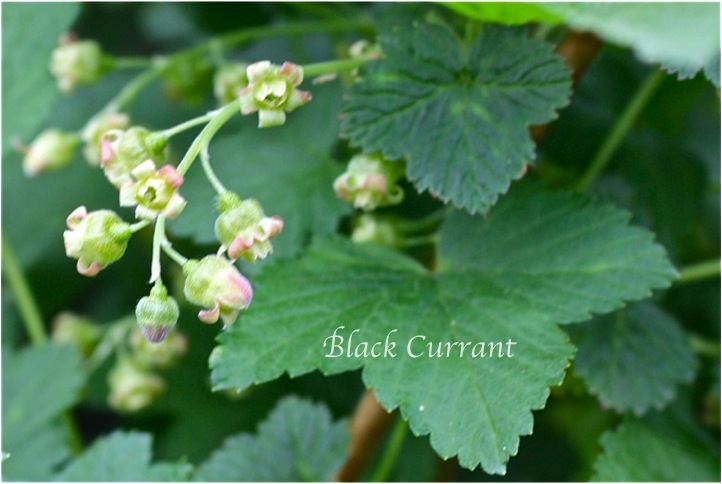 Oh, how I adore black currants. I love sassis sorbet and the stringent fragrant leaves has me in a tizzy whenever I walk by my bushes.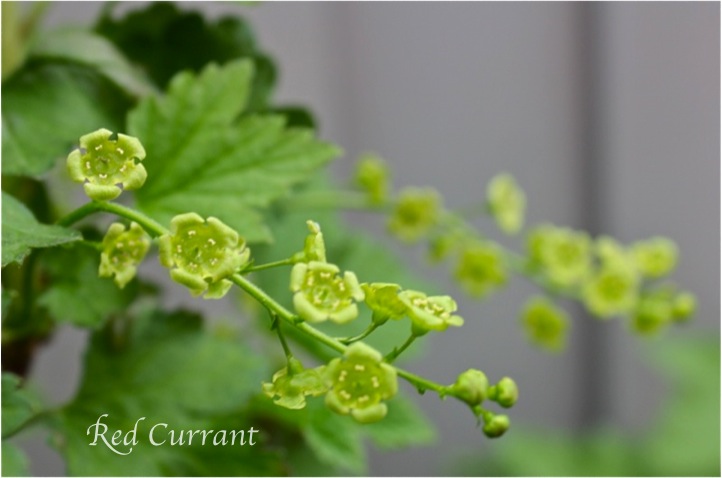 I have a hard time cultivating these. They tend to get worms or big brown spots all over the leaves. I am working at it. Advice is welcome! These fruity jewels are a gift and I cherish them. My grandmother grew all three: black, red and white. I have not seen any white currant plants since I was a child in her garden.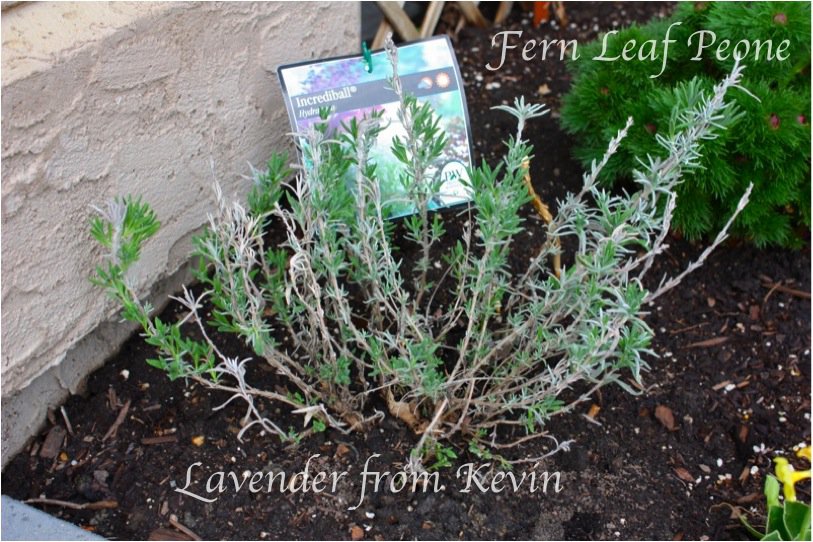 This was a big lesson: lavender will come back if you don't cut it down to nothing! I got this lovely clump from Kevin, but I have never left it in the garden long enough after the snow melted to see if the needles would grow on the stems!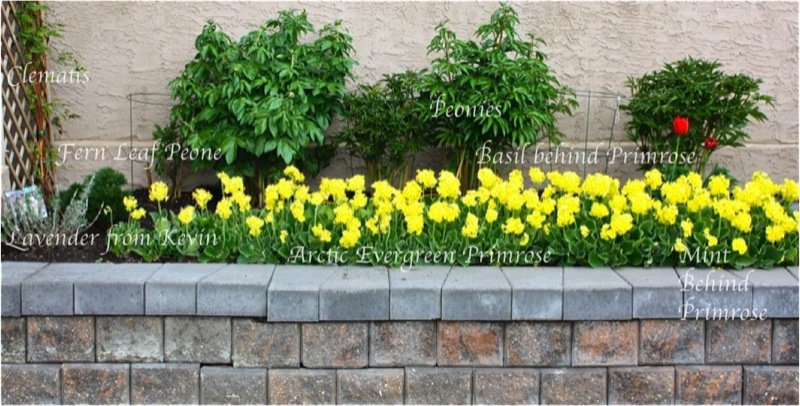 Love the flowers in the front. I got most of them helping other people do their spring cleaning in their yards. I took their "throw-aways" as my reward… and look at this now! The evergreen arctic primrose is prolific and usually blooms in March and again in September. Most people come up close as it is almost blooming like this when the snow has barely melted. They cannot believe it is real. Two of the peonies are over 100 years old. They are from my grandmother's garden. I cherish them. I have a lot of basil planted behind the primrose… and mint.

The winter was hard on my raspberries this year, but they are finally rebelling and rearing their heads.
Please come and get this compost! We ordered three yards and barely used one. If you have a truck, I will (almost) pay you to take it away! I said almost… but you are welcome to have it free! Great stuff.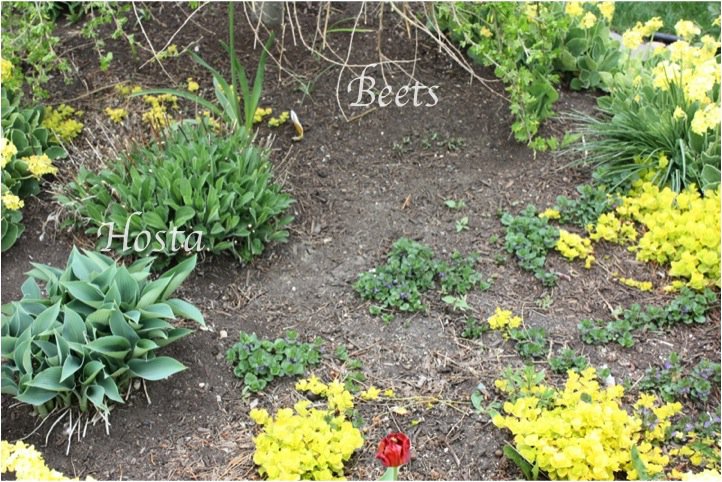 I have planted beets and will be planting zucchini in the front bed, as well Can you see the beets?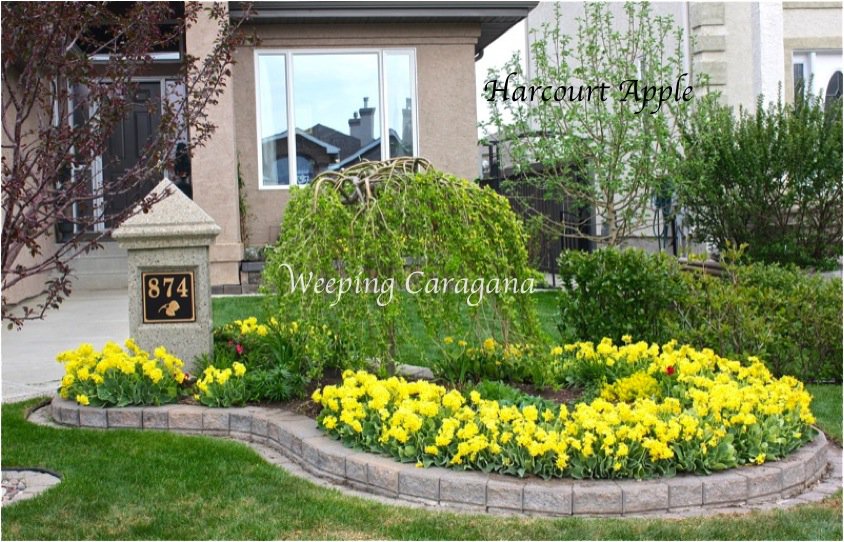 I have never liked yellow flowers, but they are pretty….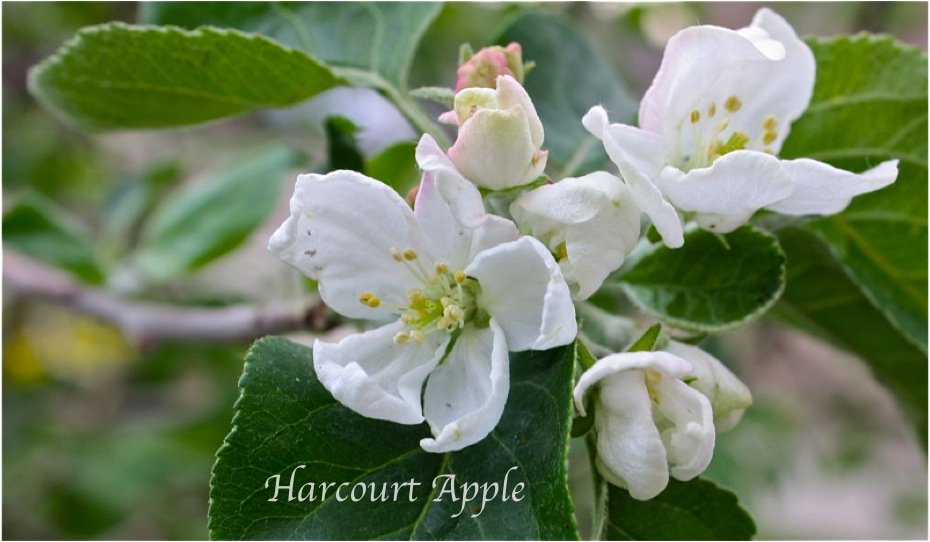 I can't wait to go to the market tomorrow to buy what I need to finish the garden goodies.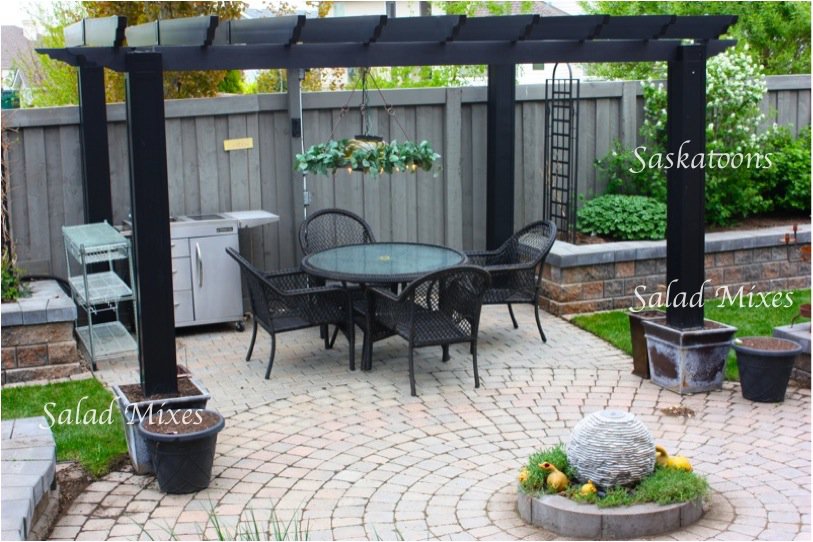 And let's not forget my indoor Meyer Lemon tree! Look! Exciting, eh?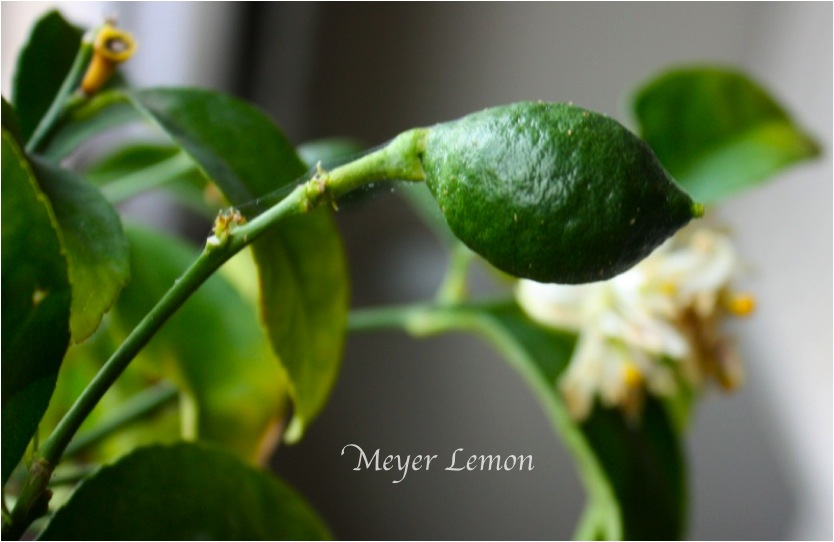 So, here's to another gardening season. I just cannot wait!