A Taste Tripping Class taught be moi!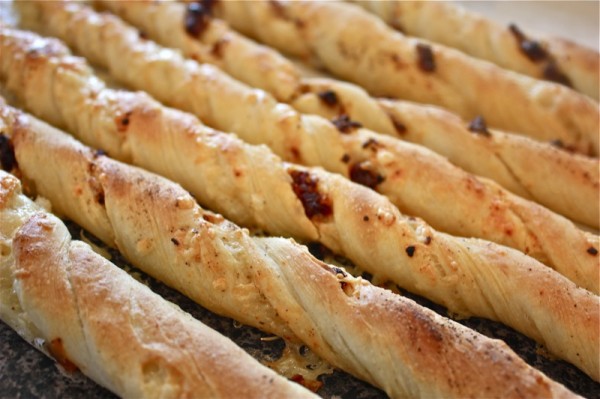 As this was bread making 101, my main goal was to teach the gals how to work the dough and gain confidence in their ability to make their own homemade bread. We used the same recipe over and over to make different breads and then made an olive oil bread, too.
My basic bread recipe is always the same. It is a wet dough that is from Richard Bertinet's class that I took in Bath, and from his book Dough. Once all ingredients are mixed together, it is placed on the counter and worked in a very specific manner, using a small hand spatula, until the dough is as soft and supple as a newborn baby's bottom. At this stage, no one believes that will ever happen, even though I showed them only moments before. However, once coached through the process, the smiles start beaming and the confidence starts growing. Gotta love it. I do!
The beauty and the magic, to me, of working the dough the French way is that it is this sticky. As you pull it back, rocking on your feet to keep the motion flowing, stretching it and then folding it back over onto itself to incorporate air into it, it eventually picks up all of the sticky bits on the counter, on your hand, and becomes a beautiful soft, mellow ball of love. This was the practice round using only 500g of flour. Next, each gal did 1k of flour. Richard had us do 3k. We went back and did 500g after working with the 1k, and the gals all thought the 1k was the perfect workable amount.
There was no doubt about it. Each gal definitely knew how to work the dough when the day was done. Am I right gals? Please chime in! I know some have e-mailed me and made bread since, but I would love them to once again let us know here. However, did I ever mismanage this day. Whoo-hoo! Thirty years of teaching, and I should definitely know how to plan and time a lesson. Well, I do know how. But, I made a grave error. When I calculated baking time, I calculated the time as if only one loaf or batch of bread was in the oven. Of course, baking time increases when the ovens are both full, and even with two ovens we were way over our head on this one. OK. I was. I added on two items because of this miscalculation. The class was to end at 1 and the last batch was out of the oven at 4:30. Or was it 5? Let's just say, that this was one heck of a group of gals and they were so much fun that I was truly blessed in the midst of this "mistake".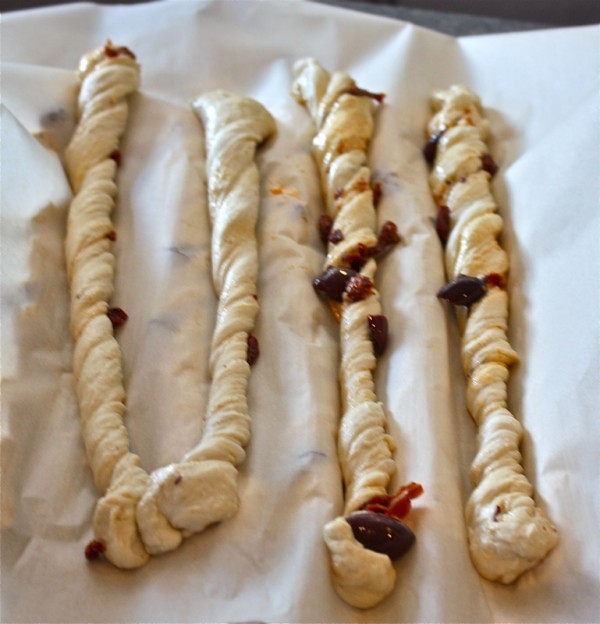 Each gal made a batch of fogasse (first pic at the top under the gals working the dough), a batch of chewy delicious sundried tomato and kalamata olive breadsticks with Sylvan Star Grizzly cheese, a batch of gooey caramelized buttery cinnamon buns, an epi, and an olive oil flat bread. Maybe a boule, too. I think so. Did you?
All but Su, that is. I have got to know my Star Student better through the three classes of mine she has attended. She is not only the best cheerleader one could ever dream of, she brings all of her lovely friends to my classes (such a gift) and then cleans up, too! I have to "shoo" her out of my kitchen. On this day, somehow, she "snuck" out of baking her dough. She saw the "oven situation" and quietly wrapped her little prizes up and tucked them away for her freezer. She is too selfless.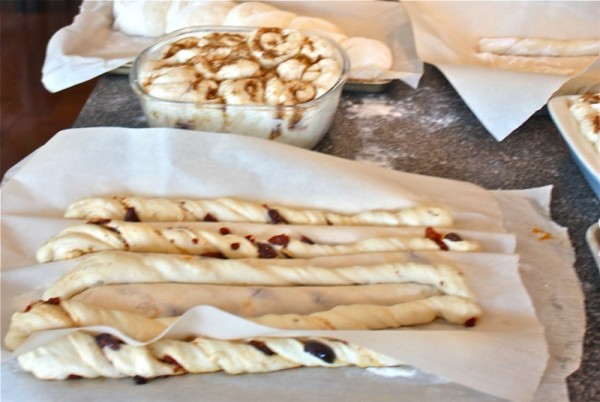 Now, as if the dough you see here wasn't overwhelming enough, the entire dining room table was bubbling over with it, too.
And, guess what happened after the cinnamon buns were baked, and while they baked? Think about it for a minute. You got it!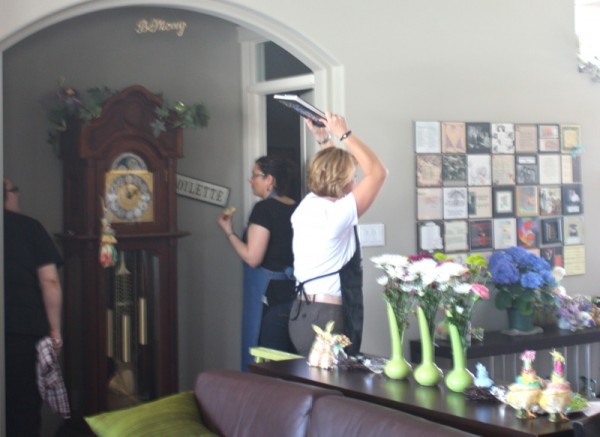 Yup. The house is hazy with smoke. The smoke detectors were beeping their brains out and I completely lost mine. The gals grabbed books, and bread paddles, and cookie sheets and fanned the air madly. I just stood there. Cathy asked, "Do you have a fan downstairs or somewhere?" I just looked at her blankly. Everyone started laughing and I looked for a chair to collapse in. Where did these people come from? How can they be so incredibly wonderful? Well, they were starving.
It dawned on me after they left that though I served breakfast, I held them hostage the remainder of the day with little else to eat. No wonder they tore their flatbread like primordial cave women and devoured it with relish!
I had promised Cathy that I would make a red fife bread for the class. I used the same recipe the gals used for their basic white bread with the 100% red fife flour purchased from The Italian Centre and I was thinking "this must be really good bread" as the gals kept coming back for slices with the Sylvan Star cultured butter and some homemade jams. But later, though it was good bread, I realized it was mainly because they were starving!
Nice crumb, eh?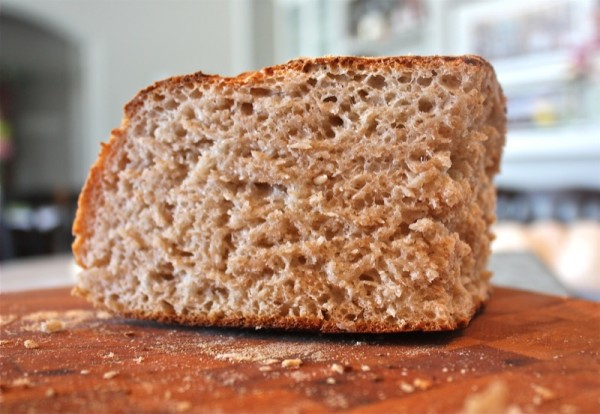 Once everything was baked and packed to take home, for some reason, there was no further lingering (hahaha) and I neglected, completely, to take a group photo.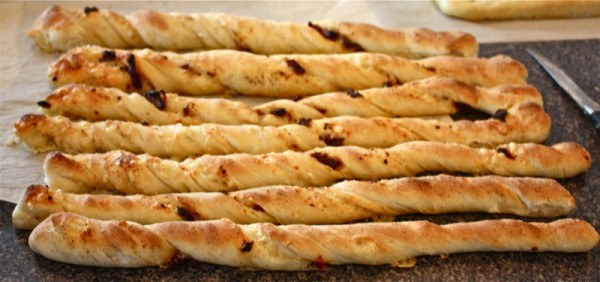 This is a group of gals I will never forget. I owe a lot to them, and they taught me something I thought I already knew… "double check everything when preparing for a class!" and how to have a ball in the midst of a long afternoon in a smoky kitchen.
In the end, with their cars laden with bread, they were incredible sports. "Viva la valiant women!" I look forward to more time with each of you, again!