Holy Slider Fest, did Edmonton's top restros cook up a whole lotta fun on a bun!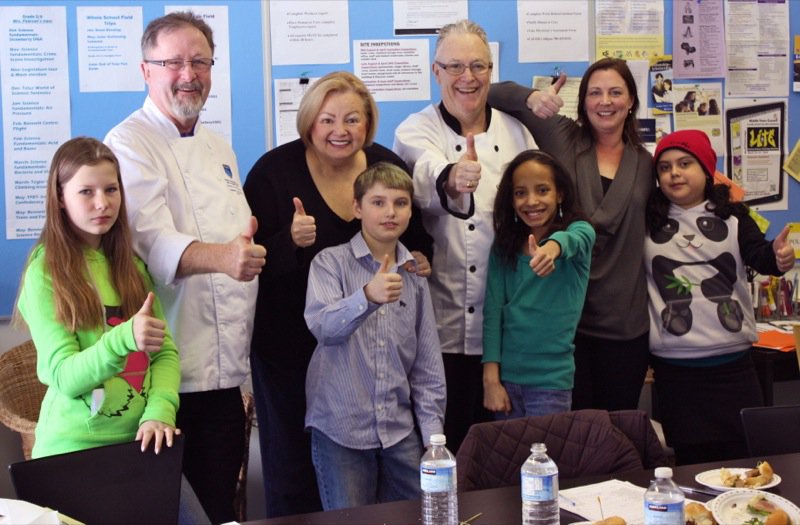 We, the judges, munched our way through beefy bundles of mini-burger madness. Pork and salmon joined the party with mixin's and fixin's that tickled the tongue and had each of us in the judging room kickin' up our heals and squeelin' "yee-haw" every time we bit into another juicy slider saddled in a yeasty realm of sorts. Feast on each of the eight sliders we also met with our eyes first. We sniffed, nibbled, chomped and crunched lip smackin' and finger lickin' through the entire line-up. Napkin after napkin. Note upon note. Yums and hummms accompanied a chorus of guttural utterances at the onset of each debut. A glance around the room, yet our palates were not united. Articulating one's evaluation of every concoction honoured the passion worked into each.
Judging contests and Tastings are my favourite food experiences. I learn so much and was definitely honoured to be chosen to participate again in this fundraiser for Mount Royal School. I was particularly delighted to be tasting with the Student Judges this year. They know their palates. They understand exactly what they like, what they don't and why. They were a force to be reckoned with, there is no doubt about that!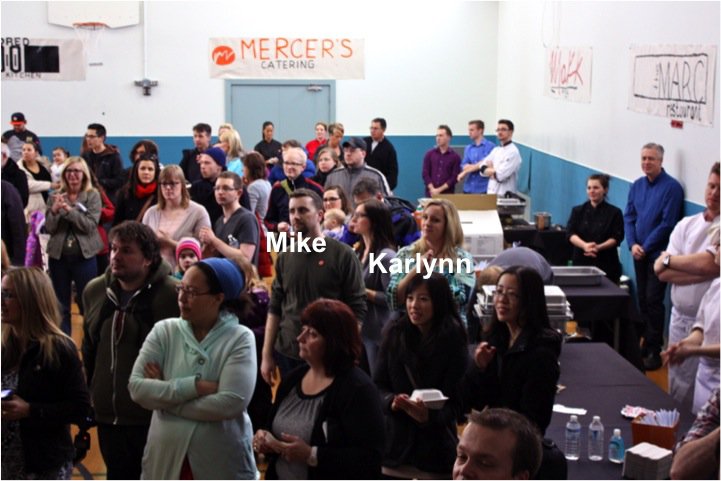 Karlynn Johnson from The Kitchen Magpie has led this fundraiser for her children's school for the second year. She would be the first to say she did not do this on her own, but she did lead her team to another unbelievable victory. Last year, this event raised $14 000 for the school. This year, I just told her to relax. Whatever you do will be incredible, but it will be impossible to top that. Apparently not! This year, the team raised $16 000 for the students at Mount Royal School. I have been an educator with Edmonton Public for thirty years, and I can promise you that this kind of synergy is rare and that, yes, one person can make a difference.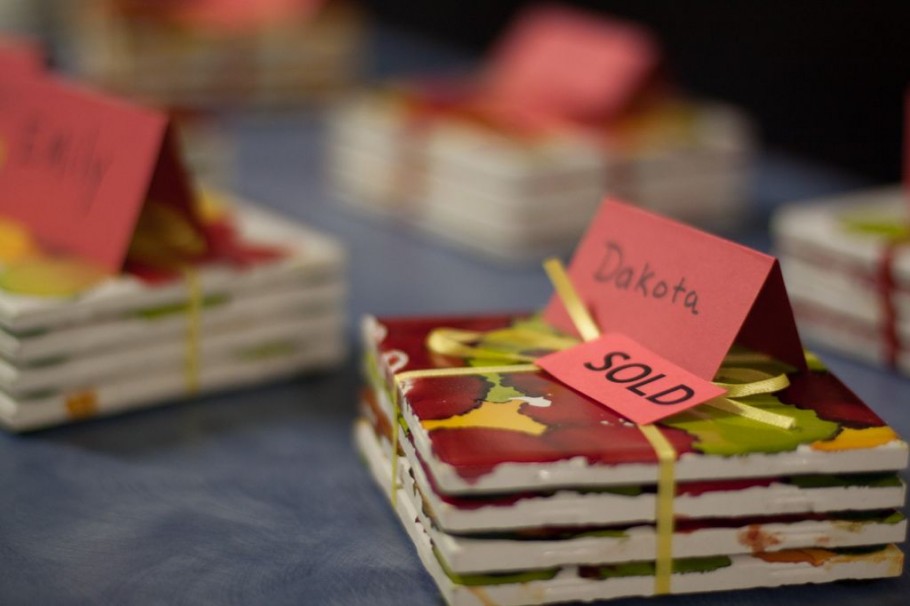 Every student and parent in this school bought into this event. Each grade created a culinary art piece that was sold during the day. Teachers donated their own art work to sell as did various community members. A silent auction, a live auction, the art sale, the sliders and other activities all contributed to this triumph. Talk about empowering students. Shall we? This lesson will be learned for life. A community can come together and the hard work can be fun as relationships develop working toward a common goal. I love school.
Breakfast television co-host Ryan Jespersen was the emcee and also the Live Auctioneer!
Back to the sliders. Eight Edmonton restaurants that lined the gymnasium wall had generously agreed to participate in The Culinary Arts Cook Off 2013. Each one was serious about their slider. I mean serious. Each slider was built with the most careful consideration: plating, texture, taste, an element of surprise… or an element of pure indulgence.
Chef Alex Sneazewell is definitely an undiscovered star in our Edmonton food scene. His slider tied number one on my score sheet. He created a classic beef slider with a bun that could hold its own against the pressure of the hand sandwich. That is a lot of pressure, and you will discover that others didn't fare so well. He worked some ground smoky bacon into the beef and layered it on top of a cheesy potato poutine-like support. The sparkle of acid in the cold tomato with the sumptuous meat and potato dressed with a crisp crunchy salad said it all. This was a tight bright little package that spoke to every sense: a colourful little ditty all dressed for the party wafting the char-grilled meaty aroma declaring "spring is in the air". Each of us was salivating before the first bite.
Last year, Patrick Saurette, owner of The Marc, created "The Marc and Cheese" which won The People's Choice award and was absolutely the quintessential Mac 'n Cheese of the day. This year, he titled his concoction "The Big Marc", again wooing the crowd with his dynamic approach to classic food. This little slider was Peter Pecker's Pick for favourite puckery passion on a bun! The intensity of the bold salty sauerkraut was tempered by the sweet 'n spicy sauce bathing the moist beefy burger. The dill cornichon waved a little wand as a feisty crunch unlocked an unexpected magic: the flavour explosion worked. No shy attempt to slip in a slider. This fella slid into first base with a bang. I loved it. However, inconsistency in plating was its demise. When the samples came to judges table, some had a lot of kraut, some had hardly any; some were drenched in sauce… you get the idea.
The young lads from The Makk were out of the box when it came to flavour profiling their slider! Holy moly, they made pulled pork with guacamole! The combination of ingredients made for a delicious bite. Authentic Mexican food is a love of mine and they definitely created a deeply complex unctuous bite of coo-ka-ra-cha and ooo-la-la! However, the slider was mushy, gushy, swishy, mishy… the bun rendered itself lifeless and was barely able to contain the drippings from the various concoctions layered into it. There was no crunch. If it was "pick your favourite dip", this would have been it. Look at their saucy little presentation.
The Mercer gals didn't dress up this year, but wore the cheeriest smiles and oozed enthusiasm! Passionate about their off the charts salmon slider with their homemade cornmeal muffin, they had me sniffing and pawing the ground next to their table long before tasting time. Take a look at this presentation! I would say it goes way past cute and is clearly in the realm of adorable. One almost wants to play with it, it is so darn cute. Cajun spice took over the show and the delicate salmon flavour and texture was lost somewhere in the middle of the muddle. Maybe too much of a good thing mixed it all up? The cornbread was a great idea, but it crumbled immediately upon impact, as did the little slider, so getting any of this into the mouth took more than a little acrobatic prowess. It was a tasty mash of crumbly bits, sadly. Loved the idea, though.
Chef Andrew Cowan from Century Hospitality Groups Bar 100 brought out his SousVide expertise. You know when you hear "keep it simple"? Chef Andrew is the master of deception. His slider was as seemingly simple as it gets… beef and pork belly with arugula and a hit of truffled mayo on a bun. But, the texture of his meat due to the cooking technique was indescribable. And it wasn't just about the texture. The flavour was unforgettable. The smokey, unctuous sticky fat candy-like pork over the lean clean rare and bare bold beefy slabs had my lips gnarled in a "back off" snarl ready to pounce on any in my vicinity that might threaten my find. He was the second number one pick on my dance card, tied with Manor Bistro. I am not a meat eater, but do love meat. This was a carnivore's carnival. Chef Cowan's generous portions of gorgeous Alberta prairie beef and pork was as rustic as it come and as down home good as one could hope for. There were complaints around the judges table, however. Not many, but the gristly bits were not cut off the meat and most lacked seasoning: basic salt and pepper. Mine was perfect.
Cafe Slect wanted to keep it classic: bacon, cheese and lettuce on a house made bun. Classic it was. Raw onion was missing for my palate. The generous hit of melting cheese and crisp bacon with the moist burger brought me back home. This bite was familiar. I was all tucked into my little happy place with this one, yet there was no "ah-ha" or "whoo-hooing" going on. It was good. Tasty. Classic. The bun held up nicely and everything worked. It was just flat lining.
The chefs at Sage presented a confetti of crunchy julienned vegetables over their "pork three ways": crispy, pulled and belly. None of us could locate the crispy pork, but the bite was mighty tasty. The vegetables were completely overpowered by the meat. Their crunch joined the choir, but there wasn't even a whisper of veggie flavour in the bite. We were all wondering if the placement of this entry was just too far down the line to appreciate. It was seventh and we were sliding down the all too slippery slider slope of over saturation at this point. Possibly verging on slider coma.
Murietta's bumped us back into the box with their take on a classic dim sum slider in a bun. Suddenly, there was room in the tummy for more things yummy. Kind of. Almost. The crispy wonton added a nice crunch and caramel flavour; the pea shoots added that "spring is coming" possibility. The porky patty was a burst of unexpected exotic flavour and a welcome reprieve from that of "the hamburger", yet the texture of the patty was rubbery. While it is true that dim sum pork balls also have the same texture, it wasn't so appealing on a bun. Numbers all counted and scores tallied, this unforeseen finale triumphed and won first place!
Lead judge, Chef Stanley Townsend from the Culinary Institute within the Northern Alberta Institute of Technology awarded the first prize honor.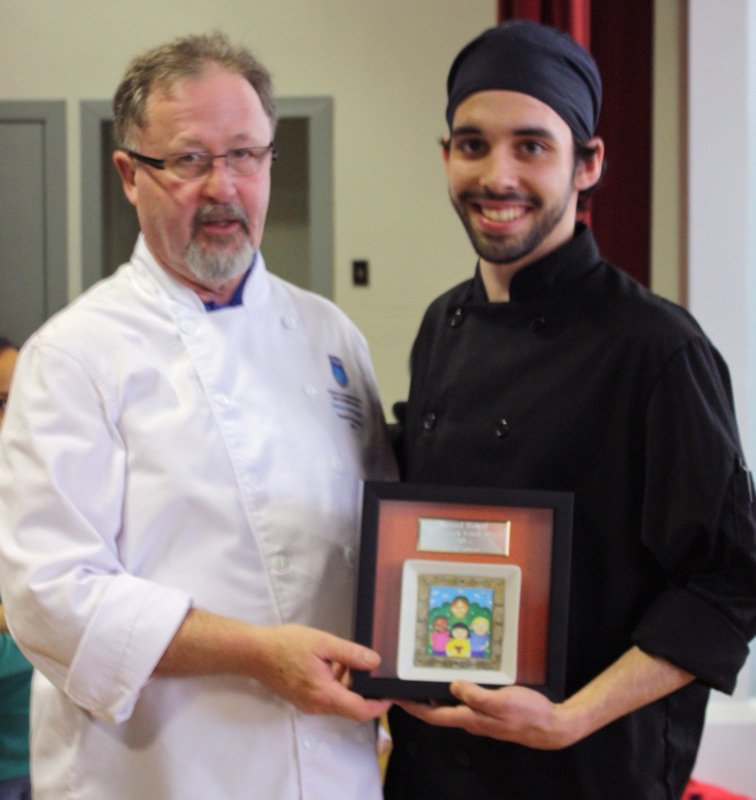 The Student's Choice was the Slider from The Manor Cafe! Actually, two of the judges had it as the number one Slider, as well. Let's just say: Bravo! As I can recall the flavour and texture of this delectable bite, that is just saying there should be a whole lot of clapping goin' on!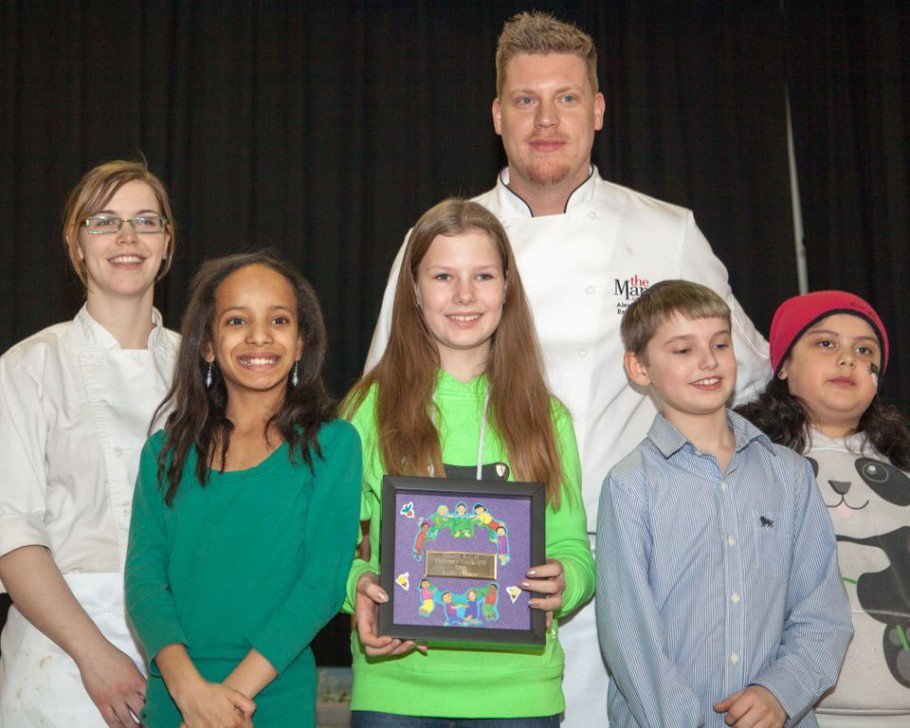 The Marc did it again! Brian Mason awarded the honour of People's Choice to Patrick the second year in a row. This is particularly sweet as he actually went to school here as a child. This neighbourhood is his home!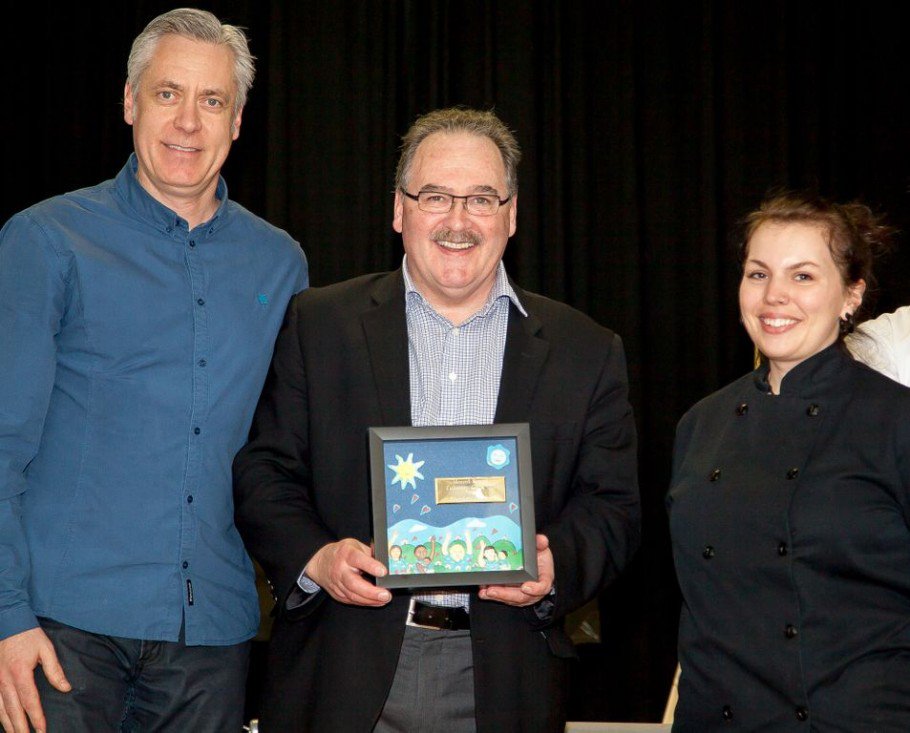 Select and The Manor Cafe are missing from the photo below, but I know they were also in the running for People's Choice!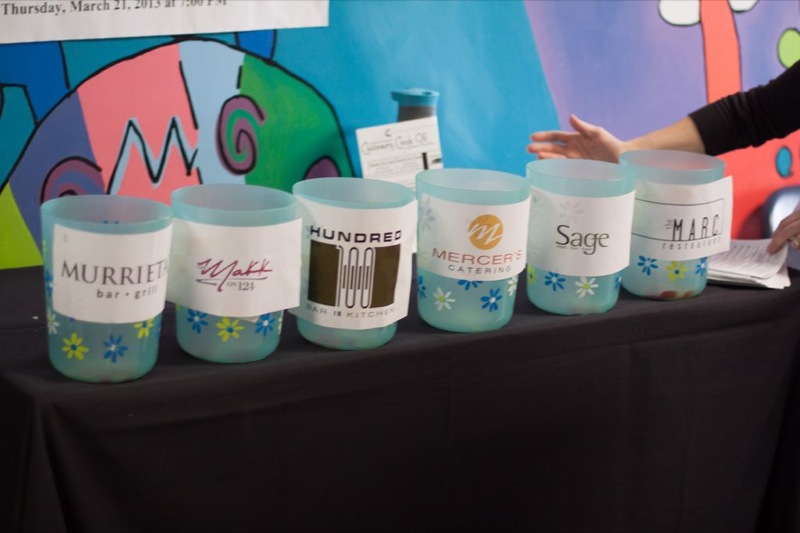 Once the winners were announced, the festivities wound down. People picked up their silent auction wins. I got a carving from Chef Stanley last year that I cherish. Look at his donations below. Talent abounds! This is an event that is a "must attend" for any food and art lover in the city. Do not miss The Culinary Cook Off 2014! I can only imagine what food will be challenged and the art the students will produce! Mark your calendars now!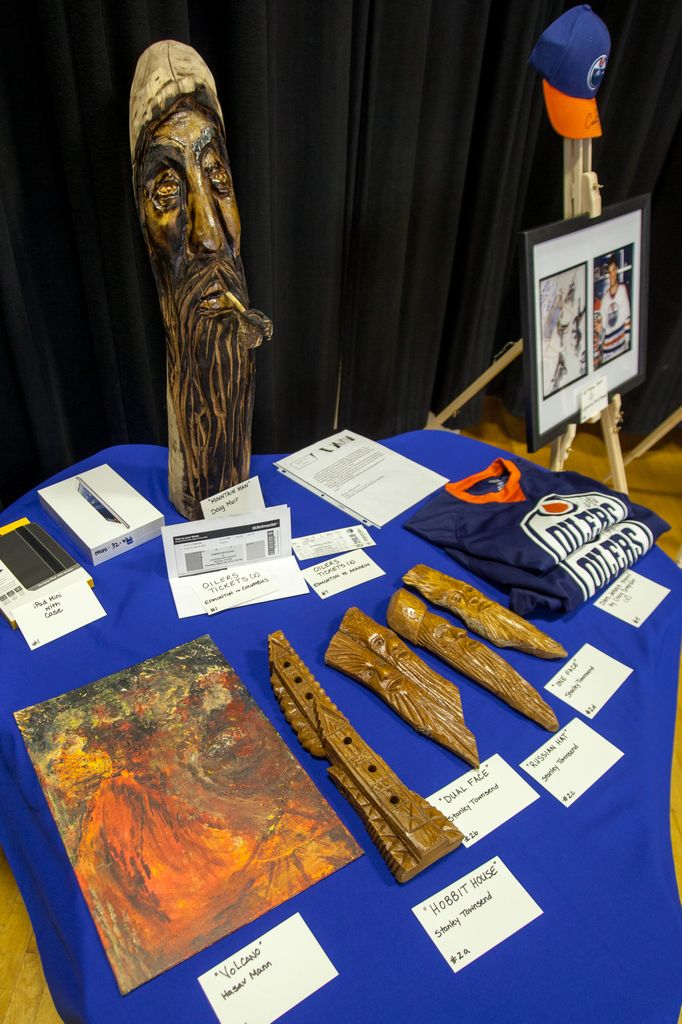 Disclaimer: Karlynn Johnson had a photographer take photos for the event and I have used some of those in this post, as well as my own.