Edmonton Northlands BBQ Challenge 2012 at Farm Fair November 10, 2012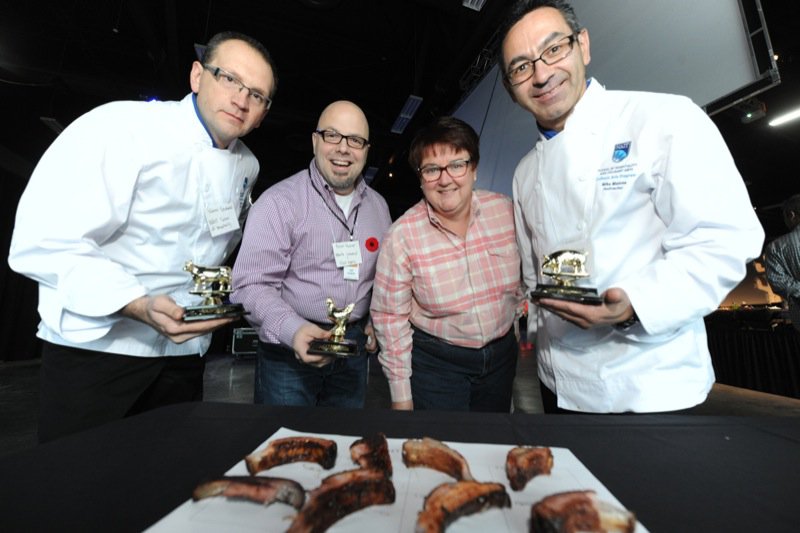 What an honour to be one of the Tasting Judges at Northlands first ever BBQ Challenge 2012! There is only one other BBQ contest event in Alberta: BBQ on the Bow in Calgary. Debra Wong organized this event as she also does the BBQ on the Bow. We had eight Smokin' Hot Teams cooking up chicken, ribs, and brisket this year from Alberta and Saskatchewan. Talk about passion! Whoa! Though the day was cold and gloomy, the teams were oozing enthusiasm and personality as they babysat their meat on the grill.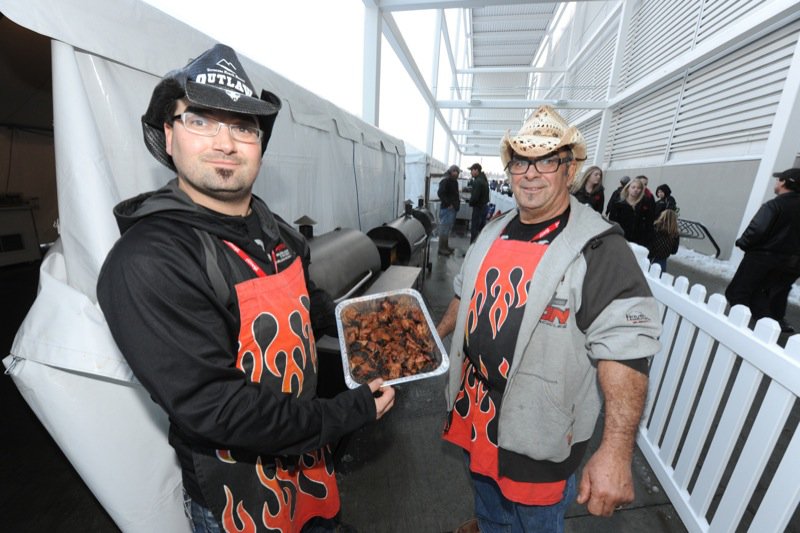 It was a busy day for me, so I wasn't able to take in any of Northland's Farm Fair which was happening at the same time. An early morning photo, below, from one of the organizers brings on the tingles of excitement for the day ahead!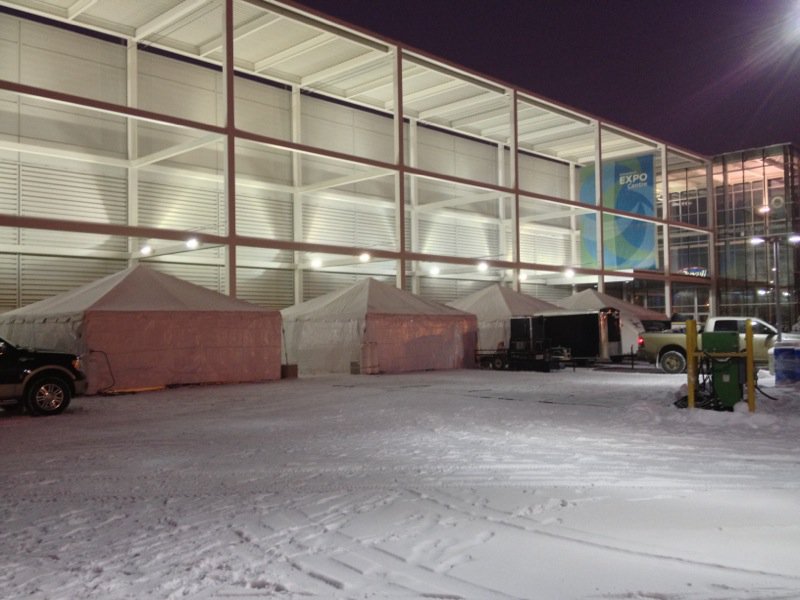 The day was so gloomy and grey that the smoke was almost invisible! The row of eight participants was well laid out and the beefy aroma of smoky meat on the grill beckoned anyone in the vicinity. I took time to chat with each team and take a few photos before heading in to meet Deb for the tasting.
Each outfit has handmade smokin' and 'Q-in' duds. Look at these fancy-schmancy shiny boxes!
The smokers below hold that old world charm.
I am crazy over Tastings. How many versions of Mac 'n Cheese can there be? I am passionate about the learning what happens within my own palate as I taste my way through each dish and revel in the passion of the participants preparing each. One will usually rise above the others. Each palate is so different that it is not unusual for judges to have varying opinions, but the "worst one" is most often recognized by all.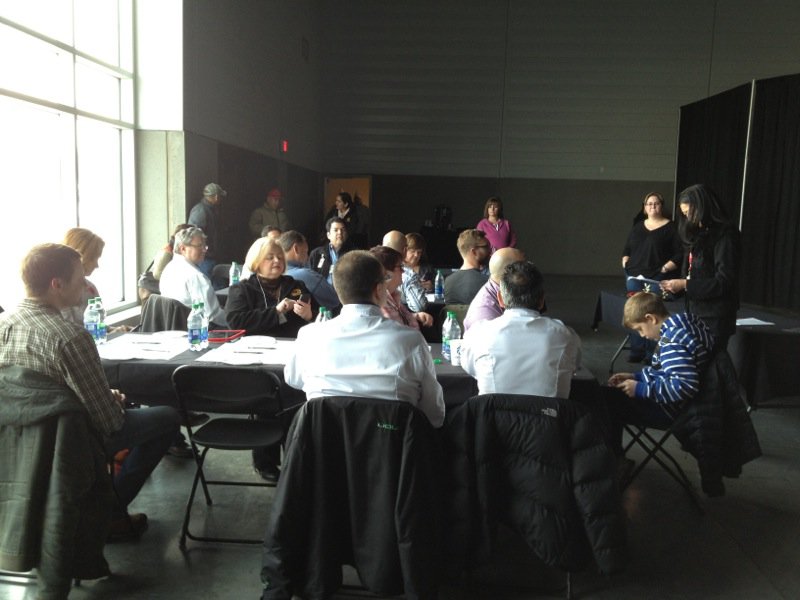 Sixteen judges today: two tables full! The judging was an event in itself! Three visitors to the Farm Fair from Mexico were also judging. Brilliant. Board members from Northlands were judging. Yes! Chef instructors from NAIT. Loved that! Other local chefs, food writers and eaters also participated. We were an animated group eager to get fingers into the sticky stuff!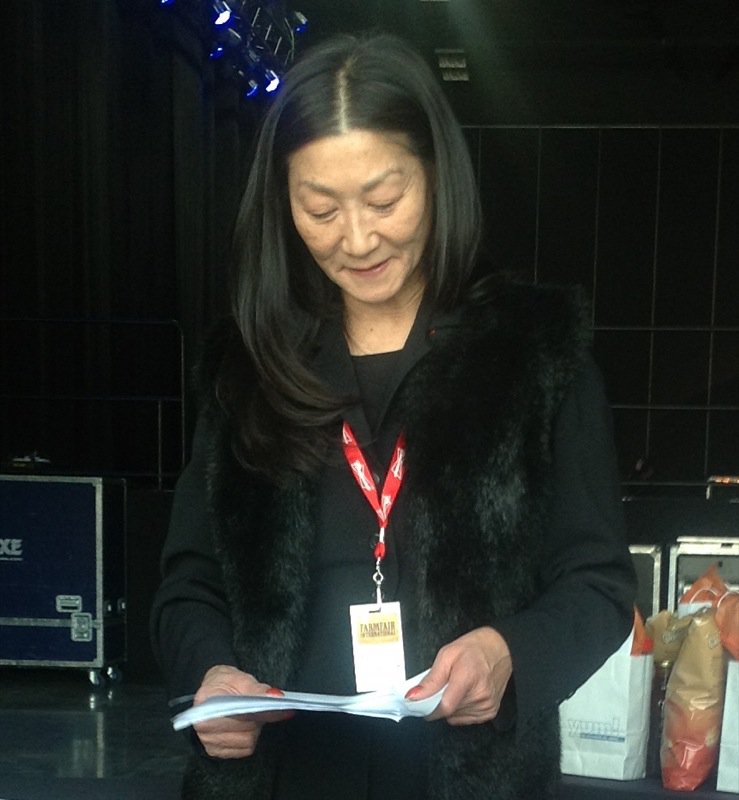 Deb explained the process which was really straightforward: Look. Smell. Taste. Chew. Chew again. After one bite, you should know. Jot a few notes to yourself about each taste. Prioritize them. Guidelines were outlined for each round of the tasting.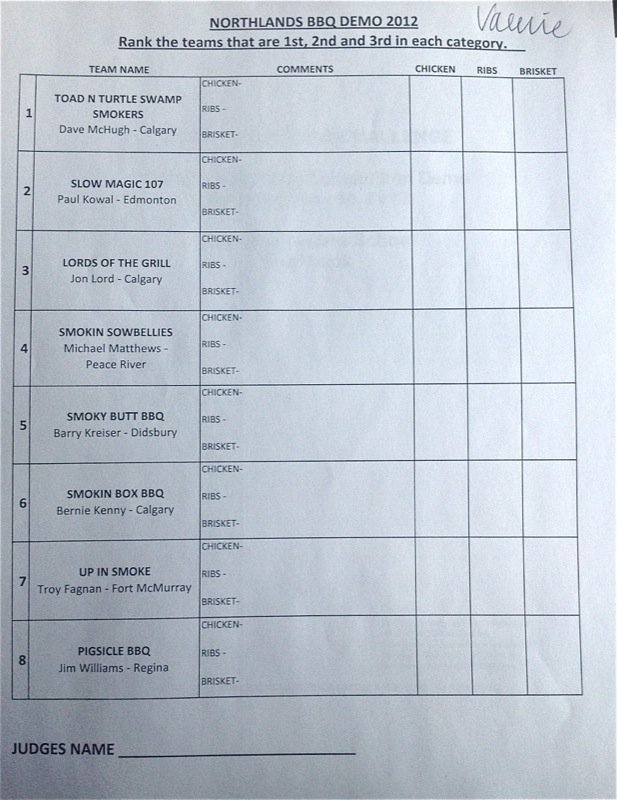 The scoring sheet was explained. Deb had a host of lovely volunteers with big wide prairie smiles making this a homey experience. And homey, it was! I rarely taste and spit in public, but this was a lot of food!!! Tissues, wet ones, napkins, and paper plates were flailing about. On the table. On the floor. This was BBQ heaven!
It was not easy, either. The meat was ordered through Northland's Chef. Thus, all of the meat was the same. The source of the meat would be an obvious difference when cooking really great BBQ. That really leveled the playing field. All chicken was a boneless thigh, skin on, simply for ease of the competition. Nothing too rustic about that cut of meat and I found it really difficult to discern "the best". The worst was easy. I wonder if that team tasted their meat? There was only one completely different than the others in technique, and the others were very similar in texture and flavour with varying subtle nuances. None had a crispy skin on my tasting mat.
Guidelines: Properly smoked chicken will be moist with a nice firm texture that pulls apart easily, and any juice should be clear. Underdone chicken will be too firm. Overdone or over marinated chicken will be mushy in texture.
The consistency was also problematic from person to person; some did get crispy skins and more caramelized thighs.

Guidelines: Ribs can be presented with or without a sauce. Use tenderness and texture as your guide: when eating a properly cooked rib, the meat should come cleanly off the bone with a slight tug of the teeth only where you bite into it; if the meat is falling off the bone, it is overcooked. Overcooked meat has a tendency to be mushy with little or no texture. A well smoked rib bone will tend to go dry almost immediately when the meat is eaten off of it.
The ribs were a different story. They varied vastly in flavour and texture from one another. Here, the texture was key. Only two were cooked to perfection: falling off the bone, but not until tugged with the teeth. Some were undercooked and far too chewy. No one wants to fight with rib meat sticking to its bone. The "number one" rib on my mat was so delicious in flavour, but the texture was far too chewy. Too bad. It was much easier to discern the tenderness, texture and flavour of the ribs. They were all baby back with bone in.

Guidelines: Brisket is most often the most difficult cut of meat for the contestants. Some will smoke their brisket for up to 18 hours. This is literally the toughest cut, but when done right: heaven! The long and slow temperature process tenderizes this very flavourful cut. Tenderness is key to a successful brisket: a piece of brisket should pull apart with little resistance if done well; if it falls apart, it is over done and if you have to tear it, it is underdone. Cooks may try to disguise errors by the size and thickness of the slice. Overly thick slices are less likely to fall apart if overdone; very thin slices will cover up being underdone, thus it is very important to take your time when judging this cut.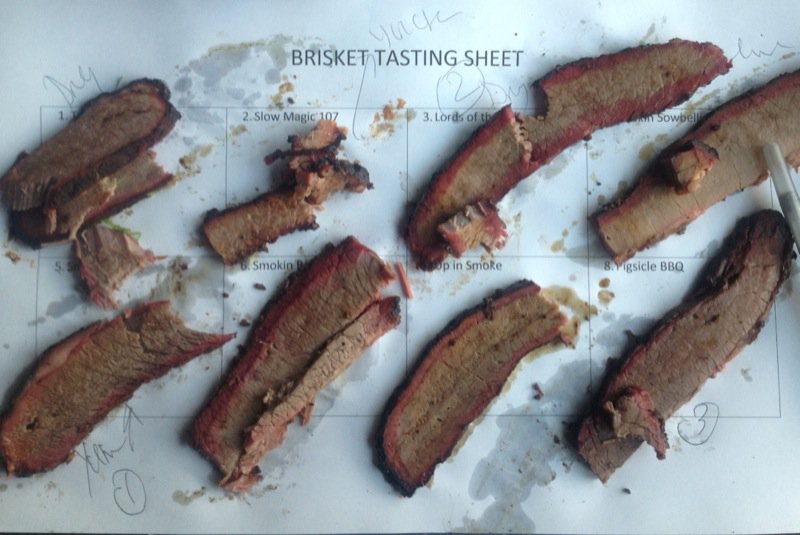 The brisket was a disappointment to me. I was kind of alone on that. I adore brisket but every one of my samples were dry. This is when the contest and judging gets complicated. The competitors had an entire brisket to BBQ and the entry is usually a sliced cross section of the decal and the flat, or the whole brisket; however, a slice of the flat only, is acceptable. There were lovely juicy briskets there, yet not on my plate! Thankfully, we shared with one another and the differences were dramatic. (The comments on the page above were initial reactions, and changed dramatically as we shared portions.)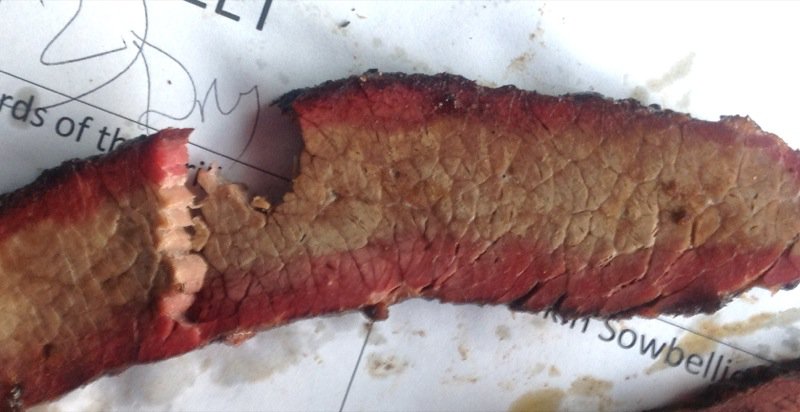 The Infamous Smoke Ring: A smoke ring is a pink discoloration of meat just under the surface crust, called bark. It can be just a thin line of pink or a rather thick layer. A good smoke ring is around 1/4 inch in thickness. The smoke ring is caused by nitric acid building up in the surface of meat, and being absorbed from the surface. This nitric acid is formed when nitrogen dioxide from wood combustion in smoke mixes with water in the meat. This is a chemical reaction between the smoke and the meat. Even though the smoke ring may add to the appearance, do not take it into consideration when judging brisket as it is possible to falsify a smoke ring. Derrick Riches explains, "Generally water soaked wood produces more nitrogen dioxide loaded smoke. If you really want to make sure you get a smoke ring then cheat. Coating meat with a salt tenderizer link Morton's Tender Quick, will load up the surface of the meat with nitrogen dioxide and give you a great smoke ring. Because of the prevalence of this kind of cheating, smoke rings are no longer taken into consideration in barbecue competitions." Who knew?
After this tremendous personal learning experience, I am now hooked. I am thrilled to see Northlands integrate this challenge with their Farm Fair! Serious BBQ in Edmonton has begun. I say, bring it on! With some of the best meat producers in the world in our region, this is a no brainer. Next time, I would like to see the contestants team with our local producers and really show what we are all about in the Alberta Prairies. Congratulations to all for an incredible event!
Congratulations to the Winners of Northlands BBQ Challenge Nov 10, 2012:
There wasn't one overall winner for this challenge which demonstrates just how great our competitors were!
Chicken
1st Place, UP IN SMOKE BBQ, Troy Fagnan, Fort McMurray

2nd Place, SMOKINBOX BBQ, Bernie Kenny, Calgary

3rd Place, SLOW MAGIC 107, Paul Kowal, Edmonton
Pork Ribs
1st Place, SMOKY BUTT BBQ, Barry Kreiser, Didsbury

2nd Place, SMOKINBOX BBQ, Bernie Kenny, Calgary

3rd Place, UP IN SMOKE BBQ, Troy Fagnan, For McMurray
Beef Brisket
1st Place, LORDS OF THE GRILL, Jon Lord, Calgary

2nd Place, SMOKY BUTT BBQ, Barry Kreiser, Didsbury

3rd Place, PIGSICLE BBQ, Jim Williams, Regina
Participating Teams for Northlands Barbeque Challenge 2012
1. TOAD n TURTLE SWAMP SMOKERS, Dave McHugh, Calgary, 8th Place Overall Winner 2012 at BBQ On The Bow, Calgary.
2. SLOW MAGIC 107, Paul Kowal, Edmonton, Reserved Champion 2005, BBQ On The Bow Festival, Calgary, Alberta.
3. LORDS OF THE GRILL, Jon Lord, Calgary, two time Grand Champion 2012 and 2011 at BBQ On The Bow Festival, Calgary.
4. SMOKIN SOWBELLIES, Michael Matthews, Peace River, Third Place Overall Winner 2012 at Those Were The Days BBQ Showdown, North Battleford, Saskatchewan.
5. SMOKY BUTT BBQ, Barry Kreiser, Didsbury, 8th Place in Ribs at BBQ On The Bow Festival 2012, Calgary.
6. SMOKINBOX BBQ, Bernie Kenny, Calgary, 7th Place Overall Winner 2012 at Toontown Smokedown, Saskatoon.
7. UP IN SMOKE BBQ, Troy Fagnan, Fort McMurray, Reserved Champion 2012 at BBQ On The Bow Festival, Calgary.
8. PIGSICLE BBQ, Jim Williams, Regina, Reserved Champion 2010 at BBQ On The Bow Festival, Calgary..
Celebrity Tasters 2012
1. Brad Fourier, Alberta Livestock and Meat Agency
2. Brad Smoliak, Kitchen by Brad
3. Brayden Kozak, Three Boars Eatery
4. Darcy Fitzgerald, Executive Director, Alberta Pork
5. David Cheoros, Producer, LitFest: Edmonton's Nonfiction Festival
6. James Szutarski, Culinary Arts Instructor, NAIT School of Hospitality
7. Jon Fraser, Mercier Tavern
8. Larry Stewart, Chef, Hardware Grill
9. Mary Bailey, Publisher, The Tomato food & drink
10. Mike Maione C.C.C., Culinary Arts Instructor, NAIT School of Hospitality
11. Valerie Lugonja, A Canadian Foodie and Eat Alberta
12. Laura Gadowsky, 1st Vice Chair, Northlands
13. Jennifer Fisk, 2nd Vice Chair, Northlands
14. Nacho Gomez, International Cattleman, Mexico
15. Mario Anaya, International Cattleman, Mexico
16. David Davila, International Cattleman, Mexico
I walked to my car in the blustery twilight, fingers sticky, lip and cheek make-up smeared with wet ones. Yup, this BBQ is a big deal. Looking very forward to next year!
Photographs for this post were taken by myself, and Nancy Melnychuk from Northlands. Thank you, Nancy!