A Fusion of Haute French Cuisine and Rustic Canadian Country!

Vanja and I stopped by a couple of weeks ago to talk to Linda about sponsoring Vanja's young cousin, Maja, the other day, and I spied the most perfect Frangipane Rhubarb Tart (in this shape done the long way) in her pastry window. Why hadn't I thought of that? So simple. So smart. And after my extensive work with Bénéon how to make French sweet and savoury tarts, this was definitely a fusion of the humble rhubarb meeting the classic French Tart. I opted not to do Frangipane as I was having guests and needed to be allergy sensitive. Martina, from Bologna, with Slow Food Edmonton friends were coming for a potluck dinner. We each wanted to showcase our local regional cuisine for her. What better way than with rhubarb?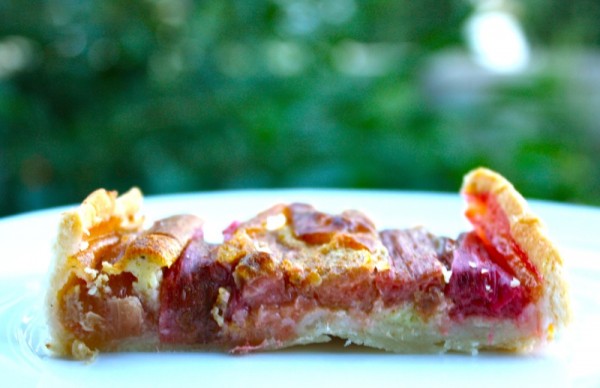 I also made an apple pie and a Saskatoon berry pie. Those are Canadian prairie staples, too. And definitely seasonal! I hadn't gone cherry picking yet, or would have added an Evan's Sour Cherry Pie to the Dessert buffet! I just used scraps of pastry left over from the other two pies to make these tarts and mom arrived with some long skinny rhubarb in the middle of my pie making which provided the incentive for these two beauties.
I had such fun designing one horizontally and one vertically; I had exactly the right amount of rhubarb for these two tarts. but barely enough left over pastry!
This was a double batch (enough for both pies), below. The nutmeg was lovely with the rhubarb!
I was so pleased with how they both looked, and said to Maria, "How were the tarts?" Expecting to hear: so delicious! When she said, "The were roasted, eh?" "Roasted?" I just looked at her blankly. "Yes. They have a really lovely roasted flavour; clearly the rhubarb roasted as the tart baked." Brilliant, I thought. Cool. Hmm? How did that happen? I have always wanted to roast rhubarb. Confused smile.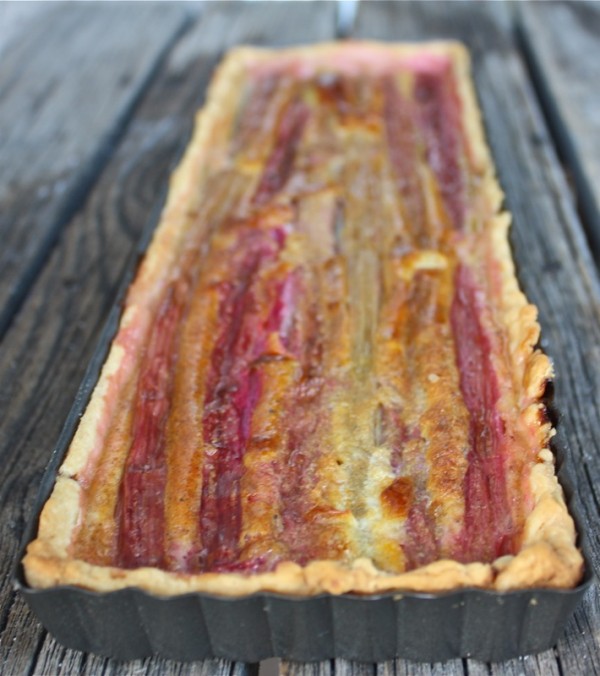 The next morning,I was reinserting a rack into the oven when I saw so much spillage in the oven and smelled a "burned" aroma as I opened the oven door. Roasted rhubarb, eh? How did I miss this last night? Someone else took them from the oven. It was a busy happening party… and apparently, I served roasted rhubarb tarts!
Note to self: Never bake anything in an oven unless it is spotless. 🙂
Next time, I am definitely going to try a frangipane base.
Rhubarb Custard Tart Recipe
Ingredients:
one disc of frozen pie pastry (for two tarts)
enough rhubarb to fit into the tart shells vertically or horizontally
1 cup of sugar (1/2 cup per tart)
2 eggs (1 per tart)
1/4 cups heavy cream (2 tablespoons per tart)
pinch of salt per tart
Instructions:
Pre-heat oven to 425ºF
Roll out pastry into a linear shape, place over tart pan and roll over top to cut off the edges
Cut rhubarb stalks to fit into the tart pan; arrange red and green stalks and thicknesses of stalks to they look appealing
Beat egg, add sugar, salt and cream; beat to combine
Pour over rhubarb in tart shell
Bake for 15 minutes at 425ºF, reduce heat to 350ºF and bake for 25 more minutes
Cool on wire rack, remove sides from pan and serve on a long tray, or individually with homemade crème fraîche or softly whipped heavy cream
Note: Place a parchment paper, foil, or a cookie sheet in the bottom of the oven to catch overflow