The perfect spring appetizer on the grill or in the oven: easy-peasy and surprisingly scrumptious!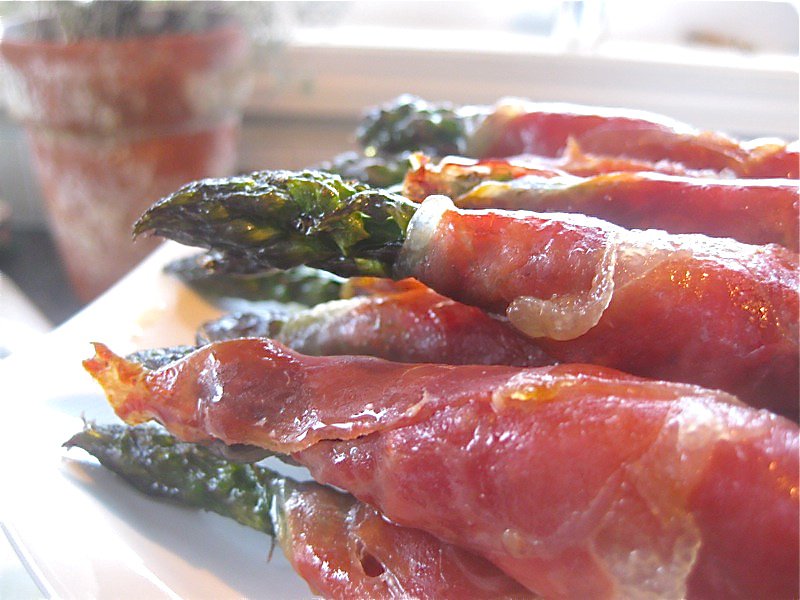 We were lucky enough to be invited to Vince and Colleen's last year for dinner. What a memorable meal. If you get an invitation to their house, you are definitely in for a royal treat. They have a wood fired outdoor oven and use it every chance they get. I would too, if I had one! Wish I had the space! Asparagus rolled in prosciutto and fire roasted in the oven was the first dish served. Incredible. Sometimes I feel like I live under a rock. Both Vanja and I went crazy over these simple bites. Asparagus with prosciutto. Who knew? Vince and Colleen looked at us with polite curiosity: a kind of "where have you been?" look. It is hard for me to curb my enthusiasm when something is so yummy and so unexpected. Who would think that fire roasted asparagus wrapped in prosciutto would create such a culinary coup, but it did. I just could not get over the flavour combination, particularly as I had heard of the "classic combination" of asparagus wrapped with ham and tried it a few times without even a tad of satisfaction.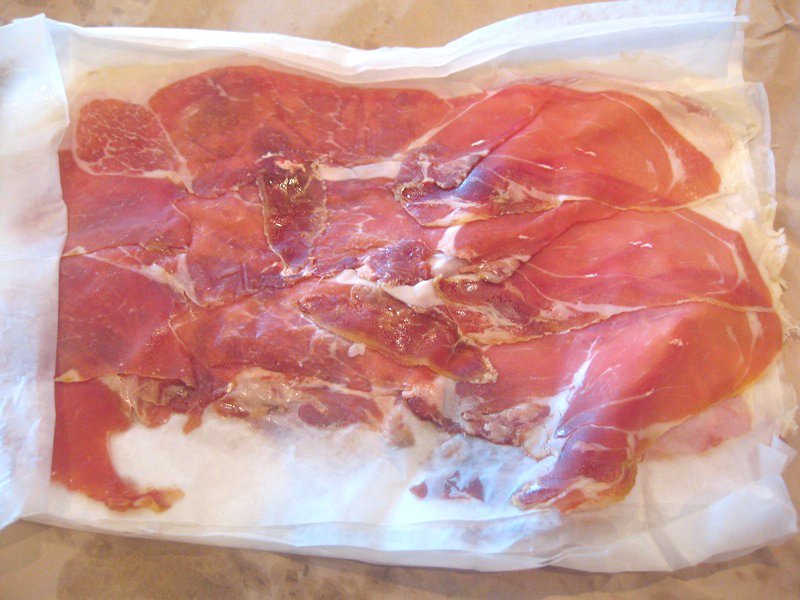 When we did our Serrano and Prosciutto tasting, we found we both preferred the Serrano, so Serrano it was.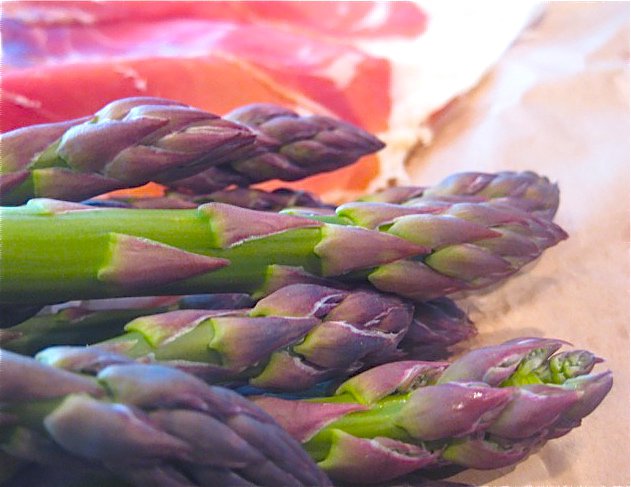 Anyone living in Edmonton knows (or needs to know) that there is no better asparagus than that from Edgar Farms sold at both the City Market downtown (open at 9 Saturdays, and the OSFM on the Southside (open at 8 Saturday mornings). Little hint for those of you lined up forever at the City Market: last year I would be at OSFM at 8 and have no trouble getting my asparagus for the week!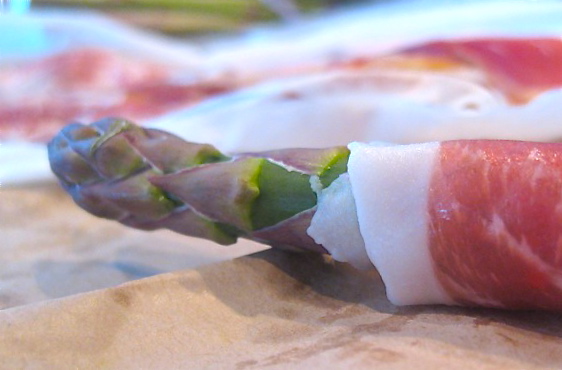 Wrap each tendril in an entire piece of prosciutto, or in our case, Serrano and drizzle with a little olive oil.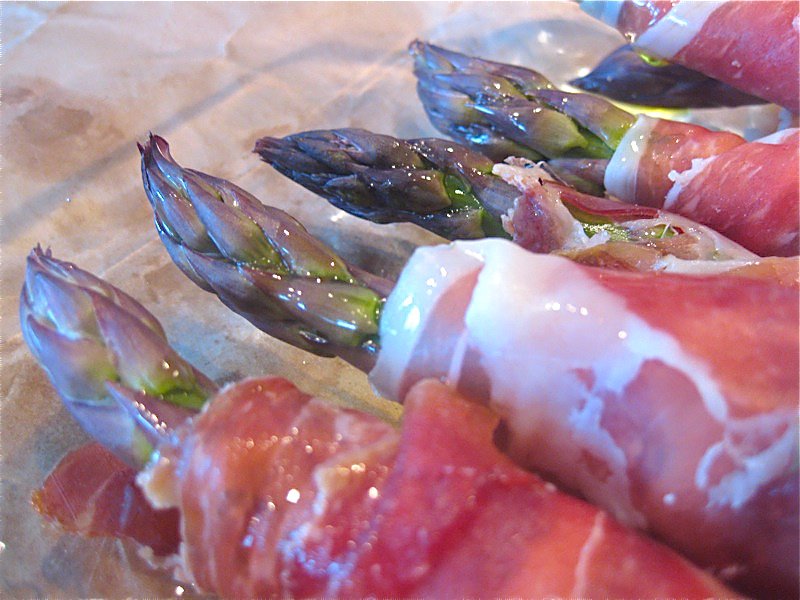 Yes, it is that easy. I have grilled these on a piece of tin foil with a lot of holes pokes in it. That was yummy, too! But, on a rainy day for a great taste of summer, simply into the oven at 400°F and 15 minutes later or so: voilà !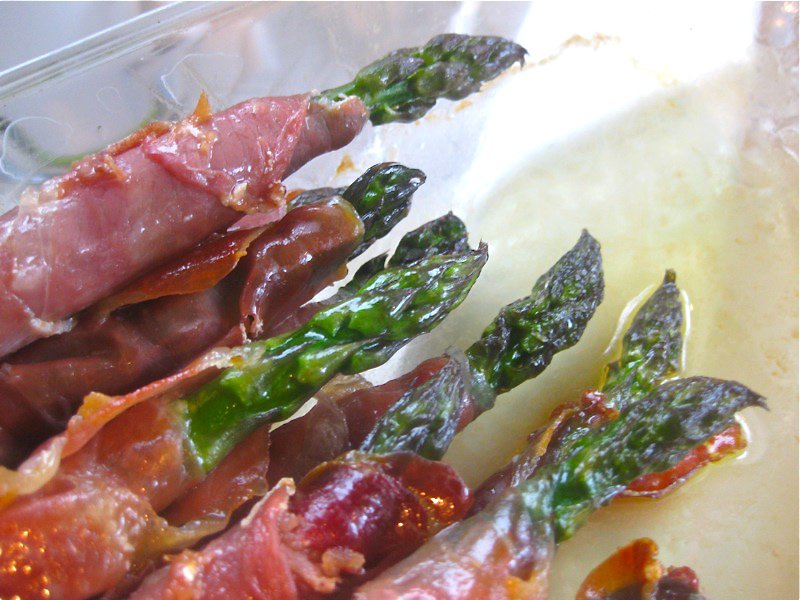 No matter how many you make, the plate will be empty shortly after they are served. I think I need a great rustic wooden board to present these on! I will have to keep my eye out.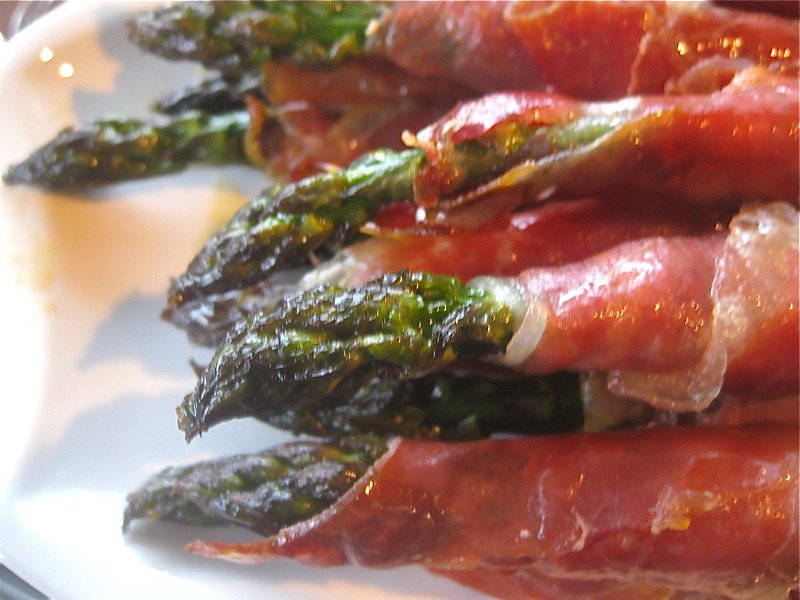 Meanwhile, every time I make Asparagus with Proscuitto, I think of Vince and Colleen, the lovely meal at their home and their wood fired oven. That is the beauty of good food; it is not only bursting with great flavour, but is the keeper of great memories.