Inspired by my Pickling Partners at Slow Food Edmonton's Pickling Day!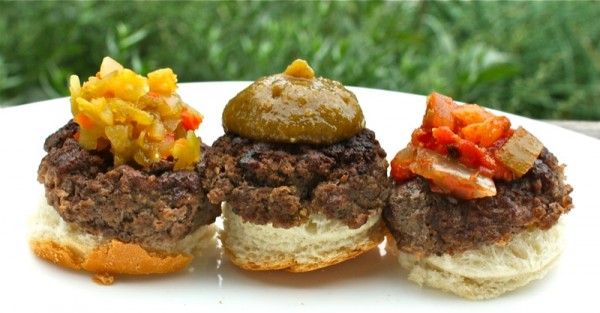 As this was to be my second batch of green tomato chow using Karlyn's recipe. However, after meeting so many people at Slow Food's Pickling Canning Bee, and then reviewing Karlyn's recipe again, I saw it was almost identical to the Quebec Green Tomato Ketchup recipes I had been sent. So, I decided this batch would be Green Tomato Ketchup, instead, and that I would use Karlyn's idea of the apples to thicken the sauce. See my three new condiments on the sliders, below: Green Tomato Chow Chow, this Green Tomato Ketchup, and Peppy Salsa!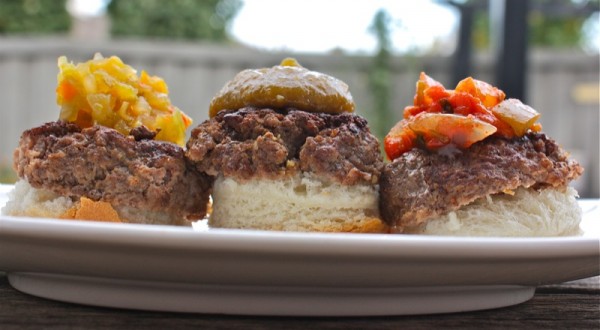 It all started when I took my green tomatoes to the canning bee to get some help dicing them. There were so many and I couldn't possibly do them on my own! I knew I would get help and I did!
(Cynthia, I owe you a jar of ketchup or chow chow, your pick, for the canning jars you gave me! Which do you choose?)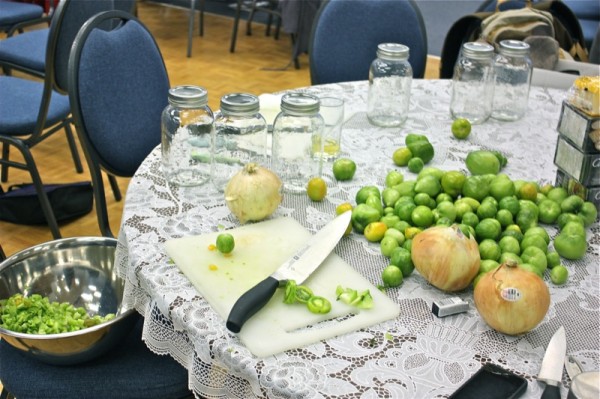 I brought the diced tomatoes and onions home, layered and salted them, then covered them and sat them overnight. Below is how they appeared the next morning. The bowl was almost to the top of the rim the night prior!
Lots of liquid to pour off here. I used apples from our tree as the natural thickener or pectin for this recipe as suggested by Karlyn.
Prepared the spice pouch. Now that I have made it, I really think it may have been tastier not in a pouch, but free to mix amid the tomato and onions like the spices did in my red Homemade Tomato Ketchup recipe. The flavours were subtler and more muted with this recipe.
Once the liquid and sugar was added, more liquid was created and there was a lot of space for the apples and spice pouch to disappear into the pot.
I boiled this at a strong simmer until the vegetables were very soft then removed the pouches. I gave each a good squeeze first.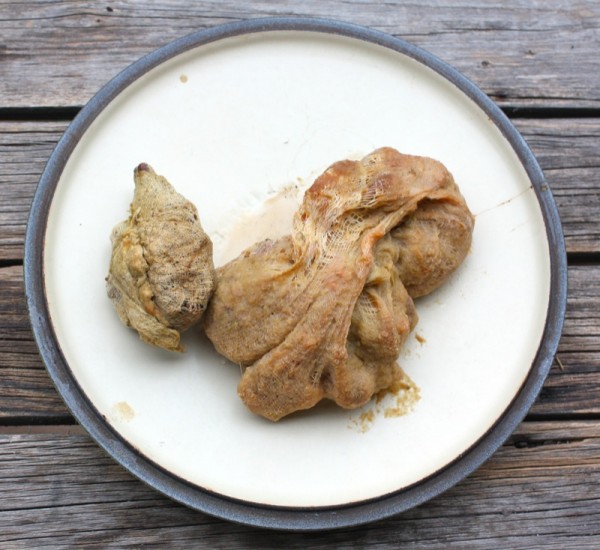 It was very simple after that: into the blender (my Thermomix) to puree to desired consistency (I chose not to put this through a sieve) and then into sterilized jars for processing. Below is the green ketchup beside Heinz.
Green Tomato Ketchup Quebec Style (influenced by Karlyn's Green Tomato Chow)
Ingredients:
16 c green tomatoes, chopped
8 cups onions, chopped
1/4cup Kosher Salt
4 c apples in a cheesecloth bag; any local tree apples will do
1 1/2c water
¼ cup pickling spices (in cheesecloth, recipe to follow)
¾ cup cider vinegar
¾ cup white vinegar
¾ cup white sugar
¾ cup brown sugar
Ingredients for Pickling Spice:
3 t black peppercorns
3 t mustard seeds
5 allspice berries
3 whole cloves
3 t celery seeds
two 1/2″ cinnamon sticks
3 fresh Bay leaves
Instructions:
In a large bowl, alternative layers of tomatoes and onions, sprinkling each layer with salt; let stand for at least 8 hours or overnight
Rinse and drain well; combine tomatoes and onions with spice bag
Start water bath so it will be ready when you are!
In a large saucepan or stock pot, add water, sugars and vinegars; bring mixture to a boil
Then simmer, uncovered, for about 30 to 45 minutes, stirring frequently until completely cooked (soft); remove spice bag and apple bag
Puree in blender; push through a sieve (didn't do this)
Pour into hot sterilized jars and seal; process in water bath for 15 minutes
Yield: Approximately 6 cups ( 1.5 L)