Inspired by Karlyn's Response Tweet when I asked: "What can I do with all of these green tomatoes?"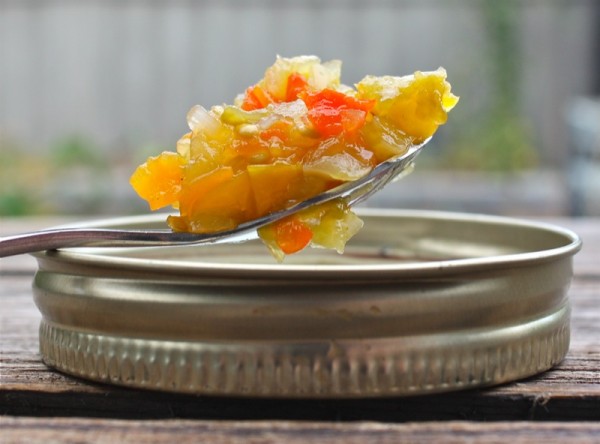 "Make Green Tomato Chow!" she twirped back! What in the world is that? Of course I had to investigate. There are as many versions for green tomato chow – or chow chow – as there are for chocolate cake. Hundreds. Thousands. I had a lot of green tomatoes. I decided to make two kinds: Karlyn's and Emeril's. This one is Emeril's, kind of. Better than his: healthier. Much less sugar.
Look at that fall treasure chest of garden jeweltones below! Oh, my! The aroma was just as intoxicating as the colour. I decided that I had better do this batch outdoors as the kitchen could not take another round of abuse.
Taking my cue from Nadia and Carmella, I just cooked the veggies until they were barely done. Done, but still with a crunch. Fresh and still vibrant. I thought there was not going to be enough liquid for this recipe, but look, suddenly, we have ample liquid.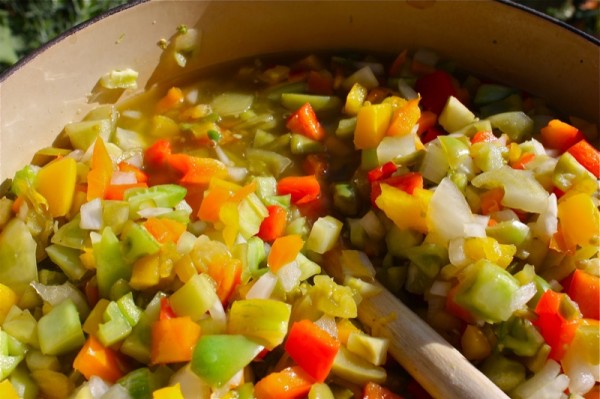 Packing into the jars and then processing the chow chow produced a light sweet and sour tasting relish that is absolutely delicious on hamburgers and sandwiches. Not that I ever ate relish on hamburgers or sandwiches, but I do now. It really makes a difference when you make it yourself, you know what is in it and how good it is for you. I reduced the sugar in this recipe by so much and it is mighty tasty. To us.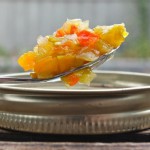 Green Tomato Chow Chow: Sweet and Sour Relish
Particularly Eastern Canadian....
Cook Time
1
hour
5
minutes
Total Time
1
hour
50
minutes
Ingredients
Ingredients for the Chow Chow:

10

pounds

of green tomatoes

, chopped

3

cups

red bell peppers

, seeded and chopped

3

cups

yellow bell peppers

, seeded and chopped

3

cups

orange bell peppers

, seeded and chopped

3

cups

onions

, chopped 1 1/2more needed

3

fresh jalapenos

, stemmed and diced (I did only 1 1/2 and the recipe could definitely use all 3 would not be hot)

1

quart

Pickling Liquid

(recipe follows)
Ingredients for the Pickling Liquid:
3

cups

distilled white vinegar

1

cup

water

1 ½

cup

sugar

1/4

c

salt

1 ½

teaspoons

whole allspice

1

(3-inch) cinnamon stick

1 ½

teaspoons

celery seed

1 ½

teaspoons

mustard seeds

1 ½

teaspoons

whole black peppercorns
Instructions
Instructions for the Chow Chow:
Pulse the chopped tomatoes in a food processor (I did not do this until just before canning them, after they were cooked, and then only did a little pulse); place in a non-reactive heavy pan

Add the peppers, onions, and jalapeno to the processor and pulse until desired consistency; add the mixture to the tomatoes

Stir in the pickling liquid

Over high heat, bring the mixture to a boil

Reduce the heat to medium and simmer for 15-20 minutes

Remove from the heat and (this is when I pulsed it a little bit to get the size I liked) spoon into 4 250ml preserving jars, filling the mixture to within 1/2-inch of the top

With a clean damp towel, wipe the rim and fit with a hot lid; screw on the metal ring until snug (not too tight)

Process in a hot water bath for 15 minutes; using tongs, remove jars, place on towel; cool

Test the seals; tighten the rings and store in a cool dark place

Age for 2 weeks before using (whoops, didn't do this, either!)
Instructions for the Pickling Liquid
Place all of the ingredients in a nonreactive saucepan, over high heat; bring the mixture to a boil, reduce heat to medium and simmer for 30 minutes

Remove from the heat and cool completely; strain the liquid and store in an airtight container