I am Bernice d'Entremont's Number One Fan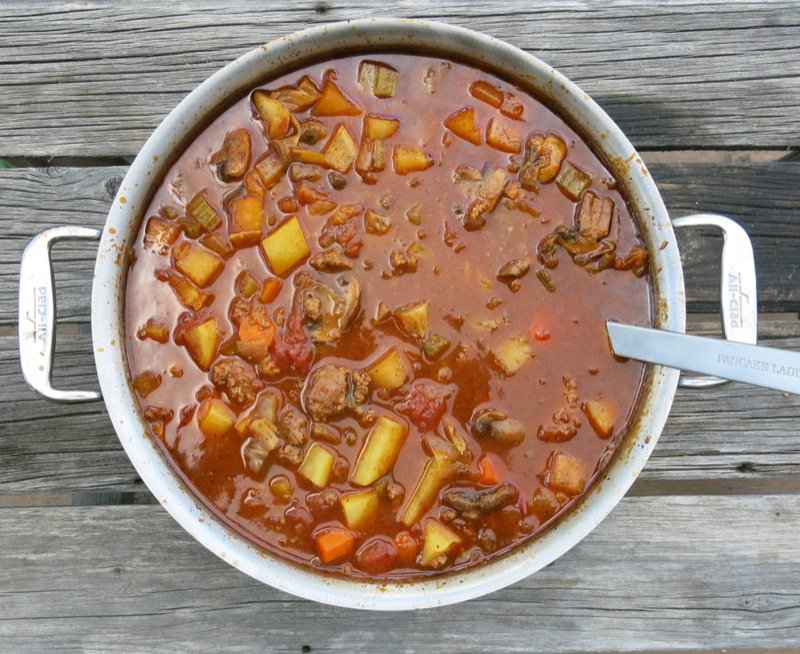 Let's start with food. This woman can cook! Vanja and I had a heck of a time finding anywhere to eat lunch from LaHave Bakery to Pubnico, Bernice's home town. We were scheduled to have a tour of Le Musée des Acadians at 3:00 pm. I e-mailed her enroute after noon hour to assure her we would be on time and ask if she knew a little place for a bite to eat as we'd be there early enough. Everything was closed. Shoulder season, remember? "There is Hamburger Soup at Le Musée," she chirped back to me in her e-mail. Perfect. I had no idea there was a little restaurant there, but perfect.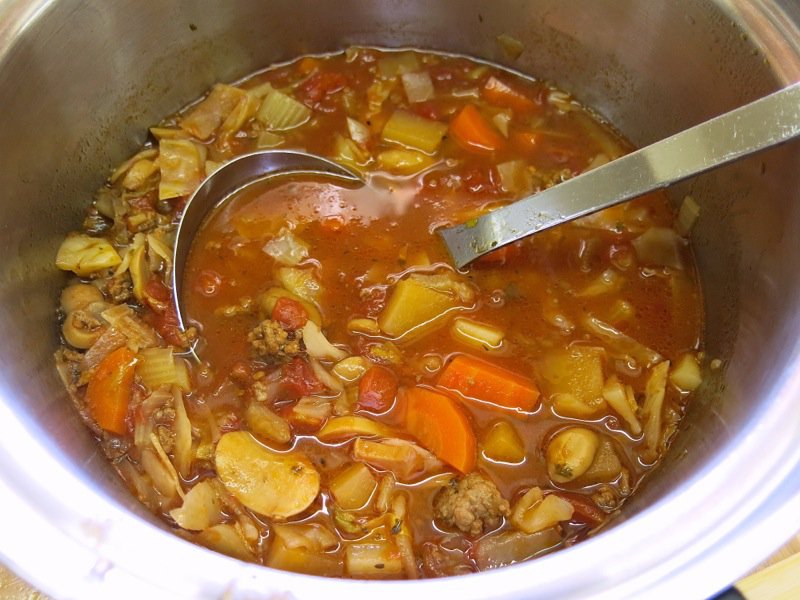 We arrived a few minutes after 2 pm and I just had to hug this woman. You will learn so many reasons why, later, if you stick with me. But at this moment. She was the only person in Le Musée. There wasn't even a car outside. I was a little curious about the café. "Réal will be here shortly with the soup." She must have read my mind, but it still took me a minute or two to realize that she was feeding us from her own kitchen. What a genuinely sweet warm loving welcome. Both of us were deeply touched. I did not expect any hamburger soup to be so tasty. This harvest hamburger soup was downright delicious. A 10 out of 10, Vanja said. He has never given me a 10! I had to get her recipe.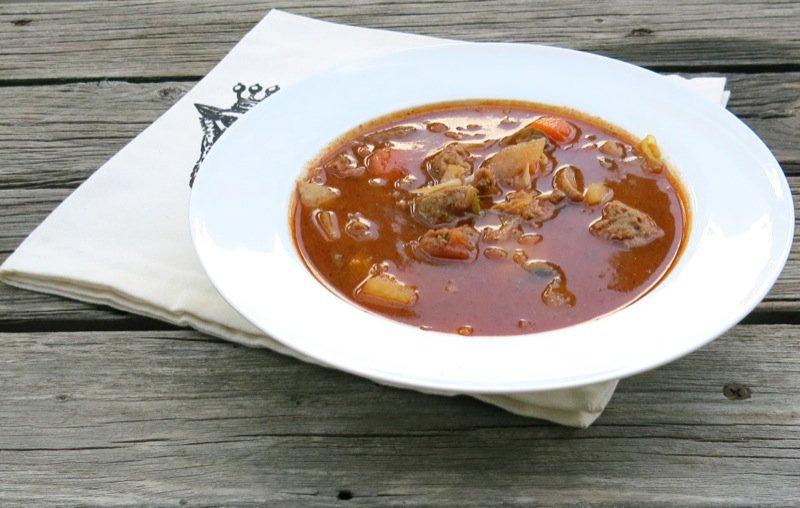 And, you know good cooks. They don't really use a recipe. Bernice listed her ingredients and told me how she made the soup. I could not wait to get back home to make it, too. She told me the real name of the soup was Spring Harvest Soup. Why? "Well, we have a Fall Harvest Soup, too. We usually add the new carrots, potatoes, and other vegetables fresh from the garden to our Spring soup and more root vegetables to our fall soup." Whatever it is called, it was extraordinary. Réal usually makes the soup, but Bernice actually made this one. My version was really good. Vanja gave me a 9-9 1/2. I have never got a 9 1/2 from him before. But, Bernice got the 10. I completely agree. I did my best, but there was something with a little more depth of flavour in her soup, though her colour is a bit lighter than mine.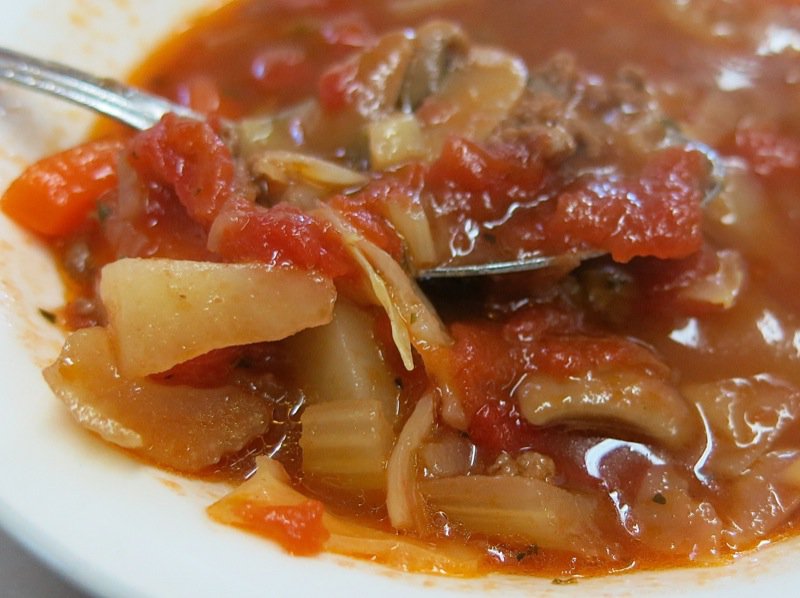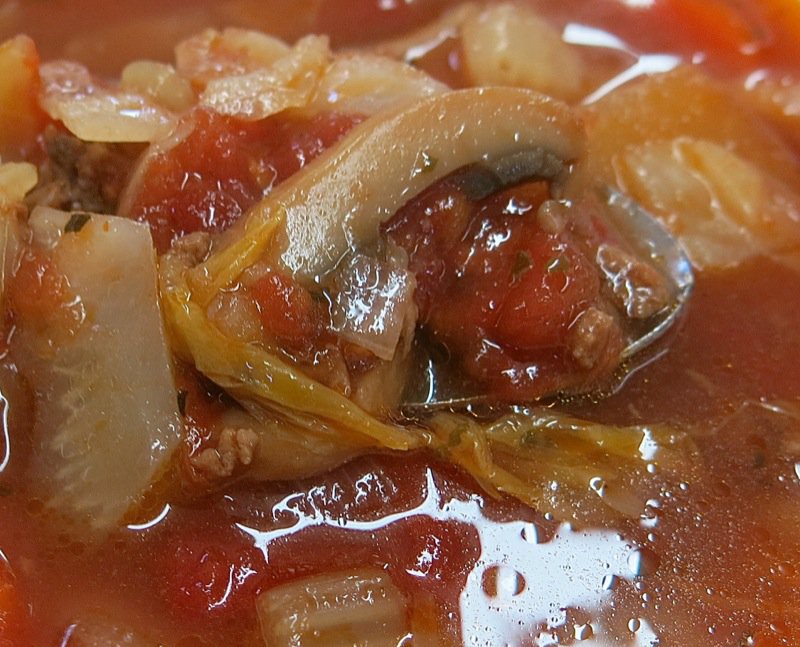 Before I really introduce you to Bernice and Pubnico, I will share with you her harvest hamburger soup, as that was her first sharing with me. And it made quite an impression. (I believe I have already said that, but want to be sure you take note.)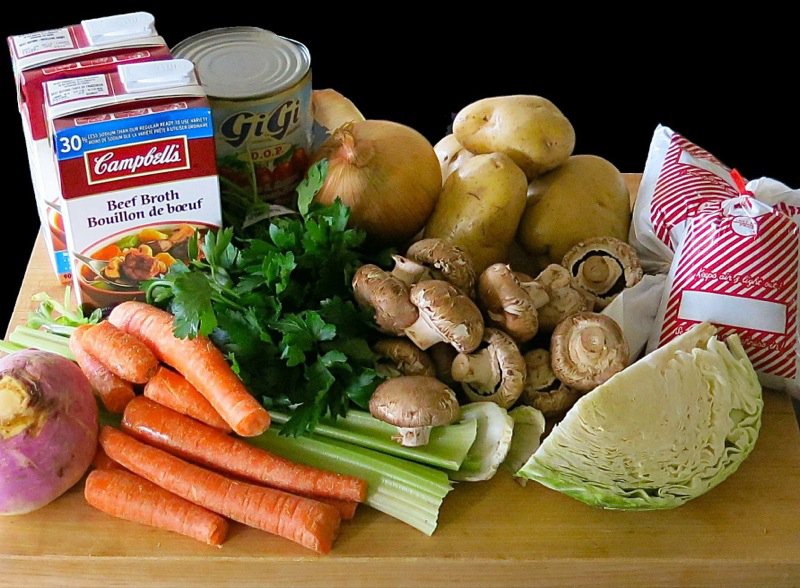 This is one of those seemingly effortless and simple recipes and one would wonder why such a concoction would produce such a big bang of flavour. My guess is the quality of the ingredients and the number of vegetables in the mix. The Campbell's broth is there for Réal. He insists it is the best.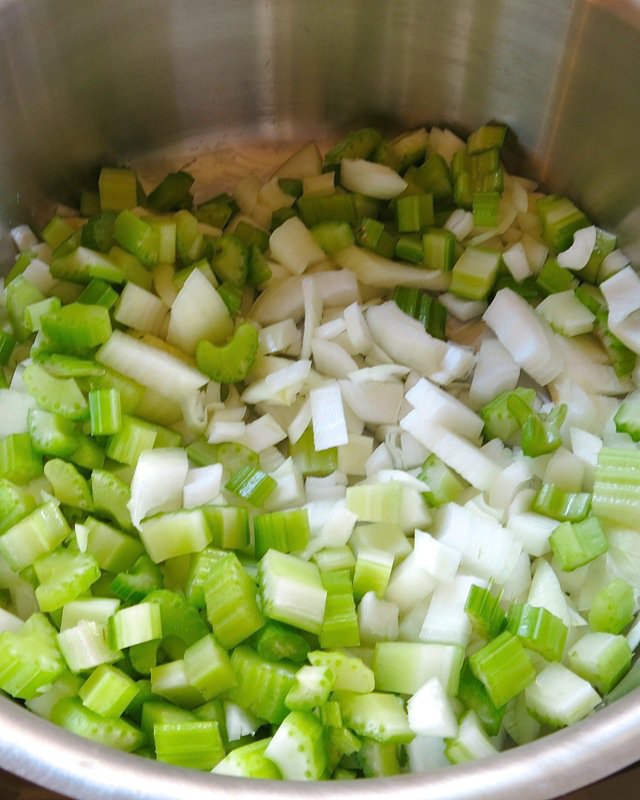 Sauté the aromatics in oil.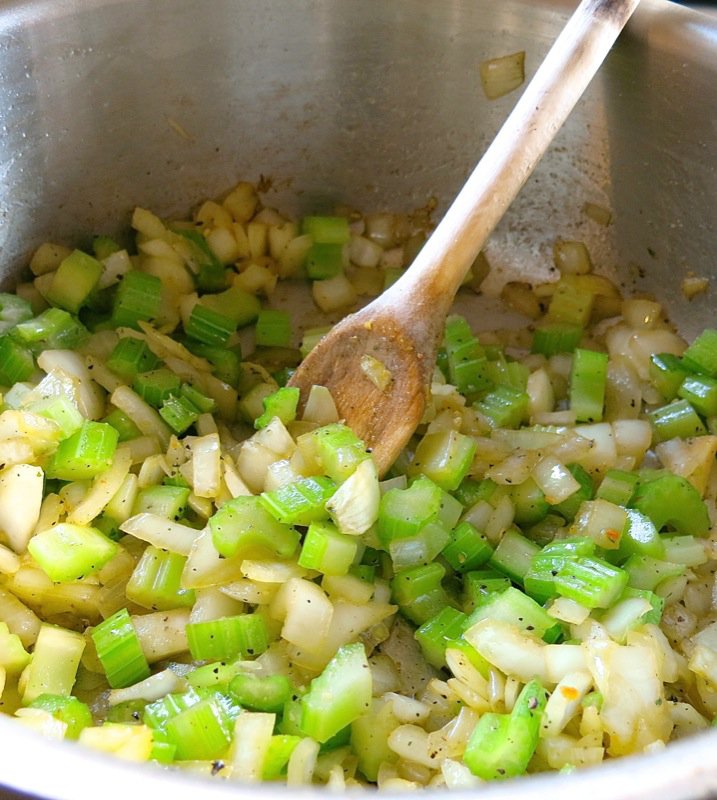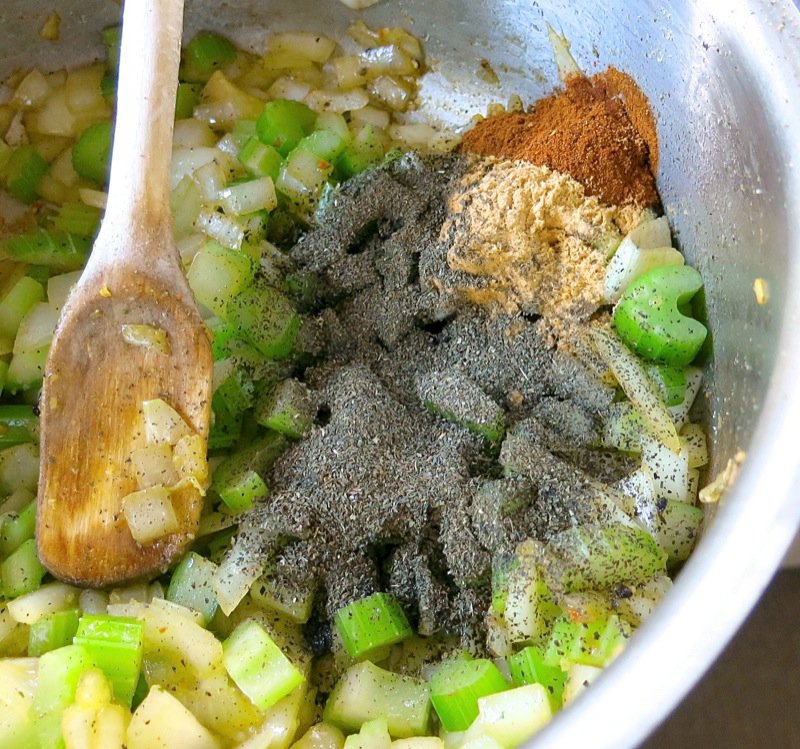 Add the spices and seasonings and stir to combine.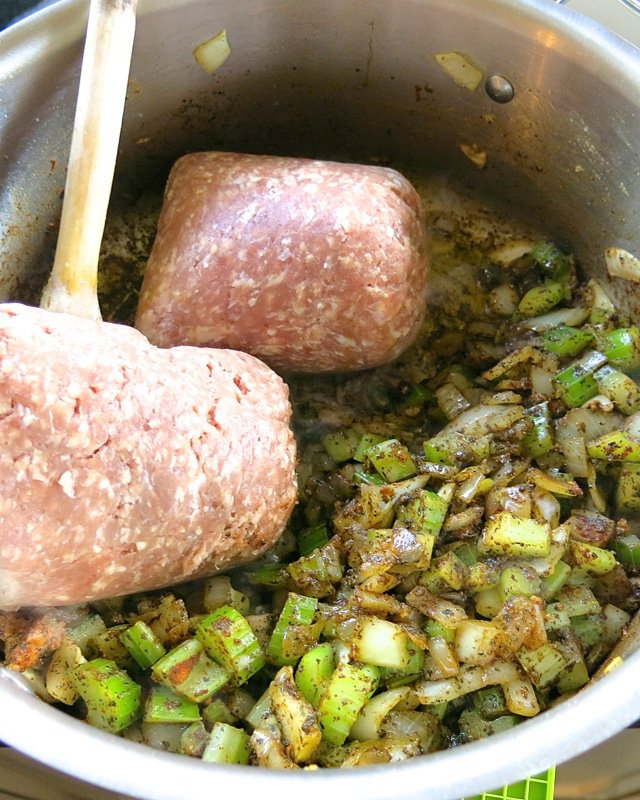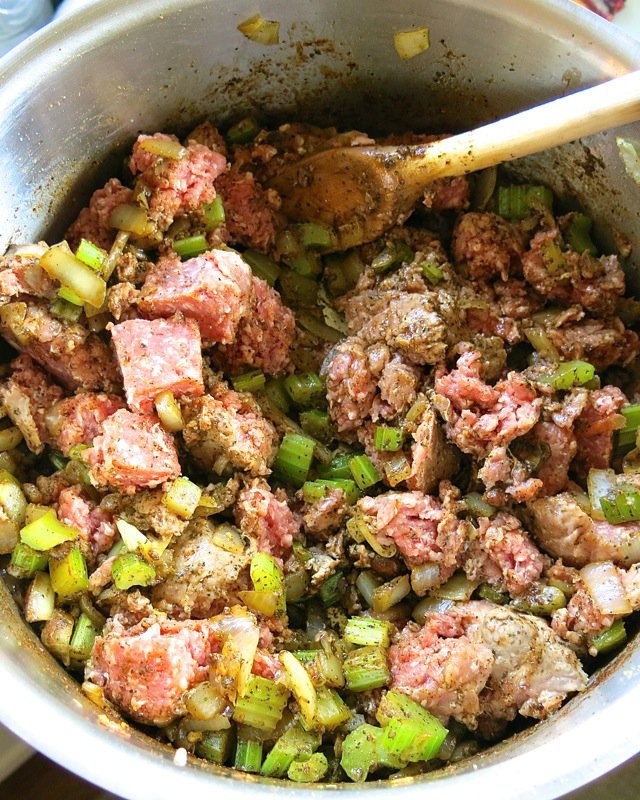 Add the know-your-farmer ground beef, and brown with the aromatics.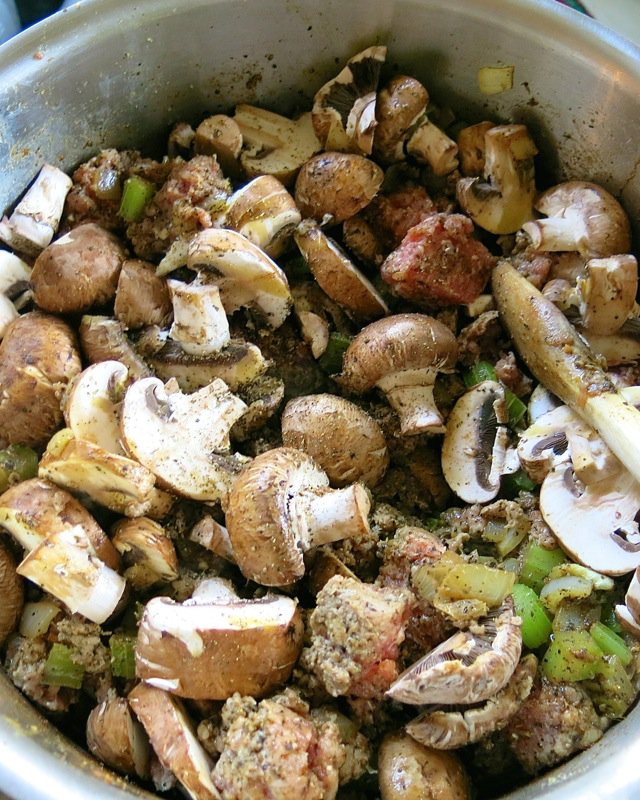 I added fresh muchrooms at this point to brown them a little.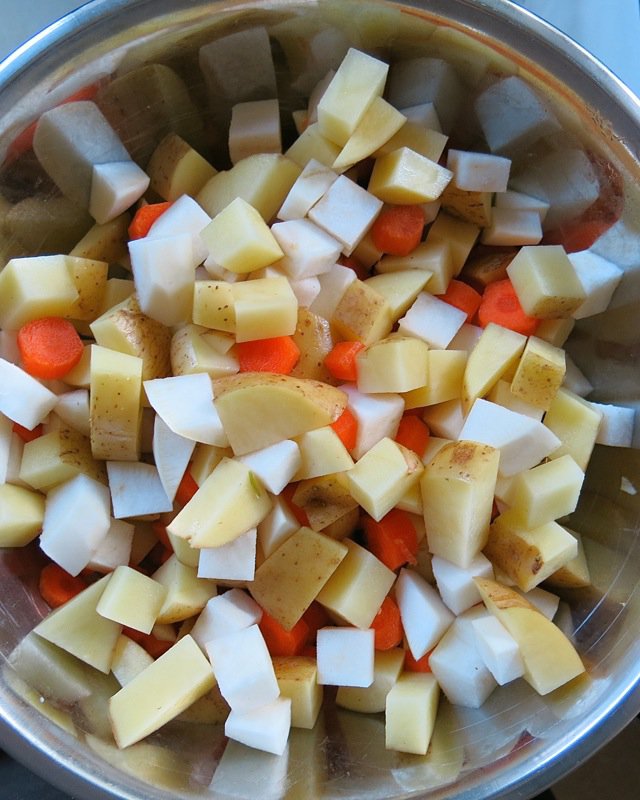 The remaining vegetables, except the cabbage are good to go.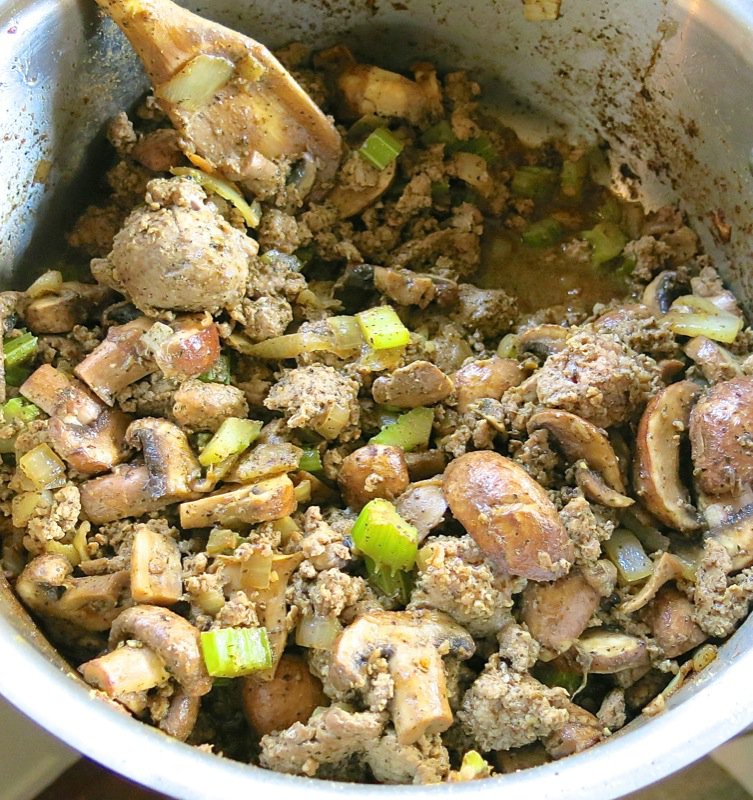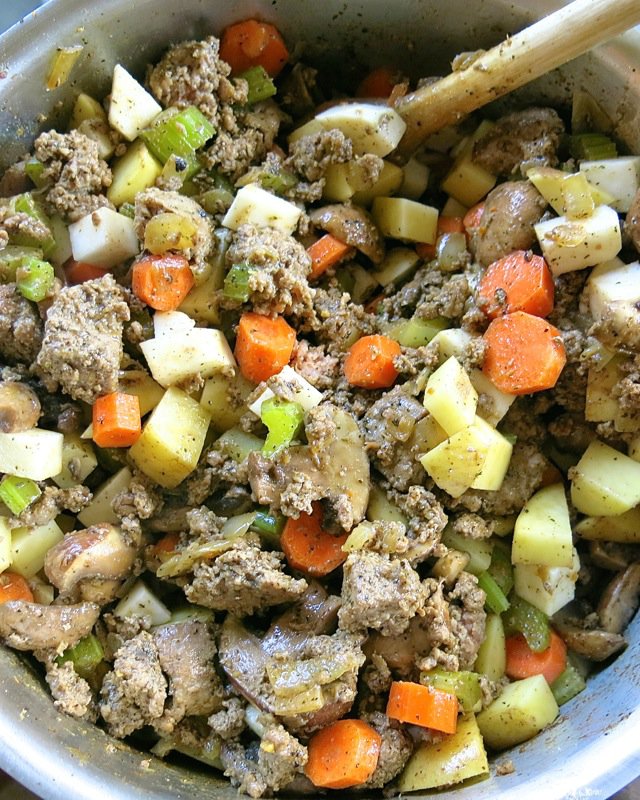 Mix in well, to combine and then add the liquids.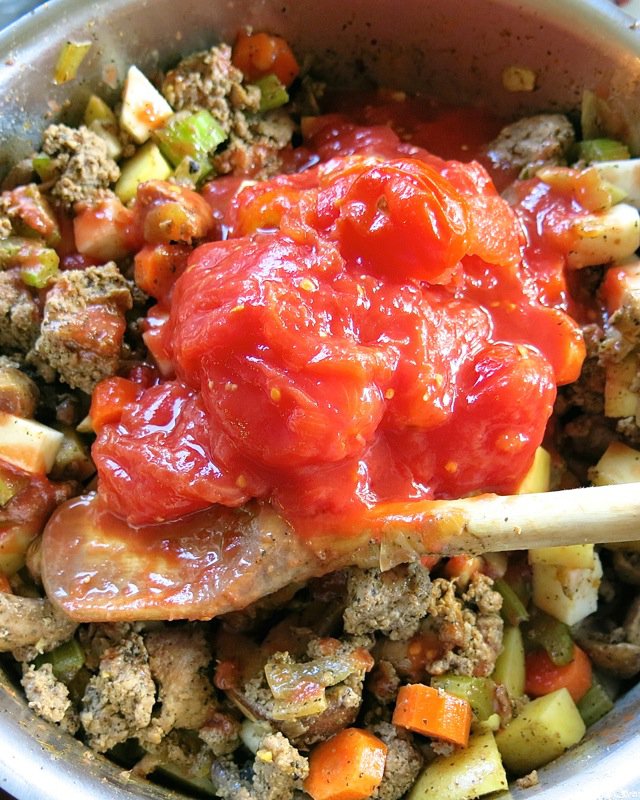 …the tomatoes (I just crushed them by hand)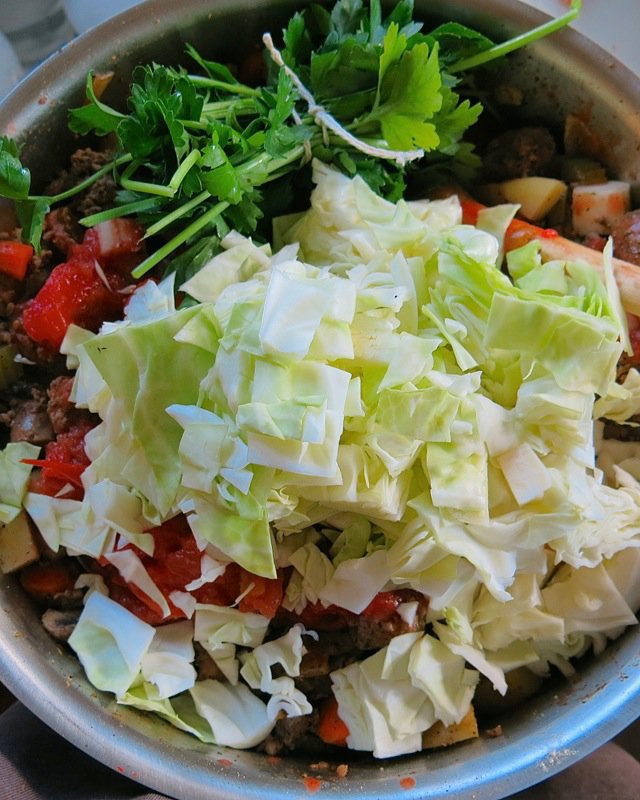 …the cabbage…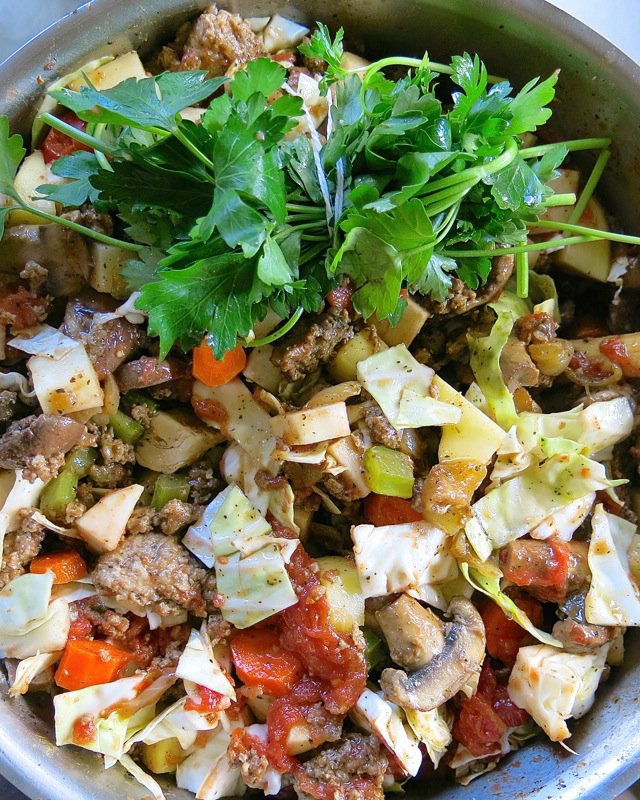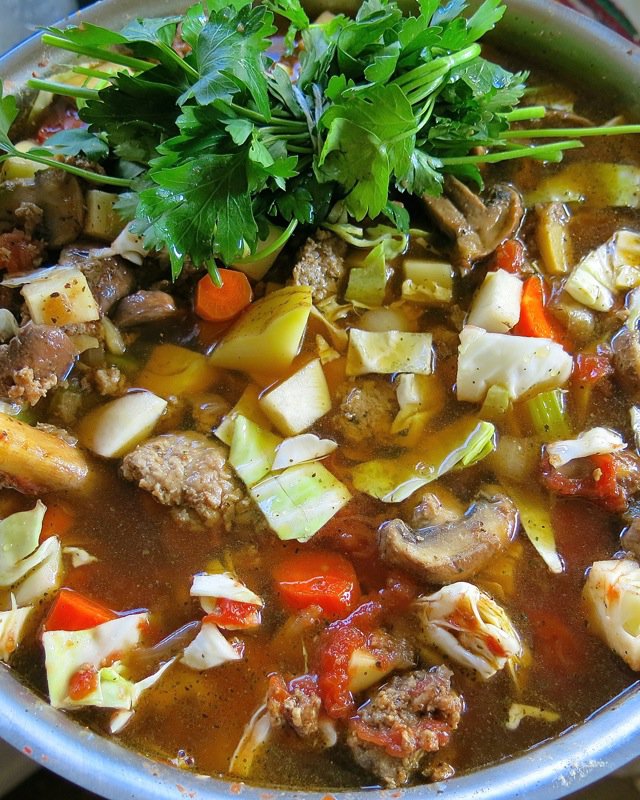 …the broth, bayleaves and parsley…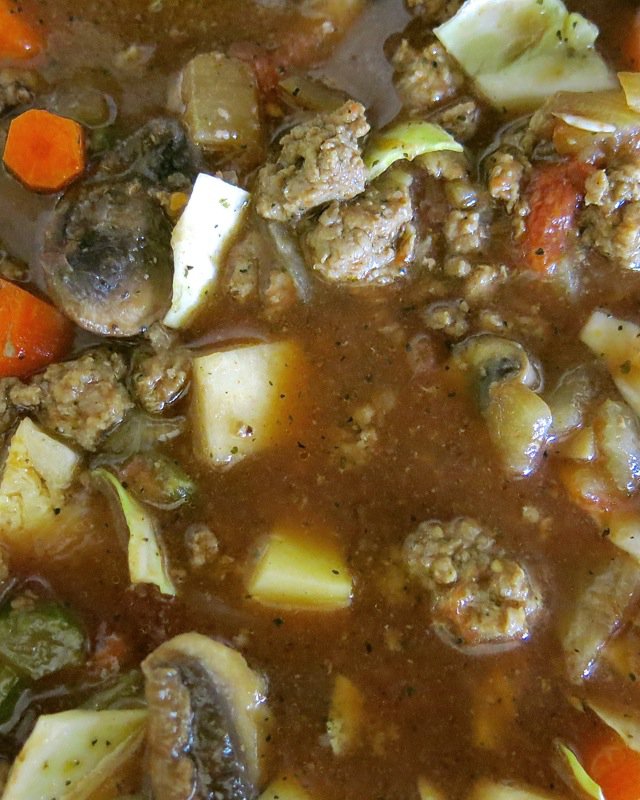 Simmer until vegetables are tender which will depend upon how big your dice is.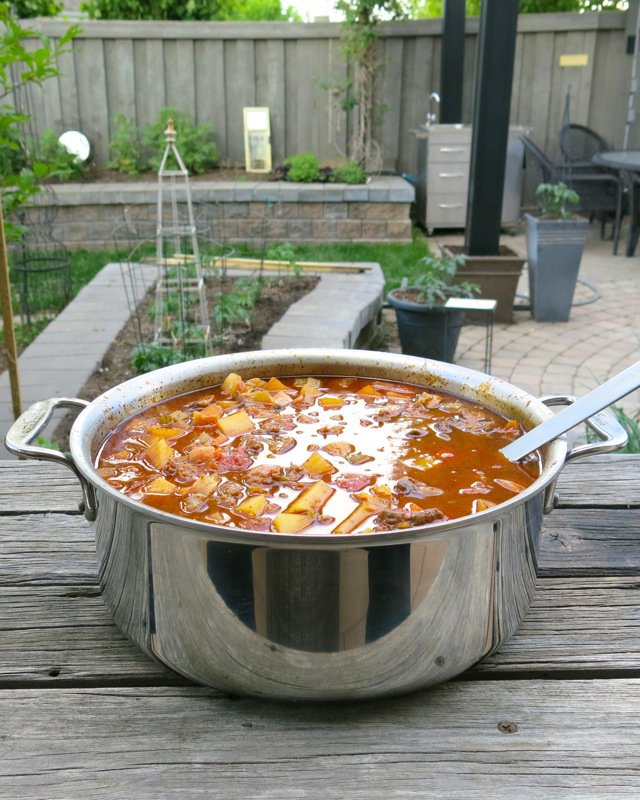 And you can see I made soup for an army. So, I have also provided a half batch (or a "normal" batch) in the recipe, below.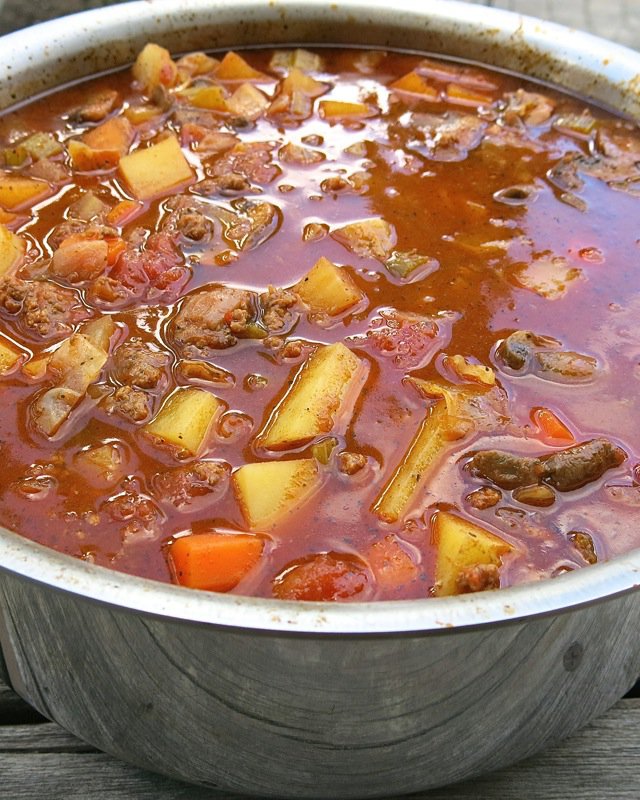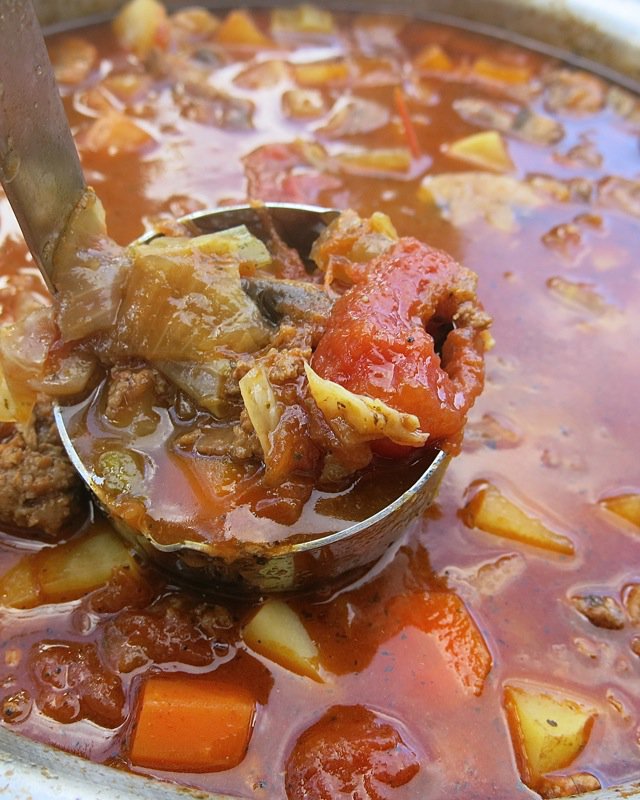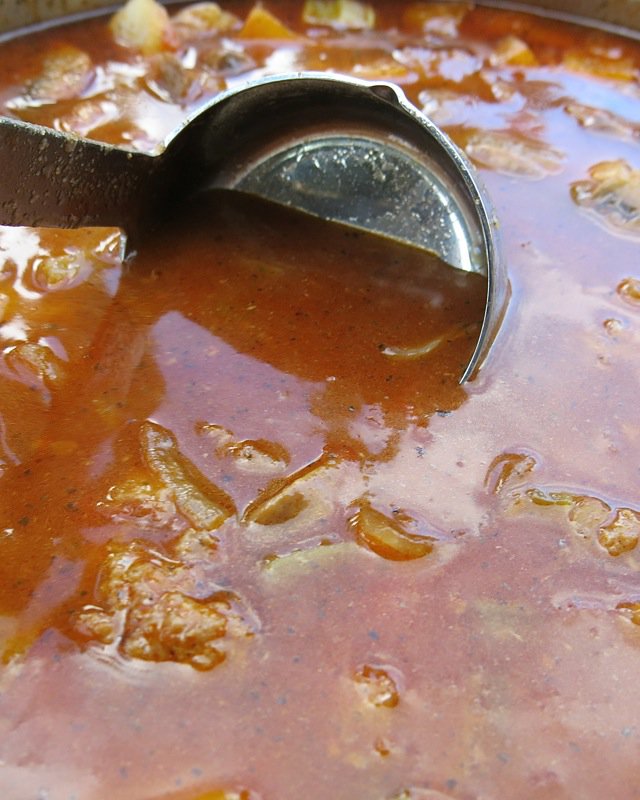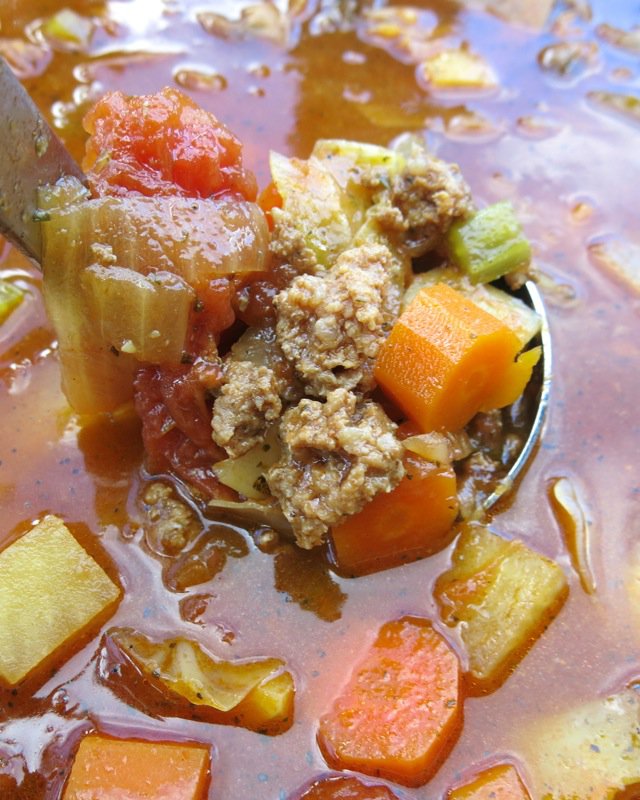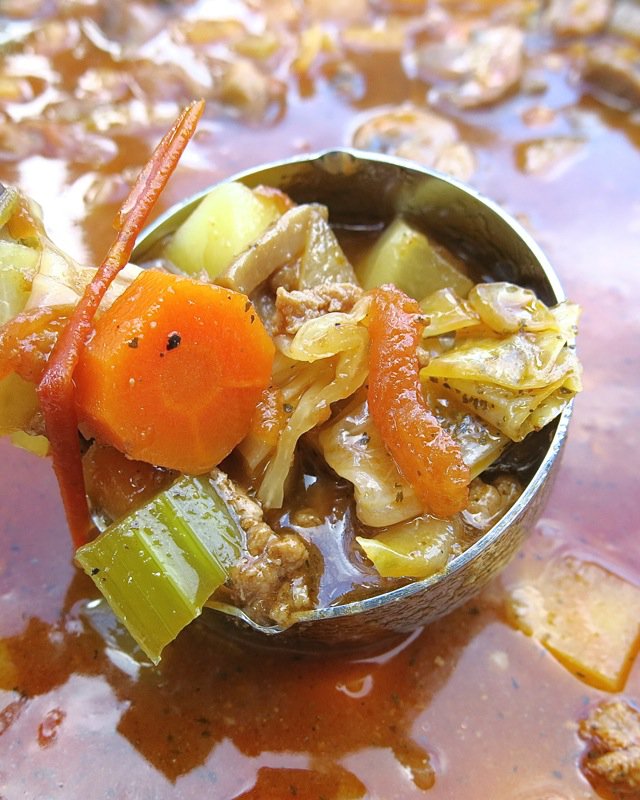 Now, there is a heck of a lot more ketchup in this harvest hamburger soup recipe that Bernice had mentioned, unless she made a very small batch… but it looked like a good sized portion. It adds a lovely acidic balance to this soup.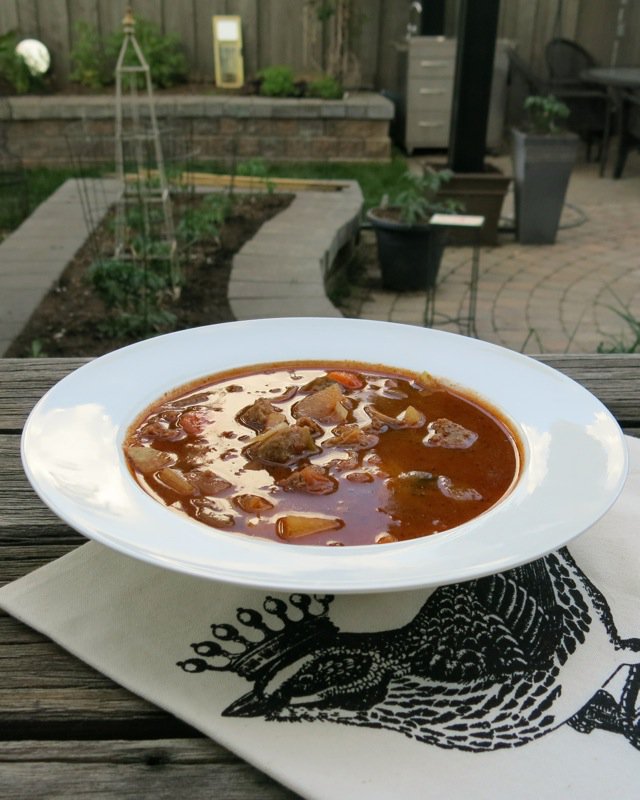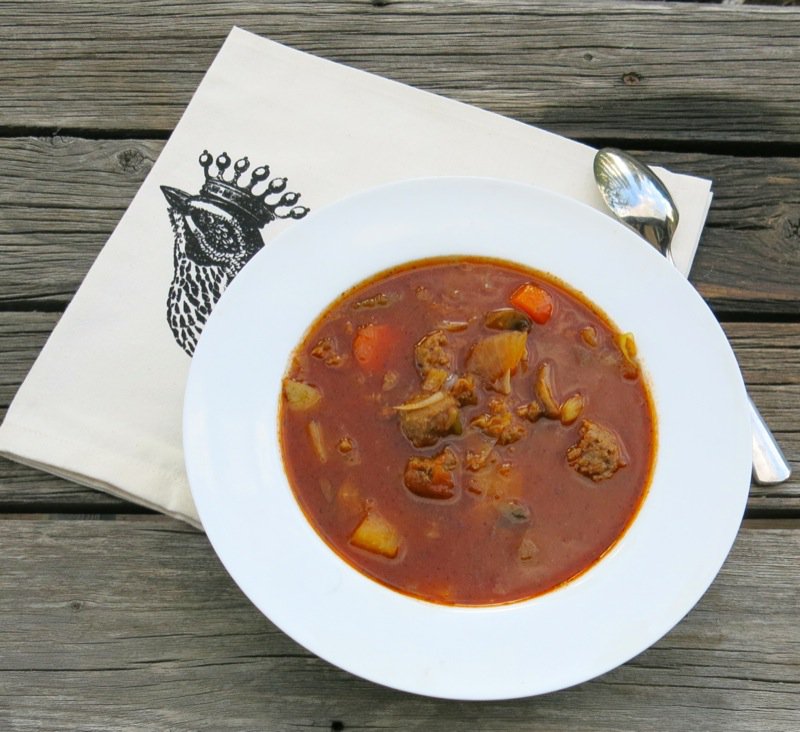 Bernice d'Entremont is the quintessential volunteer with passion for her Acadian culture like no other. Though, I will say, every person I met through her – and they were all Acadian, were pretty darn passionate about their culture. These people have lived in this spot for over 300 years. They know who their grandparents were 11 generations back. They were the first to come to this area. I had no idea that there was a place like this in Canada – where the people first settled, and just never left.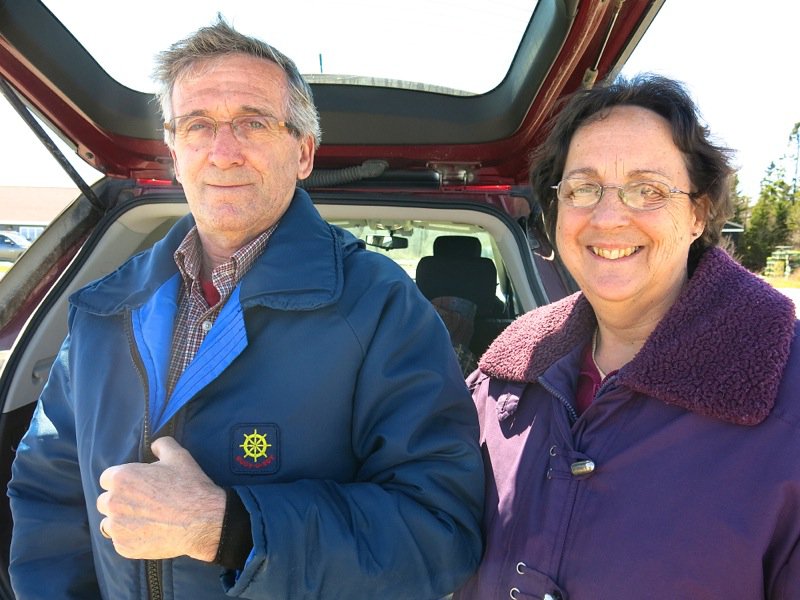 Well, these people left. They were expelled, but I did not know that they came back 10 years later. I seriously did not know this. And have not left since, almost all of them. They have a community that is so tight, and so special that it was hard to wrap my head around it. Please meet Bernice and Réal d'Entremont, above. It was Réal's great grandfather 9 generations back who founded this town and whose statue is in front of the Acadian Village or Le Village historique acadien de la Nouvelle-Écosse. Much more to come. And for now, I hope you enjoy this soup. We will be lobster fishing with Bernice and Réal, next. Lobster fishing. With a real lobster fisherman!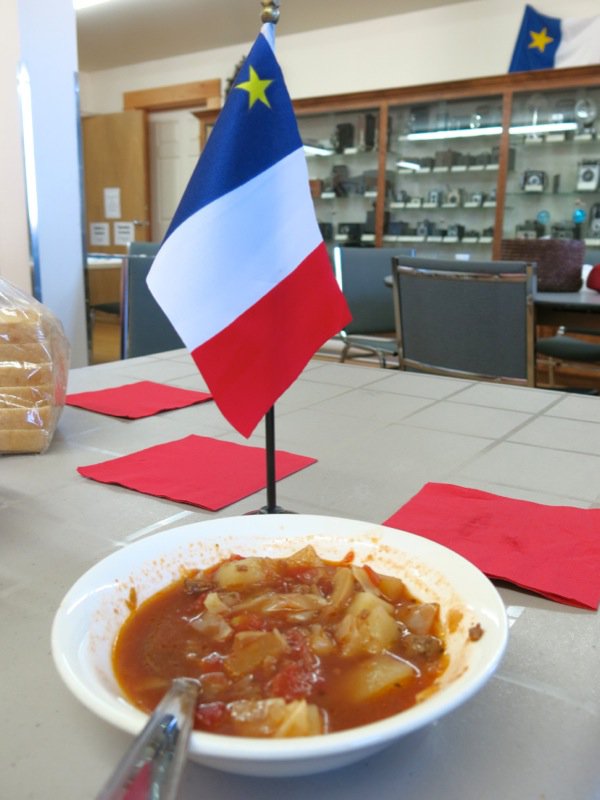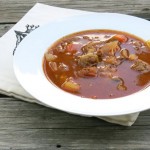 Spring Harvest Soup (aka Hamburgar Soup)
Spring Harvest Soup is a recipe that Bernice d'Entremont's Acadian family has been making and enjoying to celebrate the end of Winter in Pubnico, Nova Scotia, for years.
Ingredients
Ingredients for The Big Batch
4

stalks of celery

, sliced

1

onion

, diced

2-3

tablespoons

olive oil

1

kilo of know-your-farmer hamburger

1/4

pound

fresh mushrooms

, sliced (not in the recipe she gave me, but there were canned mushrooms in her delectable soup!)

1

tablespoon

sweet paprika

1

tablespoon

Vegeta

(not in Bernice's recipe, but a "Vanja" requirement)

1

tablespoon

of dried basil

1

tablespoon

of garlic powder

2

teaspoons

of salt

, or to taste

1/2 -1

teaspoon

freshly ground pepper

, or to taste

1

turnip

, peeled and diced

3

large carrots

, peeled and sliced

1/4

cabbage

, diced

2

good sized

, thin skinned potatoes, diced (I used a yellow fleshed potato; definitely not a Russet)

2

litres beef broth

(Bernice's husband, Real loves to use Campbell's Soup brand)

28

ounce

can of diced tomatoes

(I used DOP Italian whole Romas and crushed them by hand, as that is what I had on hand)

1

cup

of Heinz Ketchup

(I make my own, but definitely know this would needs Heinz for the acidic kick)

2

bayleaves

1/2

bunch of fresh parsley

, tied with string
Ingredients for a "Normal" Batch
2

stalks of celery

, sliced

1/2

large onion

, diced

2

tablespoons

olive oil

500

grams

know-your-farmer hamburger

8-10

large fresh brown mushrooms

, sliced (canned mushrooms in Bernice's delectable soup!)

1.5

teaspoons

sweet paprika

1.5

teaspoons

Vegeta

(not in Bernice's recipe, but a "Vanja" requirement)

1.5

teaspoons

of dried basil

1.5

teaspoons

of garlic powder

1

teaspoon

of salt

, or to taste

1/2

teaspoon

freshly ground pepper

, or to taste

1/2

turnip

, peeled and diced

1

large carrot

, peeled and sliced

1

cup

cabbage

, diced

1

large thin skinned potato

, diced (I used a yellow fleshed potato; definitely not a Russet)

1

litre beef broth

(Bernice's husband, Real loves to use Campbell's Soup brand)

14

ounce

can of diced tomatoes

(I used DOP Italian whole Romas and crushed them by hand, as that is what I had on hand); I didn't halve this and this may be why Bernice's soup was a bit redder

1/4

cup

Ketchup

(I make my own, but definitely know this would needs Heinz for the acidic kick)

1

bayleaf

1/4

bunch of fresh parsley

, tied with string
Instructions
Sauté onion and celery in olive oil

Add hamburger, sauté until brown

Add mushrooms, stirring gently to sauté

Add seasonings and spices; combine well, then add all remaining ingredients, sans the parsley (turnip, carrots, cabbage, potatoes, can of tomatoes, ketchup and beef broth, bay leaves)

Simmer for 30 minutes, or until vegetables are just tender

Remove bay leaves and parsley

Adjust seasoning

Chop some fresh parsley to garnish the soup, if desired

Serve hot with fresh biscuits and butter