Italy wrapped in the warm colours of the harvest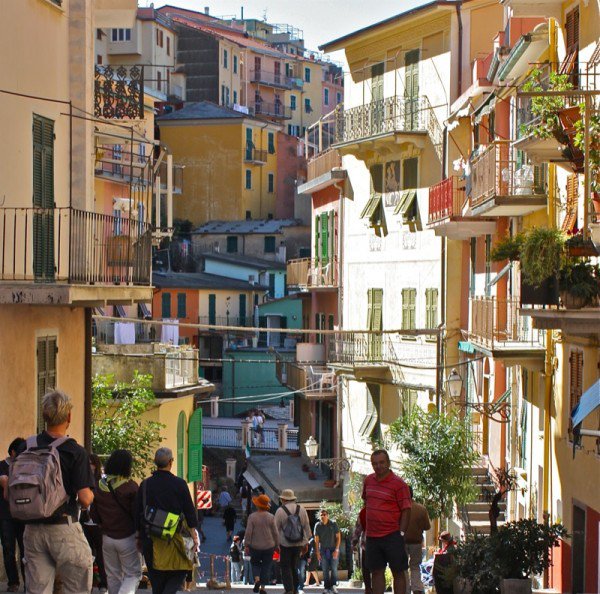 European Tour 2011: An Introduction to our new Italian Friends
Our European Tour 2011 was a kaleidoscope in vibrant technicolour due to each person whose lives touched ours – awakening, somehow, a new way of seeing and being.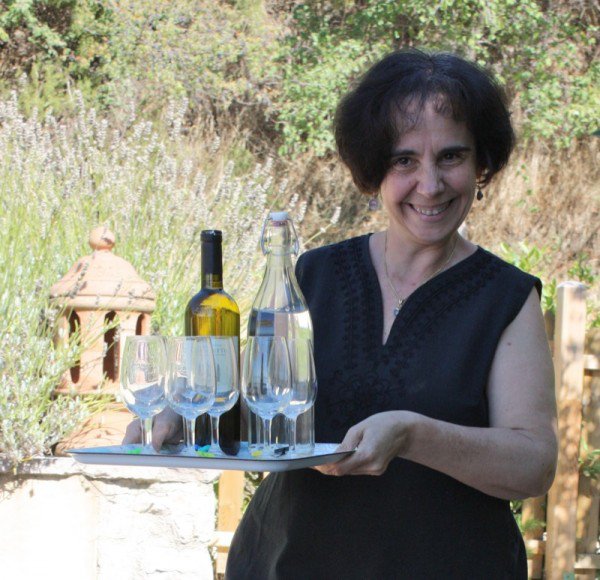 First, it was Letizia: a petite woman with a thick dark crop of perfectly groomed hair, vibrant eyes and a familiar "welcome home" smile so unexpected from a stranger, yet so comforting. Can't you just feel her warmth by looking at that smile? She greeted us like family and we immediately felt at home. Later, I learned that was exactly her goal when she and her husband, Ruurd, decided to open a bed and breakfast in Assisi: their guests are to feel they were in the home of friends. We absolutely felt that way, and my cooking class with her on our last day there was definitely an intimate Italian home cooking experience that will be forever cherished.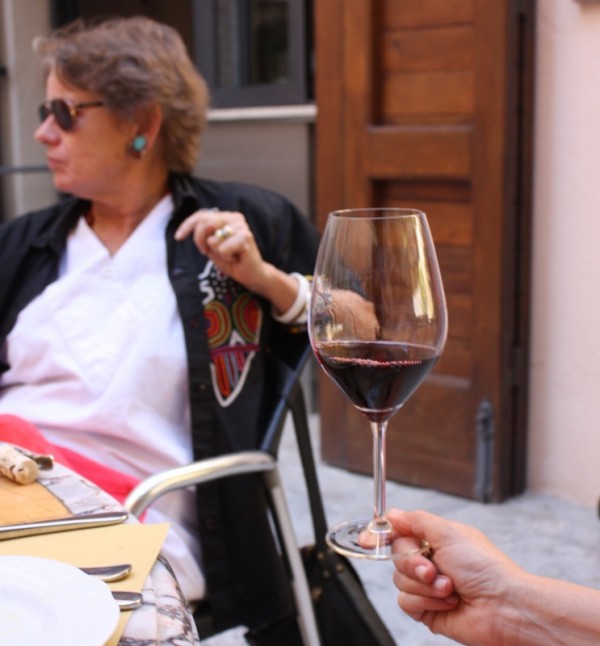 Next it was Anne. She is a walking encyclopedia of anything Italian: art, food, history, religion. Ask a question, but prepare yourself for a deeply passionate in depth answer. Anne has an agenda. She is intrinsically compelled to cover, explain, espouse, expound and express what she has learned is important for you, the tourist, to know after her thirty plus years living in Assisi known as "œAnna the Americana" by most in town. I was authentically moved by her intellectual and spiritual introduction to Saint Francis of Assisi. She was also the translator for the family of Amanda Knox during her trial in Perugia from 2007 until the announcement of her release while we were there and a wealth of local knowledge.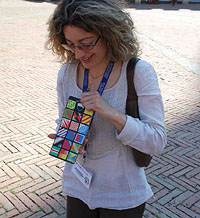 Constanza was our guide in Siena. No deposit required. Only trust. She was exactly where she said she would be with a warm smile and an open mind. I had been to Siena three times prior and she was to tour Vanja around and fill him in on the history of this oldest walled medieval city in Italy. She was sensitive to our needs, his questions and provided a perspective on the city that was completely new to me as she is a person from the area living in the city. There wasn't a question she couldn't answer. Her sweet spirit was endearing and we particularly appreciated her lunch recommendation as it is one of our nicest European Tour 2011 memories.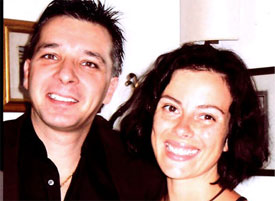 Then Marco and Samantha. They own and manage the Hotel Dali a block from the Duomo in old town Firenze. I was a little wary finding the reception upon check-in two floors up and on one floor only; however, Samantha beamed at me coming through the door, "Lugonja, right?"I shook my head, astonished. "We have been waiting for you!" She pronounced the name correctly and the sincerity of her welcome touched me. After her humorous and patient explanation about where to park the car we found our room spacious and more than adequate. Marco and Samantha are the added value to this Rick Steves recommended stay in Firenze. For five days we paid about 400 Euro which included parking literally steps from everything. Not to mention that we left with everything loaded in the car to get cash to pay. "Would you like us to leave our passports or something until we return with the cash?" Vanja offered. "Nope. Come on!" and he gestured his Italian shrug that clearly said "Don't be ridiculous! Why would I need your passport?"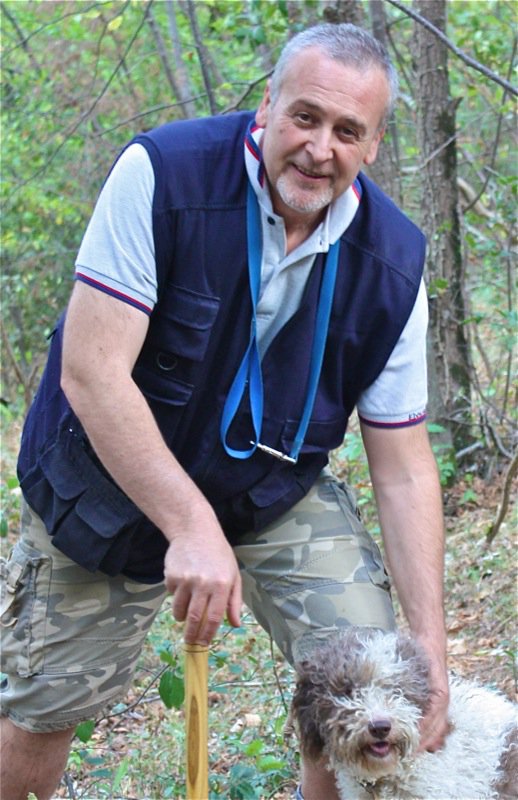 One of our day trips out of Firenze was to Giulio and Christina's about 20 minutes away in Bagno a Ripoli. We had already ventured out of town another day in the same direction to Penzano, the Chianti region, and San Gimignano, so Vanja had a sense of where to go. Thank goodness for google maps, too! Up narrow winding roads, lanes, and almost paths, we found their beautiful home, Limonaia, where we were soon to be immersed in a Truffle Experience in the hills of Tuscany. We spend an unforgettable day with this exuberant multi-talented man and his ethereal and artsy partner learning and experiencing far more than the Autumn truffle. It is because of the intensity of their zeal for the life they live and the choices they have made, their heartfelt warmth and exceptionally delicious food that they will be forever treasured. The experience was a simulated one, though he would be passionately insulted by this. Yet, clearly, it was. Would I recommend the experience? Absolutely! One of the highlights of our European Tour 2011 for me.

Giuliano from Vernazza is a caricature of who one might expect to meet in the sea town of Cinque Terra. Number One on Trip Advisor for accommodations, a Rick Steves favourite and definitely a Pirate from this Paradise, Guilliano is the quintessential bed and breakfast (without breakfast) host. We stayed at a new apartment of his right in the town, perfect for us, and a mere 75 Euro a night. There was even a big bowl of spare change sitting on the table. He insisted on hauling our pretty-darn-heavy-by-now suitcase up quite a flight of stairs on his own and then headed off to work as a waiter in a very nearby local restaurant. How will we pay you? "Oh, we'll see each other around." We left there 4 days before the catastrophic flood that completely destroyed Vernazza.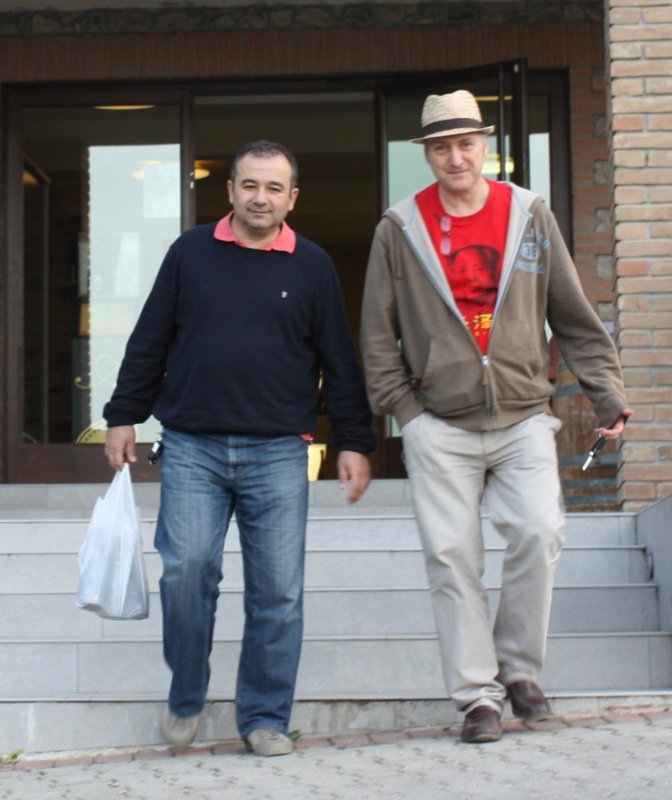 On our way to Bologna, Nick Garrett toured us through a small Prosciutto di Parma producer's drying and curing facility with a quiet passion for the Prosciutto di Parma that was palpable. He was responsive, knowledgeable past expectation and still translated an awe for the product, the process and the miracle of it all though he must have led hundreds of similar tours. We were very impressed and thankful for his also generous guiding us back to our hotel. I plan to do business with him in the future!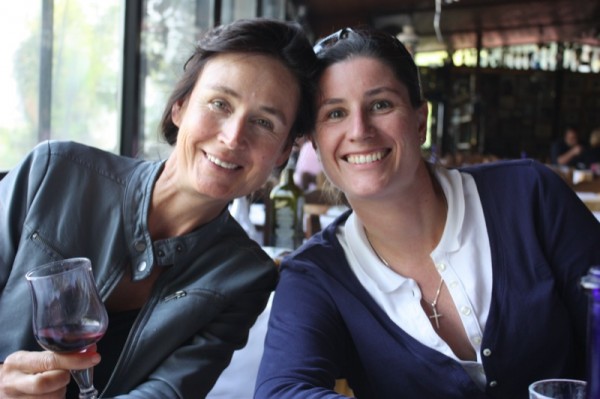 Martina. There is too much to say about Martina, above on the left. I first wrote about her last summer when I met her in Edmonton and had her over to our home for a potluck dinner. At that time, we had our itinerary planned and Bologna was on it. She invited us to stay with her and I knew that would take some arm turning on my part, but Vanja did eventually agree. What a miracle that we met and then had the opportunity to stay with her and be toured by her in Bologna. Martina is the "go to" gal when in Italy. She really does it right. She not only hosted us in her palatial palace-like apartment just a block from the Piazza Maggiore in old town Bologna, but she toured us through the food markets, took us to an authentic family owned Balsamic Acetaia in Modena, to a Slow Food Parmesiana Reggiano farm in the hills of the Emilia-Romagna region, to a Slow Food mixed farm near by, and then to a restaurant in the area near Zocca where we dove into bowls of pasta laden with shaved white truffles. She made our European Tour 2011 spectacular, personal and breathed soul into it by making it personal. She and I are planning a tour to Italy next year during Slow Food's Terra Madre and a little before and after. I cannot wait to get the schedule up and sell spaces. This tour will be mind blowing (and affordable) for food loving people. This experience with Marina was second to none and she will be forever in our hearts.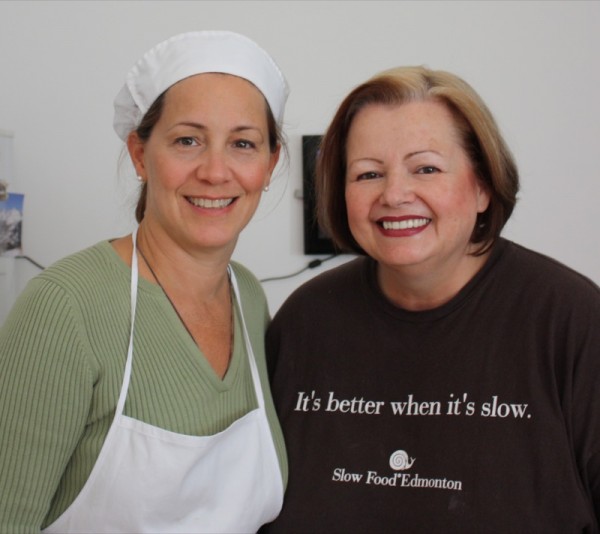 Maribel. Maribel is Martina's business partner and she teaches authentic Italian cooking classes in the world renowned culinary centre of Italy. I had her all to myself one day and she taught me how to make traditional Bolognese pasta from scratch (of course) and by hand. No machines. No rollers. And I rolled it thinly enough to read the recipe right through it just like the nonna's of old! Imagine taking a pasta making class in the Pasta Capital of Italy! She is one of the best cooking teachers I have ever had. I don't usually take individual classes, but this was my good fortune on this day and I cannot express how profound this learning experience was for me. We made three sauces (well, she did) and then served the meal to everyone. Maribel, I certainly hope to see you again next year with a group from Edmonton. A class with Maribel is an absolute must. There can be no other as good. That would not be impossible. Again, a European Tour 2011 highlight.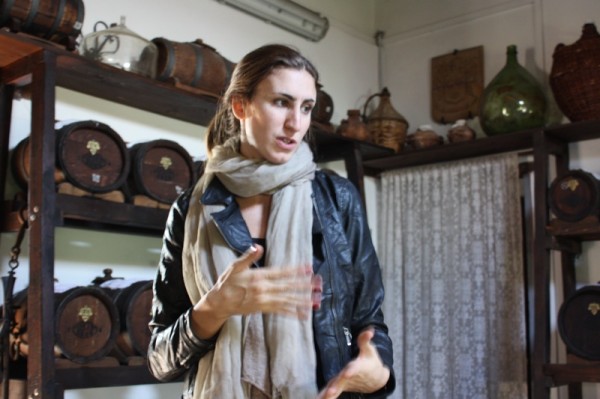 Carlotta Barbieri, of Acetaia Giorgio in Modena, the only child of the family, proud to assume her honoured place as the eventual head of this family to carry on this deeply rooted tradition. Her personal presentation, information and the manner with which she humbly and proudly presented her family heritage was astounding, so intimate and personal that both Vanja and I truly felt so honoured to have participated in this experience. Yes, we bought some of this "black gold" and when we are in the area again, we will be back. Carolotta's essence is compelling. We will think of her every time we enjoy our Balsamic Tradizionale. This was Vanja's favourite tour on our European Tour 2011 trip.
These are the people we shall never forget and so wish we could reciprocate by hosting each through a tour and tasting of our Canadian prairies. It would be the height of joy to have any one of these people accept our invitation.
And I have yet to get into the food. Oh, the food, the food, the food, the food. Oh, the food!
Let me just say, my bags are very full and yet to be unpacked. We are still away for two more weeks and I will tell all. But, my camera can never do justice to the glorious simplicity and richness of life we have experienced here.
Italy/Balkans Itinerary September 30 to October 13 2011
For your information, and mine, I have detailed our Itinerary for the trip with links to websites and added phone numbers and e-mail contact information whenever possible.
Day 1: Thursday, Sept 29, 2011: Depart Edmonton for Rome
Day 2: Friday, Sept 30, 2011: Arrive at Rome Airport and transfer to Assisi
Pick up car Avis car rental at Rome airport
Drive to Assisi
Accommodation: Agriturismo Alla Madonna del Piatto: Letizia Mattiacci and Ruurd de Jong

Via Petrata 37, Pieve San Nicolo', 06081 Assisi (PG) Italy, Tel +39075 8199050, Cell +39 328 70 25297,  www.incampagna.com
Double Room C Arriving Fri 30th September 2011 Departing Mon 3rd October 2011

Dinner at Agriturismo il Pioppo
Day 3: Saturday, October 1, 2011: Assisi
Day 4: Sunday, October 2, 2011: Assisi (Day Trip to Siena)
Day 5: Monday, October 3, 2011: Assisi to Firenze
Local Food Tasting and Cooking Class with Letizia on October 3 for one person
Transfer to Firenze after class and meal
Accommodation: Hotel Dali: hoteldali@tin.it, Via dell'Oriuolo 17, 50122 Florence Italy, Phone: 055-234-070
Dinner on the street as we walked around the town
Day 6: Tuesday, October 4, 2011: Firenze
Day 7: Wednesday, October 5, 2011: Firenze
Day walking, shopping, tasting, and leisurely enjoying the city of Firenze
Lunch at Sasso di Dante beside the duomo
Dinner in room with local meats, fruits, cheeses, treats and breads purchased at the Mercato Centrale
Day 8: Thursday, October 6, 2011: Firenze
Day in the Tuscan Countryside through the famous and awe inspiring Chianti countryside
Dinner at Sasso di Dante beside the duomo (yes, it was that good)
Day 9: Friday, October 7, 2011: Firenze
Truffle Hunting Experiencein the hills of Tuscany near Firenze

info@lalimonaia.net
VIA DI TERZANO 34 BIS, Bagno a Ripoli
Phone is: +39.055.633001Â Mobile is: +39.334.7234689
My home is called LA LIMONAIA

Dinner at Mamma Gina's in Firenze (authentic recipes on their website in English!)
Day 10: Saturday, October 8, 2011: Firenze to Cinque Terra
Day 11: Sunday, October 9, 2011: Cinque Terra
Exploring 5 small towns
Coffee at Montorosso, Lunch at Manarola
Dinner on the warf of Vernazza (street food)
Day 12: Monday, October 10, 2011: Cinque Terra to Parma
Accomodation: Hotel Torino

Via Angelo Mazza 7, Parma, 43100 Italy, +390521281046

Tour of Massimo's small scale Procuitto di Parma curing house

Nick Garrett was our guide and the tour was booked through ParmaGolosa

ParmaGolosa by Boito Viaggi A.D.V

P.le Boito,N°5, 43100 Parma

Dinner at Trattoria del Tribunale
Day 13: Tuesday, October 11, 2011: Parma to Bologna
Toured through old town Modenaenroute to Bologna
Lunch on roadside enroute to Bologna with specialities purchased from Mercato Albenelli
Accommodation: Martina's Home in the heart of Old Town Bologna literally steps from the famous Piazza Maggiore
Market Tour by Martina of Bologna's two Old Town Food Markets
Family Dinner at Martina's
Day 14: Wednesday, October 12, 2011: Bologna
Traditional Pasta Making Class with Maribel from Taste of Italy
Lunch with Martina and family and the three pastas and sauces made with Maribel
Tour to Acetaia Giorgio in Modena with Martina of Golosa Italia(best tour of the trip: incredibly intimate and so special)
Dinner out with Martina to Ristorante Ciacco
Day 15: Thursday, October 13, 2011: Bologna
Parmisiana Reggiano Small Slow Food Farm Tour with Martina

Dairy Rosola, Zocca (Mo), Via Rosola, 1083
tel. +39 059 987115

Coffee in Zocca
Slow Food Mixed Farm Tour with Martina
Truffle Lunch at Trattoria Lina
Family Dinner at Martina's with Slow Food Presidiacheeses and meats acquired through the day
Day 16: Friday, October 14, 2011: Bologna to Bijeljina
And that is where we are now. In the Balkans!
One more week in the Balkans and one more in Italy to come! We are truly so blessed.