A great solution for the abundance of beautiful greens in the summer garden!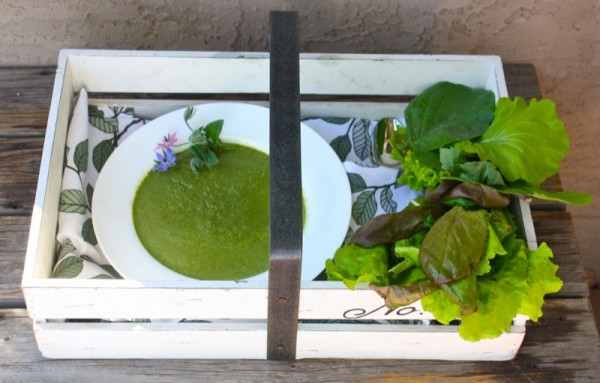 I planted so many gorgeous varieties of leafy greens this year that I have not been able to keep up with using them! I tweeted my question: "What can I do with so much extra garden lettuce?" when Allan Suddaby answered my tweet all the way from his European apprenticeship: "Lettuce Soup; it's a classic!" It is? I had never heard of it, nor eaten it. Where is it "a classic"? A little more research brought me to the French. If you are French, and reading this, please correct me if I am wrong, but it does appear to be a very classic French soup. I found it under a variety of French titles (translated) such as "Green Soup", "Lettuce Soup", and "Father Tranquil Soup". I chose the simplest I could find which did seem to be the most prevalent: lettuce, broth, milk, salt and pepper with a bit of cream or butter. I was very curious about the flavour. Very curious, indeed.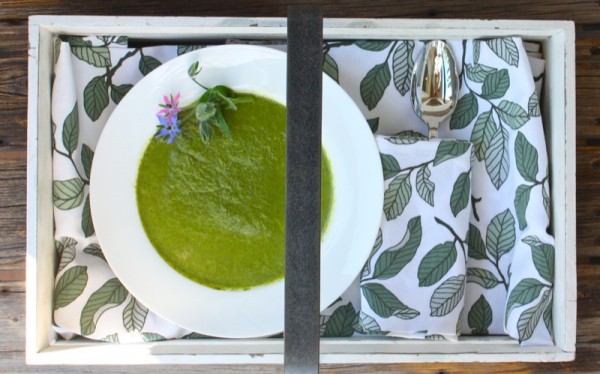 And thrilled with the vibrant colour! I did not expect it to be so vivid.
I also received a response from Dr. Caso to make a lettuce and pea risotto. I did this the same day and we had a splendid meal: Potage de Laitue Verte and Lettuce and Pea Risotto!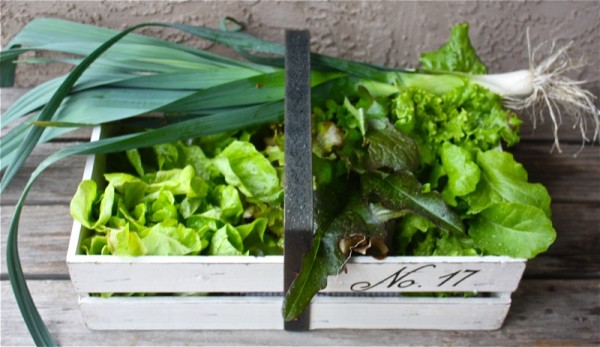 I harvested the vegetables for both, above, then split the lettuces is half: one bunch for the soup and the other for the risotto. The risotto called for one leek and this was my very first time growing leeks. I am thrilled with how they are growing and finding them easy to care for.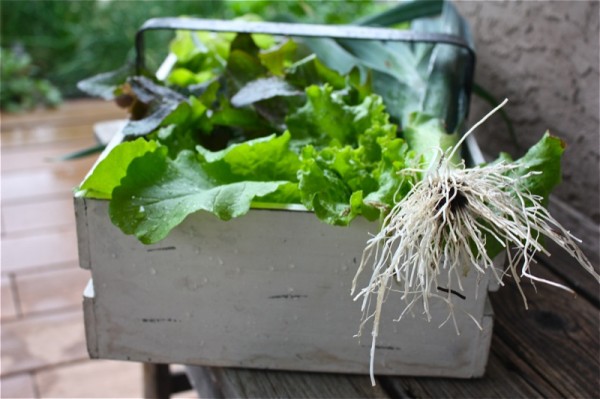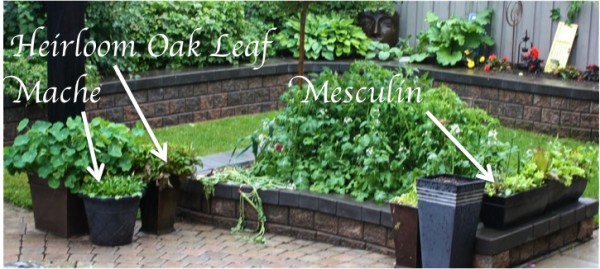 I didn't use any mache for these recipes as it wasn't large enough. But I did also use a plump, lush, soft buttery leafed lettuce not in the photo above that you can see below in the mix.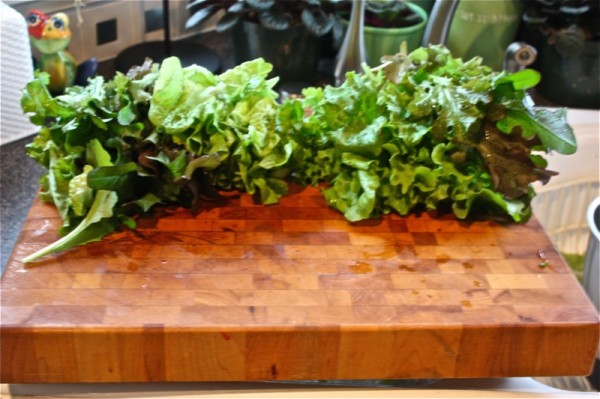 I chopped half of the lettuce for the soup and shredded the other half for the risotto, but that will be in another post.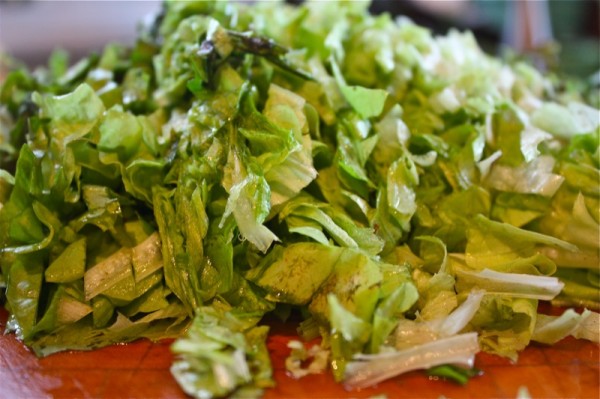 I always make soup in my Thermomix, so I just filled the bowl to the top, without packing down the leaves. Then, I added the broth and cooked it for 5 minutes until it was hot and bubbling.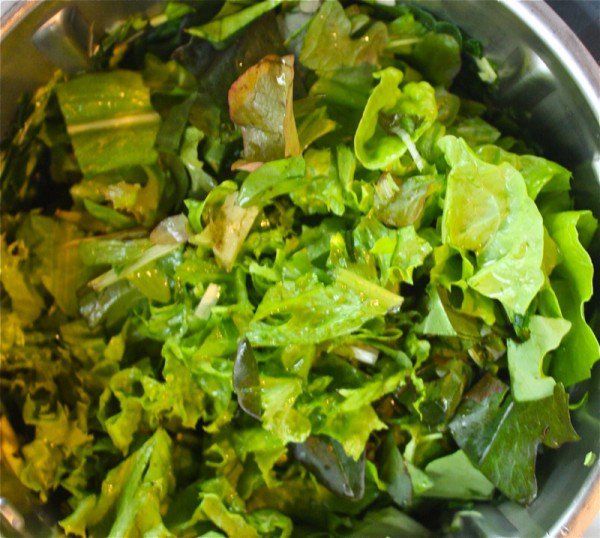 At this point, I added salt and pepper and decided a generous sprig of parsley would liven it up as the flavour was so subtle I could almost call it bland. But, with the addition of the salt and pepper, the parsley, and the milk, the puréed soup was definitely delicate and subtle and a great juxtaposition as the vivid green colour leads to the promise of a bright burst of flavour. With the traditional toasted and well buttered crouton placed at the bottom of the bowl, the steamy soup was poured over.
A sprig of borage for garnish and what a lovely, healthy garden lunch. Of course, eating it outside as a given. The crouton added considerably to the flavour of the soup. This was a splendid way to use my bounty of leafy greens and I feel to good about not wasting any of this incredible nutritive food. YUM! Thank you, Allan Suddaby!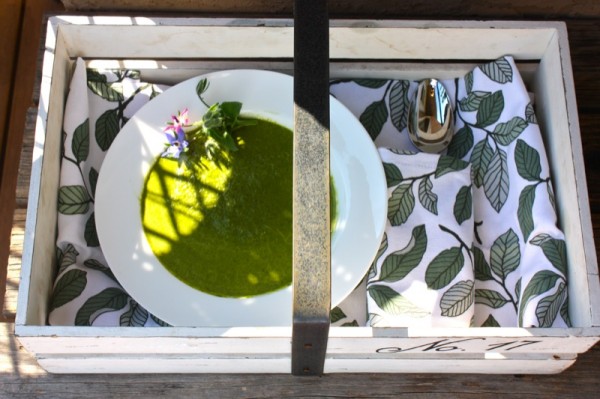 Lettuce Soup or Potage de Laitue Verte Recipe
Ingredients:
2 large whole lettuces or the outside leaves of 3
1 pint of mild organic chicken stock
1 pint of milk
salt and pepper to taste
a sprig of flat leafed parsley
a dollop of butter
one large toasted and buttered crouton per bowl
Instructions:
Cut the carefully washed lettuce leaves; put them in the saucepan with just enough broth to cover them
Let them simmer gently, adding a little more liquid, until they are quite soft
Sieve them, or purée in and electric blender
Return the puree to the pan, gradually add the rest of the broth and enough milk to make a thin cream; season with salt if necessary, a lump or two of sugar, and a pinch of nutmeg or black pepper
Before serving, stir in either a small lump of butter or a little thick fresh cream
Pour over hot buttered crouton and serve immediately
Instructions for the Thermomix:
Cut the carefully washed lettuce leaves; place them in the TM bowl covered with the broth for 5 minutes at 100°C, speed 2
Add the parsley and the milk and cook for 3 more minutes at 100°C, speed 2
Purée on Turbo for 30 seconds and season to taste; if you want a much finer or more velvety soup, purée for another 30 seconds
Taste, and season with salt if necessary, a lump or two of sugar, and a pinch of nutmeg or black pepper
Before serving, stir in either a small lump of butter or a little thick fresh cream
Pour over hot buttered crouton and serve immediately
Note: If you prefer a velvety soup, sieve it again after the liquid has been added