These are the people that produce our food: please read their words!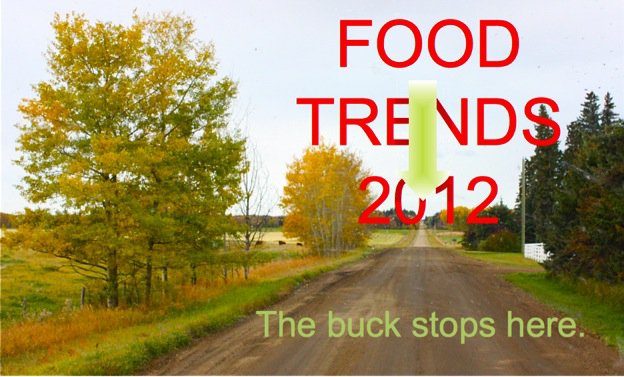 Following my Personal Reflection about Food Trends for 2012, I invited various groups of knowledgeable food people to offer their insights and views regarding food trends for 2012. I have posted this series in the following order and hope you enjoy reading it as much as I have!
Food Trends 2012: Part 5: Dana McCauley, Sinclair Phillips, Mara Jernigan, Letizia Mattiacci, Anne Robichaud, Martina Kuhnert and Maribel
Food Trends 2012: Part 7:Local Farmers this is the last one (see my happy dance!)
For this post, asked a number of my favourite Farmers to provide their personal perspectives regarding food trends for 2012.
Please feel free to ask each individual questions in the comments section here, as they come to mind. Certainly, as I was reading and preparing this post, questions came to mind that I will post in the comments section, too!
After reading these insights, please do take time to explore each of these websites; each has held my fascination for a very long time for varying reasons!
Major local trend in your region?
Trends throughout Canada or the US or your own country?
Hopes and Wishes?
Comments?
John Schneider from Gold Forest Grains
I buy John's grains and his flours and I love it! You can find him at the City Market and at Old Strathcona Farmer's Market and you should really make an effort to seek him out!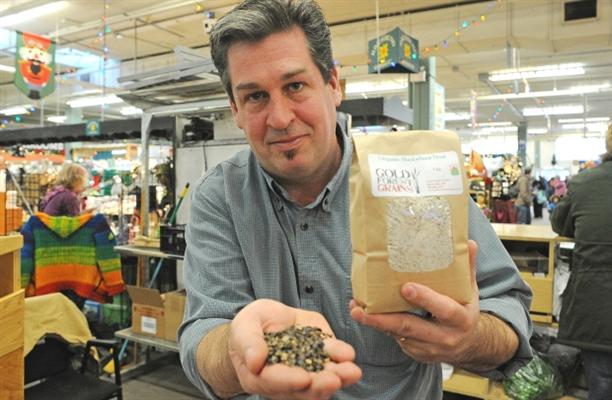 1. I think the trend that I see is perhaps that there is no trend either locally or regionally. I think that the front lines of food have become entrenched. There is the local food group, the organic foodies, and then the people that could care less as long as they can afford their boat payments. I would like to think that the local/organic movement was gaining momentum, but for my specific operation any of those gains are often offset by fad diets like Atkins and Gluten Free that seem to come and go.
2. U.S. and Canadian trends seem to fit into the same category in my mind. I guess that Organics continue to grow at a steady rate, but perhaps not enough to be labelled a 'trend'.
3. My sincere wish would be that people would really take the time to do their own research instead of relying on Dr. Oz to tell them what to eat. Even the new "wheat belly" dieters have it wrong. Did anyone actually read Dr. Davis' book and see that he says it's today's modern wheat and flour production practices that are the problem? Or did they just extrapolate that we should eliminate wheat? My wish is that people would not take the easy way out when it comes to health and human nutrition. Educate yourselves and make up your own mind using some common sense. Eating Entire Grain flour from heritage grains will actually help with weight control and gluten issues.
I have many customers that thank me weekly because they can finally eat wheat again.
I wish that fad diets would become extinct….not going to happen.
There is nothing like pork from a Berkshire Boar. Nothing! And the dry cured bacon that Alan and Nocola make is an Edmonton staple. If you have never tried it, it is a MUST. You can buy it from them at the Old Strathcona Farmer's Market on Saturday (they are at practically every market), or the Italian Centre Shops (for the first few hours after it comes in!).
1) Our locality is Edmonton and surrounding area – Our region is Alberta, Canada.
Major food trends seen from our retail customers:
foods free from major allergens – especially gluten
foods that are easy to prepare, easy to store and package
foods that are healthier i.e. lower in salt and fat
foods that actually have some flavour
awareness of where the food comes from, how the animals are looked after.
Major food trends seen from our foodservice customers:
fashionable dishes featuring pulled pork shoulder and pork belly
use of cheaper, less appealing cuts i.e. pork hocks, feet, head, offal etc.
food trucks – where did they all suddenly come from??
local food use – either on regular menus, or just in special feature menus.
move away from traditional dishes -Â Â featuring more ethnic style foods
more offering gluten free menu items
identifying specific breed of pig – i.e. Berkshire – it stands for superior quality and taste.
2) Major trends in Canada and US
Homestyle cooked food – not necessarily cooked at home, but in independant restaurants / food outlets.
Food Trucks – many offering healthy and unique styles of food
Local Food – a need to know where and how food is produced
Allergen Free Food – in particular gluten free.
Quick and easy to prepare meals – healthier meals and snacks – for busy on-the-go families.
Ethnic Foods
3) Sincere hope for a food trend in 2012:
is to see a move away from large scale factory farming, both animal and crop, where the only emphasis is on financial gain for the large corporations that control it, and very little thought is given to consumer health, sustainability, or animal welfare.
Jerry lives and farms in Northern Alberta, yet travels to Edmonton to sell his extraordinary bison. He is at the Old Strathcona Farmer's Market. I love the bison flank steak. If you buy some, I will tell you how I cook it! Delish!

I'm not sure how qualified I am to be responding to your questions since I have only been to 12 markets since the last year.
As a vendor at the OSFM in Edmonton we feed a local population of mostly urban dwellers. Â If I was to notice any trends from the past year I would say that the number of young males (late teens, early twenties) has increased. Â Some are purchasing organic meats as a supplement for body building but most just seem to have an awareness of the conventional food system which conflicts with their values.
I may also have noticed a reduction in the number of seniors who switch to organics in an attempt to alleviate or cure a physical disease (cancer).
No idea what happens beyond in the country or in the US.
Sincere hope?
I wish the growth of local food trends is enough to cause a reversal in the number of farms disappearing
from the city and region. Â Much more awareness is needed to slow the flow from Mexico and the US and bring our farmers back to the land.
I also (for the sake of the animals) would like to see a wider promotion of the work the BC SPCA is doing. Â The cruelty inflicted on animals should have to occur simply because we demand cheap food.
I got to know Danny and Shannon when I went to their farm near Viking last summer for
Blair Lebsack's Farm to Table Dinner!
Wowsers! Incredible fun! They sell the best beef! It is young nuveau beef (their name for it). They butcher it before or at 9 months old so it is between veal and beef, ultra tender and full of wonderful flavour as it is grass fed and I tasted that grass: beautiful, flavourful alfalfa! They sell at City Market Downtown and you must taste their beef. Vanja loves their pork and pork steaks, too and their chickens are incredibly flavourful. Sunworks chickens are much bigger, so if you want a smaller chicken, theirs are perfect. I bought 30 last fall for the Winter, with no regrets!
1. What do you see as the major food trends locally (name your locality), and regionally (your region) 2012 ?
Locally (Edmonton)
I think the major local food trends will continue focusing on grassfed meats raised on small farms. People in 2012 will want a firmer, almost family connection with their food and it's producers, ensuring its humane treatment.
Regionally (Alberta as a whole)
I think regionally the trend will have farm location being center stage
2. What do you see as major trends throughout Canada and or the US?
I think the North American trends will be very similar to the regional trends but with more emphasis on proving the humane treatment of animals raised "locally", regardless of farm or corporation size.
3. What would your most sincere hope, wish, or desire be to see as a food trend in 2012?
I hope everyone buys grass raised meats, produced by farmers who care about the land, the animals, and the food they produce above the almighty dollar; don't get me wrong, we all have to make a living and we'd all like to make as much money as we can, but not at the expense of our world.
Beyond farming I think the food trend will be far more focused on fast, locally made, healthy, family convenience foods. I think we'll see a lot more farmers selling value added products to the working mothers and fathers.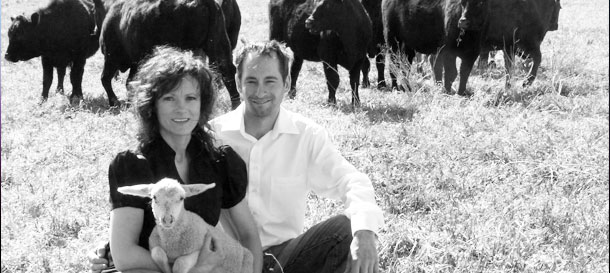 Rhonda lives so far East, yet is at The Edmonton City Market every Saturday. Talk about young Pecorino: YUM! I was so delighted when I found I could buy this locally. It is so delicious and Rhonda (new mom of twins) is a Master Cheese maker. She also sells it at
Everything Cheese
. Make sure you try it!
1. Here in Lloydmnister, there is an interesting trend of providing food experiences. Â Until last month the dining options were only chain restaurants or frozen food from Sysco types of restaurants. Â About a month ago opened a gorgeous restaurant that is making great efforts to truly use as much local food as possible. Â It has a small fresh menu. Besides the local food, it also showcases local artists and offers a variety of classes such as cooking, dance and knitting! Â As well, there is a local food grocery store in town opened by a local farmer that offers food to go, cooking classes and has a dining room. This opened a year ago.
2. Food Trucks Seem to be on the rise
3.
I wish upon a star that people want to seek out local made cheese and that they want to taste all of them!
As a small scale producer for what seems to be a movement towards local food, I see a lot of places say they are interested in local food, but not really embracing it. (That is sad, adds Valerie)
Patty Milligan from Lola Canola Honey: A few things that I think we'll see gain momentum (if not take off!) in 2012
The land of milk and"¦.grain
Demand will increase exponentially for local, direct-marketed grain and dairy products, which are still usually considered large-scale commodities in Alberta. I'm thinking along the lines of what Gold Forest Grains, Mighty Trio Organics, and Johnston's Dairy are doing. In the next year or two, other, similar farms will likely pop up in other parts of the province. BTW not only will the demand for LOCAL milk products grow, the demands for non-cow milk products will grow (sheep and goat). So will the demand for raw milk. I think we'll see additional challenges to the law prohibiting the sale of raw milk in Alberta in 2012.
Farmers make beer (instead of just drinking it)
A few years ago Alberta fruit-growers won the right to make and sell their own wine. Beekeepers followed suit a couple of years later with locally produced mead. They can both now sell their products in Alberta Approved Farmers' Markets. (I'd see a couple more wineries and meaderies launch in Alberta in 2012). But what I'm really hoping for in 2012 is that at least one small-scale, possibly organic, grain farmer will lobby for the right to brew beer from his/her own grain! Who wouldn't want to pick up local microbrewery beer at the friendly neighbourhood farmers' market?
Urban flocks and hives about to thrive!
Urban chickens and bees will move closer to being legalized in Edmonton and other municipalities across the country (where they are not already). We'll see some really successful pilot projects kick off in Edmonton. The push for urban bees will be spearheaded by a public institution""perhaps a gallery or a conference centre will lobby to have beehives on its rooftop or terrace. Whatever way people feel about backyard bees, the idea of rooftop hives is irresistible to most.
As more beekeepers spring up inside and outside the city, you can expect to see hyperlocal honeys at farmers' markets. The floral sources may not be identified but the exact location will be""you'll see honey labels like these soon: "œMill Creek Ravine Gold" or "œBonnie Doon's Best," "œThe pride of 104th Street," or "œRange Road 234's Finest." Honey is moving into the realm of wine, coffee, and chocolate""a complex food whose subtle differences in taste are sought after and savored! Hives will be named, vintages will be recorded. I'd like to see a shop dedicated to honey open up but that may take a couple more years.
Consumers and producers do-si-do
While the local food movement has primarily been about urban consumers and rural producers, we'll see evidence of a "œreverse" trend in 2012: More urban producers will be growing and selling their produce (via farmgate, CSA, or farmers' markets) and, at least in the areas around larger cities, we'll see a renaissance of the smaller (but often long-running) rural farmers' markets catering to more rural consumers who are also now seeking out local foods.
First restaurants, then food trucks, next"¦..
In 2011, food trucks sprang up, providing a way to enjoy local food outside of high-end restaurants. We've seen at least one non-mobile concession get on board (Harvest Chef at the Old Strathcona Farmers' Market). I think this movement""marrying skilled chefs, concessions in "œordinary" public spaces, and local food""will continue. I'm keeping my fingers crossed that it will spill over into rural areas especially given the success of events like Sturgeon County Bounty and Dine Kalyna. Maybe we'll start seeing some fantastic local food at rural venues and events. This also forms part of the movement towards local, fresh, home-made food at cafeterias in schools, hospitals and other institutions.
More farmers who are spring chickens
Looking around farmers' markets these days, you'll notice a lot more young faces serving you. There's a boom, it seems, in young farmers and their families making a go of growing and direct selling local food. They are joining family businesses or they are starting out on their own. This trend will continue. Maybe we'll bring that average age of farmers (51) down in 2012? The businesses that will thrive are those that have a strong partnership at their core""between friends, siblings, cousins, parents/children, or spouses. Those individuals going it alone will struggle""best find someone to partner with ASAP! And what will these folks be producing? Hmmmm"¦..
Demands for several other foods will grow in 2012 including the aforementioned grain products and dairy products. I predict a surge in demand for local lamb and goat and wild game. In terms of value-added products, I think simple, traditional foods will be sought after""but with a twist. Foods like ketchup, mayonnaise, and pickles will be undergoing "œlocal food makeovers". I bet that soon you'll be able to find these "œexotic" products locally. Gwen Simpson's move to BC leaves a big gap for local herbs and edible flowers; maybe someone will step in and fill her big boots? I'd love to see a couple new small-scale greenhouse growers emerge with cukes, tomatoes, and peppers. I'm hoping someone will soon attempt to grow and market local mushrooms on a small-scale. And the demand for local sprouts will also grow.
We're now pretty familiar with local protein and local vegetables. But, for urban folks especially, local fruits and berries (including wild ones) are still a bit of an unknown. Judging from the summer of 2011, expect the local fruit phenom to explode this summer in Edmonton in some wonderful ways: we'll be buying, planting, grafting, harvesting more fruit trees in both private and public spaces; we'll be doing more "œforaging" (aka "œberry-picking"), canning, pie-baking, wine-making, and jellying whether in groups (like OFRE or Slow Food Edmonton), classes, workshops, or on our own. We'll seek out u-picks and presses especially for apples (think Sprout Farms). We may see more Alberta-grown fruit at Alberta Farmers' Markets (think Thean Pheh, of Fruit Trees and More, who sells apples, pears, and plums from his own backyard at the Downtown Farmers Market). Value-added products will follow; we've got a few already (jellies and jams) but hopefully locally produced juices, leathers, dried fruits, and maybe some hard cider will debut soon.
Wanted: A couple more CSAs and farmers' markets
My guess is there is still probably room in the Edmonton area for a couple more weekday farmers' markets as well as for a few more CSAs. We may see one or two debut in 2012. While it may seem that there's a glut, not all of the areas of the city are served; plus they will provide outlets for the up and coming growers who are just putting their toes in.