A traditional Nova Scotian Meal with brown beans and brown bread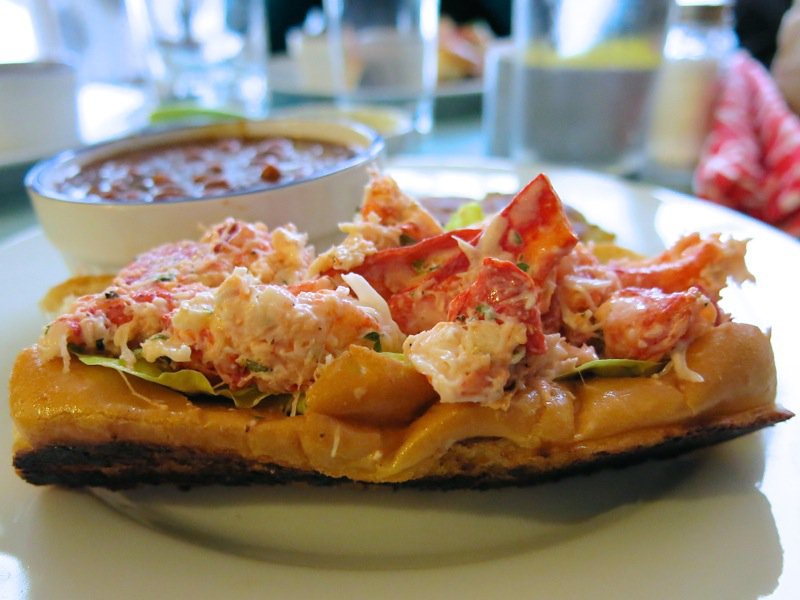 After a morning of meetings for the Slow Food in Canada National Conference 2014 in Tatamagouche and an afternoon adventure that included lunch at Sugar Moon Farm, a trip to a gorgeous biodynamic farm and then an informative session at Bonnyman's Wild Blueberries, we had about 20 minutes to freshen up for supper and a Kitchen Party! Look at that lobster roll!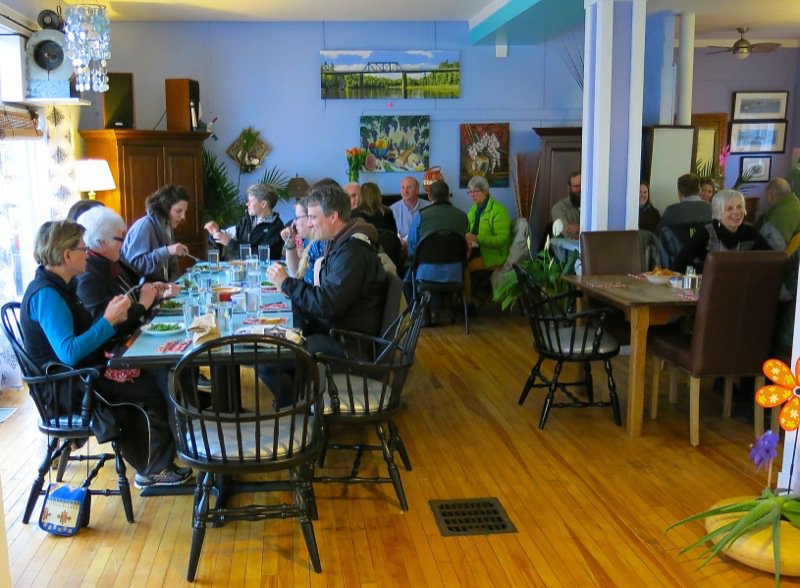 In from a cold chilly raining evening to this bright, warm, cheery environment at Whirligig's Cafe was such a pleasure… and the entire space was filled with our conference participants. Each seated with some we knew and some we didn't know yet; the atmosphere was alive with friendships forming.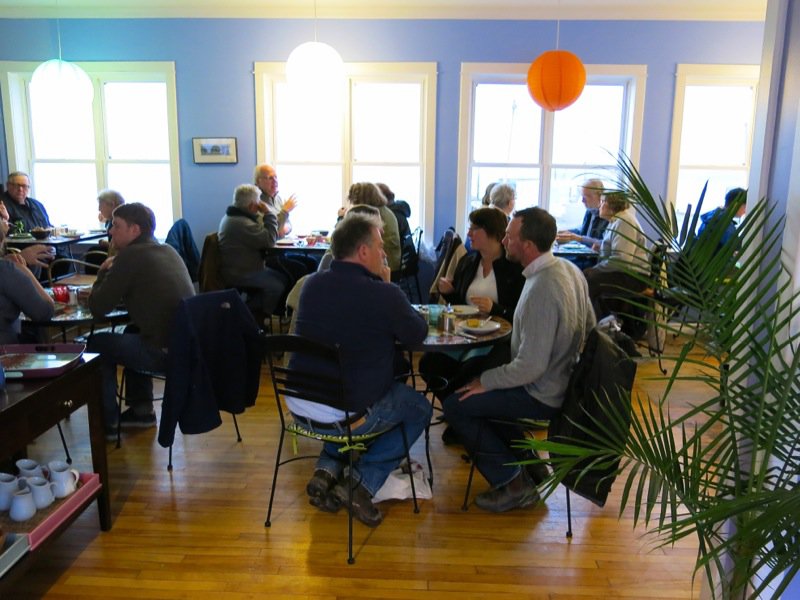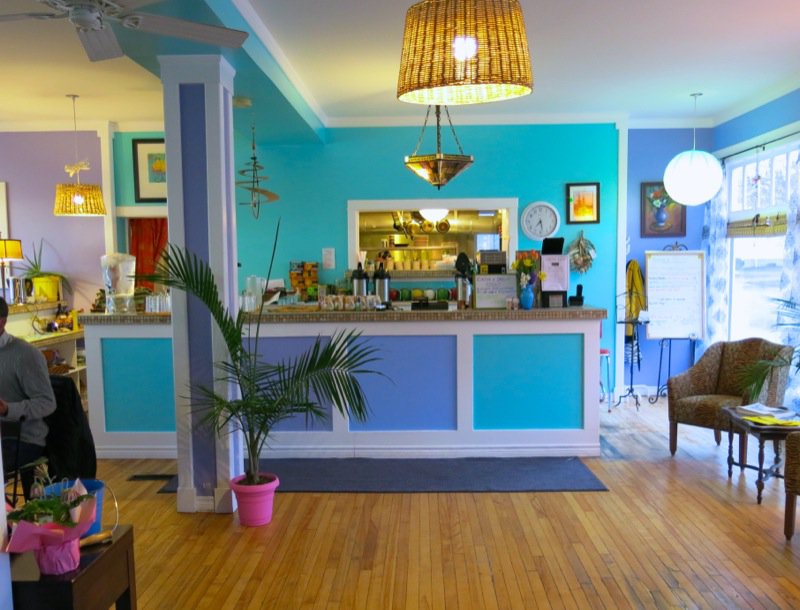 I was completely charmed by the sun setting through the plate windows overlooking the bay and the clean, bright East coast decor.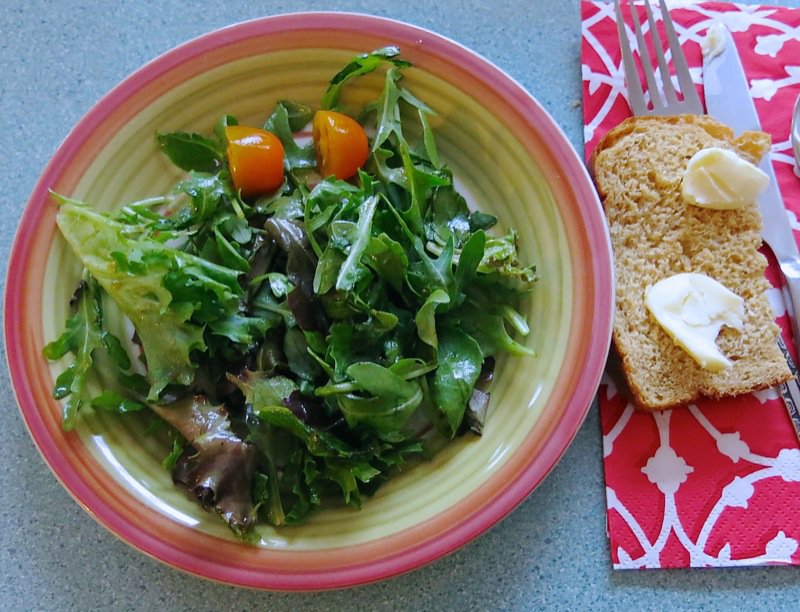 Moist, heavy, flavourful brown bread accompanied a light and lively leafy green salad: the perfect introduction to a Spring meal.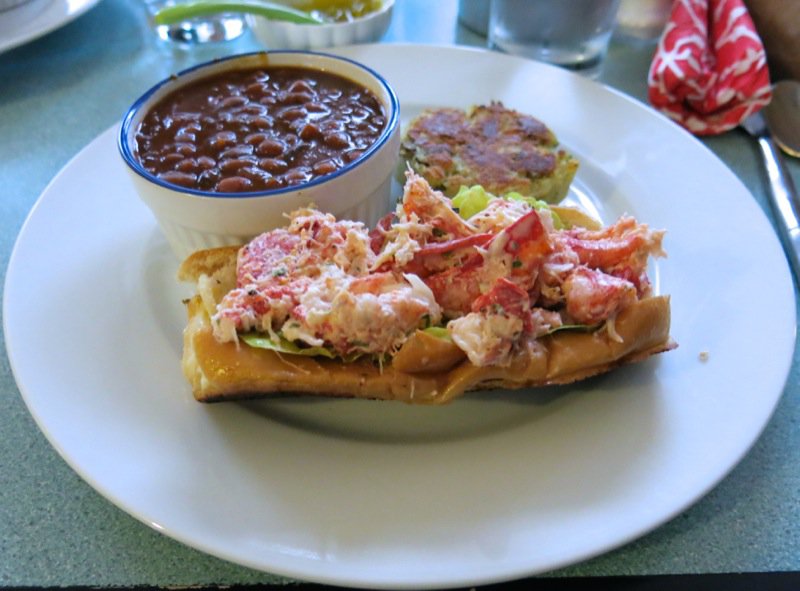 My first lobster roll – EVER. Oh, how I have dreamed of them. Lia Rinaldo, my table partner, uttered, "Now, that is a gorgeous looking lobster roll!" Is it, really? I did ask that. Seriously. I had no idea what a "gorgeous looking lobster roll" was supposed to look like. "Oh, yes!" she assured me, "This would be about as perfect looking as you would ever expect. Outer bun toasted and stuffed with lots of lobster and not too much dressing."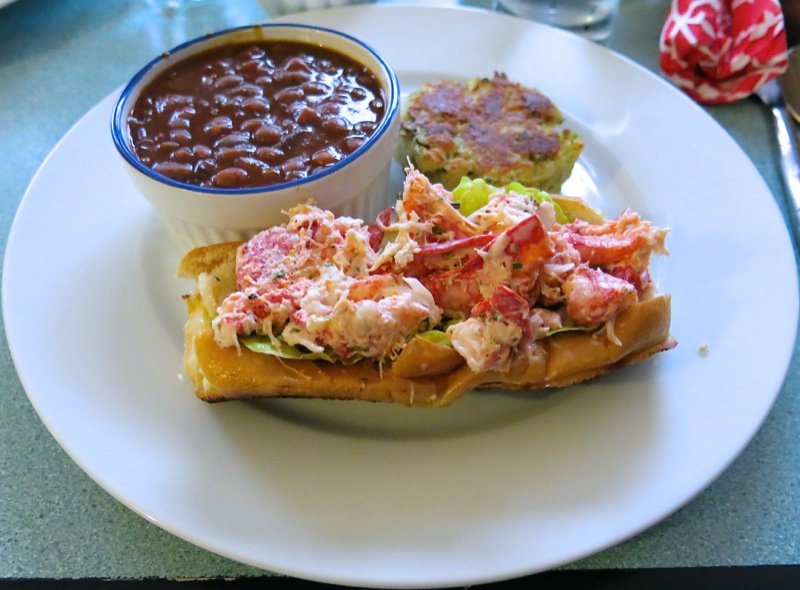 Alrighty, then! Let's dig in! I went for a huge bite off one end of the roll.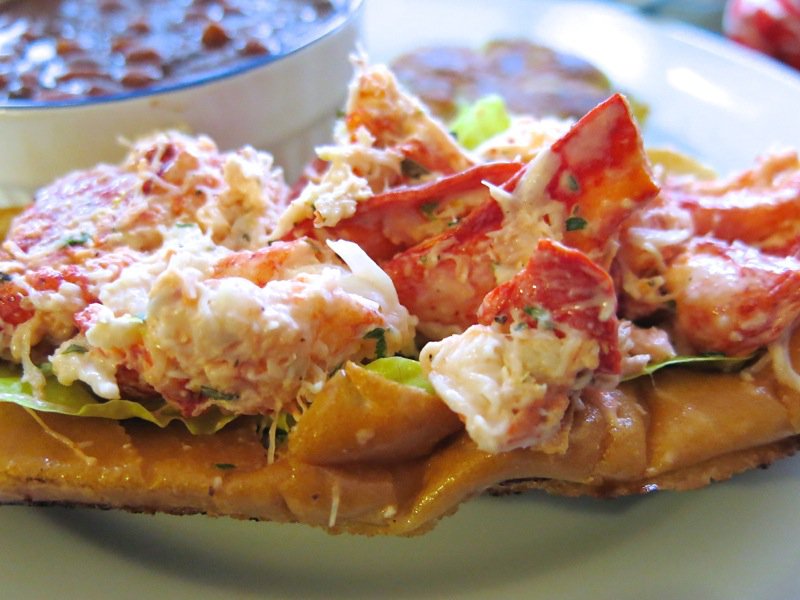 That's when I discovered lobster rolls are not my thing. It was a revelation, really. Here was the perfect lobster roll. It was definitely tasty – but lobster is such a delicacy to those of us land-locked from the Canadian prairies that I just couldn't enjoy it the way one maybe could who was privvy to lobster. I have never had my fill of lobster. I don't think I will ever have my fill of lobster, and a lobster roll just isn't how I want my lobster. It almost seemed blasphemous to eat a lobster in such a casual presentation.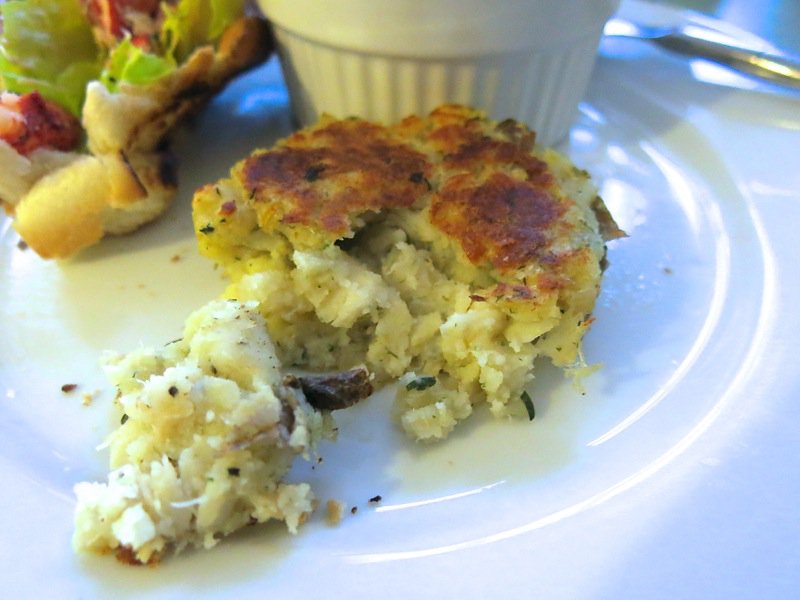 Also, my first fishcake. I had heard that these were served traditionally with a green tomato condiment many call Chow, or Chow-Chow, yet I didn't expect this condiment to be everywhere a fishcake was. Certainly, the two were inseparable at all restaurants during my travels. And, delicious together, I must say! The fishcake was almost more of a potato cake. Really delicious and crispy on the outside with chunks of fish mixed with well seasoned potato and I believe a little onion in the interior. Yummy.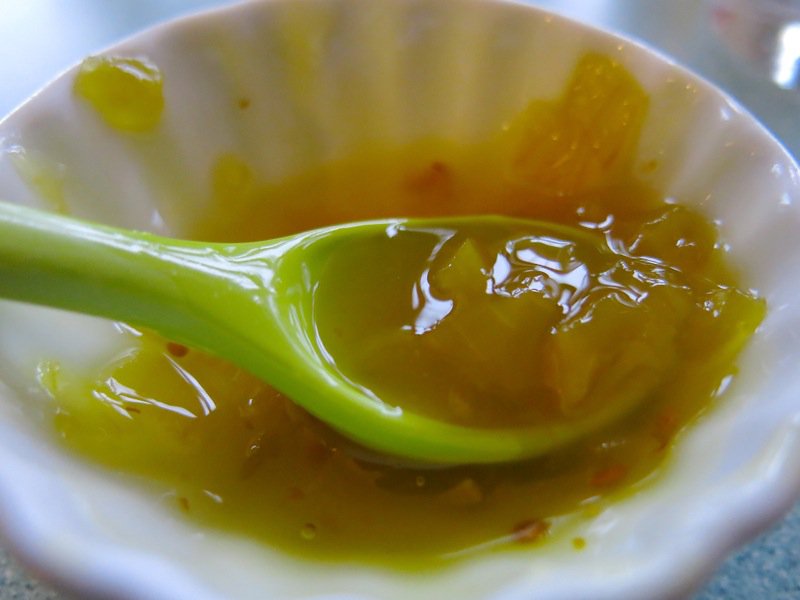 The chow was quite saucy, but they vary, depending upon where you go. The brown beans were tasty. I do really enjoy brown beans, particularly with a hearty brown bread, as was served at this meal – but it was just too much. Had to save room for the wild blueberry crumble!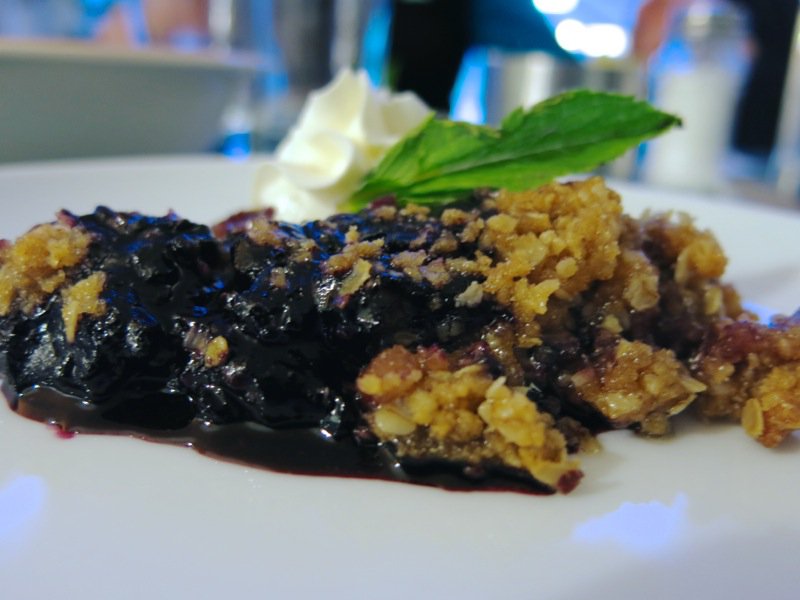 I never tire of these, and though I was stuffed, tucked into it anyway. Of course, the berries were from Bonnyman's Wild Blueberries. Mmmm!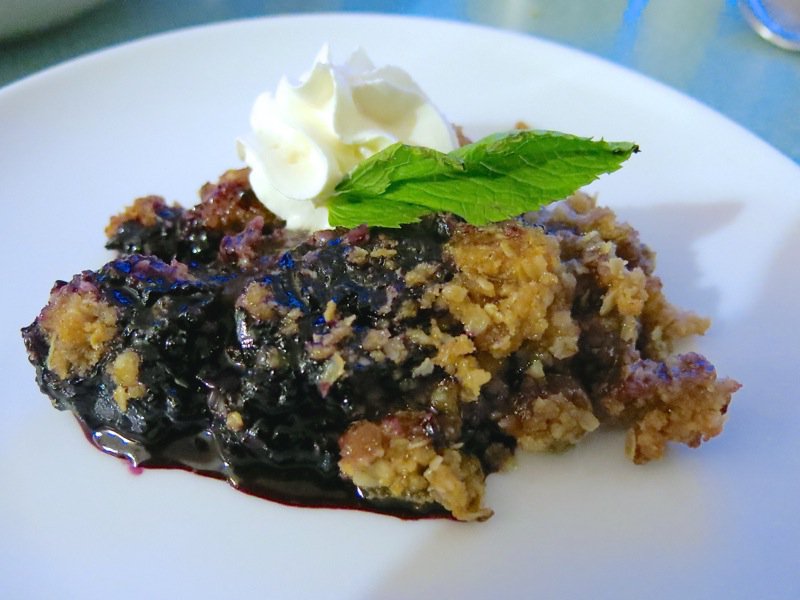 Fat and happy from feasting on Lobster Rolls and Fish Cakes, we waddled into the misty twilight and across the street for our first ever Kitchen Party!