From Farm to Table in March on the Prairies at Chai Pani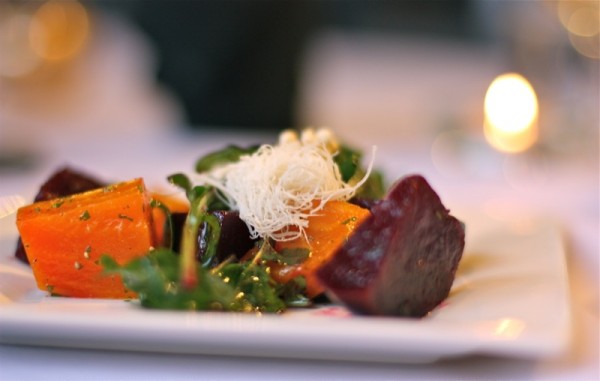 Chef Blair Lebsack started his Range Rd Farm dinners last summer which was and unforgettable day in the country for Vanja and myself. Epic. We weren't about to miss his first "pop up" in the city at a Clothing Store just off Whyte Avenue, particularly as Spring was barely rearing her head, I was curious to see what our local food hero would create as he is so committed to local seasonal food. What a thoughtful festival of earthy flavours Blair prepared paired with Caitlin's carefully selected local pairings.
First to arrive, I was immediately greeted by Blair with a board laden with meaty morsels. There is something about that grainy Alberta mustard and an old fashioned farmhouse terrine. Love the new tag line: untamed cuisine!
Of course, I tasted one of each. A terrine is always appreciated by me and this one was bursting with subtlety. The unctuous rabbit rillettes was a surprisingly light bite and the spiced apple garnish on the pulled pork strudel beckoned me back to the board more than I hoped any one noticed.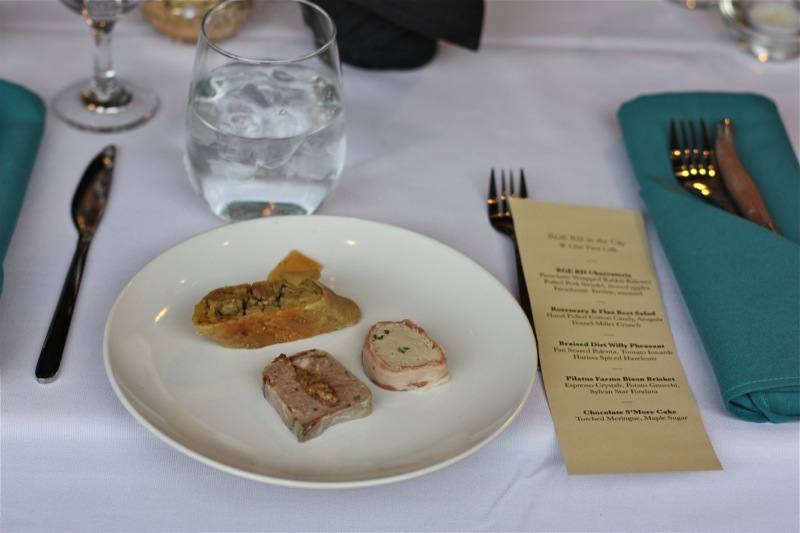 What I really appreciate and enjoy about Blair's food is his commitment to freshness and simplicity. The beautiful Gull Valley tomatoes provided a gorgeous display and were later used in the bison dish. The lovely tender shoots brightened the polenta dish and that kind of attention to detail and appreciation for living food and real food I truly appreciate.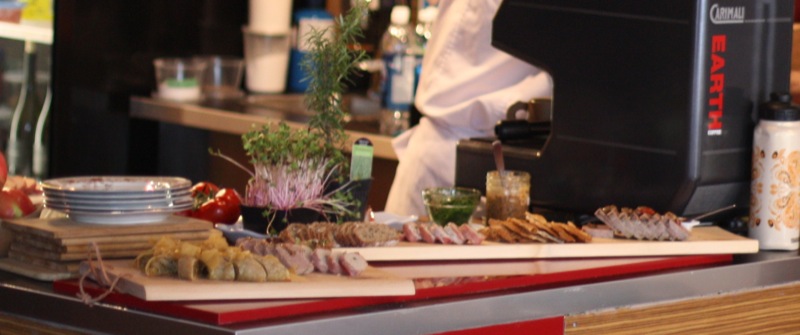 Caitlyn was the quintessential host as she made sure each new arrival had a beer and was fully introduced to the first bites of the evening. As a non drinker (oh, I know, I know) I was served a lovely light Sparkling Apple juice from Steve and Dan's at both city markets. I am heading over to buy a case after tasting it this evening. Absolutely lovely.
And Blair greeted at the door with his food and warm welcome throughout the beginning of the evening, as well. I have come to really appreciate these kinds of communal dinners as I meet such interesting people over a carefully prepared meal. The conversation is lively, and as edifying as the food.
Danny and Shannon of Nature's Green Acres were here and announced the date of the Second Range Road 135 Dinner this year at the end of the evening. Too bad you weren't there to hear the announcement! They will be hosting 50 people this year instead of 30 and the price of the dinner will be 125 instead of 100. Let me tell you, this will be the best money you have spent on any meal you will have this summer in Edmonton. I won't tell you more, however. You will have to ask me in a comment at the end of the post. (sideways grin and wicked wink)
I was so happy that Ming and Richard were able to come, particularly as Vanja got ill at the last minute and I was on my own.
The beet salad was my favourite of the evening. I cannot digest meat very well, though I do love it; therefore, I tend to eat a lot of vegetables. I adore beets and this hand pulled cotton candy, though only a small garnish, made a lasting impression. It was the healthiest tasting cotton candy I have eaten. I think Blair said he used millet flour in it. The fennel millet crunch was a little jewel of pleasure on the plate, but the beets with the arugula was simply delicious. Every single bite. The Ex Nihilo Pinot Gris was apparently a heavenly pairing with this dish. Everyone around me was raving about it.
Love Blair's sense of humor with this dish. The tomato gelée was scooped out and on the plate as he said to demonstrate the use of the entire tomato. "Many times you see tomatoes served with this scooped out and we wanted to show you that we are not only believers in head to tail meat, but also of head to tail vegetable use!" I learned from a Heston Blumenthal video that most of the umami flavour from a tomato is in the gelée, so I always use them and find as I oven roast them and the liquid evaporates that the flavour left from the tomato "innards" is unbelievably delectable. The harissa was too hot for my palate, but the flavour was contagious and the hazelnuts perfect with it. I just kept burning my tongue, though the pillowy softness of the polenta was soothing and buttery.
As this meal was on March 31, during Earth Hour, Blair announced that lights would be out and only candlelight would be used during this hour of the evening. Sadly, I didn't even know about Earth hour, but I do know, and was so please to honor it in this public venue.
An intimate ambiance was created immediately. Not great for food photography, but really great for enjoying an evening meal with old and new friends.
The braised bison brisket was the hero dish of the evening for all of the carnivores. I have never tasted bison with such a depth of flavour, so fatty and juicy. It was so similar to short ribs that I was simply blown away that this kind of buttery texture and flavour could be developed with such lean meat. The coffee chrystals on top added such a bright compliment to the meat and lusciousness of the cheese. The gnocchi were marshmallowy light and incredibly rich with the Sylvan Star Gruyere. The rubies of tomato flesh popped with flavour and added a welcome contrast to the texture of the bite in my mouth.
Hand whipped meringue. The. Best. Meringue. Ever. My eyeballs almost did not return to the front of my head. Oh, my! The chocolate was deep and creamy and gorgeous with the coconut macaroon crust on the bottom and graham cake biscuit on top. The hazelnut chocolate ice cream was the perfect pairing for me. Who cares about the wine!
We have tickets for the next Range Road 135 dinner. Read about the last one here. Do you have tickets? I won't miss a Range Road meal. It is more than a meal for me. It is an experience.