Grandma Helen joins the fray!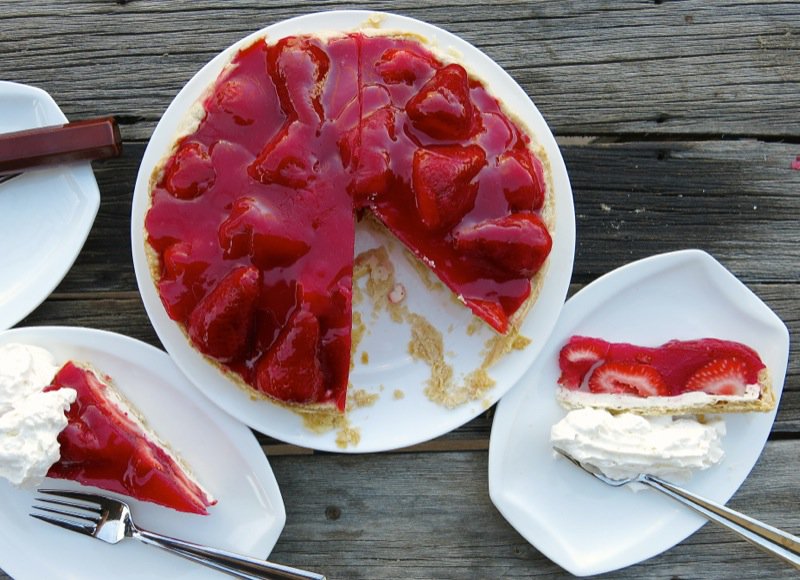 Maude is my mom's mom. She would make this pie every July, sans the cream cheese layer, and usually with a graham wafer crust. We could never get enough of it. My mom, dad, my sister, Judy, and I… oh, how we all loved this pie.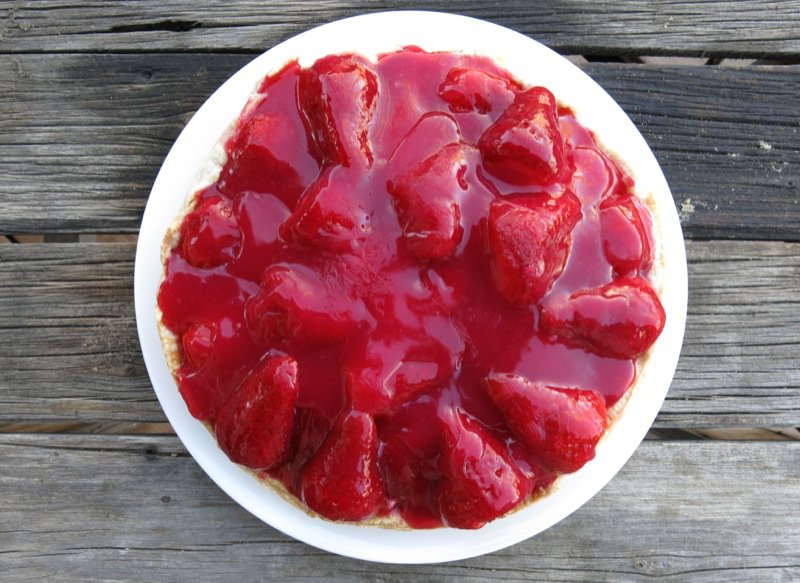 Going to grandma's in the summer meant gardening, berry picking and eating homemade cookies and pies. When the first strawberries reared their heads, so did this pie. Now, I am absolutely positive that her mother, Nettie Morrical, didn't make this pie very often because she had 13 children and they were a farming family. Buying a processed food product like jell-o was just not on anyone's grocery list until after WWII. The recipe was probably around, however, when my grandmother was just a little gal, as she was born in 1898, and in 1897, in LeRoy, New York, carpenter and cough syrup manufacturer, Pearle Bixby Wait trademarked a gelatin dessert, called Jell-O. (Wikipedia) He and his wife, May, added strawberry, raspberry, orange and lemon flavoring to granulated gelatin and sugar right at the beginning.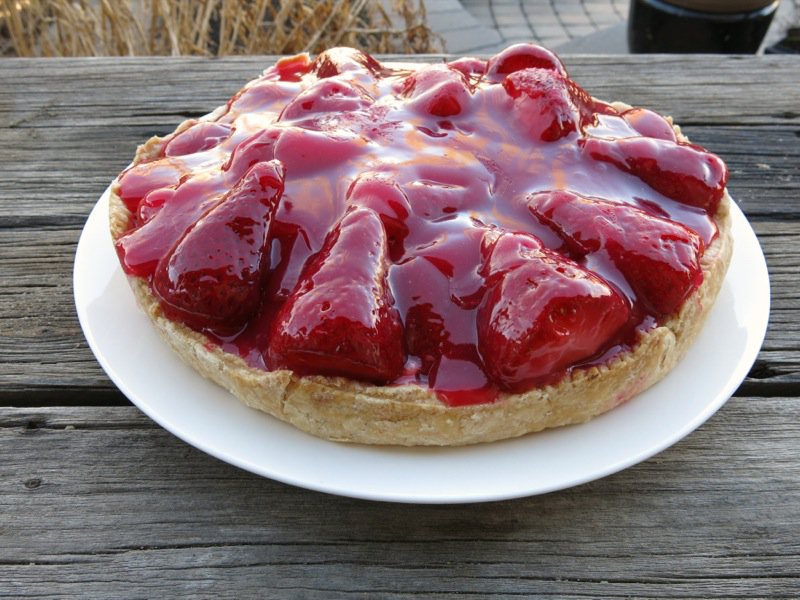 My Great Granny Morrical may have just whipped up one of these pies or two nearer the end of her days. She lived to be 96 and was cooking in her wood fired oven until just before she died. More likely, though, her children introduced her to it, and brought them to her house for Sunday dinners or family get togethers when everyone would gather, chatter in the hot steamy and very small kitchen in Clive, Alberta, cook and eat. Eating usually happen outside, or in the parlor. I hated both. Outside the mosquitoes and honey bees were rampant. Inside, old Uncle Oat would smoke his stinky you-know-whats. Ugh! I did love Great Granny, though. But, this is not her pie. This is my grandmother Maude's pie.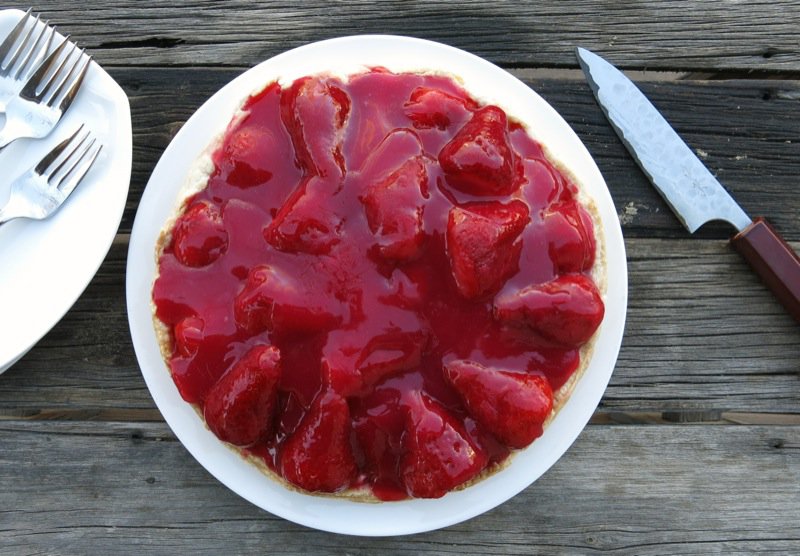 My mom didn't make it when we were growing up at all. Only grandma Maude. However, as she aged, and moved into her little apartment and away from her sprawling garden, mom started making the Strawberry Pies. Mom likes them with pie crust and a layer of cream cheese on the bottom.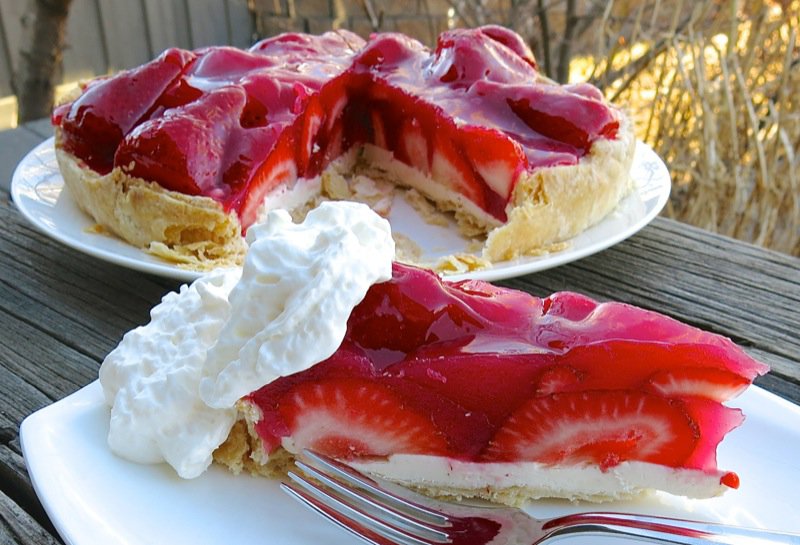 This is just the last 20 years, or so. Thus, a fairly new addition to her version of the recipe. However, it is not a family favourite made this way – yet, who would complain. Look at that gorgeous pie at the hand of my mom, Helen. A masterpiece in its own right. It was made for our Easter Dinner dessert this year. Though not in season on the Canadian prairies, the strawberries are imported, and this has become our traditional Easter Dinner dessert. Evolution. And what a celebration of Spring, new beginnings and the promise of what is to come. Also, an innovative approach to having Grandma Maude join us every year for Easter dinner. Oh, she is at so many of our family holiday meals. Maude loved to cook and was really good at it.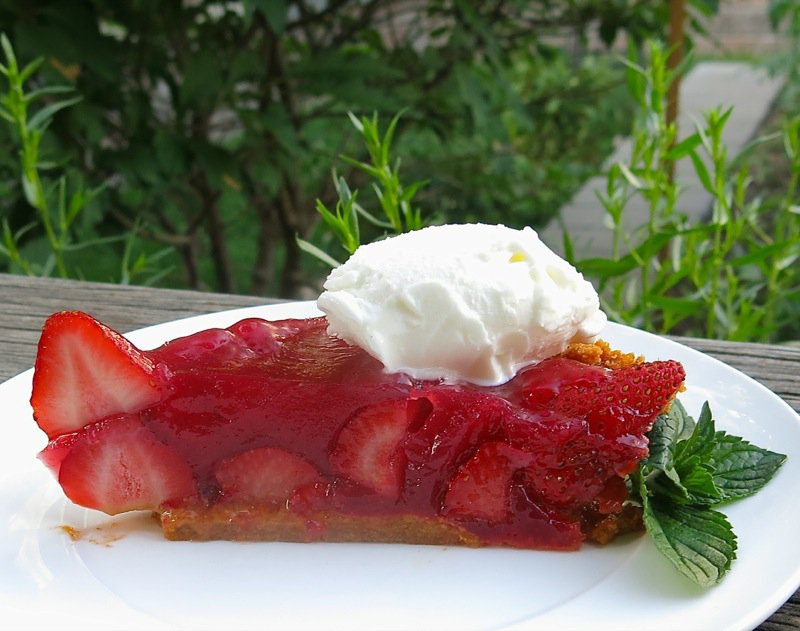 I own the credit as the one in the family that decided this iconic family recipe would become part of our Traditional Easter Meal when my two daughters were teenagers. We love it. We never get enough of it. Traditions are important, and holiday meal recipes are best made with the loving and guiding hand of those who've come before. Though, with a little guilt, as I do really try to eat seasonally, this is definitely an exception. Strawberry picking season on the Canadian prairies is mid to late July. The pie above was made by Ragan!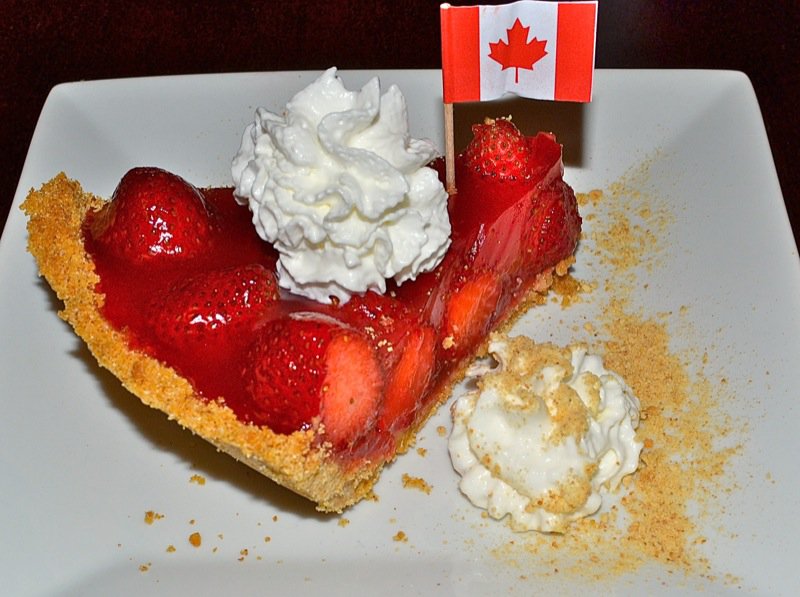 Lauren hosted a Canada Day celebration as she is living in the US, and made the pie as part of their celebratory meal this year.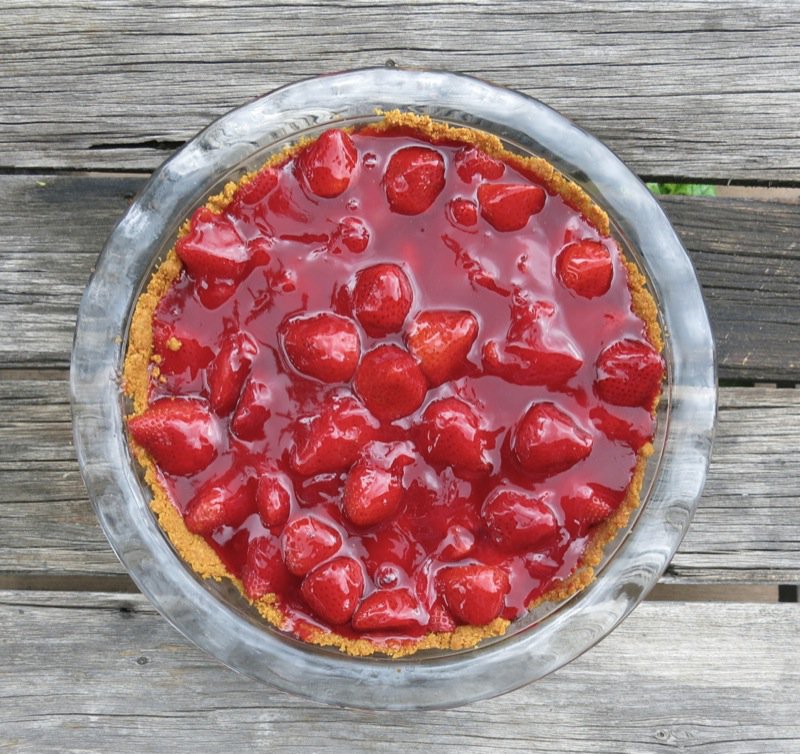 Grandma Helen is so proud of her two granddaughters, and their Great Grandma Maude would be tickled pink to know that they are such great cooks and bakers. Though they were just little children when they passed, she knew they loved her Fresh Strawberry Pie and would be so proud to see them carrying on this tradition. Ragan's pie is above.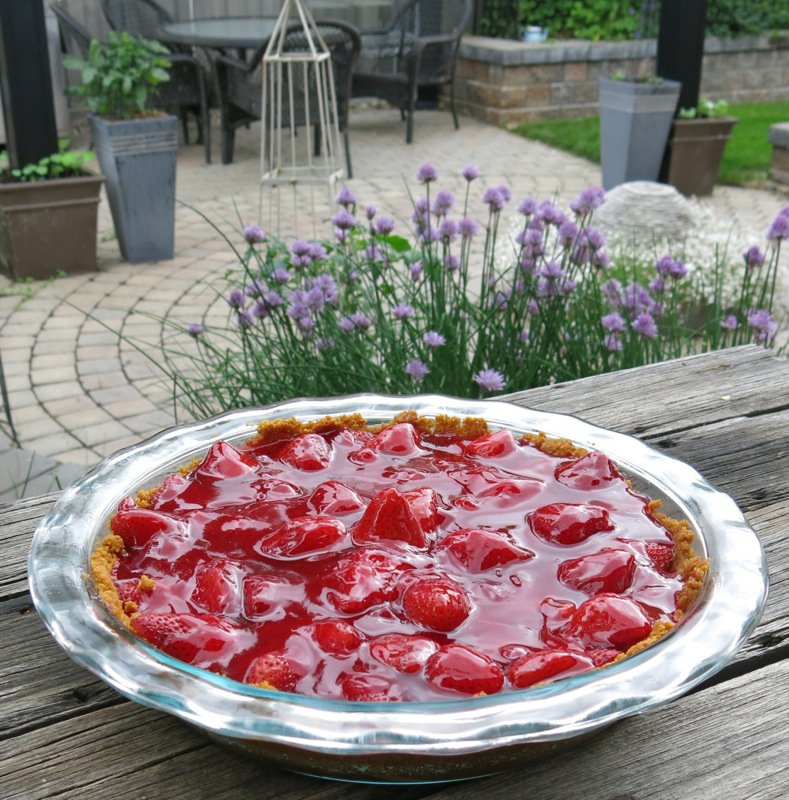 There are rules with the Dueling Daughters posts, but I take the photos for Ragan's cooking and baking, so sometimes, I get a little carried away.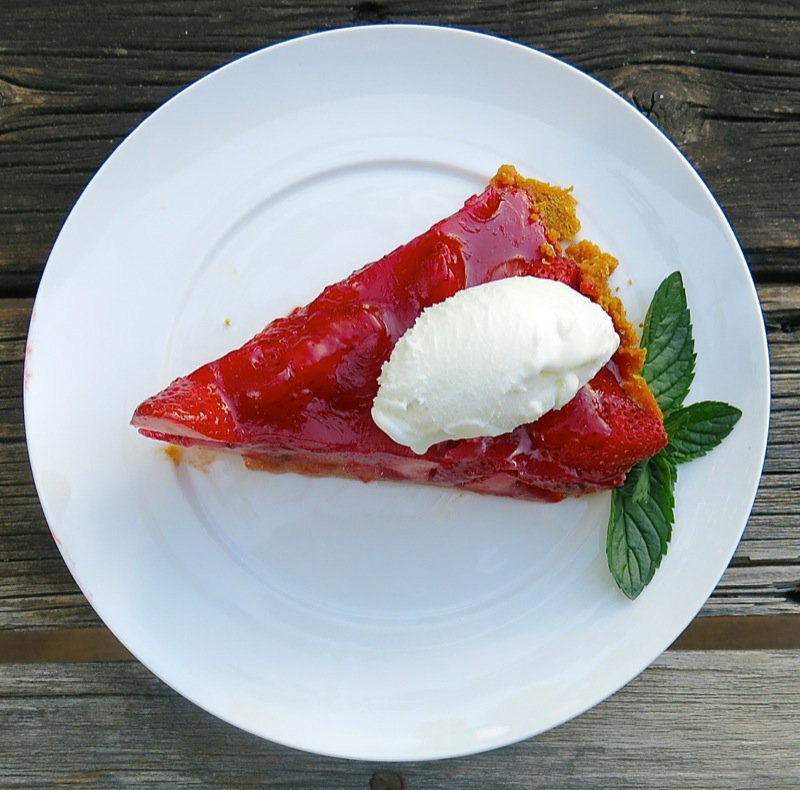 If Lauren lived closer, I know I would get into photographing her incredible food, too. Make sure you stop over at the rules to see how cute these two sisters are!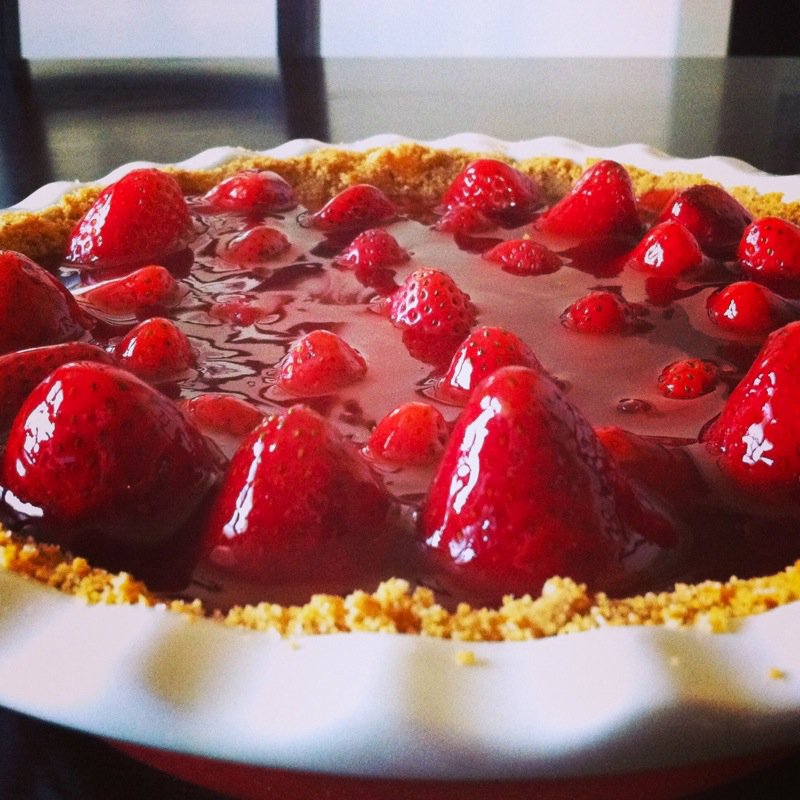 Lauren's pie is above. Now, that's a money shot! Daylight makes all the difference in the world. She usually bakes with her husband, Aaron, but he didn't chime in this round, so it appears she was going solo.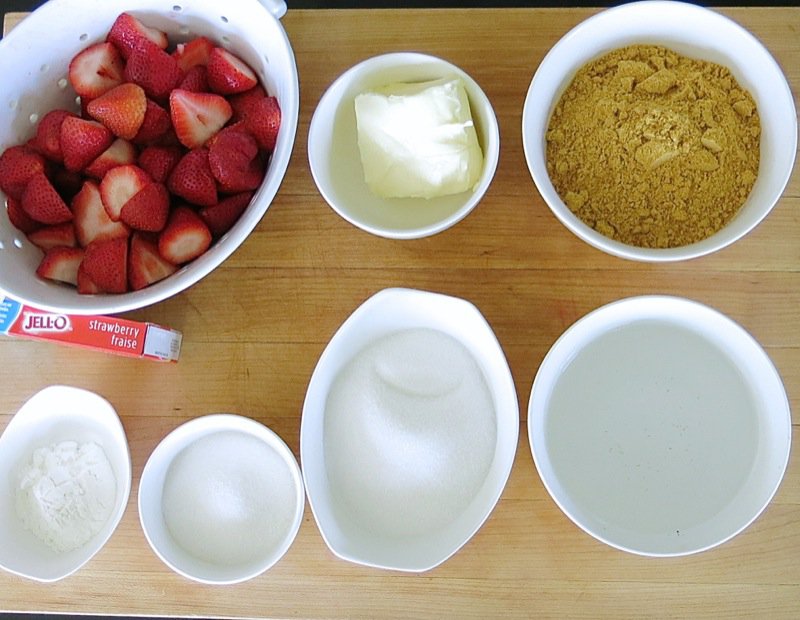 Above, Ragan's mis en place; below, Lauren's. She is cooking from the balmy Salt Lake City right now.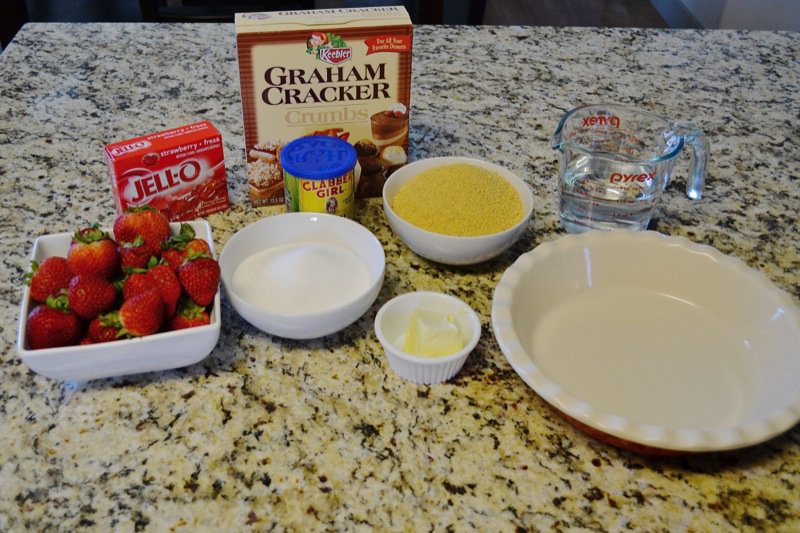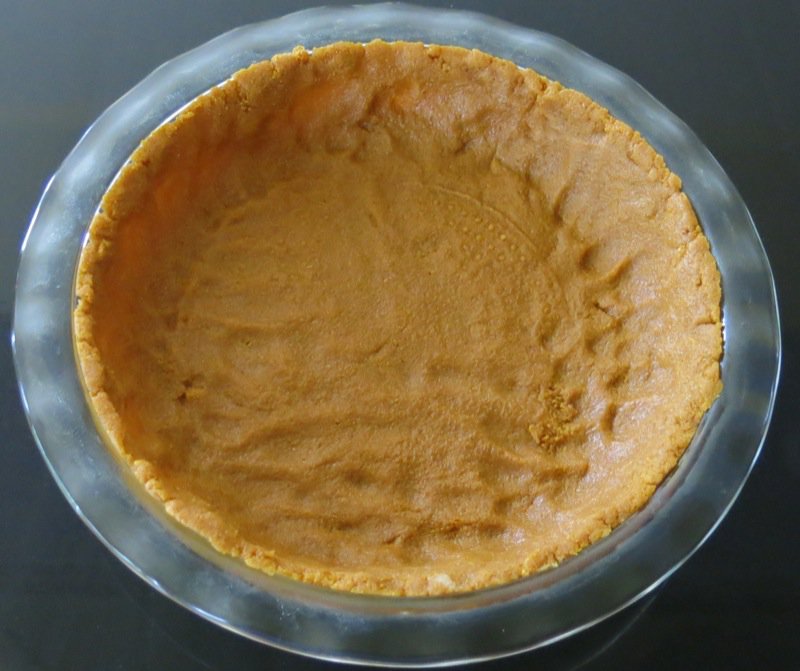 Ragan's not sure what she did first round with her graham cracker dough, but it had too much butter in it. Can you tell? It didn't bake well.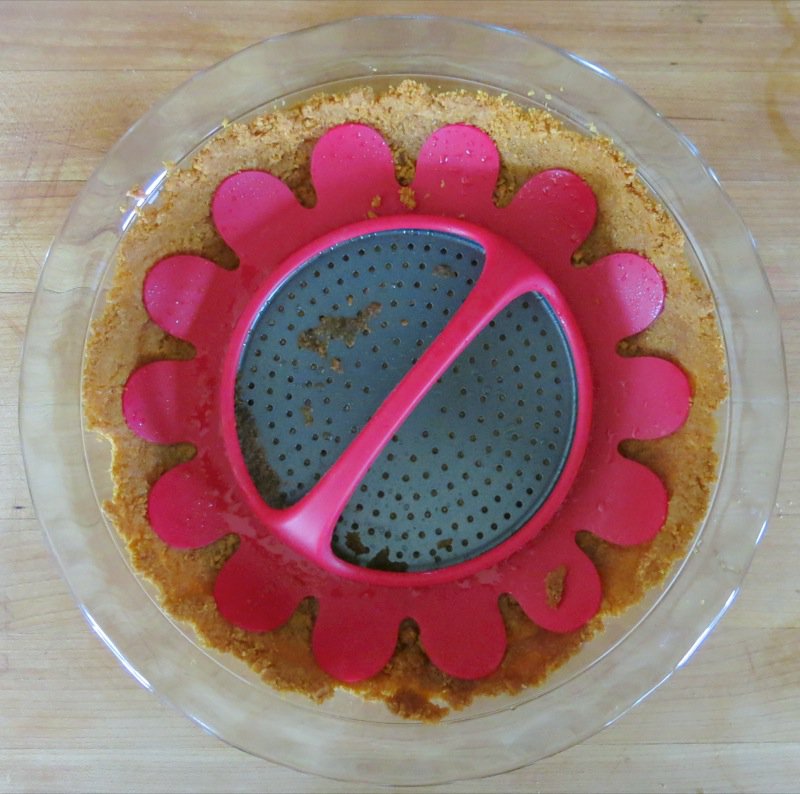 On to crust number two. Love the little blind backing weight that Ragan gave me for Christmas! It worked perfectly on this crust for her.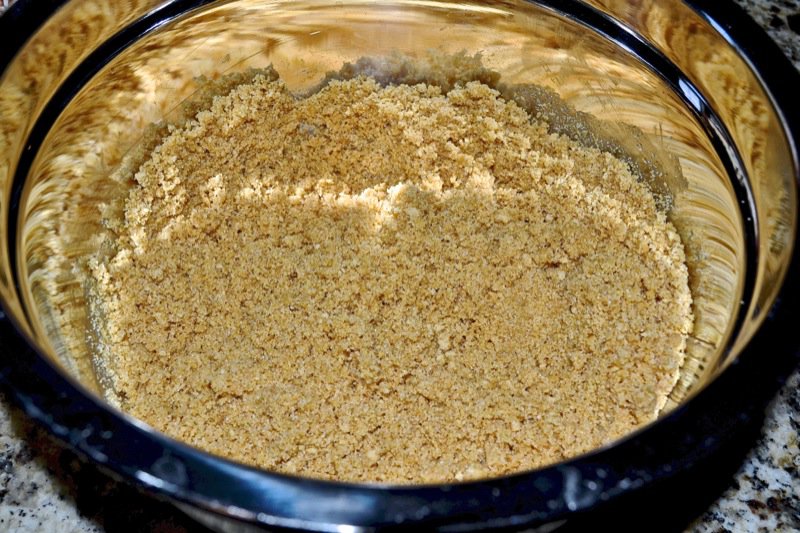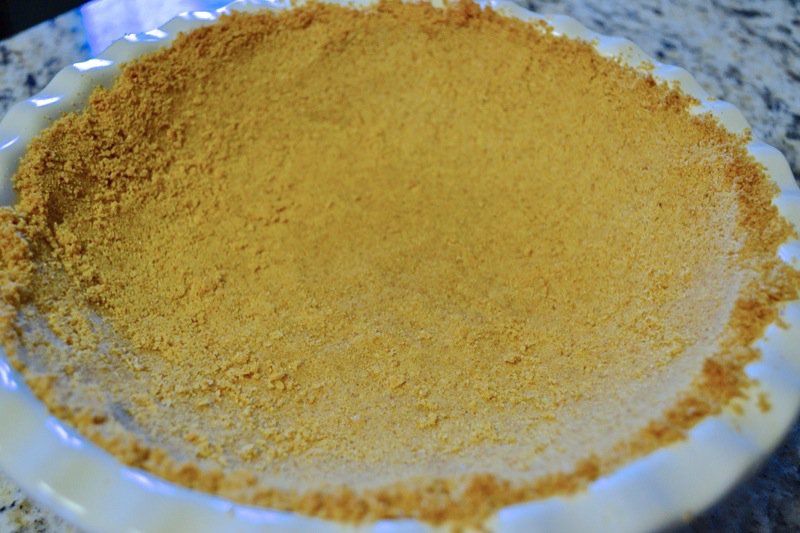 Lauren's crumbs and pie shell turned out well. I should have done one! I crimp my crust. We would have had three generations in the mix. Another time.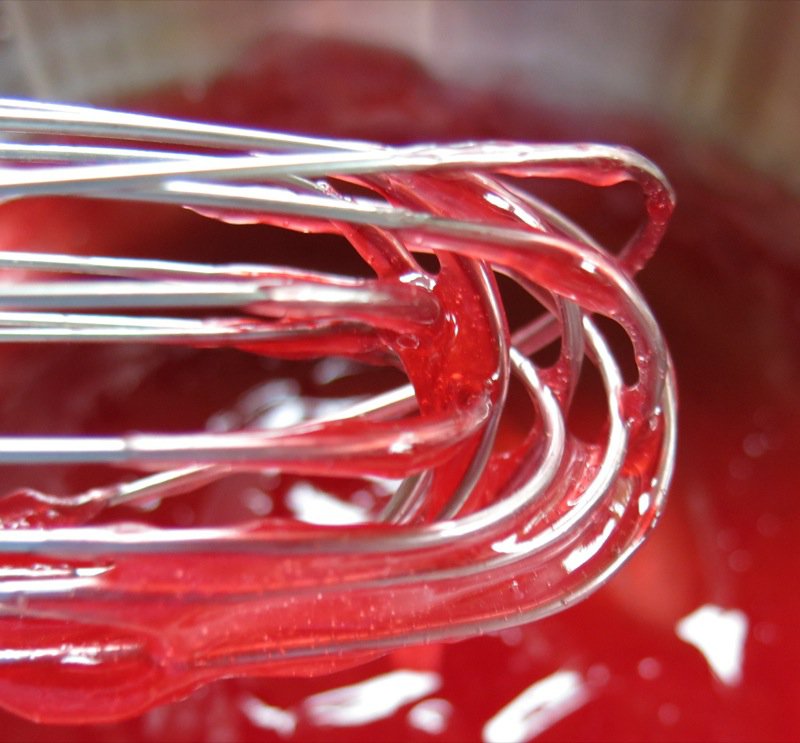 The glaze is thick and a little more than a little jiggly, but that is all part of the fun. It is absolutely delicious with the fresh berries. Yup, J-E-L-L-O!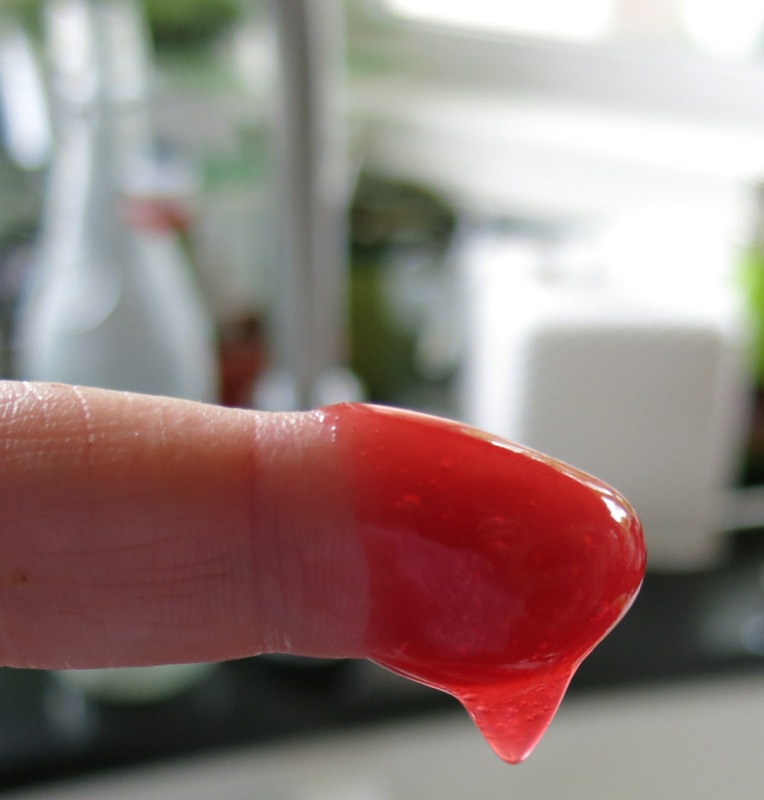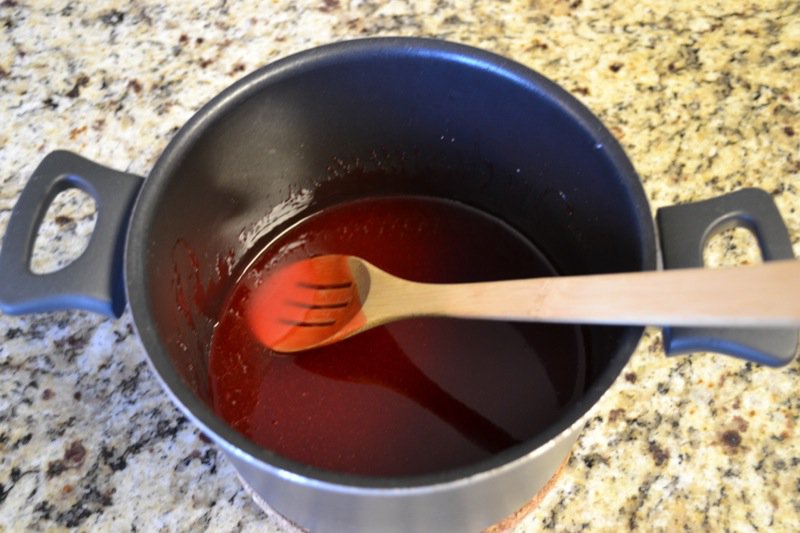 Lauren's glaze is above.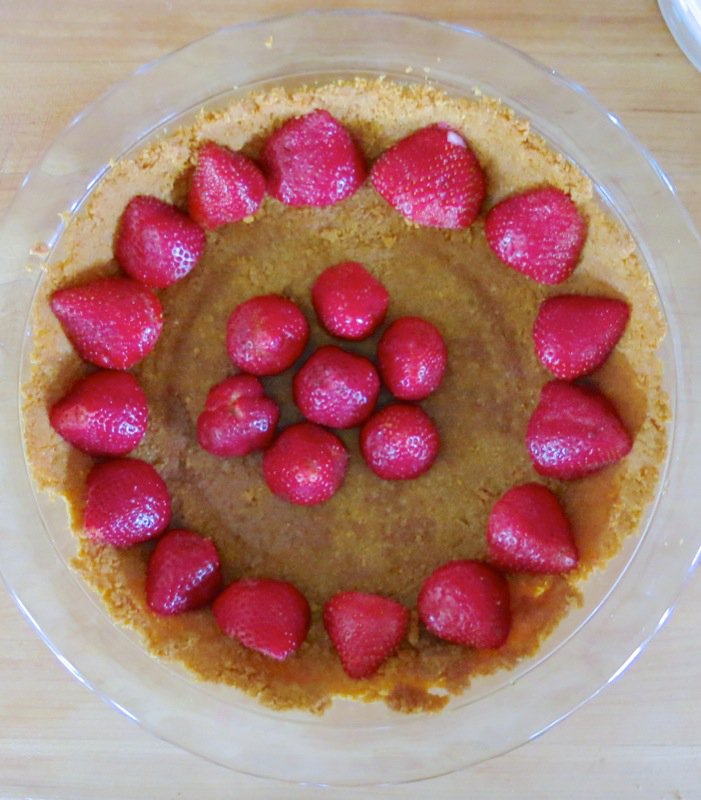 Ragan's crust has cooled and she is organizing the berries in a circular design. We were able to get berries that were similar in size. That works very well with this recipe.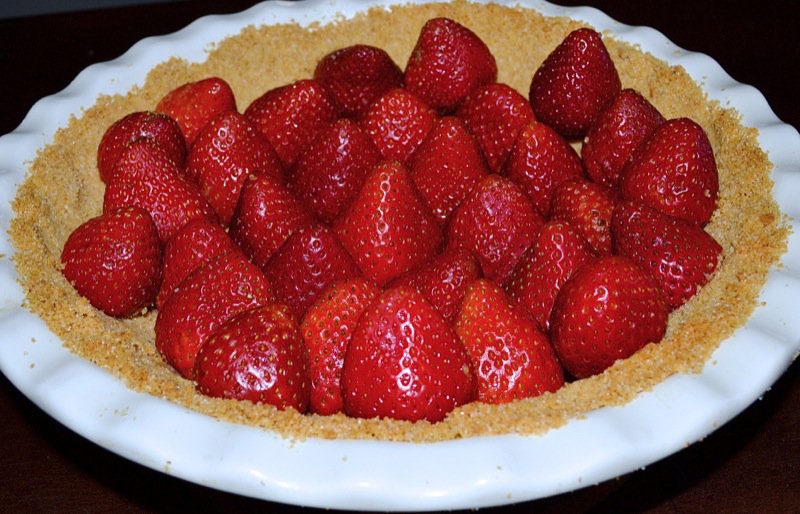 Lauren also found berries of similar size. If you don't, you can slice them and arrange then in layers around the bottom of the shell. That is very pretty, too.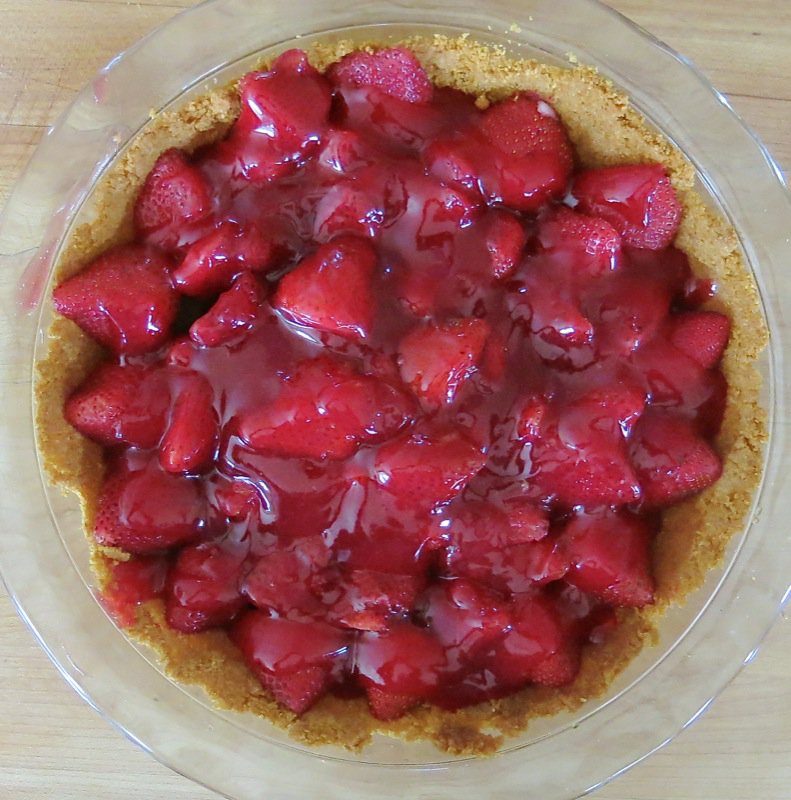 Ragan's pie, above; Lauren's pie, below.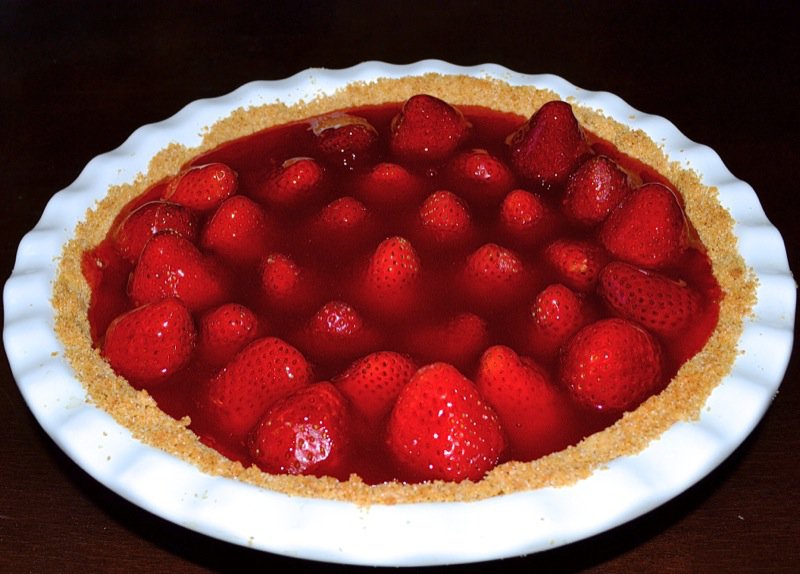 Ragan's pie, above; Lauren with her pie, below.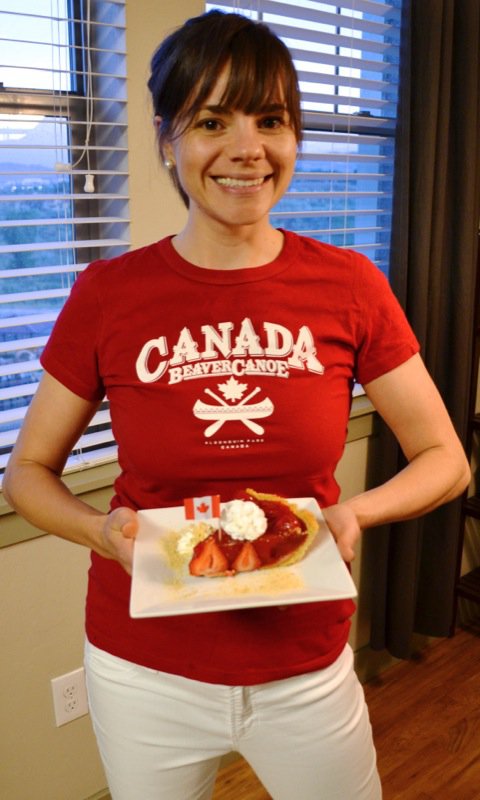 Just in time for Strawberry Season! Tam Anderson said they should be ready for picking around the 14th of July, so book your picking time now, and get some buckets of these fresh berries. Berry picking together, baking pies like this one, and celebrating fresh seasonal food weaves the most vibrant and comforting family fabric.
Ragan's Reflection after making her Great Grandma Maude's Fresh Strawberry Pie
This pie is very nostalgic to me. It brings me feelings of Spring and Summer. This pie sat at every Easter table and was always surrounded by family. This recipe belongs to my great grandma and though I don't recall watching her make it, I do recall my own Grandma Helen making it and find myself feeling both of them, as I make it every year. However, when I have made it, I have used my own recipe for a graham crust and then her recipe for the glaze. But in the spirit of the challenge, I followed her recipe as given to me. The crust seemed really wet but, I baked it. FAIL. It was wet and sopping in butter. Ok. Back to the kitchen. The second time around, after reducing the butter to half, and adding a bit more graham crumbs, it worked! As I used a bigger pie plate, I doubled the glaze and used about 3/4 of it. I had a few strawberries left, as well, so I poured the leftover glaze over those lonely berries and it made a perfect snack as we weren't eating the pie until the next night! This is – by far – my favourite pie. Fresh, juicy strawberries and sweet thick jello-like glaze with the classic graham crust. Perfection. From our family to yours.
Lauren's Reflection after making her Great Grandma Maude's Fresh Strawberry Pie
This will be added when she gets around to sending it to me. 🙂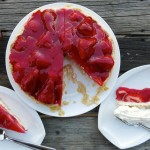 Great Grandma Maude's Fresh Strawberry Pie


Great Grandma Maude's Fresh Strawberry Pie is a heritage family recipe cherished by each new generation and a celebration of Strawberry Season each July.
Ingredients
One large basket of strawberries

, cleaned (similar size)
Ingredients for Graham Wafer Crust:
1 1/2

cups

crushed wafer crumbs

1/3

cups

sugar

1/2

cups

butter
Ingredients for the Glaze:
1 1/2

c

c sugar

3

tablespoons

cornstarch

3

cups

water

1 6

ounce

package

(large) strawberry jello
Instructions
Instructions for Graham Wafer Crust:
Preheat oven to 375 degrees F

Melt butter; add crumbs and sugar

Press into pie plate

Blind Bake at 375 degrees for about 8 min (use weights so sides don't shrink)

Cool completely
Instructions for the Pie:
Arrange small whole berries in a circular pattern, tightly together, inside of the cooled crust

If the berries are large, slice them, and layer inside of the crust, arranging the top in a nice pattern

Slowly and carefully spoon glaze over berries to ensure they do not move

Cool and serve with fresh mint and whipping cream
Instructions for the Glaze;
Cook first three ingredients until thick and clear, stirring constantly

Add package of strawberry jello into hot liquid, stirring constantly to dissolve
Recipe Notes
Helen tells her granddaughters: Can also - if using regular pastry crust - put a layer of cream cheese on the crust before adding the berries.
Valerie adds: you can do anything you want, really, but the original recipe never had cream cheese on the bottom and no one likes it that way, but Helen. 🙂