A Family Tradition passed on to little Magpies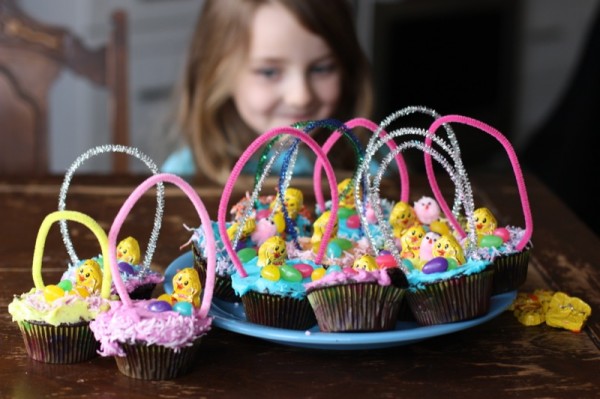 I have made these since my first daughter was in Kindergarten for her classmates and every year since.
Every holiday, I am drawn to my kitchen and the urge to fill it with children creating culinary delights and forging memories while playing with their food. I do not yet have grandchildren (girls!!), but am fortunate to have friends with lovely lively little people I can love a little throughout the year. I never tire of these Easter Basket cupcakes. Granted, thirty years ago they made a much bigger impression on the younger population when arriving in the classroom on huge trays decked out in all their Easter splendor. In those days, one could find the little chenille chicks in yellow, pink and blue with long tail feathers glued to a strip of white cardboard everywhere at this time of the year. No more. I adore them and they are now almost impossible to source.
When I was in kindergarten, my teacher, Mrs. Mulder, a single woman from Holland, took our entire class on a little fieldtrip down the street from her home, and there she had 12 of the most adorable baby chicks we had ever seen. Maybe she didn't take us all, as I recall there only being a couple of us there. Probably her favourites. 🙂 The chicks were all fuzzy and pink and blue. I got to hold one and felt as if I had just experienced a miracle with that little life in my baby hands. We would often see little pink and blue chicks in store windows under hatchery lights at this time of year as a child, but to hold one was unheard of.
As I told Karlynn this story, adding that there was a dye that was injected into the egg yolk just after the egg was fertilized, we both realized that this would never be allowed to happen to a living thing in this age. But, the memory is vivid. It is why there were pink and blue chenille chicks everywhere and the idea of plopping one on the top of a little cupcake as if it was just emerging from a jellybean egg is just too nostalgic to not replicate year after year after year.
When I do them by myself, I have 4 colours of pipe cleaners, the same 4 colours of icing and make the same 4 colours of coconut. I do this because I like coordination and order and the consistency of some kind of system to the colours in the mix. I love the monochromatic and the varieties made from the 4 choices. When I do them with children, none of that matters. The colours are wild. The choices are endless and the creativity, open. But, you will see as you study these images that there is still deep thought and magic in this work.
Memories made with the little cake baskets to be gifted to family and friends. The mess in Mrs. Magpie's kitchen was considerable. She was an incredible sport!
Look! An Easter basket cupcake tree!
Of course, the eating is an essential part of the fun!
Thank you to Karlynn for taking the photos of moi.
Happy Spring everyone! Bring it on! It has been a long, grey set of days and the colour illuminated by the sun is sorely needed to cheer up my hibernating spirit!
Icing Recipe
Ingredients:
one pound of butter
one kilo of icing sugar
cream to create the desired consistency
neon food colouring
flavourings are fun to add, too
Instructions
Ensure the butter is room temperature, and whip
Add the icing sugar in batches, turning down the beater until fully incorporated each time
Divide into four bowls
Add the food colouring and flavour desired to each bowl
Ice!
Cake recipe is here.