Valerie's Steak Pie: "You can't go wrong when using Puff Pastry!"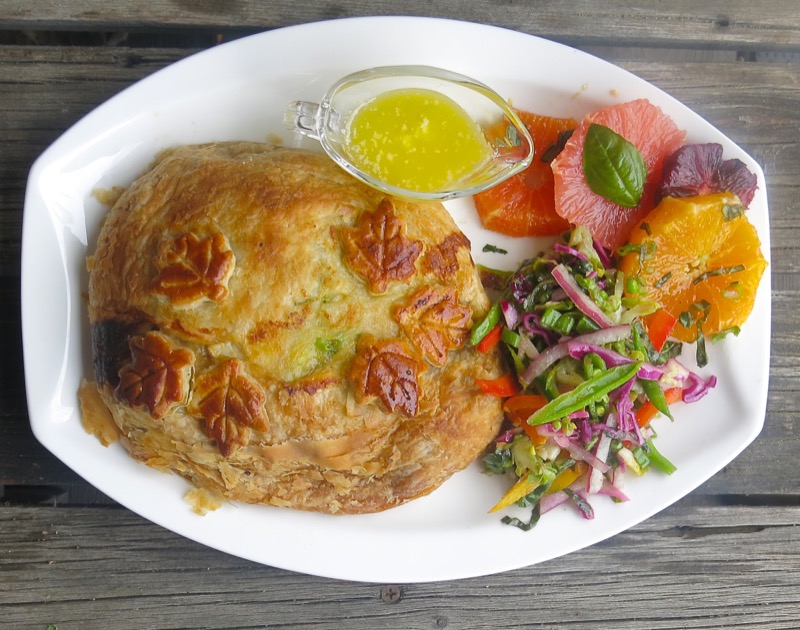 Or so my Serbo Charger says, and I don't disagree. I cannot think of one recipe that I make using puff pastry that isn't beloved by all. (The pitcher is standing in for the Hollandaise Sauce that accompanied the gently steamed asparagus with this steak pie meal: a perfect accompaniment.)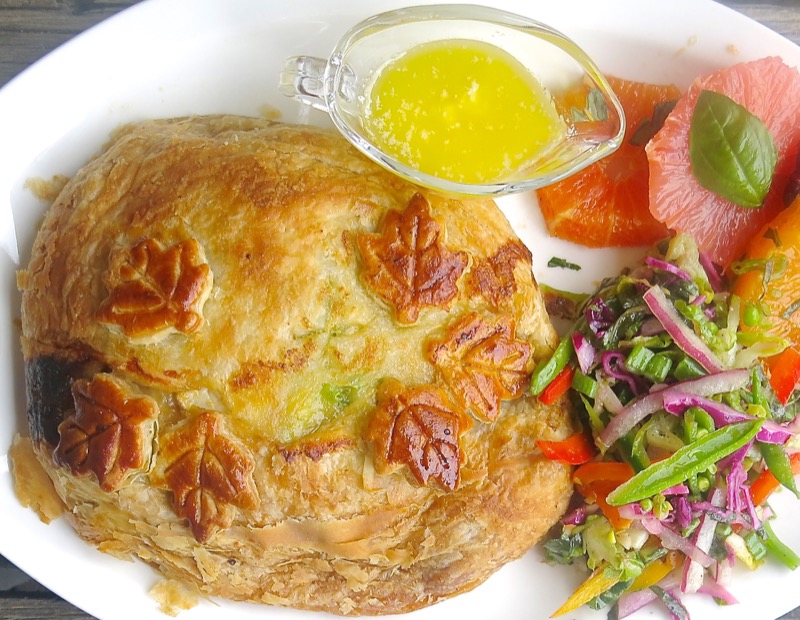 I make this dish often enough during the Winter months. It is the epitome of comfort on a blustery day. This time, however, I made it on a cold day, heralding in Spring as friends were coming to dinner. Though it is most often weeknight fare at our house (and not so often due to the decadent pastry), this is also a "company's coming" dish, as well.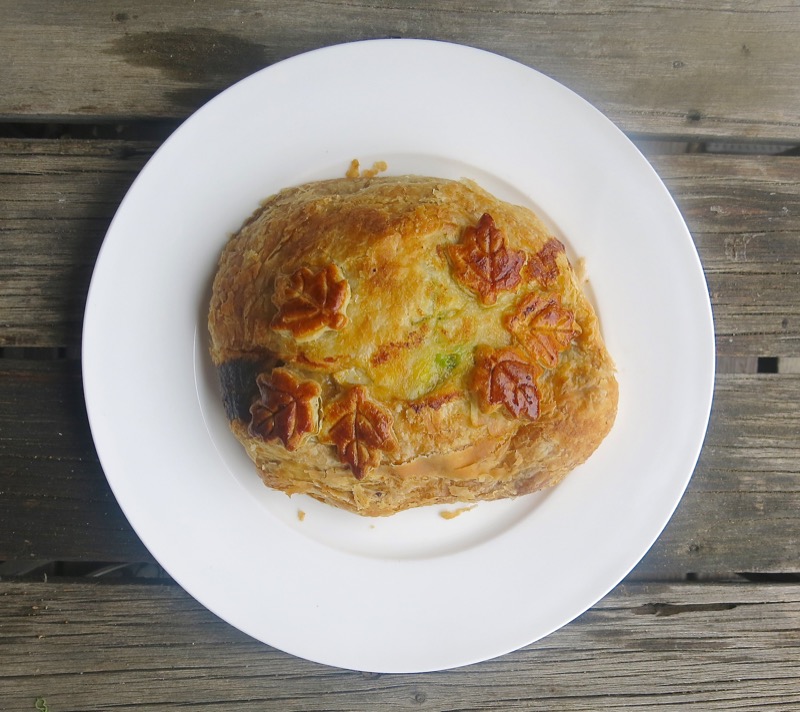 And unspeakably easy. I promise you.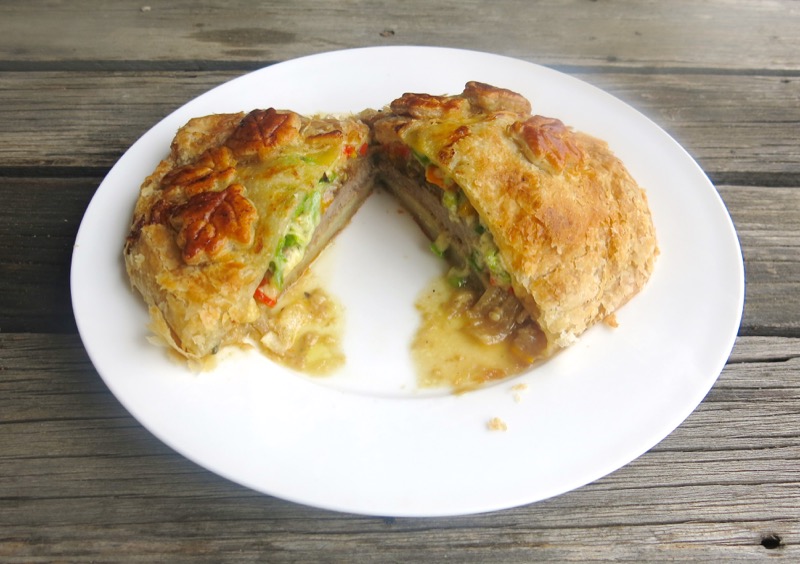 Still on my quest to cook the many overlooked packages of Minute Steak left from last year's cow, today I make my own family favourite: Valerie's Alberta Beef Steak Pie.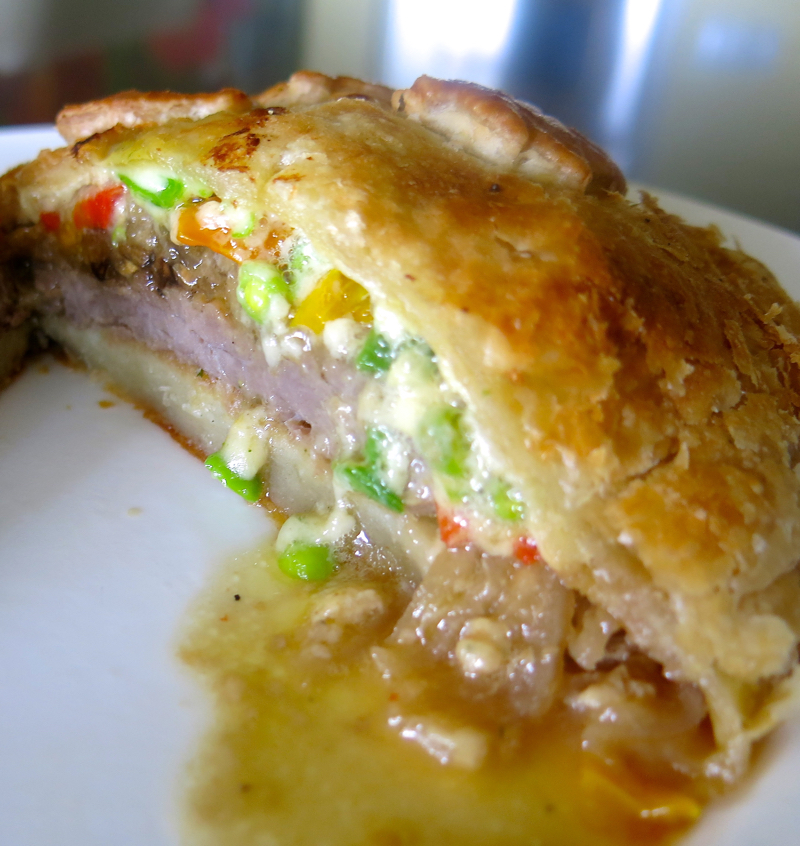 I have never been served anything remotely similar anywhere, yet this recipe evolved organically in my home kitchen. Leftover puff pastry. Left over minute steak. Always lots of vegetables. What should I make for supper? The first version was nothing like this, but the Serbo Charger liked it. "A little dry, Valerie, but tasty!" A few iterations later, and "by golly – by gosh – by gotham", I do think I've got it! You'll have to let me know when you make it!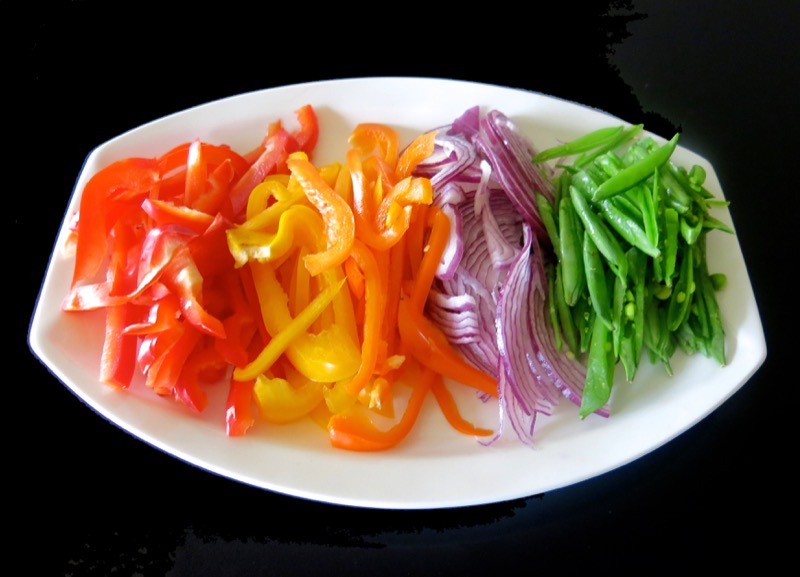 Of course, I am a firm believer in the idea that my best idea can most definitely be made better by someone else. All I ask is that you share with me your take on what I hope it his inspiration, from me, today. Above, the colourful bell peppers, purple onion and sugar snap peas sliced thinly, to similar lengths.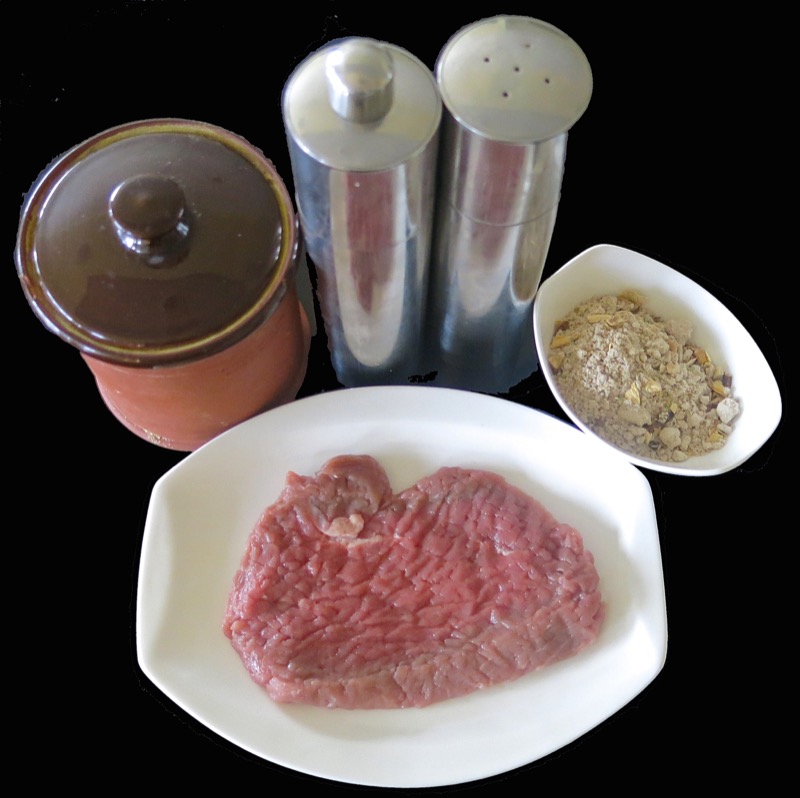 Seasoned meat: Salt, freshly ground pepper, Vanja's Vegeta, Seasoned Porchini Mushroom Flour (recipe below). As always, it is all about the beef in our house… or the meat. This is Nouveau beef from Danny and Shannon's Nature's Green Acres Farm, slaughtered at about 6 months – so older than veal, and younger than beef. A beautiful grass fed Alberta treat. I believe in "Know-your farmer" beef, chicken, pork, eggs, and vegetables. Do you?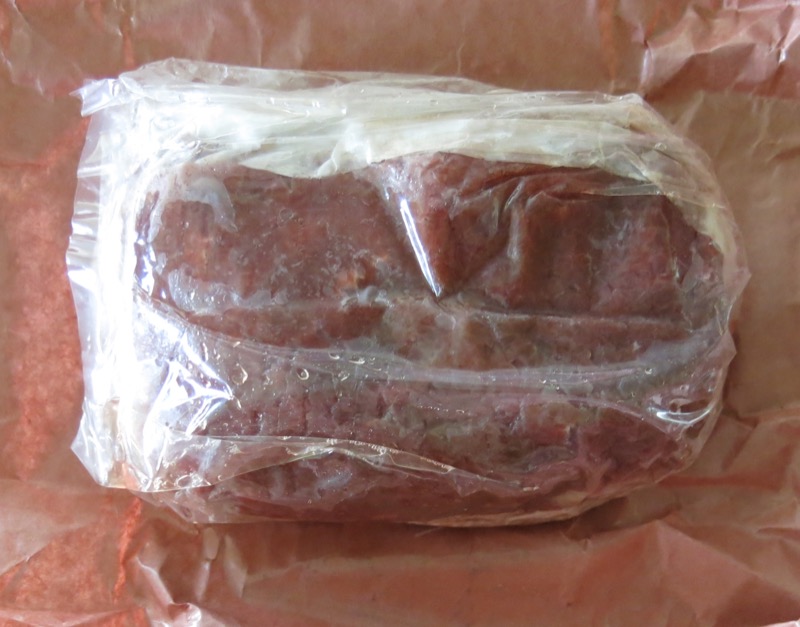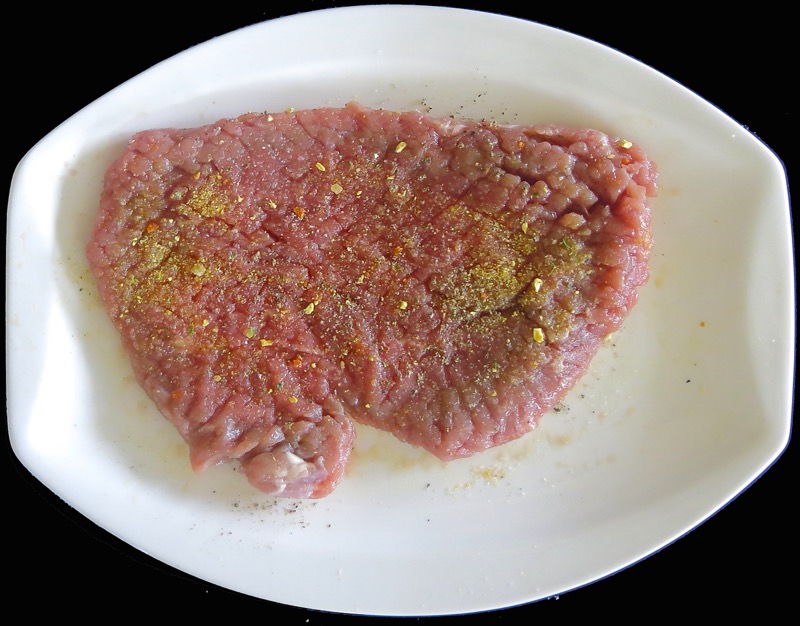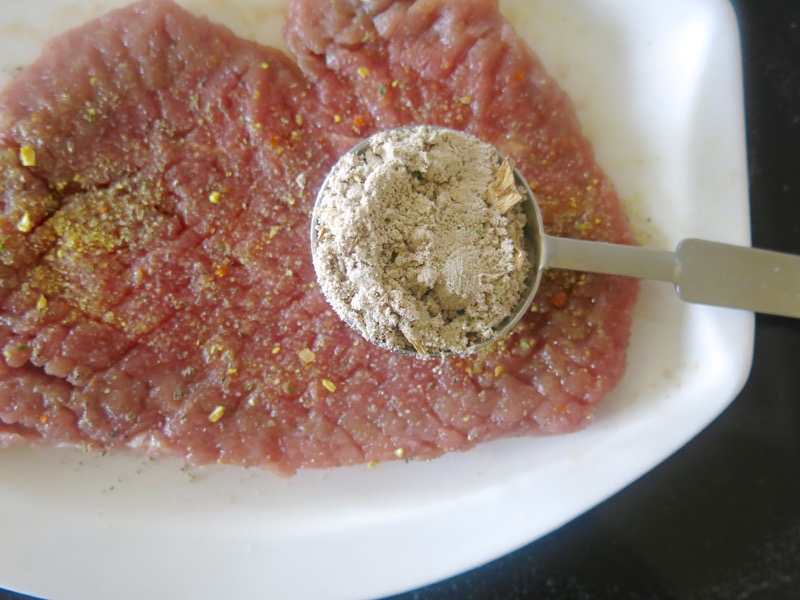 Thawed, the gorgeous Minute Steak fillets are seasoned and dredged with the seasoned Porcini Mushroom Flour.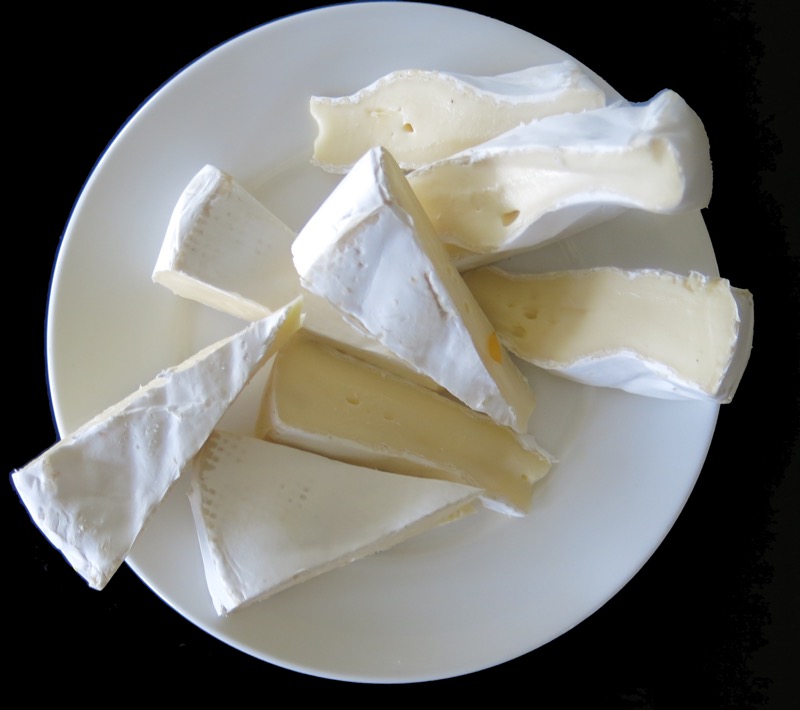 I have used Jalapeno Monterey Jack Cheese with success, as well, but for the best "gravy", brie is the cheese for this steak pie.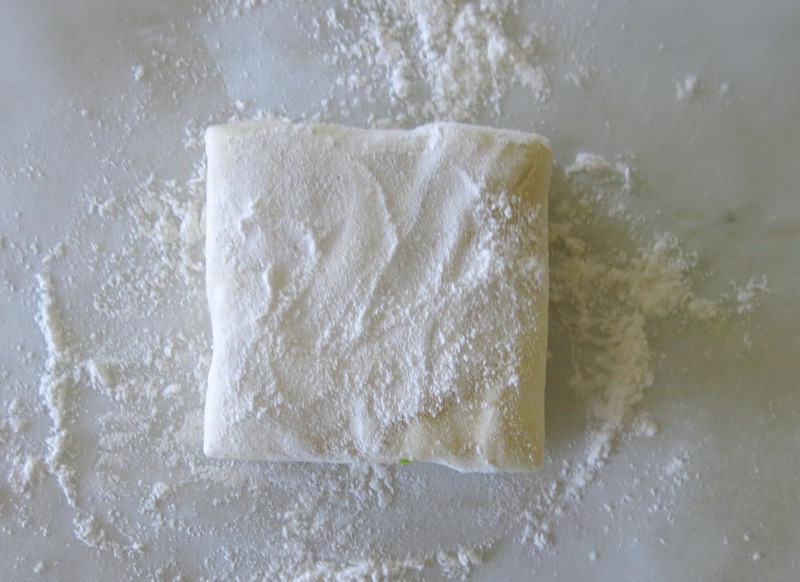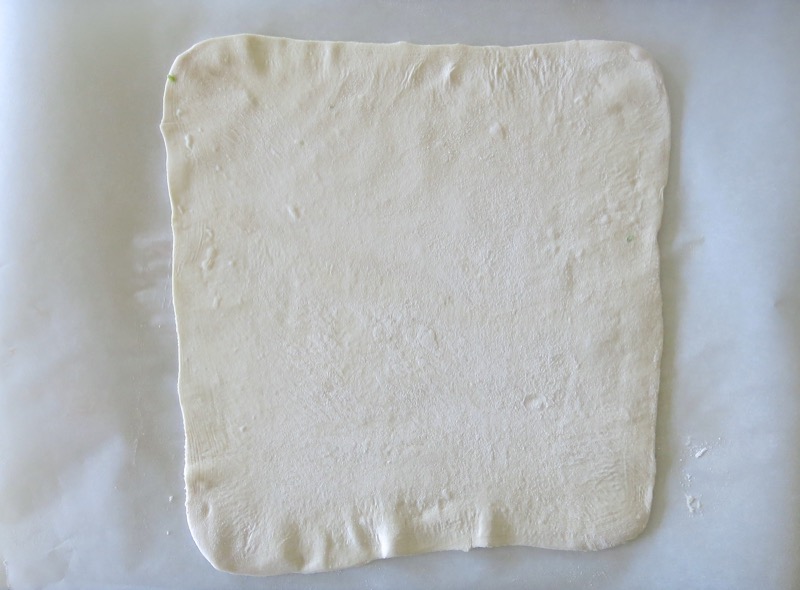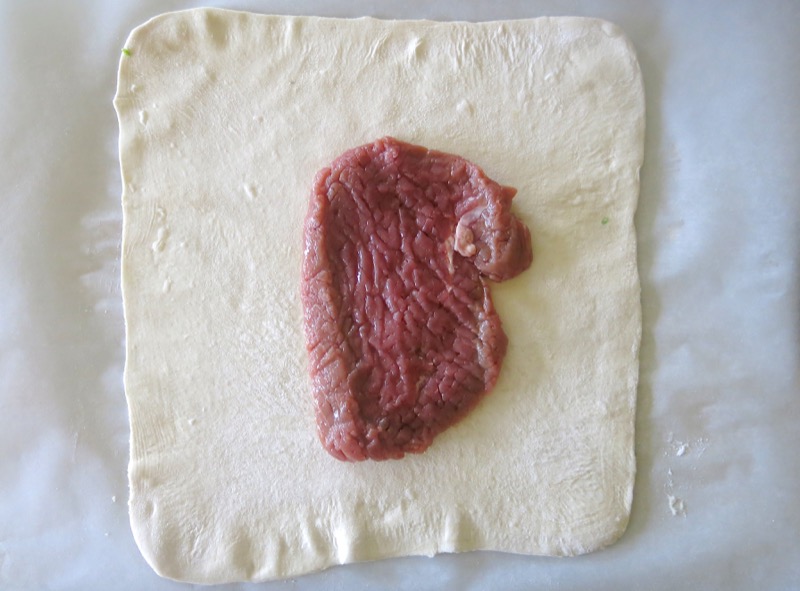 I prefer Tenderflake puff pastry. I have made my own, but would never use that for a steak pie. If I make my own puff pastry, I bake it "plain" so that the homemade touch can be appreciated! Croissants, and the like are saved for the homemade pastry. For dishes like this, I find certain brands perfect. Tenderflake comes with two bricks of pastry. I use one for each steak pie. The Minute Steak is placed on the pastry to mark the size of the steak, then set aside.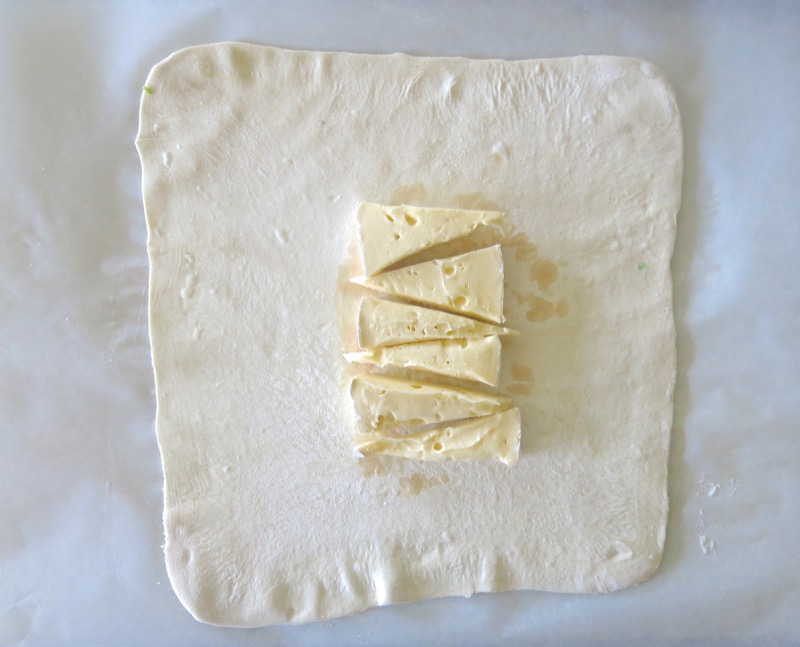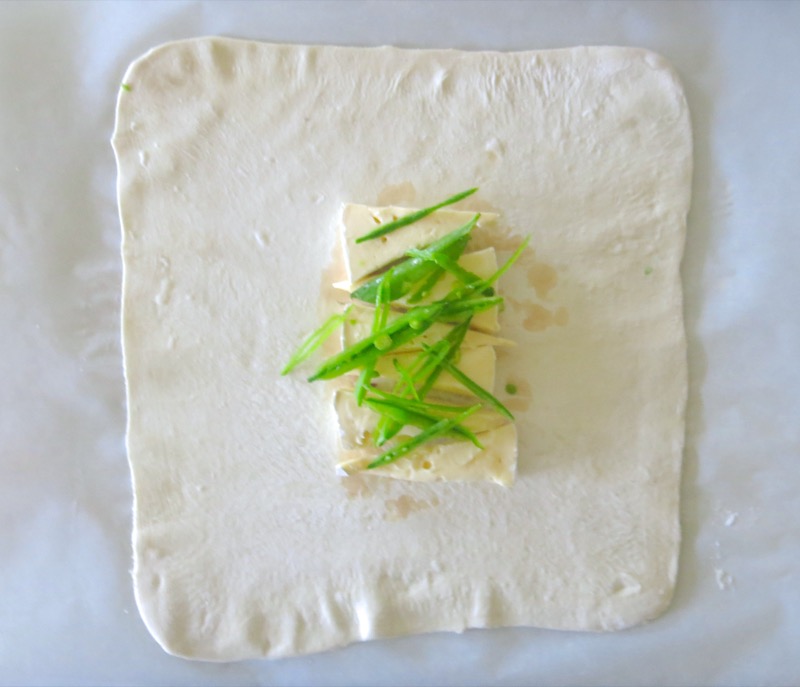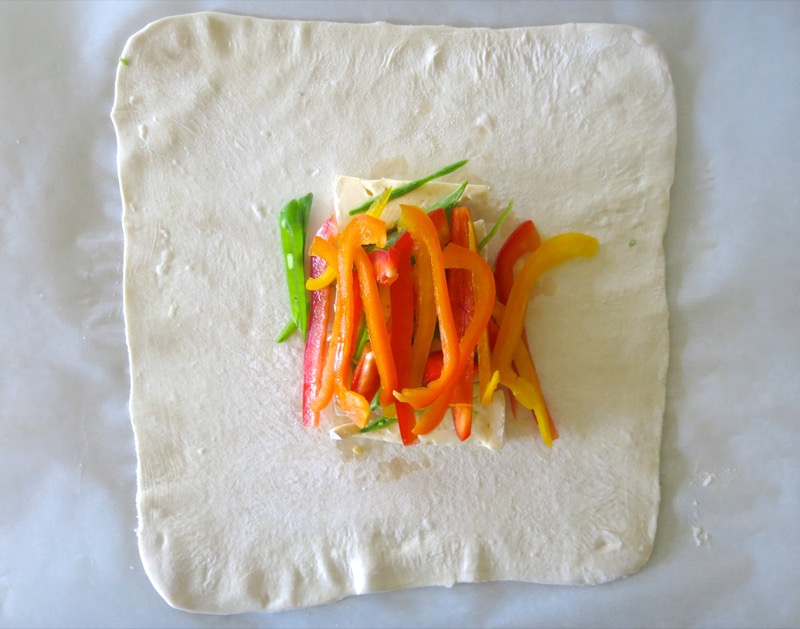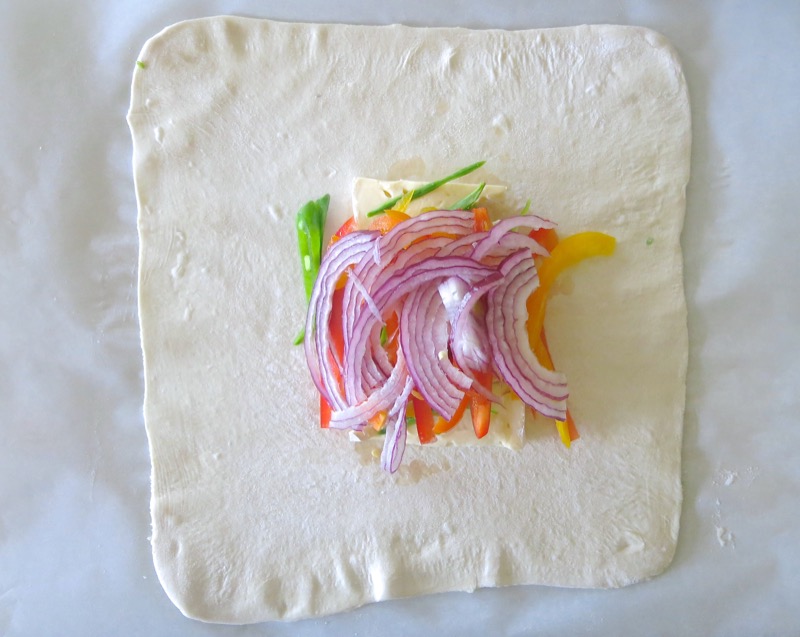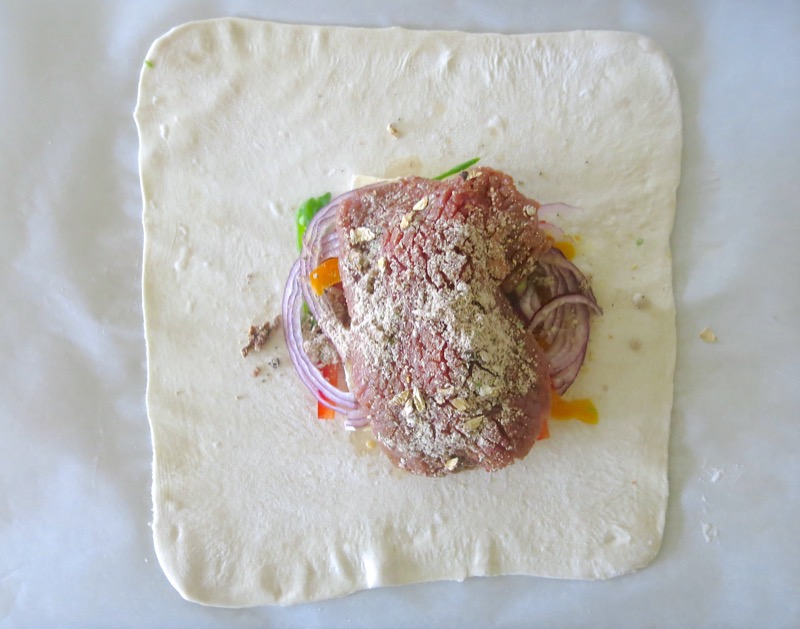 The cheese is placed over the Minute Steak "spot" and the vegetables are gently piled on top of the cheese. There are about as many onions as the other vegetables. That is half of the vegetables are onions. That amount of onion is important for the flavour profile of this steak pie. Not enough onions, and the pie is flat in flavour. Trust me. Trust my palate.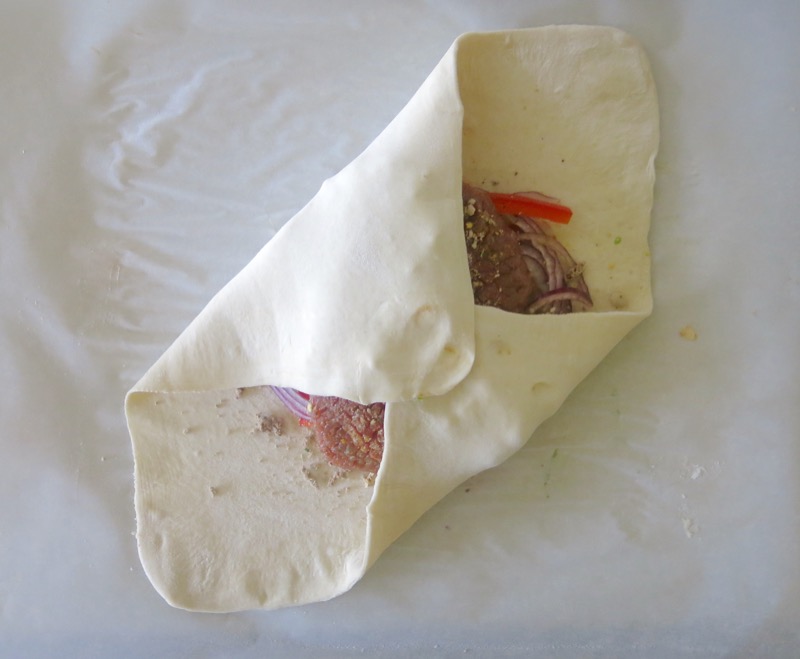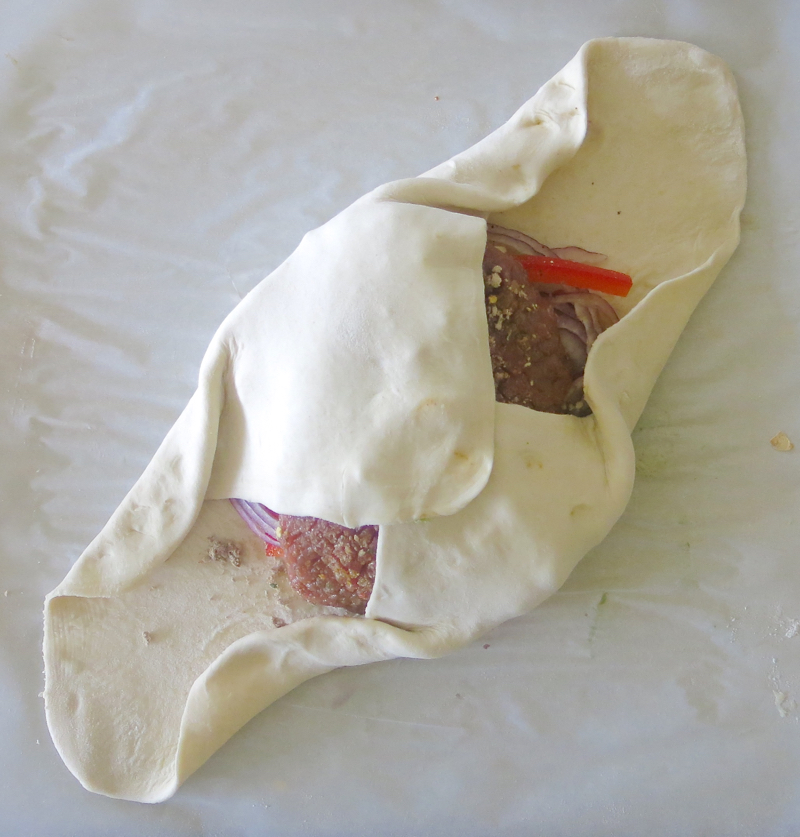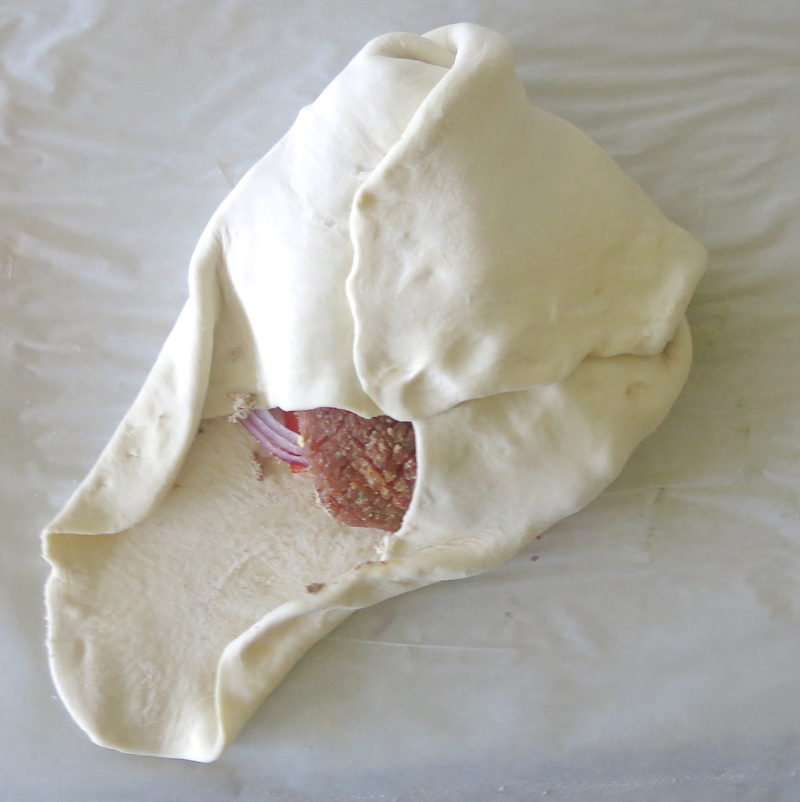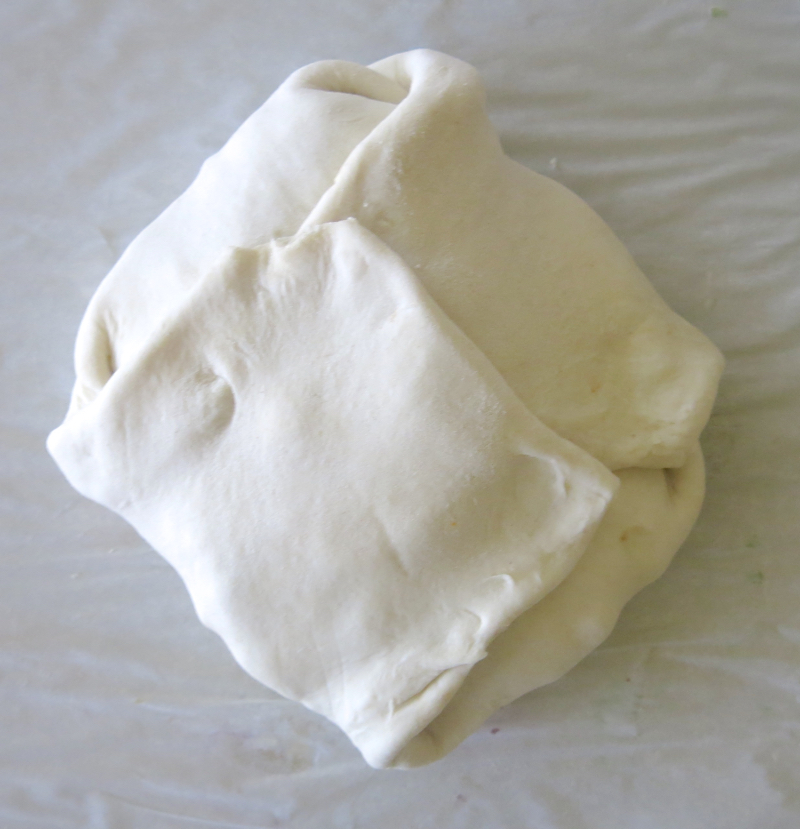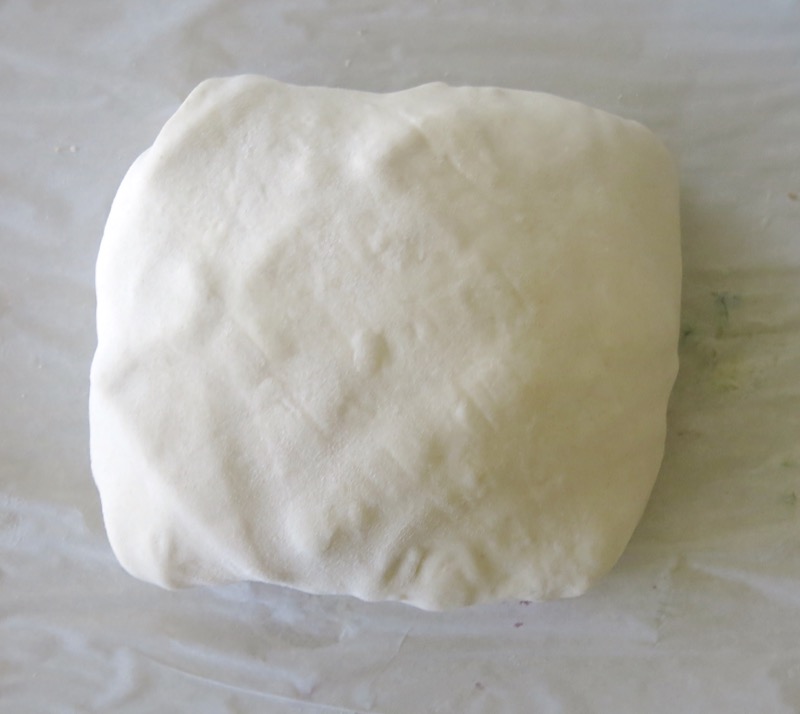 There are many ways to fold pastry into a steak pie. This is the one I use. I learned I prefer the steak on the bottom, the cheese on the top to ooze through the vegetables and onto the steak.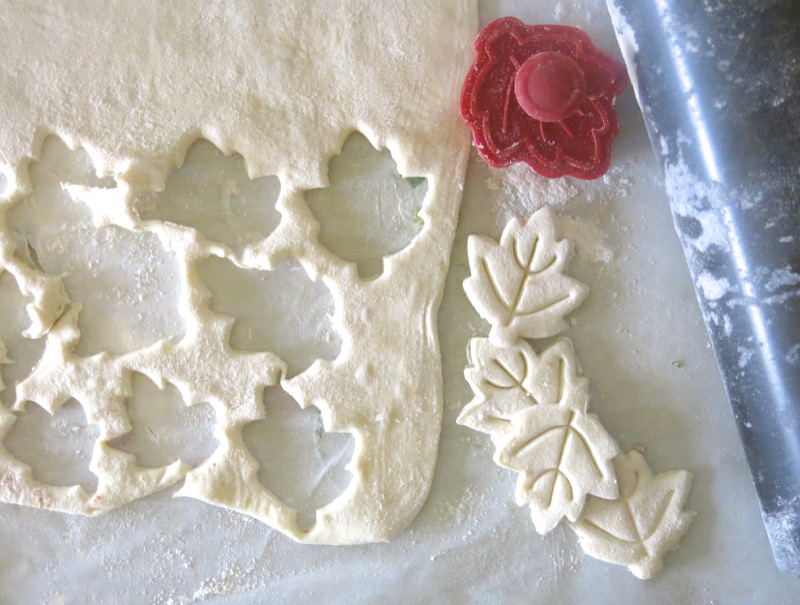 This steak pie is lovely and rustic without any garnish. But, if you have extra pastry, garnishing the individual pies (and these are large individual pies) is a lot of fun. Use whatever shape that is appropriate. I like the stamps. I actually use them for making crackers, too.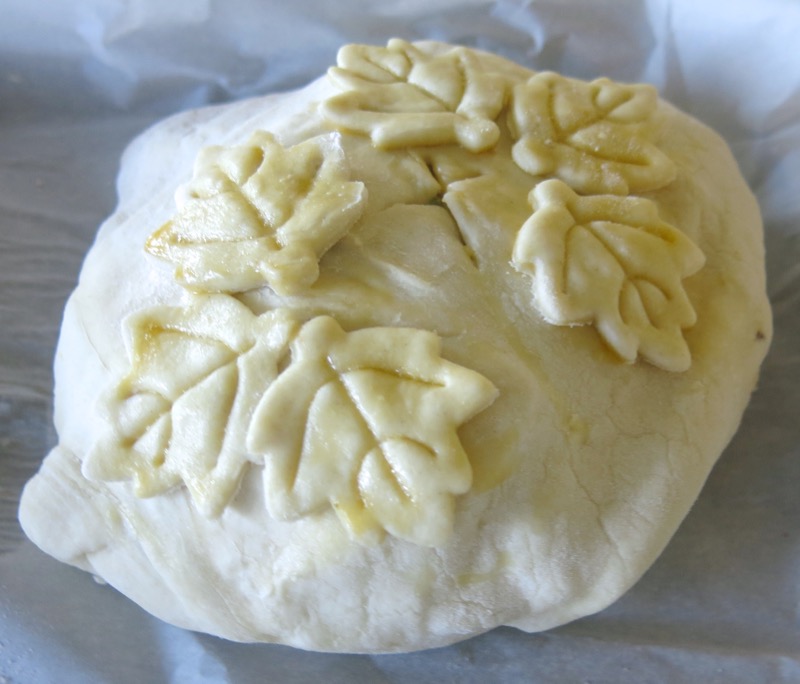 "To wash or not to wash", that is the question. I have done it all. And, I still cannot decide what I prefer "the best". I find the non-egg washed and plain steak pies gorgeous and rustic. The egg washed pies look a little more like Cornish Pies to me, as that is my frame of reference with a yellow sheen on pastry. I decided to wash the decorative leaves only, this time, and was happy with the look.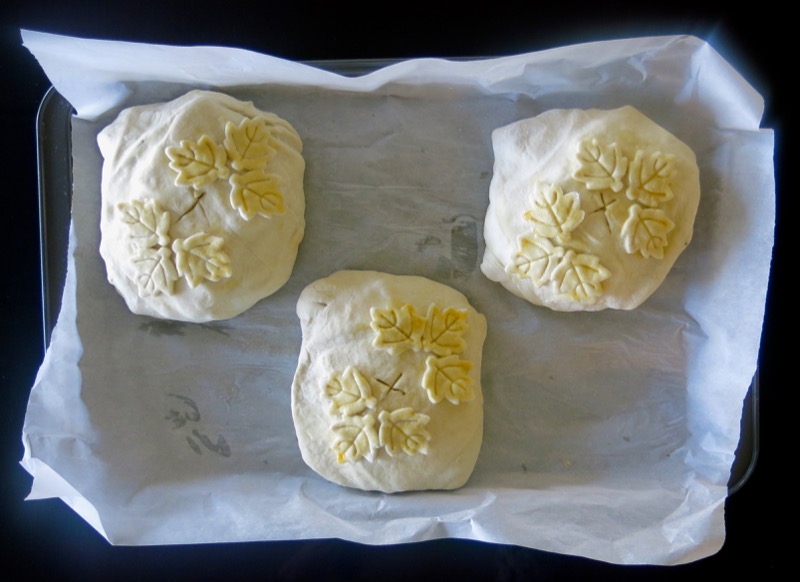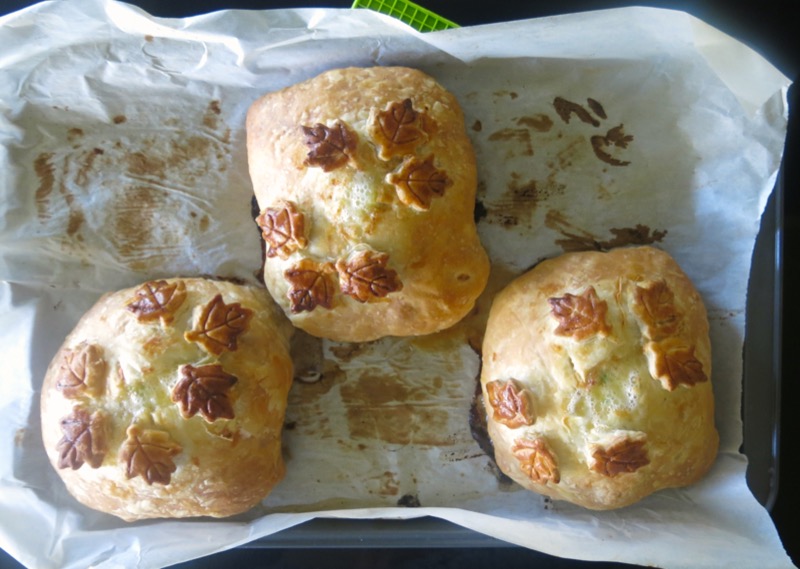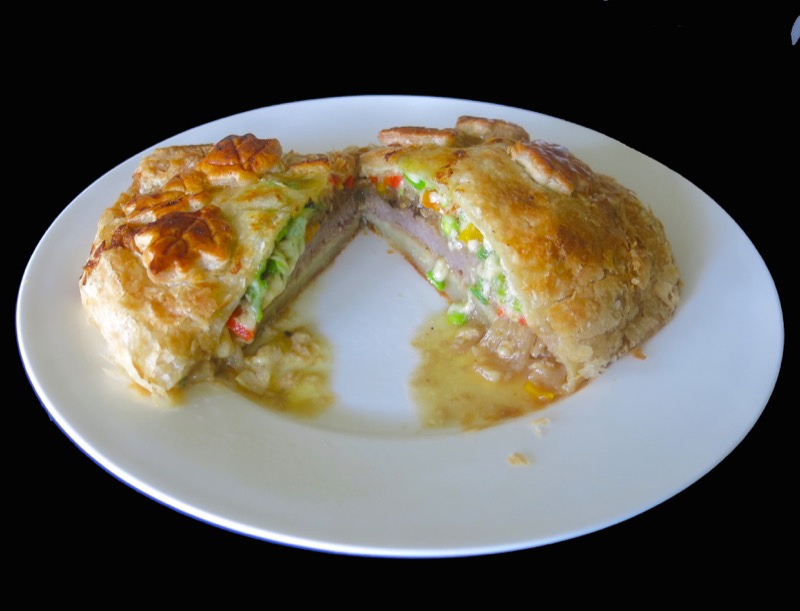 No complaints about a dry steak pie anymore, eh, Vanja? But, he does prefer it with less vegetables. What a surprise. However, I am responsible for his nutritional health, and vegetables find there way into almost anything I can get them into that he will eat. (He's like feeding a picky child eater when it comes to veggies!)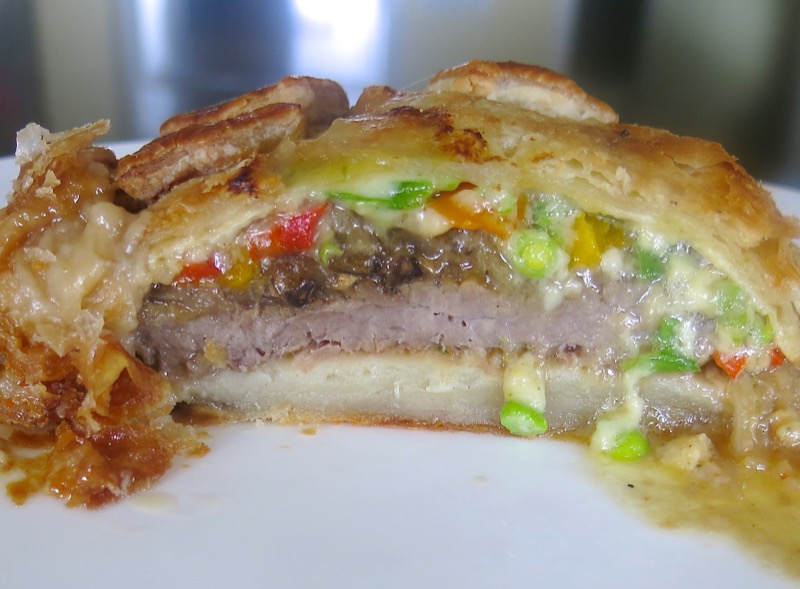 Scrumptious! The bottom crust is thicker, but crisp and not at all soggy. Join me while I celebrate my accomplishment, below, for a photo, or few!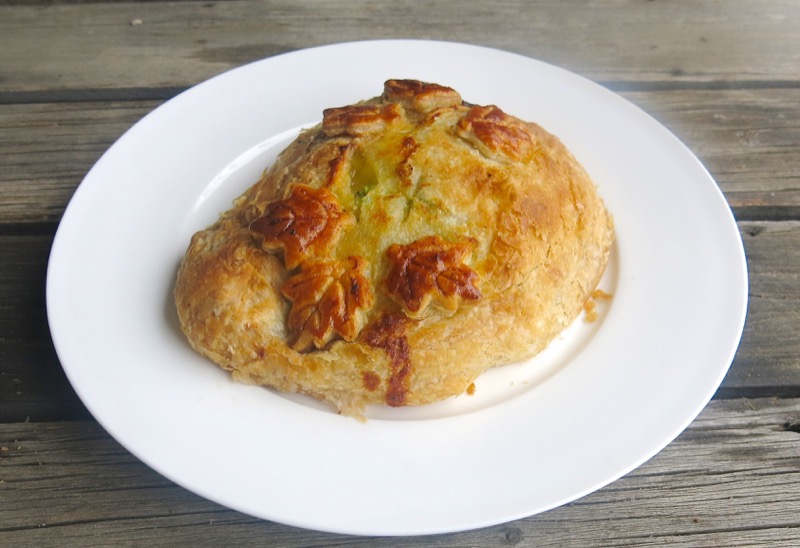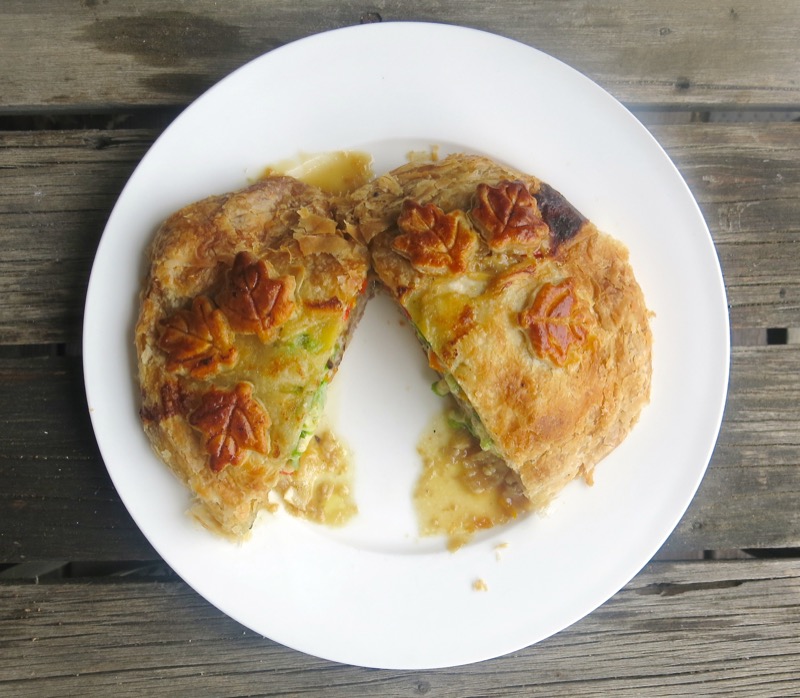 Let me know if you make it. I love to hear how my recipes work for you. It tickles me to my toes. I have found that this Minute Steak Series has pushed me to make or write about recipes I wouldn't usually make or write about, but I am completely enjoying this little project and hope you are, too. More to come!
Minute Steak Series: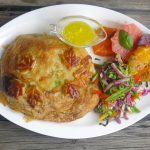 Valerie's Steak Pie


Valerie's Steak Pie is a show stopper. Easy Peasy to make, delicious, economical and as made with puff pastry, a decadent treat, but isn't every meat pie?
Total Time
1
hour
15
minutes
Ingredients
Ingredients to Prepare the Steak:
6

Minute Steaks or Cube Steaks

1

ounce

dried Porcini mushrooms

6

tablespoons

flour

salt

freshly ground pepper

Vegeta
Ingredients for Putting the Steak Pie Together:
3

boxes of frozen puff pastry

, thawed in fridge (Tenderflake)

1

six inch round of brie cheese

, cut into 16 wedges

36

Sugar Snap Peas

, thinly sliced, vertically

1

sweet red bell pepper

, thinly sliced

1

sweet yellow bell pepper

, thinly sliced

1

sweet orange bell pepper

, thinly sliced

1

large red or purple onion

, halved and thinly sliced

Salt

, freshly ground pepper, and Vegeta

1

egg

, for egg wash

Extra puffed pastry if garnishing with leaves
Instructions
Instructions to Prepare the Steak:
Place dried mushrooms into Thermomix or powerful blender with flour, salt, freshly ground pepper and Vegeta; pulvarize to powder form and set aside

Season each steak; set aside
Ingredients for Putting the Steak Pie Together:
Roll out one half of a box of the puff pastry while still cold, into a square or rectangle (depending upon the kind of pastry you purchase) large enough to accommodate your steak and the toppings

Place a steak in the middle of the pastry to determine the shape of the fillings; set it aside

Take 3 cheese wedges, and cut each in half in the middle; place 6 wedges on pastry where meat shape remains

Cover cheese with 6 Sugar Snap Peas, thinly sliced, vertically (or 1/6th of the sugar snap peas)

Cover peas with 1/6th of a combination of the colourful thinly sliced sweet bell peppers

Top all with a very generous amount of thinly sliced red onion; 1/6th of the onion, and more than you might expect (see photo)

Season all vegetables with salt, pepper, and Vegeta

Take one seasoned minute steak and dredge in 1 generous tablespoon of seasoned porchini flour mixture (1/6th of the mixture); place dredged steak on top of vegetables

Fold pastry over steak diagonally corner to corner, tuck edges inside; repeat with other two corners to make a snug pastry package

Turn steak pie over onto folded side; unfolded pastry side up

Repeat process until all steak pies are made
Instructions for Decorating Steak Pies with Pastry Leaves
With extra puffed pastry, cut leaves (or any seasonal shape)

Paste on top of each steak pie securing with egg wash, in decorative clusters

Egg wash leaves; refrigerate steak pies for a good hour and up to 8 hours
Baking Valerie's Steak Pies
Pre-heat oven to 400F; place pies onto parchment covered baking sheets, not touching each other (usually, three per sheet - I use two ovens)

Bake for 40 - 50 minutes, until golden and fragrant; cool for 15 minutes, then serve immediately
Recipe Notes
If using one oven, use two racks, ensuring good air circulation between each pan of steak pies
Rotate after 15 minutes
Switch rack positioning after 30 minutes, rotating again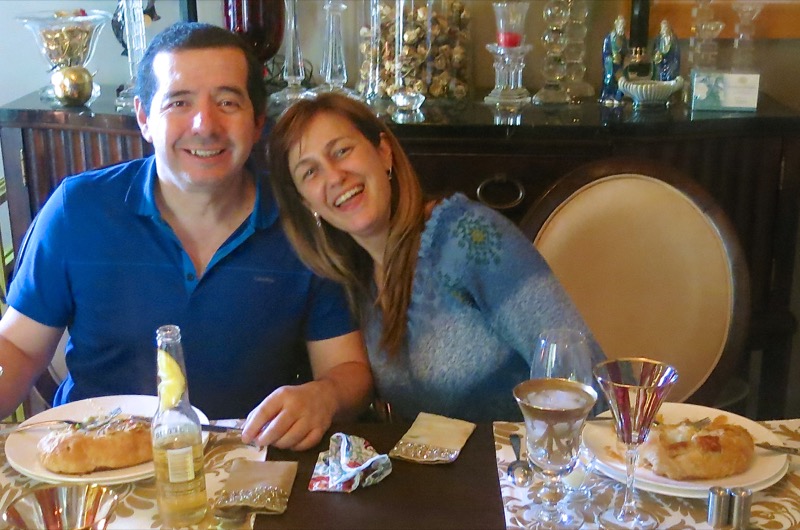 The salad consisted of all of the vegetables in the steak pie plus some shredded cabbage and lettuce dressed with a garlic balsamic dressing. Another hit. And so simple and logical with this meal. Really, it was all that was needed. I served a citrus plate to cut the fat, and the asparagus to welcome the new season. The Hollandaise is a requirement when company is served asparagus. (And, it was delicious on the Steak Pie, too!)