Anyone have expertise to offer?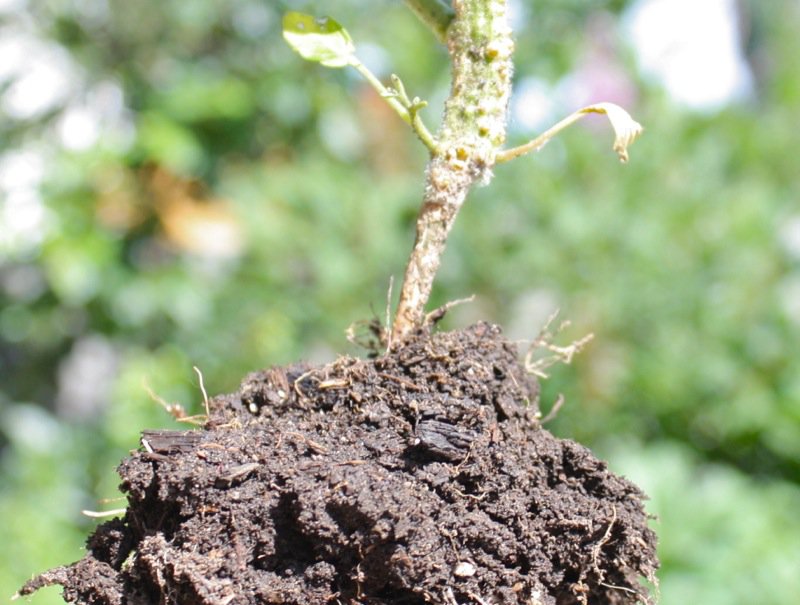 One of my tomatoes was dying: droopy, turning yellow. It happened almost overnight. Upon investigation, the area around the root crown, just above the soil look gnawed away. Rabbits! We do have them everywhere. This was the first year I was growing tomatoes in my front yard. We got chicken wire and wrapped it around each tomato. The one with the damage seemed to be doing better. Really!
There were ants everywhere around its roots, too. So, that was my next villain. Vanja took the ants to NAIT to be identified. These ants do not eat plants. They are not invasive (ha!) and will not damage anything. I am a live and let live kind of person, but after nightmares of ants crawling all over me, I bought the white ant powder and doused them in it. OK. I went a little wild. It looked like winter hit here for a day or two. But, it was not poison and was a "green ant killer". I know. I know.
Then, talking to my tomatoes in the back yard, counting their little blossoms, trimming the extra undergrowth, I cam across FOUR plants, all in a row, all the same kind, bought at the same place, with the same problem. The back yard has no rabbit access. There are no ants over there. I cried. These little tenderlings had big beautiful sunflower-like blossoms and we already sprouting tomatoes.
In to Google I went: stem rot or crown rot. Either way, I have identified the problem and nowhere could I find a solution. Will this contaminate the soil? I pulled the plants and laid them to rest. I do not take this lightly. I love my garden. I love tomatoes. I did learn that this is a virus that comes with the plant.
The stem gets very thin and fragile toward the soil. If you look carefully, you can see it. It is shockingly obvious when looking down on them and when touching the stems. It is not so clearly obvious in the photos.
Does anyone know if there was something I could have done to have nursed these plants back to health?
Is the soil now contaminated under them?
When I cannot find the answers through Google, I hope to find them from you!