A great recipe for leftover turkey that presents as a company's coming casserole!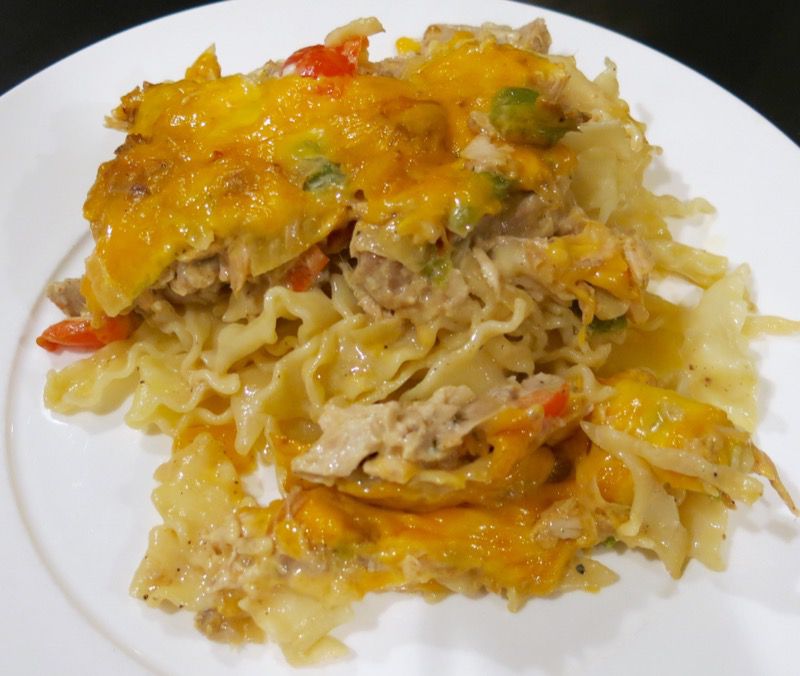 After Homemade Turkey Soup and Homemade Turkey Pot Pie, what do you do with all that leftover turkey? Sliced white meat on one of mom's homemade Canadian Prairie Buns with butter, salt and pepper and Homemade Cranberry Sauce is as important a part of the holiday as the turkey dinner itself! Then, dad would get a day to cook up a meal with the left overs. A big pile of sliced onions would sizzle the frying pan, then he would throw in bite-sized morsels of white and dark meat, gravy and green peas. Salt and pepper finished the dish and it would go over the leftover mashed potatoes, or if they were gone – toast. And it was delicious. I still make that "Turkey Hash" for our family every year, for at least one meal.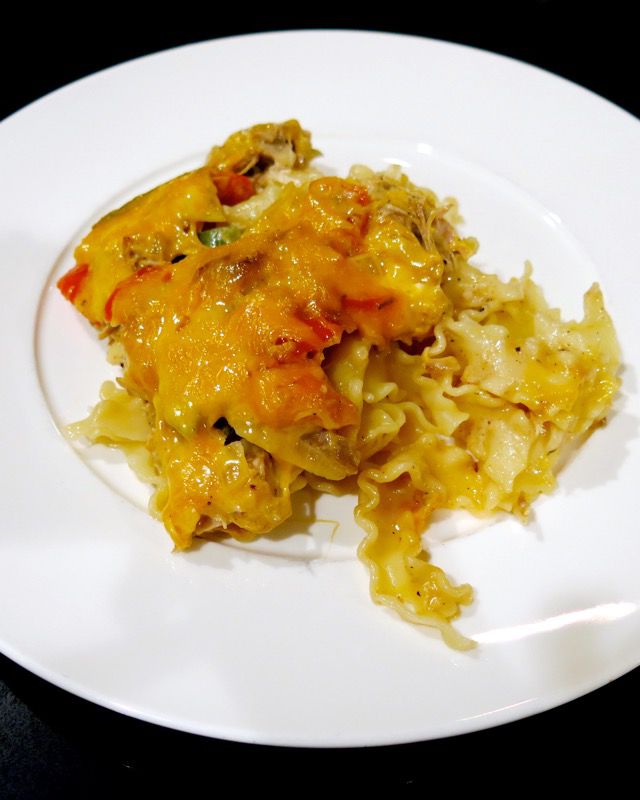 Last year, dad was in the hospital just before the holidays for three weeks. Now, my mom was and is an exceptional cook. Dad had above restaurant quality food served at his family table every evening of his entire life. And he came from the ultra-frugal, ultra hard working generation: the one that really worked hard physically and mentally all together to make a living. Being served food in a hospital was a bit like eating out every night of the week to my dad. It was quite hilarious, actually. He really appreciated how he got all of this food "for free". How he loved his food. Every Sunday night he would be served Turkey Tetrazinni. The first time it was served, it looked similar to above, but chopped up finely. Not appealing. "Mmmm. Boy, now that's good stuff!" He grinned after the first shaky spoonful. Eyes lit up and he was focused on that until the plate was almost licked clean.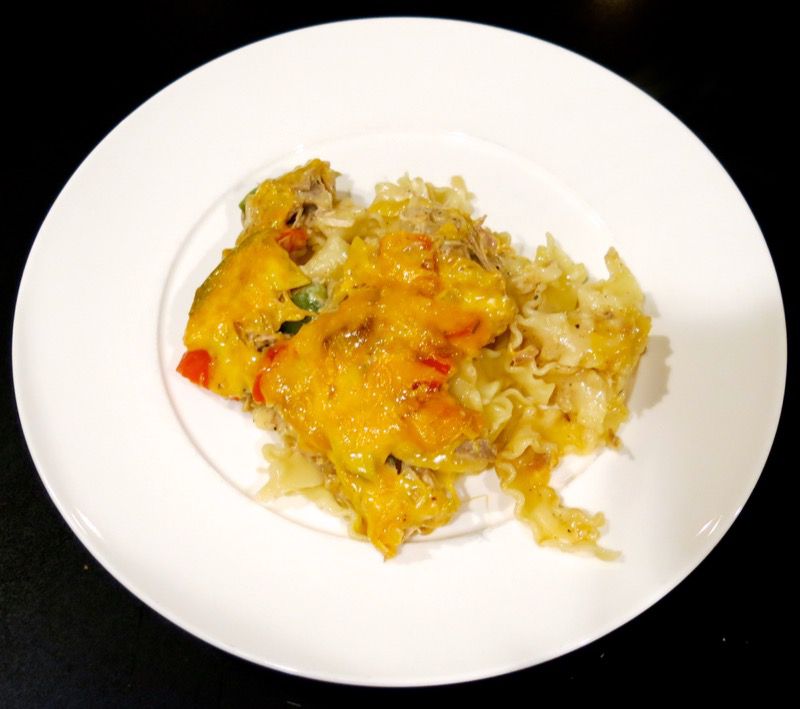 I had completely forgotten the existence of such a dish. Yet, in my first year of University, living in residence and eating at the Lister Hall Cafeteria at the University of Alberta, I do recall that this was a dish most students looked forward to on the menu. I hadn't thought of it, or heard of it again until that day in the hospital, with dad. Turkey Tetrazinni, Where ever did such a name come from? There must be a story behind it.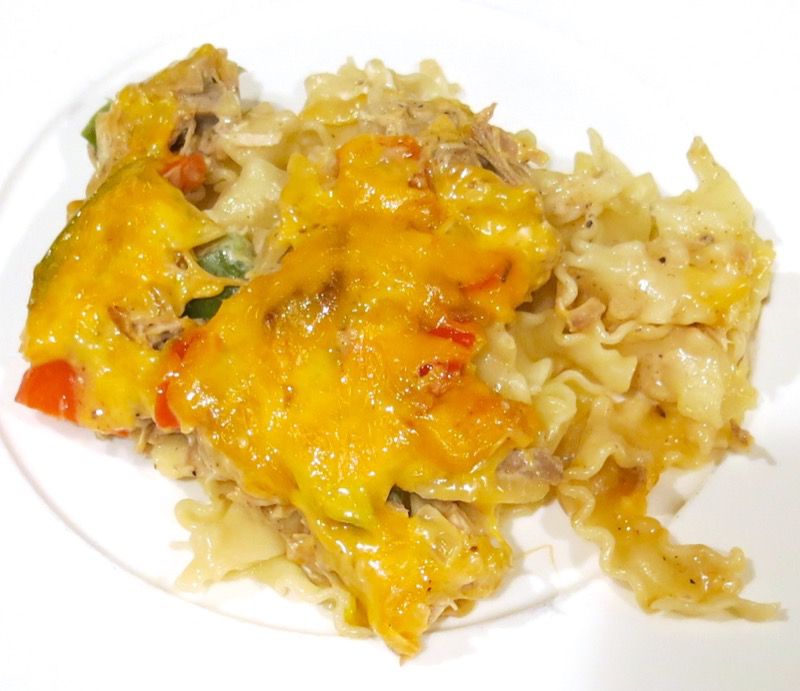 According to the online source of all sources, Wikipedia: Tetrazinni is an American dish often made with diced fowl or seafood that includes mushrooms and sometimes almonds in a butter/cream and Parmesan sauce flavored with aromatic vegetables such as onions, celery, and carrots. It is often served hot over a pasta or tossed with a thin pasta. It is sometimes garnished with lemon or parsley and topped with almonds and more Parmesan cheese. Alternatively, it is baked as a noodle casserole with steps taken to give it a browned crust. Traditional home cooking recipes use canned cream of mushroom soup or other cream soups to create the cream sauce base and add frozen peas for colour, taste, texture and nutrition.
The dish is named after Italian opera star, Luisa Tetrazzini and widely believed to have been invented 1908–1910 by Ernest Arbogast, the chef at the Palace Hotel in San Francisco, California, where Tetrazzini was a long-time resident and this dish, a favourite. Good Housekeeping published the first reference to Turkey Tetrazzini in October, 1908, saying readers could find the dish of cooked turkey in a cream sauce, with spaghetti, grated cheese, sliced mushrooms, and bread crumbs on top, at "the restaurant on Forty-second street."[3]
Making the Turkey Tetrazinni Filling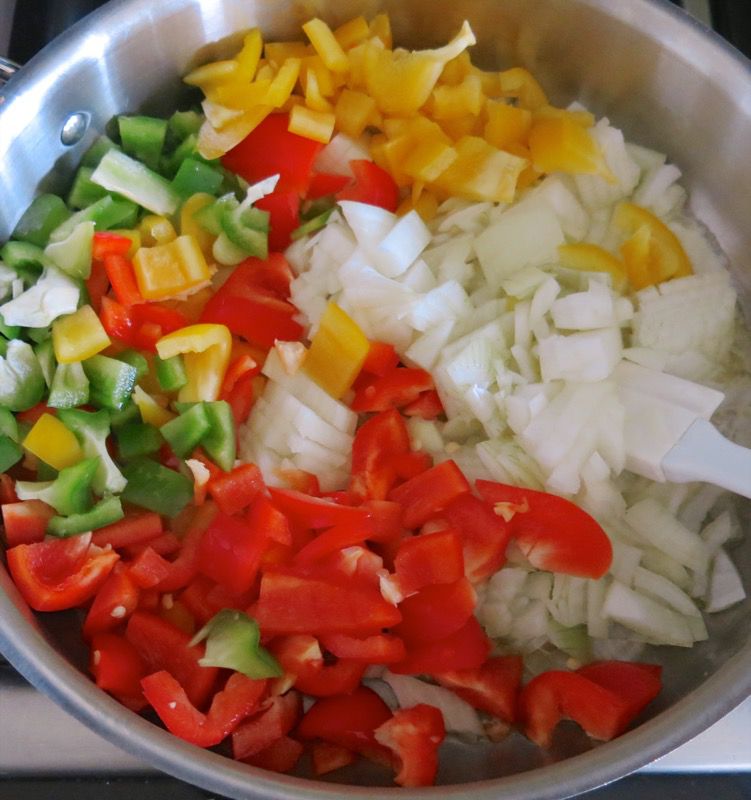 As dad passed away last January 27th, I knew Turkey Tetrazinni was finding its way to our family table after so many years, and what an easy transition it is to make this recipe with the leftovers from a turkey meal. The ingredients are not exotic. All straightforward and simple. All in the pantry at home without any special shopping. Except the mushrooms. Above, the onions, peppers and garlic are sautéed. The mushrooms would be added at this time, and should be as they are an essential part of the flavour profile of this dish.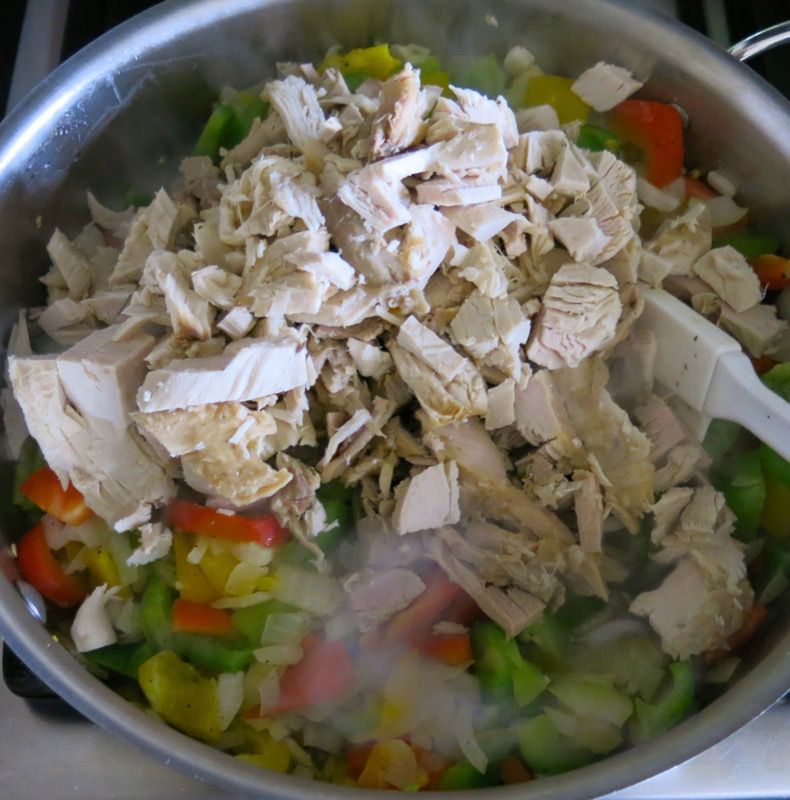 The chopped dark and white meat is tossed into the vegetables.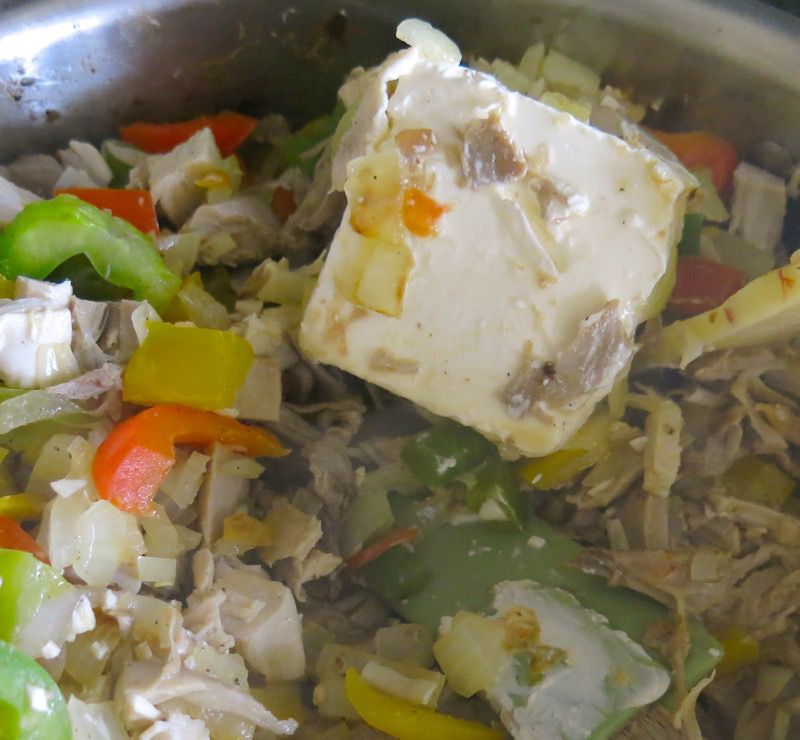 A lovely cream sauce or bechamel sauce could be combined with these ingredients at this time, but I went with the 1973 University Days version and added some cream cheese and a can of mushroom soup that I would never normally have in the pantry, but I had just purchased one for another retro recipe I wanted to make "the old way". (I can hardly believe I am saying this.
Seasoned well with salt and pepper, this is the time the peas would be stirred in. I opted to just let the peppers sing green as I was missing the mushrooms. Do not miss the mushrooms.
Putting the Turkey Tetrazinni Together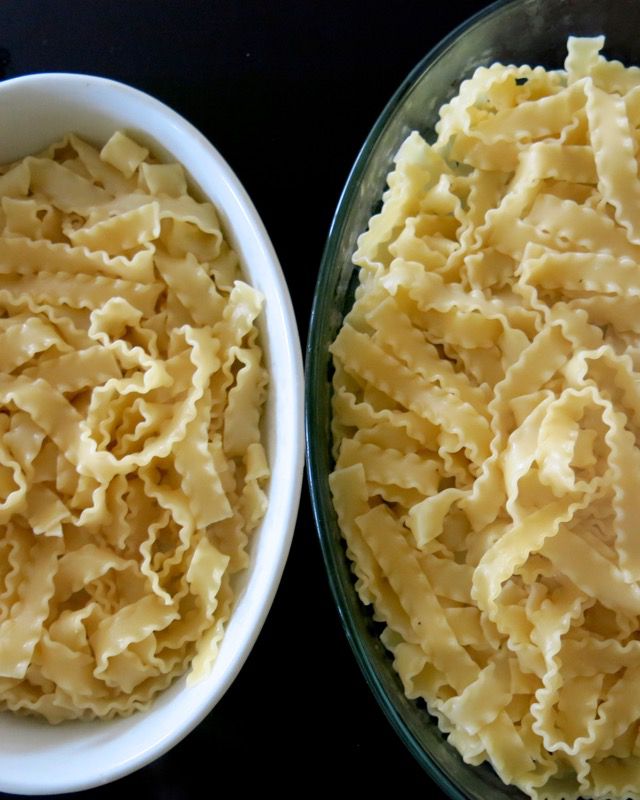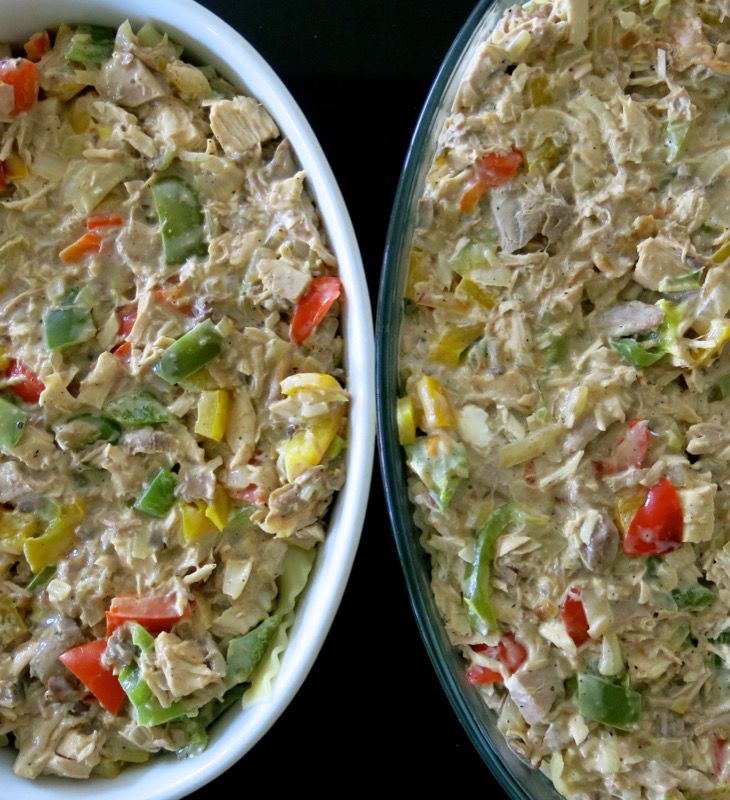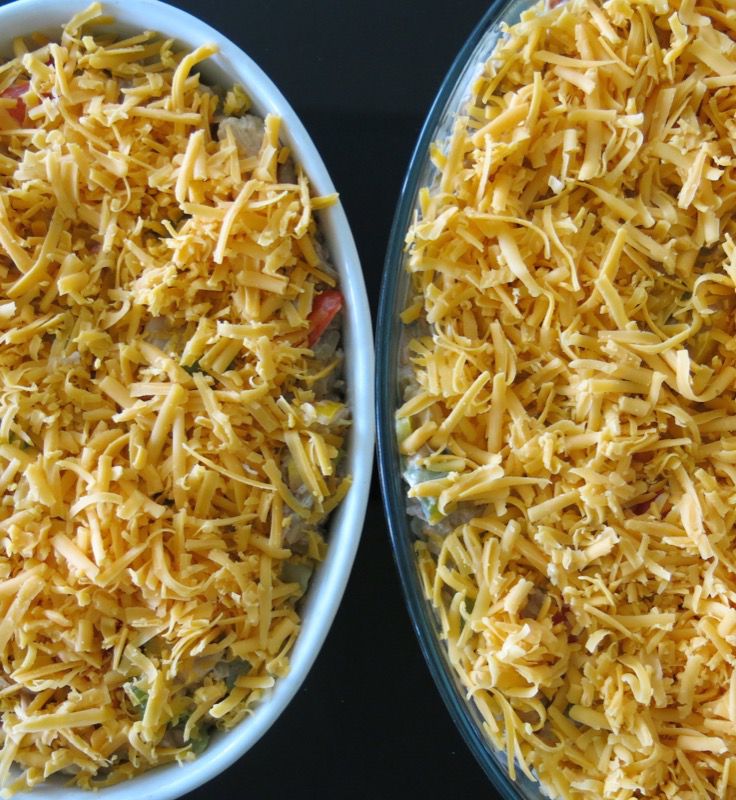 As you can see, I chose the casserole route, but I didn't toss the pasta in with the sauce. Do that. Definitely toss the pasta in with the sauce. I was feeding people that needed it separated, but the best way for the recipe to be as sumptuous as it needs to be is for it to be served as a sauce over pasta, or to be combined with the pasta in the casserole dish, then topped with shredded cheese.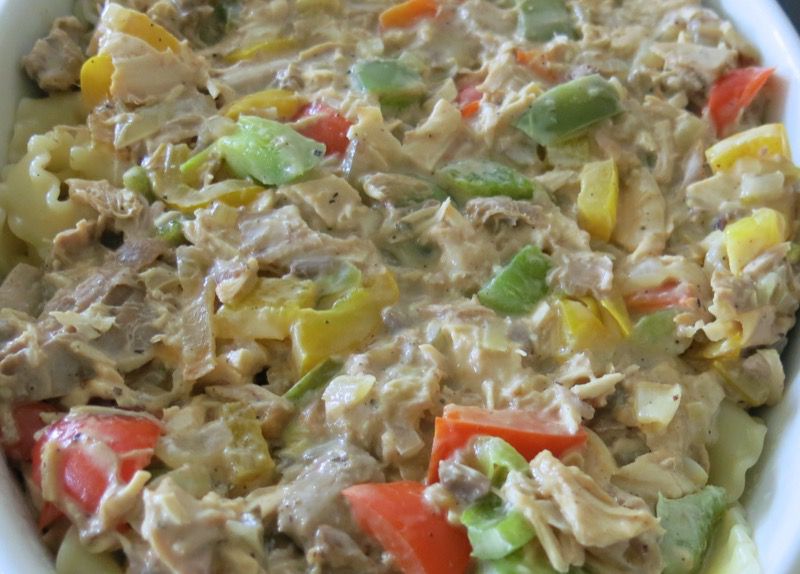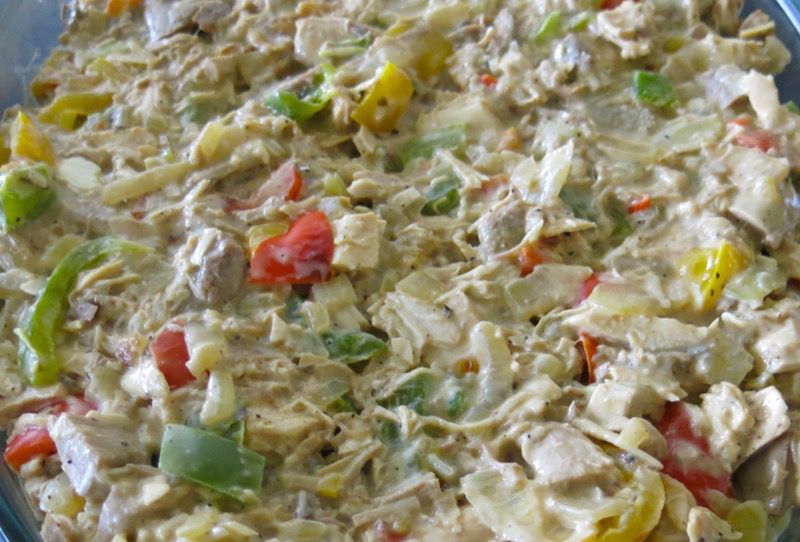 It is rich. It is unexpectedly tasty and though a pasta dish, like no other in your memory. That is why one bite of the tetrazinni on dad's hospital plate awakened my University Cafeteria tetrazinni memories. It is simply very good home food. Delicious, rich, home food.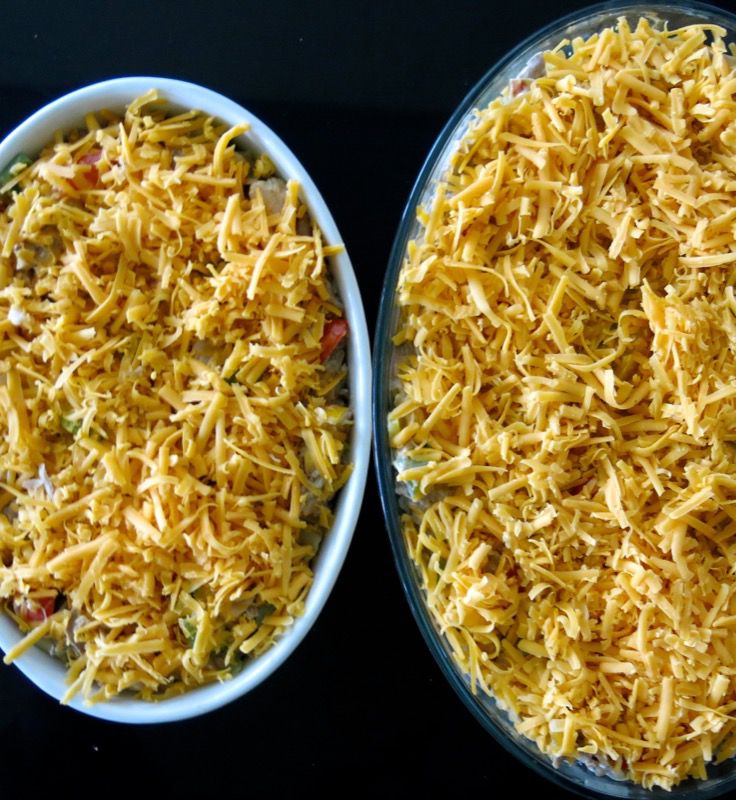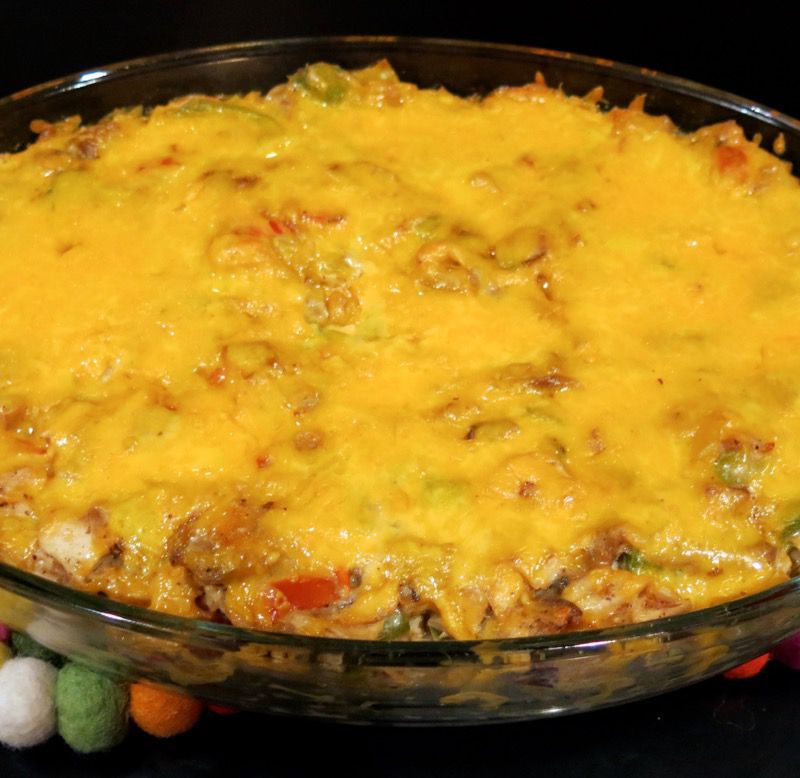 Almost too easy to make. Definitely satisfying. The perfect midweek meal and even company ready with a crisp salad on the side. Yes, it is that good.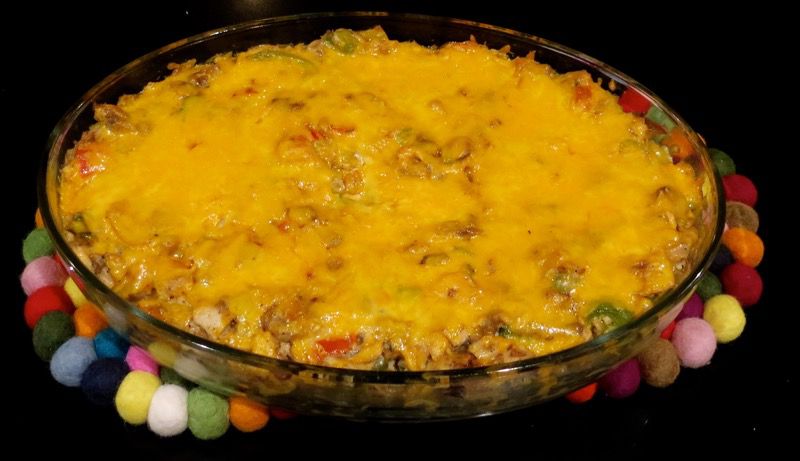 I would likely make my own cream sauce instead of using mushroom soup if company was coming, but if I didn't know and had a batch in the freezer in a casserole dish as I do now, it will do just fine.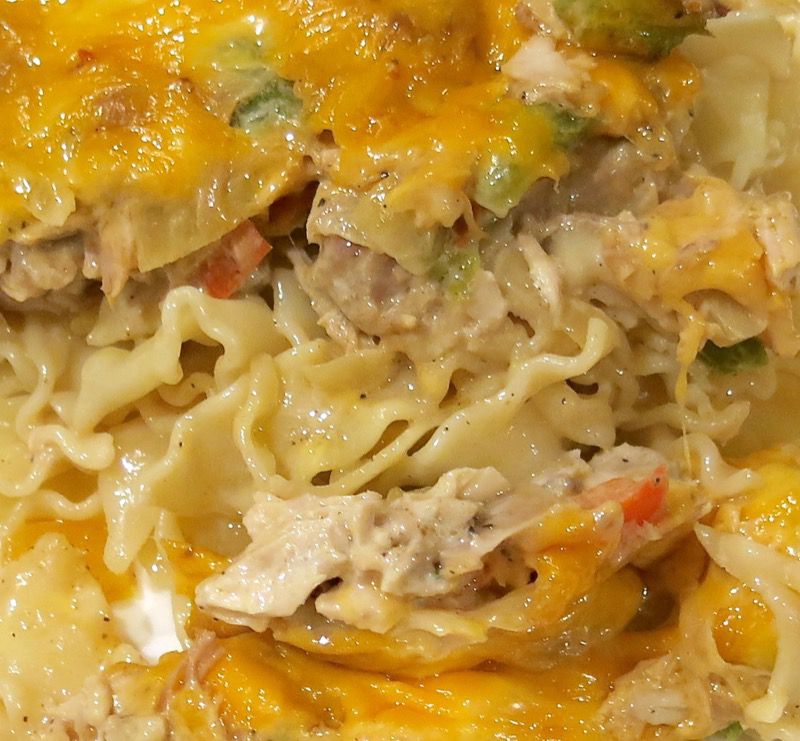 I made 2 large casserole dishes full and regret it, not. It freezes perfectly.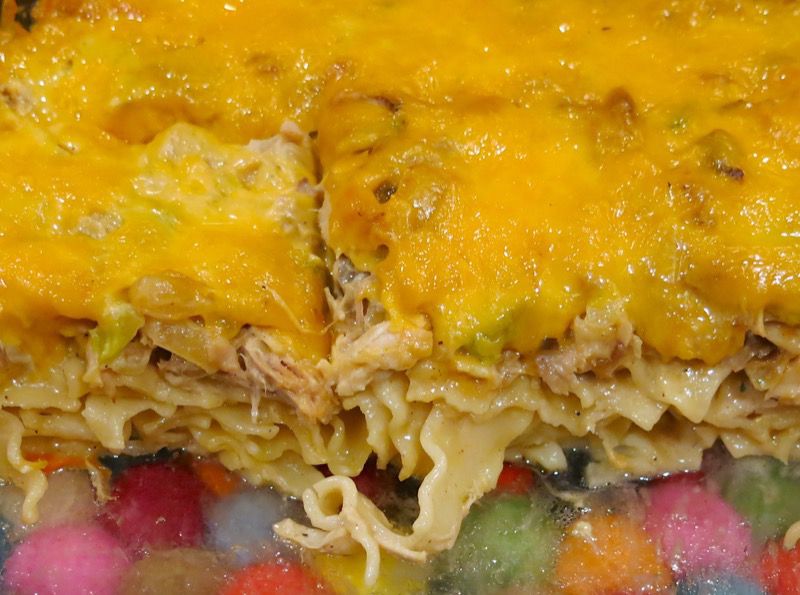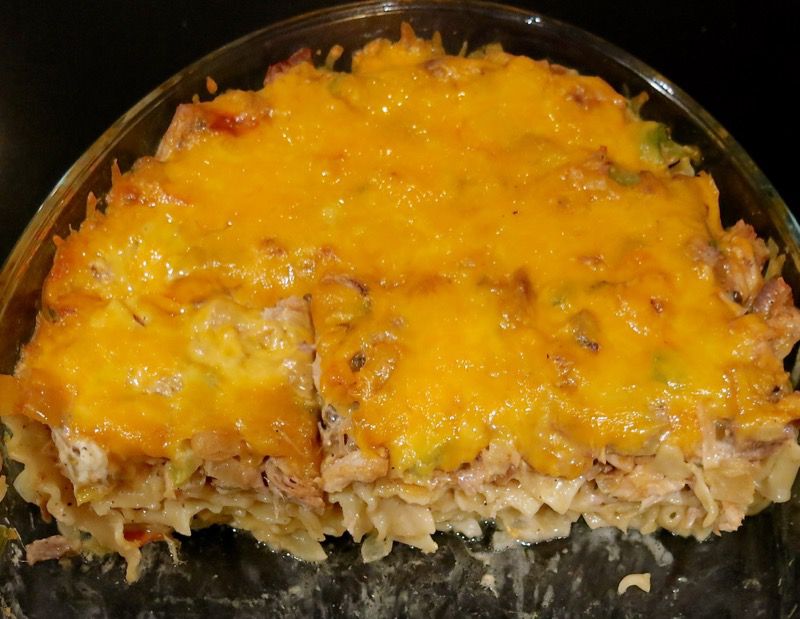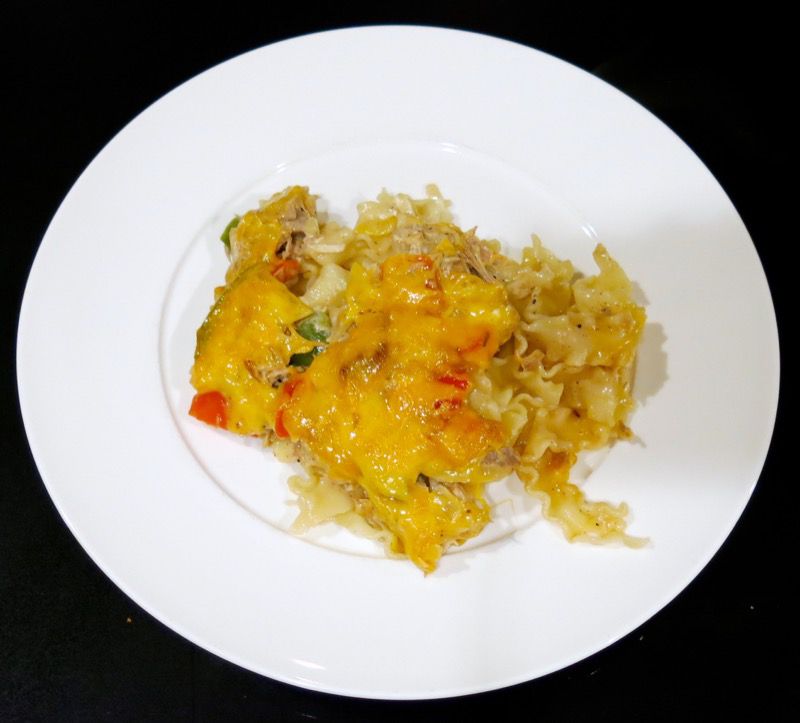 I didn't have to beg the family to finish up the leftovers. They were poking into the fridge finding them on their own. That is a testament to the recipe. This recipe is so effective in its use of leftover turkey that the family will covet these leftovers!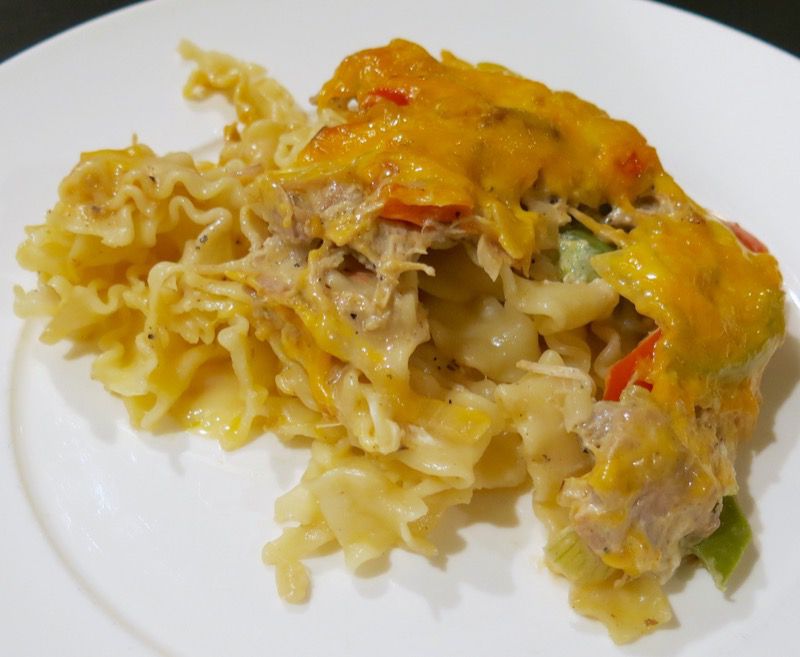 From my house to yours. Happy 2015! If you try it, or make it all the time, let me know how you make yours!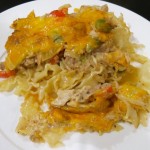 Turkey Tetrazinni


Delicious, nutritious and economical home food that will nourish the body and spirit. Serve simply with a crisp tossed green salad.
Ingredients
8

ounces

thin dry pasta or 250 grams

1

teaspoon

salt

water to cover

2

tablespoons

butter x 3

8

ounces

mushrooms or ½ pound or 250 grams

, sliced or quartered, depending upon size

¼

cup

flour or 60 grams

2

cups

milk or 500 grams

½

cup

grated Parmesan cheese 100 grams

4

ounces

cream cheese or 100 grams

½

teaspoon

salt

, or to taste

¼

teaspoon

freshly ground black pepper

, or to taste

1

large

onion, diced

½

each of red, yellow and orange sweet bell pepper

salt and pepper

, to taste

1.5

pound

skinless, boneless turkey, diced

1

cup

frozen peas

chicken broth

(optional)

1 ½

cups

grated Canadian Cheddar Cheese
Instructions
Butter a 9-by-13-inch casserole dish

Sauté mushrooms at medium high heat in large skillet with 2 tablespoons butter (3-5 minutes, until caramelized); season with salt and pepper, remove from pan and set aside

In the same pan, add the next 2 tablespoons of butter and the flour over medium high heat, stirring constantly until a paste is formed (this is a roux)

Slowly stir in milk ½ cup at a time, adding more liquid each time as the roux thickens until completely combined without any lumps

Stir in cream cheese until melted; add Parmesan cheese, stirring til melted and season well with salt and pepper

Add fried mushrooms back into the pan with the white sauce; set aside in a warm corner

Pre-heat oven to 400F

Cook the pasta according to package directions until al dente; (10-12 minutes)

In another skillet, melt last 2 tablespoons butter over medium high heat; sauté aromatics (onion and peppers) until translucent (4 minutes)

Transfer vegetable mixture to mushroom mixture; add turkey and frozen peas

Strain pasta well and add to mixture; fold gently to incorporate all ingredients

Turn heat to medium, stir to heat completely and combine ingredients well

Season with salt and pepper, if necessary; add chicken broth, milk, or water, if needed to maintain sauce at desired consistency

Transfer mixture to prepared casserole dish; sprinkle with grated cheddar cheese

Bake until golden-brown and bubbling (18-20 minutes); serve immediately
To freeze and serve later:
Cool to room temperature, wrap well, include baking instructions on top of the plastic wrap and under foil

From freezer: unwrap completely; place in cold oven and set temperature to 400F, time at 1 hour (or until golden and bubbly)

Thawed:

Pre-heat oven to 400F, bake until tgolden-brown and bubbling (25-30 minutes); serve immediately
Recipe Notes
1. Omit 1 cup of milk, the chicken broth and the flour if using one can Cream of Mushroom Soup; add water or broth as needed
2. To Freeze: Double-wrap in plastic wrap, then foil
3. To Reheat: Preheat oven to 400 degrees, unwrap discard plastic and re-cover with foil; bake until the center is warm, 30 to 40 minutes, then uncover and bake 15 minutes to recrisp topping