Mom's Meatloaf is my favourite home meal so thought I would compare hers to this!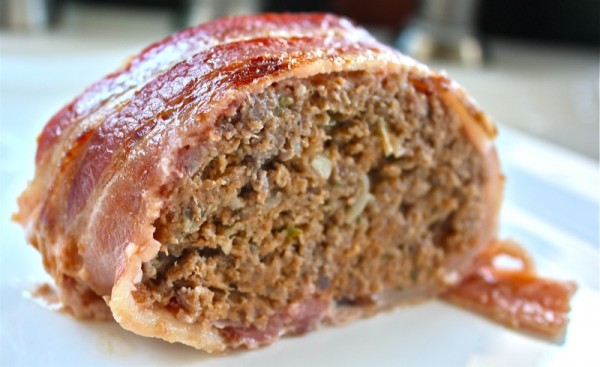 My mom, Helen, is an incredible cook and baker. My regular readers know this. I am consistently working to record her making our family favourites to preserve them and the cultural heritage of our community in the Central Alberta area where we both grew up. Her meatloaf is my very favourite home cooked meal at my mother's hand. It is a scrumptious family celebration. We all love it. Oddly, I have not yet posted it. That has to change. And, even odder, I decided to serve her famous meatloaf with this Classic on an evening when neither was big enough for the guests I could see would be joining us for our evening meal.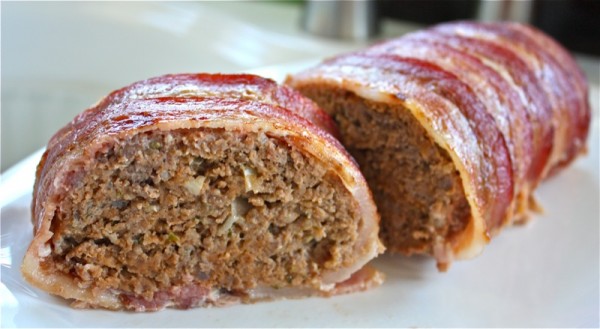 It would have never crossed my mind to compare her meatloaf along side another at a Tasting. For a competition, maybe; but a Tasting, no. I just knew there was none that could even come close to hers. So, why did I make this one?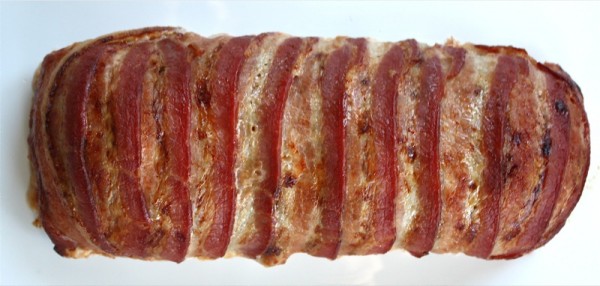 Two things: curiosity (love experimenting) and really wanted to find a meatloaf that was made with as many lovely local products as I could lay my hands on. The third might be that anything wrapped in bacon would be a showstopper at any Potluck buffet!

Budapest Deli makes the best bacon in the city: double smoked and meaty. I picked up the veal, pork and beef all at The Old Strathcona Farmer's Market from a couple of my other favourite producers: one pound of each. The eggs are from Sunworks Farm at the same market. Look at that bowl of fresh fragrant goodness!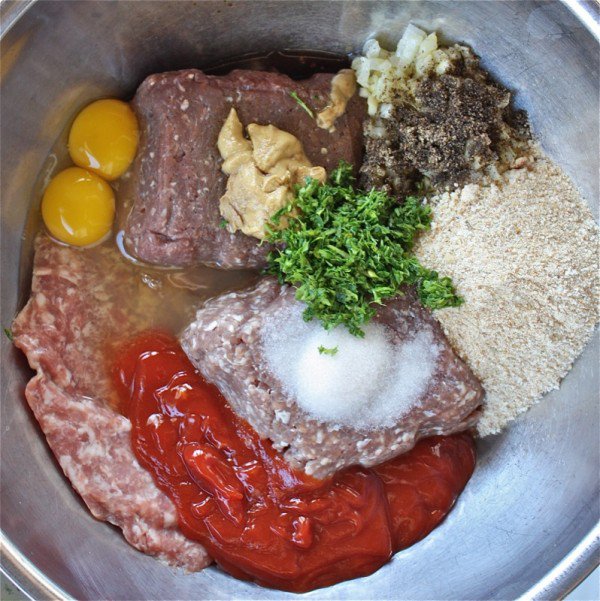 The flat-leafed parsley was from Morinville Greenhouses (same market) and the onion and garlic from a vendor there, too. The salt, ketchup, mustard and breadcrumbs were not from the market.
Irvings Farm Fresh has the best pork as I love the Berkshire boar, and Four Whistle Farms provided the other meats. I could and should make my own ketchup. I have always wanted to. I used salted soda crackers for the bread crumbs as I have always preferred those to bread in meatloaf or meatballs, but I have to work at what else I could use, too. This is a healthy main. No doubt about it.
I free formed it into a loaf on parchment on a cookie sheet then wrapped a pound of bacon slices around it and tucked them under it.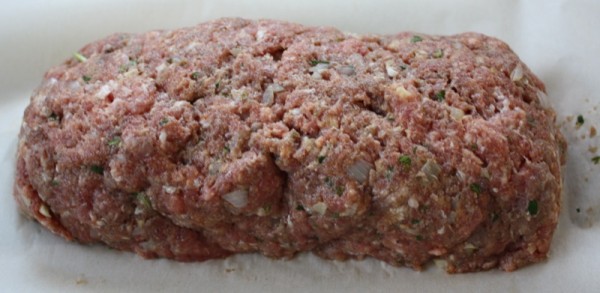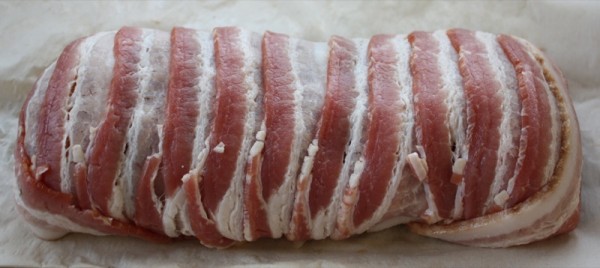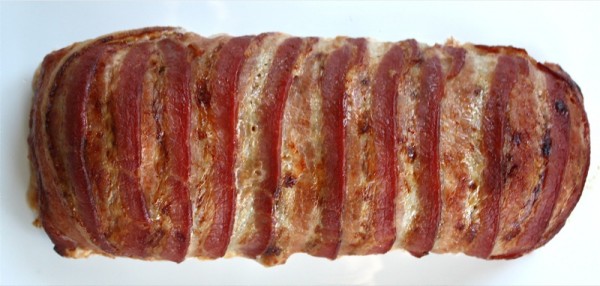 It didn't look so crispy when it first came out of the oven, so I tucked it under the grill and watched it carefully for about five minutes to get this golden crust.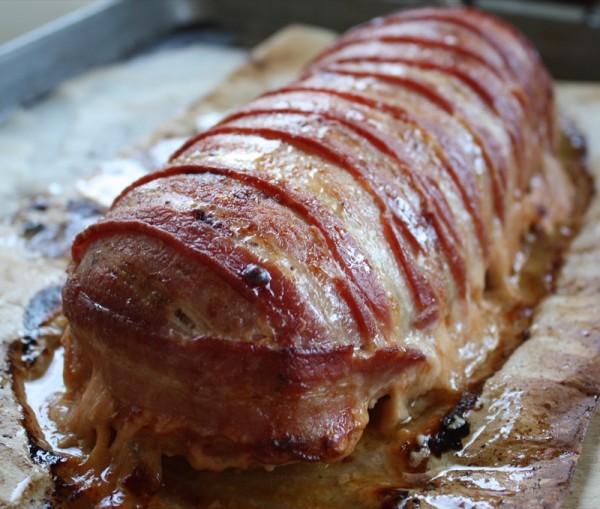 The result: this meatloaf stood strong beside my mom's. I should have taken a better photo of hers, but will do that when I write the post about it. We were all so surprised at how lovely the texture and flavour of this meatloaf was. Mom's was actually a little "watery" in the centre when compared beside it. I was stunned. I do love her "crust", but I had to admit that double smoked bacon held its own to hers. All in all, a very simple, easy homemade meal bursting with flavour and a whole lotta love!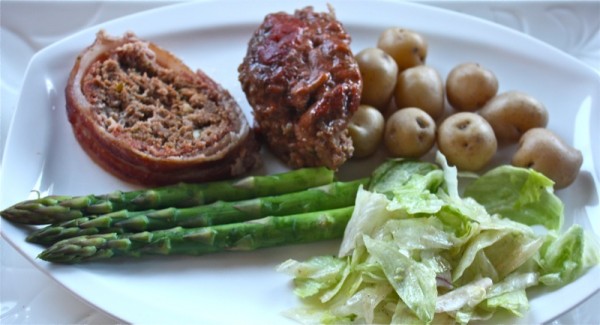 (I know, I know…. where are the vegetables? There were more, and though this salad looks like a subtle bit of crunch, it was a zingy delight. Sometime I will have to do a post on easy supper salads!)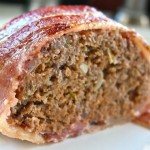 Classic Meatloaf Wrapped in Double Smoked Bacon


A mighty tasty slice of the Canadian prairies on a plate. Simple, delicious and perfect for a weekday meal or for unexpected company.
Total Time
1
hour
15
minutes
Ingredients
1

tablespoon

olive oil

¾

cup

finely chopped onion

(about ½ large onion)

1

tablespoon

minced garlic

(2-3 cloves or 15 grams)

500

g

or 1 lb know-your-farmer ground beef

, 85-percent lean

500

g

or 1 lb know-your-farmer ground veal

500

g

or 1 lb know-your-farmer ground pork

¾

cup

ketchup

(homemade is best)

1

tablespoon

Dijon mustard

1

tablespoon

Worcestershire sauce

1

cup

fresh breadcrumbs

2

know-your-farmer free range organic eggs

1 ½

teaspoon

salt

1

teaspoon

freshly ground black pepper

¼

cup

finely chopped flat-leaf parsley

1

pound

raw bacon for one loaf

, 2 pounds for two loaves
Instructions
Heat the oven to 350°F

Heat oil over medium heat; add onions and sauté until soft (about 4 min)

Add garlic; sauté another minute to soften; set aside to cool

Place all remaining ingredients in large bowl, except bacon; add cooled onion-garlic mixture

Mix until ingredients are just combined; don't overwork (no squishing between fingers; gently combine)

Line rimmed baking sheet or jelly roll pan with parchment paper

Carefully set meat mixture down center of pan; shape into large loaf, or divide mixture into two, or four equal portions (about 12 oz. or 6 oz. each) and shape each portion into individual meatloaves

Wrap strips of bacon around each loaf, overlapping slightly, tucking ends under each loaf

Bake meatloaf 75-80 minutes for large loaf, 50 to 60 minutes for medium loaves, or 25 to 35 minutes for smaller loaves

Before slicing, let rest for 10 to 15 minutes to allow redistribute of juices

To serve, slice and spoon pan juices over each slice
Recipe Notes
Suggestions:
For extra color, sauté 1 cup diced red, green, and yellow bell peppers (1/3 cup of each) along with onions and garlic; and fold into mixture as per above recipe
Add ¼ cup shredded basil and ¼ cup grated Parmesan cheese, or a tablespoon of a favourite fresh herb, such as thyme or rosemary
LeQuan happened to drop by with the kiddies just as this was coming out of the oven. I love it when that happens! And, look…. someone else did, too!