Yes, there are economical ways to make artisan cheeses at home!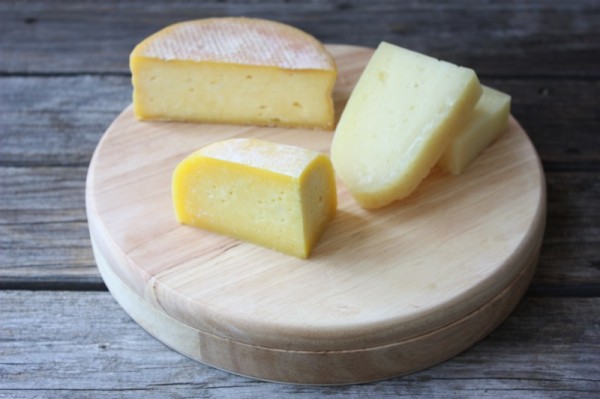 Part of the problem with doing Cheesepalooza as we are as there is no way to get all of us together for a tasting! However, if you go to the participants page and connect with those in your area, hopefully you can arrange your own tastings throughout the year. We have two booked in Edmonton: one on Thursday, August 23 (RSVP with a comment below, please, and I will send you directions and details) and another on Friday, September 28th. We are so excited about the opportunity we have to get together with our local participants and taste their fresh cheeses and discuss cheese making together!
When the four of us met the Sunday before the first challenge, Ian and I contributed our ricotta cheeses for a tasting. As well, I offered my yogurt cheese balls and he brought three of his incredible aged cheeses. He tells us that we, too, will accomplish cheeses like this by the end of the year, and the one front and centre, by Christmas!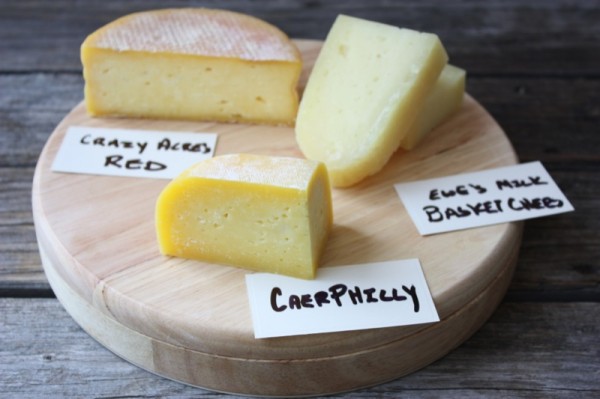 The Caerphilly is one of his favourites. He is crazy over it, particularly as it ages so quickly. It was very reminiscent of cheddar to each of us. I love how he named the Crazy Acre's Red after a friend's farm. That cheese was complex in flavour, mild, yet buttery and nutty. The rind delicious and bordered on stinky which Addie, Ian and I loved. Eating the rind of all three was an important part of the taste experience. It just beacons one to eat is, it is so pur-dy! The Ewe's Milk basket cheese was not something I enjoyed. I didn't care for the strong sheep milk flavour (though I love Pecorinos), nor the rubbery texture. He thought it was probably too young for us to be sampling it, but how else do you know when it is ready?
Each appears below in their individual glory.
Ian made a lovely, fluffy, lemon scented ricotta and as he doesn't care for ricotta cheese in its natural state, as I do, he flavoured each one. They were fun to try. I am so crazy over the artisan ricotta in its natural state with a little salt and olive oil that it didn't dawn on me to flavour it. I am having so much fun using the "cream cheese-like" ricotta I made with the citric acid, now. I will post my favourite herb combination soon. Below his samples, you will find my "always in the fridge" yogurt cheese balls with my favourite herb combination. I served this up with my homemade crackers for the July Daring Bakers Challenge (which I still have not posted!).
After the tasting and discussion, Ian had brought us all of his cheese making supplies so that we could learn how to cut corners and not break the bank on this project. After this sharing, I was even more impressed with Ian. He is not only a Cheese Scholar, but hilariously cheesy and innovative. Cheesy jokes abundant as he presented each of his thrifty finds or adaptations; his ingenuity was refreshing and motivating!
The first item in the line up was my find: the Diamond Crystal Kosher Salt that Mary writes about in her book. I found this at The Italian Centre Shops in Edmonton. Ian strongly recommends Pickle Crisp to make your own calcium chloride solution rather than ordering it and this is definitely the season to find it in the stores with all of the canning supplies out right now. It is for use with pasteurised milk. Cheese making supply companies will sell it in a 30% solution. This way you can make your own solution. The formula to do this is based on weight: 30 grams of pickle crisp added to 70 grams of distilled water = 30 % CaCL solution.
Another of his cheese aging containers is this tupperware container as one can control the humidity by using the tabs at the top of the container. This comes in other shapes and sizes and I know this as I was in West Edmonton Mall a couple of days ago and there was a Tupperware display, no less. I zipped over and asked about this container. The larger rectangular one is currently on for half price at 18 Canadian dollars. This one was 36 dollars. Not cheap, but the half price one was reasonable for aging cheese!
Ian makes his small individual cheeses inside of Dixie Cups and then he stacks them on top of one another for weight. This is his own novel idea and won him considerable adulation in the cheese making online world. Under that you will find a couple of simple household items: a kitchen brush that he uses to wash rind with and he can even put a salt solution or whatever he likes inside of the container, kitchen disposable sanitary gloves, and a soft scrub brush for soft rind cheeses.
The mats he gets from craft stores like Michael's for very reasonable prices, waiting for sale days. These are what cheeses sit on to age. He also demonstrated how he uses a mat to collect remnants of cheese inside the whey by using a mat to retain the curds to collect them while draining the whey. This works particularly well with washed curd cheeses like Gouda or Havarti as the recipe has you remove whey and replace it with water.
The very thin plastic cheesecloth was irresistible to me! It is called Ply-Ban or Plastic Cheese Bandage and he ordered it through the phone from Glengarry Cheese Making in Toronto. I took a photo looking through it.
Ian contains all of his cheese making supplies and equipment in these containers, except for his Turkey Roaster. The container on top is a cheese aging container he splurged on and bought from a local discount store.
The rack above is from a giant super market of some sort in the dish rack section. He uses it to set his colanders, mould, or sieves on and places an ice-cream pail underneath to catch the whey. He keeps his eye out for all kinds of interesting containers to use as moulds. Of course, he also uses what he has on hand from home, as well. The Chapman's ice-cream container has holes that he drilled through it and through the bottom. He made a chaser or a lid for the container lid that he can place any kind of weight on, too. Note from Ian: measure the chaser to the container's bottom measurements, or it might get stuck in the middle on its way down!
Above, are Ian's very own cheese making towels. As the "woman of the house" I will use what ever I want for my cheese making. He likes to have his own and it keeps his wife happy, too. I was mesmerized by the silver colander he found at a local Good Will store. I think I may pop in there now and then to see what I can find. I have never seen one like this, and it is a perfect fit for cheese making. Don't forget to visit you Good Will and second hand shops. The wonderful scoop Cheeseheads covet when visiting his post was purchased at the dollar store. They are still there.
In addition, you may already have a straight edged spatula. I am on the look out for one. It needs to be long enough to go to the bottom of your pot without the handle being emerged.
The milk bottle lid was one of my favourite Ianisms. He bore a hole in the centre, stuck his thermometer through it, and it floats! Is that brilliant, or what? I included a close up of his thermometer for you, below, as well. It is important to have one that is for making cheese. That is, that reads from about 50ºF to about 200ºF. Addie and I splurged and bought a digital one that beeps when it reaches the set temperature.
Clothespins and simple office clips are useful as well: the clips secure the cheese cloth to a bowl, and the clothespins? Well, look at this ingenious idea! He uses this to prop up his thermometer when the pot is too shallow for it to float.
As you can see, almost anything can be a mould. Ian splurged and bought this press. Vanja and I made one for pressing apples a couple of years ago that I will probably use. (I have my own ingenious partner in crime to help me!)
Last, but not least, most recipes for aged cheeses call for indirect heat which means a double boiler or a water bath. As these same recipes usually use large amounts of milk, a large container is needed and Ian has found his turkey roaster is perfect for this. Many can be found on kijiji second hand and Addie found one for $20 US dollars at Amazon.com. So, these are not so expensive. I have a sous vide machine that I need to find an inside container for, and I believe it will work like a charm.
I have learned that artisanal cheese making at home requires a lot of ingenuity. I will definitely be putting my "cheesehead" on when I am out and about to keep Cheesepalooza at the forefront at all times so that I can delve deep into this hobby, enjoy it a great deal, and not break the bank!
We are aware there are several Cheesepalooza Participants with cheese making experience. What tips do you have for all of us?