Daring Cook's Challenge July 2012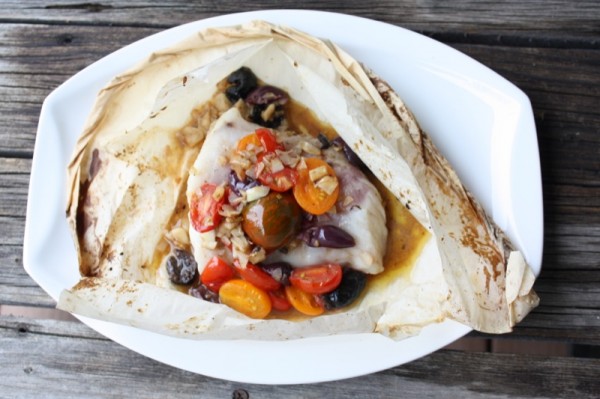 I signed up for Daring Bakers in 2009, but was never able to fit it in. Three years of this on "the list" and I am finally able to "make it happen"! And, have signed up with both options now: Daring Bakers, and Daring Cooks. I hope I can keep on schedule as each time I am challenged to work with someone in the kitchen, I learn so much! This challenge was no exception. I was delighted when I saw that it was initiated by Sarah, of All Our Fingers in the Pie as I have followed her for years! As well, I have never been motivated to cook in parchment, though seen it done many times, thus I would be doing it: motivated or not.
Our July 2012 Daring Cooks' host was Sarah from All Our Fingers in the Pie! Sarah challenges us to learn a new cooking technique called "Cooking En Papillote" which is French and translates to "cooking in parchment". I realize that I have completely misunderstood the due dates and the August Challenge is due tomorrow. So, a month late, but here it is! Irony is that I had it done to be posted on time! What can I say? I have become a slow learner.
Vanja and I have vowed to eat more fish, so I immediately decided I would choose fish as the protein. After that, I just searched for interesting recipes and chose this one as the flavour profile in the recipe is Southern Italian and that is food I adore.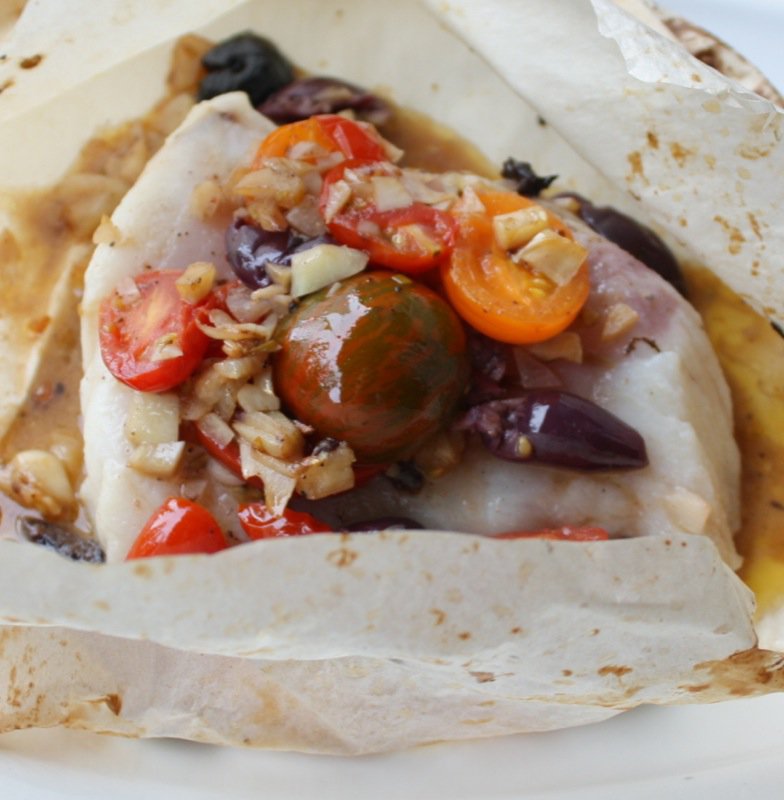 Vanja had been away for three weeks, and this was his welcome home meal. I knew full well that he doesn't like olives, but he does enjoy olive oil. I debated: put them in or leave them out? That took about 2 seconds! They would add such salty goodness, tang and meaty texture that they were a must, and large enough to be picked out. I would have added my salty capers purchased in Italy last fall, but could not find them amongst my wedding preparations. Next time.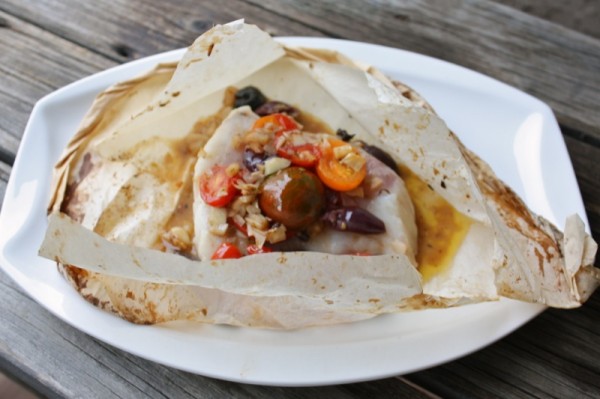 Fresh, local, in season heirloom cherry tomatoes and garlic: need I say more? Lots of garlic! Lots of tomatoes. Oh, glory! Kalamta and sun dried black olives add that needed kick to the mix along with a smidgen of red pepper flakes. The white wine deglazed the pan and brought a little oomph to the party. It was truly as simple as that and one of the best simple homemade dishes I have made. This is now on the permanent rotating list of family favourites on our dinner menu.
It read like a tasty recipe, but it tasted like a Michelin Star meal. I kid you not. Make it. You will see. I made 4 packages and sent two home with mom and dad. The four of us have widely varying palates and each of us raved about the flavours in this meal.
I admit to carefully portioning out each tomato, olive and the liquid gold as equally as possible.
It was not hard to "crimp" or fold the edges. You can watch videos about how to do it. I just did it how I would do a rustic pie crust and it worked beautifully.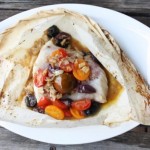 Cod en Papillote Recipe
A surprisingly flavourful dish with simple ingredients; so easy to make!

Ingredients
Ingredients

Parchment paper

4

cod fillets

4-6 ounces each

1

tablespoon

plus 4 teaspoons olive oil

divided

3

cloves

garlic

2 thinly sliced, 1 halved

1/8

teaspoon

red pepper flakes

1

cup

grape tomatoes

halved

2

tablespoons

capers

drained

8

large

pitted Kalamata olives, quartered

1/2

teaspoon

kosher salt

1/4

teaspoon

freshly ground black pepper

8

teaspoons

dry white wine

4

teaspoons

unsalted butter

8

fresh thyme sprigs

4

slices

1/2-inch thick Ciabatta bread
Instructions
Instructions:

Heat oven to 450°F

Fold four 15-inch-square pieces of parchment in half

Starting at fold of each piece, draw half a large heart shape, cut along lines; open

Place 1 fish fillet next to crease on each piece of parchment

In a small skillet, warm 1 tablespoon oil over medium heat; sauté sliced garlic and pepper flakes until garlic turns golden (1 minute)

Remove skillet from heat; stir in tomatoes, capers and olives

Sprinkle fish with salt and pepper

Divide tomato mixture among fish

Top each fillet with 2 teaspoon wine, 1 teaspoon butter and 2 thyme sprigs

10. Fold other half of parchment over fish. Starting at top of each parchment half-heart, make small, tight, overlapping folds along outside edge to seal packet; twist tail ends tightly to seal completely

11. Place packets on a large rimmed baking sheet; roast 8 minutes

12. Broil or toast Ciabatta until golden; rub with garlic clove halves and brush with remaining 4 teaspoon oil

13. Transfer packets to plates; slit tops with a knife; gently open

14. Serve 1 slice Ciabatta with each packet
Thanks for the challenge, Sarah. Challenged past any way I would challenge myself, I learned how effective, appealing and quick this technique is.