from Mirabel Agullo of Taste of Italy : Easy Peazy!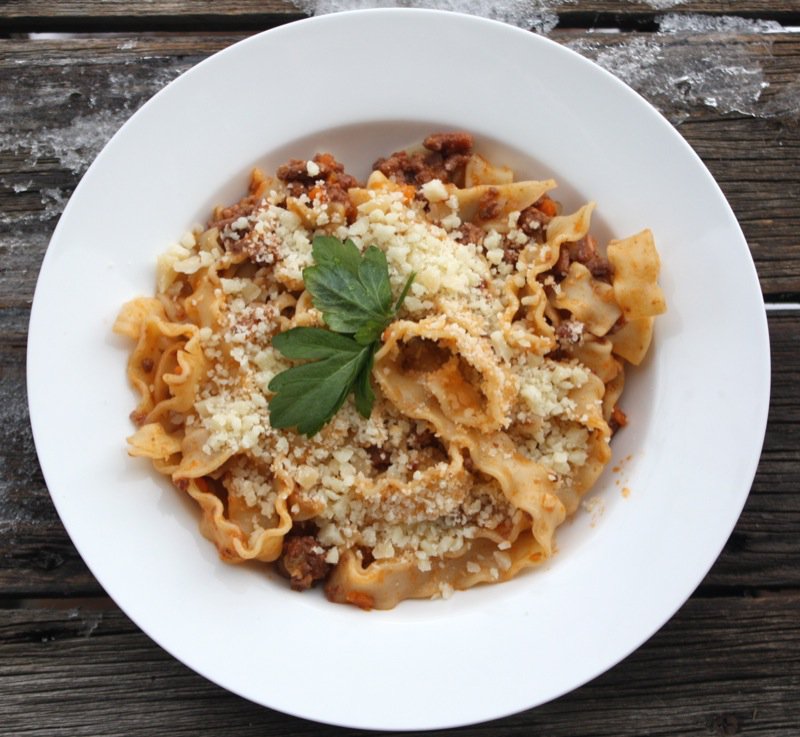 Nadine Riopel, The Savvy Do Gooder, and Addie, were coming over to help me make feta on Sunday, thus lunch was in order.(More on our cheese making another day.)
Last fall, Vanja and I traveled though Italy for three weeks. In Bologna, we stayed with Martina Kuhnert of Golosa Italia. She was an incredible host, and is a tour guide that we both highly recommend. Her business partner, Mirabel, from Taste of Italy, came to Martina's palatial old town apartment, steps from the Piazza Maggoire, to teach me traditional pasta making.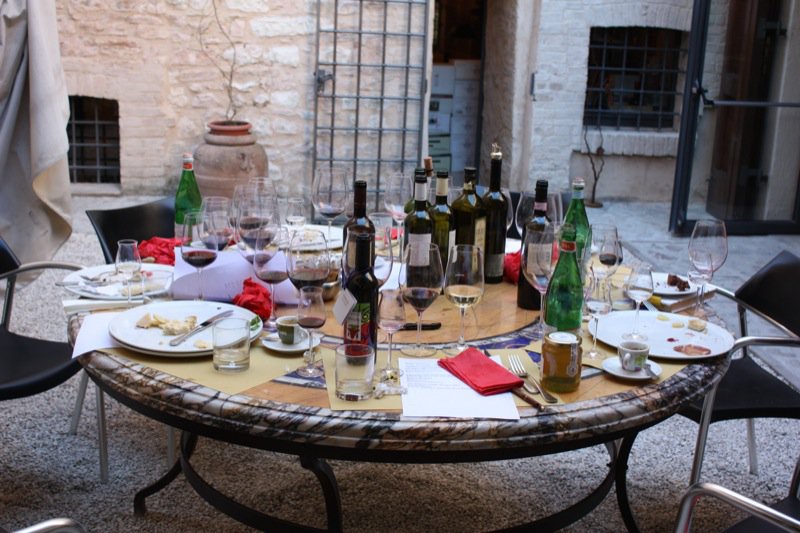 Down the back winding hall and into the kitchen, door on the left, Mirabel was all set up! Kitty was on the windowsill, eyeing a fly outside crawling on the pane.
We made three kinds of hand rolled pastas and three different sauces. Each was unforgettable, but the one Vanja keeps asking me to make is the tradional Bolognese Sauce! which I have done a few times since my lesson! Now is the time to try to start the retelling of last year's adventures and I will begin with this simple sauce with a depth of flavour unimaginable unless you taste it. That is what has made it a world famous recipe legend.
Saturday I made two batches of the sauce: one exactly as Mirable taught me and the other using bacon instead of Pork Belly; however, let's see what I learn from Mirable, first. I paused to take the occasional photo of her making the sauce as I was working at making the hand-rolled pasta under her ever watchful eye, beside her, on the table. The ingredients were basic: equal portions of celery, onion and carrots, 300g of beef and half the weight of the beef in flavourful fat, or pork belly. I was surprised to learn that Bolognese Sauce is not a tomato based sauce. There is some tomato paste added for colour, but the red wine also adds colour and tremendous flavour. Because it was a private hand rolled Bolognese pasta making lesson, she made the sauces while I worked at the pasta.
The sauce making process is straight forward: brown the beef and the pork belly, add the vegetables and sauté until translucent, add the wine at high heat and stir until evaporated, cover with water and simmer low and slow to develop flavour. I just had to give you a peak of the resting pasta. Bologna is the pasta capital of Italy. As I learned to work the dough with my hands, I could feel the labour of love from those who came before flow from my shoulders, down my arm and through my fingers as I moved rhythmically through these age old motions I was learning from Mirabel.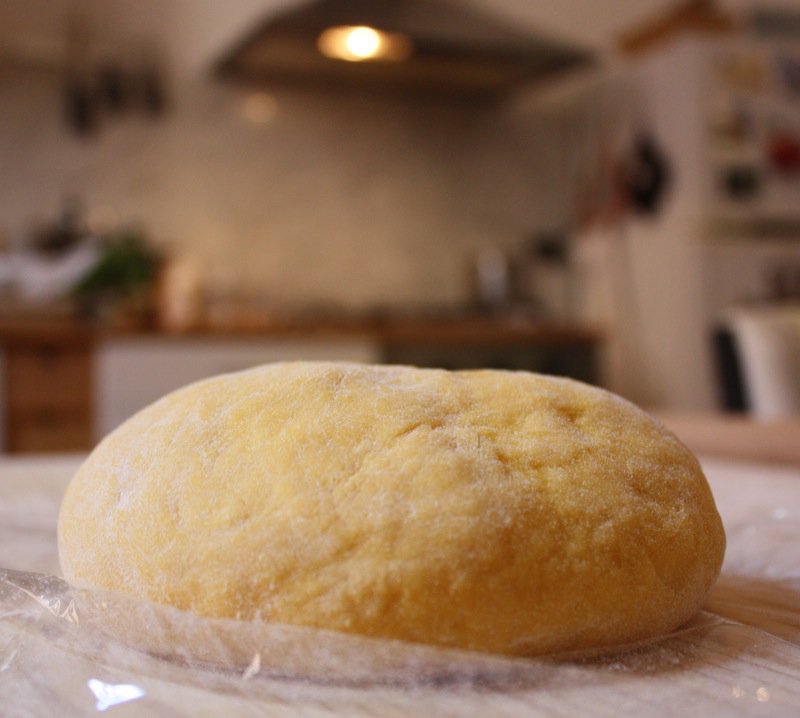 We drank the remainder of the wine with the lunch we prepared together. Mirabel didn't fuss over the wine. "If you like it, use it!" She did recommend the Mutti tomato paste, which I photographed for future reference, and was thrilled to find in Vanja's parent's hometown, later, in the former Yugoslavia! I bought 12 tubes! I am even happier to tell you that I also have found it at our local Italian Center Shops! I still buy a few boxes at a time. It is triple concentrated and very flavourful. You can see that Mirabel uses 2 very generous tablespoons of the paste in the recipe. I did the same!
As the sauce was simmering, the pasta was ready to roll, and rest again, and cut. This was incredible pasta! The colour is this yellow as in this part of Italy, there are special pasta making eggs with a higher level of beta carotene. More information on this in my pasta post, but I can tell you that a good part of the Bolognese Sauce experience is the handmade pasta. By the way, this is the traditional sauce used for lasagne in this region, as well.
You can see by the strands of pasta lifted from the bowl, that this sauce has far less meat than a Canadian pasta sauce would have in it. The purpose of the sauce is to flavour the pasta, not to be a meat course.
Mirabel is such an incredible teacher! You will now be able to see what kind of a student I was as I make this pasta at home.
I decided to follow the recipe exactly for this post, and at the same time, do what I usually do when cooking: make a huge batch to freeze. You will see that with the small one batch recipe where I am doing exactly what I learned, I have used pork belly. I made it one time this past year with bacon instead of the pork belly and it was really delicious. Thus, I am making the large batch exactly five times the original recipe, and following it to the "T" with the exception of the pork belly. I am using bacon. I cannot wait to compare the flavours of each. (Well, I have by now, and I prefer the sauce with the smoked bacon; Vanja loved both. It was incredible what a significant difference the addition of the smoke made. )
I will add, that I am not using any old beef, either. The Italians used tougher cuts for this recipe as they are the most flavourful; however, I am using the ground beef that I purchased with my half cow (Nouveau Beef) from Nature's Green Acres. That is also where I got my pork belly from the half pig purchased there last fall. The point is, to make really good flavourful food, one needs to use really good flavourful ingredients. One thing that was exceptionally apparent in Italy, is that the people love their food. I don't mean "the people love their food", I mean, "the people really, really love their food." I was told that, and exactly that, but so many Italians that I shall never forget it. Because of this, butchers are nearby, people go to them to get the meat ground from the cut they choose the morning they are making their meal. They have total control of their food. They know their farmers, their butchers, and their food, intimately. I thought I was particular about my food, but every person I met or watched throughout our travels was much more particular than I. The value of good, clean and fair quality food is an intrinsic part of the culture and made is very obvious to me that this was definitely the country that would adopt the Slow Food values, as they already live them and have for centuries.
The one batch portion, above, for four people is so small compared to what "we" North Americans usually "portion out" for four, yet it is the perfect amount. Making this sauce was such a small part of the time Mirabel and I spent together. It was all about the pasta. That lesson and this day was one of the top three highlights of my trip. Learning something new from a true artisan is such an honour. The passion Mirabel has for the pasta she taught me to make was contagious. So much so, that I was literally sweating while making the pasta. A lot. It is intense and hard work, and I was so focused on learning this. I will be writing about that soon. She did mention that she "should have" chopped the carrots finer, so that is what I did. The five batch portion is below:
The five batch portion were packaged into bags for two, or 10 bags for the five bag portion, and the one batch portion is in the plastic tubs, also portioned for two. The fat was not drained off, as there is a lot of flavour in the fat; the sauce is not a fatty sauce, but a light sauce with a complexity that is completely unexpected due the simplicity ingredients. That is testament to the importance and necessity of the quality of the ingredients to be the best possible.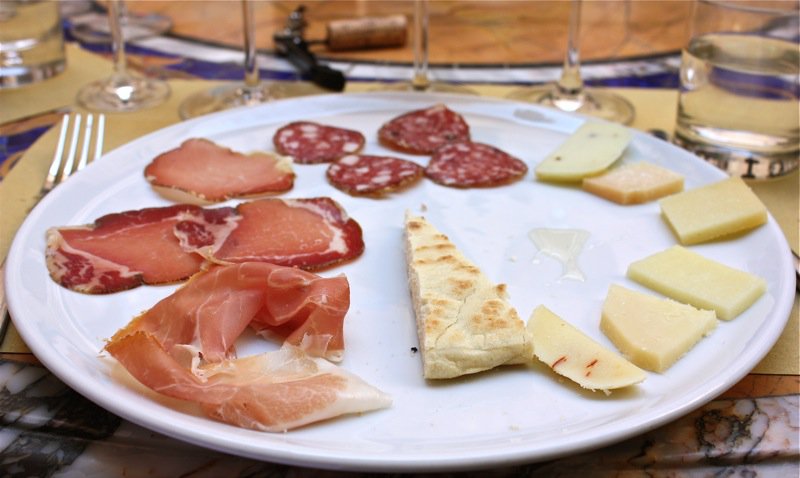 The five batch sauce with the bacon was the one served to my lunch guests and the tasting comparing the two sauces happened at dinner. Vanja "loved" them both, but found them very different from each other. The "Canadian" version was more complex and flavourful and the Bolognese version more subtle and delicate.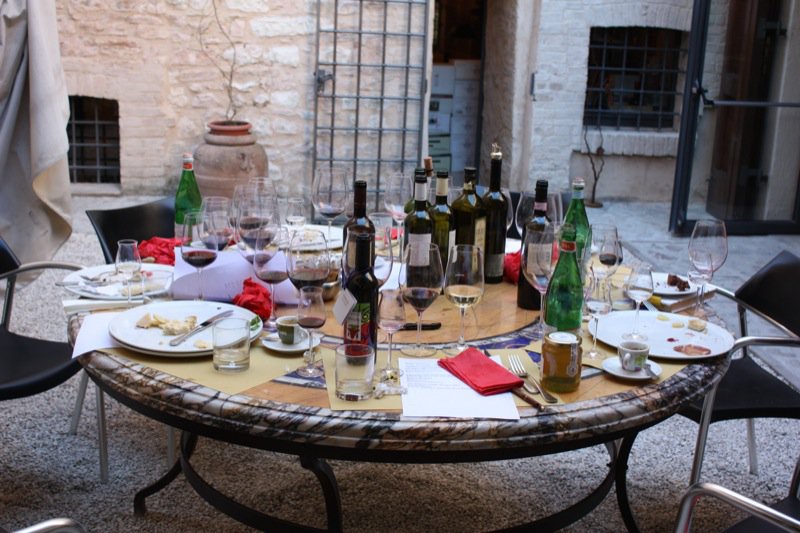 She did tell me that she often throws in dried minced porcini mushrooms to enhance the flavour when she makes it herself, and that would be delicious, so there is an idea for you. However, the idea for me was to learn to make the authentic Bolognese pasta and sauce while in Bologna. This recipe was voted to be it by the Bolognese Chapter of the Accademia Italiana della Cucina, but as with any authentic and traditional recipe from a specific region, my mom's is better 'n your mom's! Everyone makes it their own way. The single batch portion is below:
Deciding to authenticate the experience as a true Italian would, I added bacon instead of pork belly, and that is the way I like it the best! The fat is where the flavour is. This sauce is never eaten with Spaghetti. Blasphemy! It is also the traditional sauce used in Lasagna. The Parmesan is served on the side, never in the pasta.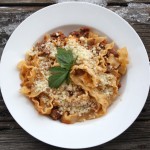 The Official Bolognese Sauce Recipe: Ragù alla bolognese in Italian
This recipe was deposited in the Bologna Chamber of Commerce, October 17, 1982, as the Official Bolognese Ragu Recipe (The Bolognese Chapter of the Accademia Italiana della Cucina announced this recipe is the official one on that date.)
Cook Time
2
hours
30
minutes
Total Time
2
hours
50
minutes
Ingredients
300

g

freshly ground beef

(neck, shoulder or diaphram are most flavourful cuts)

150

grams

pork belly, ground or minced finely (often locals substitute this with ground pork)

50

g

each of onion, celery and carrot, finely diced

(Soffritto)

30

g

triple concentrated tomato paste

, or 5 tbsp. sauce (used more for colour than taste, Maribel adds)

100

ml

or ½ glass red wine

(suggestions for substitutions for non drinkers? I don't know what to use)

water to cover mixture

(and if I have unused broth or stock in the fridge, I add it to the water, or instead)

215

ml

or 1 glass whole milk

(only if you use tomato sauce)

Salt and freshly ground black pepper

, to taste

Extra virgin olive oil
Instructions
Brown meats together in olive oil; add the vegetables and sauté a few minutes, stirring occasionally

When you hear the mixture sizzle, add the red wine over high heat, working to evaporate it quickly

When the meat is well browned, add the tomato paste or sauce and cover with water up to 1 cm above level of mixture

Simmer 2 hours

Add the milk a bit at a time during this two hour time only if you used tomato sauce; do not add any milk at all if you chose to use tomato paste

Season with salt and pepper to taste
Recipe Notes
This sauce is never served with spaghetti! It is served with tagliatelle or fettucine. Mirabel adds reconstituted dried Porcini to the sauce for depth. At home, Mirabel doubles the onion and adds extra tomato sauce for consistency. This day, we used no Porcini and she didn't use the milk as she used tomato paste. The Bolognese tradition prescribes very long cooking of the sauce (at least 4 to 5 hours) but that is because the meat came from working animals and the muscle fiber required long hours to tenderize it. Today's farm raised meats do not require such a lengthy tenderizing process.

Bolognese sauce is famous around the world, yet possibly one of the most misunderstood Italian foods. Most pastas with a "Bolognese Sauce" I have had, look like this meat sauce, but taste nothing like it. A ragù is a thick sauce that is cooked low and slow. Ragù alla Bolognese contains only enough tomato paste for colour and to add a hint of sweetness and another layer of flavor. The meat in the Bolognese sauce is simmered in milk to mellow the acidity of raw tomatoes that were originally added, and still used if tomato sauce is added, as it is more acidic than the paste. The modern ragù with more tender meat is cooked for about two hours and is known to be better the next day. The translation of the official recipe is here and even the culinary institute offers another version on the same page that is widely accepted as a clasic version of this recipe by the Bolognese people.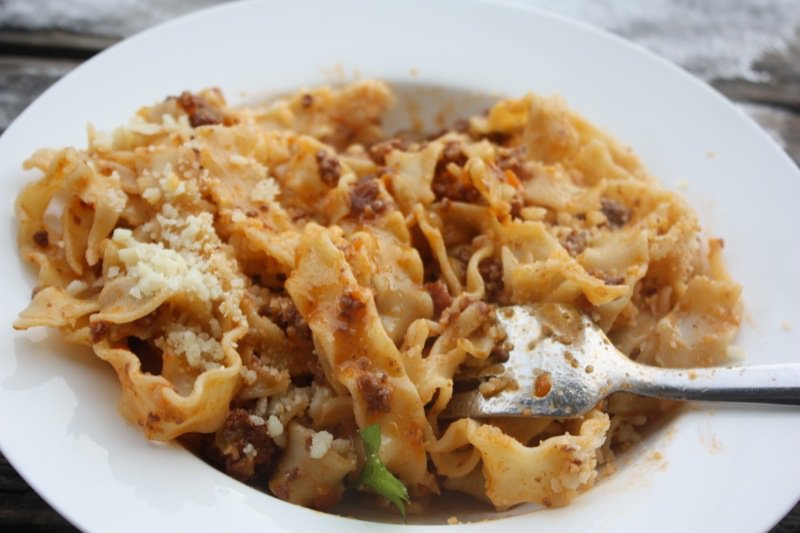 And there is a funny little addition to this post, should you get this far along in the message! I sat the plate outside with the beef and pork belly for seconds as I turned to get the vegetables, I heard the familiar sounds of two Winter Magpies scavenging and fluttering immediately behind me. Before I could even turn around, each had swooped and scooped a massive beakful of meat: a good amount of beef and the entire 150 grams of pork belly! AH! One year they are almost an entire tray of my Christmas baking! This time, the pork belly was too heavy, and fell, but the evidence of their evil deeds follow!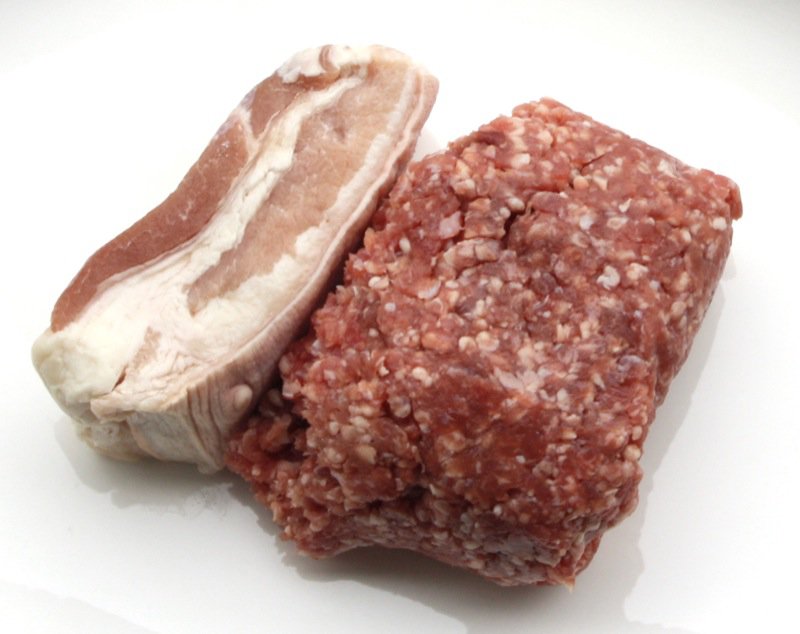 You can see their tracks in the snow! Grrr! Yes, Magpie's can smell!