From Artisan Cheese Making at home, Chapter 3, page 94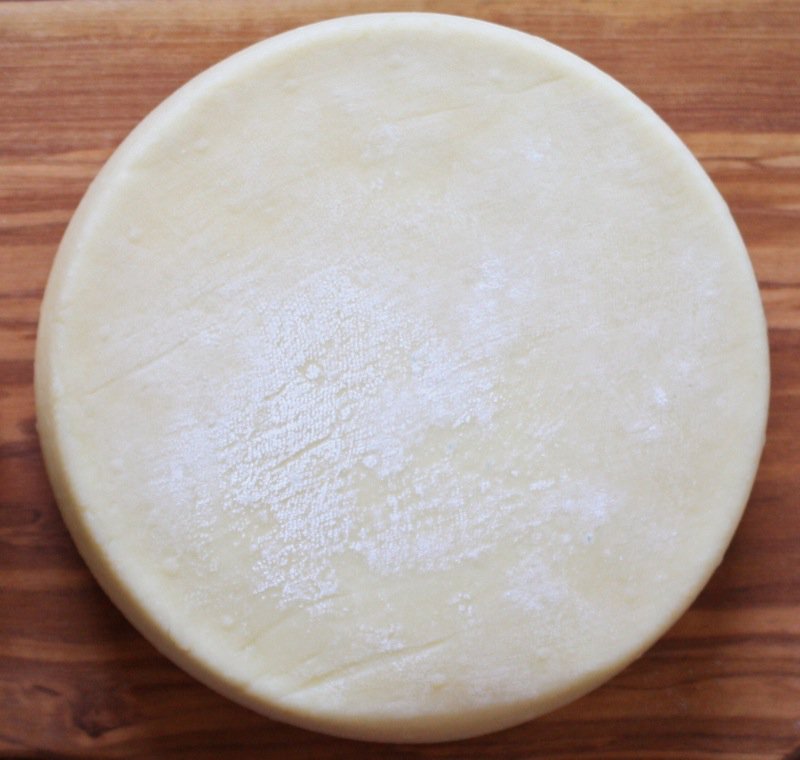 Believe me. Truly. If I can do this, SO CAN YOU!
The Task for our seventh Cheesepalooza Challenge:
If you have made it before, we challenge you to please do it again, "Mary's way", link to your other gouda cheese making experiences, debriefing them all. Let us know what you think. Which recipe works best for your palate and your locality: Mary's or the other ones you have used?
If you have never made it before, you will find that you will learn a new technique with this cheese: washing the curd! Anything new is a bit initimidating, but just read the recipe a few times and you will be able to do it! Then, take lots of photos and notes as you go, and write about your experience.
IMPT: You will need wax for this cheese, but you do have time to order it now as your cheese ages a bit before waxing.
Optional Recipes to add value to your first month (only if you choose):
There are a few other recipes in Chapter three we suggest you explore and share through the month, if you want to make more than the Gouda:
Each one can be basically eaten young, or aged to 2-3 months. Sweet washed curd cheeses are sometimes a challenge.
Please include simple Tasting Notes at the bottom of each post (later, after you taste your cheese) so we can have a frame of reference to understand your cheese a bit better:
Tasting Notes:
Appearance:
Nose (aroma):
Overall Taste:
Sweet to Salty:
Mild (mellow) to Robust to Pungent (stinky):
Mouth Feel: (gritty, sandy, chewy, greasy, gummy, etc.):
Let the fun begin!
Addie, Deb and I got together on this day to each make our Gouda. Ian was not able, but available via phone! Phew! All three of us found this cheese to be very straight forward, and similar to all of the other cheeses we had made until the washing of the curd. See the beautiful break in the cheese below? Cutting the curd went well, and then it rested.
The long gelatinous columns of curd after the resting of the cut curd consistently send shivers of excitement through me. As soon we put the milk on to heat, we also put the water on to heat.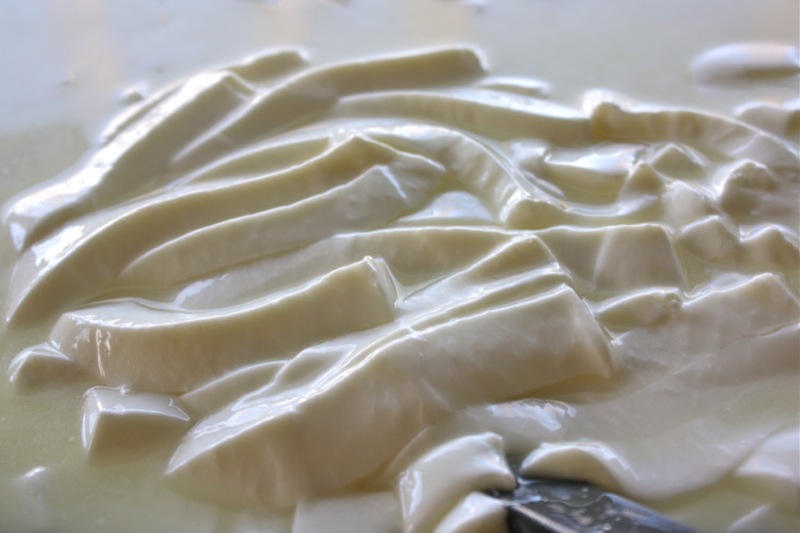 After stirring the curds for 5 minutes, and then resting them for 5 minutes, I started ladling off the whey and replacing it with an equal amount of the 140°F water until the temperature of the curd reached 92°F. I believe it took me well over 10 cups of water to get the curd to this temperature. A lot more than two!
I then stirred the warmer curd for 10 minutes and let it settle again. You can see, above, right how the curds look after this amount of time. Ladling off enough water to expose the curds this time, I added back the amount of 140°F water it took for the curd temperature reach 98°F which wasn't really that much. The temperature rose quite quickly. The curds settled for 10 minutes and were to knit together. Below, left is how the curds looked before resting for 10 minutes.
After resting for 10 minutes, you can see the curds are knitting together, to a degree and that they are much smaller and look more like the size of small beans. I ladled them out of the whey and into a cheese cloth covered colander.
You can see, above, left, how the curds are actually knitting together. They rested for 5 minutes, and then, similar to the process of the Caerphilly at this time, I ripped shards of the curd off into one inch sections and placed them into the lined tomme mould.
The longer the curd rested, the more knitted it became and the better tear I could get. You can see the torn bits in the mould to the left, below, and I have pressed them to continue to release the whey, in the right. I was amazed at the why that was still draining from this curd after the resting, then the tearing and resting again.
Once most of the whey was released, I sealed up the moulds and placed weights on them. I used one tomme mould and the small 500g Gouda mould I had purchased from Glenngary to make my 2 discs. Below, left, you will see the curd after the first 30 minute press; to the right, it is turned over for the 10 hour press.
After the overnight press, the cheese came out of the moulds beautifully and went into the brine. I didn't photograph the books I used to press the cheese with, nor their time in the brine. Below, right is the cheese out of the brine, beginning the air-dry process. Below that, are the photos of both rounds ready for the cave after air drying; I took a photo of "right side up" and then "the other side up".
The discs are now ready for waxing. I am thrilled with their look and feel. I can tell the small Gouda was probably ready for waxing a few days ago as it has much less give than the large round.
Above, you can see both sides of each round. Now for my very first experience waxing. Deb brought over her wax as I ordered mine late. It melted very fast and with ease. It dried immediately upon contact with the cheese and cannot really be "brushed around" or moved too much. I recall when at Sylvan Star, they waxed with a sponge and a fine brush of some sort. Obviously, waxing is a whole other technique that I now need to learn to do. It was really fun, and though I love artisan looking foods, mine are a bit too awkward for me to be "proud" of: new learning curve! It was a blast, though! (After reading this post, Ian sent me a link for
how to wax cheese!
)
Recipe Correction
We did use the exact recipe from Mary Karlin's Artisan Cheese Making at Home, so we will not copy that here; however, there is an important correction that you must make. This doesn't appear on the PDF corrections on her site, but we discovered it as we were making the cheese and Addie's i-book had different information (as is often the case) from the hard cover book. Obviously, it is easier to correct an i-book. On page 95, number 3 where it reads "…add enough 110°F water to bring the curds t0 98°F…" it should read: "…add enough 140°F water to bring the curds t0 98°F…".
We always eat when we make cheese and the lunch was good, but the cheese sharing is always incredible. Here is the one from this day!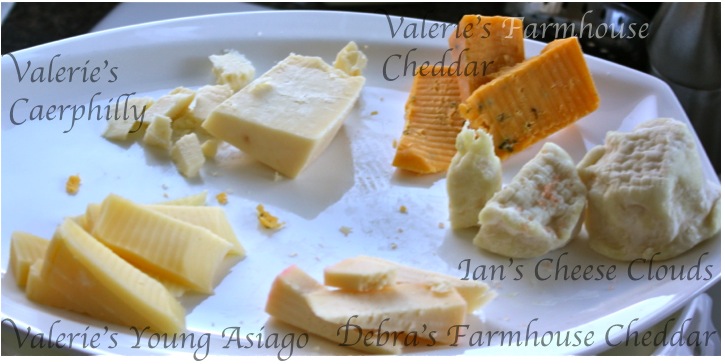 Ian's Washed Curd Cheeses
So, have fun this month, and LET"S MAKE CHEESE!

Reminders:
2. Smoky Valley Goat Cheese is offering Monthly Cheese Making Classes. If interested, lest me know in a comment below, and I will connect you with them!