Homage to My Venice: The Rainbow Cookie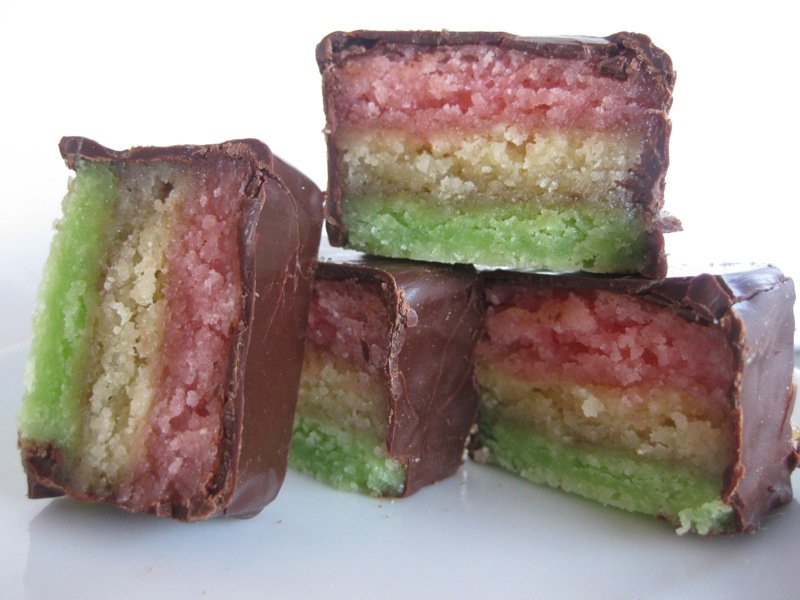 Whenever I travel, I bring three things home: art, food, and books. If I can't carry it all (and I never can), I bring the memory of the flavours with me, and do the best I can to recreate them at home. These cookie bars embody vivid memories of my two trips to Venice. And, may there be many more, should I be so blessed! My nose was pressed against many a shop window just looking and looking and feasting my eyes on the wonders of minds that created such rustic delicacies. I could never taste everything. There was too much. Too, too much. I did taste the rainbow cookie bars. Just a bite. The impact of the sugary chewy almond mixture was so intense that the breadth of that moment was captured within the taste memory. I can not taste any Italian almond chewy treat without instantaneous Venetian immersion, albeit as brief as a blink. I learned how to make these the fall of 2008. I read a lot of recipes, and experimented with a few of them. But, it wasn't until I got my Thermomix that I was able to make them taste how I remember them tasting. People make them without a Thermomix all of the time. I just couldn't. The following recipe is a recipe that must be read carefully, and followed to the letter. I usually do not do that, but you will be disappointed if you don't.
It is quite a process, but there are 12 bars in one batch with 18 cookies in each bar (not including the yummy chocolate covered ends that the cook gets to much in her spare time), so I feel the time investment is worth it. Particularly because I love them. And, their taste, texture and colour is different than anything else I made during the holiday season. You do need to bake three jelly roll pans of dough: one of each colour. After spreading each with a red currant jelly (recipe calls for raspberry), each layer needs to be "layered". That is not easy. Not hard. But, not easy. Then, the layers need to be cured overnight wrapped tightly in plastic wrap and weighted with heavy weights to meld together.
The next day, the edges are cut off and the bars cut and each brushed with melted apricot jam. That has to set before covering the three sides with the chocolate. One must be very patient when making this recipe, or very busy doing something else so that the wait doesn't get frustrating.
I taught my gal friends how to make these at our last cooking class. Well, I tried to teach them. I think only Janet H. was paying attention. And then, they didn't turn out that great. But this year, I was experimenting more with my Thermomix grinding almonds and sugar motivated by My Quest to Conquer the Elusive French Macaron. As I was reading the recipe, I realized I could do this, and better with my Thermomix, And, I am thrilled with the results.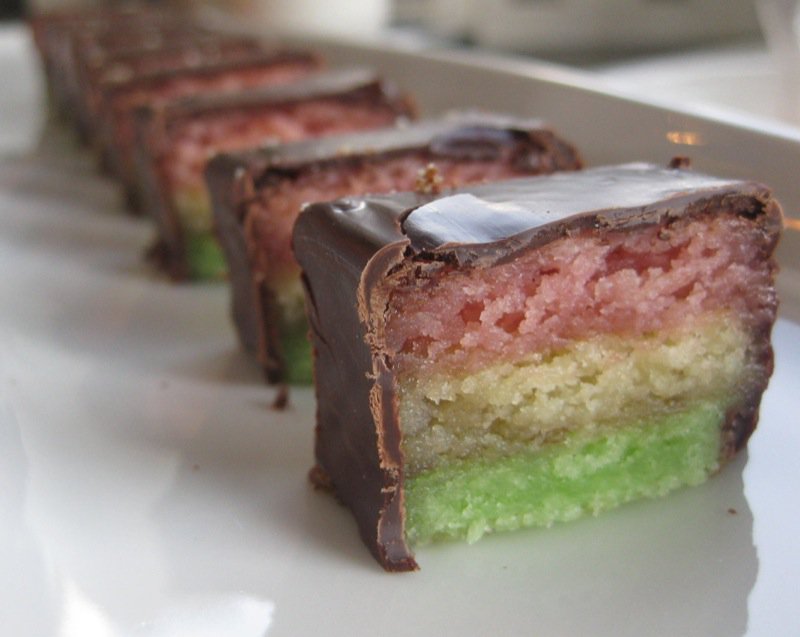 I enrobed them in 64% Valrhona Manjari chocolate callets that I melted in the Thermomix at 37ºC. Each rainbow cookie bar was dark and lustrous, so it worked well.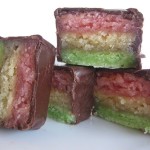 Venetian Marzipan Rainbow Cookie Bars


Venetian Rainbow Cookie Bars Recipe (makes 12 bars, 18 cookies a bar, or 216 cookies)
Total Time
2
days
2
hours
Ingredients
750

g

almond paste

(recipe below makes about 1380g))

2

c

butter

, softened

8

large eggs

, separated

2

t

pure vanilla extract

4

c

sifted all-purpose flour

(spooned in and leveled)

1

t

salt

6-8

drops green food coloring

, or to desired color

8-10

drops red food coloring

, or to desired color

1/2

cup

seedless raspberry jam

1

cup

apricot jam

200

g

of 64% Valrhona Manjari callets

, or whatever dark chocolate you choose
Ingredients for Marzipan (Almond Paste)
Ingredients for the Almond Paste

(if making your own with the Thermomix):

500

g

slivered almonds

500

g

granulated sugar

2

cups

of sugar

2

t

almond extract
Instructions
Important Preparation:
Preheat oven to 350°F and grease three 13 x 9 inch metal baking pans; line the bottom of each with parchment paper, letting it extend at 2 opposite ends, and butter the paper and the sides of the pans
Make the Marzipan (Almond Paste)
Scale first 2 ingredients (500g almonds and 500g sugar) into the TM bowl; mill for one minute from 1-10 using the spatula to keep the mixture toward the blade

Mill for one more minute on 8

Remove mixture into a large bowl and add 2 cups of sugar and the 2 teaspoons of almond extract, stir

Portion about 1/4 of the mixture back into the TM bowl; mill one minute 1-10 keeping sides of bowl near the blade

Pour into different large bowl; repeat 3 times until completed and the first bowl is empty

Portion 1/3 of the mixture back into the TM bowl; mill one minute 1-10 keeping sides of bowl near the blade (the machine and mixture will get warm near the end of the minute)

Place back into first bowl: repeat 2 more times until entire mixture has become a paste (see photos: it will be crumbly, but is warm and moist and can be shaped into a ball)

If necessary, repeat last step one more time until mixture can be formed into a ball
Instructions for the Venetian Marzipan Rainbow Cookie Bars:
Mix butter in a large mixing bowl with the paddle attachment on medium low speed just until smooth; add the prepared almond paste and sugar mixture in a slow steady stream, and beat until lightened in colour, about 3 minutes

Add the egg yolks and vanilla, beating well to combine; scraping down the sides of the bowl, as needed

Combine salt and flour and blend at low speed in three additions until just incorporated

Beat egg whites in a clean mixing bowl with the whip attachment on medium speed until frothy; increase the speed to medium high and continue beating until firm peaks form

Using a rubber spatula, gently fold 1/3 of the egg whites into the batter to lighten the mixture; fold in the remaining egg whites gently, in two more additions

Divide dough into thirds (about 3 1/3 cups or 750g each) and place in separate bowls; stir green food coloring into one third and red food coloring into another until well blended, leaving one third plain

Spread each dough separately into each pan, smoothing with an off set spatula; be sure the batter is evenly distributed, especially to the corners

Bake each individually 12 - 13 minutes until the tops are firm to the touch and very slightly browned; stand on wire racks until cool enough to handle

Invert each onto a rack pan and peel off the parchment
Instructions for Assembling the Venetian Marzipan Rainbow Cookie Bars:
Have a large sheet of plastic wrap placed on a cookie sheet; place this over the green layer, and invert the green layer onto the plastic wrap top side down (flip it as quickly as possible)

Using 4 tablespoons of raspberry preserve and an offset spatula, spread the surface evenly with a thin layer of the jam

The second layer is harder to place, as it cannot be flipped into an empty pan: place the plain layer, top side down, on top of the raspberry jam by angling it over the green layer, and then quickly flipping it out over it

Align the two layers, and press them together (it is not so easy to align these once flipped, so do as well as you can the first time placing the layer)

Using 4 tablespoons of raspberry preserve and an offset spatula, spread the surface evenly with a thin layer of the jam

This is the hardest step as the pink layer is to be placed top side up, on top of raspberry preserves; to do this, invert into an empty pan lined with paper

This layer is not sticking to the parchment, as it is now loose on an empty pan so it can break easily when flipped as there is no paper holding it together in the back; therefore, either freeze it for 2 hours to provide extra stability before flipping, or be sure to firmly secure the bottom tray with a wet cloth to the counter and be very deft with your flipping this layer out of the pan and onto the other two layers

Be sure to align the three layers, then press them together, again

Wrap this layered stack tightly with plastic wrap, sealing the ends securely; place it on a clean cookie sheet, and place another cookie sheet on top of it and weigh it down with several cookbooks or bricks to compress the layers

Let this rest at room temperature for at least 24 hours, turning it over once or twice during the weighting period
Instructions for Glazing the Layers of the Venetian Marzipan Rainbow Cookie Bars:
Unwrap the stack, and set it on a cutting board

Trim 1/4inch from all sides using a large serrated knife; cut the stack into 12 equal strips each measuring about 1 1/4 inches wide

Separate the strips and place them over a large wire rack set over a cookie sheet

Place the apricot preserves and 4 tablespoons of water in a small sauce pan and bring to a boil, then simmer for one minute; pass through a fine strainer into a bowl and discard the pulp

Brush a thin layer of the warm glaze on all sides of each strip; let stand for 30 to 60 minutes to "dry"
Instructions for Coating the Venetian Marzipan Rainbow Cookie Bars:
Place the chocolate in a double boiler over an inch or two of simmering water; melt it, watching carefully to insure it does not get too hot, or place it in the Thermomix and melt for 5 minutes at 37ºC at speed 1

Remove when almost melted, and sit to finish melting; when coating, if it becomes too thick, reheat it carefully

Set all of the bars on a wire rack over parchment paper

Cover one bar at a time spooning chocolate down the length of the strip, then use an offset spatula to spread the chocolate over the top and down the sides, taking care to smooth all surfaces

Leave the bar on a wire rack over parchment to set at room temperature until the coating hardens; this can take several hours

Wrap individually in plastic wrap, and freeze. When serving, cut into 5/8th inch slices; there will be 18 cookies per bar, not including the ends
Recipe Notes
If making the marzipan (almond paste) for the above recipe, do not add any more sugar; proceed with the recipe as if the 2 cups required in the recipe have already been added to the paste, as they have if you use the almond paste recipe link
Making your own almond paste for this recipe knocks it out of the ball park. No other recipe can compare. Seriously.