From Exotic Fruit to Manapua: Keira and Matthew share it all!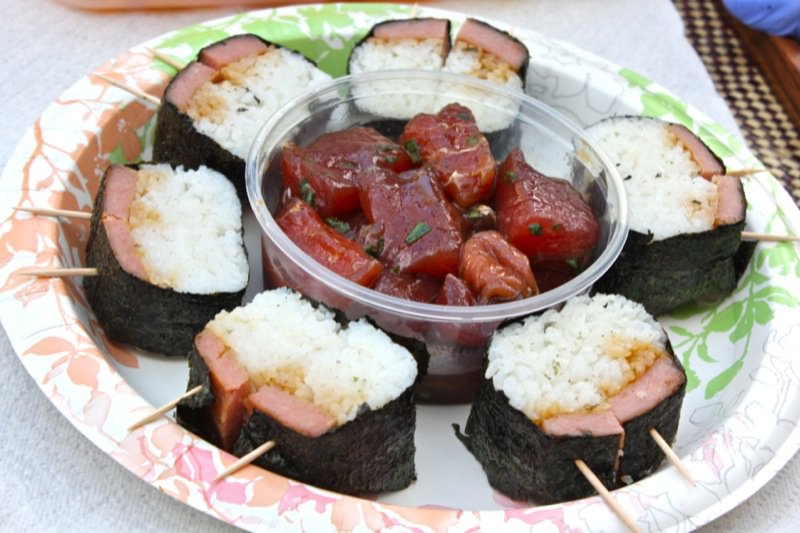 We had been on Ohau for five days and I was working to get a handle on the food culture. Where did the generous scoop of creamy mayonnaise macaroni salad with two scoops of sticky rice on every plate dinner come from? I had questions and Matthew and Keira had more than just answers. They shared the stories that belong to this unexpected island food. Thank you, Matthew and Keira!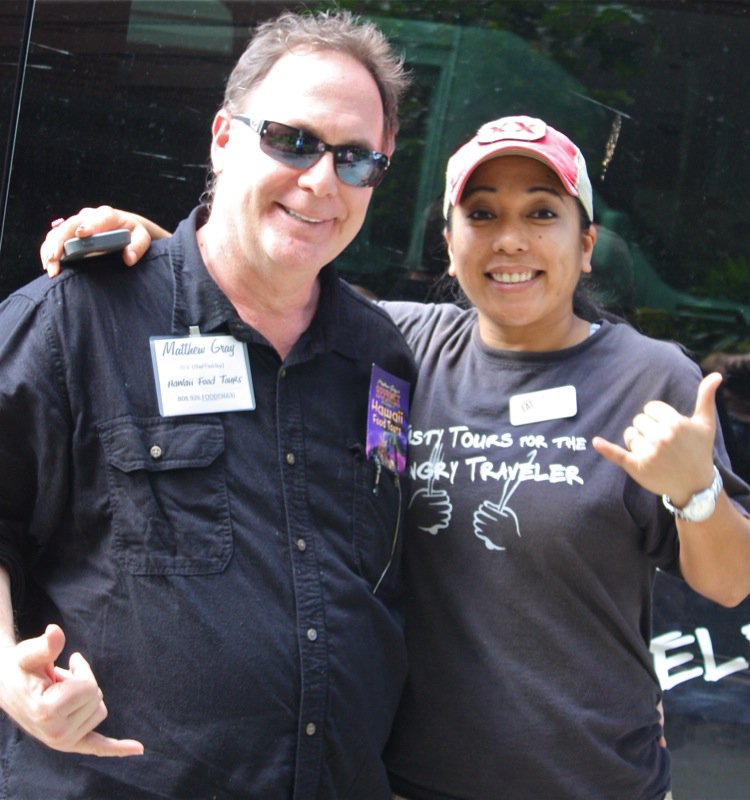 Our first stop on our Hole in the Wall Foodie Tour was at the Royal Kitchen in China Town for a traditional local treat called Manapua (Man-a-poo-ah). I have had steamed Chinese pork buns (char siu bao) and enjoyed the experience, but didn't go back for seconds. Just not my thing, though I love the Chinese BBQ pork. But the Manapua? A completely different story! These are a translation of the Chinese steamed buns using Hawaiian sweet bread filled with a compelling variety of traditional Hawaiian foods from smoked kalua pork to Chinese black sugar.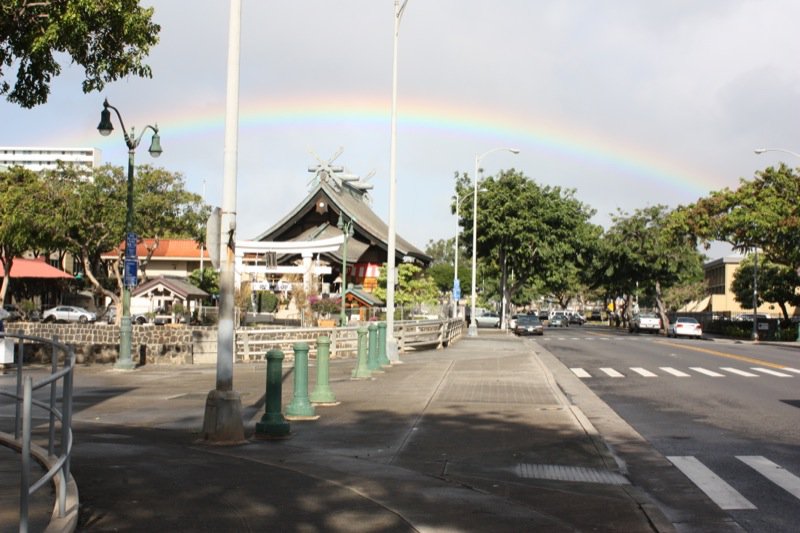 As we savor the varied flavours of this island culture under the promise of this rainbow, Keira shared the Manapua Truck story of her childhood, comparing it to the Ice Cream Truck familiar to me. Her hilarious antics describing how the broken down truck noises alerted the island children to the Manapua Man still have me laughing. Instead of running down the block toward the sweet chiming music box bells ringing to the tune of "The Entertainer" over the loud speaker, Keira describes the charm of the rickety old worn out truck of the Manapua Man as music to her childhood ears.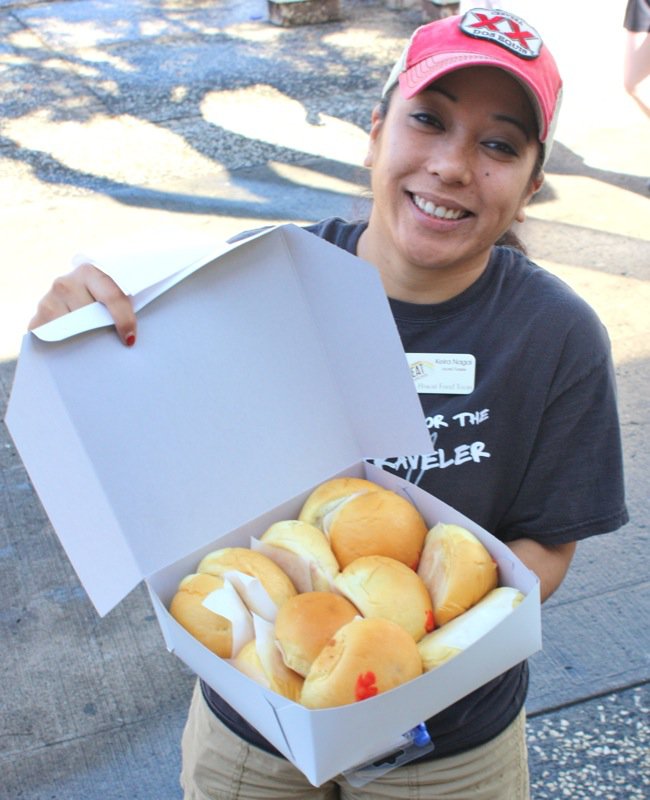 The Kalua pork that Vanja had was astounding! What a way to start the day! It is Matthew's favourite. Kalua pork is a smoked pulled pork cooked in a traditional underground pit called an imu. The word kalua refers to the process of cooking in an earth oven (ka, the; lua, hole). We had already attended a traditional Luau and had eaten pork cooked in the imu and had seen the pig removed from it. This kalua pork was as authentic as it gets and the sweet bread the perfect compliment.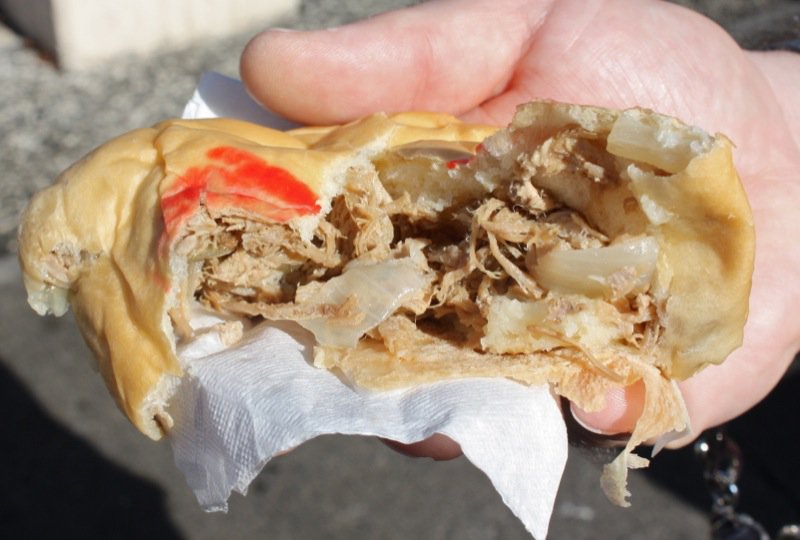 I chose the original Chinese pork filling because I love it, and it because it is Keira's favourite.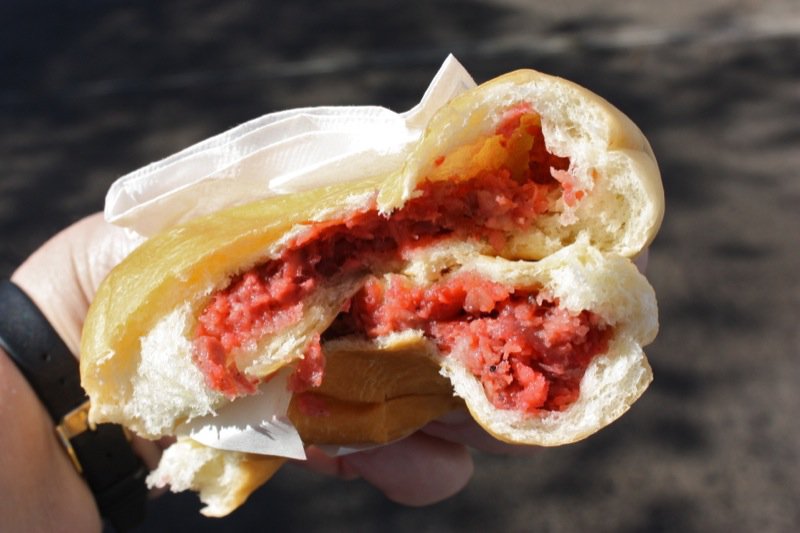 However, I have to admit, the smoky moist Kalua pork baked into the Hawaiian sweet bread was unforgettable. That taste experience, standing in front of our first "hole in the wall" began to define Oahu for me. Home food. Rich. Comforting. Brimming with Aloha and that sense of family that is an endearing and inherent part of this island culture.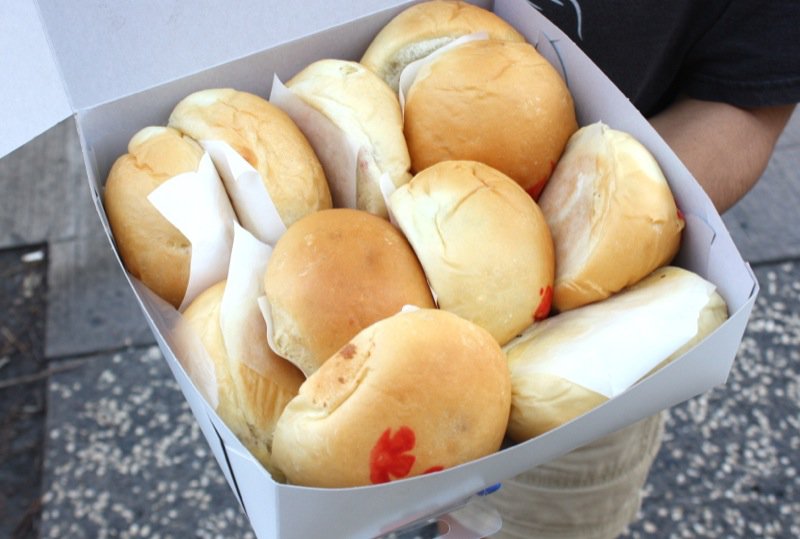 Instead of donuts in the office, it is a box of Manapua, each stamped with its red identifier with the legend on the lid, below.
Can you guess which one is left at the end of the day? It is not the Kalua pork! "The Char siu bao immediately became a favorite among the locals, and was given the name manapua, or mea ono pua'a ("mea ono" for cake or pastry, and "pua'a for pork)." says Matthew. And Keira adds her version of how "Meaonopua" became "Manapua" via the Manapua Man and his colourful melodious accent infused pronunciation.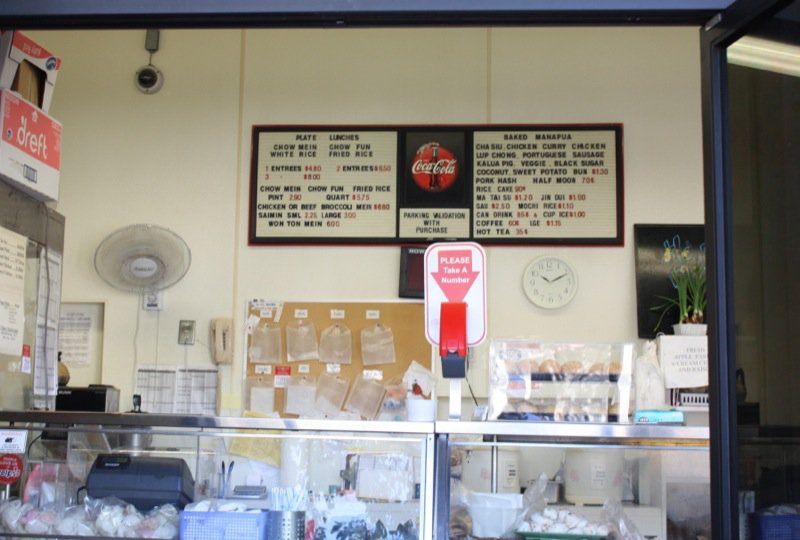 This was Vanja's favourite taste memory of our day. It is that delicious. I would have not found my way here without this tour, and even as I do identify a couple of the places on our tour, let me assure you, that I am only highlighting a couple of the stories that were highlights for me. The day was filled with stories of the food and the culture of the people. Keira and Matthew added so much flavour to each taste during our day with them. This tour was my highlight of our ten day trip to Oahu. It is a must, if you are visiting Honolulu.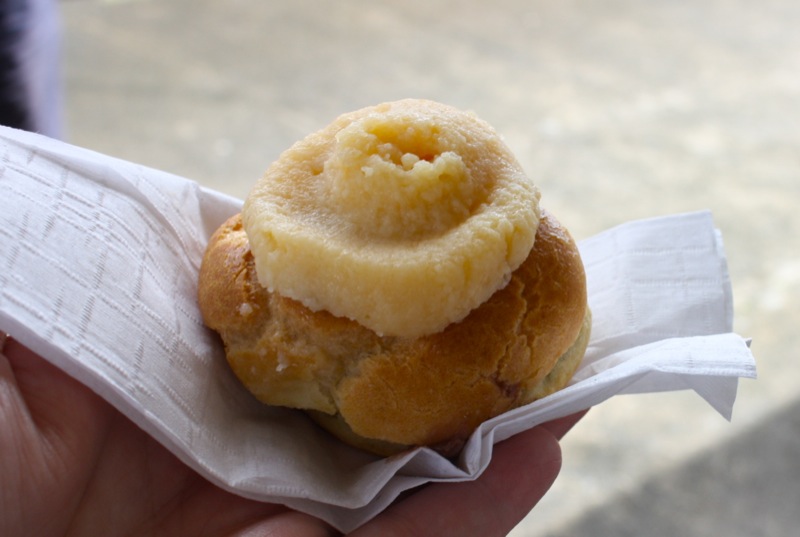 Another spot for all who love authentic food experiences when visiting Honolulu is the Liliha Bakery, bigger than a "hole in the wall", but a moment in times past, preserved. Actually, this is a good description of the Hawaiian cuisine. It is caught in the space in time of the 1950's. Retro food, but not retro here. Let me present The Coco Puff, above! These little ditty's are famous in this area.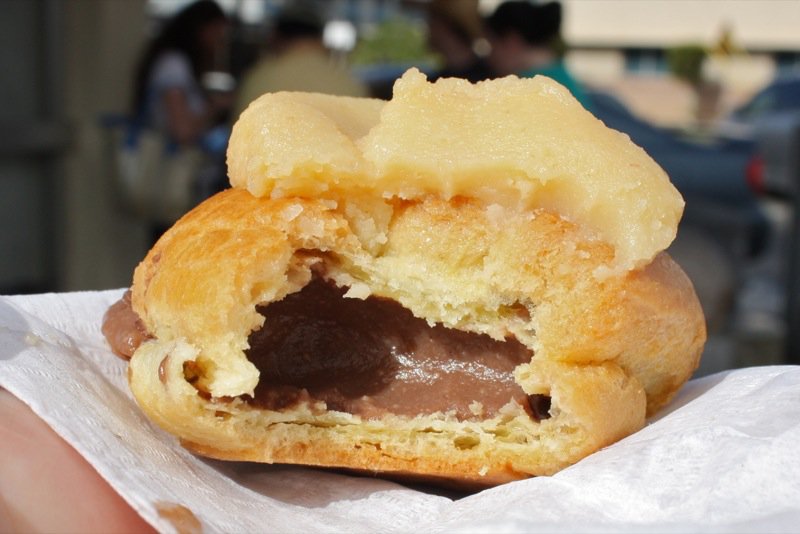 They were yummy, but the icing is what takes these little ooey gooey bites from being good to being addictive! If they sold it by the bucket, I would have bought one with a spoon. Their website explains, "It's how to make amends with a friend, impress your significant other's family and celebrate a milestone. Liliha Bakery's coco puffs are that kind of magic. The butteriness and creaminess of this chocolate-filled puffed pastry can't be matched, nor explained." Though the bakery has been around since 1950, the little puffs didn't rear their head until much later. It wasn't until 1990 when Kame Ikemura added a topping of frosting from their number one selling cake that they made their new debut, and this is believed to be "the reason they sell between 4,800 and 7,200 every day."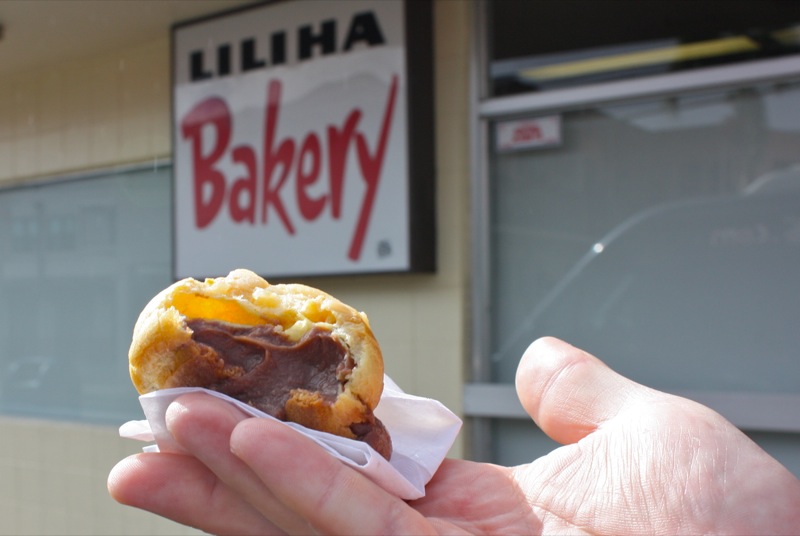 I longed to be seated at this infinite bar, twirling on a stool, feet dangling. I remember those days. I wanted to read the menu and have time to order one of everything just to taste. This is a place with a vibe that tells you the minute you enter that you are in the right place. No matter where you were headed.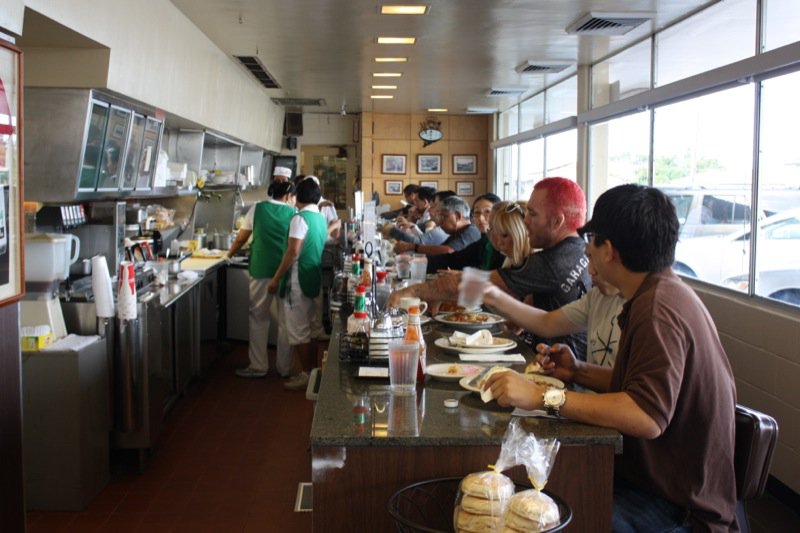 One of the many perks of going on this tour is that Matthew sends out the recipes he has for the food we eat afterward. I actually have the recipe for this icing! This tour was my number one activity from our time on the island. It is a must do for anyone interested in the people and the culture. Matthew is a wealth of knowledge and Keira holds the memories of her family life on the Island: they are the perfect touring pair.
And we just continued to eat like this all day long. We visited Chinatown proper, next, and actually got into a rice noodle making factory that produces thousands of sheets of rice noodles a day, all hand made. We watched the workers in the steamy hot area pour the ultra thin batter onto well oiled pans which were then steamed, hand folded and stacked. This is clearly a dying art as young people cannot be found who will work under these kinds of conditions and the age of automation offers an alternative for the future. Being there to see this artisan process was an honour. This experience of understanding the intense labour and commitment involved in preserving this cultural food just made them taste better! Really. These noodles are called "chow fun noodles"; I have eaten them before and really enjoy their versatility. The Korean BBQ Chicken in the dish was also scrump-dilly-ishous! Korean food is big here. There is something about the texture, the mouth feel and the knowledge I now have about these noodles that leaves me longing.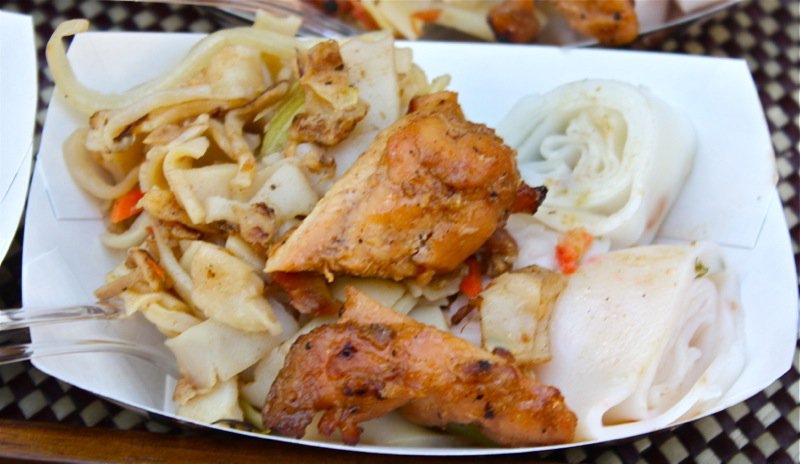 With some free time exploring the market, new question arose: Anyone know what these are, below? I don't and would really like to find out. They look like a pea pod without peas; possibly some kind of edible flower bud? The apple banana below them is touted to be one of the best varietals of banana for eating; it is more dense and not my favourite.
Tomatillos? I don't think so…. The lilikoi below, left, are passion fruit. I had no idea that passion fruit is sour like a lemon. I had thought I had eaten "fresh" passion fruit, but apparently I had not. We bought a couple that Matthew said should be ripe and ready, just to try. And the sweet to the right? I have no idea. Help?
I did notice purple sweet potatoes in various fried, mashed and sweet forms sold at markets and in restaurants, yet would have not known that this medium sized fingerling shaped potato at the Chinese Outdoor Market, above, was the bearer of this food until Matthew cracked one open. This is a very popular root vegetable from China enjoyed for its taste, colour and nutritive value. I will definitely be keeping my eye out for these at a local market at home. Below, left, what is the purple allium like root below left? I was delighted to see such gorgeous soft shell crab! I have never eaten one and would loved to have had a kitchen to go home to after this day at the market.
Corn and sweet red beans as well as long rice glass noodles are found in many dishes which may seem unappealing to a traditional prairie palate. After sampling Alan Wong's Coconut Shave Ice with corn and red beans, I was definitely charmed by the unexpected sweet, crunchy, and icy bits. The longan, to the left and below, was very lychee fruit-like as was the gorgeous red spiky rambutan. The juiciness and the texture define both more than the sweet subtle flavor.
The Pepiau dumplings were a delicious steamed dumpling served with a mixture of soy and Chinese horseradish. Delicious. What does Pepiau mean? I could only find that it was the name of a saint in biblical days. The little stools Matthew encouraged all to bring along from the back of the van were smart. Very smart.
Guess what is bundled up on the nori? Can you guess?
Shazam! Yes, It is spam. It's SPAM! Retro alert! I had seen little bundles of this all over Oahu near the cash registers or in vending machines as we would find chocolate bars at home and wondered what it was. Knowing that the people of Hawaii are the number one consumers of spam in the US and possibly the world, I finally realized what it was as it was served. The spam was grilled and dipped in a seasoned soy or teriyaki sauce. It is called Spam Musubi and is a typical snack for school children and working people in a rush. It was actually delicious, but I could not enjoy it knowing the preservatives that were in the spam.
We had also seen poke everywhere (pronounced "po-kay"), yet had not had the opportunity to taste any. It is chopped raw fish marinated in tasty dressings. The ahi tuna was chopped much smaller in most I had seen. It is even sold in fresh batches at the Honolulu Costco! Ahi Tuna, or yellowfin tuna, is said to be a sustainable option to the endangered bluefin tuna; however, that is arguable. Clearly, this is a staple food in the Hawaiian diet. It is a beautiful fish.
The pineapple? There is no imagining pineapple so sweet and lush as Hawaiian pineapple. The citric acidic sting on the lips and tongue from pineapples eaten at home is just not there. Neither of us could get enough of it while we were there. The orange pineapple cubes are coloured with a sprinkle of a powder synonymous to the island palate called li hing powder which has been made from Hawaii's infamous Crack Seed. These are fruits preserved in salt and sugar that have been cracked or split with the seed or kernel partially exposed to enhance the flavour which creates an addictive umami taste experience. The Chinese immigrants used to chew on the original crack seed when working on Hawaiian plantations in the early 19th century to help get through their day and the treat has morphed into many forms, this powder is one that children use to sprinkle over their ice cream, shave ice, gummy bears, and fresh fruit. Matthew and Keira rim their cocktail glasses with it. It added a different appeal to the pineapple. We preferred the pineapple in its natural perfection, but I am intrigued by the powder and am eager to try in on foods at home. Bags of this, and crack seed, are sold everywhere throughout the island, even in the newspaper stands at the airport.
The apple banana lumpia was cooked into a light crunchy pastry, above, right. The traditional taro root is long and we sell it at home in our Supermarkets. This was the first time my eyes had spied arrow root. It is plentiful in the area and used as a thickener for many foods, particularly in the traditional gelatinous Haupia dessert squares served with traditional meals and at luaus.
"Welcome to my candy store!" enthused Keira as she invited us in to Sun Chong, eyes glistening with delight. Her childhood story of visiting this candy store aligned completely with my experience visiting the candy store in Clive, Alberta where my grandmother, Maude, lived: all of the penny candies in big jars at child hand-eye level with paper bags to fill. She filled hers with crack seed and candied fruits. I filled mine with junk. We talked and tasted. The traditional crack seed is the plum and I loved its salty sweet chewy ooey-gooey novelty; as I tasted these new flavours, the story of Keira's grandmother working on the plantation, chewing and spitting, added meaning and memory to the flavour experience and coloured that moment.
Then it awakened a childhood memory of my own! In grade 6, I sat behind a good friend and classmate, Eva Mah. She would bring red rolls of dried salty sweet round discs of Chinese fruit candy to school. Most didn't like the foreign flavours and surprising addition of salt to a sweet, but I was enamored. Sporadically, Eva would bring these treats to school, and pass one to me over her head. The vision of this moment in time revealed itself to me through this crack seed taste experience. I described it to Keira, she lit up, reached over and grabbed a package of the very same, or at least similar, red Chinese rolls that Eva had shared with me so long ago. They were not as salty as I recalled, but there was something so similar there. It was truly surreal.
Then on to the Char Siu House for the best Chinese BBQ pork (car siu) on the islands, or the mainland, it is said, as well as for a taste of their deep fried pork belly, or what they call the five layers of heaven with a crispy skin that any cracklin' lover I know would travel oceans for. YUM.
Our final stop. Shave ice? No. Can you guess?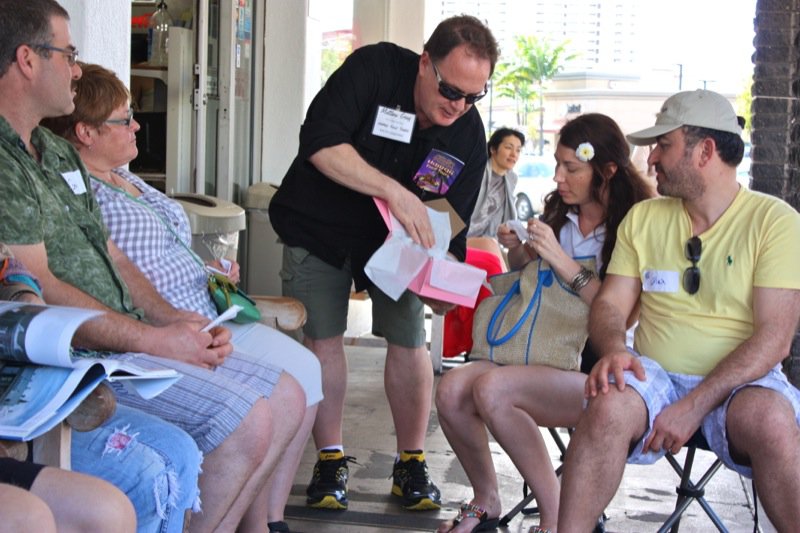 If you have been to Honolulu you will know. I had never heard of malasadas before this trip, but Leonard's is a local favourite and the perfect place to punctuate the delicious day with the "Hole in the Wall Foodie Tour". Hawaiian food is not only influenced by Chinese, Japanese and Korean cuisine, but also strongly influenced by the Portuguese. Portuguese immigrants came in the late 19th century to work on the plantations and brought their sausages, sweetbreads and their malasadas. The fusion of these cuisines on these islands is specifically Hawaiian and definitely unique. These dense doughnut-like sweets are always served hot and fresh when ordered at Leonard's and most believe that is when they must be eaten. Neither Vanja, nor I were taken by this local sweet, but tasting it is integral to understanding the palate of the local cuisine.
Matthew and Keira from Hole in the Wall Foodie Tour are the best hosts you could hope for on a food tour: gracious, educated, knowledgeable, experienced and intuitive.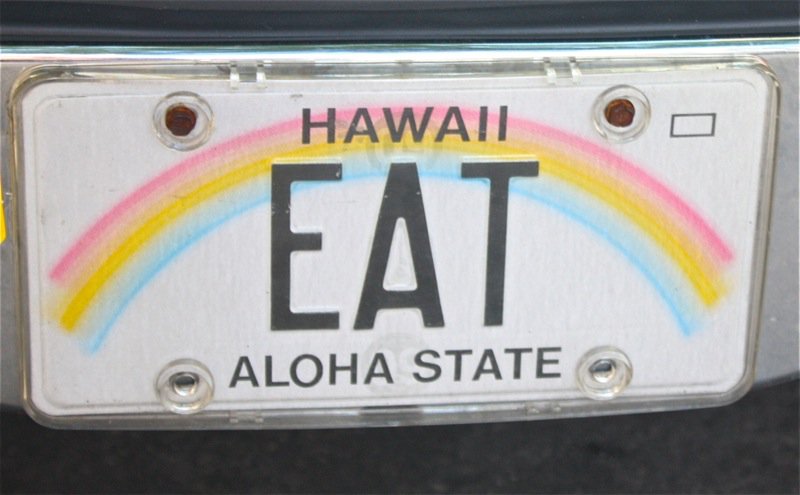 Vanja's top taste of the day: the Kalua Pork Manapua. Mine? The memory of Eva Mah's candy elicited through the crack seed tasting and the Kalua Pork Manapua!